If you're on the hunt for new Hawaiian clothing brands to shop from, you might be struggling to find a wide variety of options.
Some of the best brands based in Hawaii are more difficult to find, so we've curated a list of the best Hawaiian clothing brands to help you support companies based in your favorite tropical state.
RELATED: 12 California Clothing Brands for The Coolest Fashion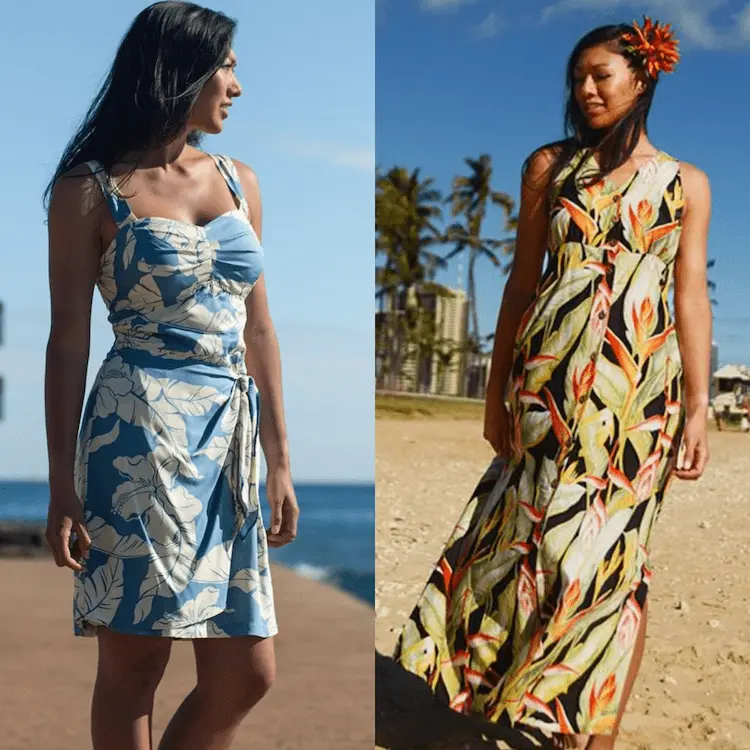 The largest retailer for Hawaiin clothing and other goods, this store is well worth checking out.
Although their website isn't the most modern-looking (or the easiest to navigate), they have a huge selection of almost any type of item you can imagine, all of which are Hawaiian.
They also offer free shipping for all orders, available anywhere in the United States. Prices range based on the brand and type of item, but you can find something for any budget here.
That said, this outlet isn't very clear about where the products are actually made, so you might also want to check out some of the smaller and more transparent brands below.
---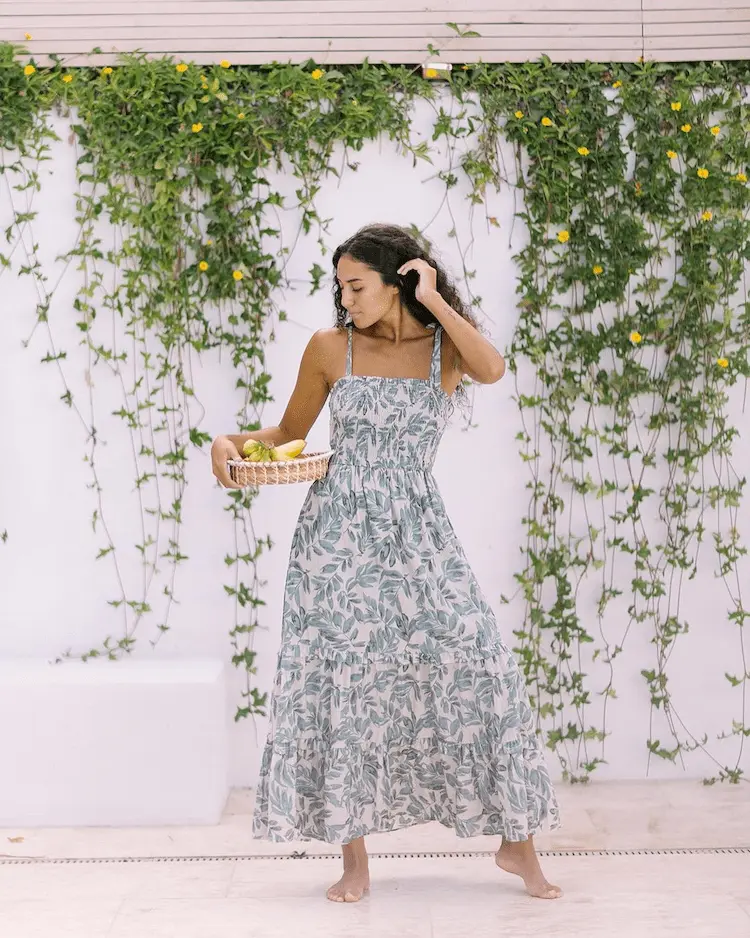 Mahina is a trendy clothing brand born in Hawaii, with affordable prices and free shipping on orders over $50.
Unlike many other Hawaiian clothing brands we've found, Mahina focuses on everyday essentials and basics that you can pair with a wide variety of outfits. We're also loving their gorgeous jumpsuits and rompers.
Prices range from $25 – $100 depending on which garment you're interested in. They also have a Last Chance section that features amazing deals for those on a strict budget.
With 15 locations across Hawaii, you can also visit their local stores.
---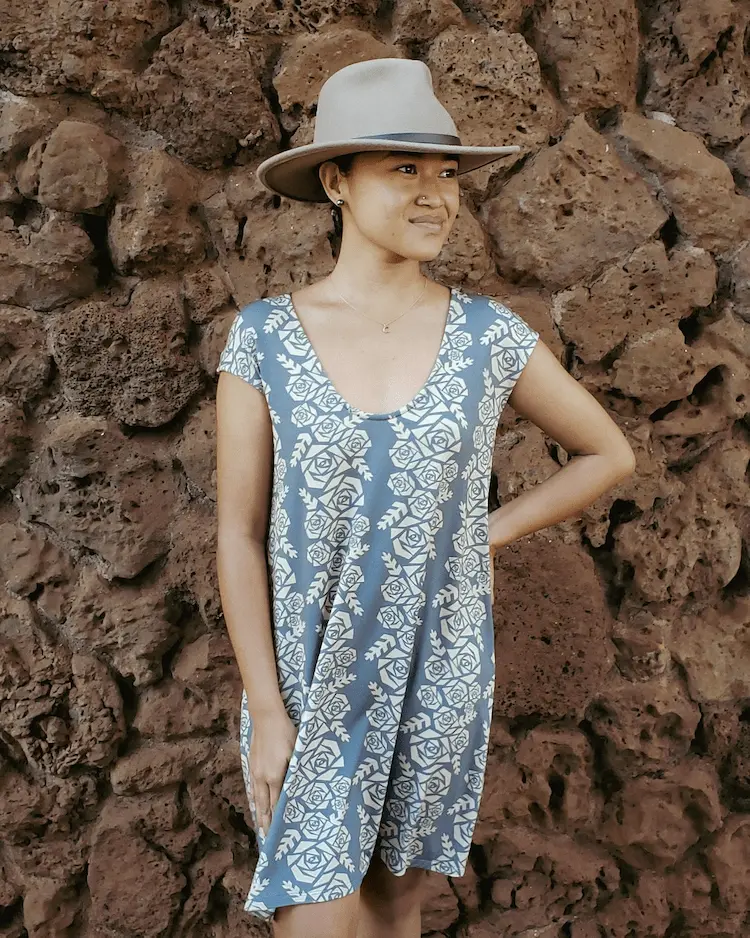 Kulua is a brand dedicated to Hawaiian clothing, home goods, and accessories. All of their items are made in small batches in their town of Makawao.
They are dedicated to supporting their local community, giving back 1% to local non-profits as well as doing limited-edition collabs with local makers.
They offer free shipping on orders over $100 in the USA. Prices range from $80 – $180 depending on the style, with cheaper prices on accessories like their jewelry.
---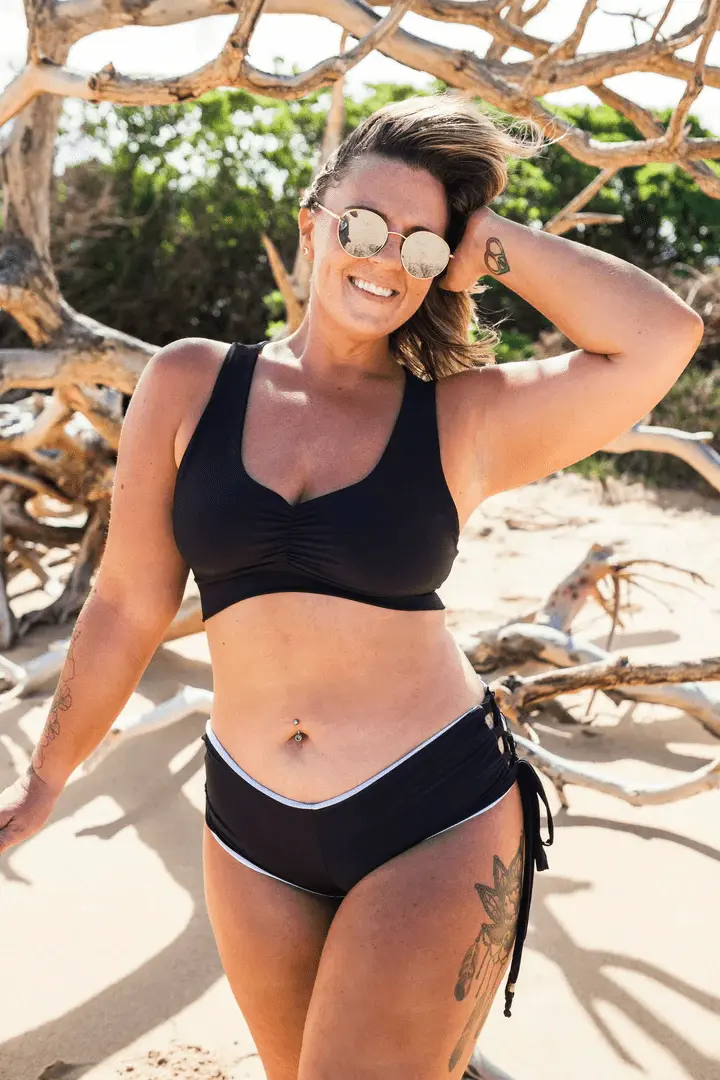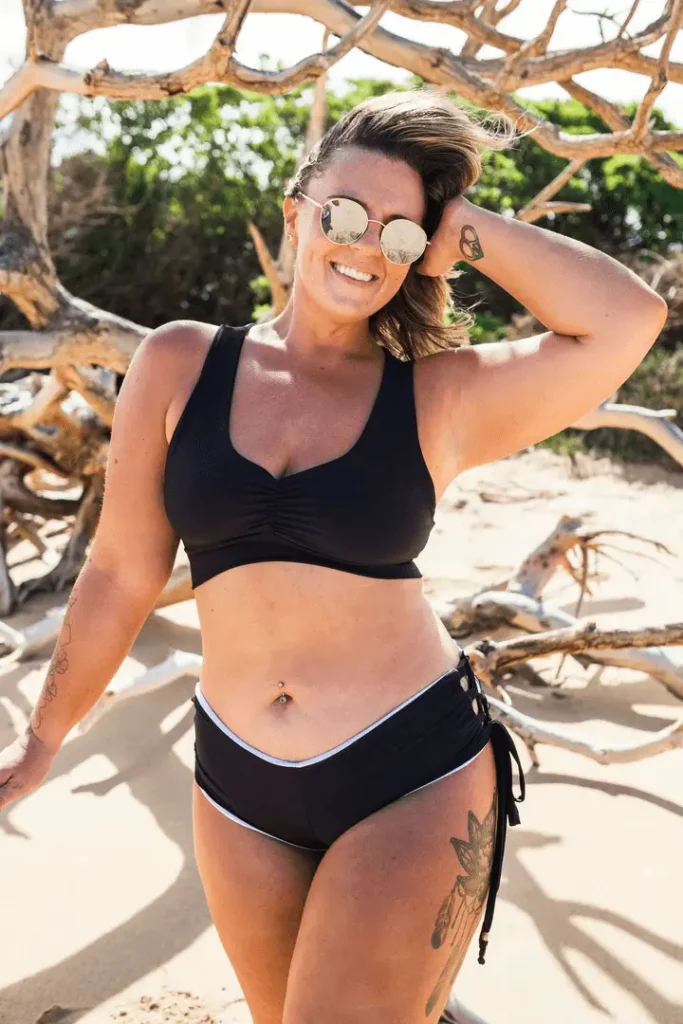 Focusing on biodegradable swimwear, Indigo Wild is a Hawaiian brand that offers a few styles made with an innovative biodegradable fabric.
They claim that their fabric will break down in a landfill within 3–5 years, which is impressive compared to other popular materials that take 40–200 years to decompose.
The founder started off making every garment by hand in Maui, expanding to Small Batch Manufacturing in LA using a team of 3 seamstresses.
Their small batch production allows them to track their production closely and keep everything as sustainable as possible. They also use eco-friendly mailers to ship their swimwear.
Prices range from $50 – $200 depending on the garment, plus you can get 15% off your first order when you sign up for their emails.
---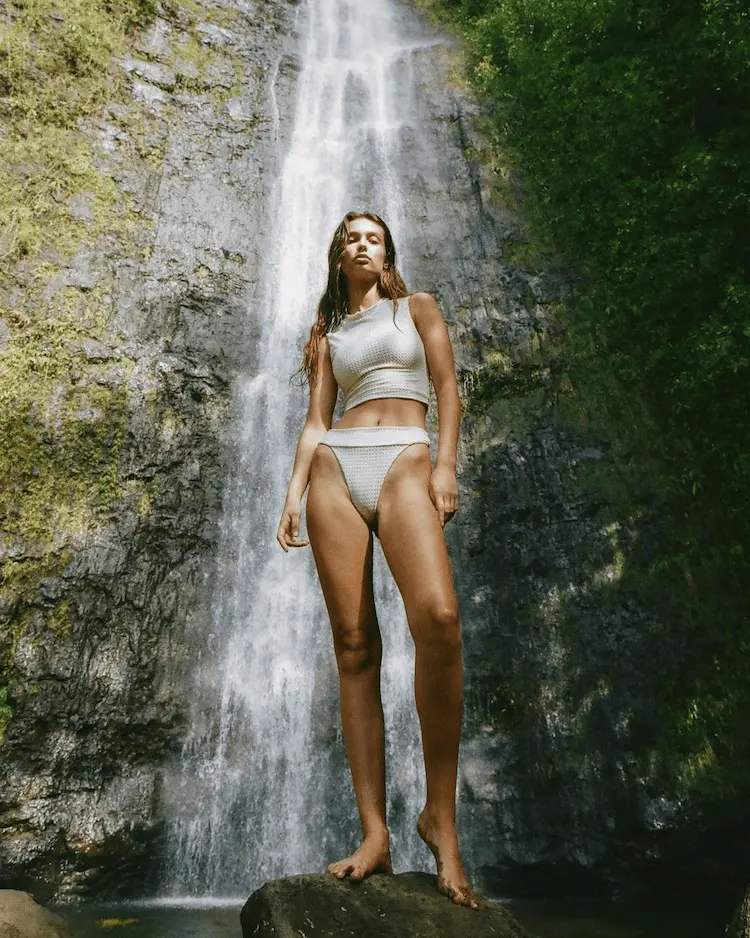 Another gorgeous swimwear brand, Acacia is run by Hawaiian women who are passionate about creating quality and sophisticated swimwear.
On top of their beautiful swimwear, they expanded to offer ready-to-wear clothing for women and kids as well.
They utilize sustainable swimwear fabric made from recycled bottles that were regenerated into soft nylon, as well as other sustainable fabrics such as TENCEL.
Aside from this, they also have a sustainable approach to manufacturing, with a made-to-order business model that avoids overproduction and waste.
---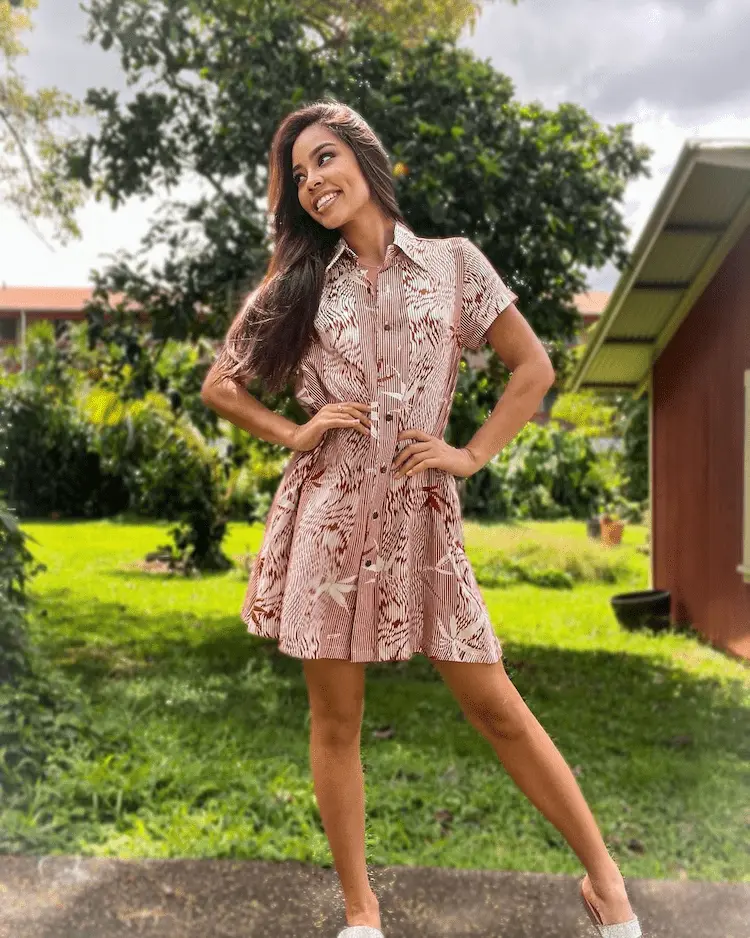 Specializing in shirts, Kona Bay is a Hawaiian clothing brand that is focused on making the highest quality men's shirts possible.
Prices typically range from $90 – $130 per shirt, with various prints and styles available. They also offer free shipping on all USA orders.
Unlike some other "Hawaiian" clothing brands, Kona Bay's shirts are genuinely made in Hawaii using quality fabric from Japan. They also have a brick-and-mortar store in the heart of Waikiki!
You can read more about how they make their shirts on their about page – Kona Bay is very transparent about what goes into their shirt-making process.
---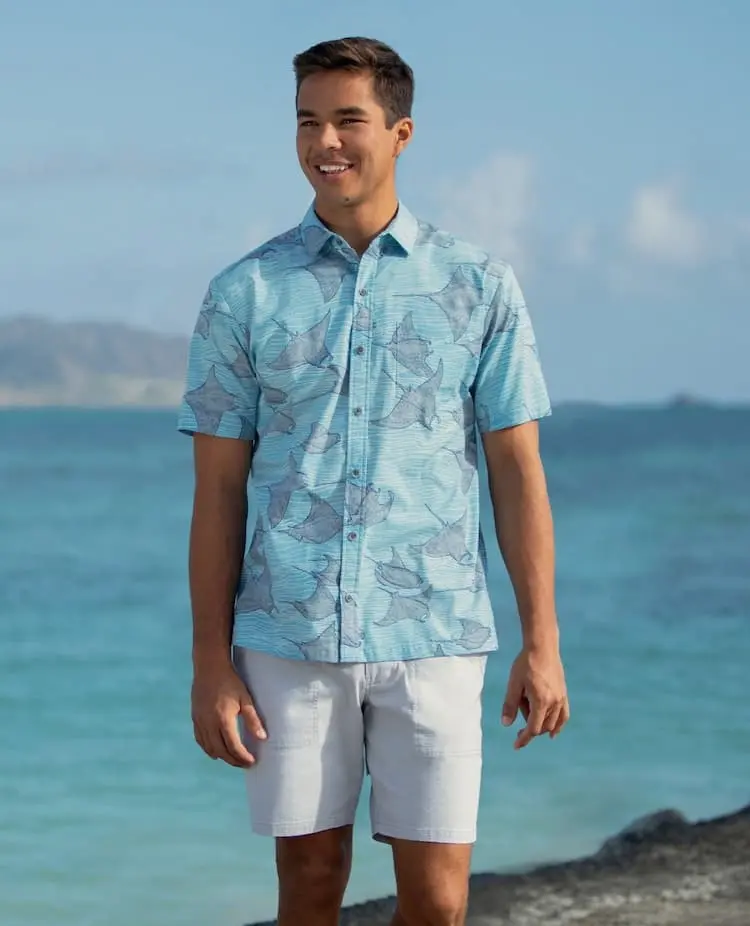 For a variety of tropical styles for men and kids (as well as a few options for women), Kahala is a great brand to check out.
Prices hover around $100 for their shirts and $65–$75 for shorts, with free shipping available for orders larger than $150. You can also shop their Instagram for extra inspiration!
---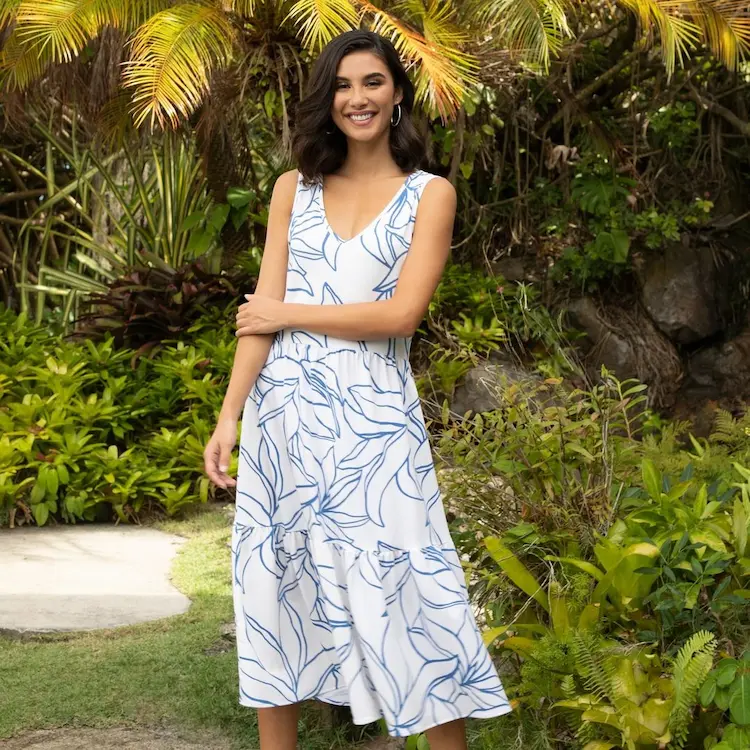 Tori Richard offers a wide variety of summer-inspireed clothing for women, men, and even kids (plus the cutest mommy and me collection).
This brand is based in Hawaii and has manufactured in Hololulu for over 60 years. Prices range from $80 – $250 depending on the style, but the excellent quality and gorgeous prints are well worth the splurge.
Plus, if you're in Hawaii, they have quite a few local stores you can check out in person.
---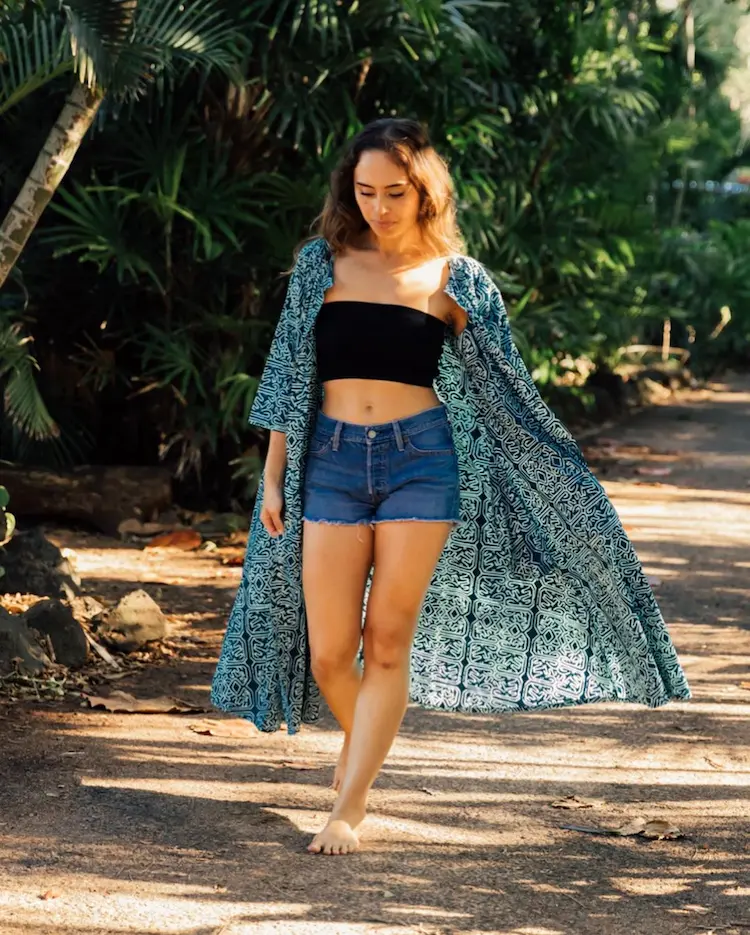 Noa Noa Hawaii offers a beautiful array of Hawaiian garments, including gorgeous dresses that we are obsessed with.
They do make online shopping a bit difficult – you need to contact their sales team to place an online order. However, you can view photos of styles online (including the prices) and then contact them to buy if you fall in love with something.
Prices range from $100 – $200 depending on the style, plus they offer free domestic shipping on orders over $150.
---
When you're shopping for your next bag, keep Aloha Collection in mind.
Although their items aren't actually made in Hawaii, the founders are native Hawaiians and they donate 5% of their profits to Hawaiʻi-based conservation organizations annually.
They offer a wide selection of high-quality and gorgeous tropical-inspired bags of every size that you'll love to use for your next vacation (or everyday essentials).