Are you looking for uncomplicated skincare products? Fenty claims that their products are multitasking and work with all skin types. But, are Fenty products as multitasking as they claim to be? Check out our unsponsored Fenty Skin review below to find out!
There are so many skincare brands to shop from that choosing the right one can get overwhelming. With multi-step skincare routines gaining popularity, it's hard to know what will work for our skin and what won't.
Fenty Skin provides easy and simple skincare for all skin types, making skincare uncomplicated. Fenty Skin brings together clean ingredients from across the world and integrates them into the formula of their products. In addition, they created multitasking products to bring everyone a quick and easy skincare routine. Keep reading to find our in-depth Fenty Skin review!
What is Fenty Skin?
Fenty Skin, a skincare brand founded by Rihanna, is skincare for all skin types and skin tones. Their 2-in-1 multitasking products make creating a simple routine easy.
A gender-inclusive, clean, vegan, and gluten-free brand with eco-conscious packaging, Fenty Skin offers luxury skincare at affordable prices. Plus, the packaging uses recyclable, post-consumer recycled bottles, and refills of products are available to buy on their site.
RELATED: 15 Skincare Ingredients to Avoid
Fenty Skin Review
Overall: ★★★★ 4 Stars
Overall, the shopping experience on Fenty Skin is excellent; they break down every product with quick and in-depth explanations. A lot of customers are happy with the results Fenty Skin gives. However, negative reviews say the use of fragrance and synthetic dyes isn't great and can cause irritation.
Shipping: ★★★ 3 Stars
We did find positive experiences with shipping, but there are more negative comments than good. There have been complaints of lost packages, and customer service is not super helpful.
Selection: ★★★★★ 5 Stars
Products are easy to select, whether you are looking for a single product or bundles for a routine. There is a lot of information provided for each product so that you know exactly what you are buying.
Value: ★★★★★ 5 Stars
The price point of Fenty Beauty is affordable, with prices ranging between $14 – $139. These include travel sizes, full-size products, and bundles.
Return Policy: ★★★★★ 5 Stars
Fenty offers a great return policy with free returns and exchanges within 60 days of purchase (no return on shipping or handling fees). However, they are unable to accept returns on Fenty Eau de Parfum.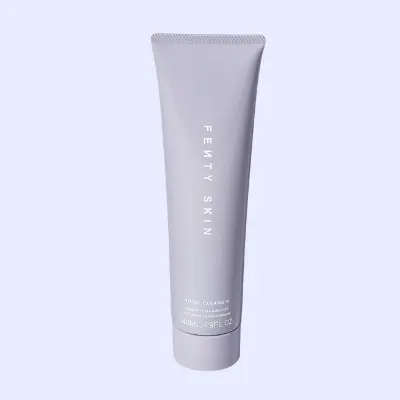 This 2-in-1 cleanser and makeup remover claims to do both. Transforming from a cream to a lather, this cleanser won't strip or dry out the skin. Instead, it's made with Barbados Cherry to brighten the skin with Vitamin C.
Tried and tested, this product does as it says. The cleanser removes even the most stubborn eye makeup, dirt, and debris from a long day. After washing off the cleanser, it leaves the skin feeling soft and silky with no residue or oily feeling.
---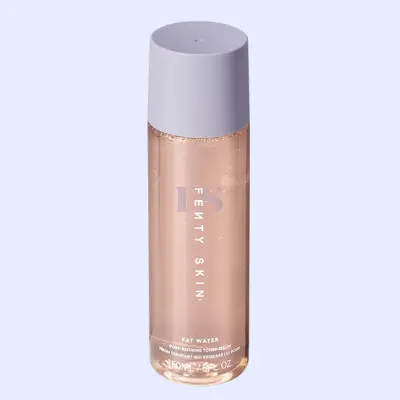 A 2-in-1 toner-serum "snatches" pores, improves the look of dark spots, and instantly reduces oil. Its unique thick texture absorbs instantly into the skin; you can pour it onto your hand and apply. Made with Niacinamide, it helps reduce the look of dark spots, evens skin tone, and fights excess shine.
While some are hesitant to use this product due to the use of fragrance dye, there have been lots of positive comments. The product is very hydrating and over time, people have seen a more even complexion.
---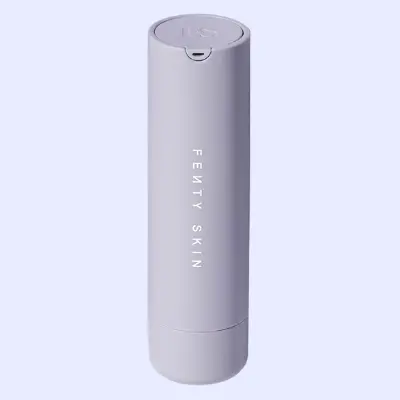 The 2-in-1 moisturizer and sunscreen is a lightweight and invisible moisturizer. It is also perfect for makeup, absorbing instantly into the skin making it feel soft and smooth. Plus, it doesn't leave a white cast like other sunscreens.
Many have said that they feel the instant hydration and can see the instant glow after applying this moisturizer-sunscreen duo. Another plus for this product: it doesn't leave a white, chalky cast like many other sunscreens, especially for those with darker complexions.
What Customers Are Saying
To give you a closer look at how customers feel about Fenty Skin, here are some quotes directly from buyers:
"my sister and i have been using the whole fenty skin line (minus the new night cream) for about 2 whole months now going on 3 and our skin LOVES it. we both have terribly sensitive combination skin […] overall our facial skin tones are much more smooth, even, bright and glowing. definitely start with the trial sizes as i know people who were sensitive to the fragrance even though it isn't very strong at all just may be something to consider" -babyscorpie on Reddit
"I got the starter pack when the line first dropped and just ran out of the sunscreen. Honestly, I'm not sure if I will repurchase. I was using Black Girl Sunscreen before and I was fine with that. The face wash is nice, and the fat water feels pretty good on my skin as well but I haven't seen too much of a difference for as long as I've been using it."- TheLurker9000 on Reddit
Overall, here are the main points of feedback from customers about Fenty Skin:
Good quality
Affordable
Improves the look of skin
Some customers don't like the use of fragrance and dyes
Final Verdict: Is It Worth Trying?
Yes! Although there are some concerns with the Fenty Skin products due to fragrance and dyes, I would say that there are far more positive comments than negative. Skincare is personal to everyone, and not one product or skincare line will work for everyone.
So while we would definitely recommend Fenty Skin, according to other Fenty Skin reviews, make sure to use caution if you are sensitive to fragrances.
Fenty Skin Alternatives
If you are still skeptical about trying Fenty Skin, here are some other brands that may suit your skincare needs:
1. Cerave
3. Dr. Jart