You might be a little confused about the proper skincare routine order. Does it even matter? It is, in fact, important to make sure that you have the correct order so your skin will absorb the benefits at its maximum potential.
We will be sharing the proper order to apply your skincare products (both in the morning and at night).
A good rule of thumb is to start out with the product that is the thinnest out of all of your products. If you don't know which it is, you can do a run test. Place all of the products you have on a flat surface and see which one runs the quickest, start with the product that is the fastest first.
In addition, your skincare regimen will differ from day to night. You want to focus on protecting the skin from the sun in the morning (sunscreen) and focus on anti-aging treatments at night (retinol).
Note: While these routines we've shared below have quite a few steps, you don't need to have this many steps in your routine. Some skin does better with fewer products! If you don't use a serum, for example, feel free to exclude that step and proceed to the next.
That said, don't exclude anything super important (like sunscreen)!
Daytime Skincare Routine Order
---
Step 1: Cleanser
Start with a gentle cleanser after splashing warm water on your face. Cleanse for the amount of time it takes for your favorite song to get to its hook – how long you cleanse is important in removing all oils and dirt!
A favorite cleanser of mine is the iS Clinical Cleansing Complex.
Step 2: Toner
Toner is used to rebalance the skin's pH levels!
A lot of people tend to skip this step, but it is important (especially for those who have easily irritated and inflamed skin).
The Etude House pH 5.5 Toner is excellent for relieving and calming the skin.
Step 3: Serums
Before I apply my hyaluronic acid serum, I like to spray my face with Evian Natural Mineral Water Spray.
This is because without moisture, hyaluronic acid will dehydrate the skin instead of penetrating. With water applied first, the skin will be able to absorb the hyaluronic acid's molecules by way of soaking the cells.
You can also apply vitamin C or E in the morning to combat potential damage that can be caused by the sun's UV rays. 
Step 4: Eye Cream
The eye area is one of the most important parts of someone's skin – you want to protect this area from sun damage, aging and fine lines and dark circles. It is best to apply eye cream twice a day to achieve the best results you can.
Keeping the area moisturized early on will only benefit you in the long run. It can boost collagen and keep you from showing early signs of crow's feet. SkinMedica Instant Bright Eye Cream has saved my under eye circles.
Step 5: Spot Treatment
If you have acne or one of those pesky spots that appear overnight, now is the time to apply a spot treatment.
Be sure to check the ingredient list of the treatment so that it doesn't interfere with any other ingredients in your routine. It is easy to jumble up products that cancel out, double checking will assure you that you aren't wasting your time. A simple Google search will do, there are many websites where you can type in ingredients and get feedback on what products do and do not work together.
The La Roche-Posay Effeclar Duo zaps my zits in a day's time, but don't apply much or you will dry your skin out.
Step 6: Moisturizer/Oils
To lock in the moisture and hydration from all previous products mentioned, you'll want to have a moisturizer to apply. Be sure not to apply moisturizer on the spots where you applied acne treatment, this will likely wipe away the product you applied.
Apply an oil afterward to the face and neck to prep the skin for sunscreen later and reduce the chances of any pilling. The oil will fortify your products into the skin. For the morning, I like to use Korra Organics Noni Glow Oil which plumps, brightens and nourishes the skin. 
Step 7: Sunscreen
This is by far the most important step to the entire routine. You'll want to go for a sunscreen that is mineral as opposed to chemical. This is because chemical sunscreen interferes with all of the products you previously put on, making absorption hard.
A sunscreen with zinc oxide and an antioxidant serum can give you the best benefit. These ingredients do best with protecting your skin from the sun's rays while giving you hydration. 
Try the EltaMD UV Clear Face Sunscreen for everyday use, it's literally the best sunscreen I have ever tried. There is no whitecast from it and I have experienced zero pilling since I've been using it. Pilling and white cast have been the worst issue for me and I'm glad my skin is left looking dewy now instead of ghostly. 
Apply to your hands and arms!
Nighttime Skincare Routine Order
---
Step 1: Double Cleanser
After the day is done, you want to cleanse all of the dirt and oil off your face. So, we recommend double cleansing!
I recommend starting your routine with an oil cleanser, that will do the job of taking off your makeup and dissolving its minerals. This gets your skin ready to absorb everything you are about to apply.
I use The Ordinary's 100% Plant Derived Squalane Oil to add intense moisture. I like to take my time with oil cleansing, as it is a good way to introduce face massage. Treat yourself to an at home lymphatic drainage massage. I usually follow tutorials for this on Youtube.
Step 2: Toner and Essence
Here I like to repeat the steps from earlier with toner, but add an essence in the mix.
COSRX Advanced Snail 96 Mucin Power Essence is a long time favorite. It boosts the skin's hydration, brightens and soothes redness. It checks all of the boxes for me – it will give you a true treatment that will enhance the skin and improve its elasticity!
Step 3: Eye Cream
Don't forget to apply eye cream at night for optimal application.
Applying twice a day will most likely show better improvement and results, but it is also to protect the skin at all hours.
Step 4: Serums
After eye cream, you'll want to apply your serum(s) again like you did in your daytime skincare routine order.
This is where I repeat my earlier step of Evian spray and hyaluronic acid.
Step 5: Retinol
Next, retinol!
Be sure that you gradually introduce a new retinol product little at a time. Some skin purging or drying might occur if you overdo it at first.
I use the Cerave Retinol Serum – this product has licorice root, niacinamide and ceramides that all work to restore the skin.
Step 6: Moisturize
You'll want to moisturize again with a thick, water-absorbent night cream or moisturizer. Pick a product that will hydrate your skin for hours during the night while you are asleep. 
Use an oil to top off the routine. I usually finish with oil to the face and neck to seal everything in. 
---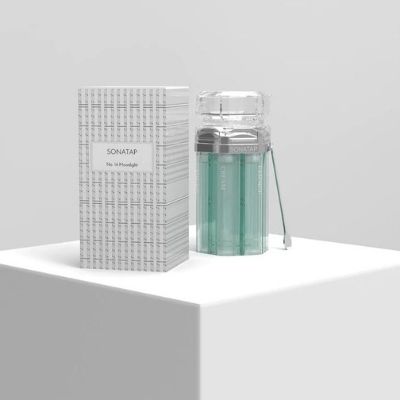 If you're looking for a tool to simplify your skincare routine, we recommend the Sonatap, a skincare tool that makes it easy to apply your face products with ease.
The Sonatap holds 6 refillable and reusable bottles to fill with your favorite skincare products and, voila! You have everything you need for your skincare routine in one place.
It has a hygienic silicone applicator and a product-selecting mechanism to get through your morning routine quickly and efficiently.
Final Note
Aside from this daily skincare routine order, make sure that you are exfoliating 2-3 times a week as well. You'll do this after cleansing. If you'd like to exfoliate daily, Dermalogica's Daily Superfoliant is gentle enough for daily use.
It's also important to take your time when applying the products. Applying too quickly with products won't give the products time to absorb. Chill, read a book, or watch a show in between steps.
Your skin is so important – let's face it, it's a big part of your life. Everyone's skin is different, but it is important to know the basics. Your skin deserves to be nourished and glowy!
UP NEXT: 15 Best Moisturizers for Dry Skin to Soothe and Hydrate