Boyfriend jeans vs girlfriend jeans: which style comes out on top?
One thing everyone should have in their closet is a favorite pair of jeans. 
Jeans are universally versatile because they can be dressed up or down and can match any aesthetic.
The trick, though, is knowing what type of jeans match your style. Though we can't go over every type of jeans today, we do have two to review just for you: boyfriend vs girlfriend jeans.
A couple made in jean heaven, boyfriend jeans and girlfriend jeans are pretty similar, but they do have their differences. 
Read our review about boyfriend jeans vs girlfriend jeans to see what those differences are once and for all. 
RELATED: What Shoes to Wear with Jeans + Styling Ideas
Boyfriend Jeans vs Girlfriend Jeans Overview
Boyfriend Jeans
Girlfriend Jeans
– Sits lower on the waist

– Slouchier fit

– Straight leg

– Less tapered leg

– Looser fit
– Sits higher at the waist

– Slimmer fit

– Straight leg

– More tapered leg

– Hugs the body more
Now that we've seen a side-by-side, let's get into the specifics!
What Are Boyfriend Jeans?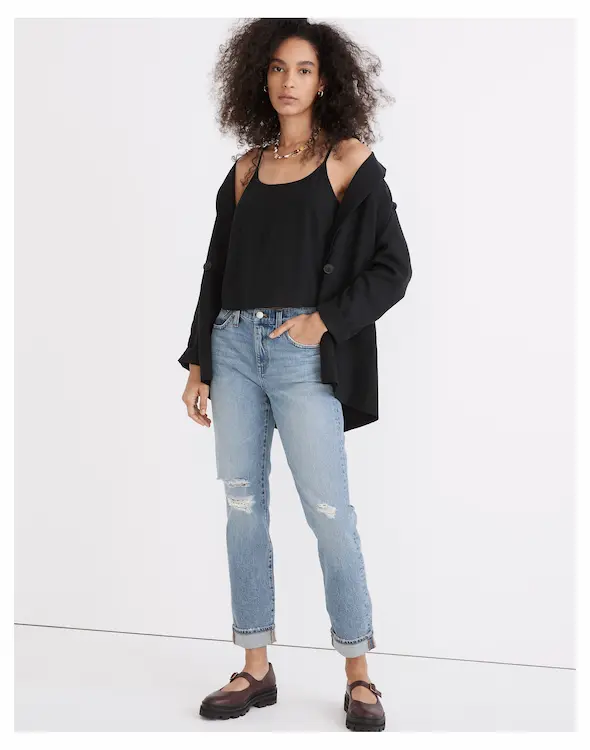 The name "boyfriend jeans" comes from the idea that the jeans you wear look like you took them from your boyfriend's closet.
This is why boyfriend jeans sit lower on the waist and why they're supposed to look a bit baggy and relaxed.
To add to the slouchier-looking style, boyfriend jeans have less of a tapered leg with a straight cut so that it looks a bit loose on the body.
Our Favorite Picks:
What Are Girlfriend Jeans?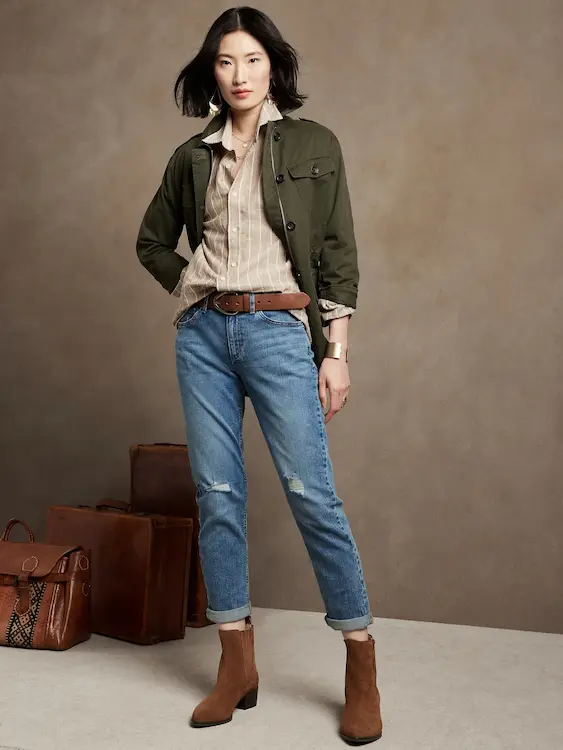 The two styles are super similar, but girlfriend jeans sit higher on the waist and have a more fitted look.
Overall, girlfriend jeans are just the more feminine version of boyfriend jeans.
Often confused with straight-leg jeans, girlfriend jeans have a taper throughout the leg that contributes to its curve-hugging style.
Our Favorite Picks:
What's the Difference Between Boyfriend Jeans and Girlfriend Jeans?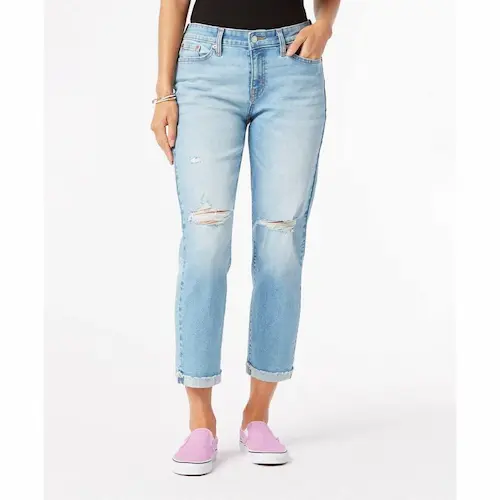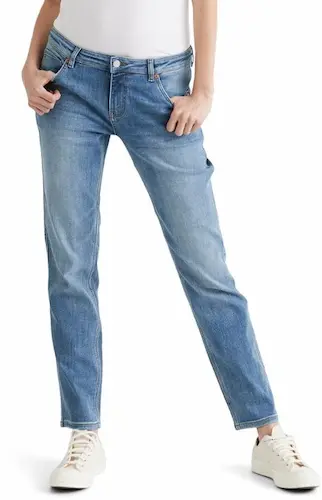 The main difference between boyfriend jeans and girlfriend jeans is the fit, which is mainly due to the taper of the legs.
Girlfriend jeans have a narrower thigh area and a slight taper throughout the legs. This allows the silhouette to look curvier, thanks to the slimmer fit.
Meanwhile, since boyfriend jeans have a more relaxed and boyish look, the leg has a little taper, but is mostly straight.
This hides the silhouette more and allows for a baggy fit, which achieves the slouchy look.
In Conclusion: Which Should You Wear?
Boyfriend jeans and girlfriend jeans both deserve space in your closet since both fits are easy to style!
Boyfriend jeans are perfect for casual looks and when you want the best of both comfort and style.
On the flip side, girlfriend jeans are great for when you want to accentuate your figure a little bit and add a more feminine flare to your look.
However, no matter which style of jeans you like more, wear what makes you feel like the best version of yourself!