Over the course of the COVID-19 pandemic, many of us have relegated our jeans to the back of the closet. With Zoom meetings only requiring presentability from the waist up, I've found myself reaching for sweatpants far more often.
But with the hope of mass vaccination on the horizon, there is finally a light at the end of the tunnel. We're all looking forward to brunch with friends, family dinners, and a return to socializing outside of a screen.
If you're anything like me, you've gradually been accumulating new clothes from online shopping during quarantine. Seeing as most of us have some spare time on our hands, why not get to work styling outfits for your return to regular outings?
To help you get started, we're breaking down what shoes to wear with jeans as well as some tips on how you can style them.
What Shoes to Wear With Jeans
---
Sneakers
When it comes to what shoes to wear with jeans, sneakers are a top-rated pick. But not just any sneaker – fashion sneakers. While I love a comfortable running sneaker as much as the next girl, they're much more stylish when paired with athletic leggings rather than tailored denim.
That being said, sneakers are certainly having a moment in the fashion world right now. While they're perfect for an everyday look, fashionable sneakers can add a coolness factor to a dressy outfit as well.
Platform Sneakers
I am a huge platform sneakers fan – they elevate more than just your look! (terrible pun intended).
Whether you're short or tall or anywhere in between, platform sneakers are super flattering because they elongate your legs.
My personal favorite is the Superga 2790 ACOTW. I wear them in the classic white, but they come in a variety of colors. I can't say enough good things about the Superga brand – definitely check them out!
Check out our article on the best platform sneakers for recommendations ranging from the widely popular Fila to some lesser-known (but still cute) brands.
Classic Sneakers
Platform sneakers not your thing? There are still plenty of classic sneakers that pair great with jeans.
While Nike's Air Force 1's may have first hit the market in the 1980s as a basketball sneaker, the shoe has certainly experienced a resurgence as a fashion shoe in the past couple of years. You can shop the classic sneaker or explore the Nike website for other colors and styles.
I'm also a huge fan of PUMA. My first ever baby sneakers were white PUMAs with pink accents and my current go-to sneakers are white PUMA sneakers with green accents. They have SO many options, from classic neutrals to bright color combinations, and a variety of styles.
And of course, Converse never goes out of style. They look good on everyone; my mom owns a pair and so does my five year old cousin. Their price point is a little more appealing than Nike or Puma if you're on a budget.
While their low-top styles are super versatile, I especially love pairing the Chuck Taylor All Star High Top Sneakers with mom jeans for a casual yet stylish look.
Slip-On Sneakers
For our final subcategory of fashion sneakers, we're looking at slip-ons. They're a quick and easy option for when you're on the go and pair well with a cropped skinny jean or a straight leg cut.
Vans is a classic brand for slip-on sneakers. They're comfortable, cute, and super versatile – what's not to love?
If you're looking for something that's a little dressier, Steve Madden also makes some great slip-ons. In particular, I love their GILLS SUEDE style, available in black, grey, and white. The suede is classy, but the shoe is still comfortable and durable.
Boots
Boots are a classic option for colder months and/or fancier occasions. Many styles pair great with jeans!
Ankle Boots
Ankle boots are a staple in every denim-sporting girl's wardrobe.
They're classic and chic; depending on the color and material, as well as what jeans they're paired with, they can make any outfit as casual or formal as you want it to be.
You can also decide whether you want a heel with your ankle boot. I'm a big fan of a short heel because I think it gives your basic jean outfit a little wow-factor.
Sam Edelman and Steve Madden offer great high-quality options for ankle boots and heeled booties. If their prices look a little high, be sure to shop the brands at Nordstrom Rack for amazing discounts.
If you're in need of a quick fix, Amazon also has some great ankle boots, like these ones from Dr. Scholl's.
Doc Martens
The British footwear company Dr. Martens is experiencing a huge spike in popularity these days. Gone are the days when their classic lace-up boots Classic Leather Lace-Up Boots were considered "goth."
People across the world are pairing them with jeans to add a little edge to their outfits. I personally own the Docs linked above and I LOVE them.
My favorite way to style them is to wear a cropped straight-leg jean or some cuffed mom jeans, so that I can really show off these stylish boots.
My one piece of advice if you're thinking about buying Doc Martens? Wear the right socks! You don't want blisters ruining your mood when you're looking good. Check out the best boot socks for some ideas.
Knee High Boots
I usually associate knee-high boots with skirts and dresses, it has been all the rage among celebrities to pair them with skinny jeans.
While I'm curious to see if this trend will last or if it is a passing fad, here are some great options if you're looking to give it a try:
Heels + Flats
Classic Heels
A classic heel is the ultimate way to dress up denim. With this combo, you can head to work, enjoy a fancy dinner, or turn heads at a bar.
But you don't need to be headed somewhere formal to wear heels with your jeans. Even the grocery store can be a stylish outing if you want it to be!
Wherever you're headed, heels look great with almost any style of denim; sleek with a skinny jean, casual with a boyfriend jean, or professional with a straight-leg.
Kitten Heels
Kitten heels are a great alternative to classic heels if you're looking to dress up an outfit without breaking an ankle.
We've got a whole article telling you everything you need to know about kitten heels, from what they are to how to style them: check it out here! It even lists a bunch of great options if you're looking to buy a pair.
More Style Ideas
Jeans + shoes = whatever outfit you want! There are so many cool styles of jeans nowadays and as we've just shown you, there's a million different kinds of shoes to pair them with.
Rather than list off the infinite combinations of jeans and shoes that you can put together for a stylish outfit, here are some outfit examples to get you started and inspire you.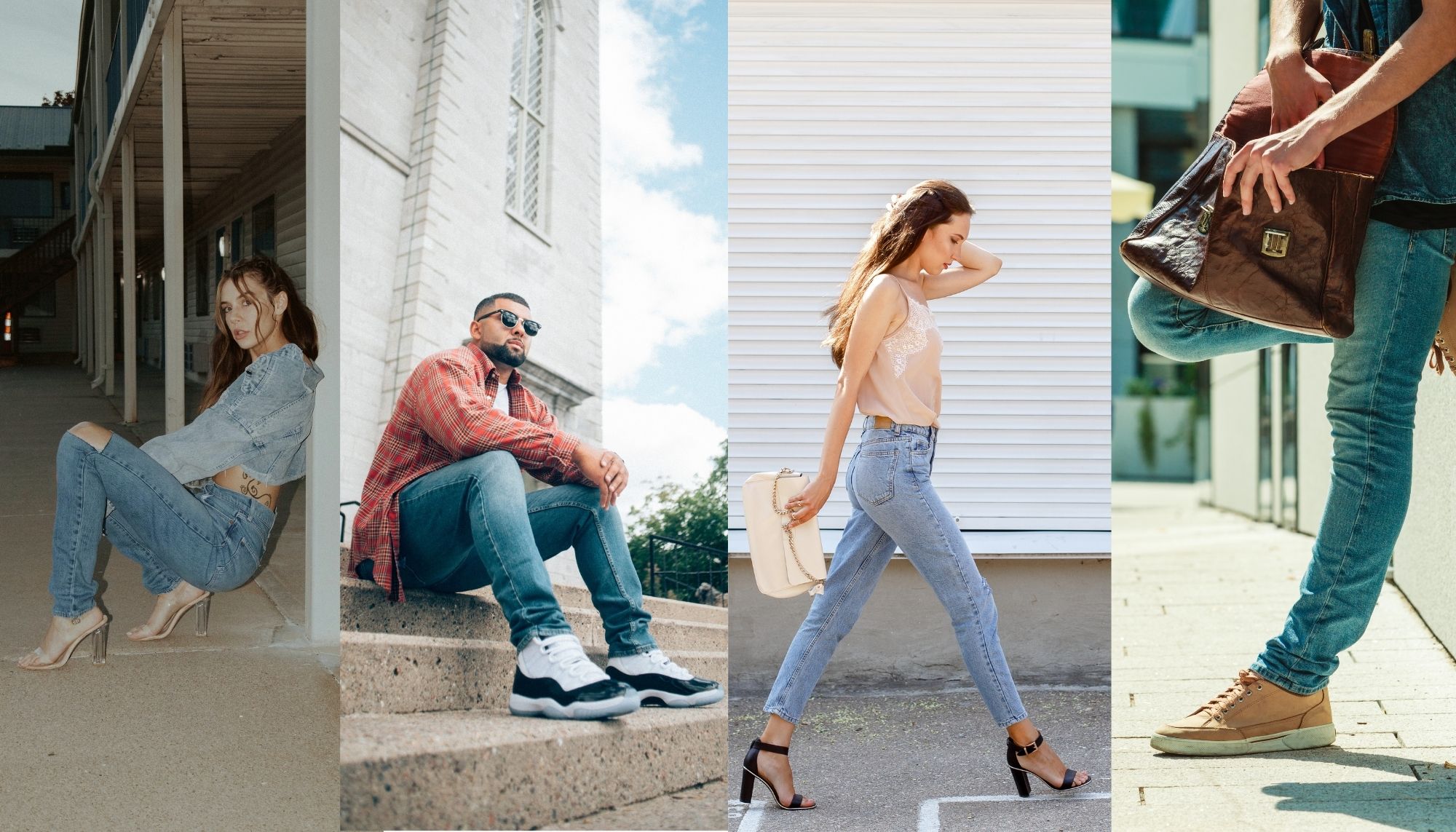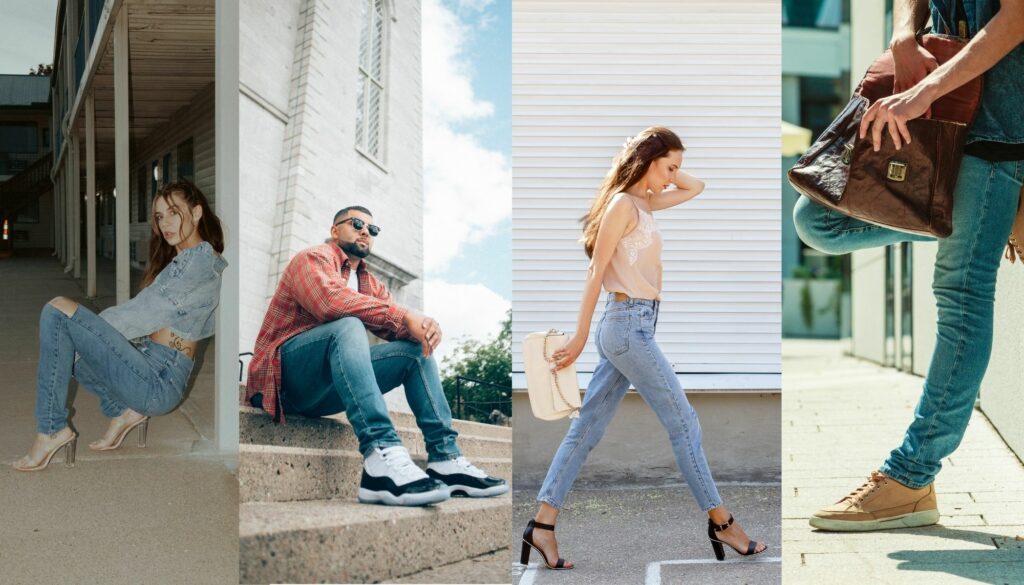 Bottom Line
No matter your preferred cut of jeans, we've got you covered with what shoes to pair with them. So get excited! With our recommendations on what shoes to wear with jeans, the compliments will start pouring in the minute you walk out the door.