You can truly find a subscription box for anything. From perfume to candles, you can get all your needs delivered to your door. What about underwear, the true essential that everyone needs?
What used to be the gift we dreaded as a kid is now one of the things we get excited about. No shame – part of what makes life great is enjoying the little things like cute new underwear.
There are a few different underwear subscription boxes you can choose from, but today we'll be looking into two of the most popular options: BootayBag vs. Splendies.
Both are monthly subscriptions that offer high-quality underwear at a good price, but which one is the best. We've already talked about BootayBag before, but how does it hold up against another subscription. Let's find out.
BootayBag vs. Splendies – Overview
---
BootayBag
Splendies
– 1, 2, or 4 pairs of undies a month

– $10 to $20 monthly depending on the package

– Sizes XS to XL

– All cheekies, all thongs, or a mix of both

– 10% off first month

– Option to add bralettes or another pair of undies

– Free shipping in the US

– $10 international shipping (only shipping in the US right now due to the pandemic)

– No returns or cancellations

– Exchanges only for damaged goods

– 3 pairs of undies a month

– $14.99 or $16.99 per month

– Small discount with 3, 6, and 12 month plans

– 50% off first month

– Sizes small to 4X

– All cheekies, all thongs, or a mix of both
– They sell past sets as well as socks

– Free shipping in the US, APOs, all US territories, and Canada

– $10 for International Shipping

– Returns allowed for unopened boxes
RELATED: 10 Best Lingerie Subscription Boxes 💖
Bootaybag vs. Splendies – A Deeper Dive
---
Bootaybag was founded by Ellyette Gheno to give women high-quality underwear at a good price. She even took it to Shark Tank! Say goodbye to store lines and limited selection, BootayBag is made with real women in mind.
Taking a look at their Instagram, you can see their "BootayBag Babes" in every size, shape, and shade. You got to love women lifting up and empowering women.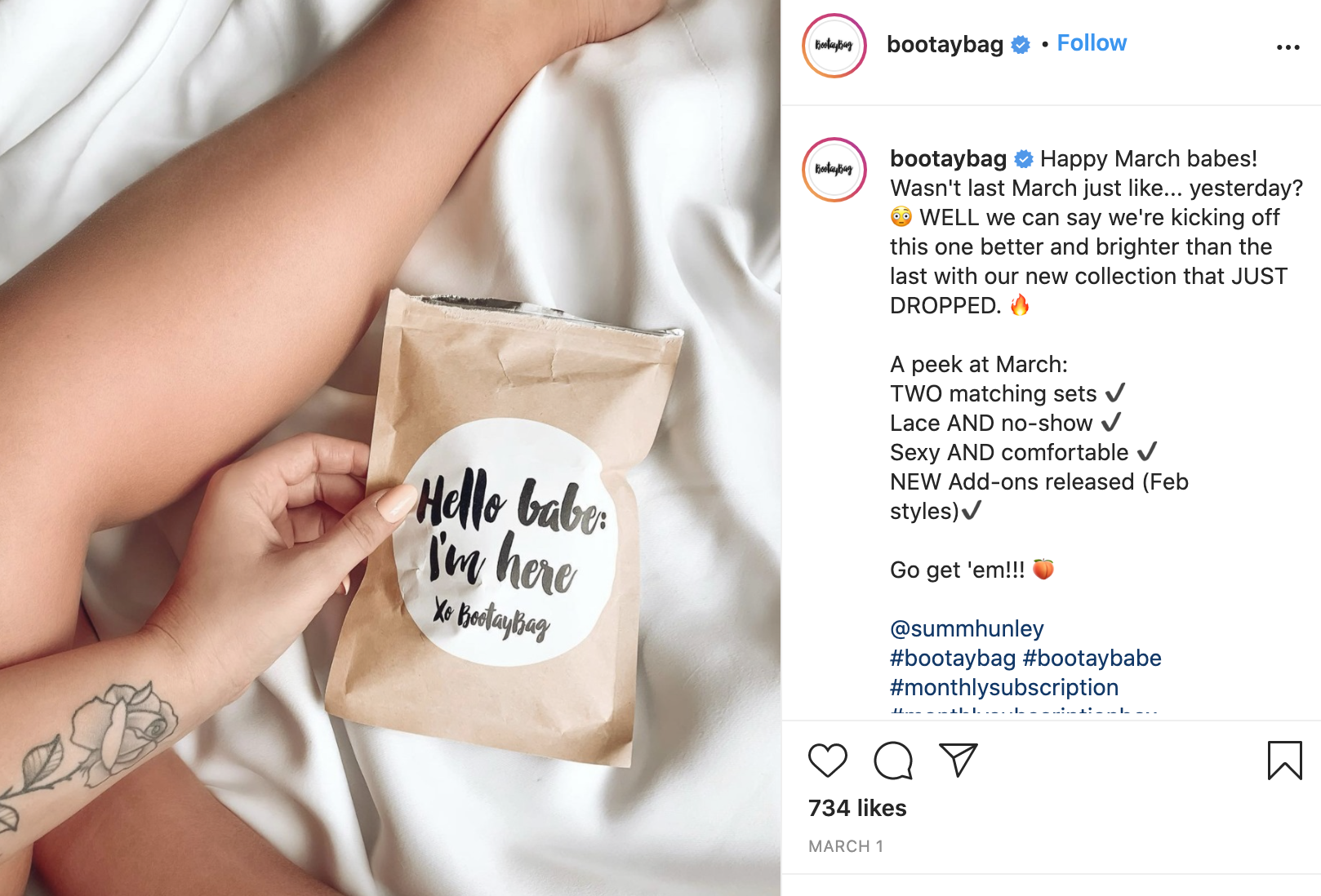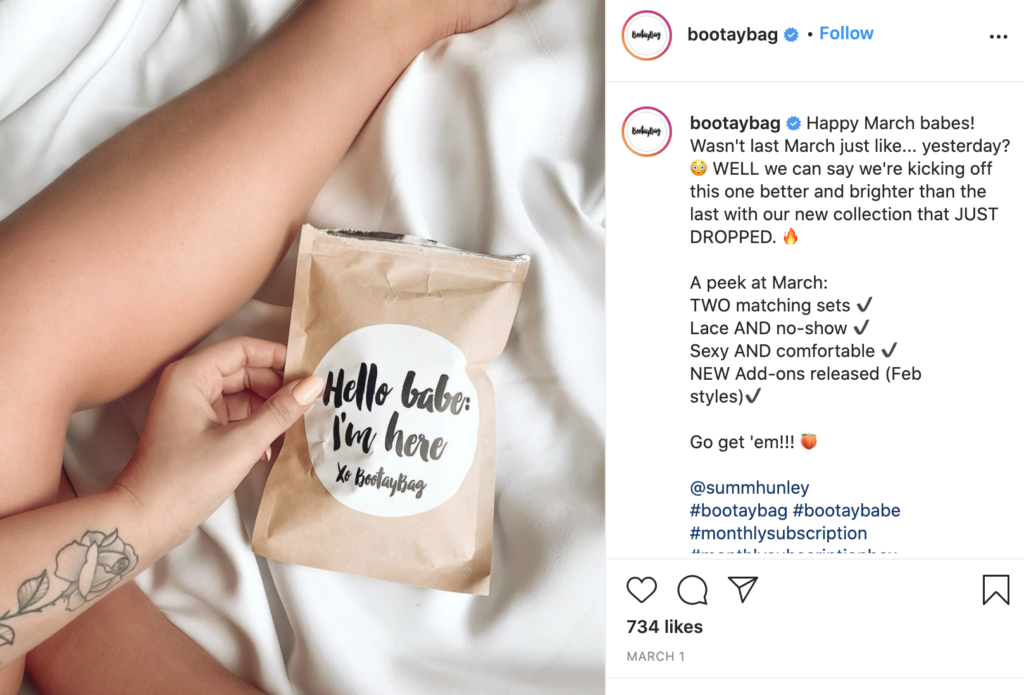 Pros
What are the benefits of Bootaybag? Keep reading to see some of their top benefits.
Custom Bags
Their subscription model is a bit different. Typically, there is only one box that everyone gets and you can only really choose for how long your subscription lasts. BootayBag skipped that and put the choice in your hands.
You have the option of getting either 1, 2, or 4 undies in your bag every month. To keep it extra interesting, you can even pick from a selection of bralettes or even more underwear designs to add to your bag.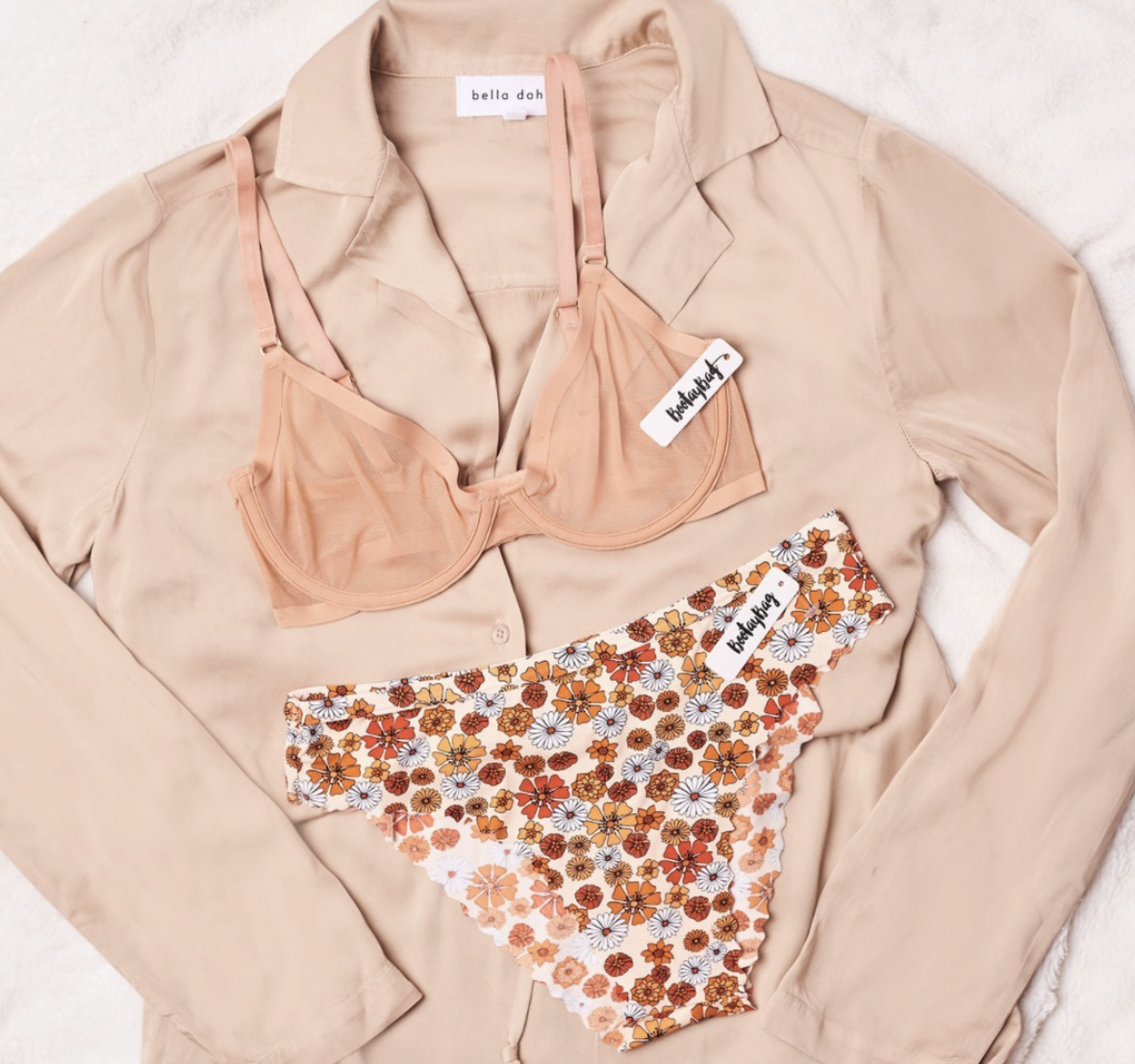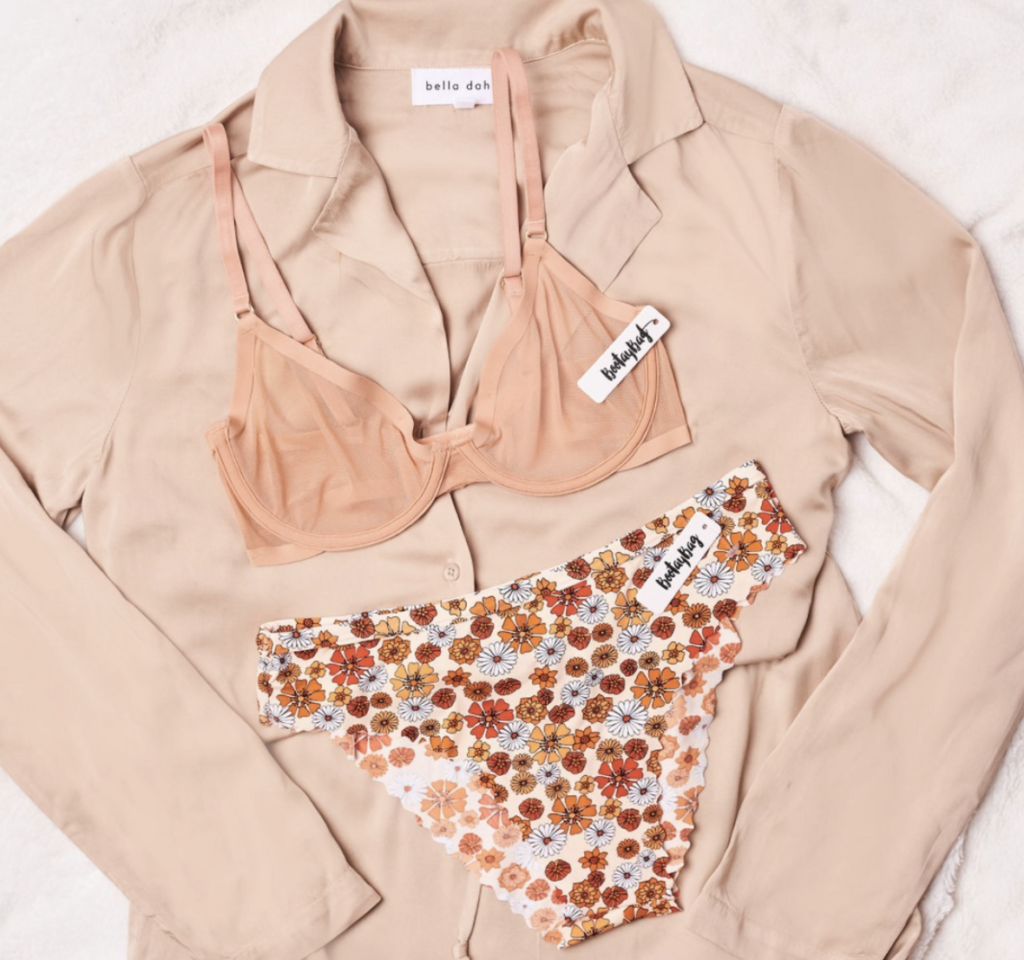 Gorgeous + Unique Styles
I don't think there is any better form of self-care than a nice pair of undies, but BootayBag takes it to a new level. These aren't just any pair of underwear, they earn the title of lingerie.
Forget the days of settling with bright neon colors with random sayings on the butt.
BootayBag features designs with style, opting for more solid colors and classic designs. When they do use brighter colors or patterns, they still keep a level of sophistication that any woman will love.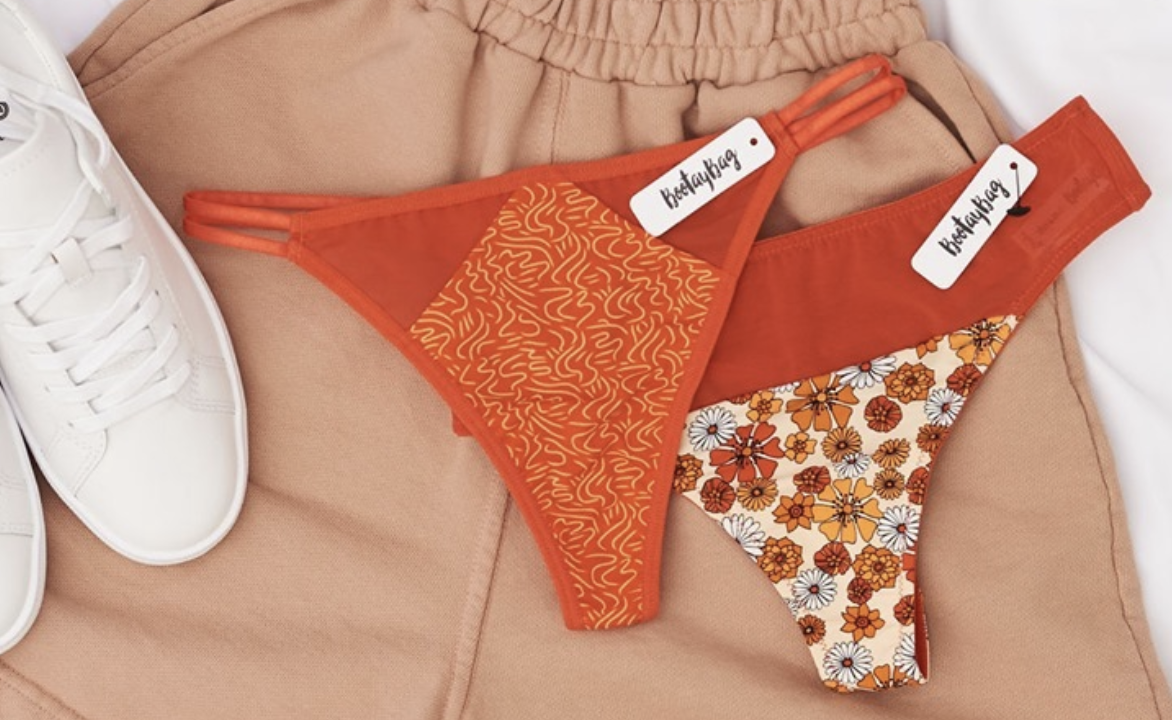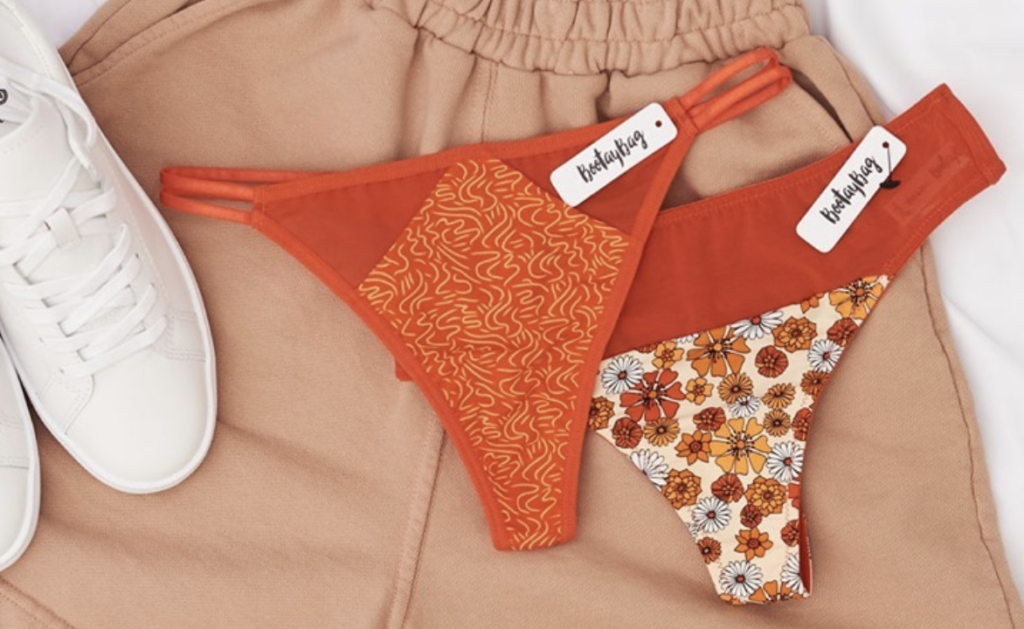 Cons
Sizes
Like I mentioned before, BootayBag is "made with real women in mind," so it's odd that their sizing stops at XL.
They do make an effort to show the different women who wear their designs, but their sizing fails to reflect that same level of diversity. I think it could be better.
They have states that they are working to have larger sizes, but for right now, it's pretty limited.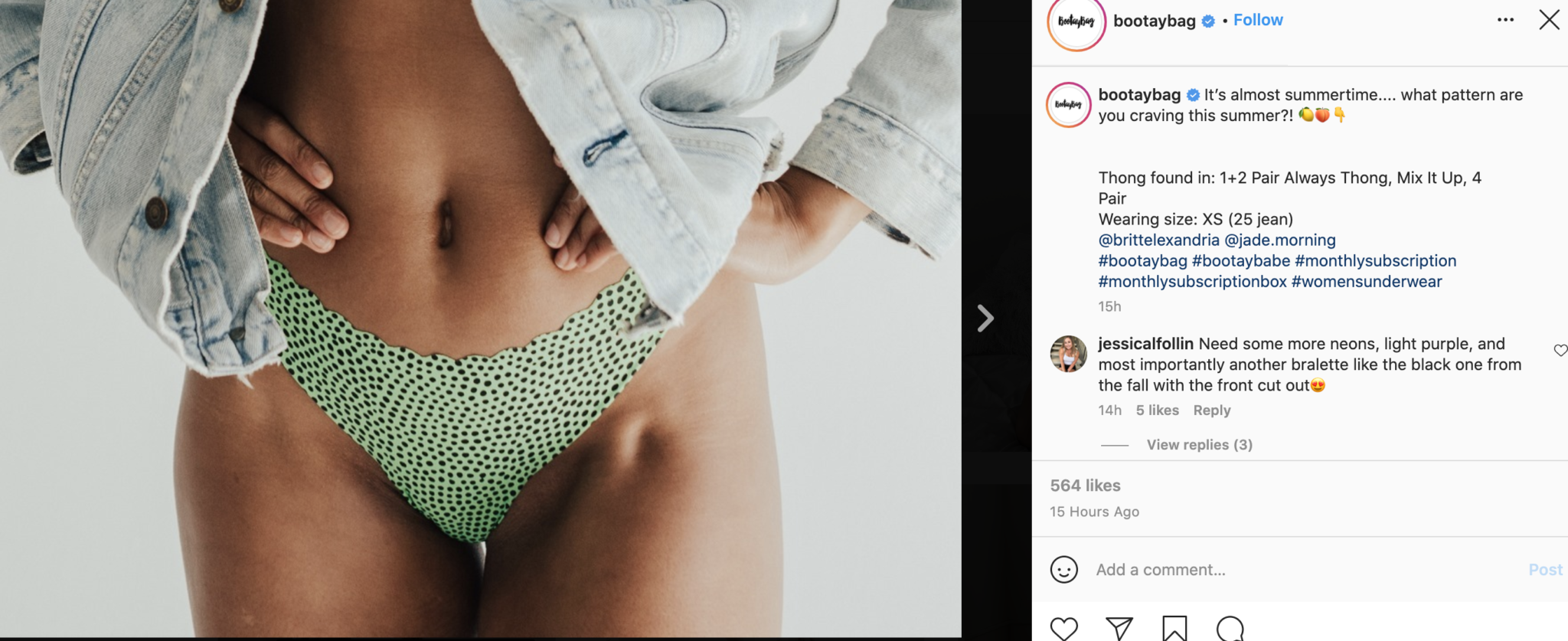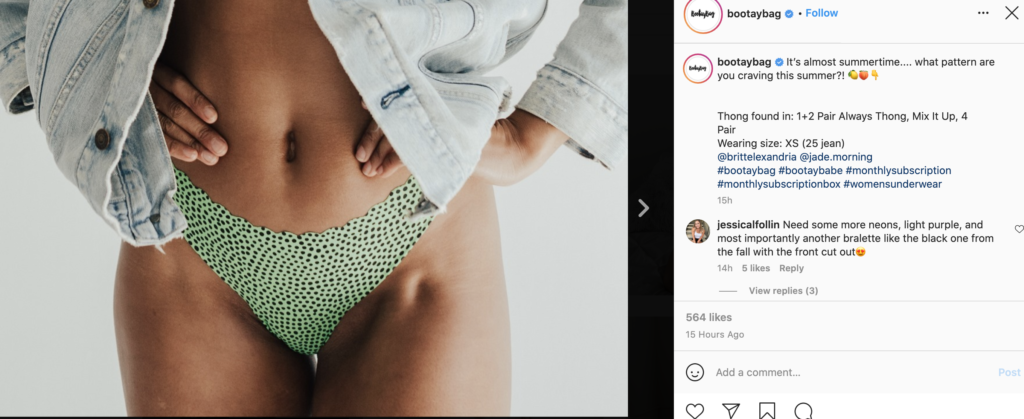 Limited Availability
Back in February when we first took a look at BootayBag, they sold out of their 4 pack bags and we didn't know when they would be returning. Now, a few months later, they still seem to be out of their 4 pack bags.
I'm a little confused as to how they sold out. I believe they are the same design that they offer for the 2 packs. Whatever the case, it seems if you're interested in their 4 pack, you're going to have to wait a little longer.
Pricing
This one is low on the list, but I thought it was worth mentioning. Back in February, the 2 pack was $15 a month.
Now, again only a few months later, the price was raised to $18 a month. It's a small increase, but it's worth mentioning.
The single pack is still $10, but since the 4 pack is still sold out, I can't check the price. I would assume there would be another price increase, but you never know.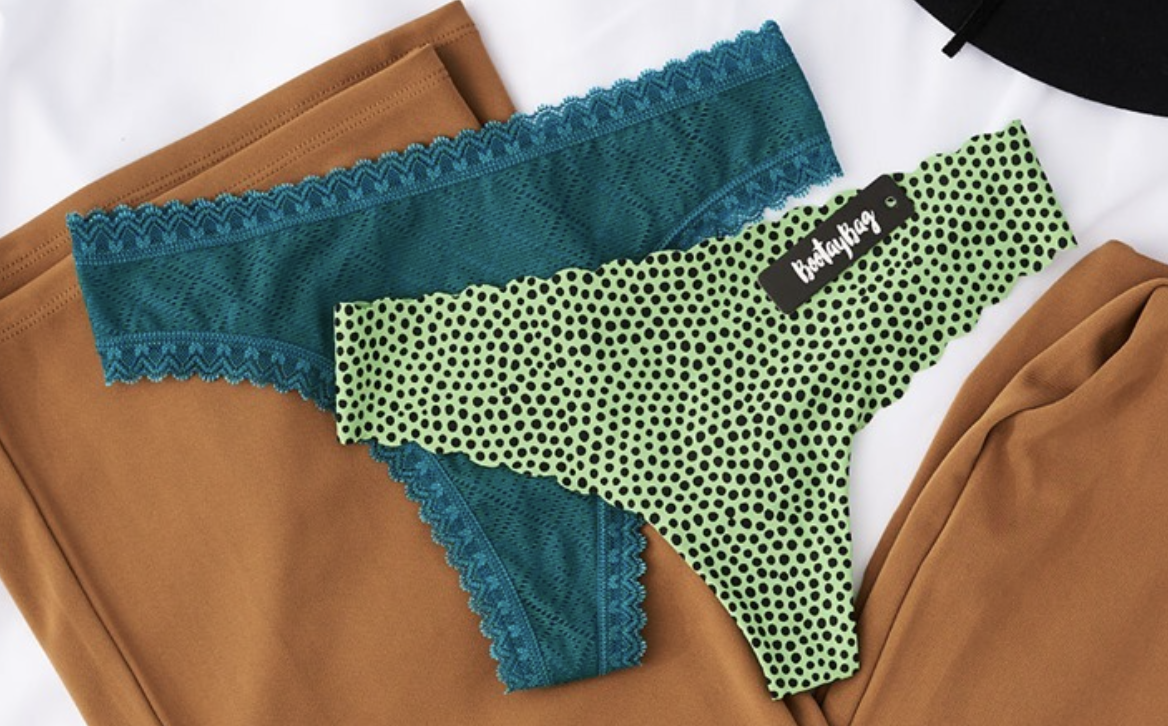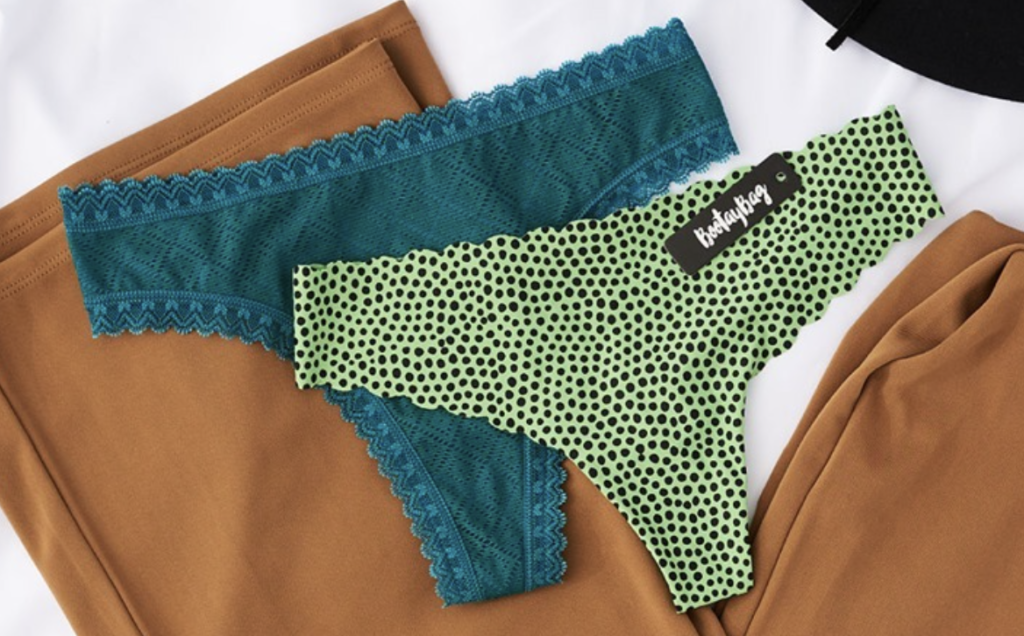 Shipping
This one is temporary, but again it's something to mention. While US shoppers get free shipping, international shoppers are currently getting put on a waitlist. Due to COVID, BootayBag is shipping to the US only.
Again, it's only temporary, but that wait time is something to consider if you were hoping to shop internationally.
Now, let's dive in deeper to Splendies.
Founded in bright and sunny Santa Monica, CA, Splendies is another monthly subscription box that's been making its rounds. I personally have been following them on Instagram for a few years now.
It's clear that they want to offer cute undies for women of any size at a low price. Just like BootayBag, they also show off their happy customers and create a space to empower women.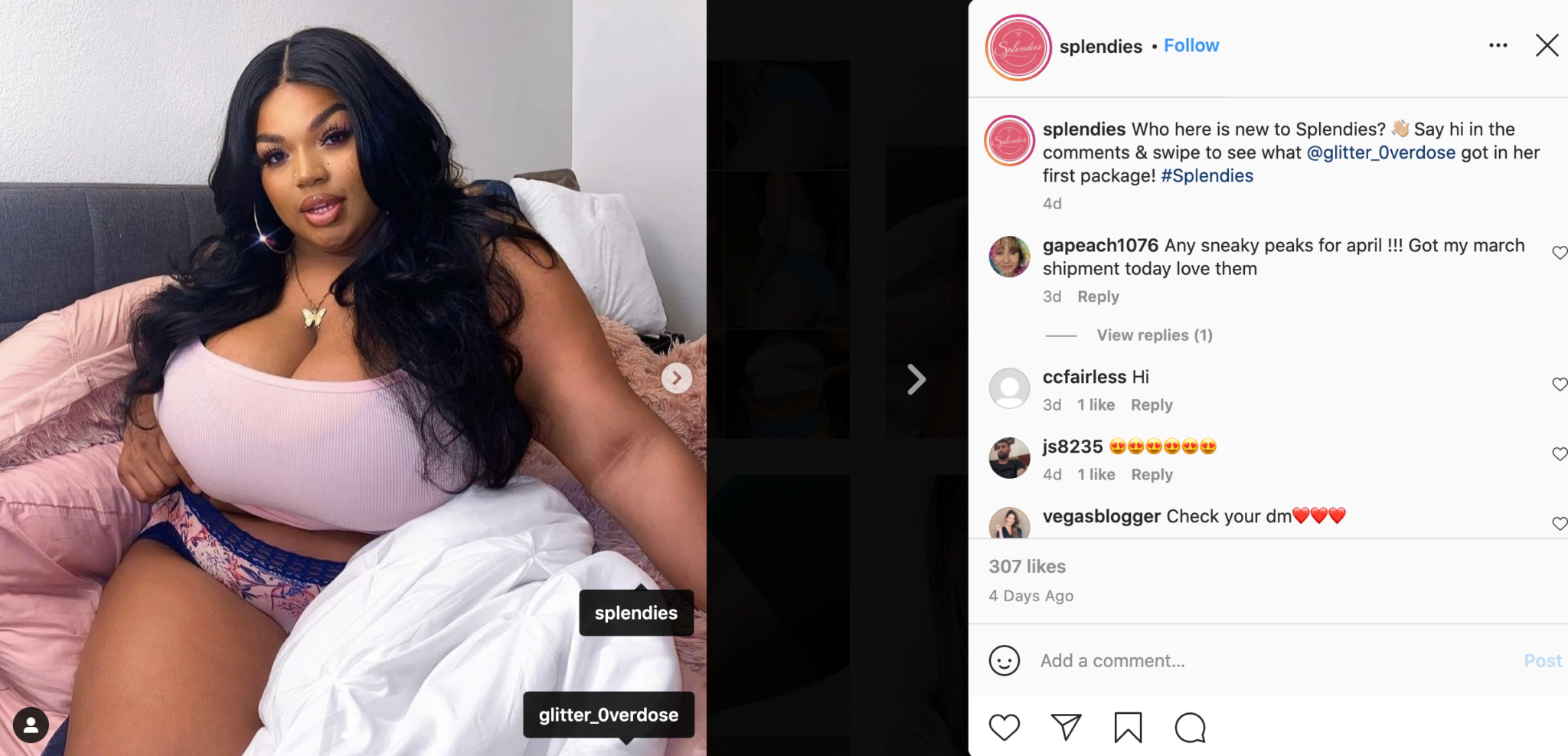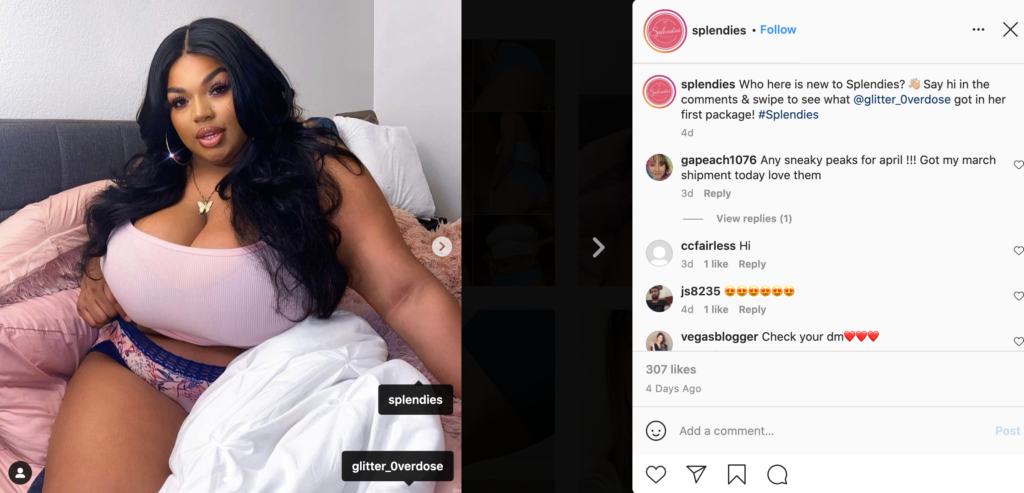 Pros
Inclusive Sizing
While BootayBag's sizing stops at XL, Splendies goes all the way up to 4XL with their plus-size subscription.
They also highlight this diversity in their Instagram, showing more plus-sized women compared to BootayBag's feed. They mean it when they say they want to offer all women a chance to get cute undies.
Shop Past Designs
There is no way I can emphasize enough the horrible feeling of FOMO when you see all the cute sets that you missed. This feeling is the same with so many subscription boxes, but the great thing about Splendies is that they still sell their past designs!
You can take a look at past boxes or you can shop individual pairs. You can even buy a pair of socks while you're at it. Prices range from $4.99 – $8.99 for individual pairs or you can get a whole set for $14.99 – $23.99.
If you're not really a fan of surprises in their monthly boxes, take a look at their past selection, you might find something you like (you can also preview spoilers).
Price + Shipping
Another of the best things about Splendies has to be the price.
If you only get one month for $14.99, that breaks down to $5 a pair. That number slowly drops if you sign up for their monthly plans.
Even with their plus-sized sets, $16.99 a month, it still breaks down to $5, almost $6 a pair. You got to love a deal that good.
As for shipping, Splendies has everyone covered. Customers in the US, APOs (Air/Army Post Office), all US territories, and as of September 2020, Canada, are all eligible for free shipping.
To all the international shoppers, don't worry, Splendies didn't forget about you. International shipping is $10 (UPS pricing, not theirs). Even with paying for shipping, you still get a great deal for a set of high-quality undies.
Cons
Extravagant Designs
To some people, this might seem like a pro, but I know this will be a breaking point for some. While BootayBag features some more simple and understated designs, Splendies is the exact opposite.
They feature bright and colorful designs, often theming their sets to the season or certain holidays. Personally, I'm always a sucker for their Halloween sets. While they do come out with more adult designs, you're likely to have at least one crazy pair in your set.
While to some, including myself, this is a positive, I know others would prefer not to have bright colors or cute animals all over their undies. It's all about preference.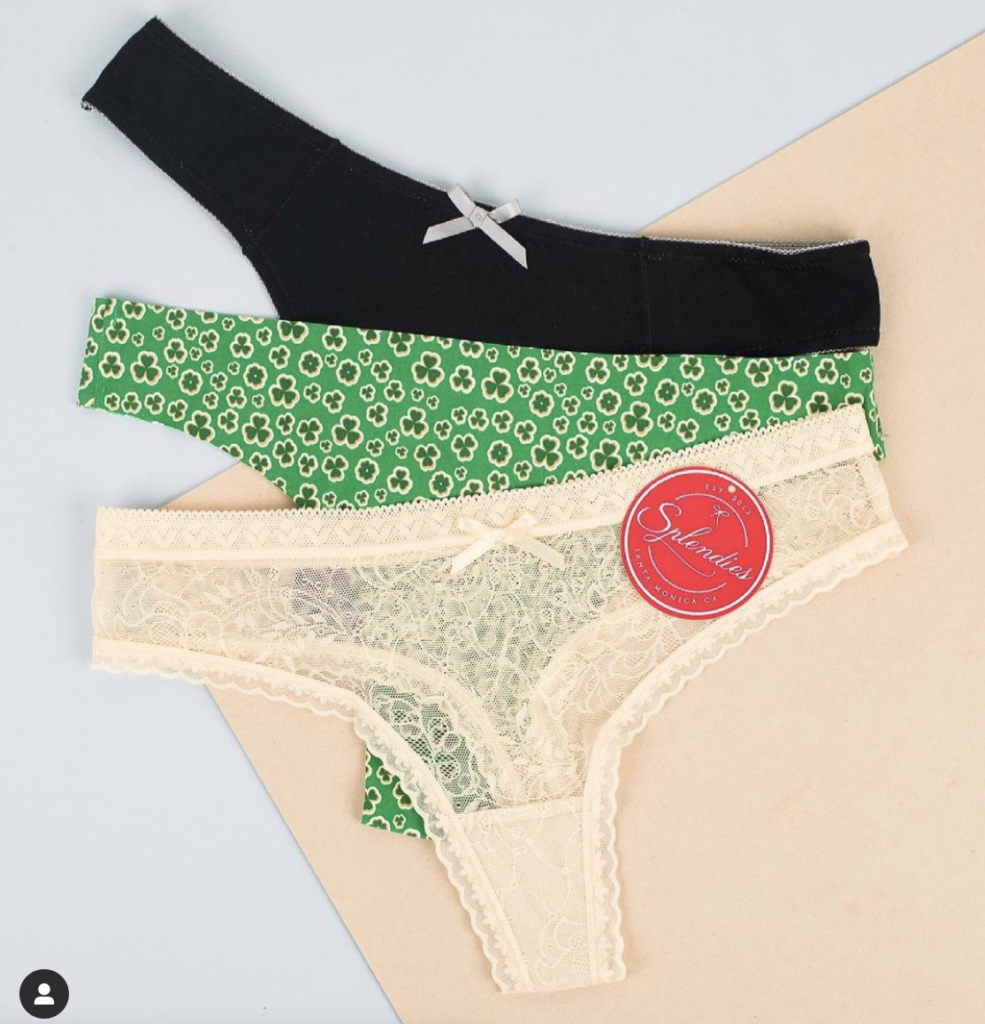 Limited Options
While Splendies works with a traditional subscription model, one product that all customers get, the options look quite limited when you compare it to BootayBag.
While BootayBag lets you choose the amount you get every month and even lets you add more items to your bag, Splendies only has one option to receive three pairs of undies per month.
Final Verdict
If you were to ask me who I thought would win at the start, I would've guessed BootayBag. Based on the fact that they are more popular, the designs they offer, and the customizability of their bags, it's a great subscription to have. But…
Looking more into the details, and really comparing the two, we can't say for sure. BootayBag offers some great designs at a good price, but the sizing could be better.
Not only is the size range limited compared to Splendies, but some subscribers have voiced complaints about the sizing being off in general with Bootaybag. Personally, I've subscribed for a few months and have never ran into sizing problems myself, but this is worth considering.
So, Splendies is a tough competition for BootayBag. Not only do they have a wide range of sizes, but they have a lower price tag and shipping is available worldwide.
Overall, if you want a better bang for your buck and/or better size options, Splendies might be your pick. Either way, they are both great subscriptions – and since they're so cheap, you might as well try them both if you're at a crossroads!