Birthdays are a time to celebrate, and what better way to do that than with some fun nail art? Check out these birthday nail ideas that are sure to make you stand out on your special day.
Whether you're looking for something simple or something more elaborate, we've got you covered. Keep reading to start planning your perfect birthday nails!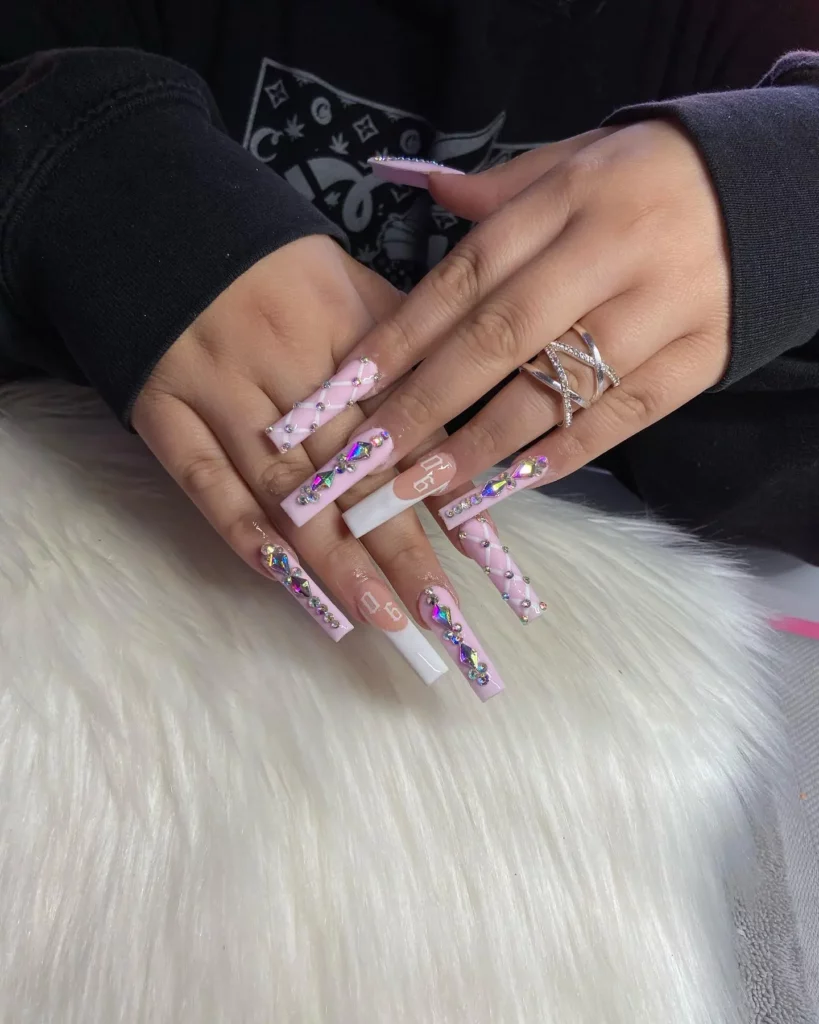 Birthstone-Inspired
A cute way to celebrate your birthday is with a nail design featuring your birthstone. This design features French tips plus a small birthstone at the base of each nail. The ring finger is the statement nail, with a large birthstone right in the middle.
All the Bling
It's your birthday – why not go all out with your nails? These designs feature bling, bling, and more bling.
Bling & Age Nails
Featuring tons of bling and the numbers of your new age, these are the definition of extravagant birthday nails. Nobody will forget how old you are!
Birthday Sprinkles
These cute nails feature tips with multicolored sprinkles. So cute, but they might make you hungry for more birthday cake.
Related: 47 White Nail Design Ideas – Classy & Chic
Gold Foil Numbers
Who doesn't love gold on their nails? This elegant design features neutral shades plus gold foil, with their age spelled out on the middle finger.
Birthday Balloons
Nothing says "it's my birthday" like balloons on your nails! These fun, colorful designs will let everyone know it's your birthday.

That said, balloons are one of the more difficult nail art designs and require a very steady hand, so make sure to get your nails done by an artist you trust (or make sure they're using decals).
Heart Bling
This fun design features a neutral base with a heart shaped bling design spread across two nails, plus some more subtle bling on the other nails. Neutral, but still makes a statement for your birthday!
Neutral Nails with Pink Glitter
This gorgeous nail design is a beautiful glam nail for your birthday if you want an elegant design that stands out without being too over-the-top.
RELATED: 42 Neutral Nail Ideas for a Minimalistic Look
Subtle Crystals
If you don't want to celebrate your birthday with balloons or numbers on your nails, we completely understand. These glam nails are a great pick instead.
The first features a light pink base with crystals spread out evenly across each nail. Or, go for the second design with French tips and a few crystals on each nail.
Gold Designer-Inspired Nails
Your birthday is a time to feel luxurious, so get some designer-inspired nails! This gold design features Louis Vuitton logo and gorgeous gold flaking.
One Statement Nail
A fun way to make a statement without going over the top is to pick a simple nail color for all your nails, with one statement decal or piece of bling on your ring finger.
Pastel Tips with Butterflies
If you're a fan of colorful nails, these French tips are for you. Add some fun butterfly bling to make your birthday nails extra unique!
Birth Year Nails
If you don't want to put your age on your nails, birthyear is a great alternative! You can spread it out across four nails, or feature the last two digits on two nails.
Cupcake Nails
Another fun design that might make you hungry for your birthday cake, these pink nails feature glitter and a statement cupcake on one nail.