Are you looking for the best work bags for women to haul all of your belongings? Keep reading to see our top picks!
So you need the perfect bag for work, right? It needs to be practical—large enough to hold all of your necessities, but small enough to fit comfortably in your office and desk space. With a variety of bags on the market and so few with the words "work bag" in their name, it can be a trying task to figure out where to start shopping.
The perfect work bag is an absolute necessity. If you have plans after work, it's a convenient place to store a pair of shoes, some makeup, or even a change of clothes. If you take your own electronic devices to work, you need somewhere to safely travel with and store your laptop, notebook, and anything else you may use to complete your work successfully.
To help you find a bag that's absolutely perfect for you, we've compiled this list of the best work bags for women!
Best Work Bags for Women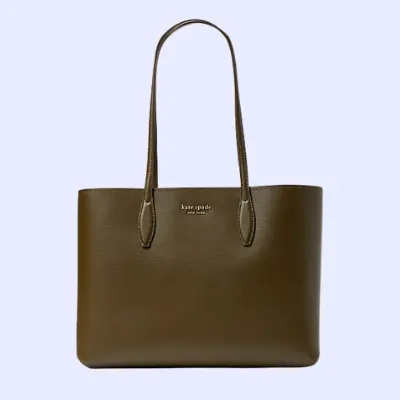 This bag is the perfect effortless tote if you're looking for a bag you can easily toss everything into before hitting the road. With an open-top, it's super easy to place and remove your items!
This bag also comes with a removable pouch for convenience. If you want to make sure your keys and wallet are kept safe and you won't have to dig through everything else to find them, it's a practical way to keep them separate and easy to find!
---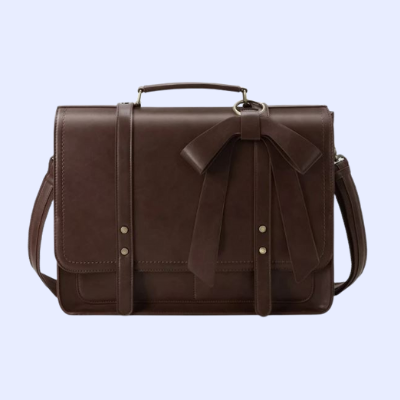 If you're after a versatile bag, this is it! This bag can be used as a briefcase, backpack, or shoulder bag! It also features a removable bow detail that can be worn or removed at your preference.
This bag is also a vegan-friendly option on our list! If you're after a durable work bag that features an alternative to animal leather, this is a fantastic choice.
---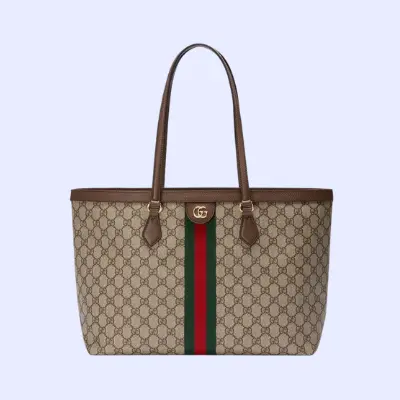 Are you a fan of designer logos? If so, this makes a perfect work bag for you! Large enough to hold the necessities, but small enough to be compact under your desk, this bag is the perfect size to take to work.
It features a coated-fabric exterior, making it incredibly easy to clean! If you happen to spill coffee on your bag as you're rushing into the office, you'll have no worries when wiping the mess away.
RELATED: 13 Best Designer Tote Bags for Work
---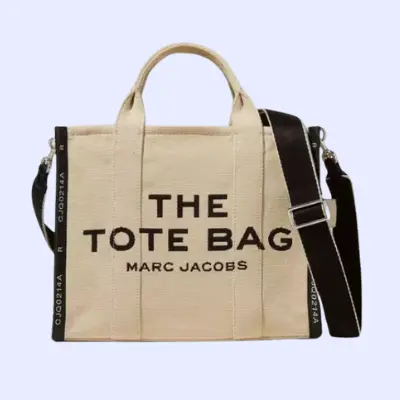 Another designer-brand bag on our list, this bag from Marc Jacobs has quickly become a fan-favorite for fashion lovers everywhere. No doubt, you've seen this bag on the town at least a handful of times—and for a good reason.
This small tote bag features a comfortable wide strap that helps to balance the weight of what you carry, perfect if you have to lug more than a handful of items to-and-from work! Additionally, Marc Jacobs offers Afterpay on this bag, so if the price seems a bit steep at first, you have the option to make interest-free payments.
---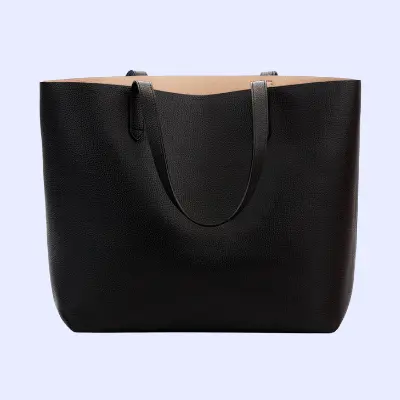 This leather tote is one of the larger bags on our list. If you really have a plethora of items to carry, or if you enjoy hitting the gym right after work, this is a great choice for you featuring lots of space, a discrete inside pocket, and a tie-top to keep everything safely inside.
This bag is a fantastic choice for the conscious shopper as well! Made of sustainable materials, it is handcrafted in a woman-owned factory by employees who are treated with respect and paid a fair wage.
---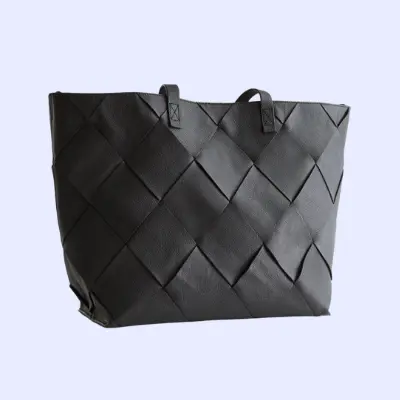 This bag is perfect if you're looking for something with aesthetic appeal. With a braided exterior feature, it's not your mother's work tote bag.
This bag is extremely comfortable to wear with its slouchy structure and soft pebbled leather. If you spend a lot of time carrying your bag, it's a fantastic option because of this added comfort.
---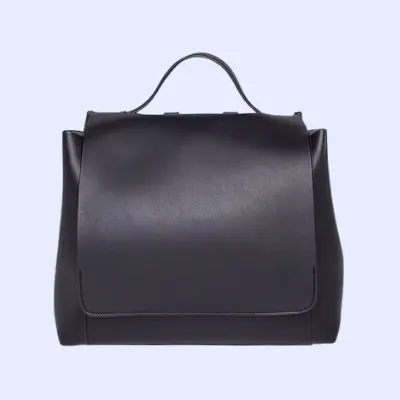 Who says you can't carry a backpack once you're done with school? Backpacks help to balance weight more comfortably and can help alleviate stress on the shoulders.
This backpack is a sleek design that mimics a briefcase but is slimmer in width so it still fits like a traditional backpack. Inside, it features two separated sections, a zipper compartment in the center, and a discrete zipper pocket on the side. If you like keeping everything organized and secure, this is a great choice for you.
---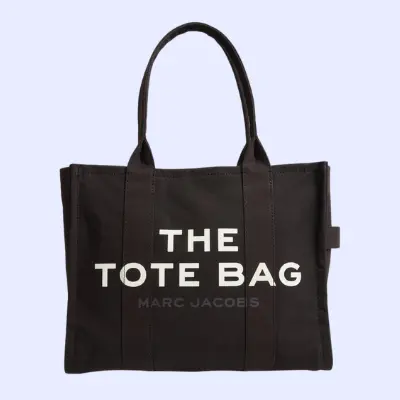 Another take on the Marc Jacobs tote, this is a larger size that can hold all of your essentials if you have a lot to take to work. The great thing about this large tote in comparison to others is that it features a zip-top. If you like having extra security that your belongings won't fall out of your bag, this design has you covered.
If you leave your items at work throughout the week and take them home over the weekend, this bag is a great choice for you as well. It can be folded flat, so you can easily carry it to work on Friday, put all your belongings in, take them home, and bring them back Monday morning.
---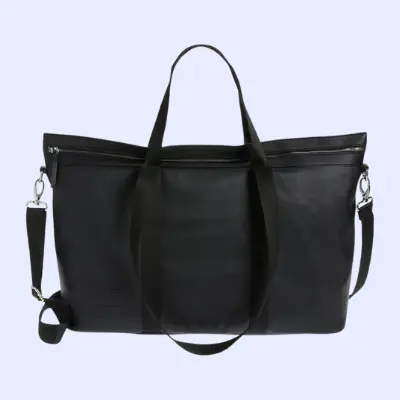 If you're after a minimalistic and luxurious tote for your morning commute, this is your go-to on our list! With an obscure logo and sleek black-and-silver design, this bag oozes opulence through understatement.
This bag isn't all about looks, though. It offers just as much practicality. With a removable wide strap to ensure balanced and comfortable wear, you have versatility. Plus, this bag is also vegan-friendly.
---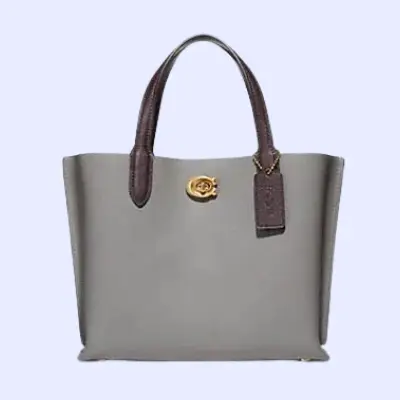 This bag is another great option if you're a fan of designer logos. While it doesn't feature a repetitive logo exterior, it features Coach's branded gold hardware and hangtag.
This bag is perfect for the minimalist. If you only need to take the bare essentials to the office, it's a small, chic tote that can easily hold your phone, wallet, keys, a bit of makeup, a small notebook and pen, and a few snacks.
---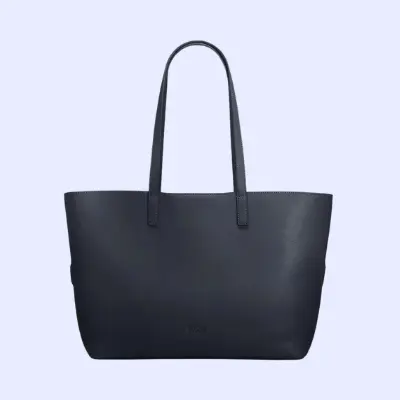 This bag is large enough to carry a laptop up to 15", so if you carry around a pro laptop that's a bit heftier due to its additional storage space this bag will hold it. With a magnetic closure, this bag keeps all of your belongings tucked safely inside.
The coolest feature of this bag is its ability to travel easily. If you're a fan of Away's luggage, the removable strap that comes with the bag can be used to attach it to their luggage pieces.
---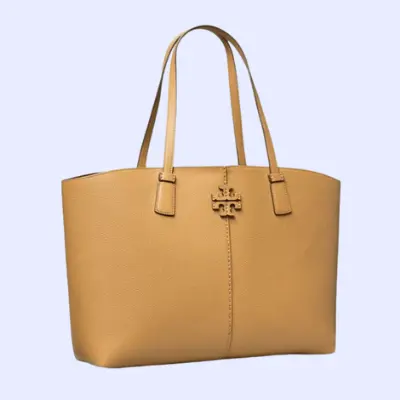 When it comes to the best work bags for women, we have to talk about Tory Burch.
Another large tote on our list, this fan-favorite can hold a large laptop, notebook, all of your office supplies, snacks, and more. This is a great option if you take everything but the kitchen sink to work with you.
Not only is this bag spacious and practical, but it also comes in a tasteful merlot color that pairs nicely with office-friendly neutrals. It's a fashion statement as much as it is practical.
---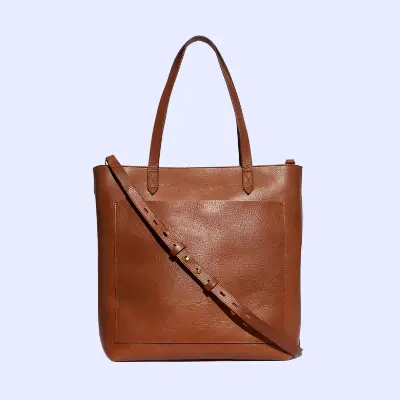 This tote is perfect if you're after a bag that's a bit slimmer in width, but still roomy enough to carry the essentials. Featuring a zip-top closure (as the name would suggest), interior side pocket, and exterior side pocket, there is plenty of separated storage as well.
What's really fun about this bag is that you can actually get a customized stamp embossed on it! You can use up to 8 characters, so you can have your initials added, a first or last name (depending on length), or even an encouraging word to help you find your peace throughout the day.
---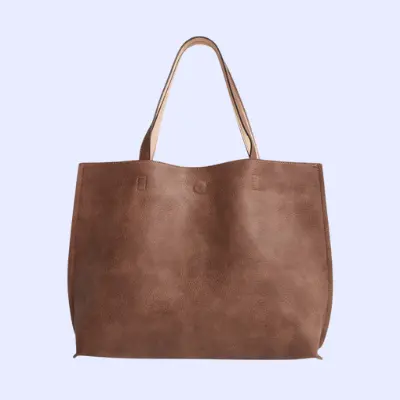 This bag is fantastic because it offers so much versatility. You can easily switch between a black and camel-colored bag, perfect for pairing with all of your favorite outfits.
Additionally, this tote comes with a convenient wristlet that can be attached to the strap for easy location. It can also be removed and carried separately, making this a great choice if you're after a bag that can take you from the office to a night on the town.
---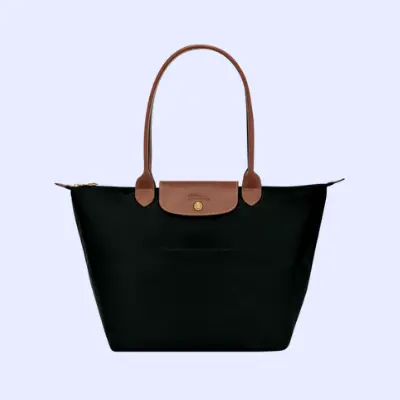 Featuring a zip-top closure, this is another fantastic option if you're after a bag that will keep all of your belongings safe and secure.
Made of canvas and leather, this bag is extremely lightweight making it a breeze to carry. If you have heavier items you carry to-and-from work, this is a fantastic choice as the bag itself will add virtually no weight to your shoulder.
Bottom Line
Shopping for the perfect work bag can seem overwhelming as there are so many options to choose from. How can you possibly find the perfect bag to accommodate your specific needs?
As you can see from our list, the right option for you is out definitely out there. As you give our list of the best work bags for women a try, we know you'll be more than pleased with the options available.
UP NEXT: 12 Vegan Handbags for a Sustainable Wardrobe