Fashion can be so many things. It can be beautiful, but it can also be sustainable. Now, more than ever, we are seeing a greater focus on where our fashion comes from. Vegan handbags are one great example!
If you want to be more mindful about what's in your closet, a good way to start is swapping your designer bag for a vegan one. Nowadays, this doesn't mean you have to skimp on style! There are a wide variety of vegan designers and vegan handbag brands that are doing their part and showing that style and sustainability belong in the same sentence.
Here are some vegan bag brands to look out for, including a few of their top bags to add to your closet.
Designers (click to jump down):
Best Vegan Handbag Brands
In New York 2013, married couple Angela and Roi Lee launched their brand and set out to do one mission, " To transform the way we think about fashion with ethical accessories that are good for all creatures."


Now, they are doing just that by designing bags with just as much elegance as the next, but they leave out the harm they can do. They pride themselves on using nonanimal materials like Exquisite Polyurethane Leather, as well as upholding fair labor standards. 
Here's one for those who want something sustainable and functional. This mini tote is perfect for walking around on campus or just a day in the office. It's small and stylish, while still having enough room to hold all you need (including a 12 in Macbook).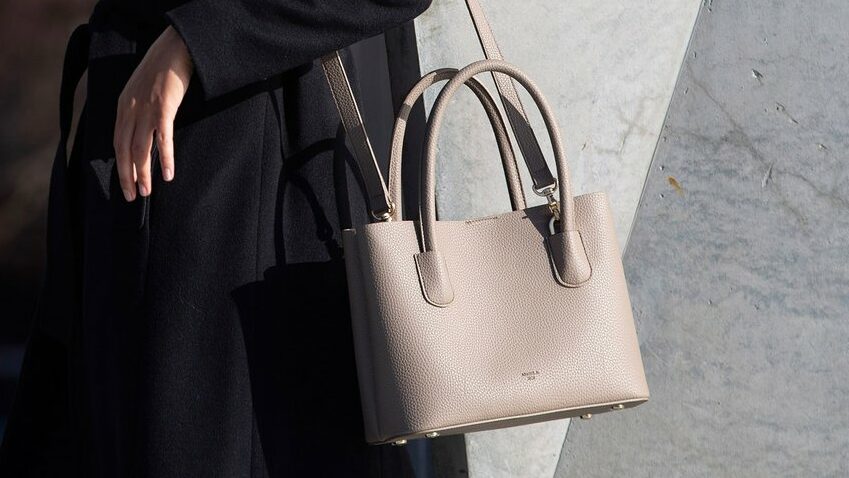 I highly recommend getting this one in either brown or black so you can always reach for it no matter what you're wearing. It also makes their red signet pop, even if it is on the inside. It's a reminder of their values and the community they are creating with their ethical bags, why not make it stand out.
Here's one is good for those days when you're packing light, but still want your bag to stand out a bit. This bag balances both classic and edgy elements with its simple and sleek design and its grungy gunmetal hardware for the bag strap.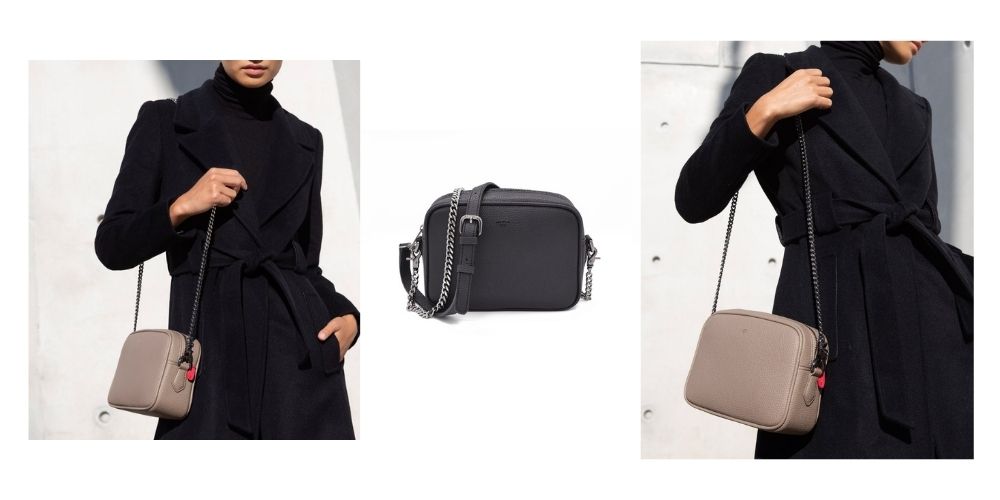 This bag comes in three different sizes so you can find the one that works for you. It also comes in a variety of colors. The neutrals look gorgeous, but blue or purple will make a statement.
---
Here's a designer brand that is setting out to do big things. Stella McCartney has proven themselves to be pioneers in the world of sustainable fashion. From finding new alternatives like their fur-free-furs and vegetarian leather to protecting endangered forests.


This is a brand that truly wants to make a difference, and is showing that they don't have to sacrifice style to do it. You'll look like a million bucks and will be doing your part to spread the word about sustainable fashion.
Aside from vegan handbags, they also have a variety of sustainable women's fashion, shoes, and more!
For when you want to look amazing while carrying every essential on your back and maybe even a little bit more. This gorgeous backpack is the perfect blend of sporty and edgy. With its slick black body and chain detailing, you are sure to look like a badass.
The best part about it is that it's made out of their ECONYL. Stella McCartney had a goal to stop using virgin nylon by 2020 and are now replacing it with recycled nylon made from industrial plastic, waste fabric, and fishing nets from oceans. Recycling never looked so good.
If you want to see their ECOYL for yourself, but aren't really a backpack kind of person, this is the purse for you. It has everything the Go Backpack has, the black body and chain details, but in a smaller design fit for any fashionista. It's the perfect bag for a night out on the town.  
---
Not only do Melie Bianco's vegan handbags look beautiful, they're affordable too (and they offer free shipping over $35)!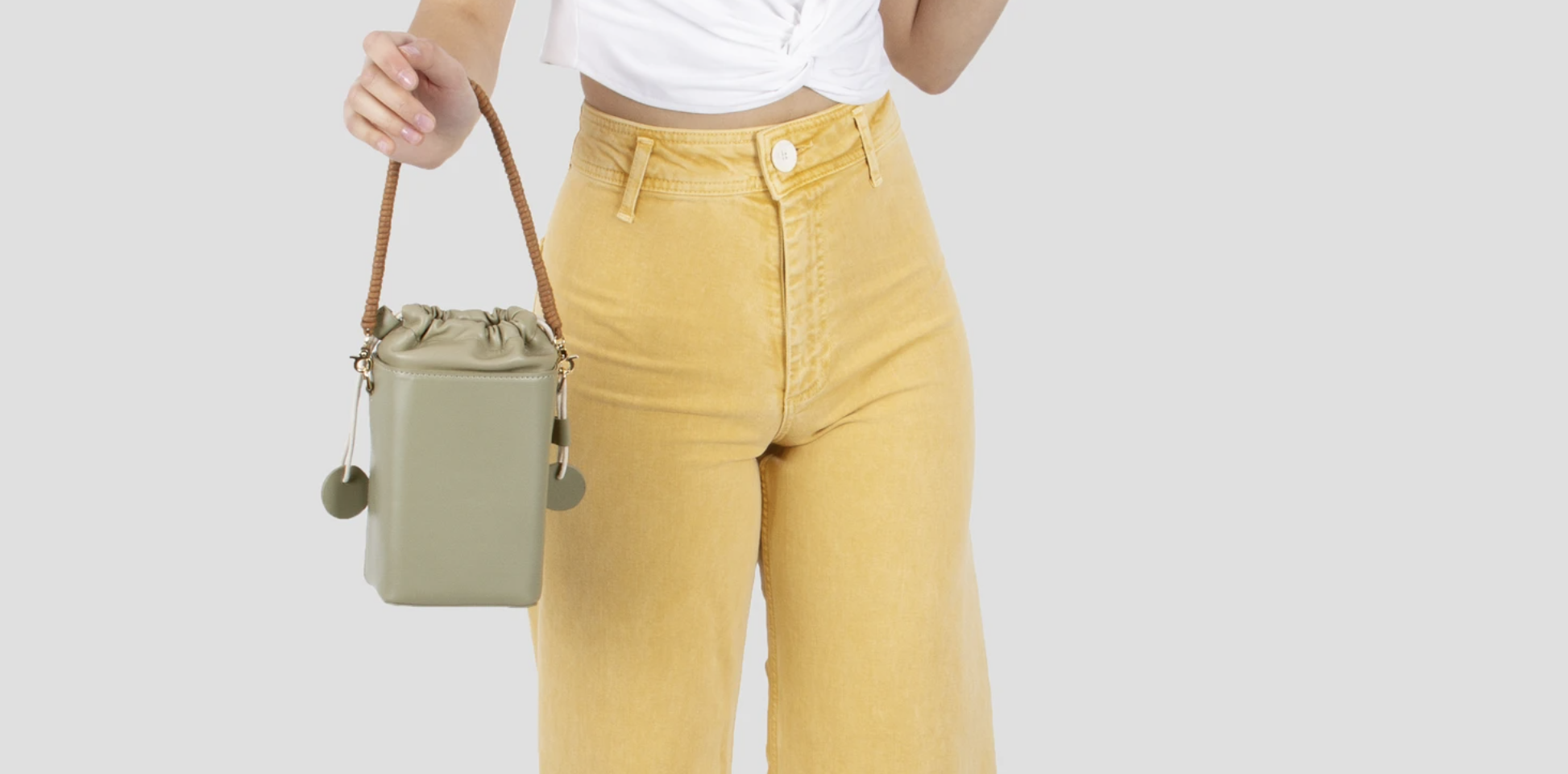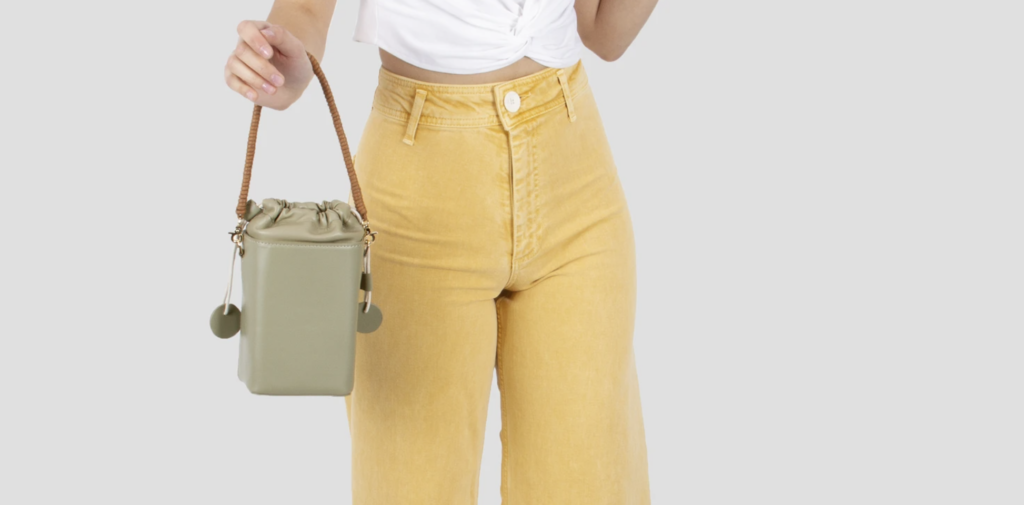 They feature classic designs as well as unique bag styles, all of which are made from luxury vegan leather using fair trade practices.
Melie Bianco focuses on creating quality leather handbags without the cruelty! They use PU (polyurethane) and offer a variety of options. Plus, you can even find some gems in their sale section!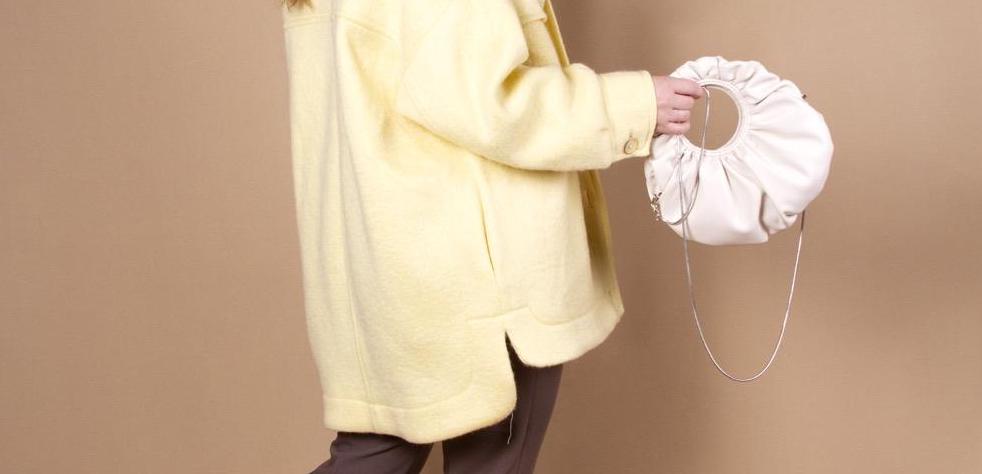 This adorable scrunched bag gives the look of a high-end designer handbag, but costs less than $100!
You can wear it over your shoulder using the small strap, or attach the longer chain for an easy-to-carry crossbody style.
As you can see, we're a sucker for unique handbags that look like they came right off the runway.
Available in two basic colors and two fun colors, this semi-circle shaped bag will add a unique style element to any outfit.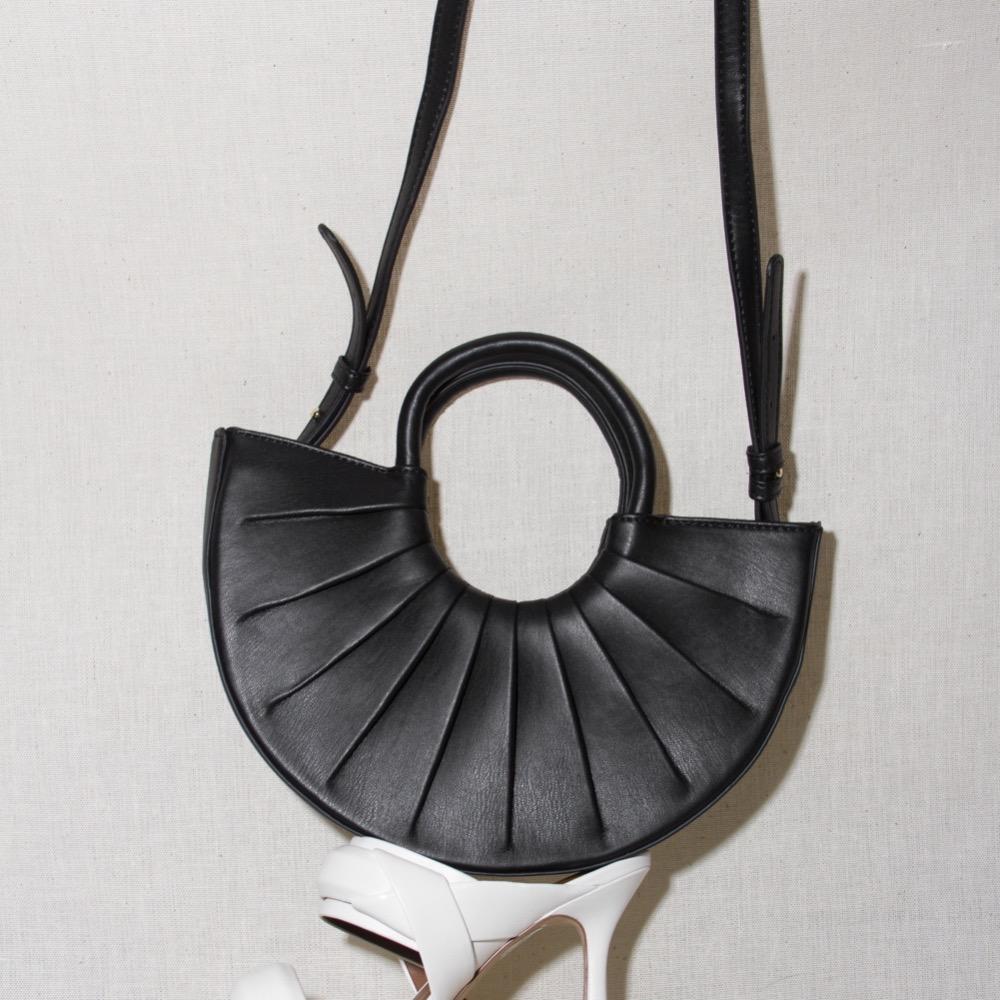 ---
Founded in 1995 in Montreal, Matt & Nat have been dedicating themselves to live by their motto, "live beautifully". To them, this means creating amazing designs that are both beautiful and sustainable, the connection between mat(t)erial and nature.
This includes avoiding animal-based materials as well as finding better alternatives like water bottles. They started using 100% recycled water bottles for their linings in 2007 and no they recycle over 9 million water bottles every year in manufacturing their bags. Now, that's what I call sustainable fashion.


Matt & Nat makes everything from vegan handbags to diaper bags to briefcases. They really have it all (not to mention clothing, shoes, accessories, and more)!
Everyone needs a good weekend bag. You never know when you might need it and this one is the best one to have. With its sleek and simple design, it's truly a gorgeous bag, but it's what's on the inside that matters.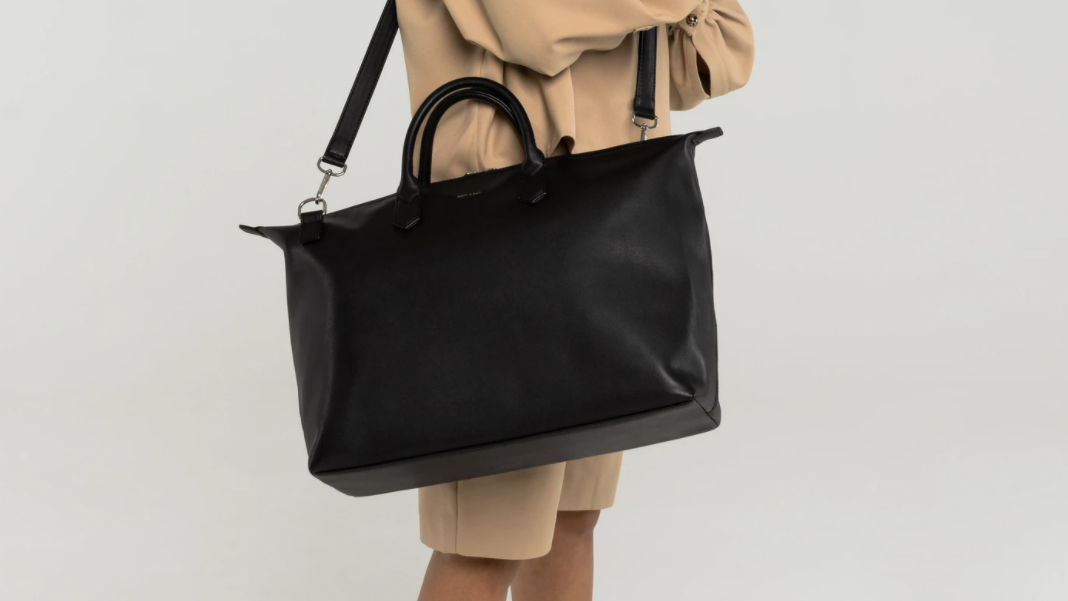 This weekend bag is big enough for whatever you need, enough room for your clothes, some pockets to keep things handy, and a pocket designed especially for your phone so you won't lose it at the bottom.
Pair all that with the recycled materials it's made of, how could you not get it?
Every closet needs a bucket bag, that's just a fact. This vegan leather bag is the perfect size! Just enough to hold all the essentials, while also being lightweight and easy to take on-the-go.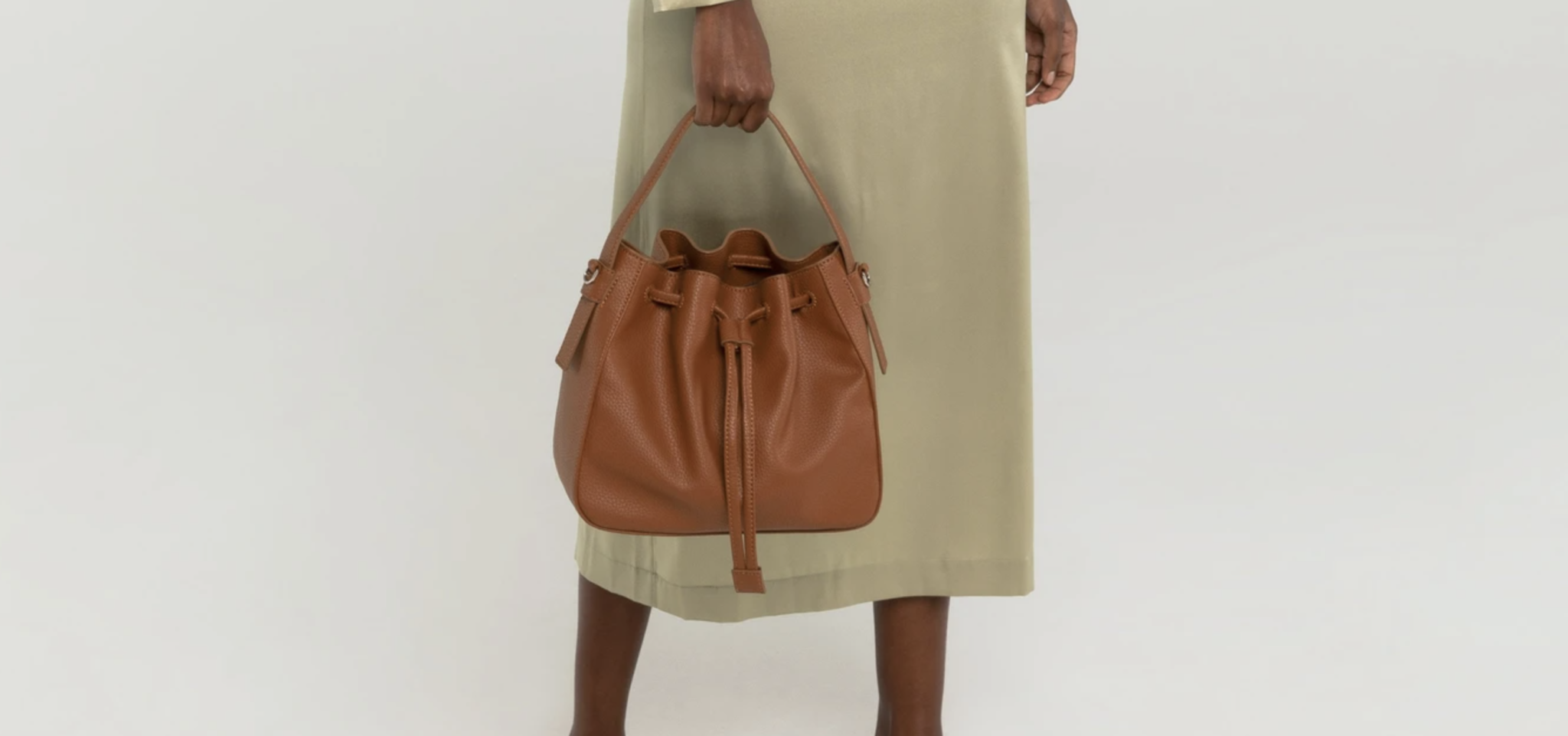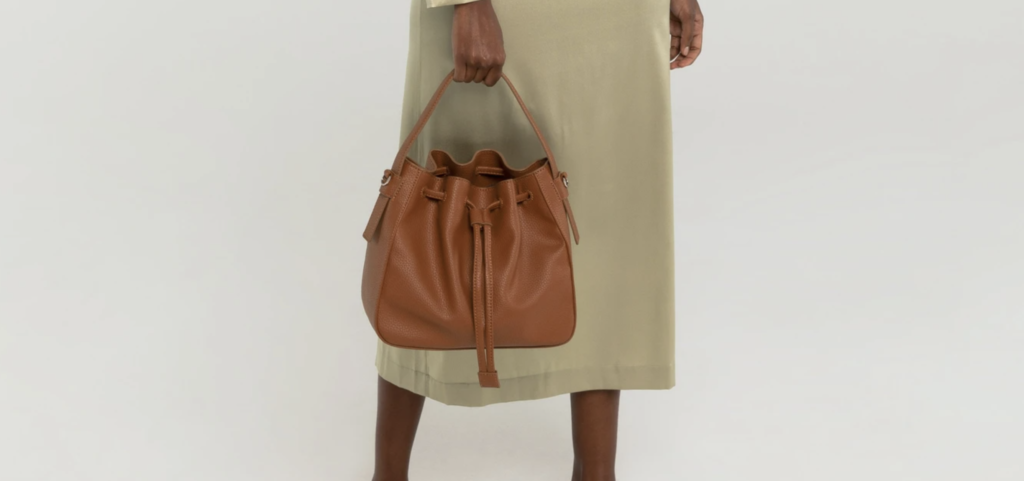 Available in three neutral colors, this is a perfect everyday bag. It looks and feels very high-quality as well, nobody would guess it's made of vegan leather!
---
Founded in Poland in 2014, Alexandra K specializes in both vegan and environmentally friendly bags and accessories. They might be the only place where you can find bags made from corn leather (and that's not the only produce leather they have).


Alexandra K has also been recognized by PETA as an Approved Vegan or Fur Free Retailer, as well as getting the prestigious Vegan Fashion Award by the German PETA not once but twice; 2014 for their handbags and 2018 for their vegan leather motorcycle jacket.
Their bags are even good enough for royalty as PETA UK gifted Meagan Markle one of Alexandra K's handbags for her first birthday as a dutchess.
Keep in mind that this brand is based in Europe, so shipping to the USA will be more expensive (in most cases, around $40 extra).
With mini purses being all the rage, why not get one that can actually fit more than a dime? This lovely vegan bag may seem small, but it is just enough to fit your phone, a small wallet, any other small essentials you need on hand. A good contender for your everyday bag.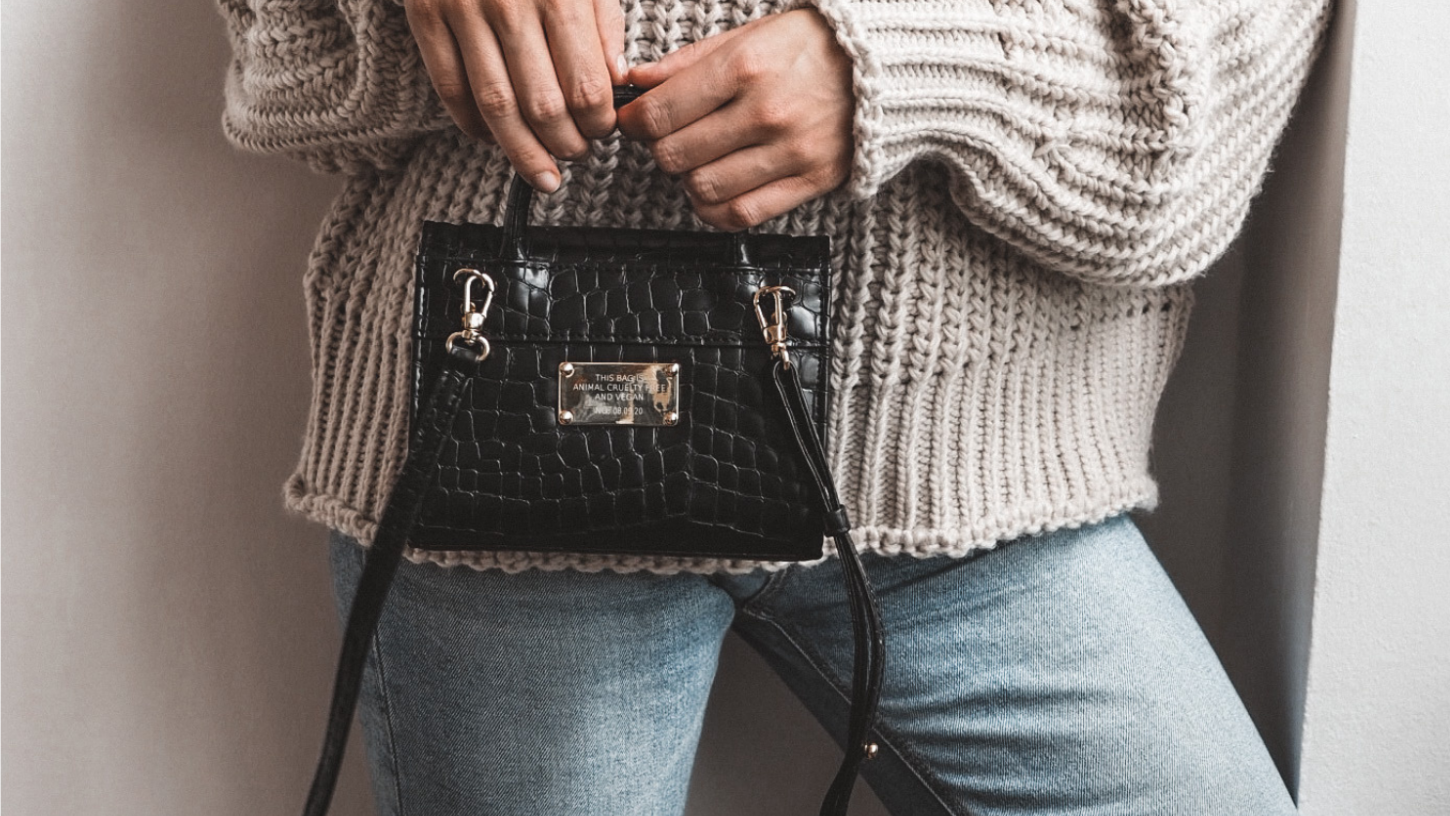 On top of the sleek design, you have your choice of color and texture. Black goes with everything and this bag has a nice crocodile texture that is completely vegan and cruelty-free. Style without the cruelty, what's not to love? 
While a nice everyday bag that pairs with most outfits is handy to have, sometimes you just need something fun to brighten up an outfit. That's where this lovely bag comes into play!
The half-moon shape sets it apart from more typical totes and this light pink color is the extra cherry on top, but that's not all.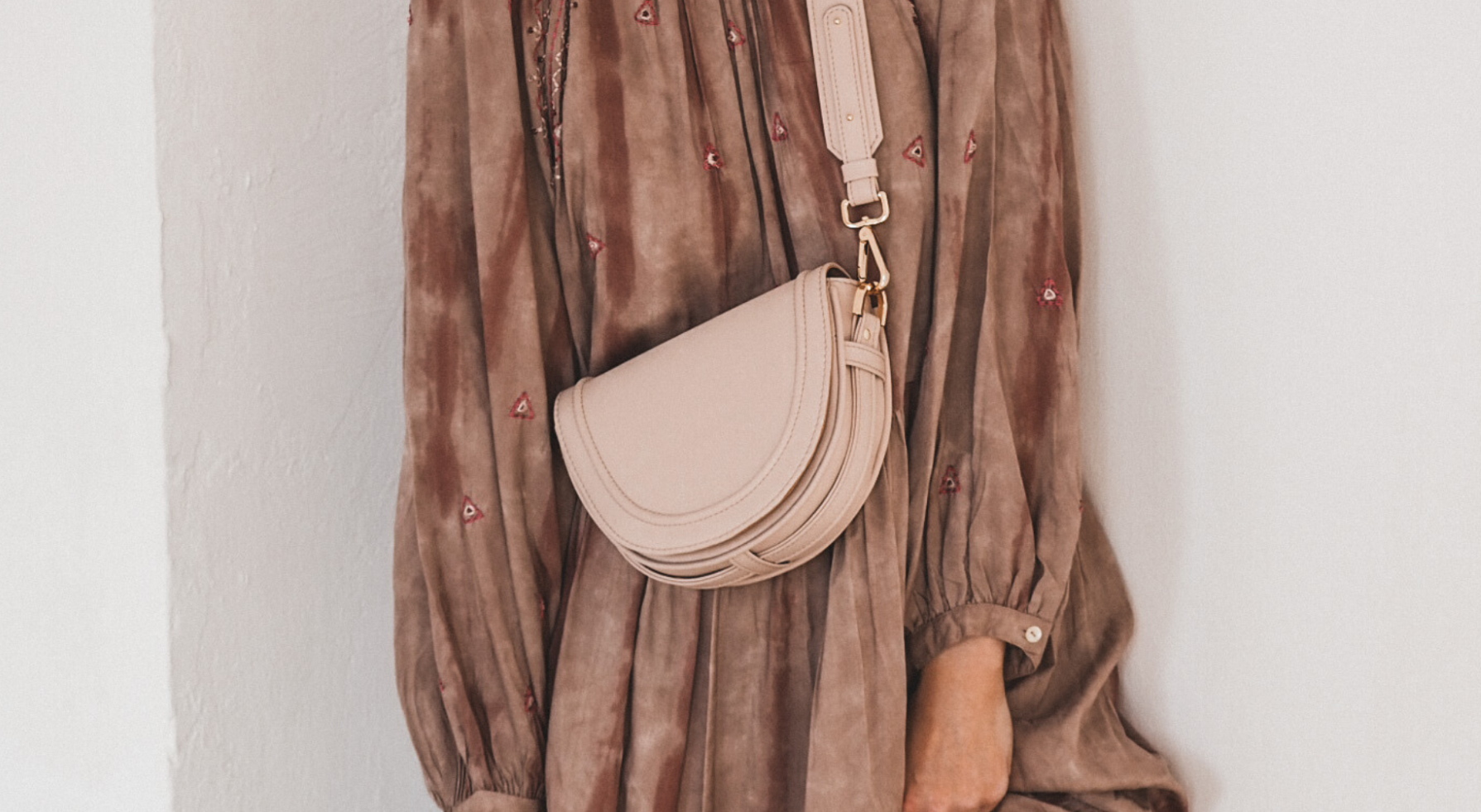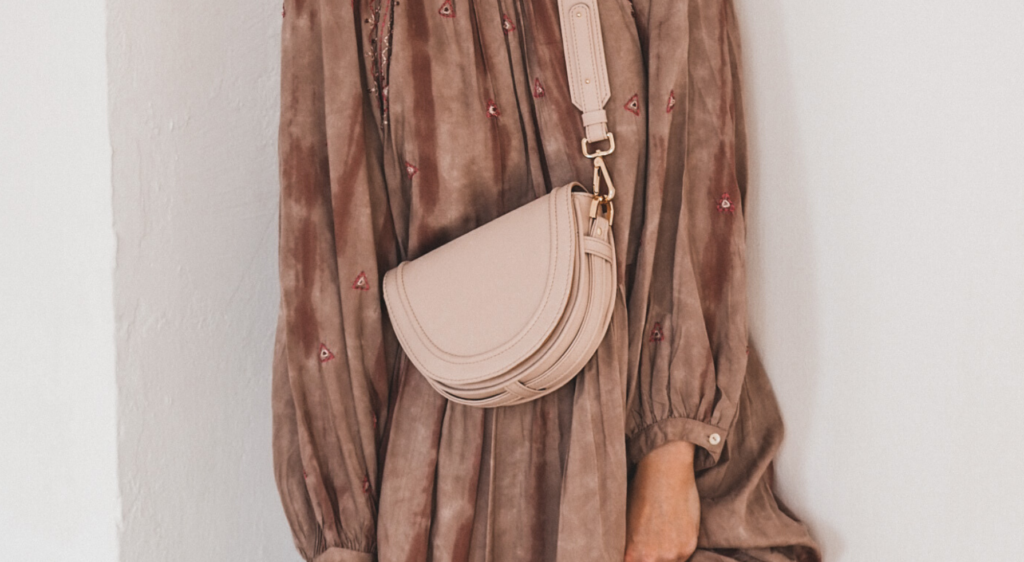 Remember that corn leather we mentioned earlier? Here it is. Quite a strange connection to make (turning corn into leather), but it's genius nonetheless and certainly has gorgeous results. If you're curious to see for yourself, this is a good place to start. 
---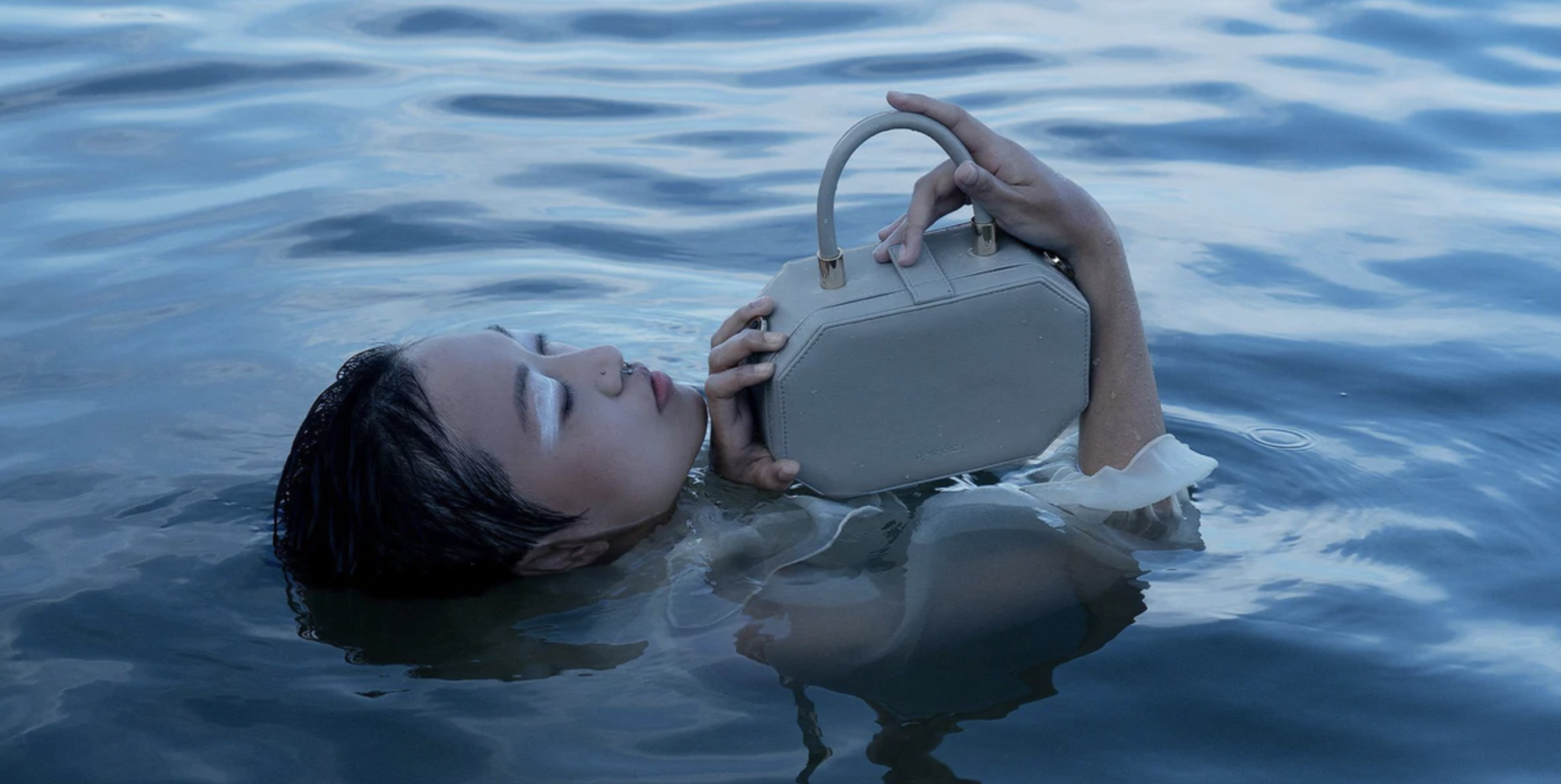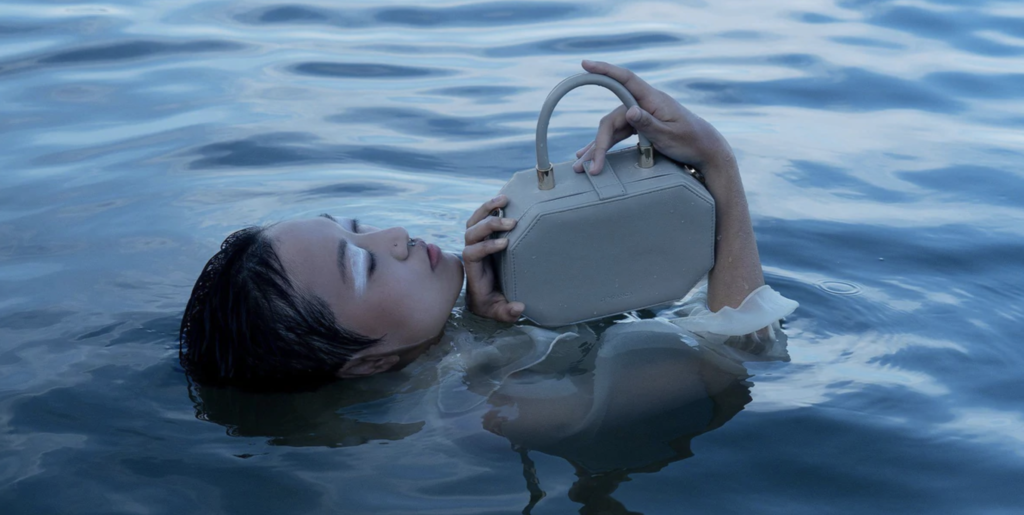 This ethical and sustainable vegan leather handbag brand creates unique styles in beautiful, earthy colors that every wardrobe needs. Their sustainable vegan leather is made from DMF-free, water-based PU that contains zero volatile organic compounds with about 58% recycled elements.
With a lifespan of 6–10 years, a bag from Noiranca will be your new staple piece for the next decade. To add the cherry on top, this brand is all about empowering women. Here are our favorite styles:


One of our favorites, the Patti bag features a three-tone design with a chunky matte chain. The soft faux leather is so similar to real leather, nobody will be able to tell the difference – everyone will be asking where you got this gorgeous clutch-inspired bag.


This beautifully designed triangular bag can be worn crossbody, on the shoulder, or even handheld. It's lightweight and offers plenty of space for everything you need to throw inside. This bag is simple enough to pair with a wide variety of outfits, but isn't too simple – it adds a unique and glamourous element to any style.


With a fun shape and cut-out in the middle, the Alice bag is another staple from Noiranca. This one is inspired by the natural beauty of an eye, which might sound strange, but this translates into a beautiful and one-of-a-kind purse.
If you're looking for a smaller bag, the Alice Mini is a wonderful choice that will still hold everyday essentials.
---
Pixie Mood is another all-vegan handbag brand that we love. They focus on sustainable and cruelty-free bags, without skimping on style.


With a ton of styles that are a must-have for any closet, we can't get enough of these vegan bags. 
This adorable crossbody will make you feel exactly as the name says! This cute little clutch is the perfect size. It comes with two detachable straps so you can wear it however you want, plus it's available in three different colors!
Need a new bag for work or school? With a laptop compartment and plenty of space, this fashion-forward bag makes you feel like a boss.