Searching for the best designer tote bags for work? These elegant options will add a touch of class to your work look.
One essential item in every woman's closet is a tote bag. No matter the style or aesthetic, tote bags have become a necessity because of their spacious inside to store all our important items, and their convenient design.
Tote bags are useful for every kind of person out there, but they're especially useful around the workplace. Having a bag that fits and protects all your everyday needs that also adds a bit of fashion to your look is imperative.
There are millions of tote bags to choose from out there, and we're here to help you discover the best ones! While there are cheaper options, we believe that a nice tote bag is totally worth a bigger investment. That's why this article will be focusing on the best designer tote bags for the working woman! We scoured the internet for luxury tote bags with the best reviews and assets, so without further ado:
Here is our list of the best designer tote bags out there for work:
Best Designer Tote Bags for Work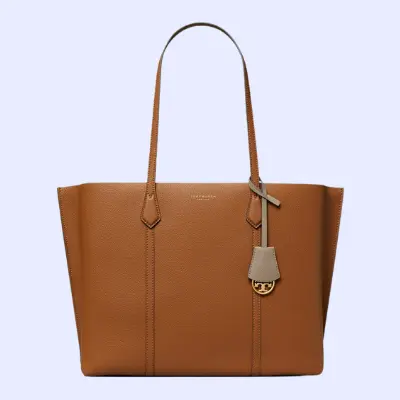 $448
One of the more expensive items on this list, this Tory Burch bag is the perfect tote bag if you're looking to invest in a high-quality, designer tote. This tote has a beautiful, sleek design that is sure to never go out of style.
Made from "rich pebbled leather" and containing three spacious compartments, this is a perfect tote for everyday work use.
---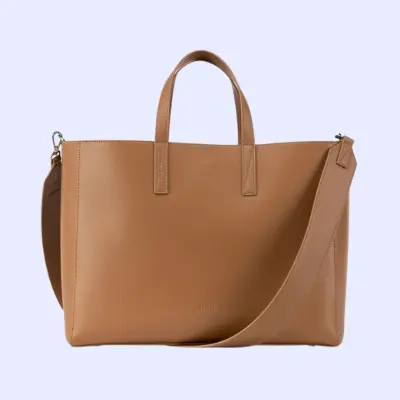 $148
This tote bag is a much more affordable option, but maintains a high quality! The reason this tote bag is one of my favorites is because of all its extra assets. Besides its sleek design and thick removable shoulder strap, the insert inside the bag is also removable.
This includes a pocket for your laptop and multiple smaller pockets. It even has a slip on the back where you can slide it over your suitcase, for those who travel often.
---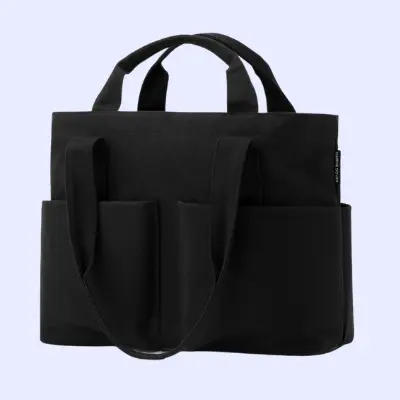 $165
Not into leather? That's fine, we got you covered! This tote from the popular bag brand is made from 100% organic cotton. It features four exterior pockets and three interior ones, as well as size options for a S/L bag.
It has a place for your laptop and has two handles, one short and one long, so you can decide how you want to carry it. This is a perfect tote bag for people who want a more casual look, or who want to stray away from leather products.
---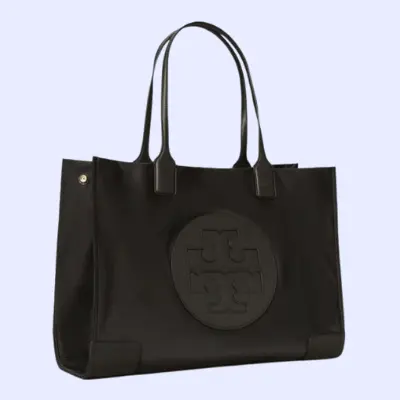 $248
As you've probably noticed, Tory Burch is one of the top designer brands when it comes to purses and bags. The Ella Tote Bag is a fan favorite, with 4 ½ stars out of over 300 reviews.
Its rectangular design, with the huge Tory Burch logo displayed on the front, will make sure everyone knows you have style. This tote stands on its own, which is amazing as it ensures none of your belongings will get hurt by the bag falling over.
Made from mostly recycled polyester, this is another option that strays from an overall leather look.
---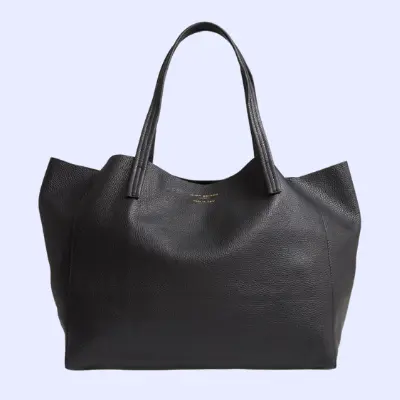 $240
For those who want a simple, no-nonsense tote bag, this is the one for you. This tote bag has a softer, more lightweight design and features one large inside to put all your belongings in.
This bag has an open top, so if you're looking for something with a zipper or enclosed top, look at our other options. It is made from beautiful Italian leather with a shorter strap to be worn on your shoulder, with two color options (brown/tan color and black).
---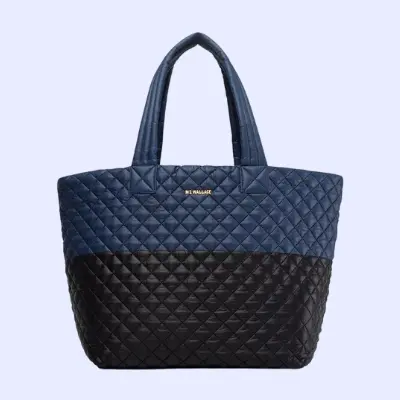 $235
This is a trendy tote with a unique, quilted design. This tote bag is super convenient and versatile as it's able to be folded or rolled up for easy storage. This is an awesome option for those who might need to pack their tote away or squeeze it into a tight space, and it still won't lose its shape afterward.
Reviews gush about the lightweight of the bag, while still having overflowing storage for anything you might need. I love this tote because the design is distinctive and flexible. You can find different sizes and color options on their website here.
---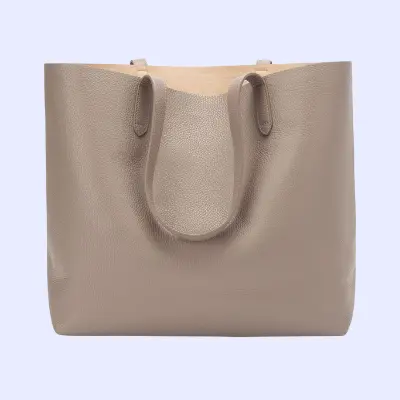 $225
Another classic tote by the brand Cuyana, this bag has a variety of color options. This tote is made from Italian leather in a woman-owned factory, which is pretty cool!
The Classic Structured Leather Tote is a straightforward tote with an open design. It features leather ties to close the bag (if you choose to) which create a cool dimension because of the soft leather structure.
---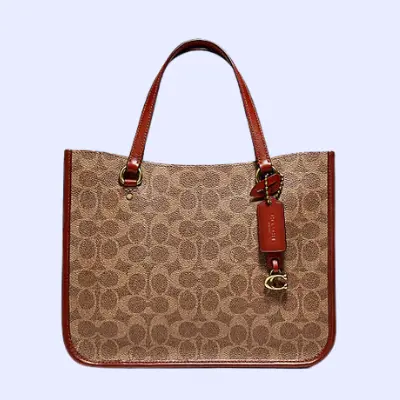 $350
We couldn't create a list of the best tote bags without an option from the OG designer purse brand: Coach.
Coach has remained a reliable company with high-quality items through the years. Their Tyler Carryall is a perfect tote that features a center-zip section. It also includes several little pockets for little items like your earphones or credit card. It's the perfect size for your everyday work tote and displays its iconic Coach charm for a subtle flex.
---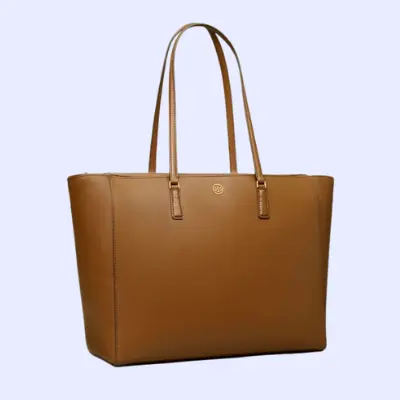 $398
Yet another Tory Burch bag? I know, I know…but this classic leather bag is for those of you who love having a closed-top tote. The Robinson Tote Bag features a minimal design and scratch-resistant leather.
Customers love the option to use the zipper closure, ensuring nothing will ever fall out. In addition, it's roomy enough to fit all the essentials like your laptop and small trinkets.
---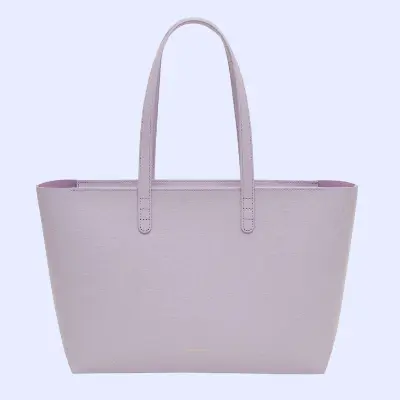 $545
For those of you who hate lugging around a giant tote every day, here is a smaller option. Though smaller than the typical tote, this bag still manages to fit everything you may need.
It fits most 13 inch laptops and features a zipper closure. The color options are more vibrant than those listed before, but they do have beige and black options if you aren't into a statement bag.
---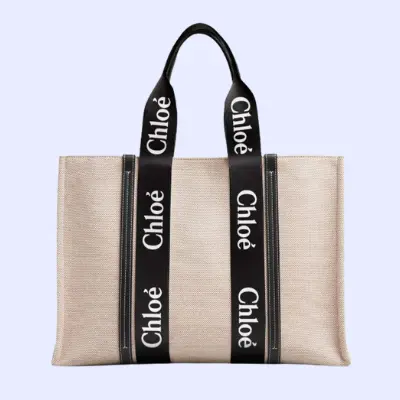 $1,050
This designer tote bag is made out of a cotton canvas with calfskin details. The expensive tote is made out of high-quality fabrics and maintains a modern, more casual-looking design.
The bag has an open-top design with only one flat pocket inside. Chloé is a luxury brand that is abundantly popular in France. Their designs are simple and modern, and they are actually known for their luxury bags.
---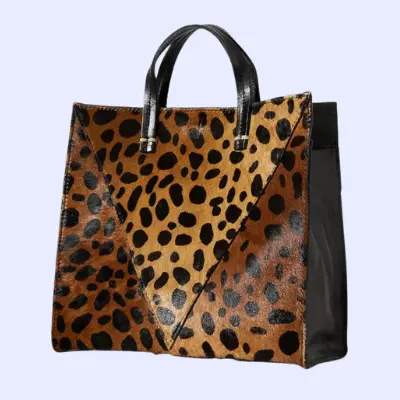 $395
We wanted to add this option for those who prefer more of a statement piece. This beautiful tote displays a unique leopard print design. I
t is smaller in dimension than other totes, so if you're one to carry your whole life around with you daily, this wouldn't be the option. Though, this bag does an amazing job combining a chic, outgoing design with functionality.
---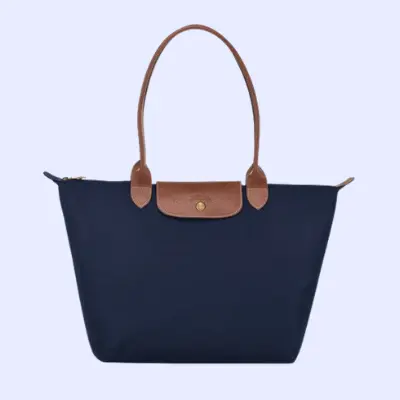 $145
This is a cult-classic luxury tote that just so happens to be on the more affordable side of tote bags in general. The design is very spacious and can hold basically everything you could ever need for everyday tasks.
It features a zipper closure and extreme flexibility so that you can fold and take it anywhere you need when it's not in use. It's made out of a polyamide canvas material with leather details. It has a beautiful, clean aesthetic at just looks like it belongs on your shoulder.
To Sum It Up
Tote bags are one of the best everyday purses, especially for work. Nothing can beat their useful storage and easy accessibility to your items.
A designer tote bag is something everyone should invest in, if able. We included a variety of price ranges on this of the best designer tote bags so that everyone can find something that fits their lifestyle. We hope you try one of these amazing bags because a good designer tote bag for work is life-changing.
UP NEXT: 12 Most Popular Louis Vuitton Bags of All Time
Sarah Nelson is a contemporary writer of women's interests and trends, and a former writer of teenage-angst poetry.