Trying to decide between Vuori vs Lululemon? Both have their pros and cons, but one might be better than the other. This Vuori vs Lululemon review will dive into price, quality, sizing, and more.
Vuori can be summed up as a sustainable athleisure wear brand, while Lululemon is an athletic wear fashion icon.
Both brands have many similarities in their offerings. However, pitted against each other, which brand will win in sustainability, price, and quality?
We compared these two workout gear brands to see which one is the best. Keep reading to see our thoughts on Vuori vs Lululemon and which one you should choose for your workout.
Plus, be sure to read our picks for the best athleisure brands on the market.
Vuori vs Lululemon Overview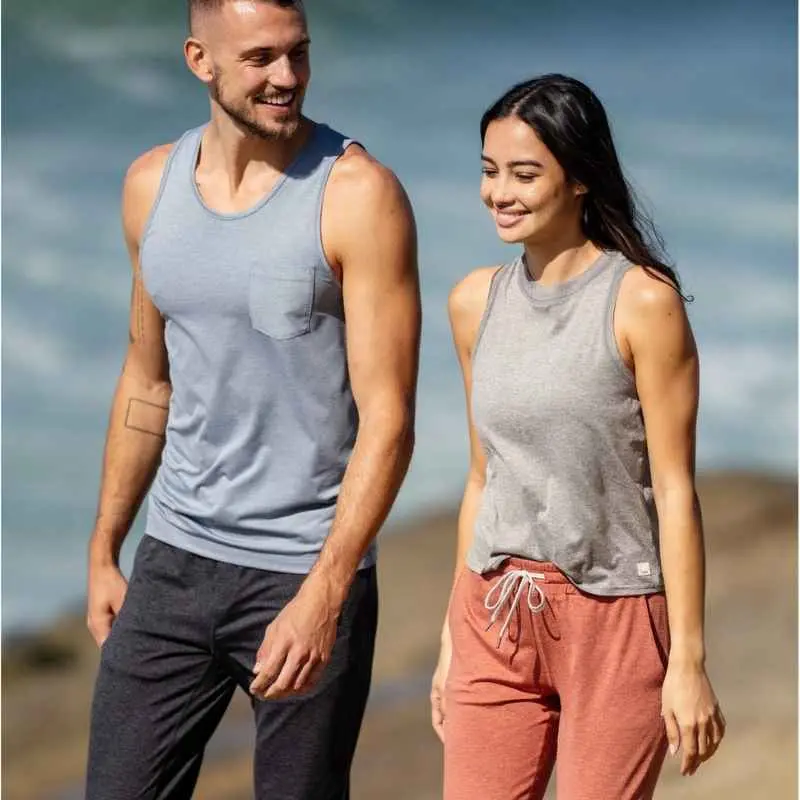 Vuori began in California in 2014, offering premium performance gear with influences of an active coastal California lifestyle, including fitness, surf, sport, and art in their apparel. The brand offers men and women's clothing tailored for training, running, swimming, yoga, and traveling.
Lululemon got its name recognition from its popular yoga leggings. The brand started in 1998 in Canada and has grown into a global brand selling various athleisure for men and women. This includes gear tailored for training, running, golf, tennis, swimming, yoga, and casual.
The brand's niche offering is specialty fabrics for the type of workout you will be doing that vary in stretchiness, friction resistance, breathability, and more.
These active gear brands focus on making clothes tailored for your specific workout activity. Let's take a look at their main points to get a better understanding of each brand:
Vuori
Lululemon
–High-quality athleisure

-Comes in wide range of colors

-Prices range from $45-$98

-Offers gear for training, running, swimming, yoga, and traveling

-Sizes range from XXS to XXL.

-Free shipping on orders over $75

-Free returns within 120 days
–High-quality activewear

–Comes in a wide range of colors, patterns, and styles

-Prices range from $50-$138

-Offers athleisure and sports clothes for workouts, running, yoga, swimming, golf, and tennis.

-Sizes from XXS to 2X

-Free shipping on all orders in the US

-Free returns within 30 days
Vuori vs Lululemon
Quality
Overall, customers adore Vuori's comfortable and soft pieces for everyday wear. A top favorite for many customers is their line of joggers as well as their Daily Leggings. Most customers say that the comfort can't be beat.
However, Vuori's materials are less supportive and compressive than Lululemon's, if that's important to you. Most customers essay Vuori is great for light workouts or lounging, whereas Lululemon might be better for more intense workouts.
The quality of Lululemon's clothing is indisputable. It has built a reputation for top-tier activewear over the last couple of decades.
Most customers say Lululemon's activewear is comfortable and durable, and offers more compression and support than Vuori's clothing.
RELATED: 26 Brands Like Lululemon for Stylish Activewear
Sizing
Both Vuori and Lululemon have pretty inclusive sizing. Vuori offers clothing in sizes XXS-XXL in women's and men's sizes.
As far as length goes, many customers love the fact that Vuori is petite-friendly because of the 7/8 length they offer in many styles.
Lululemon offers a size range of 0-20 in women and XS-XXL in men. For women, you can choose a length of 25, 28, or 31 inches for pants.
On the other hand, men have the option of 28, 30, or 32 inches. Although Lululemon does offer a variety of inseam lengths, customers say Vuori's sizing is more consistent for shorter people.
Styles
Vuori offers a variety of styles in men's and women's clothes, including joggers, leggings, shorts, hoodies, jackets, and more.
Most customers say that although Vuori offers styles for both genders, it seems as though they are more geared toward men's styles than women's.
Lululemon dominates in styles, colors, patterns, and variety. Most customers agree that their selection of activewear is impressive.
However, there are a lot of comments that Vuori has better styles for men, as that seems to be their main priority.
Sustainability
Many brands commit to being more sustainable, but Vuori's plans are in motion and very advanced compared to most companies.
The brand is already offsetting 100% of its carbon footprint through funding projects that help combat global warming. Also, 50% of its products are made with high-quality, sustainable materials, promising to reach 80% this year.
Additionally, Vuori requires all of its suppliers to follow the Vuori Code of Conduct, creating fair treatment of labor, safe and healthy working conditions, and commitment to the environment.
Lululemon has a sustainability Impact Agenda that promises 100% renewable electricity in their facilities and uses recycled packaging. However, it cannot compete with Vuori's ethics and sustainability.
What Customers Are Saying
We've searched the web for real customer experiences with Lululemon and Vuori. Overall, these are the top points of feedback. Customers say:
Lululemon has good quality, long-lasting products
Vuori has incredibly soft, durable material
Lululemon is more supportive of intensive workouts
Vuori is more transparent in its practices
Lululemon has a broader range of options and athleisure wear
Vuori is more sustainable and has less impact on the planet
Lululemon has a higher price point
Vuori pants have slight pilling on the inner thighs after wearing for a while
Conclusion: Who Comes Out On Top?
In the battle between Vuori vs Lululemon, Lululemon wins in versatility and luxury, as its fabrics stand up to any workout. But Vuori is better for the planet, plus it has a better price point.
If you don't care about name recognition, Vuori is a much more sustainable and ethical brand by far while still matching the quality of Lululemon for a lower price.
Additionally, Vuori allows you to try out their products for 120 days before returning them for a full refund. In contrast, Lululemon provides a quality guarantee but asks for returns within 30 days. So if you want to try out a new up-and-coming sustainable brand, Vuori is the better option!
But, if you're in need of activewear for high-intensity workouts, it's probably safer to stick to Lululemon.
UP NEXT: Athleta vs Lululemon Review: Which Activewear Is Better?