When it comes to buying a quality pair of boots, a quick search shares nearly hundreds of brands and product recommendations. How do you narrow it down?
If you've stumbled across Thursday Boots and are wondering if this brand is worth buying, we're here to help.
Keep reading our in-depth Thursday Boots reviews to see if their boots are a good fit for you.
Bonus: Check out the 7 Best Boots Like Doc Martens to add to your closet!
What are Thursday Boots?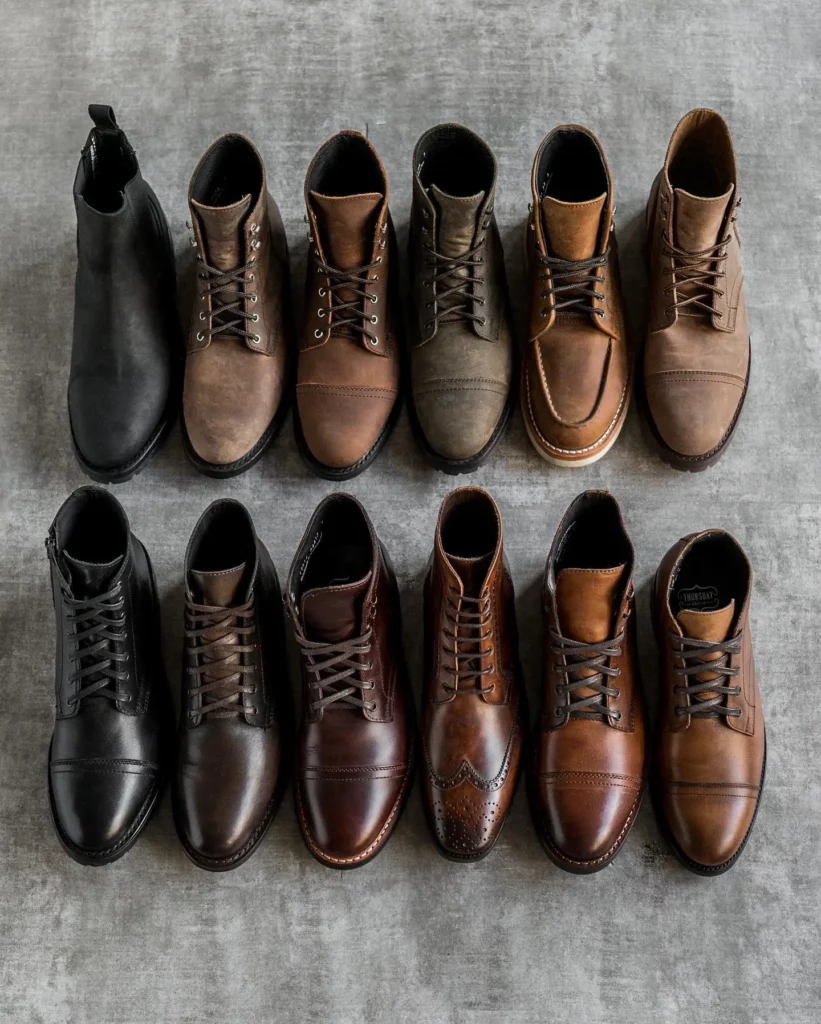 Thursday Boots makes high-quality, stylish boots with option for both men and women. Their boots are made from top-of-the-line materials and are designed to last. Thursday Boots also offers a wide range of sizes and widths to ensure a perfect fit for everyone.
When reading through their about page, you can tell that they value quality and comfort, as well as constantly improving their styles so they can be the best they can be.
For example, they stated the following:
"Our philosophy behind material selection always comes down to what we think is the best for a given design. Even when we feel awesome about a current model, more often than not we find ways to improve on our original designs with additional feedback and iteration. I think our track record speaks to how seriously we take this."
Customers love the quality and comfort of the brand's boots, as well as the company's great customer service.
Is Thursday Boots Legit?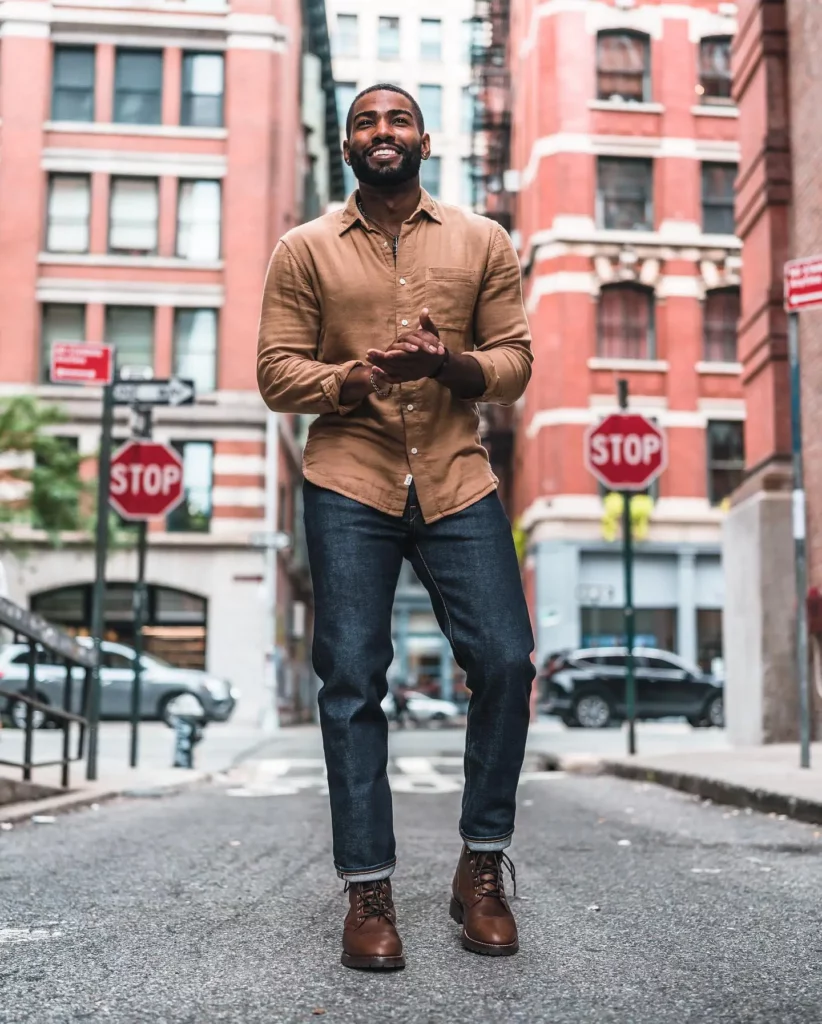 Yes, Thursday Boots is a legitimate company that makes high-quality boots. Their products are made from top-of-the-line materials and are truly designed to last. Thursday Boots also offers a wide range of sizes and widths to ensure a perfect fit for everyone.
Thursday Boots Review
Overall ★★★★ 4 Stars
Thursday Boot Company offers great quality boots and seems to always strive to make their customers happy. They are constantly working to improve their designs and product quality, which we believe every company should be doing.
While some shoppers have issues every so often (i.e. some people say they are too narrow), the majority seem to be happy with their boots.
Quality ★★★★ 5 Stars
The quality of these shoes is top-of-the-line. They are durable with a long lifetime—definitely worth the investment.
Customer Service ★★★★ 5 Stars
If you have an issue, their customer service team will do everything they can to make sure you have a positive experience.
They also offer free shipping and free returns on unworn shoes within 30 days, so you won't have to worry about paying any fees in case you're not a fan.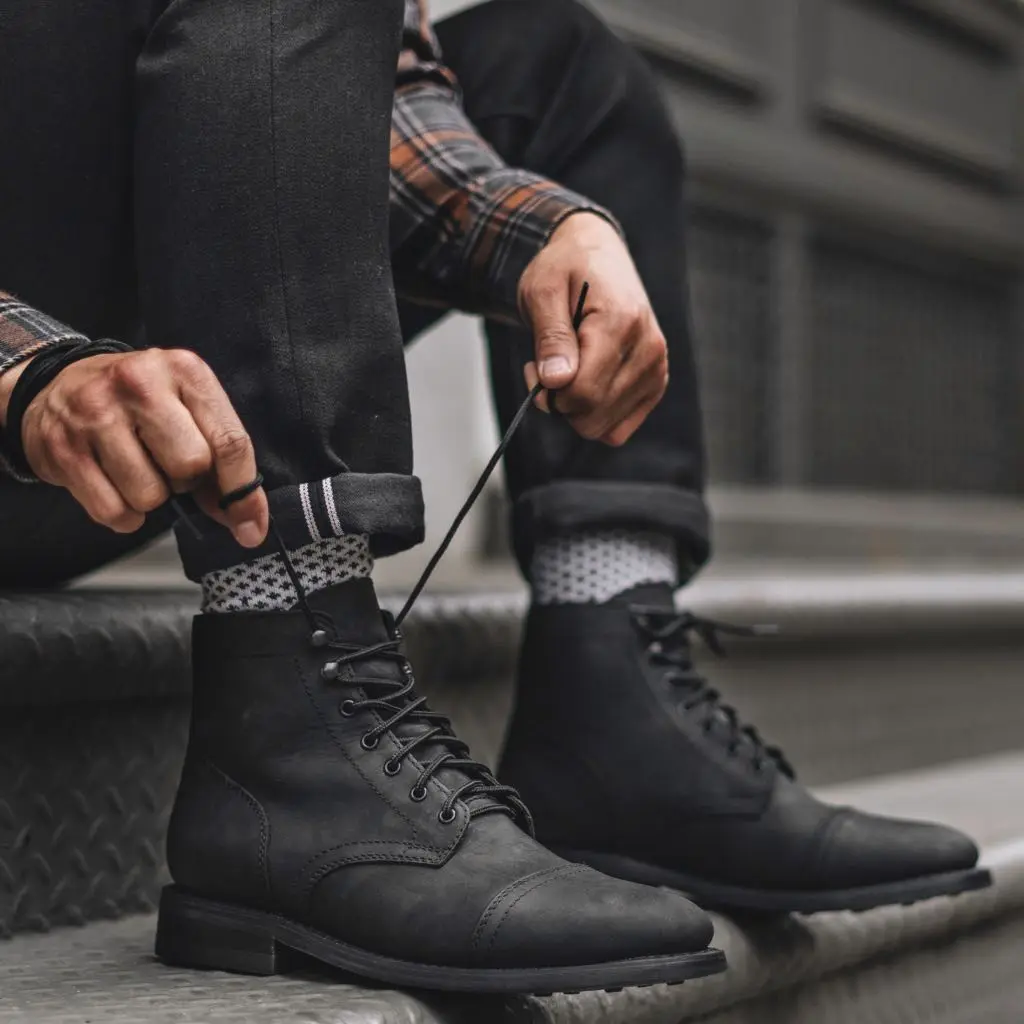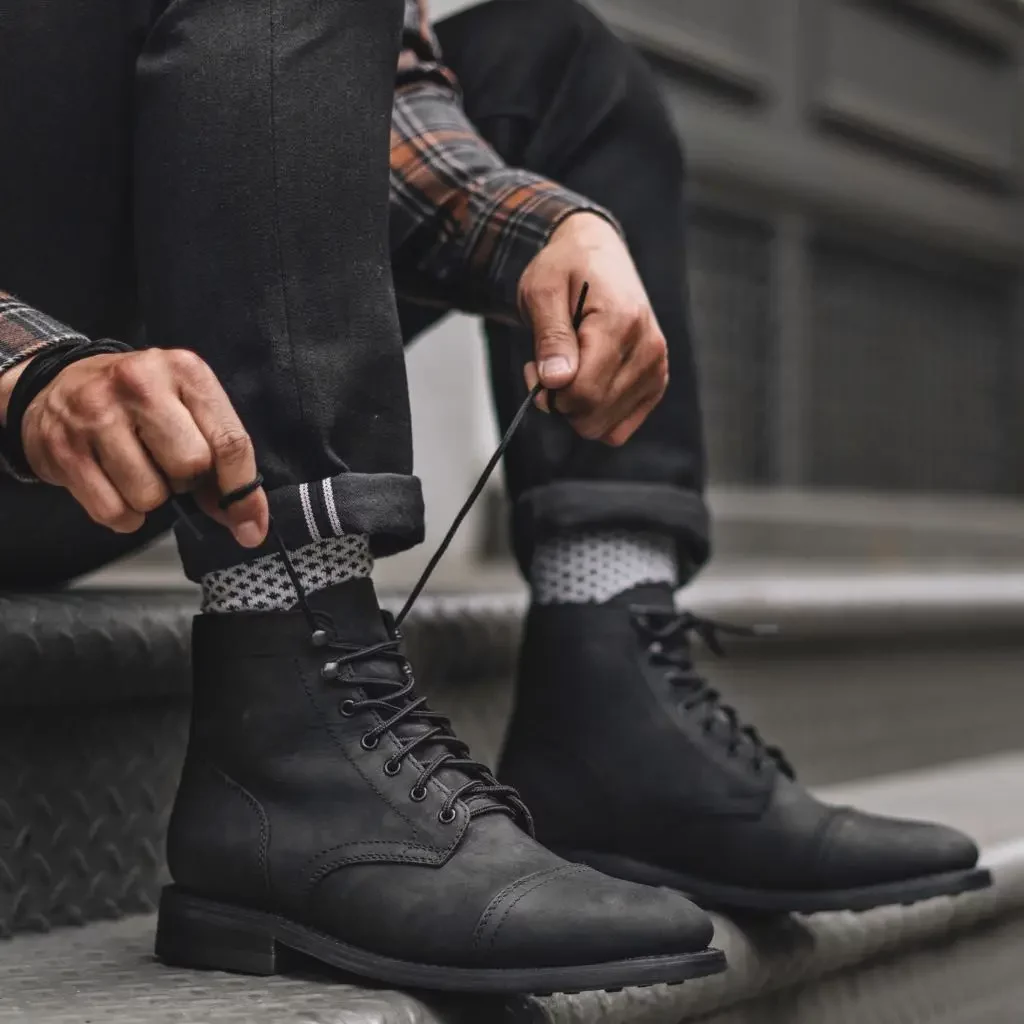 Quality: This boot was constructed with Goodyear welt construction and long-lasting matte leather uppers that were exclusively sourced from Tier 1 USA cattle hides.
From the Kevlar® mix laces to the cork-bed midsole, everything was designed with you in mind.
Basically, what that means for those who don't know what Goodyear welt construction is, is it's a way of constructing the boot making it resoleable and essentially water-resistant.
Many people in the BIFL (buy it for life) community recommend these boots because of the Goodyear welt construction. This community is very keen on picking products and brands that truly do last for life.
Style: Women & Men. These boots are extremely high-quality with phenomenal design. They come in 2 styles and 12 colors for women. For men, they offer 3 styles and 17 colors.
Fit: Because they are leather, you can expect them to run tight and take a bit of time to break in. If you want to have a comfortable fit right off the bat, we recommend ordering a half size up.
Price: $190 for women and $199 for men. Worth every penny.
Worth It? If you're looking for a high-quality long-lasting stylish boot this would be our recommendation.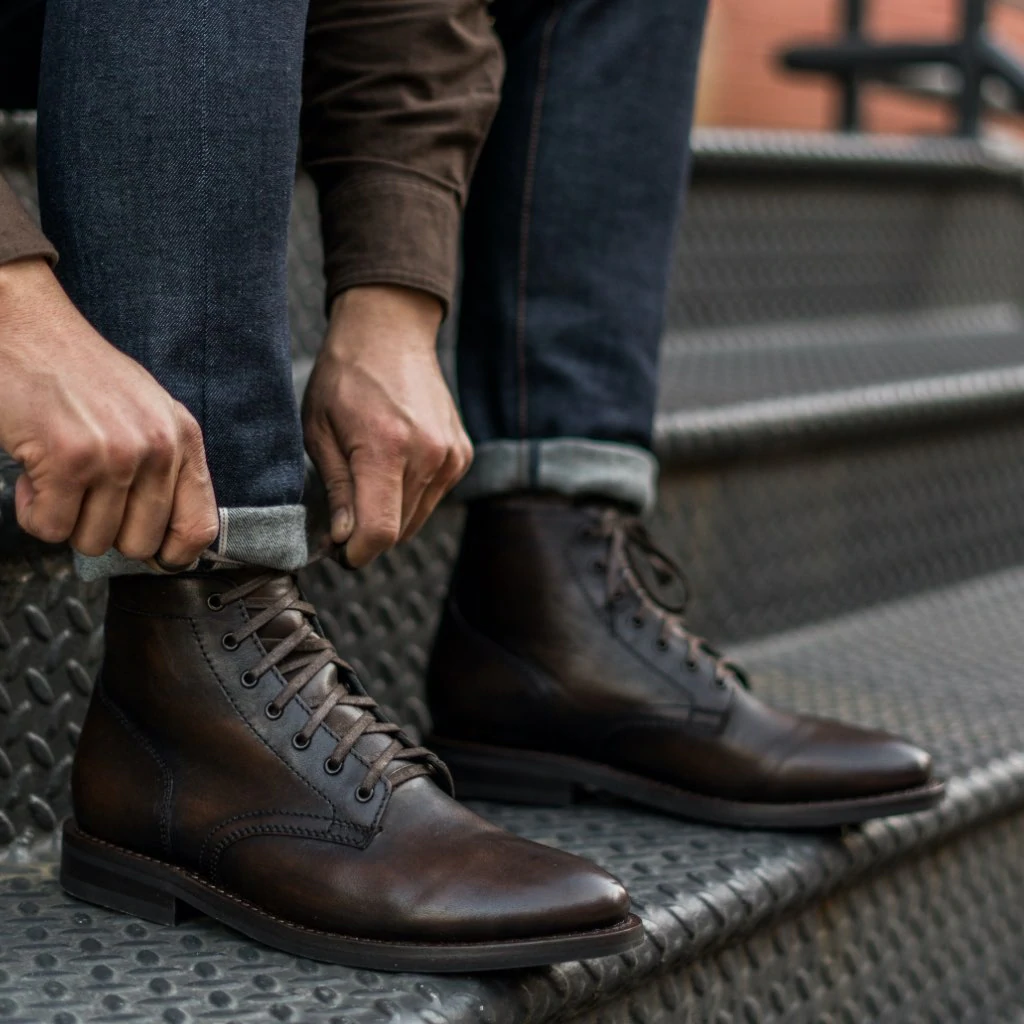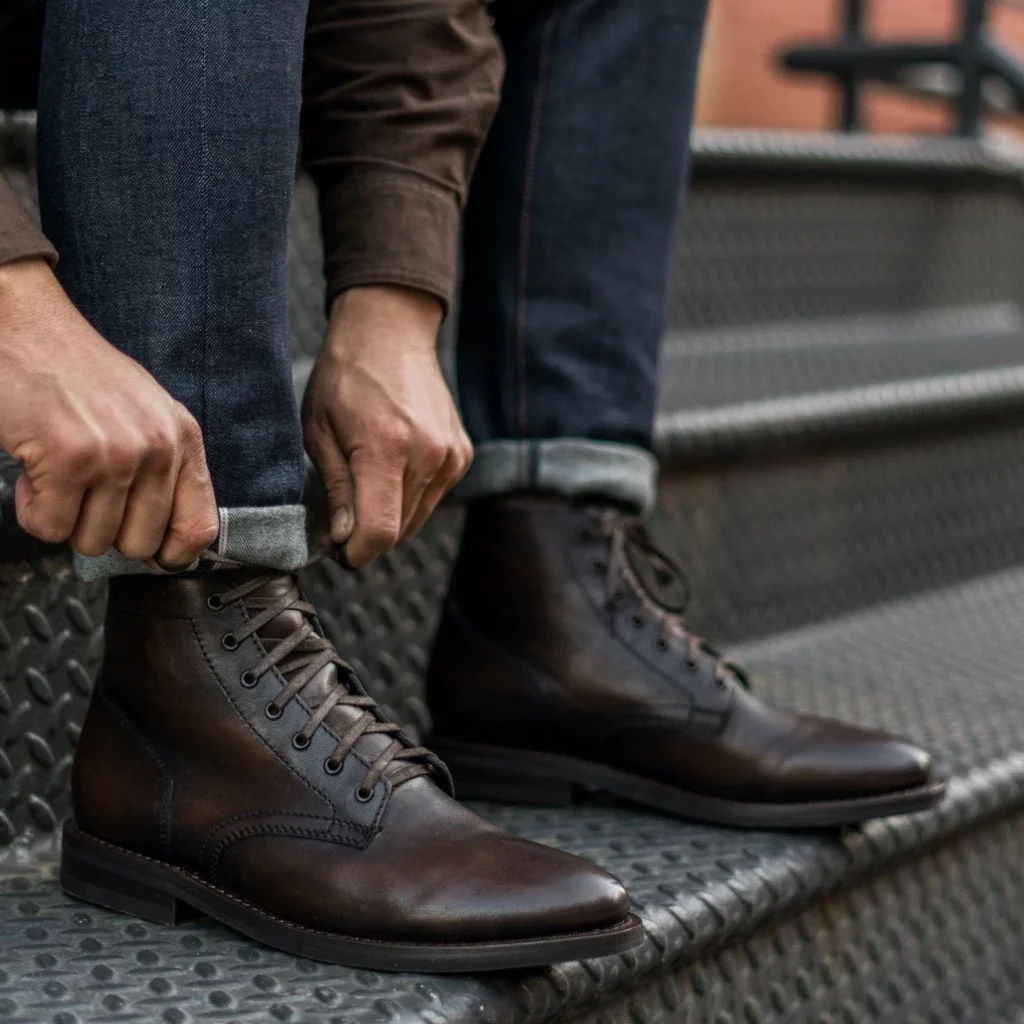 Quality: Like all of Thursday's boots, the President is built to last with a comfortable cork-bed midsole and handcrafted details. It's also one of the most versatile shoes in their line, as it can be dressed up or down depending on the occasion.
Style: Men's Only. The Thursday President is the newest style in the line and my personal favorite. The shoe was designed to look like a modern-day wingtip with a twist. It features intricate brogue detailing, a durable Goodyear welt construction, and long-lasting leather uppers sourced from Tier 1 USA cattle hides. The President boot comes in 12 colors and 2 different styles.
Fit: "The sizing was true – I wear a size 11 and that's what I ordered."
Price: $199
Worth It? Yes, it's a sleek boot that can be dressed up or down.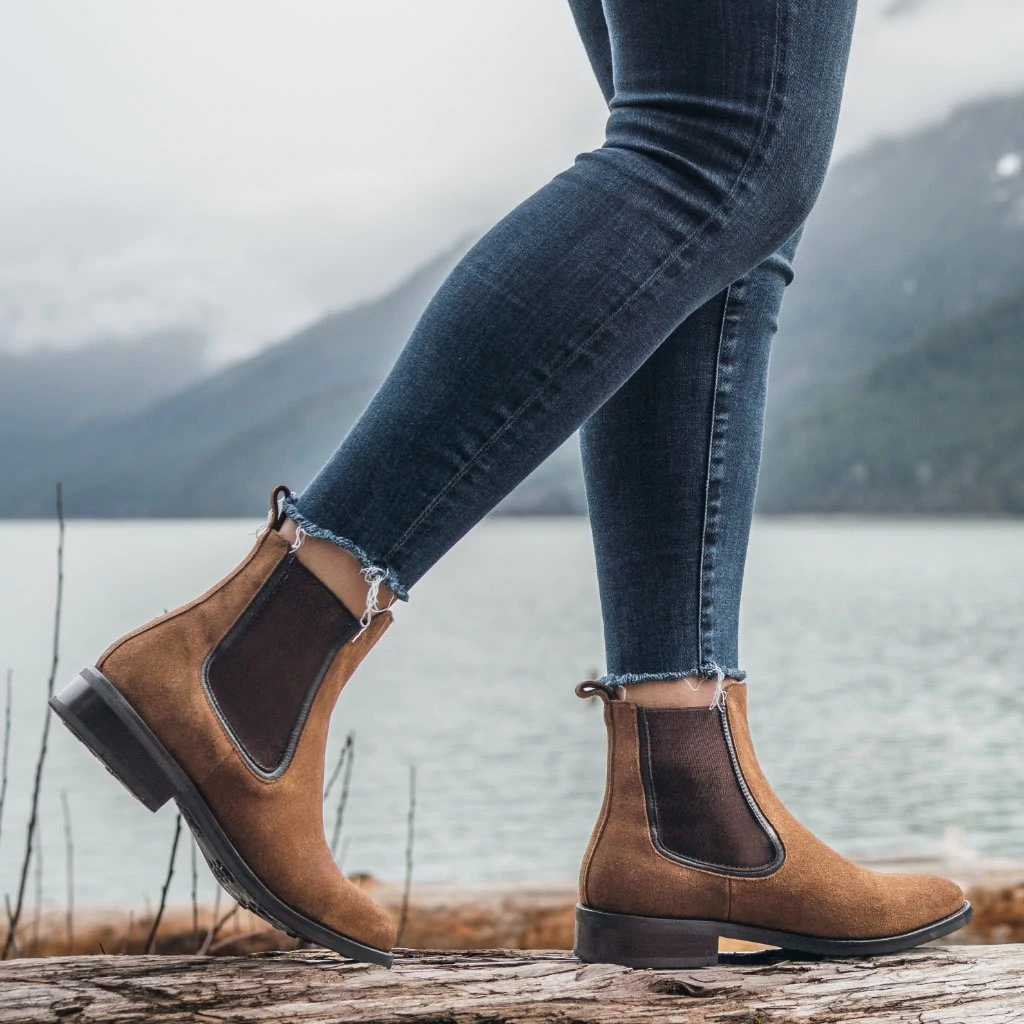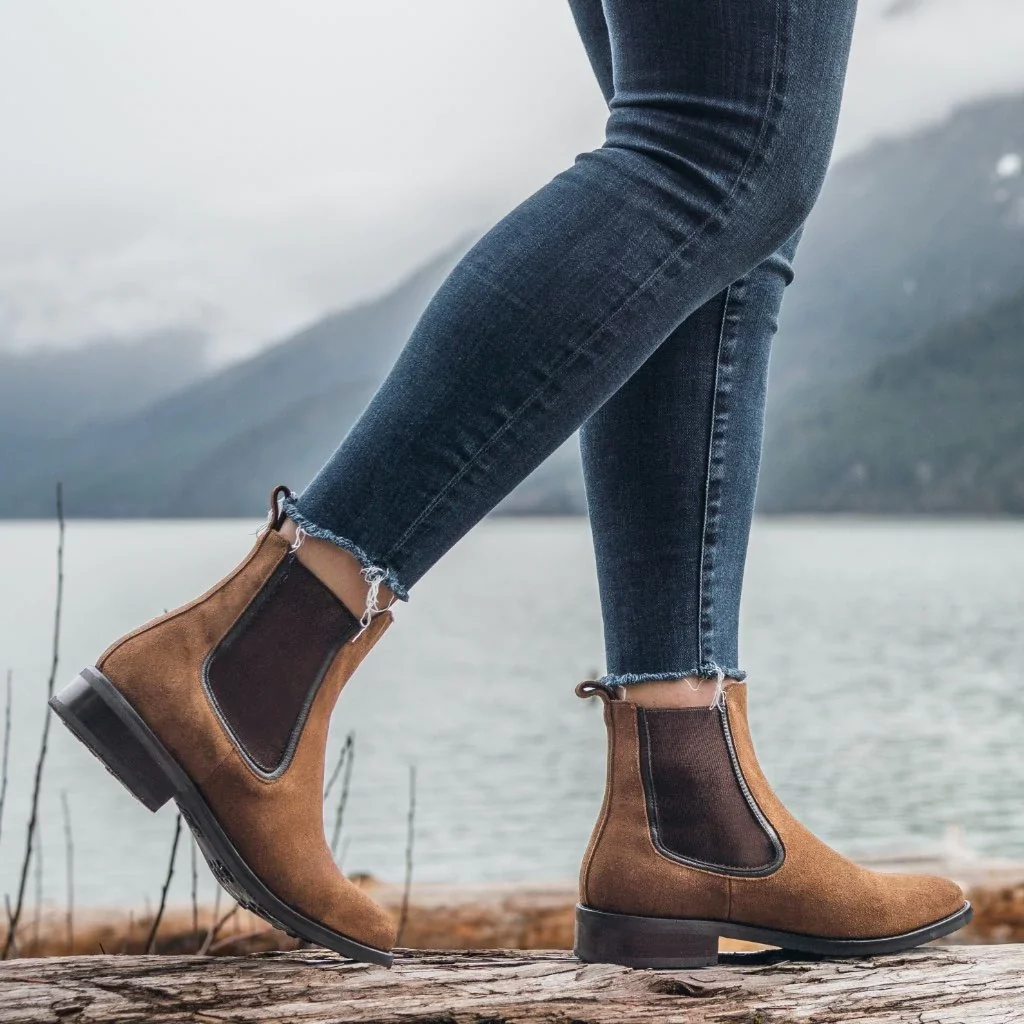 Quality: The Thursday Dutches boot is also constructed with Goodyear welt construction and long-lasting leather uppers. The cork-bed midsole provides comfort and support, while the handcrafted details add a touch of class.
Style: Women's only. The Dutches Chelsea boots are a perfect balance between casual and stylish. The boot only comes in women's sizing, with both a suede and leather style available. They also sell a Bootie version with a small heel, available in 3 different colors.
Fit: They fit true to size, have 0 need for breaking in, are really comfortable, and go with just about any outfit.
Price: $160
Worth it? Definitely. You're probably seeing a pattern, all of the boots seem to be worth it!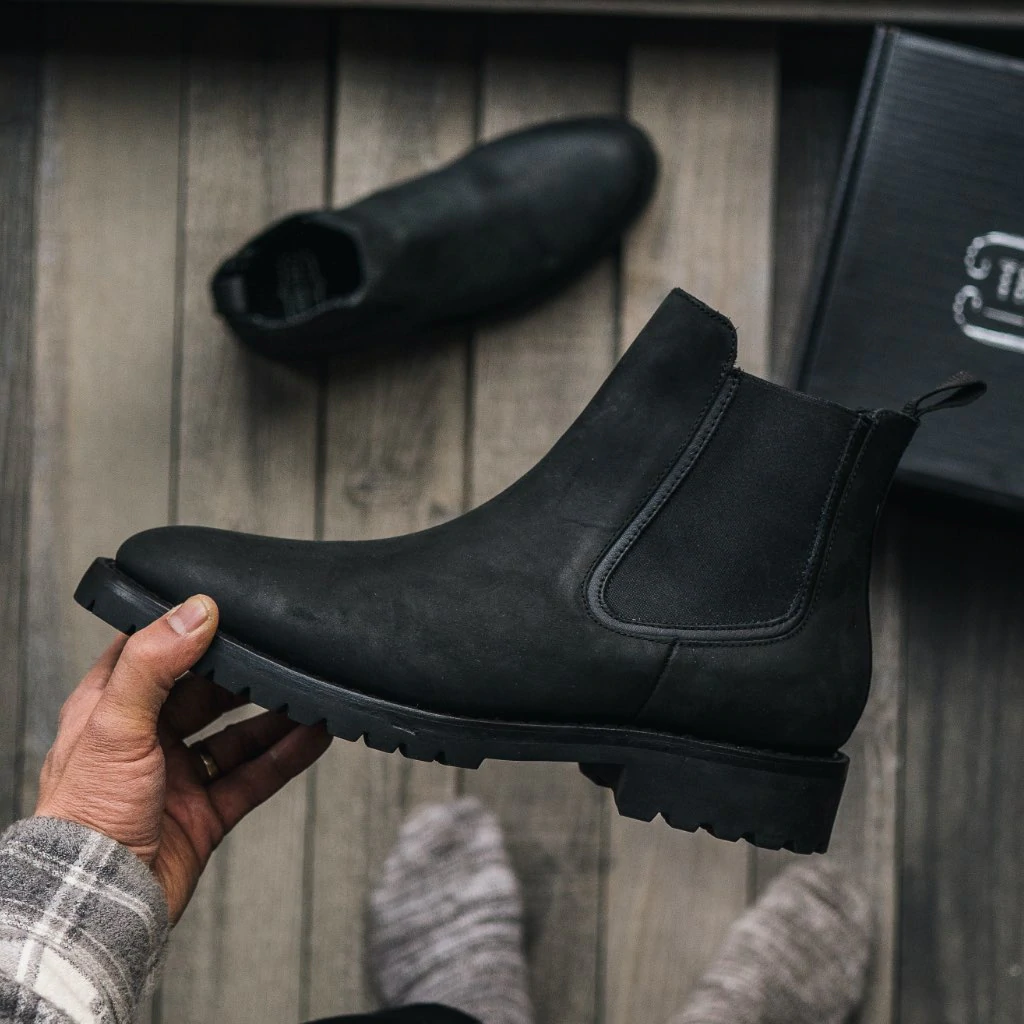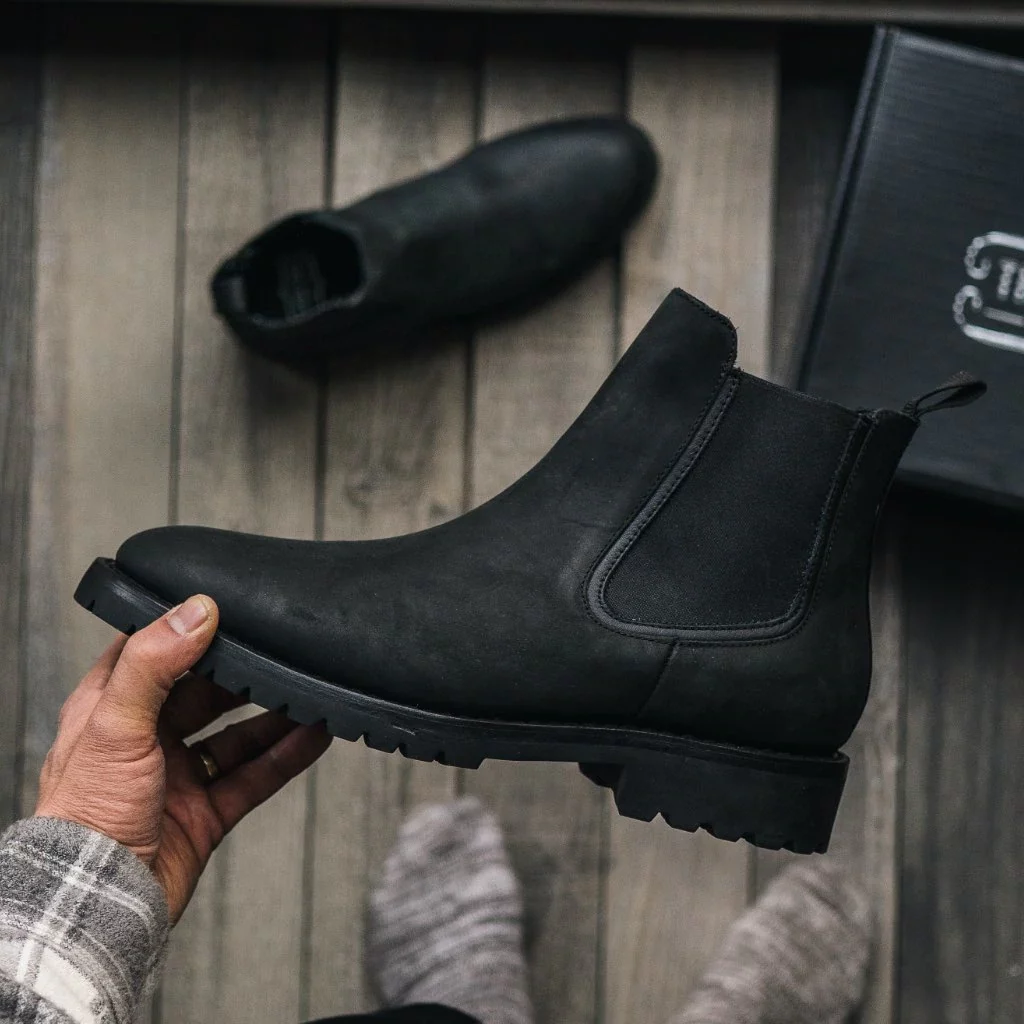 Quality: Every element was meticulously chosen to allow you to go the extra mile with confidence, and the Legend is designed to last years. The Legend is built to endure whatever the day throws at it and looks and feels great for years to come.
Style: Women & Men. The Legend boot is the perfect mix of a combat boot and Chelsea boot. It's comfortable, warm, stylish, and comes in 5 different colors for both men and women.
Fit: True to size. This Chelsea legend boot is just as comfortable as you'd expect from a slip-on boot, yet it boasts the same level of durability as their Rugged & Resilient collection.
Price: $160
Worth it? Yes.
"Probably some of the most comfortable boots I've owned"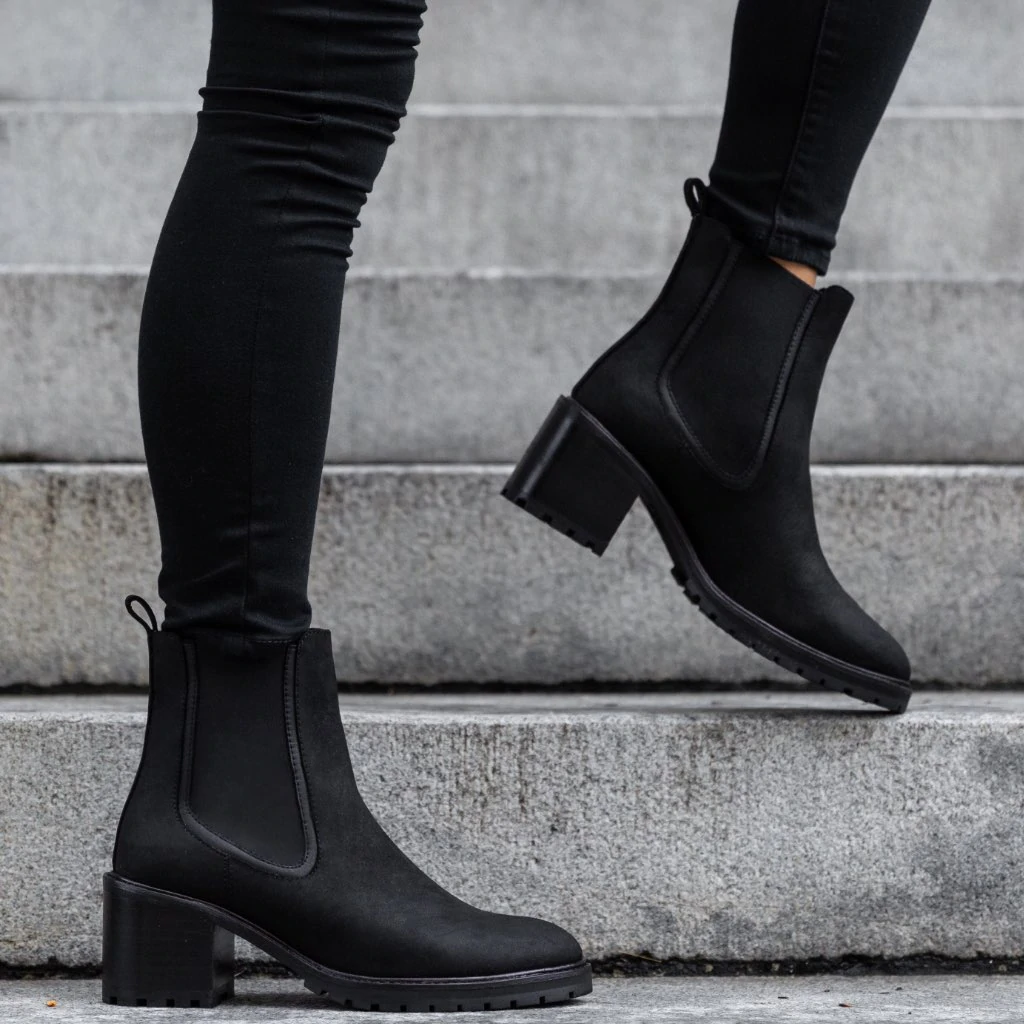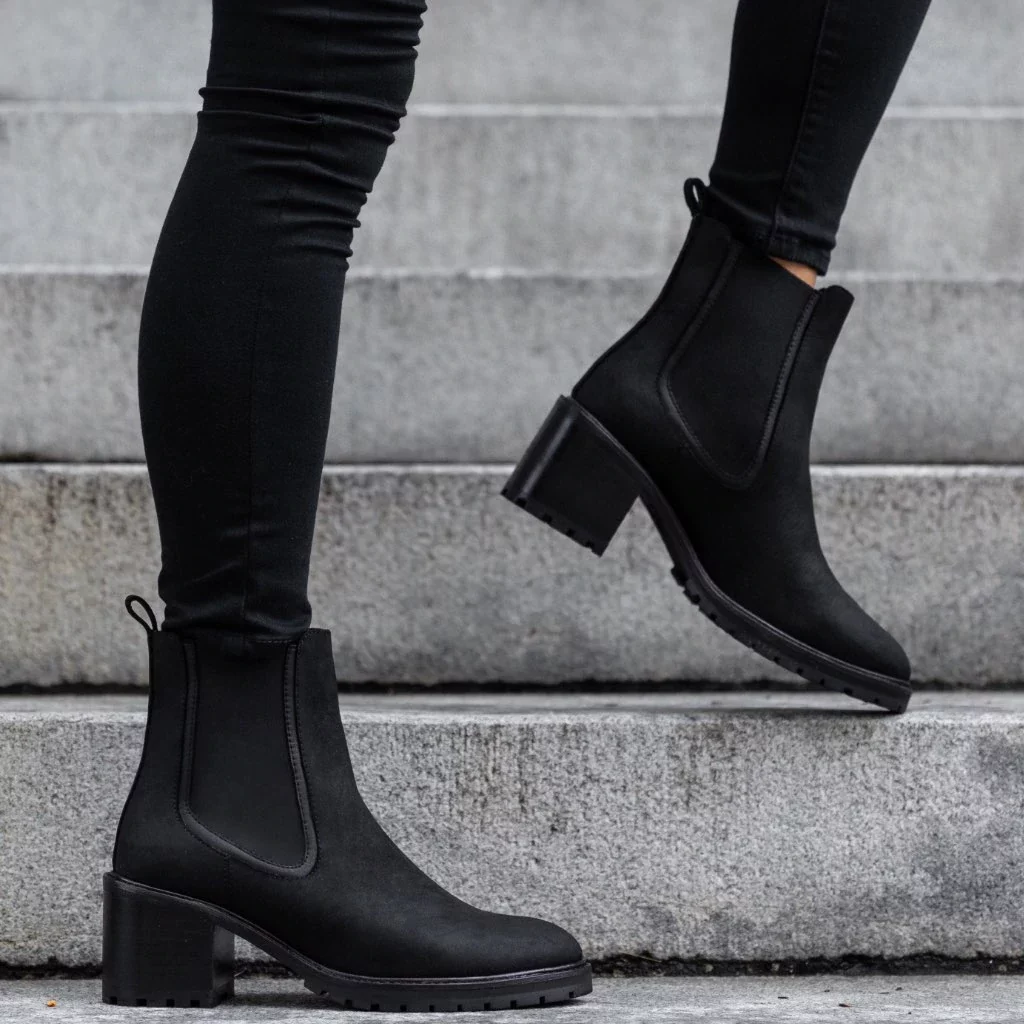 Quality: The Knockout is packed with features for mobility, including a custom Poron® comfort system within and a long-lasting rubber lug sole with storm welt. The Knockout has just the right amount of pep wherever you go, rain, shine, or snow.
With a chunkier heel than their other Chelsea styles, these are versatile boots that pair well with any outfit. They're perfect for a casual workday or can be dressed up for a fancier dinner.
Style: Women's Only. Over 7 colors to choose from.
Fit: True to Size
Price: $160
Worth it? Yes! View all Styles
Thursday Boots Review: What Others Are Saying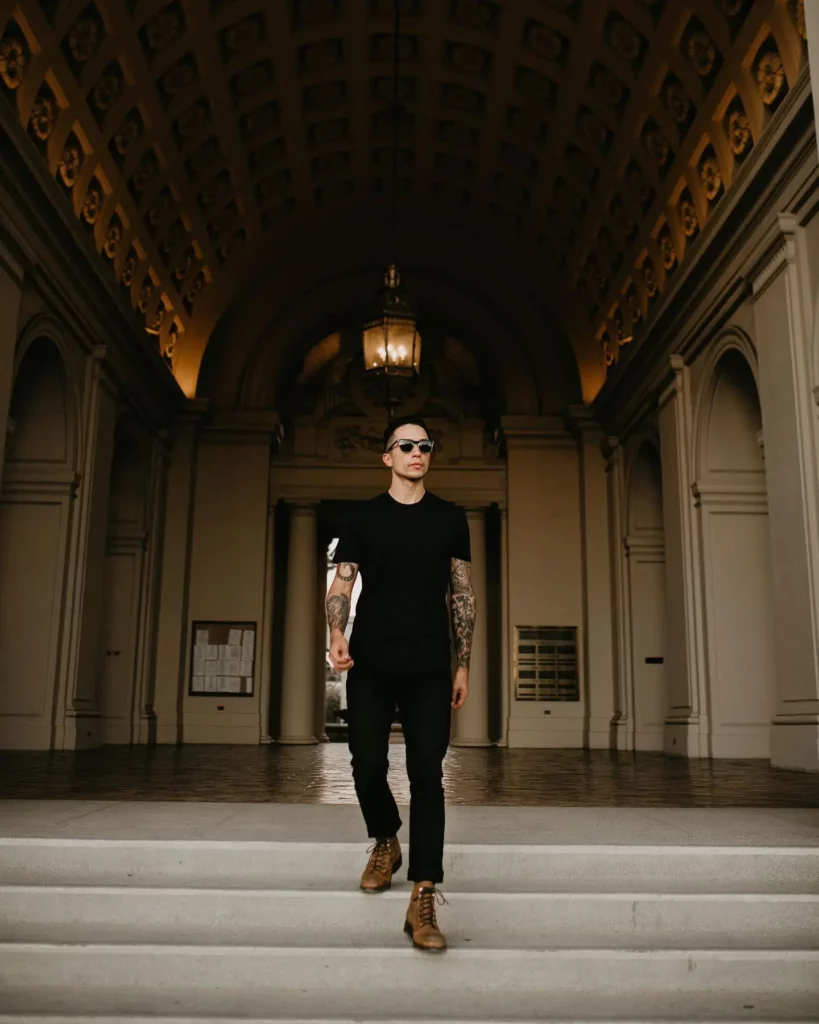 Looking through hundreds of Thursday Boot reviews, it's hard to find anyone saying anything bad about the brand or boots. Here are a few snippets of what's being said in other customer reviews.
We did notice that a few reviews complain about the quality, but the majority of these were from years ago. The brand is dedicated to greatly improving their designs over the years to maximize quality, so we believe they have improved since then.
Aside from this, a few shoppers stated the boots were too narrow for their feet, so we'd recommend looking deeper into this if you struggle with wide feet.
"Their profile looks great with a variety of clothing styles, making them very versatile."
"The soles haven't worn down at all as far as I can tell from the time I purchased them, the uppers are pristine. And something I really like about this leather choice is that when i scuff or scratch them I can get the mark off using conditioner and elbow grease. No complaints regarding durability."
"They were rough to break in, but now that they're mostly broken in, they feel really good. They look really nice with both a suit and jeans, the price was right, and most importantly, my girlfriend loves them."
"It's been a while since I've seen or heard of anyone complaining about their quality, and their CS usually gets positive marks."
"Don't worry about the sizing. I followed the sizing chart they provided and it was spot-on for me!"
Overall, these were the main points of feedback from customers:
The Captain is a buy-it-for-life shoe that is even more affordable than other top options on the market
Once you break them in, they're one of the most comfortable boots you'll own
Great bang for your buck
Like any leather product, you'll need to make sure to take care of them properly so they can last as long as possible
Might not be the best choice for rough outdoor work
Uppers tend to crease over time, but you can minimize this by using shoe trees
Customer service is excellent in case you have any issues
Thursday Boots FAQ
Are Thursday boots good?
Thursday boots are some of the best on the market for the price point. They're comfortable, stylish, and made to last. If you're looking for a high-quality boot, Thursday is a great option.
Where are Thursday boots made?
Thursday boots are made in Mexico. The company has a factory there, and all of its shoes are made in that factory.
How is Thursday boot quality?
The boots are made of high-quality leather from the USA, Europe, and South America. The soles are stitched on with a Goodyear welt construction, which makes them super durable.
How should Thursday boots fit
The boots should fit snugly around the foot without being too tight. There should be about a thumb's width of space between the end of your toe and the boot. The boot should feel comfortable from the moment you put it on, with no need for a "break-in" period.
Where to buy Thursday boots?
Thursday boots are available on the Thursday Boots website and on Amazon.
Are Thursday boots waterproof?
Thursday's water-resistant boots and shoes will keep your feet dry on most rainy days, although we wouldn't advise standing in puddles in them. A leather welt separates the upper from the sole of a product with welt construction. This helps to create a barrier against water entering the shoe.
The suede products have the same top-tier construction techniques as their other leather items, however, they include additional preventative protection; nevertheless, these leather types do not play as well with water, so attempt to keep them dry if possible.
What is Thursday Boots Shipping Time?
According to their website, delivery time is 1-5 days in the US, and you can even select expedited shipping for an extra fee. Thursday Boots takes pride in their fast shipping times, delivering your order right to your doorstep within just a few days.
Conclusion: Are Thursday Boots Worth the Money?
From our perspective, Thursday Boots are definitely worth the money.
They offer high-quality construction, great materials, stylish designs, decent prices, and an ultra-comfortable fit.
Plus, they offer free returns within 30 days for unworn boots, so you can always give them a shot risk-free (just make sure to wear them around your house first).