Thinking of trying these period panties? I tried them for myself, so keep reading for my honest Thinx review!
While periods aren't necessarily the end of the world, even if they feel like they are, they are definitely inconvenient and uncomfortable. Ice cream and chocolate aside, there are actually a few ways to combat the discomfort and mess of a period (and apparently period underwear is one). After reading some Thinx reviews, I decided to learn more about the brand.


Thinx is a brand designed for making our period easier and more waste-free. But, are they all they are made out to be? Having recently switched to menstrual cups, leakages happened occasionally, so I figured period underwear would be a convenient investment.
I also wanted to try them out as a replacement to see if they actually held as much as they say they do. Some pairs claim to hold 4 tampons worth! I decided to try them out and leave my own Thinx review. Let's get into it!
What is Thinx?
Often referred to as the brand that is 'every girl's best friend,' Thinx is all about making your period more comfortable and manageable with absorbent underwear that doesn't look like a diaper.
This is done through carefully crafted underwear that are absorbent and promise a mess-free period every time.
They also put importance on being more waste-free and sustainable since tampons and pads aren't very Earth-friendly. With the average person using around 20 tampons per cycle each month, this really adds up.
Thinx's mission started from personal experience with period mishaps amongst three women. After enduring embarrassment, leakage, and discomfort for years, these ladies finally said enough—they worked hard to create unique underwear for all women with different and unique flows.
Thinx Overview
One of the best things about the Thinx period panties is their variety of styles. They offer everything from classic underwear to boyshorts to little thongs, as well as a variety of different fabrics. Here are a few of their most popular styles:
Boyshort: Holds 3 regular tampons worth ($39)
Hi-waist: Holds 2 regular tampons worth ($38)
Hiphugger: Holds 2 regular tampons worth ($34)
Super hiphugger: Holds 4 regular tampons worth ($39)
Sleep shorts: Holds 4 regular tampons worth ($50)
Cheeky: Holds 1 regular tampons worth ($30)
Thong: Holds ½ regular tampons worth ($24)
My favorites are the cheeky and thong since they're most flattering and I didn't need a large absorbency since I'm mainly using them for potential leakages from my menstrual cup. Thinx also features "saver sets" that are a better deal.
Overall, Thinx has a wide variety of period panties for everyone, including different activities and heavier or lighter periods.
RELATED: 13 Best Underwear for Working Out
My Thinx Review
All this sounds pretty amazing, but do they actually live up to all this hype? Can their underwear hold as much as they claim?
Overall: ★★★★ 4 stars
All in all, I had a great experience with these period panties. They worked great to prevent leaking, and they didn't smell even after wearing them all day.
They probably can't be worn alone on heavy flow days, but Thinx doesn't claim that their underwear can do this. They are made for light/medium flow days and for helping prevent leaks from pads, tampons, or menstrual cups.
Price: ★★★★ 4 stars
At around $25-$35 per pair, you might think this is kind of pricey. However, it's worth it for the quality and effectiveness of the panties.
Quality: ★★★★ 4 stars
Thinx panties worked great for me and are comfortable as well.
Although Thinx period panties look like regular underwear online, they feel a little bit different in person. They feel like regular underwear on the inside, but the outside of the material feels similar to swimsuit material.
I tried out the Thong, Cheeky, and the Boyshort. They were all surprisingly comfortable! The inside material made them feel like I was wearing a regular, cozy pair of underwear. Even the thong was surprisingly comfortable.
Value: ★★★★ 4 stars
Overall, I'd say Thinx panties are a great value for only around $25 per pair, considering they were comfortable and helped prevent leaks!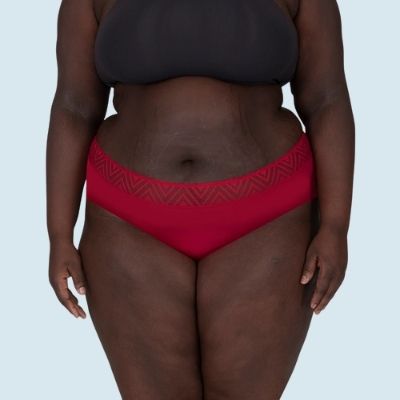 These classic hiphugger panties are Thinx's original best-seller.
They are full coverage and feature a comfortable lacy waistband. Plus, they come in a wide size range and have moderate absorbency.
---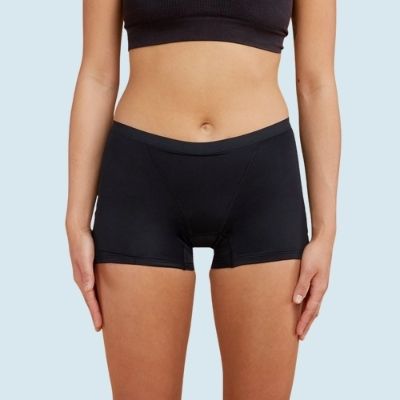 Another Thinx favorite, these boyshorts are perfect for those days you feel like you need something a little more full-coverage.
They feature long leg length and moderate absorbency.
---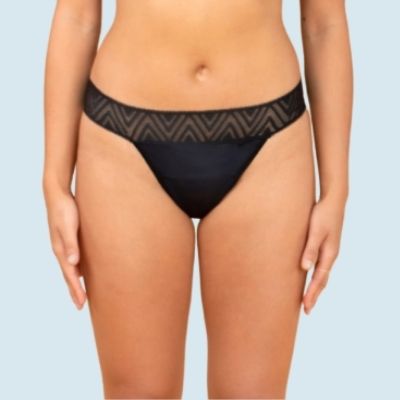 Made for your lightest period days, this thong will help stop leaks or keep you comfortable during very low flow. Now you can wear thongs while on your period!
What Customers Are Saying
Since this is only one Thinx review, we decided to scour the web for the opinions of other customers as well. Based on thousands of reviews across the web, here are the main points of feedback about Thinx period panties:
Great for light flow days or as backup for leaks
Comfortable, like regular underwear
Keeps from ruining other underwear duing period
Some people say they didn't absorb enough for their liking
Do Thinx Smell?
Wearing any type of underwear for hours and hours can feel a little gross and even start to smell, but this seems like it would be even more true when it comes to period underwear.
However, I've worn mine for 8+ hour days and didn't notice any bad smells! I also loved that they didn't feel wet or uncomfortable, even when wearing them for hours.
Average Prices
We've listed most of their prices above. At first glance, you might think their prices are a bit steep for underwear, but it's actually reasonable considering the quality and the money you'll save on period products.
All of their prices are typically between $30–$40 for their period panties, so you never have to worry about spending a fortune. They also have better deals when you buy more (3–4 saves 10%, 5–6 saves 15%, and 7+ saves 20%).
They're also expanding to apparel with their absorbent sleep shorts and training shorts, which cost closer to $50 or $60.
On top of that, you can often find prices around $20–$25 in their sale section.
Thinx Return Policy
Thinx has one of the most lenient return policies out there (don't abuse it)! According to their FAQ, they promise to refund all purchases (excluding final sale items) within 60 days if you do not love it, no questions asked. They will even provide you with a free prepaid return label. 
Bottom Line: Is Thinx Worth It?
While Thinx reviews seem to be a bit all over the place, I had a great experience with these period undies. I'd say my flow is pretty average and they worked great, even when wearing them just on their own!
The thong and the cheeky did start to leak after a couple of hours when I wore them without a tampon or menstrual cup, but this is to be expected since they're only advertised to hold ½ to 1 tampon worth. The boyshorts held up for the entire day, and they're not even the maximum hold offered by Thinx!
With so many mixed reviews, it's probably best to just try them out yourself as it seems to be the only true test of how they work. They aren't too spendy for one pair and Thinx has a fantastic return policy, so there's not much you can lose. Who knows, you may find that they are the biggest relief of your life!
UP NEXT: Our Knix Reviews: How Do These Period Panties Hold Up?