The power of pearl jewelry—classy, pure, and timeless.
If you love pearl jewelry or if you want to learn more about pearls, meet The Pearl Source.
The Pearl Source offers a large selection of gorgeous pearls, marking it as a popular place to shop for all your pearl needs.
If you want to learn more and see if this brand is worth it, keep reading our honest The Pearl Source reviews!
What Is The Pearl Source?
The Pearl Source is an online retailer that offers high-quality pearl jewelry with pearls that are hand-selected and inspected directly from the source.
First founded in 1991, The Pearl Source has a showroom in Los Angeles, California and remains one of the most reputable companies for stunning pearls. 
The Pearl Source: Overview
The Pearl Source offers a remarkable collection of pearls such as earrings, necklaces, pendants, and more.
They offer a wide variety of pearls to shop from, including freshwater pearls, Akoya pearls, Tahitian pearls, and Golden South Sea pearls.
The Pearl Source Reviews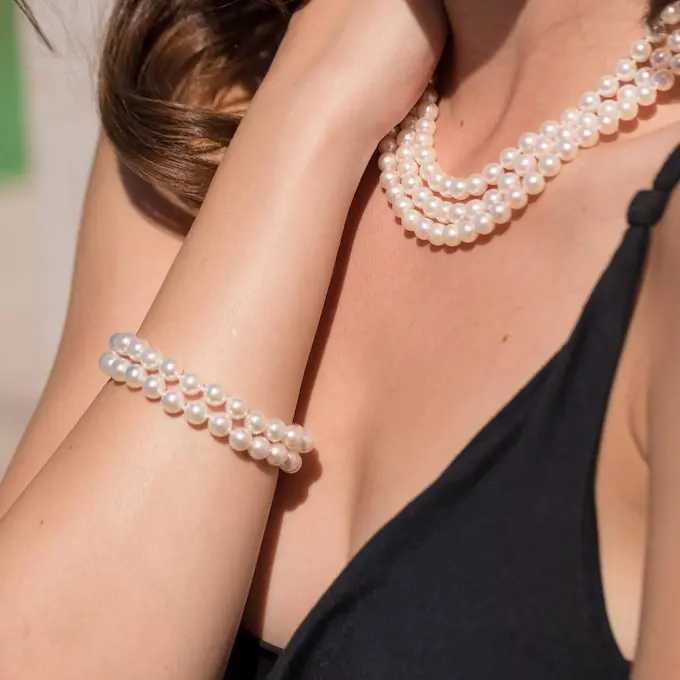 Overall: ★★★★★ 5 stars
The Pearl Source has striking reviews all across the board (in a good way).
Not only are shoppers satisfied with the beautiful pearls and finely crafted jewelry, but The Pearl Source is also lauded for its quick shipping and customer service (including an excellent return policy in case you're unhappy with your purchase). 
Quality: ★★★★★ 5 stars
What's great about The Pearl Source is that it offers different varieties of pearls, as mentioned previously. 
Every pearl is hand-selected and inspected by The Pearl Source and all jewelry is made in-house.
Each piece from The Pearl Source comes with certification and is delivered in a luxurious box to match the timeless energy pearls emit. 
Even better, The Pearl Source is all about educating others about pearl quality, including the different types of pearls and the pearl grading system.
Currently, there is no universal pearl grading system, so The Pearl Source follows a slightly different set of standards. Even so, customers rave about the quality of their pieces and how lustrous the pearls are.
Price: ★★★★★ 4.5 stars
Like with diamonds, the price for pearls varies depending on the grading. In a nutshell (or should we say—clamshell), pearls are graded on luster, surface, nacre, size and shape.
With that being said, The Pearl Source's prices range between $130 to $150,000. With such a big range, the company can accommodate those with any budget.
In fact, you can even check out the sale page for some extra deals!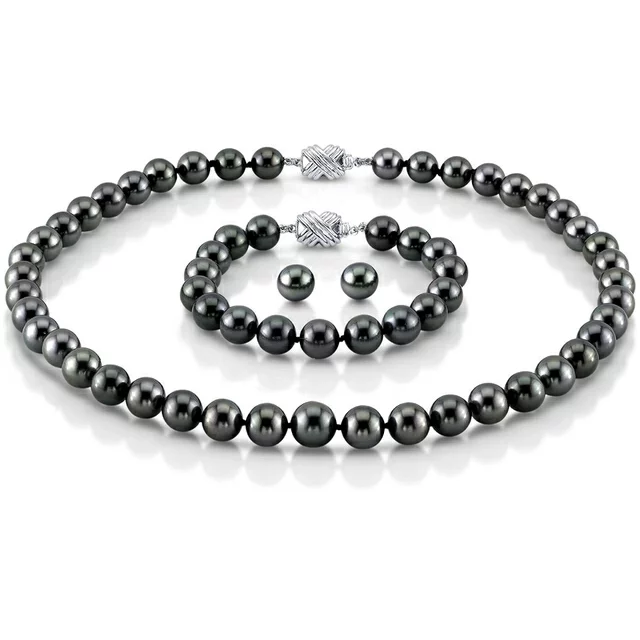 This stunning Tahitian South Sea Pearl Set features a Tahitian pearl necklace, a Tahitian pearl bracelet, and lovely Tahitian pearl earrings.
Tahitian pearls—also known as just black pearls—are popular for looking exotic and chic thanks to its dark, black color.
Further, this set allows shoppers to choose the length of their bracelet chain and necklace chain. For necklaces, the chain can be from 16" to 17", while the bracelet can measure from 6.5" to 7.5 inches.
The clasps of th jewelry come in either white gold or silver gold, and the price of this set is $2,999!
---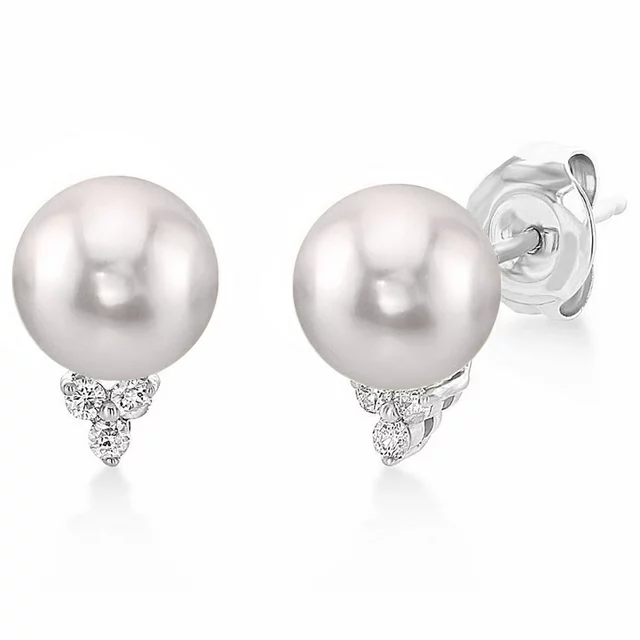 Meanwhile, these Akoya Pearl & Diamond Grace earrings features 7.0 to 7.5mm white pearls imported directly from pearl farms in Japan.
These earrings are available in 14k white gold and 14k yellow gold and are priced at $439.
Akoya pearls are the world's best known pearls thanks to its roundness and lustrous appearance, hence making the Grace earrings a sight to behold.
Those who've purchased these earrings from The Pearl Source are completely in love with them and adore how feminine and classy they look!
---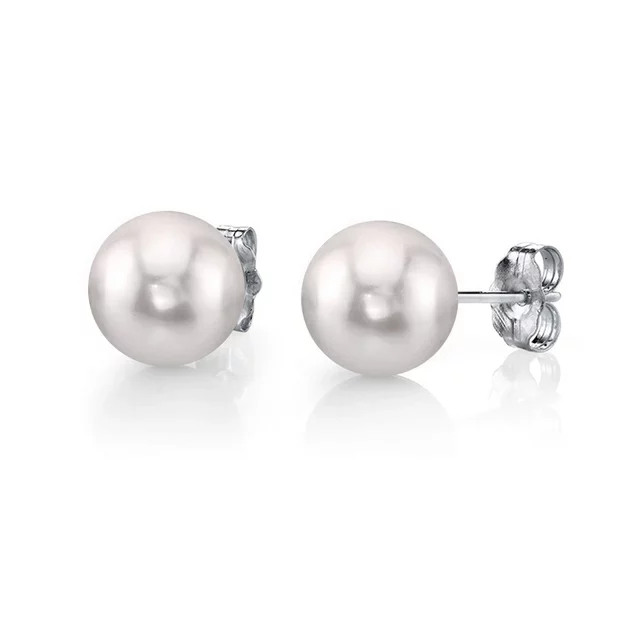 If you're looking for a pearl accessory that's dainty and sweet, and within a good decent price range, check out The Pearl Source's White Akoya Pearl Studs!
Priced at $139, these earrings are one of the company's top-sellers and are available in 14k white gold and 14k yellow gold. In fact, shoppers are also able to choose among the pearls having a rose overtone, a white overtone, or an ivory overtone.
Customers praise the quality of these pearl studs and love the simplicity and versatility of them! The White Akoya Round Pearl Studs can be worn from the office to a night out, making these earrings a must-have in your jewelry collection.
---
What Customers Are Saying
The Pearl Source has a fair amount of customer reviews, so we summed up what you need to know for your convenience.
Here's what real customers have to say about The Pearl Source:
The pearls are so beautiful and lovely
Surprisingly good quality
Affordable prices (you get what you pay for)
The jewelry comes in a luxurious box
Excellent customer service
Return Policy
 The Pearl Source aims to satisfy you, which is why if you're not happy with your purchase, the company offers a 60-day return policy that includes a 100% refund (including free returns).
Items that are damaged or show signs of excessive use are not eligible for returns; you can start the return process here.
FAQs
Is The Pearl Source worth it?
Yes, we think The Pearl Source is a great company to check out for your pearl needs and wants. The company has pieces suited for all budgets and has a great variety of jewelry and loose pearls to choose from as well. 
Where to buy The Pearl Source?
You can purchase The Pearl Source products directly from The Pearl Source website or you can visit the company's showroom in Los Angeles, California. 
Who owns The Pearl Source?
Leon Rbibo is the owner of The Pearl Source and is the current president of the company. 
RELATED: The 10 Best Places To Buy Lab-Grown Diamonds
In Conclusion
The Pearl Source is an excellent option for those looking for reputable pearl jewelry.
Not only is the company budget-friendly, but it also provides good insight on pearl education and provides a variety of pearls to shop from.
If you're looking to treat yourself or gift a loved one, The Pearl Source should definitely be kept in mind!
The Pearl Source Alternatives