Being able to easily afford a luxury handbag is definitely the dream, but in the wake of Birkins and Chanel purses, shopping high-end can feel like it costs an arm and a leg.
However, that doesn't have to be the case. If you want luxury without the usual price attached to it, Teddy Blake might be an option for you.
Offering lush handbags made from fine Italian leather, Teddy Blake is a brand gaining quite a bit of popularity thanks to social media. But how does it stack up?
Keep reading our Teddy Blake reviews to know more about this brand's affordable luxury handbags!
What Is Teddy Blake?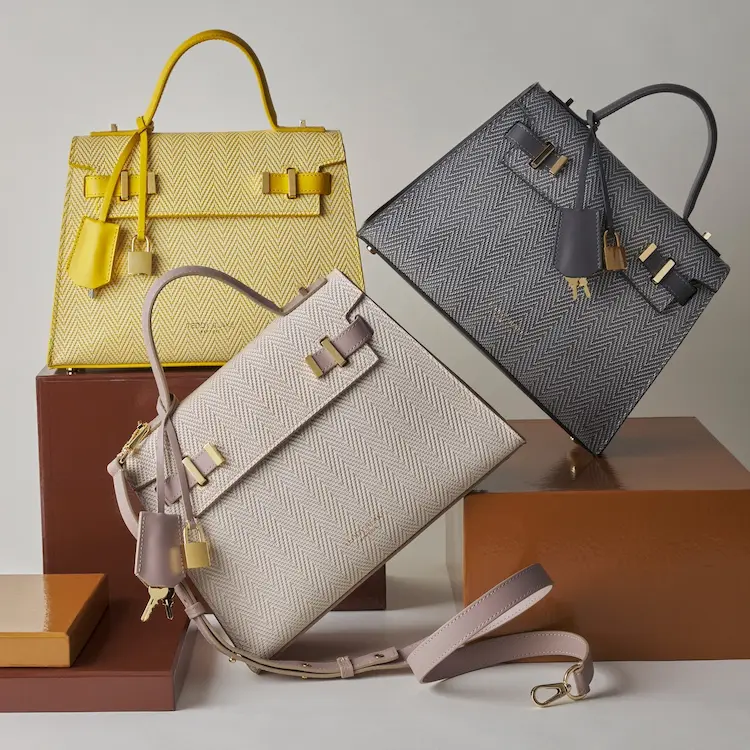 A fairly new company, Teddy Blake was founded in 2016 aiming to shake up the designer handbag industry by providing luxury quality without breaking the bank.
Based in New York, Teddy Blake offers quality handbags made of fine Italian leather and created by exceptional Italian artisans.
Teddy Blake: Overview
Teddy Blake offers handbags of a variety of styles to match anyone's taste and lifestyle.
From big totes to mini purses, Teddy Blake offers bags in multiple colors and textures such as pebbled, smooth, and even exotic leather.
Many customers even say Teddy Blake bags are dupes for Hermes bags (specifically highly sought after Birkins and Kellys).
Teddy Blake Reviews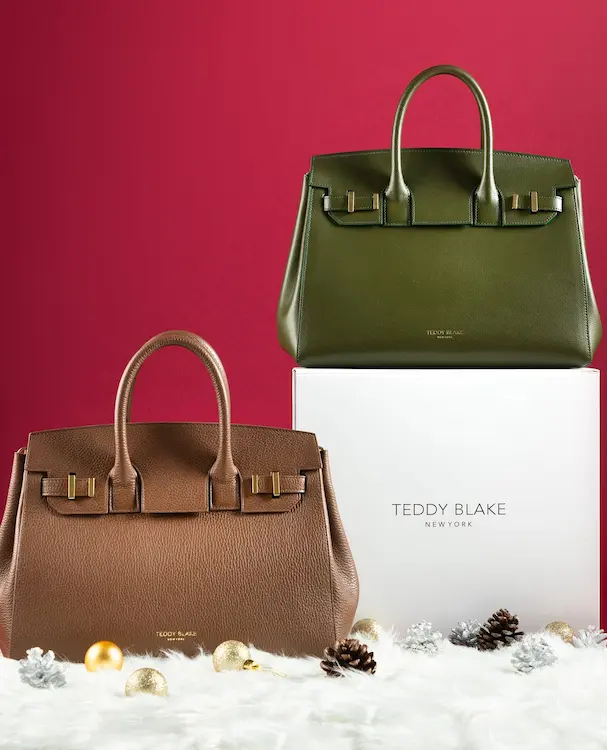 Overall: ★★★★ 4.5 stars
Most customers are generally delighted with their purchases from Teddy Blake. Customers say the bags are durable, luxurious, and have exceptional stitching.
Some shoppers think the bags are a bit overpriced, while others don't love the idea of Teddy Blake being a "knockoff" of higher-end designer brands, but these critiques boil down to personal preference.
Quality: ★★★★★ 5 stars
Teddy Blake bags are made of 100% genuine Italy leather. The brand offers different finishes such as pebbled, smooth, textured, and exotic — all handcrafted in Italy by talented artisans who inspect every product to ensure the highest quality.
Teddy Blake is all about providing designer quality for a more affordable price point, and they deliver.
Tip: Since Teddy Blake bags are made of authentic leather, keep your handbags away from water and moisture!
Price: ★★★★ 4.5 stars
Teddy Blake bags are much more affordable than higher-end luxury brands due to a couple of factors.
For one, many well-known brands can markup their prices simply because people are willing to pay for the brand name.
Teddy Blake doesn't have that problem considering the brand doesn't have the popularity of higher-end brands like Chanel and Fendi, so Teddy Blake can keep its prices fairer. 
Additionally, Teddy Blake also doesn't markup for retail expenses since the brand gets its products directly from the manufacturer.
Of course, since Teddy Blake bags are still made with luxury materials, you can still expect to spend about $400 to $1,000 on a bag (depending on the style). 
Styles: ★★★★★ 5 stars
Teddy Blake has a wide range of styles to match shoppers' tastes and lifestyles. With a Teddy Blake bag, it's easy to transition from day to night. 
It doesn't seem like a secret that some Teddy Blake bags are supposed to be dupes for Birkin bags and Kelly bags. So if you want something similar to Hermes styles but don't want the Hermes prices, you can check out Teddy Blake's Kim Bag and Vanessa Bag.
What Customers Are Saying
As mentioned, Teddy Blake has a big social media presence and often collaborates with influencers to market the brand. 
This can sometimes make it difficult to find unbiased opinions about a brand, but there are tons of honest reviews about Teddy Blake from real customers, and we're here to tell you everything you need to know.
Here are some of the most common things customers are saying about Teddy Blake bags:
The bags are durable and the straps can handle a good amount of weight
The stitching looks professional and the bags feel luxurious
Wish there were more compartments inside the bag
The bags look like knock-offs of other bags
A bit overpriced
Love all the different styles
---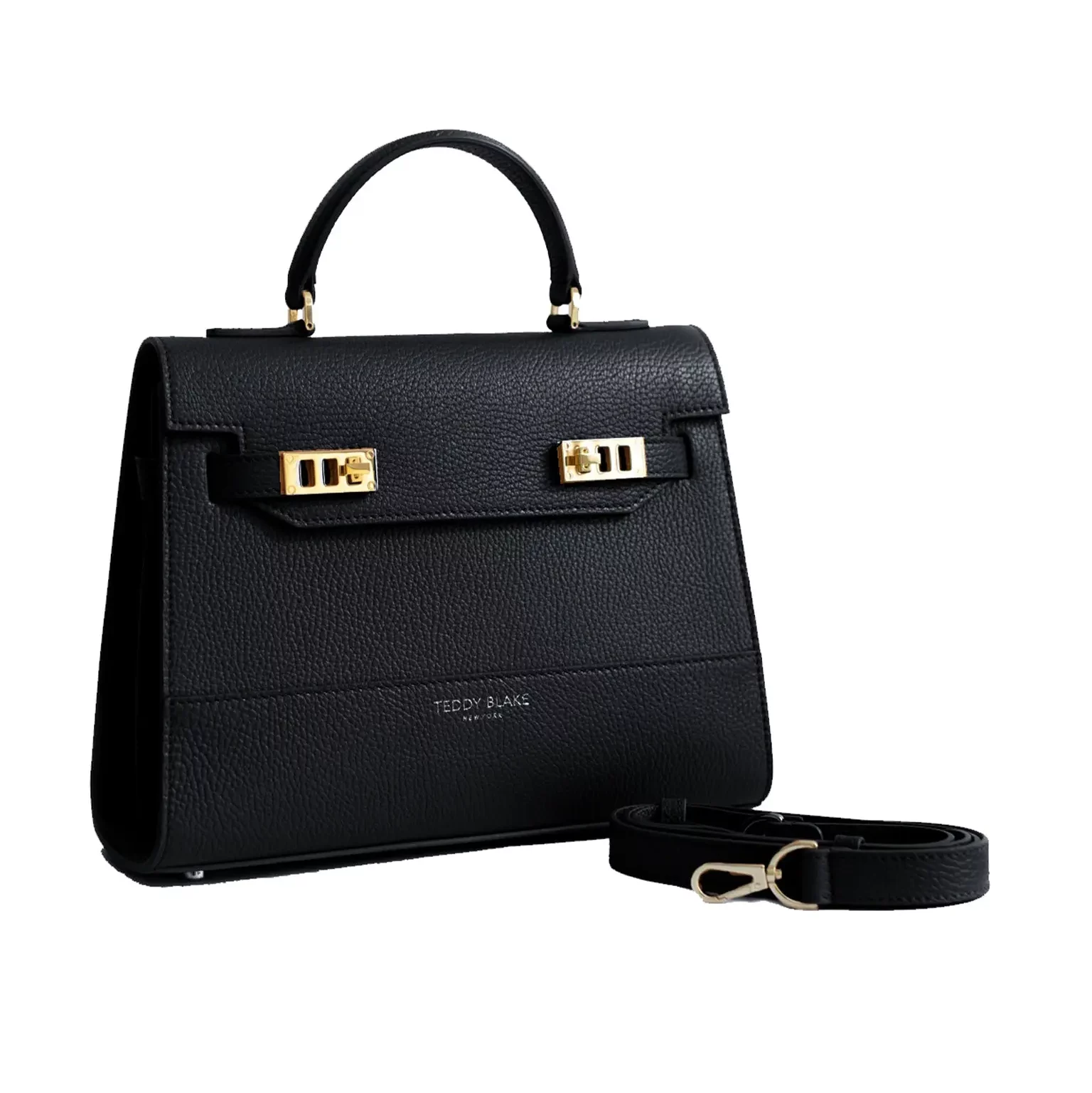 Teddy Blake's Kim Stampatto is a chic pebbled bag that can be worn as a shoulder bag or a handbag!
Made in Italy from Stampatto leather, this beautiful bag has a microfiber interior and gold-toned detailing with one interior side pocket.
The bag is 11" in length, making it a perfect in-between size — not too big and not too small.
The Teddy Blake Kim Stampatto 11" is priced at $529 and comes in twenty beautiful colors.
Those who have the Kim Stampatto are totally in love with how elegant it looks and how it makes outfits look super sleek and stylish.
---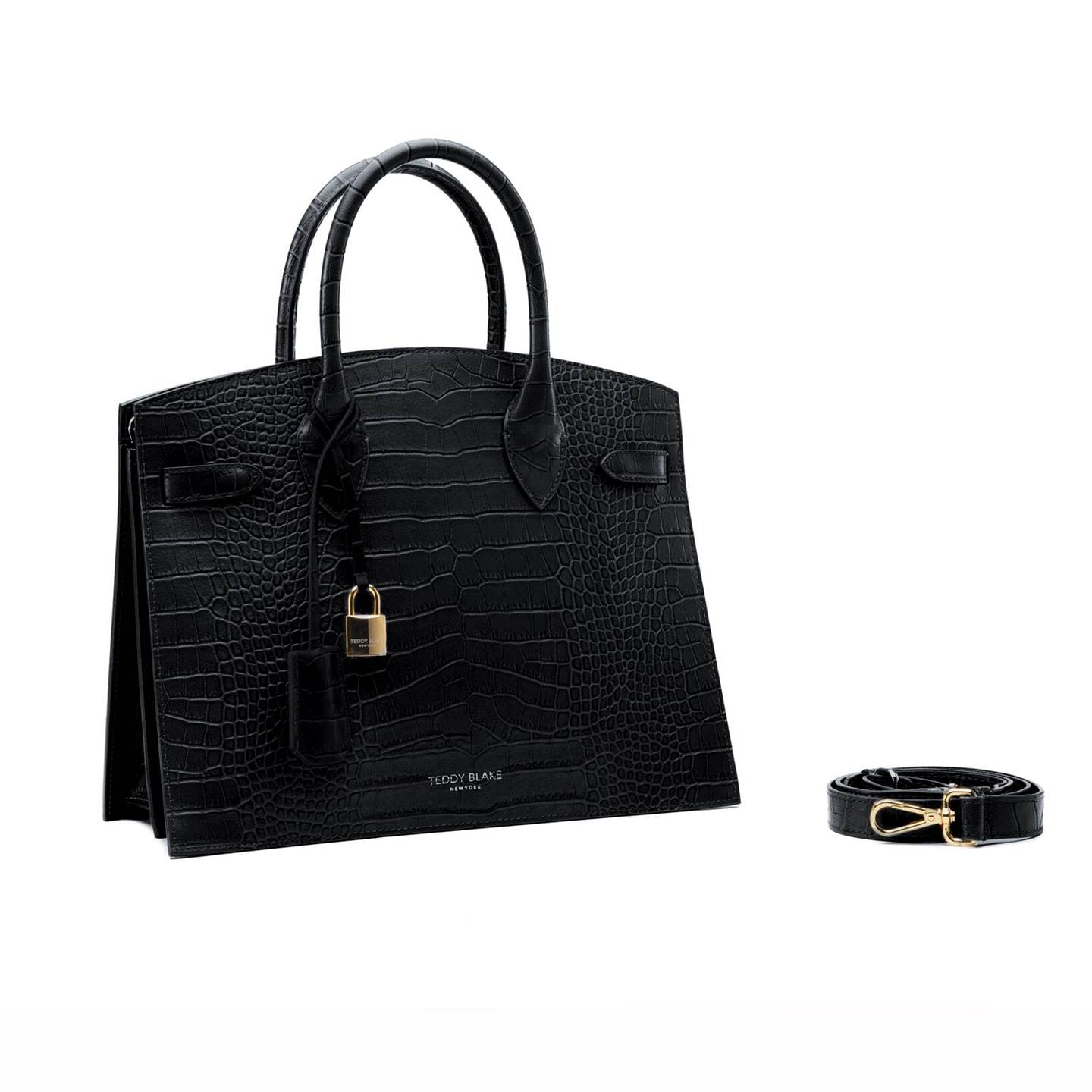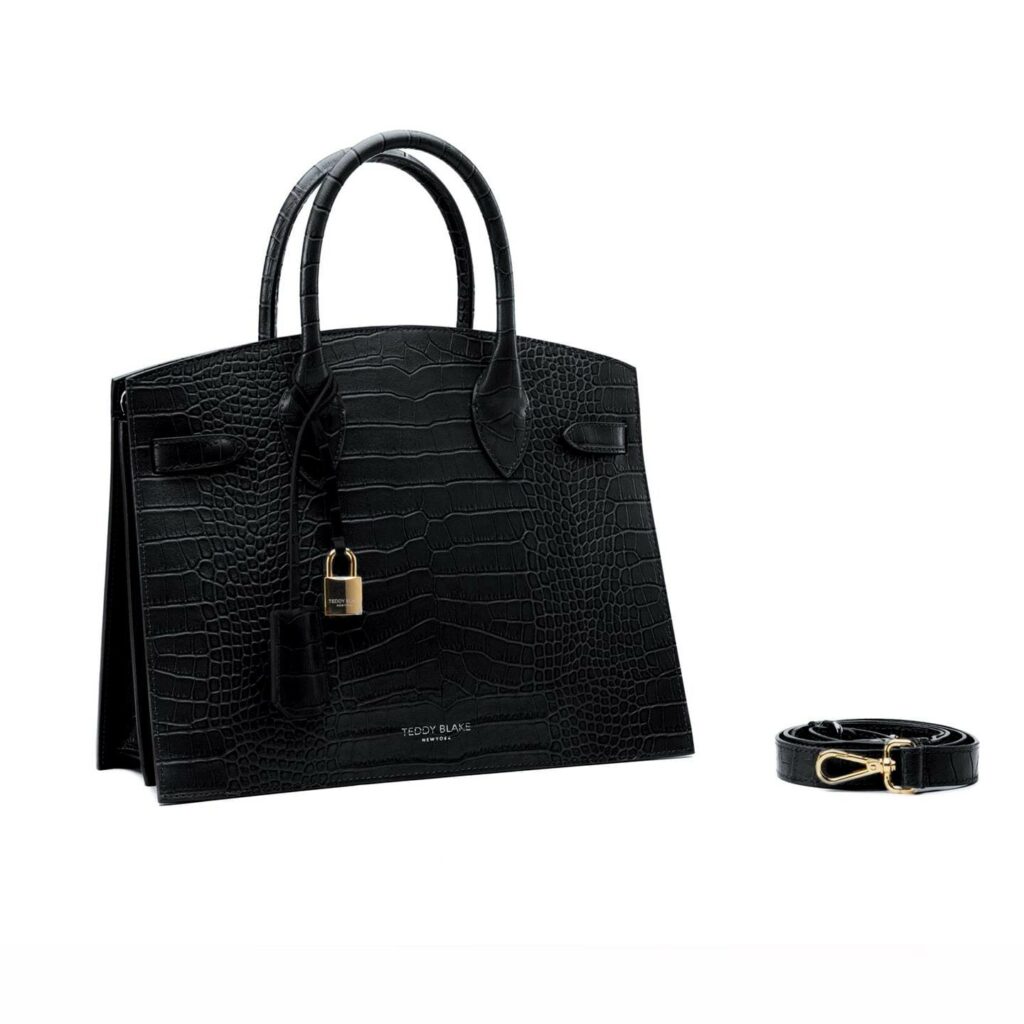 The Kate Croco is a lovely handbag that comes with a detachable and adjustable strap.
Made with croco-embossed calf skin by artisans in Italy, this bag features two round handles and gold hardware.
With clasps on the front, the Kate Croco opens up accordion-style and has a suede interior with a structured body.
This bag comes with two interior side-zipper pockets as well as a key and lock.
You can choose from 16 Kate Croco colors; this bag can be yours for $439!
---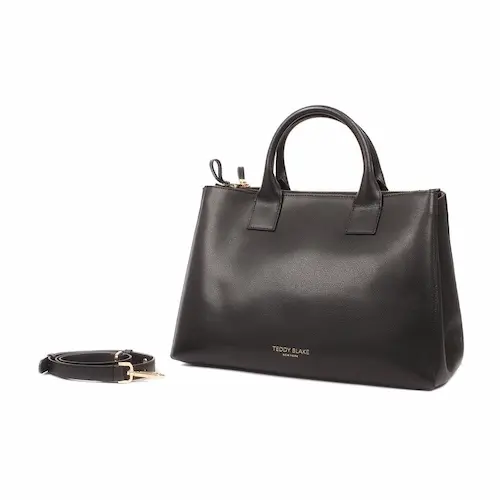 One of the bigger bags offered by Teddy Blake, the Bella Palmellato is 15" in length and comes with a detachable and adjustable shoulder strap.
Designed with classic and modern lines, this bag is perfect for those on-the-go and like to pack all the essentials.
Though not designed to be a laptop bag, the Bella Palmellato can easily fit a 13" laptop thanks to the bag's expandable sides.
Featuring a red suede interior, this Teddy Blake bag us made in Italy from Palmellato leather that has a semi-rigid grained calf leather with matching trim and gold-toned hardware.
Offered in nine colors, the Bella Palmellato is currently priced at $399!
---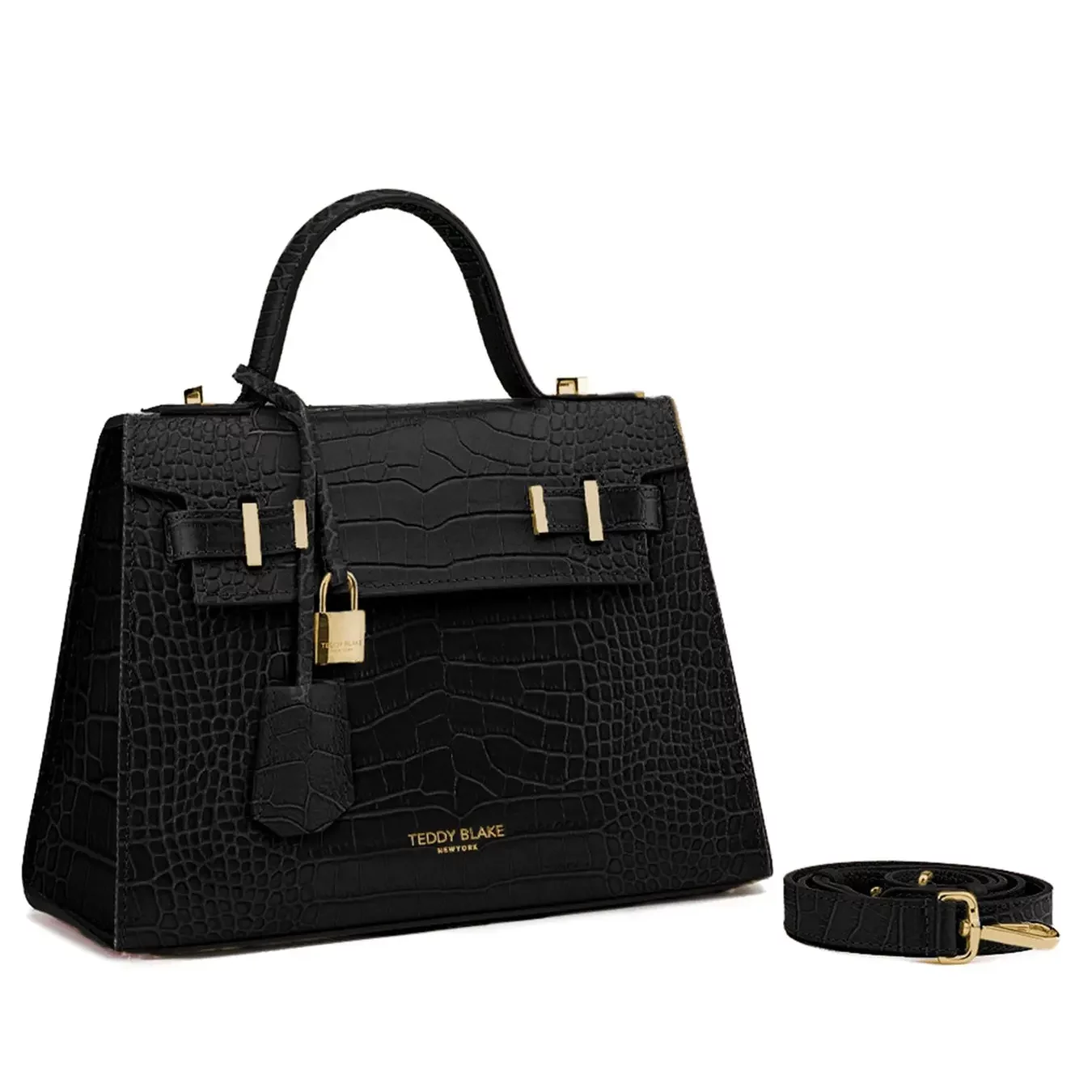 Crafted by exceptional artisans in Italy, the Teddy Blake Ava Croco 11" features croc-embossed calfskin with a single round handle and a flap enclosure. 
The interior is soft suede, and the bag comes with gold-toned hardware along with a detachable and adjustable strap. 
The Ava Croco has one interior side-zip pocket, one slide pocket, and an exterior zip pocket. 
This bag comes in 17 different colors and each bag comes with a key and lock. This bag is currently selling for $469!
---
Return Policy
Teddy Blake offers returns on unused products within 14 days of delivery. 
Teddy Blake asks that all items you wish to return are unused and undamaged, and items must also be returned with their original packaging. 
If you'd like to start the return process, you can email Teddy Blake at help@teddyblake.com.
FAQs
Is Teddy Blake worth it?
If you want luxurious goods but don't want to break the bank, we think Teddy Blake is totally worth it! The bags are made with genuine Italian leather and are handcrafted by talented artisans, and customers can't stop praising the quality and durability of Teddy Blake bags.
How to clean a Teddy Blake bag?
As all Teddy Blake bags are made of genuine leather, the company advises shoppers to get their bags pre-treated to prevent damage and signs of wear. Aside from that, Teddy Blake also recommends using a leather cleaner.
Who owns Teddy Blake?
Samy Waiche is the CEO and owner of Teddy Blake.
Where to buy Teddy Blake?
Are Teddy Blake bags water-resistant? 
Since all Teddy Blake bags are made of real leather, Teddy Blake bags are not water-resistant and should be kept away from water and moisture to avoid damage. 
Is Teddy Blake a luxury brand?
Yes! Teddy Blake is considered a luxury brand but without the luxury prices. 
In Conclusion
So what's the tea on Teddy Blake handbags? Honestly, we think it's worth checking out!
If you want quality goods that don't cost an arm and a leg, Teddy Blake handbags are made of some of the finest materials and don't submit to retail markups.
With a wide range of styles, Teddy Blake bags can be for anyone for any time!
Teddy Blake Alternatives
RELATED: 13 Most Expensive Purse Brands That Might Shock You