Having comfortable shoes that are easy to travel with can be difficult to find. Especially, when you need a simple pair to change into after a business meeting or professional setting.
These two products are foldable ballet flats that are easy to travel with and comfortable for long days, but how do you decide which one to get? Below we delve into the details of Talaria Flats vs Tieks.
RELATED: 15 Most Comfortable Flats You'll Actually Want to Wear
Talaria Flats vs Tieks
Talaria Flats
Tieks
– One style option with bow detailing

– 11 color options

– Wide variety of sizes

– Lightweight fabric

– All the same price

– Rubber soles are arthritis-friendly

–Elastic trim that molds to your feet

–Each pair of flats comes with a matching carrying case

–Folds in half to easily fit in any bag

–Offers kid's shoes
– One style for all shoes, simple flat

– 50+ color options

– Wide variety of sizes

– 100% full-grain leather or has a vegan option

– Price varies depending on color

– Non-elasticized, cushioned back for comfort

– Non-skid rubber soles

– Folds in half for travel ease

–Soles are a light teal with a matching stripe on the heel

–Each pair comes with a foldable nylon tote

–Offers kids' shoes
Quality
Talaria flats are the cheaper of the two options, but they are still praised for their comfortable, soft fit. They boast a cushioned rubber sole and a soft elastic band that hugs your foot just right—they aren't so tight that they dig into your skin, but they're snug enough that they don't slip off.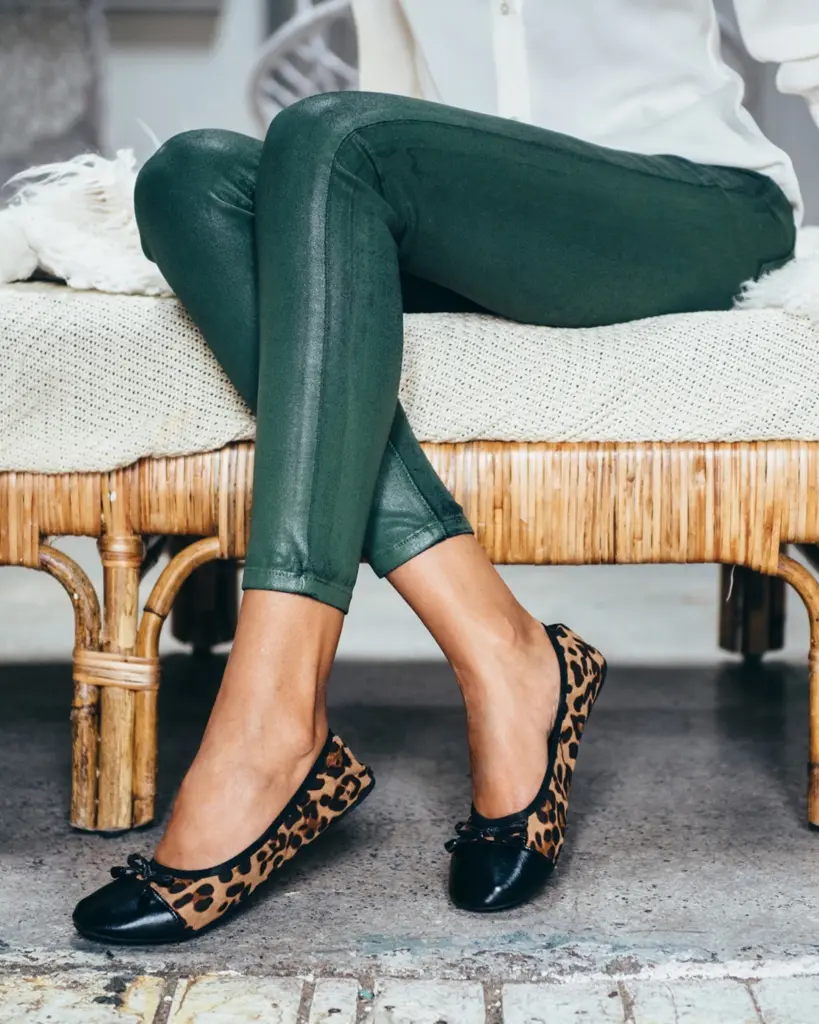 Also, they are able to fold in half in order to allow for easy travel. Bonus!
Tieks are made of luxurious Italian leather that is soft and supple, and the construction is solid. Most customers say their Tieks are durable and hold up really well.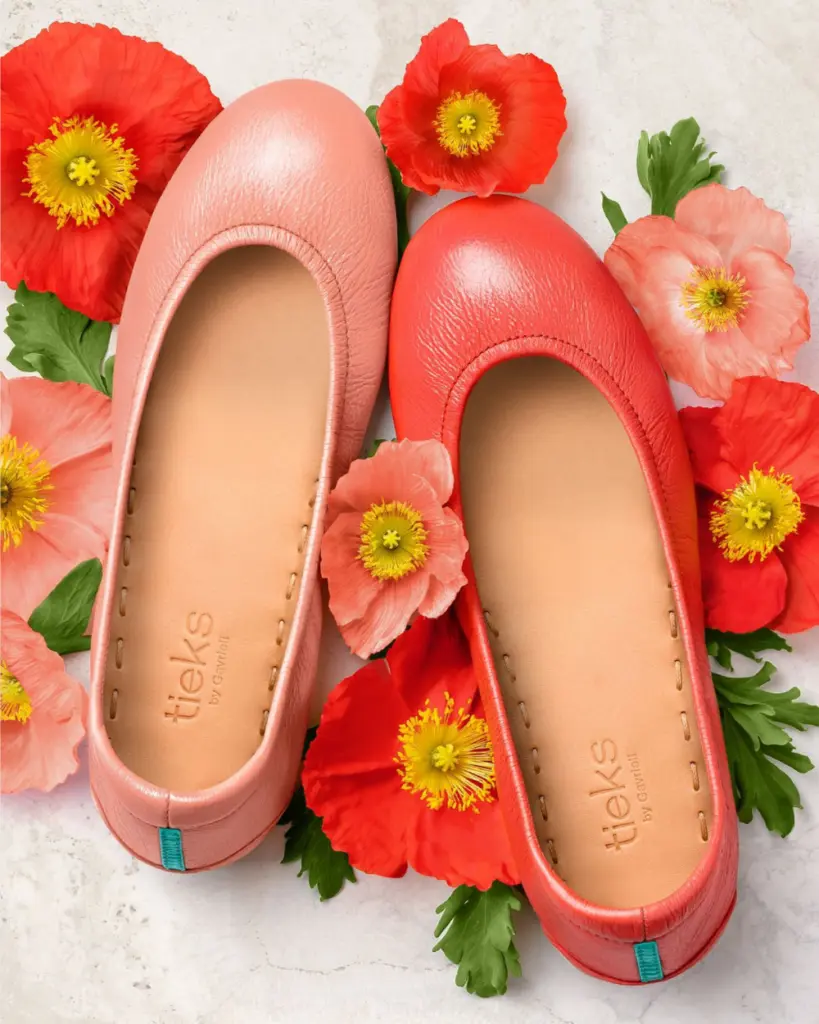 The best part, though, is the fit. Tieks flats are designed to hug your feet, and they do not slip or rub like other brands. Plus, they have a thick rubber outsole that ensures you won't slip or skid around while wearing them.
The high-quality leather takes some time to break in, but customers agree that once the leather molds to your feet, they are some of the most comfortable shoes they own.
Fit
Talaria flats fit true to size. They recommend going up a size if you normally wear a half size, to ensure maximum comfort.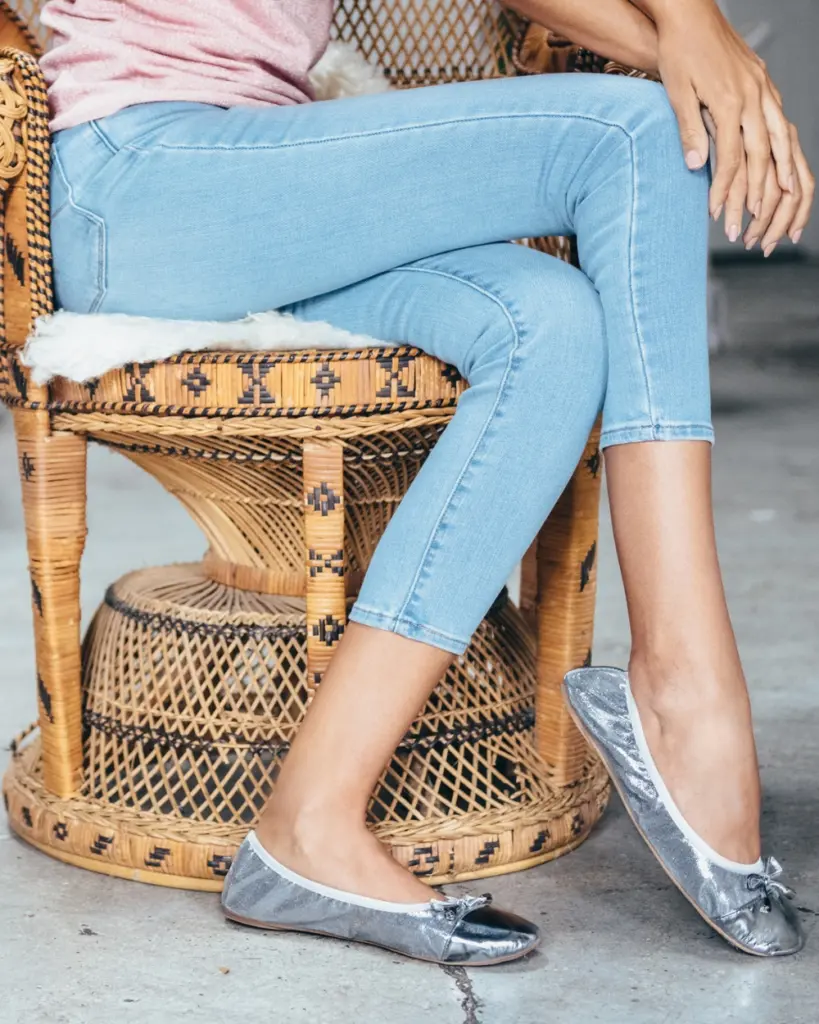 If you have a wider foot, it is recommended to go one size up, giving your foot room to get comfortable without slipping out.
Their sizes range from 5 to 12 in women with 2 pairs of children's shoes sized from 6 to 10. This large amount of sizes gives the customer a comfortable shoe without having to worry about pinching.
Tieks fit true to size. If you are a half size, they recommend sizing down unless your foot is wider, then you should size up.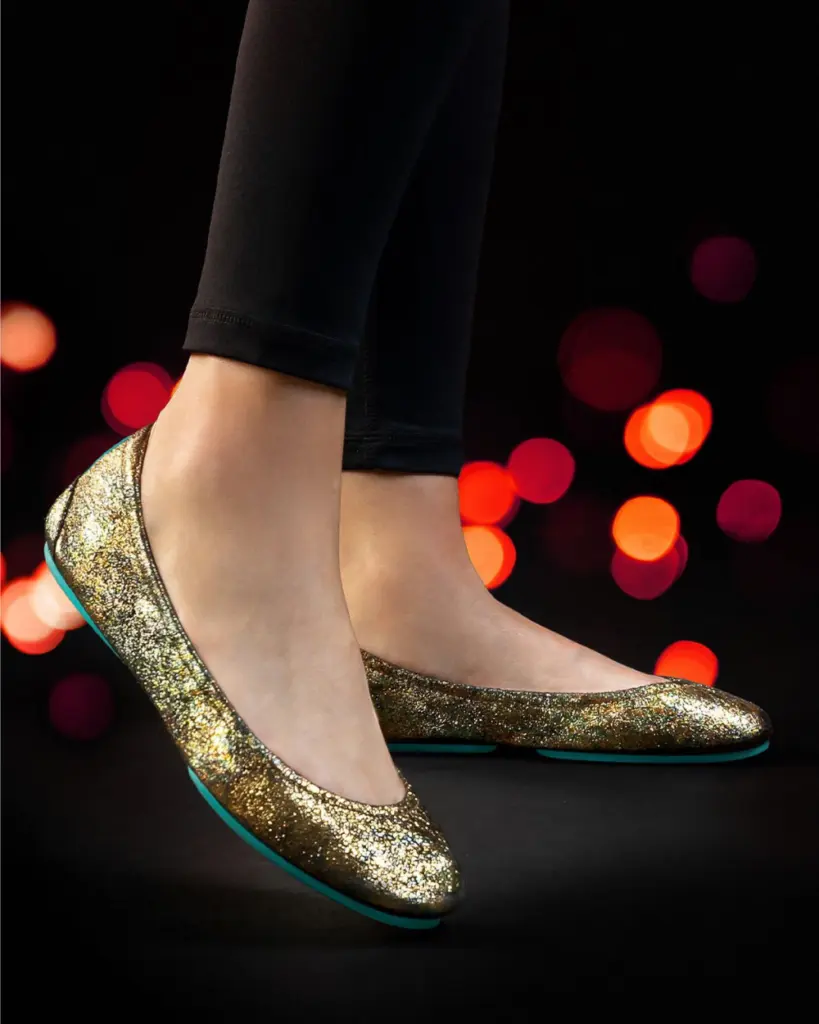 Tieks stretch and mold to your feet over time, but they do have a bit of a break-in period of about 1-2 weeks. They do not have arch support, but they are crafted with extra padding for comfort and durability.
They offer women's sizes 5 to 13 and kids' sizes 7 kids to 2 in adults. Their in-depth sizing chart allows customers to find their ideal shoe from the beginning.
Pricing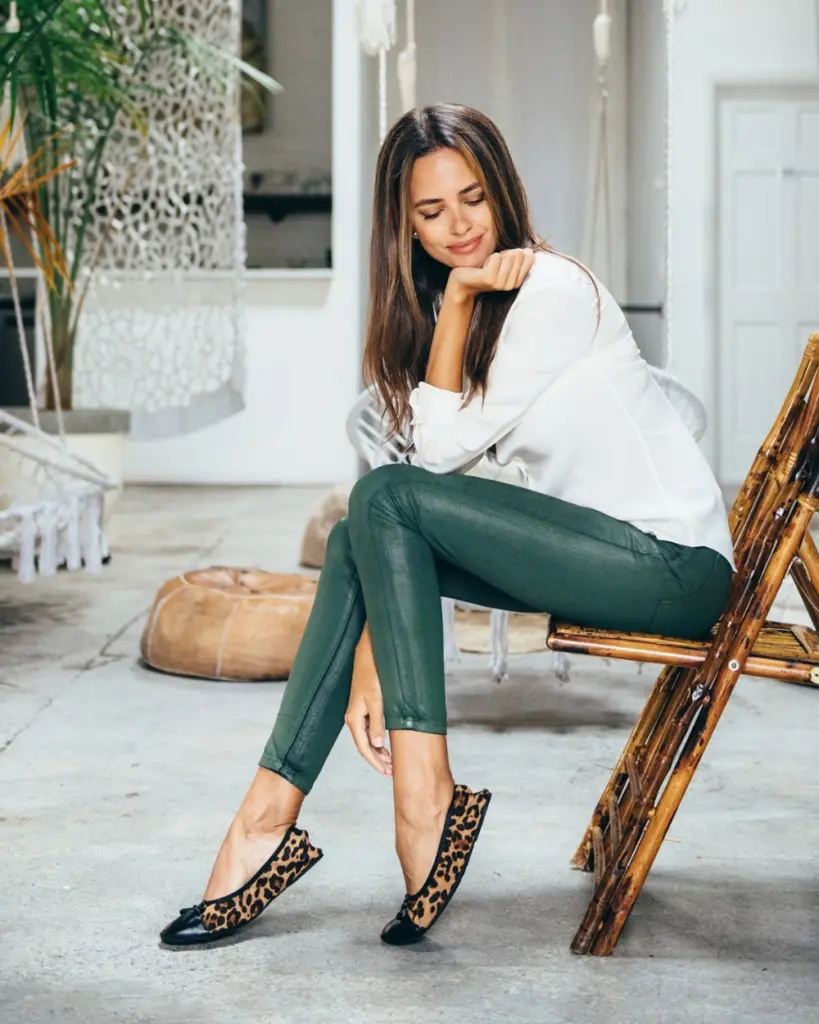 All Talaria flats cost $42. The only exception is their kids' shoes priced at $37. They offer free shipping for all orders and free returns within 30 days of receiving your order.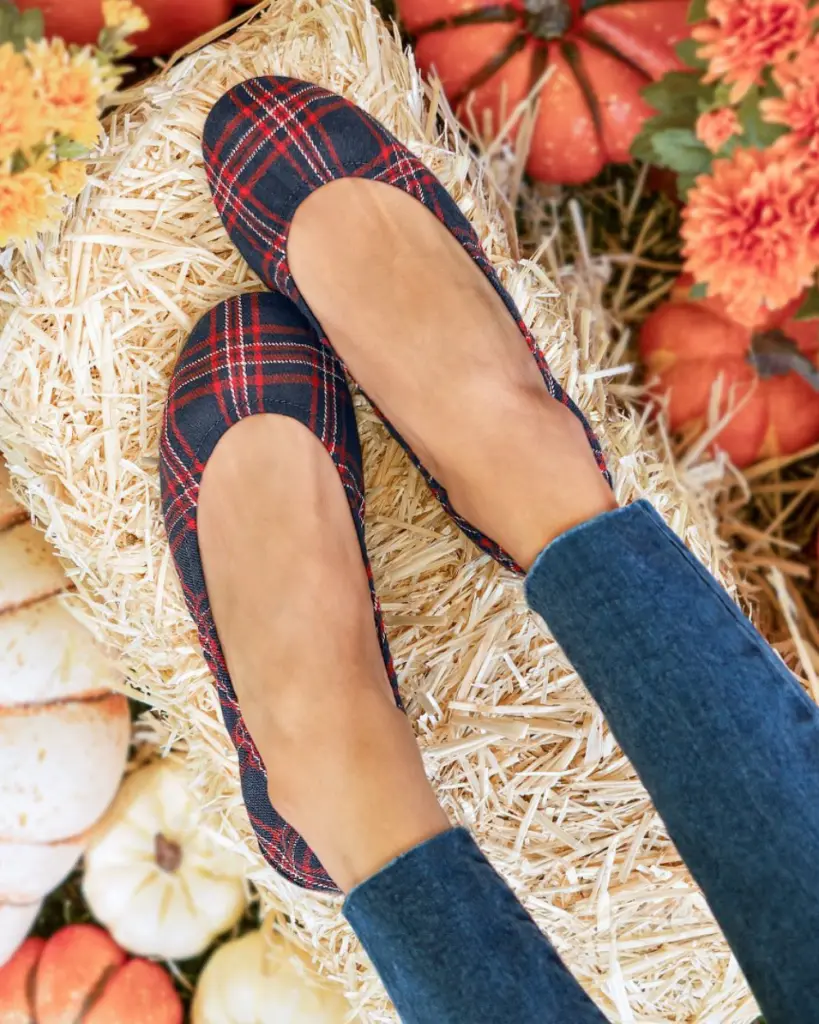 Tieks are significantly higher in price with each pair ranging from $185 to $345 for adults and $130 to $140 for kids. Tieks also offers free shipping on all U.S. orders and free returns with no time limit.
How To Wear Each Style
Talara has 11 different colors to choose from that are cute, sleek, and easy to match. If you want a pop of color, champagne, leopard, ruby red, and cobalt blue bring a shiny addition to any business outfit.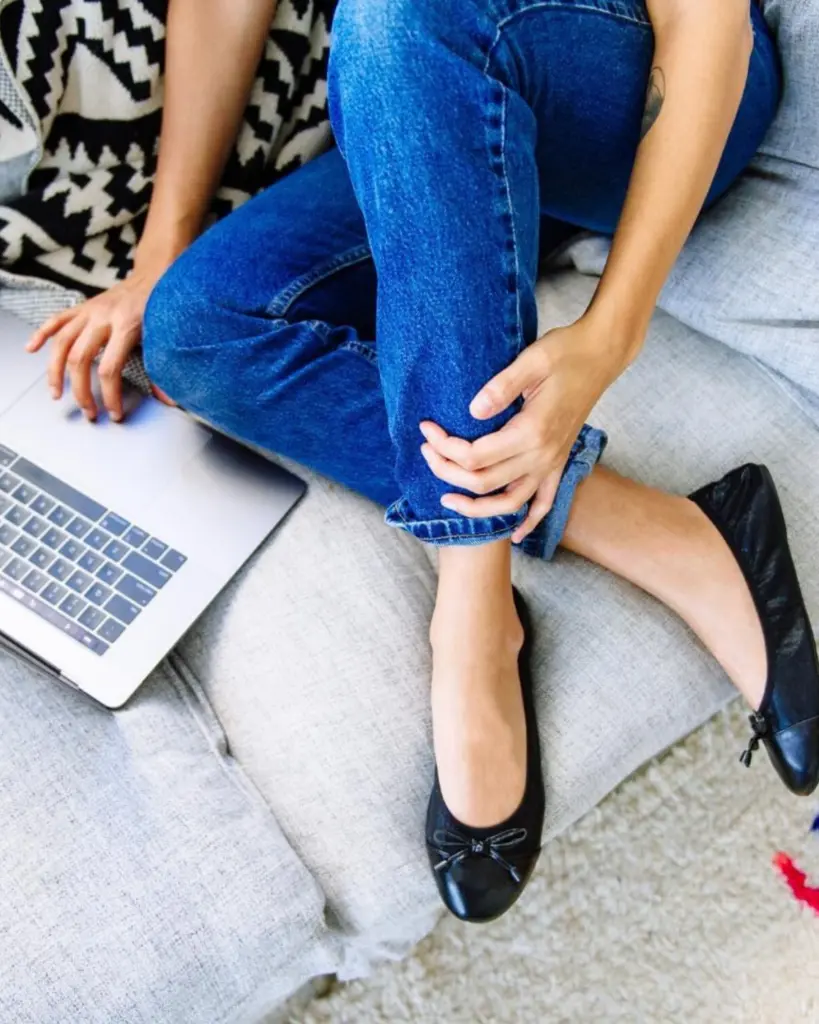 If you want just a comfortable shoe that doesn't bring too much attention, they have evergreen, dusty rose, white, black, and others so you can find the best color for your closet.
These shoes can be worn with any outfit, whether running through the airport in sweatpants or going to a corporate business meeting.
This style of shoe does typically look best with a cigarette or straight pant leg that is hemmed or cuffed above the ankle.
Tieks offers a wide variety of colors to choose from, making it the new staple shoe with any of your outfits. Their teal soles and stripe at the heel attain recognition and intrigue.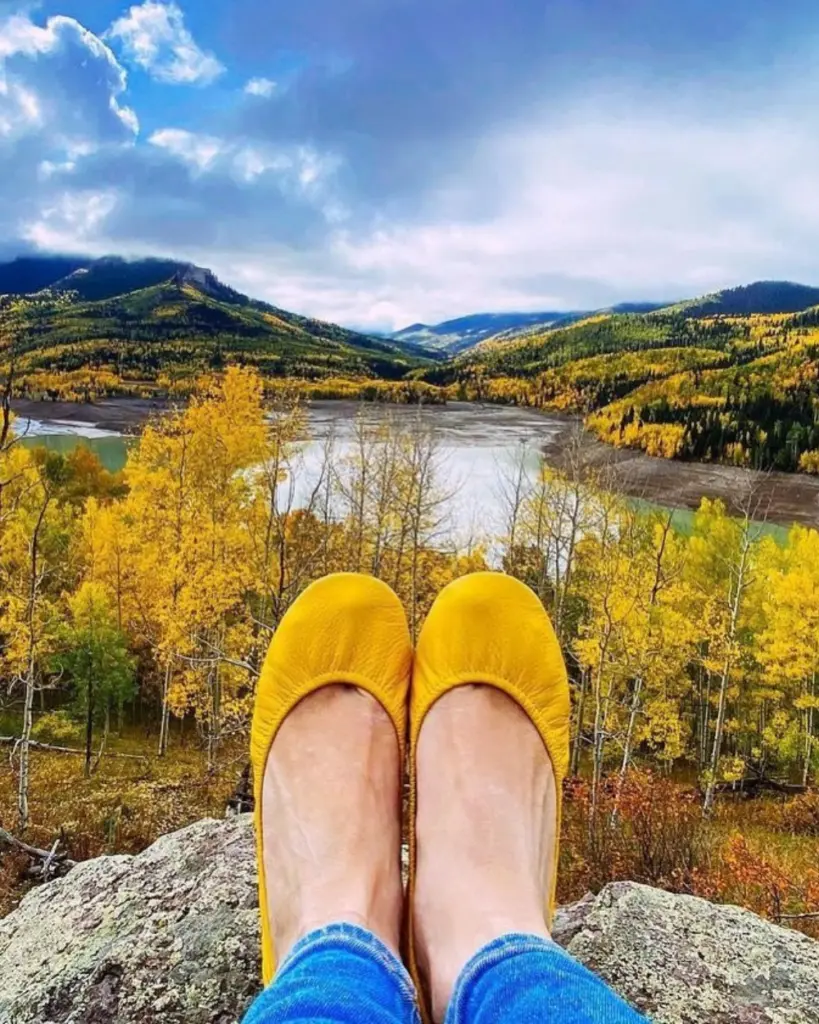 It can sometimes be hard to match the teal to outfits, especially if the leather flat itself is a solid, simple color but it will only be seen when you lift your foot to walk.
Tieks are wonderful for business casual outfits or touring a new city on vacation. Similar to Talaria flats, the style of shoe looks best with a cigarette or straight pant leg with a hemmed or cuffed finish above the ankle.
What Customers Are Saying
Need more opinions? No problem! We searched the web for how customers felt about their experience with Talaria Flats vs Tieks. Here's what we found:
Tieks are extremely comfortable, but can take some time for the leather to mold to your foot shape
Tieks are fashionable and can be dressed up or down
Talaria Flats are also trendy and comfortable, but they are not as durable as Tieks
Tieks has a lot more color options
Talaria Flats are available on Amazon, whereas Tieks are not
In Conclusion
Across the board, Talaria flats and Tieks are both wonderful travel flats with high ratings and style versatility.
The main difference between the two would be pricing. Customers said that Tieks are worth the price, however, Talaria flats are highly rated as well and are less than half the price of Tieks.
Tieks are made of high-quality Italian leather, so you know you're purchasing a quality pair of shoes that will last. However, if you're looking for a cheaper alternative, Talaria flats might not be made of luxurious leather, but they are still comfortable and highly praised.
UP NEXT: 8 Best Rothy's Dupes for the Most Comfortable Flats