Looking to make a purchase from StyleWe? I recently placed an order and decided to create some in-depth StyleWe reviews showcasing some things you should know before doing so. I'll be sharing my overall ratings of their quality, sizing, shipping speed, and more (plus, tips for purchasing from the store).
Let's dive right in!
What is StyleWe?
Stylewe is one of many low-cost overseas retailers that offers a huge range of clothing and accessories. You can find anything from elegant business tops all the way down to small jewelry.
StyleWe Overview
Stylewe claims to offer high-quality, unique items from independent designers. They offer as many styles of clothing you can imagine from party dresses to jackets and hoodies to rompers and jumpsuits.
Most of their products are incredibly affordable. Plus, Stylewe tends to run a lot of deals and flash sales!
My StyleWe Reviews
Let's get into the meat of these reviews! We purchased just shy of $250 of clothing which went an incredibly long way. Here are my honest Stylewe reviews:
Overall: ★★★★ 4 stars
I had a good experience overall. The clothes were great quality compared to other retailers I've purchased from in the past. They do focus more on "designer" items so that makes sense as to why you can expect better quality than most.
Quality: ★★★★ 4 stars
If you know what to look for, you can have a great experience. It's easy to browse through all their new arrivals and get turned off because they seem to have such an array of clothes within different styles!
In the beginning, I was upset they didn't have styles that were very on-trend, but I found some great items as I continued to search! I recommend searching through different categories and filters to find what you're looking for. I love the outwear and sweaters. (The Best Sellers section is also a great place to hunt!)
Aside from that, some items won't always look like they do in the pictures, so you should take extra caution. I've also found that looking at the StyleWe reviews on each item helps as you can see what other customers have to say about the item. Some even include their own photos, which is super helpful when deciding to purchase.
Sizing: ★★★ 3 stars
Runs small! Most of everything we purchased ran small so you're going to want to size up. Make sure to check the size chart prior just to make sure so you're not surprised.
Pro tip: Save these measurements! You will need them for other overseas retailers. Trust me, it will save you a lot of time in the long run.
Shipping: ★★ 2 stars
Slow shipping times are mostly eaten up by the time it takes to "process your order." This is one of the reasons I doubt I will be shopping here again. It took almost a month to get my order, which is fine considering it's coming from overseas, but compared to other retailers such as SheIn, it took way too long to arrive).
However, I have seen a lot of other reviews that say they received their order within 2 weeks, so I might have had an uncommon experience.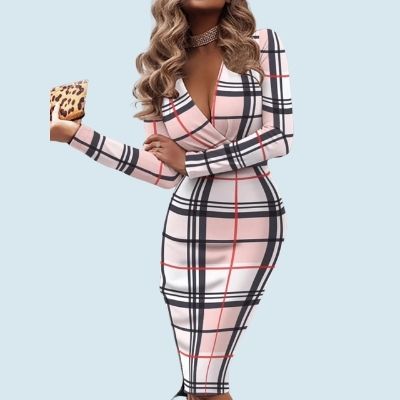 Stylewe has a huge selection of dresses that you can filter by color, size, and price range.
They also have a wide selection of styles including maxi dresses, mini dresses, formal dresses, and party dresses.
---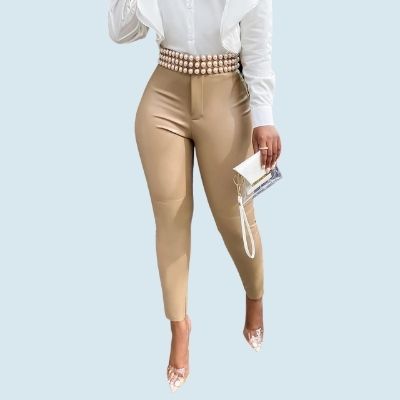 Stylewe also has a large selection of pants, from work pants to denim to joggers.
It is a little difficult to find exactly what you're looking for because the filtering options are limited. However, you can always use the search bar and type in "jeans," "leggings," etc.
What Other Customers Are Saying
Since I'm only one person, it's nice to know what other people have to say about their experience to help you get the full picture. With a 3.75-star rating out of 5 on Sitejabber, it seems most customers are happy with their purchases. Based on other Stylewe reviews, this is what most customers mentioned about the brand:
Items are high-quality
Sizing runs small
Slow shipping speed
Prices are fair
Is it Legit?
Yes, it's a fairly large legitimate online retailer serving thousands of people yearly. We've encountered nothing that leads us to believe that StyleWe is running an illegitimate business.
Tips For Purchasing From StyleWe
How the size guide works: they will provide measurements for the following areas for tops. Make sure you accurately measure yourself to ensure you get the correct size.
Shoulder
Bust
Sleeve length
Length
After you take your measurements, here are some extra tips to help you get the right fit:
Check size guides
Don't fall for "sales" and buy only if you feel that it's worth it
If they have color options, make sure it's a different picture–if it's the same picture with a photoshopped color, you will most likely be getting something that looks entirely different.
Bottomline: Is It Worth It?
I would recommend this store if you're fine with waiting potentially longer than normally for your fits, make sure to read the size guide, and check the reviews for each item to make sure you're getting what you see in the photo. Overall, I think it's very similar to Zaful (without the quick shipping time or the cute section of home items).
StyleWe Alternatives
The only reason I'm adding this section is because the shipping was a little long for my liking! I also thought the prices were pretty spendy compared to their competitors, plus they weren't as up-to-date with recent trends.
These stores have similar (or cheaper) pricing, trendier styles, and quicker shipping! Plus, the first store has free returns, which is a rare find when it comes to overseas retailers.
UP NEXT: 21 Stores Like SheIn for Affordable, Trendy Clothes