Finding the perfect wedding dress is a core memory of any bride. The feeling of the soft fabric on your body, feeling beautiful, and seeing the reaction of your bridesmaids is absolutely priceless.
But, it's not like there are wedding dress shops on every corner. Well, except for David's Bridal, one of the most iconic wedding and formal dress stores with over 200 shops in operation.
There's absolutely nothing wrong with David's Bridal, however, sometimes being the main character requires going against the current. In this case, that means trying out different stores that aren't the mainstream David's Bridal.
With that being said, keep reading to see 12 stores like David's Bridal!
Azazie is an online, US-based company based in San Jose, California that offers wedding dresses, accessories, bridesmaid dresses, and more at an affordable and accessible price!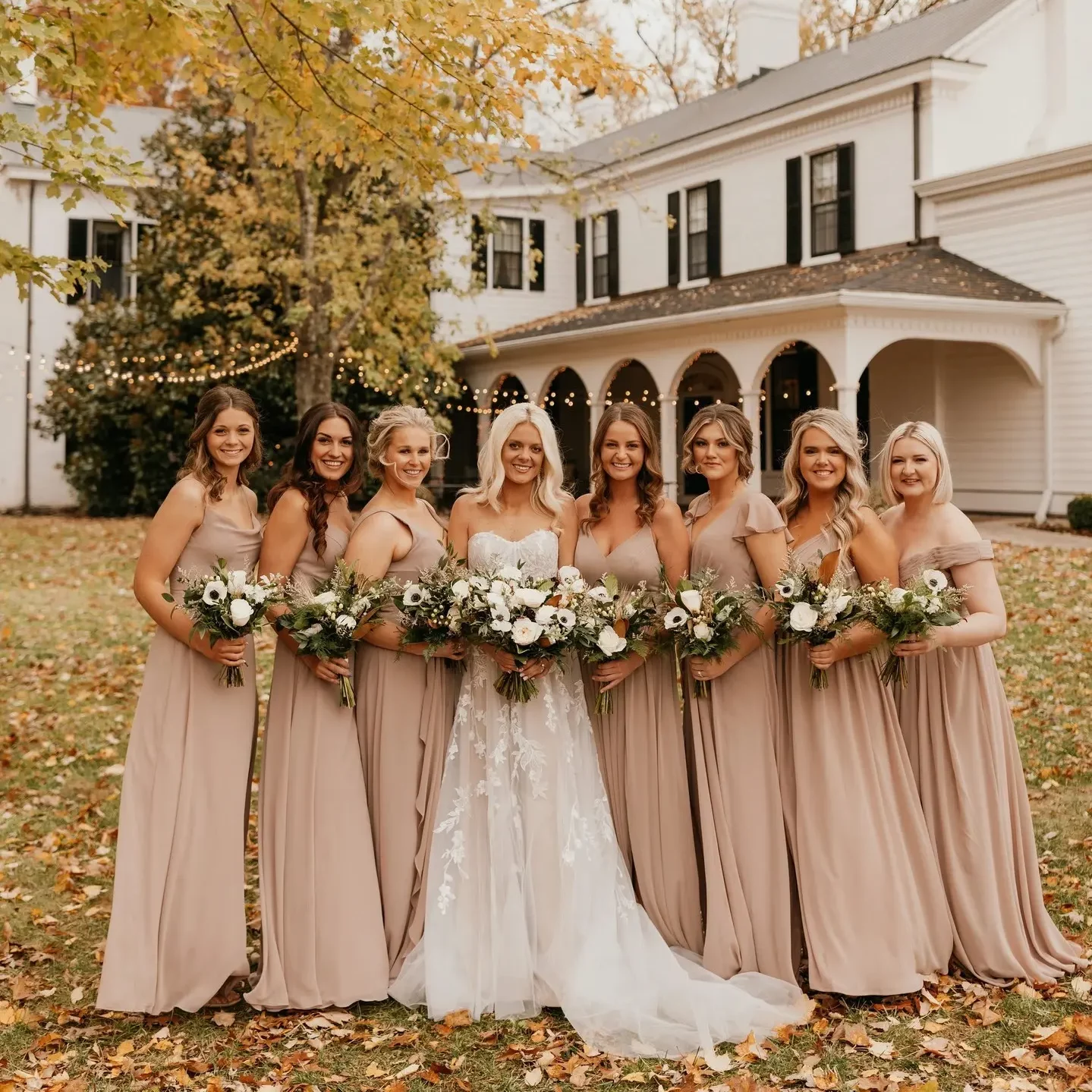 Size Range: 0 – 3
Azazie believes every bride deserves the dress of their dreams despite budget and size, which is why Azazie also carries sizes from 0 to 30!
All bride and wedding party dresses are cut and made-to-order, and Azazie even offers a try-at-home program where you can choose three dresses to try at home before making a final decision.
Prices range from $239 to $1,059!
---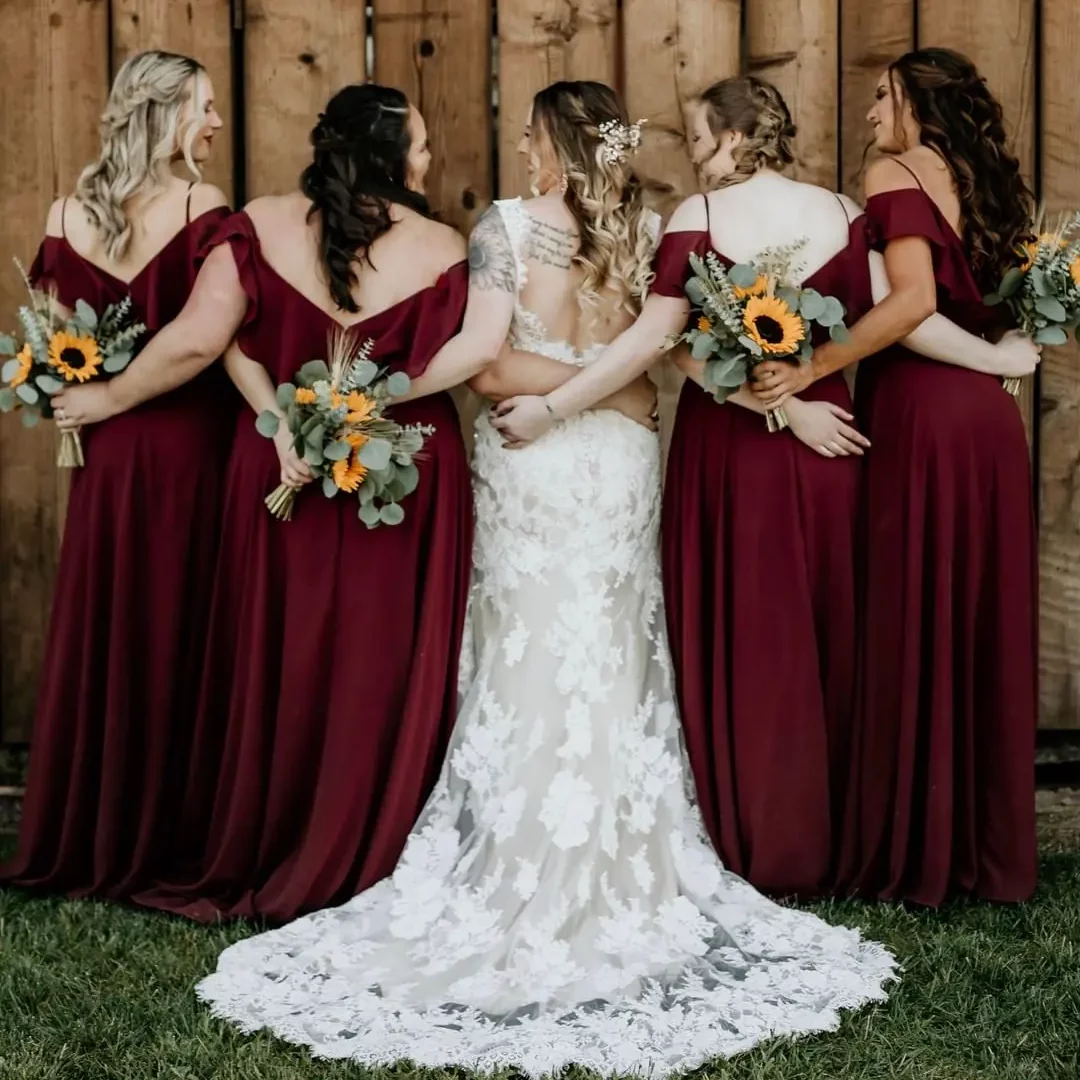 Size Range: 0 – 28
Cocomelody puts customers at the core, making custom dresses tailored to each individual bride and person in the bridal party.
And, it's so easy: you pick a dress, get a custom design, try on a sample, Cocomelody makes the dress, and then you rock the dress!
Not just that, but Cocomelody dresses are budget-friendly — prices range from $98 to $2,199.
---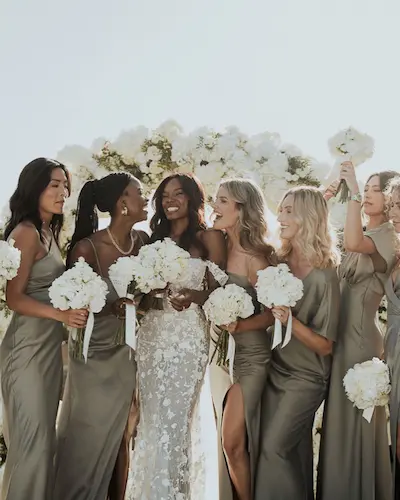 Size Range: 0 – 14
Pronounced as "Beholden," BHLDN is a branch of Anthropologie that specializes in wedding dresses for the bride, bridal party, accessories, and more!
There are 22 locations across the United States, so there are opportunities for in-person shopping, but BHLDN also offers virtual appointments for your convenience.
BHLDN carries curated collections for brides that "love unusually beautiful things."
BHLDN carries sizes from 0 to 26, making the brand pretty size-inclusive. This store offers beautiful dresses with prices ranging from $298 to $2,850.
---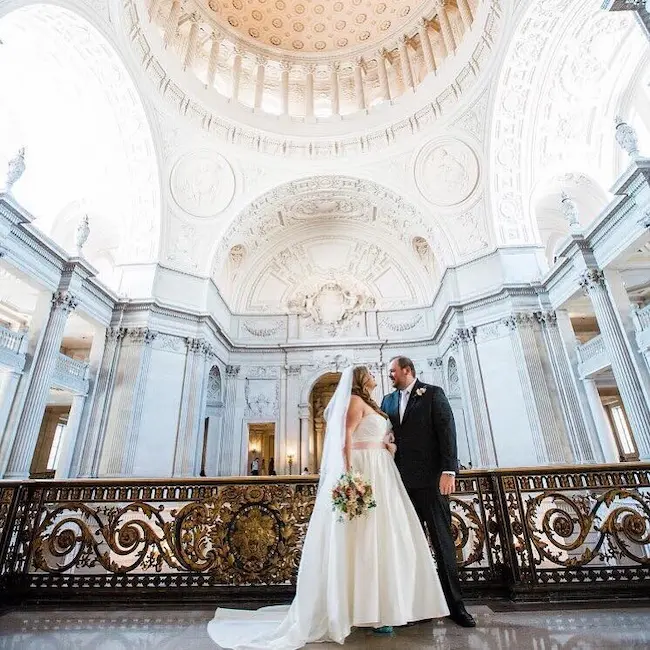 Size Range: 0 – 30
The Last Minute bride is a great website to shop for designer and couture wedding dresses that have budget-friendly prices. So what's the catch?
Well, there really isn't one! The Last Minute Bride is able to provide and curate such beautiful dresses because the company deals directly with bridal designers, dress manufacturers, and authorized bridal salon retailers.
Each dress is authenticated once it arrives at The Last Minute Bride, and depending on the dress, the tag will indicate the condition of the dress.
The prices at The Last Minute Bride range from $199 to $2,999!
---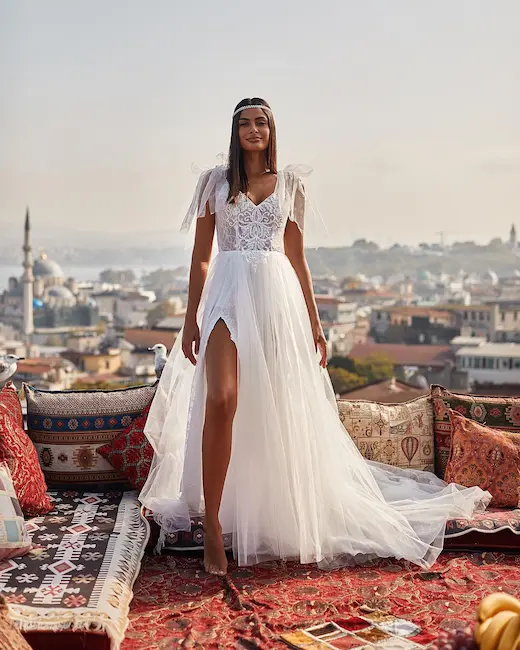 Size Range: 2XS – 3XL
A&N is not solely a bridal or wedding brand, but it does have a stunning boho bridal collection created for brides who want to wear gowns and dresses that are more outside of the box, daring, and creative.
Rather than having classic cuts and traditional styles, these dresses have beautiful embellishments, incredible attention to detail, enchanting cuts, and amazing lines.
If that doesn't already sound like a dream, these dresses are fairly budget-friendly, with prices ranging from $328 to $1,093!
---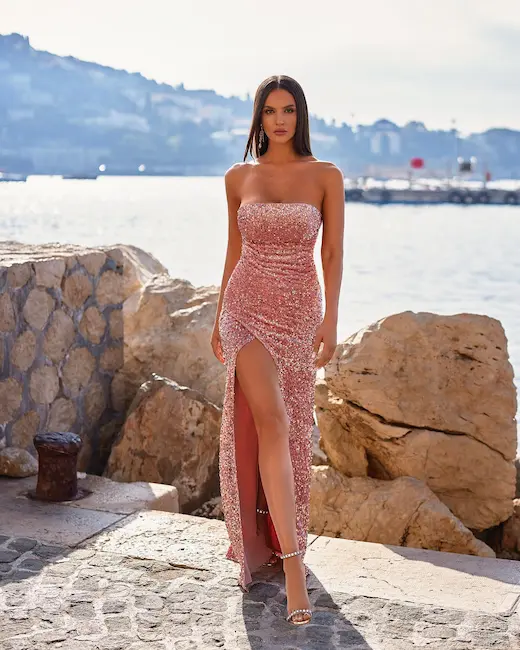 Size Range: 2XS – XL
Alamour The Label is insistent on infusing elegance with modern-day designs. Because who said trendy can't also be classy?
Meant to celebrate femininity, confidence, and complexity, the bridal collection is romantic and imaginative. With beautiful embellishments, soft lines, lace, and non-traditional designs, these dresses will exceed your wildest dreams!
Not just that, but prices range from $154 to $875!
---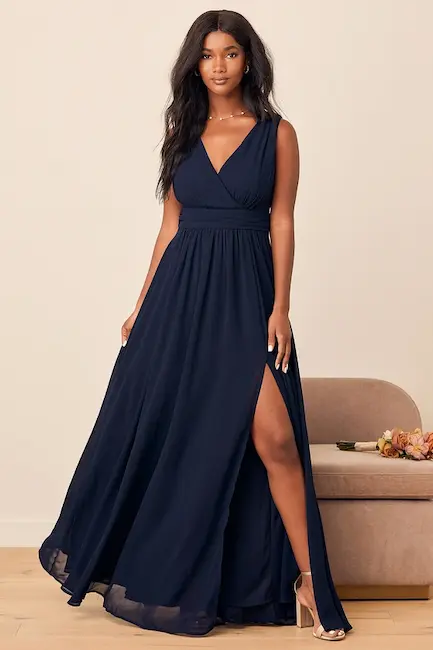 Size Range: XS – 3X
Lulus is an online fashion retailer known for selling cute and trendy clothing, but did you know Lulus also has a beautiful bridal collection?
Dresses for the bride range from different styles for small weddings and big! Not everyone wants a huge ceremony with a fancy dress, and Lulus understands that.
With simple, elegant, and classy designs, Lulus believes every bride should feel beautiful, even if they are on a budget.
Better yet, every bridal dress at Lulus is under $500!
---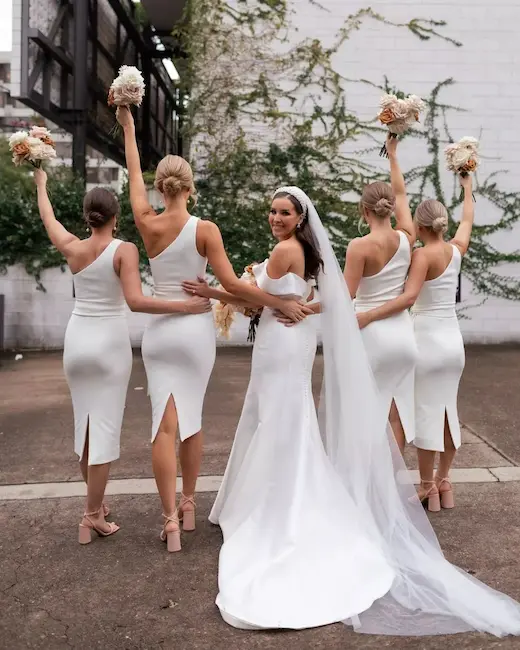 Size Range: 0 – 30
Still White is an online platform where you brides can buy new, used, pre-owned, and sample wedding dresses!
This is a huge marketplace that can make all of your wedding dress dreams come true. All you have to do is input your size and the max price you're willing to pay.
After you hit search, you have pages of wedding dresses to scroll through and totally obsess over! You can even search for dresses by brand if you want to wear something specific.
There are dresses for every budget so that every bride has the opportunity to find a dress they're in love with, with prices ranging from around $300 to more than $4,000!
---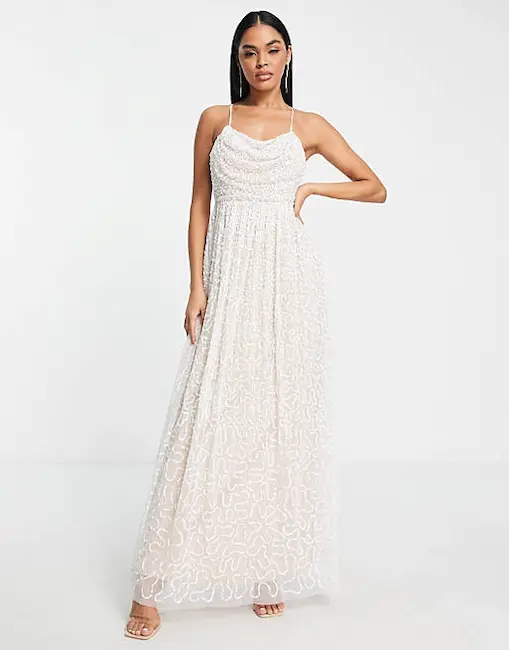 Size Range: 0 – 14
When we say ASOS has everything, we mean it.
ASOS's bridal collection has over 400 dresses for you to sift through, with styles meant for conventional weddings and not-so-conventional ceremonies.
Whether you want a plunging neckline, lace, or even a babydoll dress, ASOS got you.
The best part? Prices range from $60 to $600, plus they offer free shipping over $49.99 and free returns.
---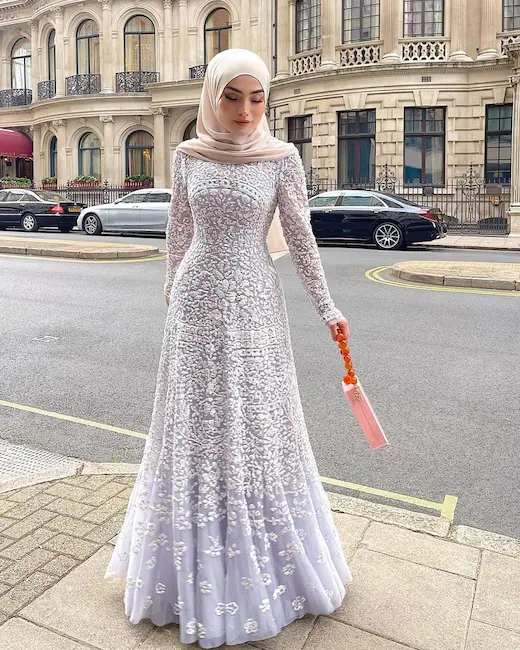 Size Range: 2 – 16
Needle & Thread provides dresses that specifically have unique embellishments and shapes to them.
These dresses are non-traditional and range from $189 to $1,129!
If you love capes, ruffles, tulle, florals, sequins, and lace, Needle & Thread will feel like your safe haven — and you won't need to blow a bunch of money either.
---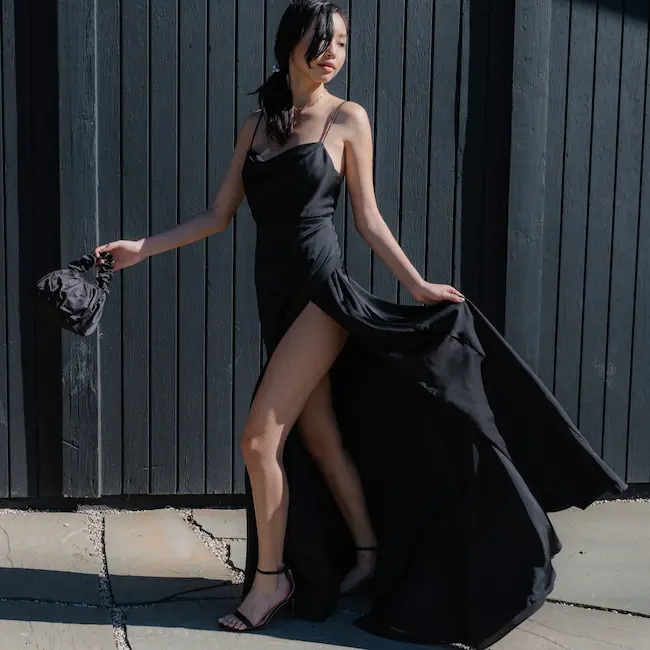 Size Range: 0 – 22
Fame & Partners is an online clothing brand that focuses on made-to-order custom clothing.
Not only does this cut down on waste to help the environment, but Fame & Partners believe women should have clothing that is personalized for them because everyone has individual style and tastes! Fame & Partners wants their customers to think of them as their personal atelier.
That being said, they do have a ready-to-ship collection in case you can't wait for a custom piece.
The bridal dresses Fame & Partners offer can be described as contemporary fashion with an edge, featuring sleek designs that are classy, look luxurious, and bold.
To make things even better, these dresses start from $199 and go as high as $380!
---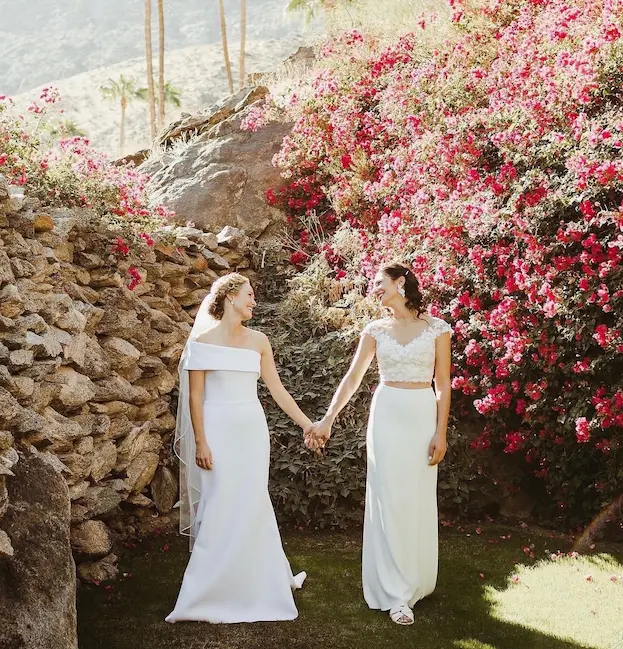 Size Range: 00 – 18
Tadashi Shoji believes every woman should feel confident and sexy no matter what size they wear and what budget they have.
Tadashi Shoji makes clothes that flatter all figures, and the brand also creates clothes with carefully chosen fabrics that stretch such as luxe jersey, embroidered lace, and featherweight tulle.
When it comes to wedding dresses, Tadashi Shoji Bridal is affordable and beautiful! It's super easy to navigate the website — you can use browse through filters to single out any colors you want, silhouettes, sizes, necklines, sleeve lengths, and fabric!
Prices for Tadashi Shoji wedding dresses start at $468 and can reach up to $2,000.
---
Conclusion
David's Bridal is a solid place to get your wedding dress or dresses for your bridal party, but it isn't the only option out there.
These are just twelve different options for you that are similar to David's Bridal, but each brand and store has its own unique flavors and styles that you might fall completely in love with!
Whether you'd rather support a smaller brand or just want more unique dress options, these stores are bound to have something perfect for you. Wherever you decide to shop, we hope you wear something that you feel beautiful, confident, and sexy in!