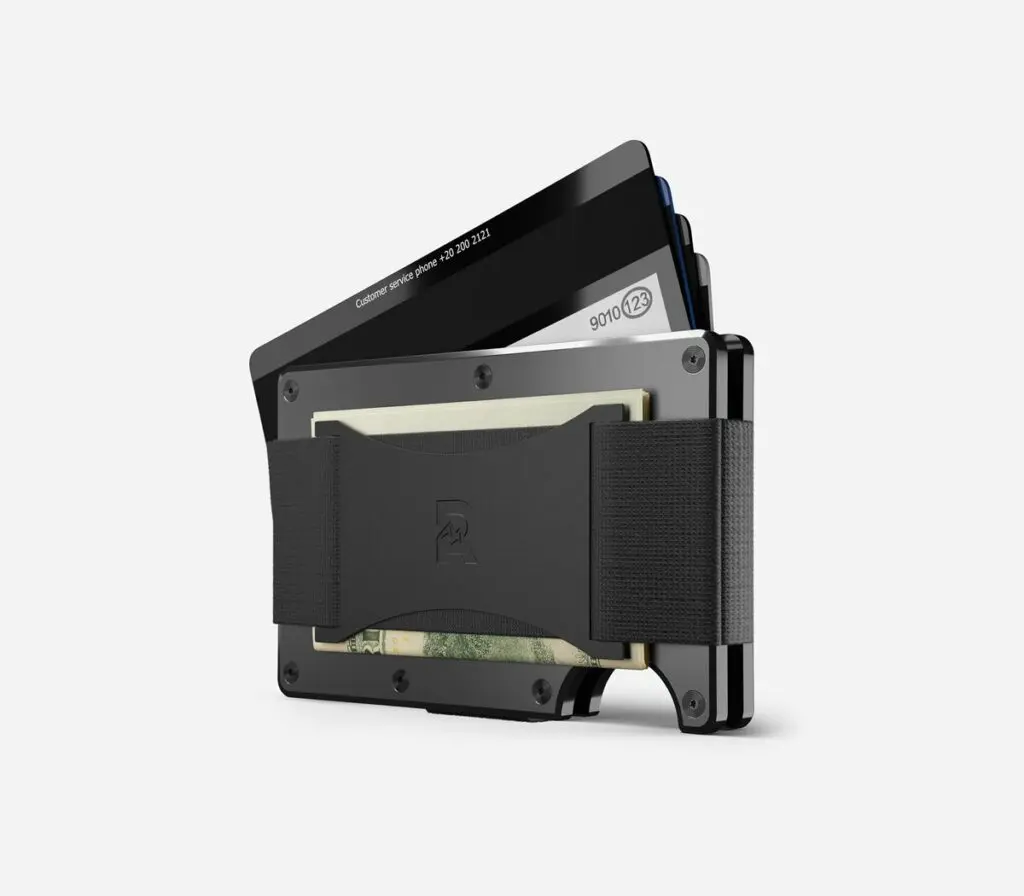 If you're going to carry something everyday, you're going to want to make sure it's well protected, right? The world is unpredictable, and at any minute can your world turn upside—one minute with your wallet, the next, gone.
And with every frustrated man with a lost wallet full of cash and his cards and information, the world grew sadder. No one felt safe.
Until the Ridge Wallet was made.
Discreet and lightweight, the Ridge Wallet slips right into your pocket without notice and stays hidden deep. No pickpockets can get you here.
But can ditching your old wallet for a fancy new one worth it when your old one holds your all? This Ridge Wallet review takes the dive to find out.
What is a Ridge Wallet?
The Ridge Wallet is a revolutionary take on a traditional wallet, forcing you to optimize your wallet set up for only the necessities and nothing else.
These aren't your dad's wallets. They don't have infinite room and are often the size of your credit card at most.
However, they have more than a couple of tricks up their sleeve. Keep reading to find out more about this slim, metal wallet.
Ridge Wallet Overview
Every Ridge Wallet is a high-grade piece of technology that safeguards your money and cards through various metal constructions and RFID blocking, making you safe from would-be information thieves.
You have the option of aluminum, titanium, and carbon fiber constructions as well as a healthy amount of customization options. Unless you're feeling particularly rich and want to try their gold-plated option.
There is also space on the wallet for a money clip, with the option to switch sides when you need. You can even order an extra clip and have it for each side.
Ridge Wallet Reviews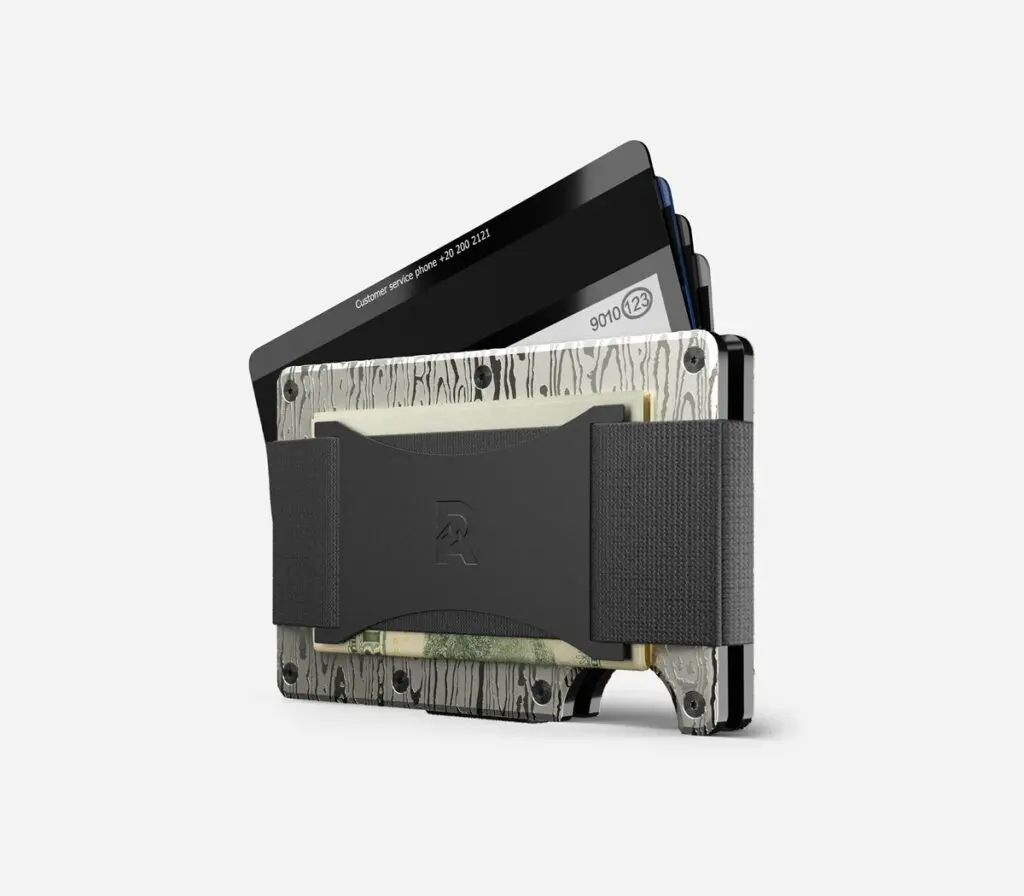 It seems to be packed with tons of features, but is this wallet all that great, especially considering its price point? It might not be for everyone, but it offers a whole lot to the right person.
Overall: ★★★★ 4 stars
The Ridge Wallet has very positive reviews from customers who state the quality is exceptional and the functionality is unbeatable. However, while many customers can't dispute the wallet quality, some say they can get the same job done with a cheaper, traditional wallet.
Price:★★★★ 4 stars
Although some customers have complained about the price, many agree that the product is worth the money, especially since it lasts so long.
Product Quality: ★★★★★ 5 stars
Many customers agree that the Ridge Wallet is a high-quality product with durability that outlasts many traditional wallets.
Pros
This thing is seriously small and lightweight.
It often works better in your front pocket than your back pocket since there is no need to carry a bulky leather wallet constantly. Also, no annoying loose change rattling around inside.
This is the perfect wallet for those looking to shed some of their excess in their wallet—no more hoarding a trash pile in that junk flap.
And despite being thin, the wallet can expand to hold up to 12 cards if you're feeling a little wild. It will still retain its durability in this expanded state.
And finally, with its RFID-blocking technology, you don't have to worry about anyone swiping your information.
Cons
Much like it's positive, having a wallet that forces you to choose your card loadout carefully isn't for everyone. Some people just need to keep the whole world in their back pocket.
It can also be difficult to use the money clip if you carry a lot of cash, as they can only hold so much. And even though you can get two clips two put on your wallet, it's an extra charge. And even then, it might not sit right.
You also might find that the elastic band that the wallet uses can wear out rather quickly sometimes. You can, however, buy a replacement directly from their website.
---
What are other customers saying?
"This is a really nice product. Given the cost, I would not expect anything less. It is a bit heavier than I am accustomed to (having a carbon fiber one before), but the finish is beautiful: the pictures on the website don't do it justice. It is very shiny and smooth. Consequently, it picks up fingerprints rather prodigiously, but that is a minor nit. It is just as well constructed as the other Ridge wallets." – D. B. on Ridge.com
needed a new type of wallet to replace my 10 year leather wallet insert card holder. […] I really like the hard shell and the money clip. However, my wallet only holds 7 cards including the assist card provided…..I travel light. First time I had to get a card out of my wallet, I forgot it! Push, spread, pull, dig, nail through trying to get the card out I needed. Figured over time I could figure it out and adapt a plan to make card removal easier……..nope! Same procedure every time. Not liking it at all. I will say the wallet is superbly constructed, but for the price and complexity of card removal, I might just go back to 10 year old wallet" – Sam on Ridge.com
"3/10. The cool idea is bogged down by flaws and impractical use. I hope they make it better and lower the price, what a true 'Mens'' company would do." – Baus W on Google
Final Verdict
While it may appeal to some, many customers agree that other wallets can achieve the same effect at a cheaper price point.
If you're looking to travel, this honestly might be one of the best options. It's light and takes up no space, making it convenient for holding only the necessities.
Everyday carry, however, seems hard to handle, and often it seems this wallet just might not be up to the task unless you're a minimalist. But perhaps that's its niche.
If you decide you want to give it a shot, you can buy the Ridge Wallet on their website or on Amazon.
UP NEXT: 21 Travel Essentials for Men