While most skincare brands are geared towards women, Particle for Men is a growing company that is part of a new revolution: skincare for men.
Many old and new beauty brands have extended their product line to fulfill men's grooming needs. Particle For Men is dedicated to making it easy for men to look after themselves with simple, yet effective products.
In our Particle For Men reviews, we will go over some of their targeted products to determine whether or not this brand is worth your money.
What is Particle For Men?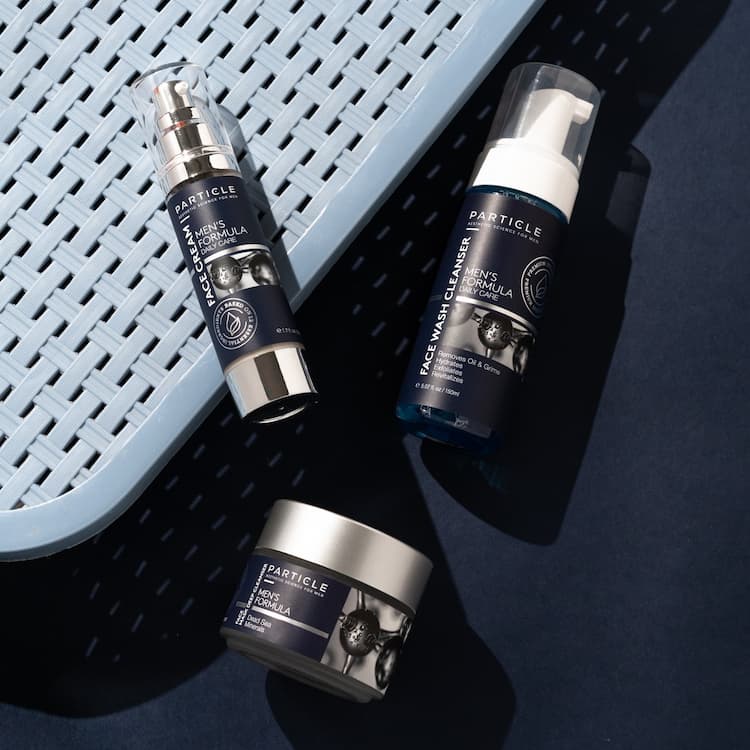 Particle For Men is a company launched out of the need to cater to men's grooming requirements. They offer a multitude of men's grooming products such as face cream, face wash, scar gel, beard oil, shampoo, body wash, skin and hair vitamins, and more.
They offer better deals when you buy in bulk, plus their products are also available as kits (such as a shower set, an essential bundle, a hair growth set, and more).
Since its launch, Particle For Men garnered rapid popularity in a very short time, reaching nearly 26K followers on Instagram currently. Their products are loved and proven to deliver great results. The brand is also being appreciated for its reasonable pricing, which is far lower than many high-end brands.
Particle For Men Overview
The company was started in 2019 by Ayal Ebert and Guy Falkovitch. It all started with wrinkles and an awkward search through the drugstore isles looking through a wide range of skincare that all clearly targeted women.
Particle For Men was born out of a need to help men look after their skin and be able to pick out and use simple, but effective products.
Their products are specifically designed for men and formulated using premium ingredients. The brand promises effective skincare at reasonable prices, but do they deliver on these claims?
Particle For Men Reviews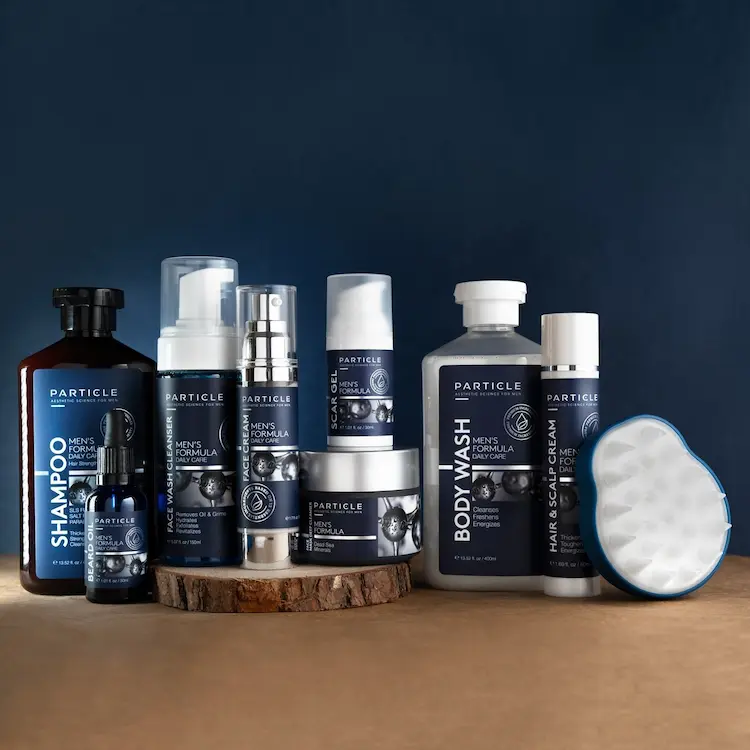 Overall: ★★★ 3 stars
Particle For Men reviews on their website show that most products having 5-star ratings, with many customers raving about their efficiency. That said, many brands only showcase their good reviews, so we looked outside of their website as well.
Overall, it seems that customers rave about their helpful customer service and easy money-back guarantee within 30 days if you don't like the products.
However, there isn't anything overly super special about their formulas, they use ingredients found in many skincare products and just advertise them to men. They might not be worth the hype, but The Ordinary is a great alternative – their products are super affordable and have a unisex design with science-backed formulas.
Price: ★★★ 2.75 stars
Particle For Men prices are mid-range, with better deals when you buy multiples of the same products.
Compared to other men's skincare brands, Particle for Men is a bit of a splurge. For example, Lumin products typically cost $10 – $30 each or The Ordinary is even cheaper.
If you're hesitant about the cost of Particle for Men, we'd recommend trying some cheaper brands first.
Quality: ★★★★ 3.75 stars
All Particle for Men products are formulated using quality ingredients that are proven to benefit the skin, plus they are vegan and cruelty-free.
Many customers are happy with the results, but some don't feel they are worth the cost since they perform as well as your average skincare product.
Customer Service: ★★★★ 4 stars
If you do face any problem, their customer service is also quite responsive and will try to resolve your issue quickly.
They also have a 30-day guarantee that ensures you'll get your money back if you don't like their products, which shows their desire to make their customers happy.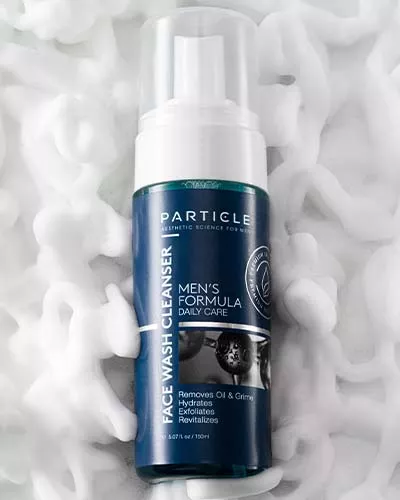 Their foam-based cleanser promises to thoroughly cleanse your skin, removing all dirt, grime, and oil and leaving your skin feeling fresh and clean.
It is designed with effective ingredients like allantoin, cinnamon extract, glycolic acid, aloe vera, and panthenol that will not only get rid of dead skin cells but also calm and hydrate your skin and reduce inflammation and pigmentation.
The face wash is suitable for men of all ages and will pamper your skin with an instant facial treatment. The product has shown immediate effects and significantly improves your skin in the long term with continual use.
It is priced at $29 for a single bottle, but you can also opt for bundles to get it at a discounted price.
---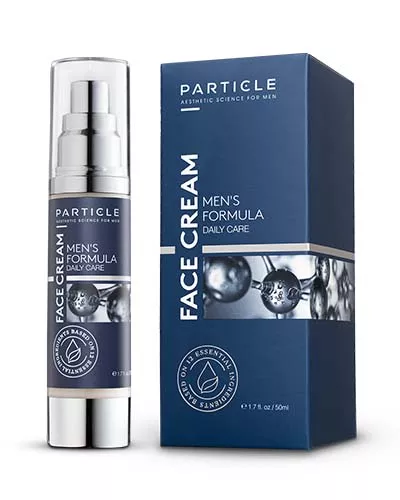 The Particle Face Cream is their flagship product and has been in the news ever since its launch. It boasts a 6-in-1 formula that eliminates the need for an elaborate 6-step skincare routine, offering all the effectiveness of different treatments in one single bottle.
The cream is intended for daily use and can help diminish eye bags, remove dark spots, reduce wrinkles, moisturize, and smoothens the skin after shaving. As the brand claims, this is the only facial treatment you will ever need.
With premium ingredients like jojoba oil, vitamin E, shea butter, hyaluronic acid, SymWhite, and more, the cream shows results from first use and is suitable for men of all ages and all skin types.
Particle for men offers discounts when you order in bulk. So, while a single bottle of the cream costs $69, you pay much less for a pack of 2 or 3.
---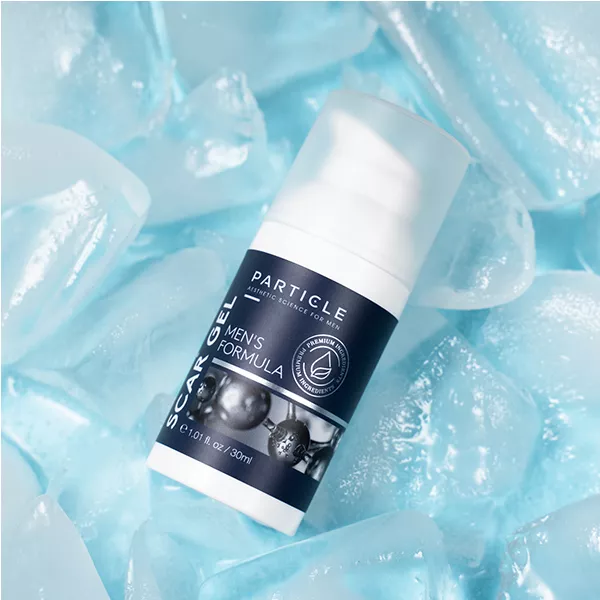 Designed with an effective silicone formula, the scar gel is rich in oils and vitamins. This combination effectively helps fade acne scars, injury scars, back acne scars, and surgical scars.
The gel packs powerful ingredients like vitamin E and C, argan oil, apricot oil, jojoba oil, and avocado oil. The brand recommends using the product twice weekly for 2-3 months to see noticeable results.
The Particle Scar Gel is priced at $49 for a single unit, $72 for a pack of two, and $96 for a pack of three.
---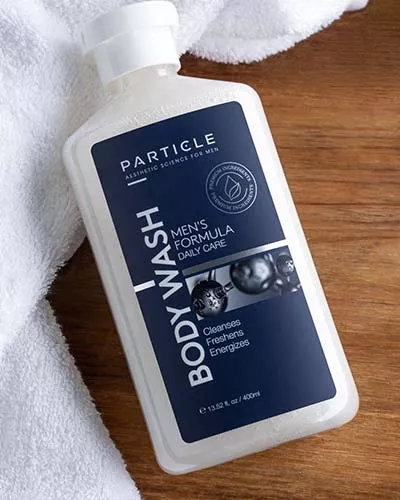 The Particle Body Wash claims to deep cleanse your skin, leaving it fresh, moisturized, and energized.
It smoothens the skin without drying it and is infused with premium ingredients like dead sea salt, known to improve blood circulation and balance the skin's ph. Dead sea salt is also effective in maintaining healthy, supple, and soft skin and can even help treat eczema.
Priced at $24 per bottle, you can find packs of two or three are priced at $42 and $57, respectively.
In Conclusion: Does It Work?
Many products from Particle for men are praised for their skin-boosting effects, but some shoppers don't feel their products are worth the premium. They seem to use ingredients found in your typical skincare products, then advertise them to men.
But overall, some of their products are reasonably priced and the brand has created effective formulas for various skin issues.
That being said, if you're finding it hard to stomach the cost, we don't think you're missing out by opting for more affordable brands.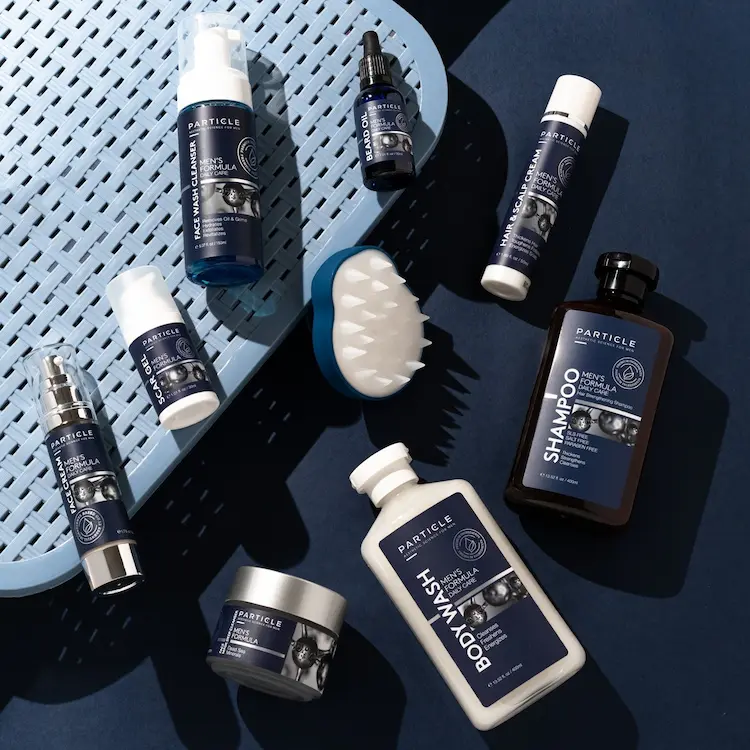 Particle For Men Alternatives
If Particle for Men didn't catch your eye, here are some great alternatives for men's skincare within reasonable prices.
RELATED: 8 Best The Ordinary Products For Acne Scars
Return Policy
Particle for men has a 30-day money-back guarantee on your first purchase. You will receive a full refund if you are dissatisfied with the product.
FAQs
How Long Does A Bottle Of Particle Last?
All products by Particle For Men are designed to be potent, and only a very little amount is required per use. For example, a bottle of face wash should last 2 to 3 months and a bottle of scar gel for 3 to 4 months. Many other products also last more than 2 months of daily use. 
Where To Buy Particle For Men?
You can buy their products from their official website or some drugstores.