There's just something about hooper shoes.
They have the feel of the greats, channeling unknown power into every bounce. Sometimes when you're balling around, it almost feels like you can taste the edge of that rim off a sweet dunk.
The Jordan 10s are a particular highlight in that vibe. The chunky uppers have a low-cut boot look with the aesthetic design of a spaceship. They're a roundhouse in looking ahead and breaking barriers.
So when Jordan decided to team up with Drake's OVO (October's Very Own) label, heads were bound to turn. But like the owl featured in OVO, people's heads kept spinning when they saw how clean the shoes were.
But how do these shoes hold up? Keep reading for our honest OVO Jordan 10 reviews.
What are the OVO Jordan 10s?
The OVO Jordan 10s are a welcome collaboration between Drake's clothing label and Nike's Jordan one. The result is a stripped-down Jordan 10, losing a lot of crazy coloring and branding and opting instead for a minimalist look.
The shoes only came in two colorways: black and white. Yet upon closer inspection, you can find gold detailings and gold flecks splattered across the shoe to give it a money galaxy look.
There is also the solid gold OVO 10s, but those are reserved for Drake himself.
OVO Jordan 10 Overview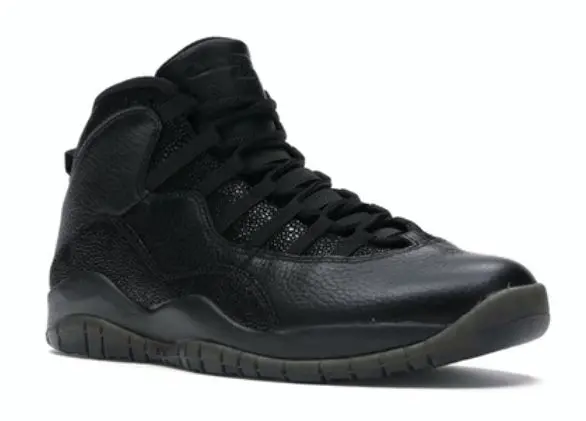 One of the best parts of the OVO 10s is their exclusivity. Unfortunately, there are very few pairs in existence, as the original lineup was crafted for a small release at a pop-up shop in LA.
They might have been restocked once or twice, but again, in very limited pairs. You might not look like everyone else with them, but expect to put in some serious effort.
In exchange, you get that classic basketball bounce from the Jordan 10, including all its support, plus full leather uppers and OVO detailing. Sounds like a win-win.
OVO Jordan 10 Reviews
When it comes to what is good and bad about these shoes, we're going to focus on actual Jordan 10s themselves, as the OVO versions have no particular manufacturing differences.
Pros
There's too much to love about the 10s.
They're great at supporting your feet and ankles against high-intensity running and jumping while offering a perfect bounce to your step.
They always look good and come in a wide variety of tastes. But, of course, the OVO 10s get extra points because they're works of art. Plus handcrafted leather, how can you hate that?
If that wasn't enough, the 10s use speed lacing for quick pulling up, plus a shank plate in the shoe for quick transitions—a genuine basketball sneaker.
Cons
However, it's not all fun and games in the 10s world. Despite their greatness, they're challenging in some areas.
For one, they are really bulky. So you will feel the weight of the shoes.
They also tend to be higher priced and hard to get, and even despite this, some don't like the weird amount of glue they sometimes use in the uppers. They're also not that breathable either—stinky feet warning.
But worst of all, they can squeak. And squeak like no other.
What Other Customers Are Saying
Yet, regardless of their faults, people love these shoes. Here are some examples of what other customers are saying about the OVO Jordan 10s.
"Great leather quality. True to size. Fit & finish is very good. Highest recommendation. 10's squeak, HERE IS YOUR FIX. 1}Remove the insoles. 2} Spray un-scented baby powder in the shoe. 3} Shake shoe until powder is even over foot bed. 4} Shake excess. 5} Re insert the insoles. 6} Use comp. air to blow away powder." jetpacksam on Finishline.
"Hi everyone. I bought these sneakers during the Christmas holiday season for my teen son, luv Js and practically has all of the top latest. So one more to his collection. Bought them in his size which is an 9.5 and he loves them, said they're comfortable and they're true to size which I was skeptical at first because I sometimes feel Js or Nike kicks period runs small or some styles too big" Chrissy82 on Finishline.
"I love the quality on these. Like the 1's they work well with almost any fit. Only problem I have with them is how bulky they are though." The Supahman on Reddit.
"The Jordan ten is a very comfy durable good looking shoe in a lot of iconic color ways" masterofslide-0 on Ebay.
Final Verdict
When it comes down to it, the Jordan 10s are great shoes. They might be on the expensive side, but in the end, it's all worth it.
But should you spend that extra dough on some OVO 10s?
Let me put it this way, if you're already putting together the money to get a pair of 10s, why not go for the best of the best?
The OVO 10s got all the greatness of the classic plus that modern Drake touch to give it extra flair. If you're sleeping on them, you need to seriously wake up!
UP NEXT: Nike Renew Run 2 Review: Is this Running Shoe Worth It?