Does it take your feet days to recover from a day of walking or after an intensive workout? Well, Oofos claims to be the shoe to fix all your recovery struggles. Check out our unsponsored Oofos Sandals Review below.
Finding comfortable shoes that keep your feet stable while also providing the support and style needed for everyday life can feel impossible to find. However, with Oofos Sandals, you can get the support and comfort you need without sacrificing your style.
Oofos Sandals claims to be the secret to all your shoe needs, using their OOFoam technology for fast foot recovery within stylish sandals. Read our Oofos Sandals Review below for an in-depth look!
What are Oofos Sandals?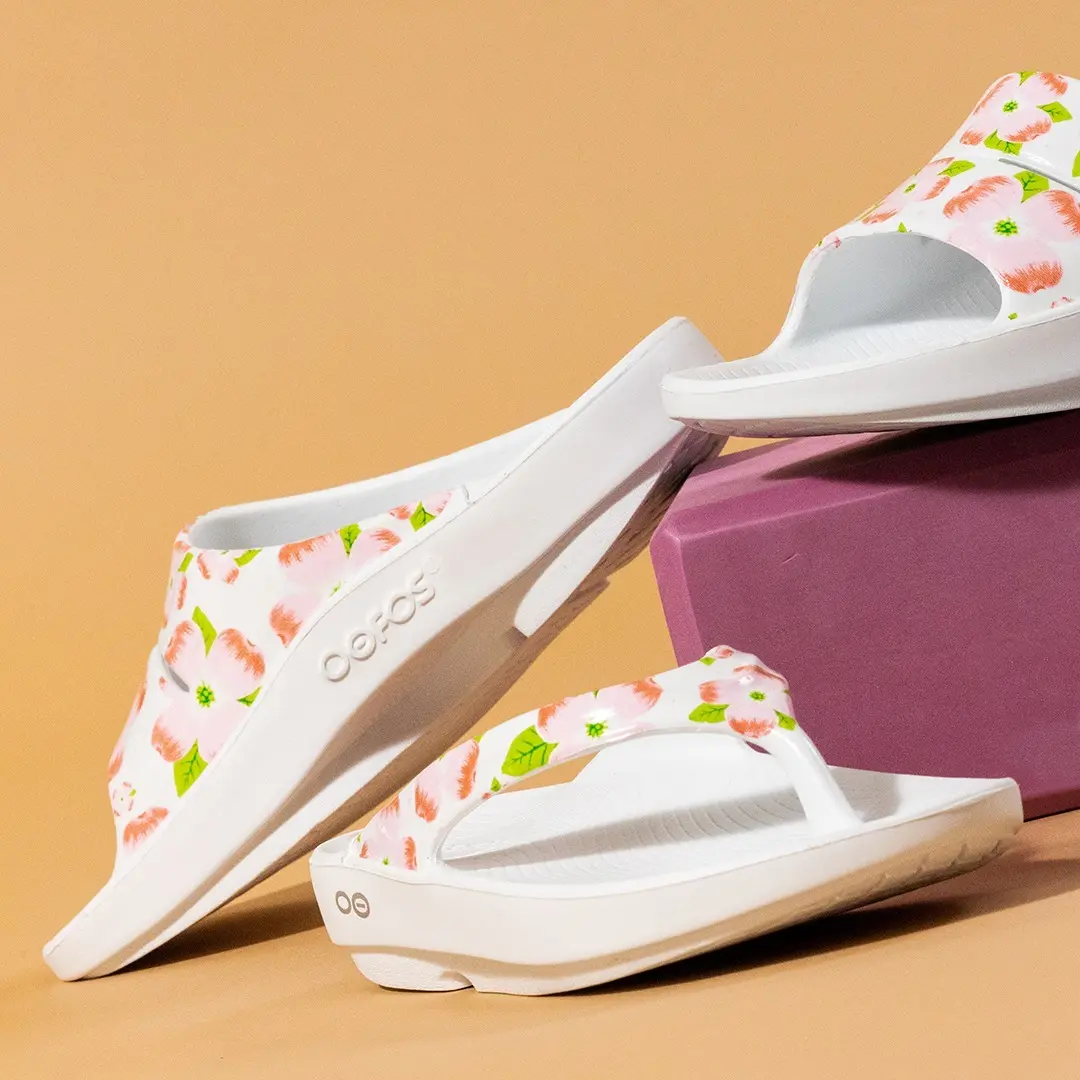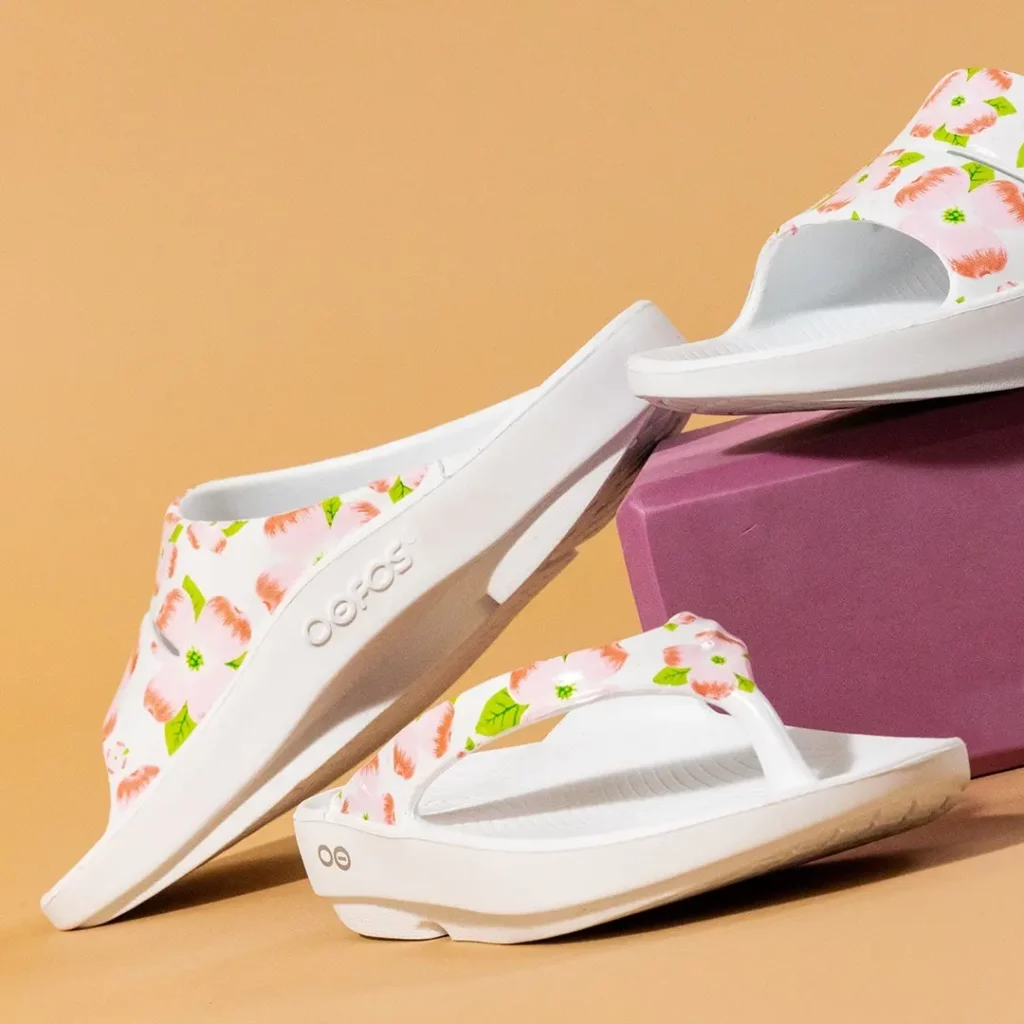 Oofos Footwear was created with the active and on-your-feet professionals in mind, whose feet can barely function at the end of the day. Their shoes are manufactured using OOFoam technology to recharge your feet.
Their sandals come in a Slide or Original design with multiple color options and top-tier craftsmanship.
Oofos Overview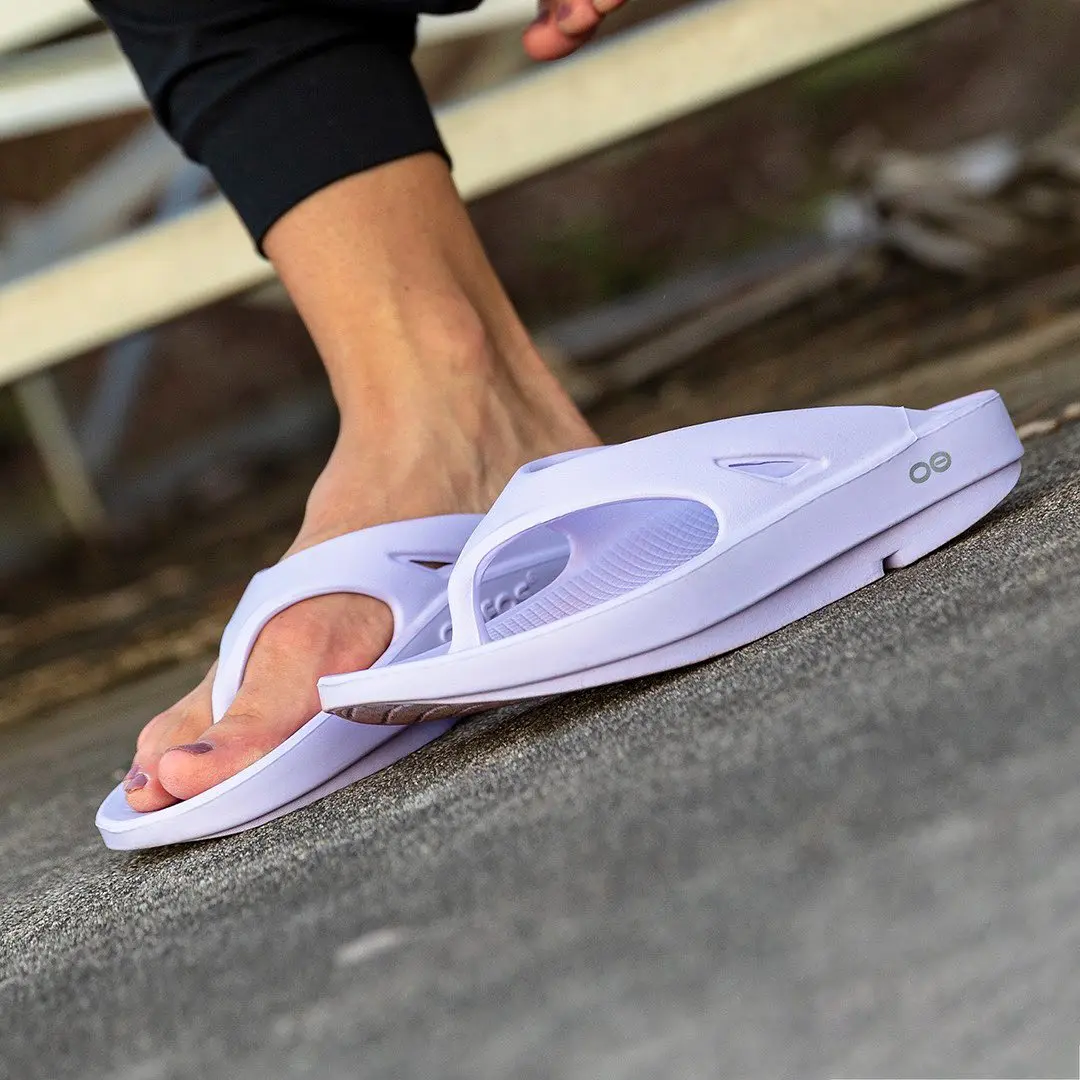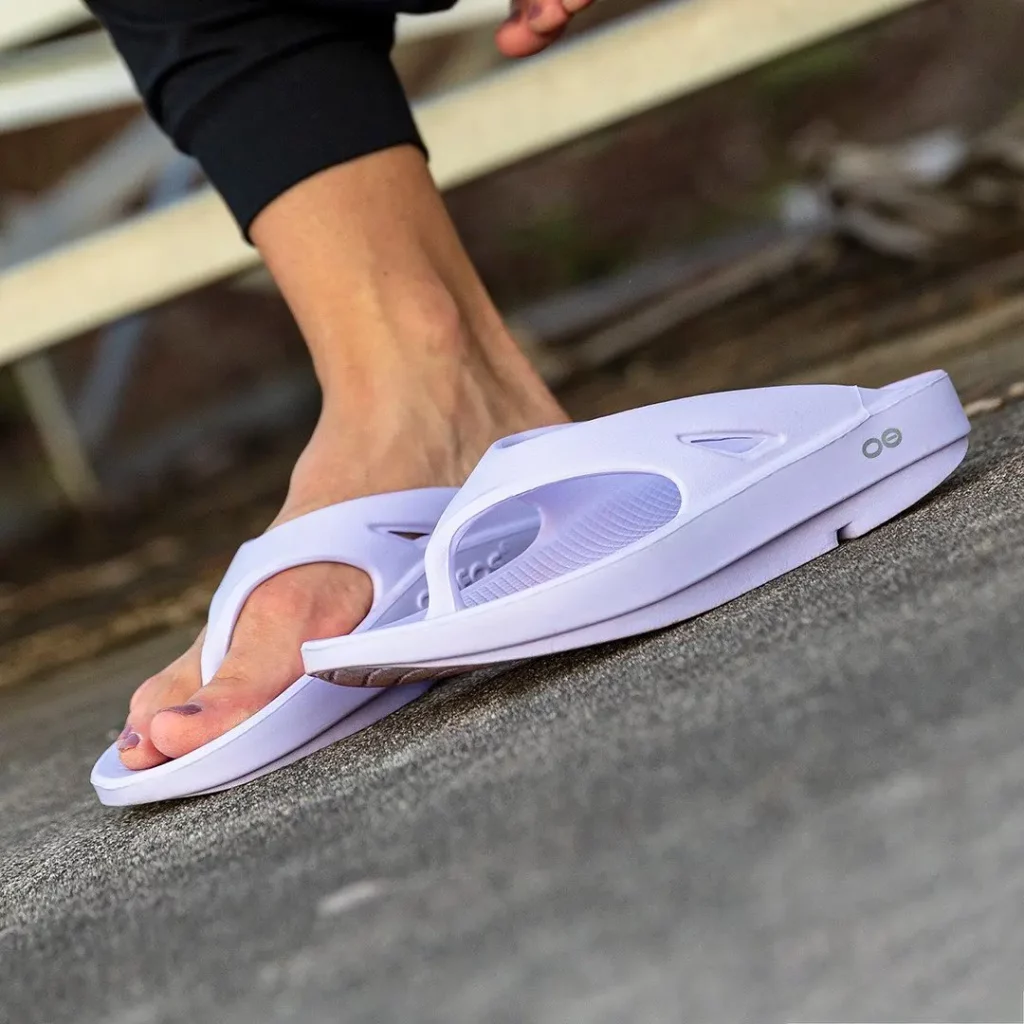 Oofos started with the mission to heal joint pain, fatigue, tightness, and soreness in the feet and ankles. Through their OOFoam technology, they have created a product that absorbs 37% more impact than traditional footwear, gives stable arch support, and reduces ankle energy exertion by 47%.
They also donate 2% from every purchase to the Dana-Farber Breast Cancer Research Team. Plus, they created a line of footwear called Project Pink to raise breast cancer awareness and raise more funding toward finding a cure. 
Oofos Sandals Review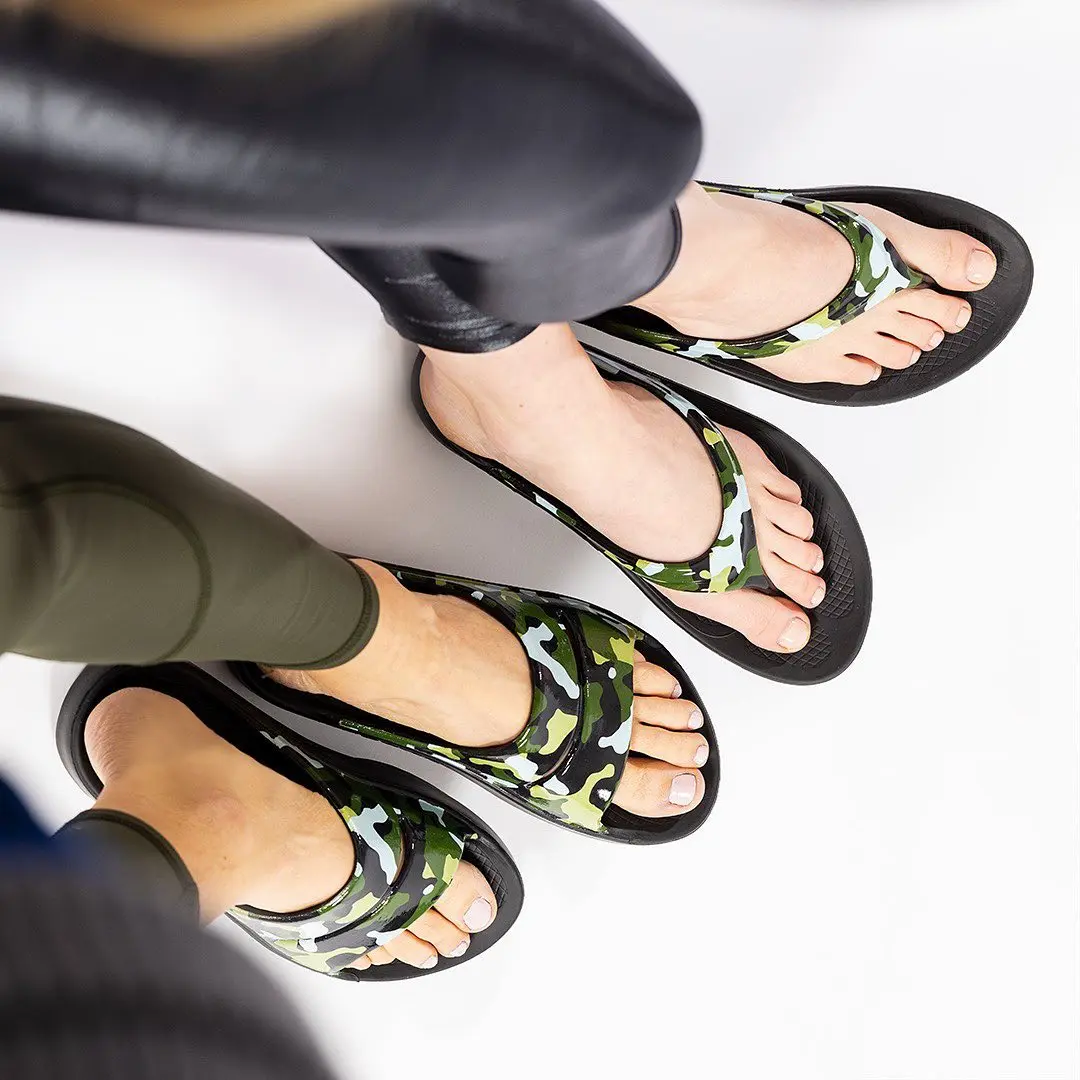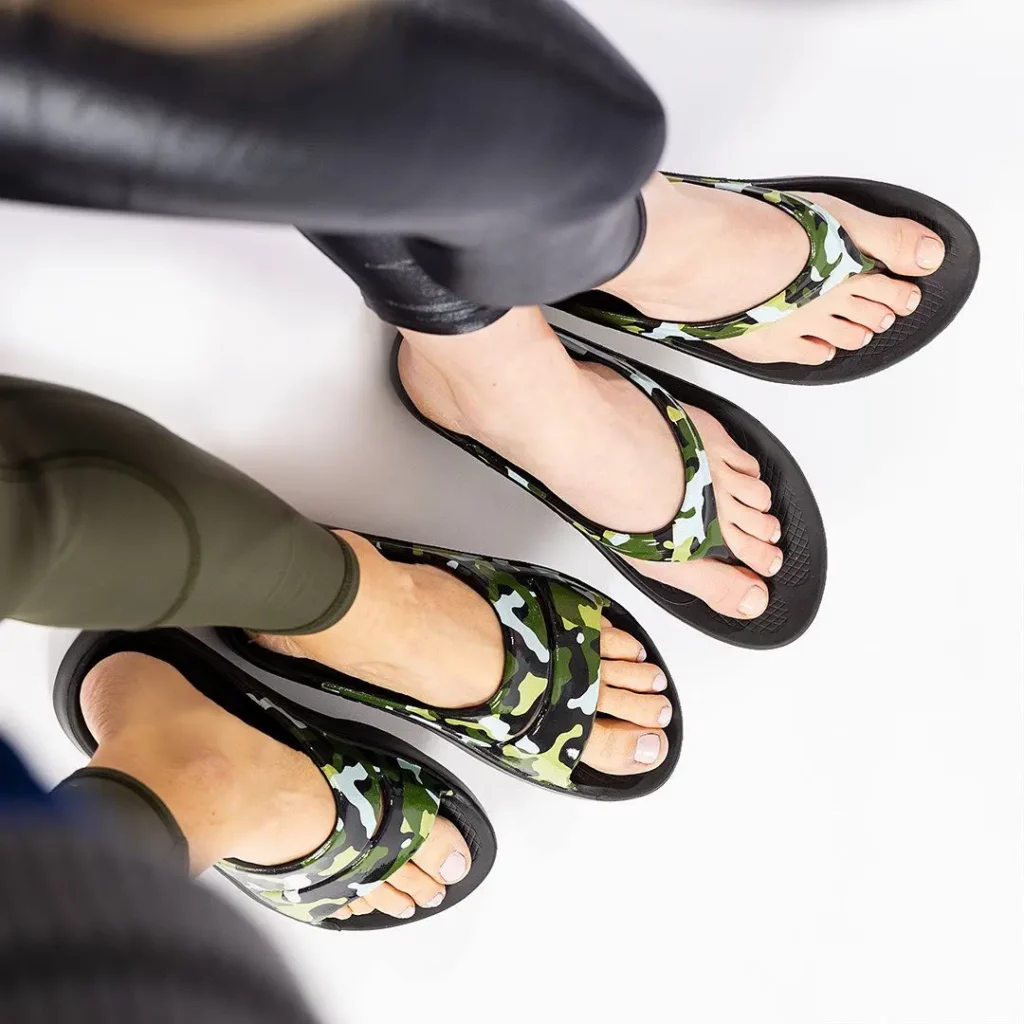 Overall: ★★★★ 4 stars
Most Customers love their Oofos sandals and wear them every day. However, some customers mentioned that if they got them wet, they were especially slippery.
Price: ★★★★ 4 stars
Oofos sandals range from $30-$60 per pair. Some customers spoke about how they loved the OOfoam technology and price. However, some say the sandals are overpriced.
Shipping: ★★★★ 4 stars
Oofos offers free shipping on all standard shipped orders. However, some customers mentioned a strong scent whenever they opened the box, which concerned them.
Quality: ★★★★ 4 stars
These non-toxic sandals are complimented by customers for their comfortable arch support and OOfoam technology.
Customer Service: ★★★★ 4 stars
Customers spoke on how they were able to contact customer service to get their returns, exchanges, and product complaints taken care of. Oofos representatives are also active on outside sites selling their products so that they ensure the products quality.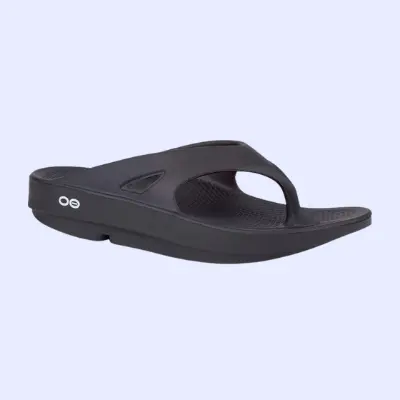 4.3 Stars based on 2,012 Reviews
As the original sandal created by the company, the OOriginal Sandal is a polished design including their OOfoam recovery technology for a comfortable fit and all-day wear.
These sandals come in sizes 5 – 16 and the following colors: black, cabernet, mauve, navy, and slate.
---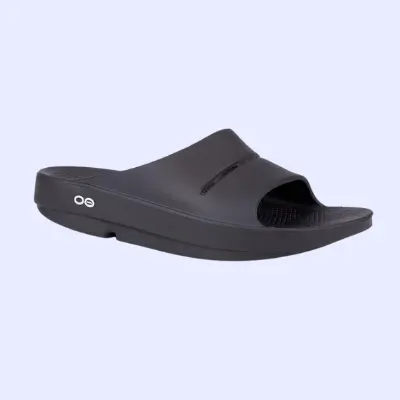 4.5 Stars based on 1,077 Reviews
Similar to the OOriginal Sandal, Oofos Slide Sandal includes a thick OOfoam strap giving additional support and comfort for those needing extra recovery.
These Sandals come in sizes 5 – 16 and the following colors: black, navy, and slate.
---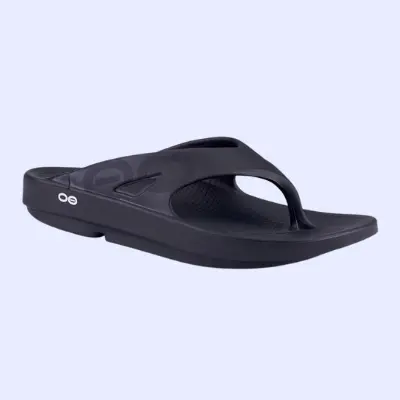 4.5 Stars based on 161 Reviews
These Men's Sandals were crafted just like the women's sandals, except they include hand-painted graphics and a double strap for sport-level movement.
These sandals come in sizes 3 – 16 and the following colors: matte black, azul, graphite, white, and woodland camo.
---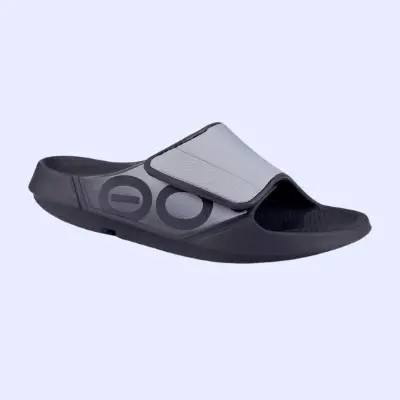 4.3 Stars based on 190 Reviews
These Men's sandals are a slide design with an additional adjustable upper strap for additional support and a custom fit ready for any movement throughout the day.
These sandals come in sizes 3 – 16 and the following colors: gray, matte black, and white
What Do Customers Think?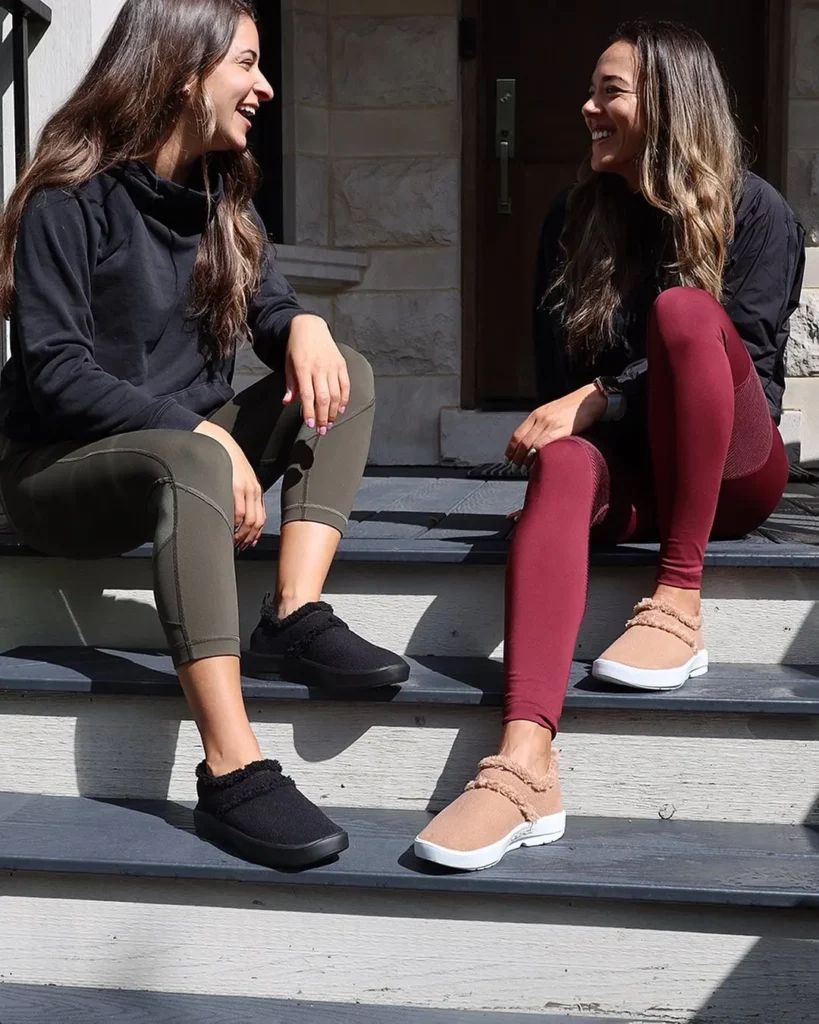 Oofos overall has a 4.6-star rating out of 5 on Trustpilot. However, on GearLab, they only have 3.5 stars out of 5. This pertains to the entirety of the brand, though. Specifically for the sandals, there are some mixed reviews about the quality and safety of the product. Below are quotes from customers regarding their sandal purchase:
"Having PF and heel bone spurs I have to wear a good shoe/sandal with arch support. After needing a new house thong type sandal and reading the reviews on this brand I thought I would try them. The arch is quite high but after wearing them around the house for a while I got used to the feeling. They are very soft on the foot, have been great to wear on my hardwoods for support." – Carrie on Zappos
"These are extremely comfortable BUT very slippery when wet! When you get out of water & put these on your feet will slide inside the shoe. In fact on only my 2nd day with them I got out of a pool, put them on & in a few steps my foot slid forward & ripped the front of the slipper right off. So I'd recommend them for comfort just don't get wet" – T on Zappos
"Comfy as heck. Love them to just wear around the house after a tough or long run. Not sure about any specific benefits other than comfort, but dang do I love them." – learned-extrovert on reddit
To give you a better idea of what most customers think about Oofos, we've searched through thousands of customer reviews online. Here are the main points of feedback from reviews across the web:
Comfortable for everyday wear
Not the most stylish
Slippery when wet
Best for those struggling with heel spurs and previous heel/ankle/foot injuries
Do Professionals Use Oofos?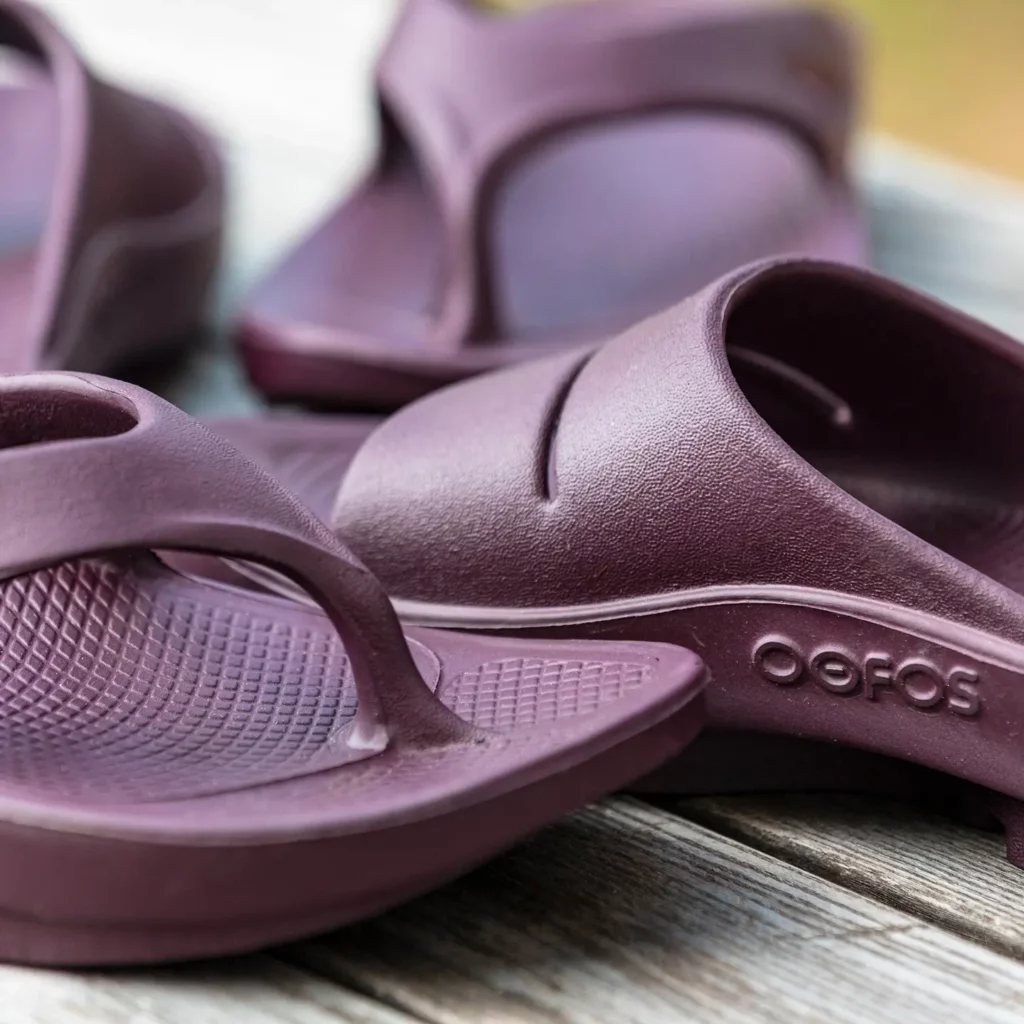 The official Oofos website has included a Meet Our MOOvers tab of professional athletes who have used Oofos shoes as their chosen athletic footwear to help with their joint recovery.
Some of these athletes include ballet dancer Chyrstyn Fentroy, NFL player Alex Smith, dancer Chloe Arnold, and more!
Are Oofos True to Size?
Not all sandals have ½ sizes yet, but Oofos is working toward making ½ sizes for all new and already produced lines. Their sizes include women's 4 to 16 and men's 2 to 14.
For narrower or wider feet, there are suggestions on their website for which sizes or sandal styles you should get for maximum comfort and the best fit.
Do They Offer Discounts?
New customers who sign up for the rewards program get $5 off their first purchase and will continue to earn points redeemable for discounts as they purchase more products.
Oofos also created a special discount for first responders, military, and educators. However, it can only be used once, cannot be combined with other rewards, and expires ten days after ID verification.
Are the Sandals Made with any Chemicals or Toxic Materials?
Oofos sandals are made with closed-cell foam that is patented and non-toxic. They are also painted with non-toxic paints and do not contain any latex so they are safe for sensitive or latex-specific sensitive skin.
Return Policy
Oofos return policy states that any purchase can be returned within 30 days of purchase. If purchased directly from the official website, the returns and exchanges are free and easy to do with their new online return program.
However, if from an outside store or online retailer, return shoes directly to where they were purchased. If they are unable to provide the proper service, then you can send them back to Oofos official store with proof of purchase. Refunds are not available for these types of returns though.
The Bottomline: Should You Purchase Oofos Sandals?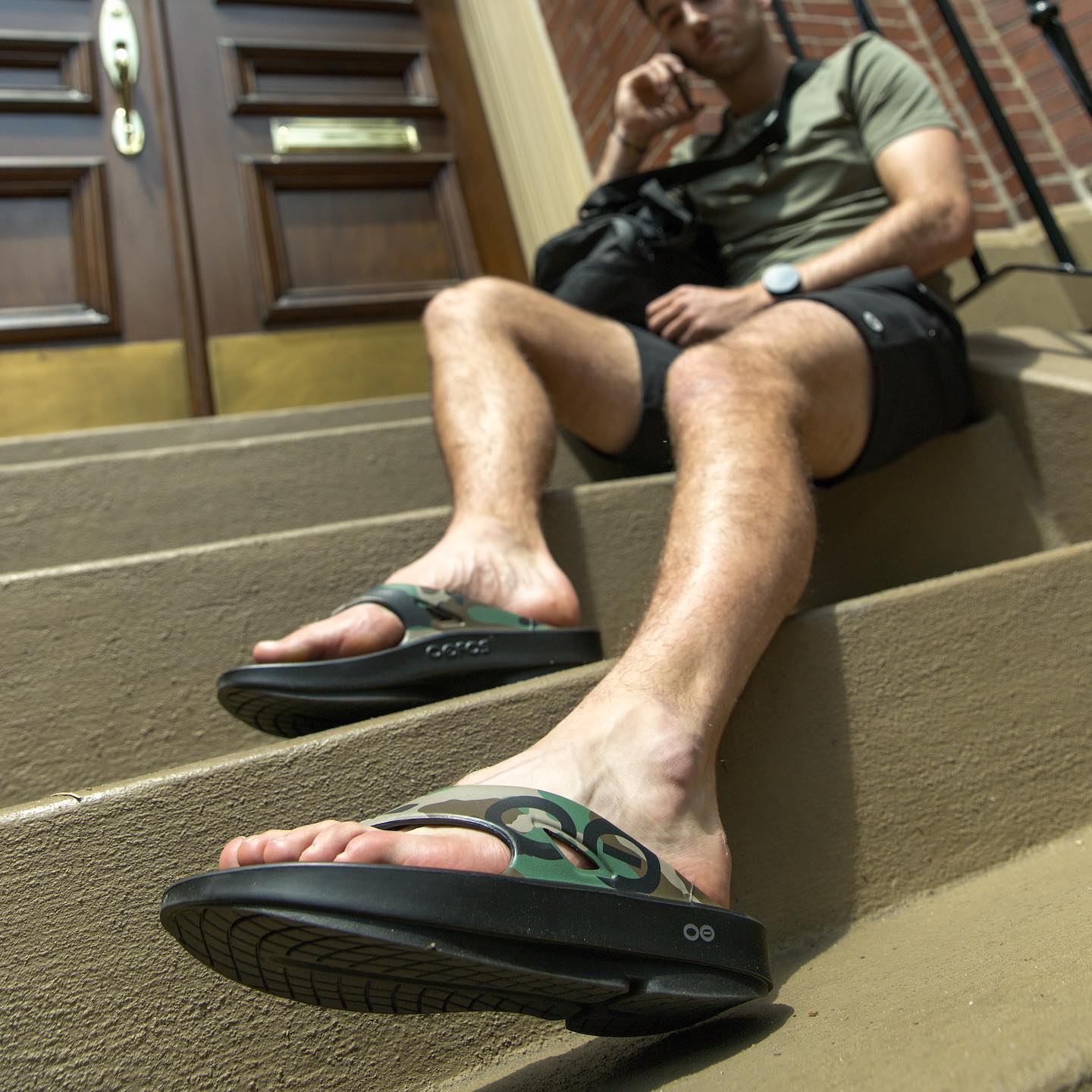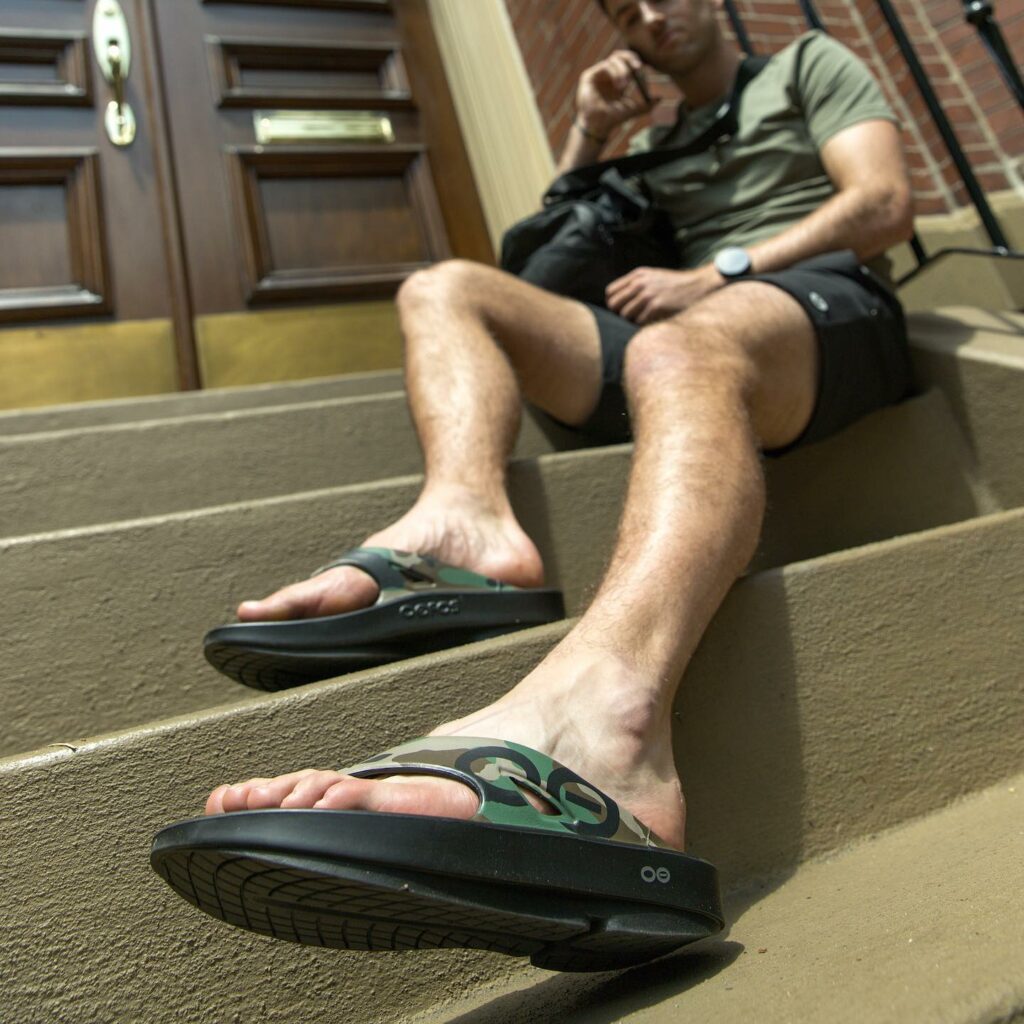 According to our Oofos Sandals review, Oofos provide customers with great, comfortable footwear! They are especially great for those who have bone spurs or foot injuries.
Even if you're just looking for some super comfortable sandals, these might be your new go-to!
Brands Like Oofos
If you're not sure Oofos sandals are right for you, here are some other brands offering top-tier comfort and styles:
UP NEXT: Our Hey Dude Shoes Review