There are some critical differences between On Cloud vs Hoka running shoes, so if you're looking for a new pair, read through this article as it'll break down everything you need to know about the two brands.
We're going to dive into the Cloud collection from the On-Running brand vs. Hoka running shoes, which have been another long-time favorite for those with an active lifestyle.
At the end of the day, which one reigns supreme? We've given both companies a close look, and this On Cloud vs Hoka review has everything you need to know about their quality, pricing, and much more.
Plus, don't miss our top picks for the best running shoes for men and the best sneakers for women.
On Cloud vs Hoka Overview
On Cloud shoes provide a very stylish look with a level of comfort that makes you feel like you're walking on air. The entire collection comes with unique designs for all types of runners.
On the other hand, Hoka offers a vast selection of running shoes and boasts a loyal customer base who loves its product. Keeping each brand's similarities in mind, which one is the best choice? Below are just a handful of the different qualities each company brings to the table.
On Cloud (Winner)
Hoka
–Helps you find your perfect fit

–Proprietary Cloudtec cushioning

–Ships to over 50 countries

–Cover shipping costs for most countries

–Proprietary speed-lacing system

–$130-$170

–Built to reduce muscle fatigue
–More extensive design and colorway catalog

–Detailed specs on their shoes

–Vegan and free of animal products

–Straightforward return policy

-Environmentally responsible

–$90-$200

–Online and in-store available
On Cloud vs Hoka
Let's dive into more of the fine print to better understand what each company provides and discuss the varying qualities that'll help you decide what's best for you.
What They Offer
Of course, shopping online is as easy as clicking a single button. If you want to find a pair of running shoes that caters to your needs, you'll want to look at the minor details of their products.
On Cloud seems to be big on customer service, as they provide you with tons of information on how to find the best fitting shoe for your particular needs. Their designs come with many use cases and activities.
From their Cloudflow and Cloudmonster styles, varying benefits come with all of their designs. The company also makes it easy to handle returns or exchanges if you have any issues with their product. They go far and beyond for their customers worldwide and are quickly becoming a fan favorite for many running enthusiasts.
Best for everyday Training: On Cloud X 2.0
Best for everyday use/walking: On Cloud 5
Best for city running: On Cloudswift
Best for long-distance running: On Cloudmonster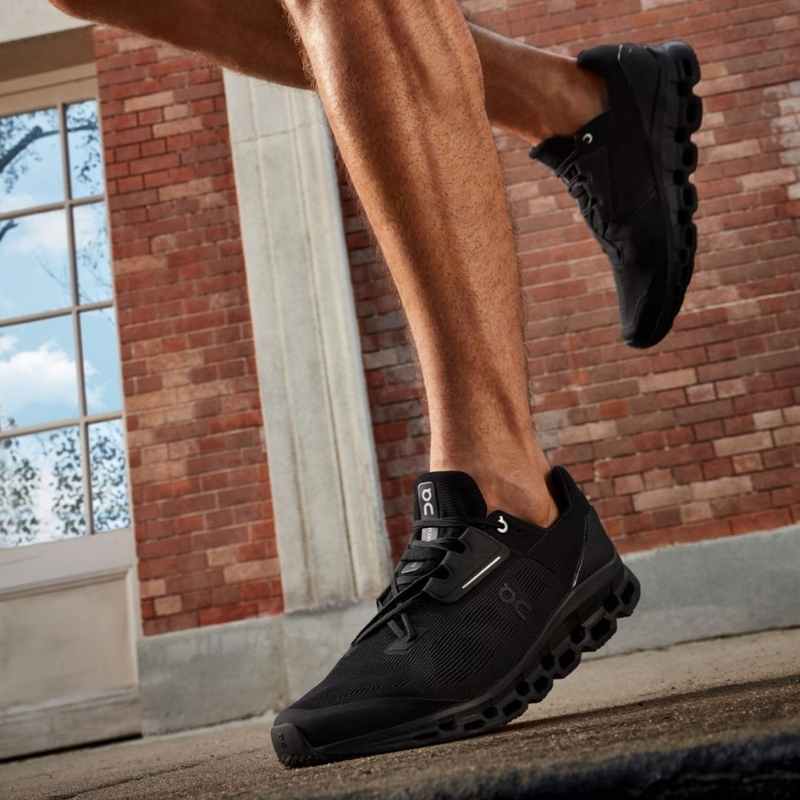 With its vast collection of running shoes, Hoka has done a great job marketing its products over the years. Nowadays, their reputation is well known by the active community, and the company provides many different running shoes for men and women alike.
They're also considered a tad more affordable than On Cloud, and every one of their shoes comes with a specs profile that tells you what activity it's best for.
You won't have any issues with customer service as the company provides a direct phone number, email, and live chat system to contact them. They also offer a detailed FAQ section that provides a transparent look into how their company operates, giving customers peace of mind.
Best for everyday Training: Hoka Clifton 8
Best for everyday use/walking: Hoka Bondi 8
Best for city running: Hoka Rocket
Best for long-distance running: Hoka Kawana
Pricing
You won't break the bank investing in a pair of On Cloud shoes, and considering they have the potential to last you for a long time, many shoppers say they're worth the money. Most of their shoes range from $130-$170, which is relatively standard for the current activewear shoe market.
The company also offers free shipping on any order over $35, and you have 30 days to decide if you want to return the shoes if they don't work out.
Considering the proprietary tech crafted with each of their shoes, we think they come at a fair price for the value you'll get out of them. On Cloud has something suitable for your running routine from trail to hard pavement.
Known to offer a decent price range that works for different budgets, Hoka still comes with upstanding quality across all of its designs. Ranging from roughly $90-$200, it won't be difficult to find something that won't hit the wallet too hard.
They make it relatively easy to handle returns or exchanges, and they have all the specs and features laid out for every shoe, allowing you to review the pros and cons before deciding on a purchase.
Everything about their shoes is designed to propel you forward in your activities while taking on many different types of terrains. Hoka is also known for its carbon technology that's a part of all their shoes, giving every customer plenty of value for their money.
Sizing
The company provides a decent sizing selection that covers most body types. On their website, you'll find sizes 7-14 for men and 5-11 for women, giving people plenty of range to choose from.
If you're looking for a more specific fit, their sizing guide has the minor details you'll want to know to make the right purchase for your feet and running style.
One thing to note is that the company is often out of stock on many of its shoes or simply doesn't have every size available. This could be due to their popularity, but it's still an issue for customers nonetheless.
With the aim of wanting to serve a wide demographic of running enthusiasts, Hoka does its best to cater to most body types and active lifestyles. Men and women will be able to choose from sizes 5-12 for any of Hoka's shoes.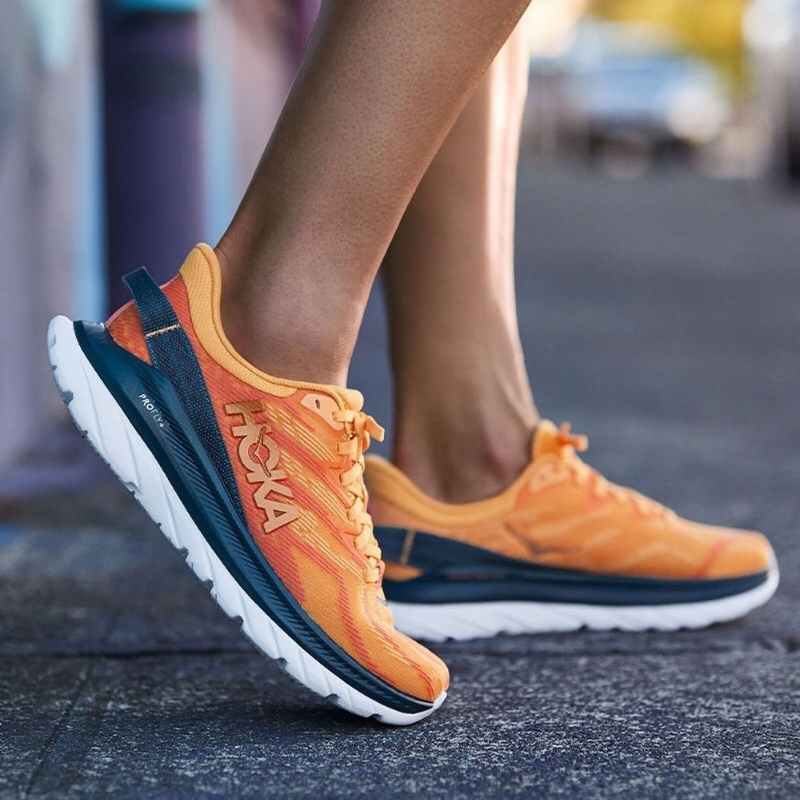 Their sizing chart offers in-depth information on sizing from the width, length, and sizing charts that serve their international market.
Luckily, you can also find Hoka shoes at many different physical retailers, allowing you to get a look in person if you choose. Hoka offers a simple process to handle returns or exchanges if the shoes aren't the best fit for you, allowing you to browse their selection with confidence.
Quality
Aside from the company's quality claims on their website, after digging into more public reviews, it seems their quality is hit or miss for some buyers. Some consider them to be more suitable for daily activities and stationary workouts.
You'll find plenty of runners who like the shoe brand just fine, but it still wouldn't be their number one choice.
The holes in the design of On Cloud shoes can get debris stuck in them, especially if you're a trail runner. This doesn't mean they aren't worth buying, but these sentiments should definitely be considered.
It's pretty clear that many runners are a huge fan of the comfort and durability that Hoka shoes provide, but they may not be the best choice for those with any kind of foot ailments. Those with wider feet may also find them a bit too snug around the middle of their feet.
Aside from that, many can agree that they're some of the most comfortable shoes they've ever owned, and it isn't uncommon for more serious runners to own multiple pairs.
Most people feel that they're an excellent fit for a general demographic, but for those that deal with foot injuries or particular support issues, Hoka shoes may not be the best choice.
What Do Customers Have To Say?
You'll find many details about both brands on their respective websites, but you can find the most relevant comments about On Cloud vs Hoka down below:
Hoka shoes seem tight on wider feet
On Cloud, shoes seem more trendy than effective
Hoka has friendlier pricing for a broader demographic
Hoka tends to hold up to more wear and tear
On Cloud offer plenty of details to find the best fitting shoe
Many shoppers feel On Cloud doesn't hold up to their claims on comfort
To Wrap This Up
Whether you prefer a light job or an extensive marathon, this On Cloud vs Hoka review has all you need to find the perfect pair of running shoes. From our point of view, Hoka seems to be the best option for all types of runners.
Regardless of their pros and cons, both companies have plenty to offer and are doing their best to cater to as many different body types as possible. Both companies come with different designs for various activities and have more than enough for runners to choose from.