If you're ready for a cleaner way to take care of your skin, keep reading for our detailed No B.S. Skincare review!
Your skincare regimen is probably one of the most important routines of the day. I know I'm not the only one who feels like I can take on the world when I start the day with fresh, glowing skin.
But in today's market, there are ads for different skincare brands everywhere, all claiming to work miracles on your skin overnight. That's where No B.S. comes in—a skincare line dedicated to giving you results with their clean ingredients rather than harsh chemicals. But do their products actually work? Let's find out.
*Disclaimer: I was gifted No B.S. products to review, but all opinions are my own.
What is No B.S.?
No B.S. is a skincare line on the rise, known for its clean ingredients and vegan, cruelty-free formulas. They take the guesswork out of skincare by using powerful plant-based ingredients and eliminating parabens, phthalates, synthetic fragrances, and more.
Although the FDA bans 15 ingredients in skincare in the US, No B.S. takes it even further by banning over 1600 toxic ingredients from their products (you can see the full list of banned ingredients here).
They claim to focus on real results rather than gimmicks and false promises to sell their products. I had the chance to try some of their skincare products and share my honest opinion below. Keep reading to find out if this "clean" skincare line is worth the money.
No B.S. Skincare Review
Overall: ★★★★ 4 stars
This brand has a great lineup of skincare products that don't contain any harsh chemicals or ingredients. Customers seem to like the fact that they use clean ingredients that have amazing benefits for the skin.
Price: ★★★ 3 stars
There are mixed reviews about the price of No B.S. products. Some say they are affordable while others think you can get similar products for a cheaper price. The cost of most single items from this brand falls between $25 – $50.
Quality: ★★★★ 4 stars
Overall, there are very few complaints about the quality of the products online. Many say that they love the results their products have delivered.
Value: ★★★★ 4 stars
Although their skincare items might fall on the pricey side, they contain a lot of product that is bound to last a while.
---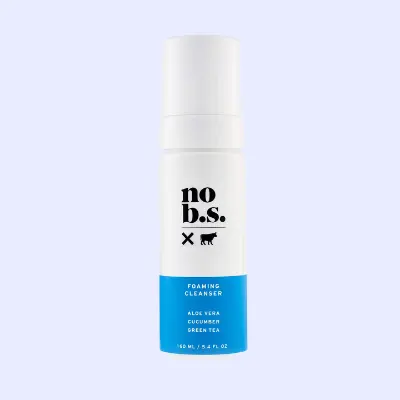 This foaming cleanser is packed with skin-loving ingredients such as aloe vera, cucumber, and green tea. Not only does it gently wash away makeup, dirt, and oil, it also protects your skin from pollution with antioxidants.
I was pleasantly surprised by this cleanser! Sometimes I feel foaming cleansers don't clean the skin well enough, but my skin honestly felt so clean and smooth after I used this. Plus, the smell was light and refreshing. I would definitely repurchase this.
---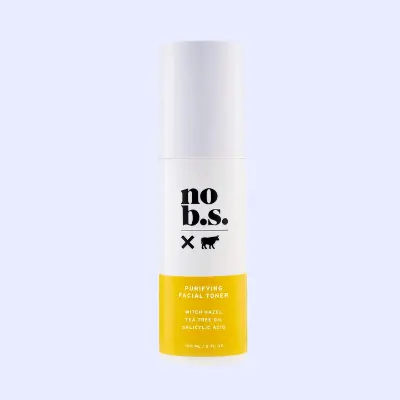 This toner uses salicylic acid to exfoliate your pores, witch hazel to promote healing, and tea tree oil to help fight acne. To use it, you spray it directly onto your face and then use a cotton pad to wipe it away.
I have used acid toners before, and this one definitely felt more gentle than others like it. On the other hand, I could definitely tell it was working when I wiped it off my face—let's just say I had some leftover gunk that came off on the cotton pad!
The only thing I don't love is that you have to spray it directly onto your face. Just be cautious not to get it in your eyes!
---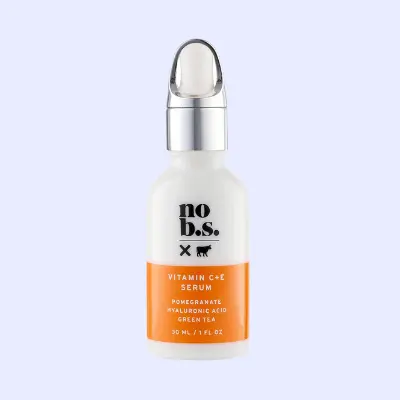 Vitamin C is a skincare holy grail. Combine it with vitamin E and hyaluronic acid and you've got a powerful skin-brightening serum. No B.S. claims that this serum moisturizes, brightens, and helps heal damaged skin in as little as two weeks!
I'll be honest, I've never been one for serums because they typically leave an oily residue that I don't like. This serum didn't do that and actually made my skin feel great.

I don't love the smell or goopy consistency, but if a product works, I'm willing to make sacrifices in that area.
---
What Customers Are Saying
Since I'm only one person, it's important to look at other customer reviews to see how buyers feel about this brand overall. Here's a look at what other people had to say:
"Was using Cereve Hydrating Facial cleanser before but tried this brand while trying to find more natural products. Seems to work just as well! It's different though. A lot lighter." – Taggobob on Reddit
"I've never heard of this brand or used these products but I'd be very skeptical of these products. 1. The vitamin c serum: the vitamin C form and the percentage isn't listed. […] 2. The retinol cream: again, what form of retinol is being used, and what is the percentage? Since it's the 10th ingredient listed following water, aloe, olive oils, glycerins, sunflower oil, I'd say this isn't very potent and seems to be mostly filler." – topknot1975 on Reddit
"So- it's the real deal and it has cleaned my face, without drying it- bonus! It doesn't have a strong smell but it does smell natural. It foams nicely, I even use it with my Clarisonic. It works well. I've tried a lot of face wash over the years and so far this is my favorite. I'll definitely buy it again, as well as the other NOBS products. I use them all and have noticed an improvement in my skin." – Brandi H. Novelli on Amazon
Because No B.S. is a relatively new brand, there aren't a ton of reviews outside of the company website. They do, however, have really positive reviews on Amazon.
Based on other reviews, here are the main points of feedback about this brand so far:
Products work well
Good for sensitive skin
Customers say they like the natural ingredients
Some say the brand isn't transparent about percentages in their products
Return Policy
No B.S. seems to have a very forgiving return policy. Their website states that they accept exchanges and returns up to 30 days after the date of purchase. If you make a return because of an error on their part, they pay for the cost to ship it back. However, if you just want to return unopened merchandise, there is a $5 restocking fee.
Final Verdict
Overall, I really enjoyed the products I've tried from No B.S. and will likely repurchase in the future. The products left my skin feeling smooth, clean, and hydrated without being overly oily.
No B.S. seems to have a lot of other positive reviews from people on the web. Almost all of the negative reviews I found are from people who haven't tried the products but are skeptical that the brand isn't transparent enough.
If you want to try their products for yourself, No B.S. does have a generous return policy! Plus, they have minis and samples to try without having to fully commit to the full-sized products yet.
Brands Like No B.S.
UP NEXT: Honest Beauty Reviews: Is Their Clean Beauty Better?