There is a lot of buzz around clean beauty and you may have seen labels like "non-toxic," "green," and "cruelty-free" popping up more often.
As we become more aware of what we're putting on our bodies, you may have started to scan labels and avoid products with certain ingredients (like fragrance, sodium lauryl sulfate, or parabens).
We now have access to entire brands built around nontoxic, natural, and organic products, like Honest Beauty, that promise to keep their products safe without compromising on performance.
If you're interested in this brand, keep reading for our in-depth Honest Beauty reviews!
What is Honest Beauty?
Honest Beauty is a part of The Honest Company, which was founded by Jessica Alba in 2011. Her philosophy? "You shouldn't have to choose between what works and what's good for you."
Honest prides itself on rigorous standards and total transparency. They have a strict no-fly ingredient list, which they dubbed their "NO List", made up of over 2,500 chemicals and materials you'll never find in their products.
With their own in-house lab, they work closely with chemists and toxicologists to create and test products that are safe and perform effectively, which can be a challenge when it comes to natural ingredients.
Honest Beauty focuses on makeup and skincare products, which are, of course, held to all the same standards of being safe, effective, and sustainable.
In addition to selling products, Honest Beauty has a strong social media engagement and a ton of video resources direct from Ms. Alba herself, which means lots of inspiration and how-tos for all of your skincare and makeup questions.
Honest Beauty Reviews
Overall Rating: ★★★★ 4 stars
Quality: ★★★★ 4 stars
All in all, Honest Beauty prides itself on high-quality, natural ingredients that are super nourishing. Customers rave about the glow it gives their skin, all without irritating it.
The color pay-off may not be as extreme as other brands, but for natural, clean products, Honest Beauty gets an A+.
Pricing: ★★★★ 4 stars
Most clean beauty products tend to come with an astronomical price tag, but Honest Beauty does a good job of offering high-quality products at a reasonable price.
The average price of their top 5 best-selling beauty products comes out to $19.59, which is definitely on the lower end of what most clean beauty brands charge.
They also sell quite a few kits at a discount, like Jessica's Daily Skincare Routine kit, a six-piece set that includes their best-selling mask, cream, and serum with an average price point around $14 per product.
Honest Beauty Product Reviews
Now, let's get into the good part. We've shared our own Honest Beauty reviews as well as quotes from the top reviews from other customers.
★★★★ 4.4 Star Rating (330 Reviews)
Their 2-in-1 mascara has won a People Beauty Award and an Expert Select from The Zoe Report.
The primer has a soft bristle spiral brush and the mascara has a straight, plastic brush with many small bristles. This mascara only comes in one color, but it doesn't come with any parabens, paraffins, silicones, mineral oil, or synthetic fragrances.
I've personally been using this mascara since last year – it was my first nontoxic mascara – and you won't find any other mascara in my makeup bag.
While it isn't the most volumizing formula, it has a great texture (zero clumps), adds a ton of length, and I've never experienced any running or flaking.
It also washes off easily without irritation and, of course, has no harmful ingredients.
You can find this product on their website as well as Amazon (sometimes for a more affordable price here)!
---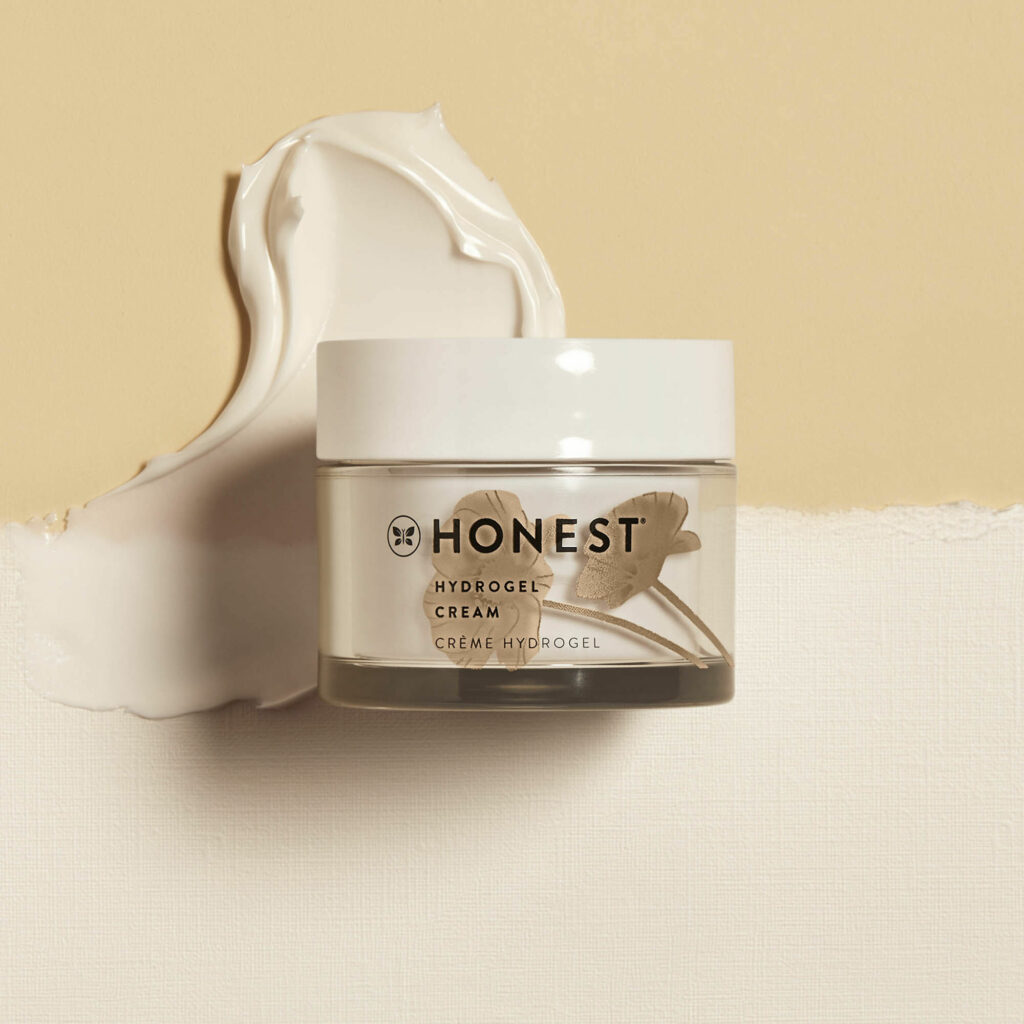 ★★★★ 4.6 Star Rating (150 Reviews)
This cream has two types of hyaluronic acid (HA) to retain moisture on the skin, leaving it dewy and hydrated.
Pro tip: since HA can bind up to 1000 times its weight in water, apply this cream when your skin is slightly damp to lock in extra moisture.
---
★★★★ 4.4 Star Rating (380 Reviews)
This hydrating lip balm glides on smoothly, delivering a hint of color and plenty of moisture. Formulated with nourishing ingredients like Acai Extract and Avocado Oil, it helps to keep lips soft and hydrated all day long. Best of all, it's vegan and cruelty-free.
Choose from a variety of fun and flattering shades, and get ready to give your lips some love.
---
★★★★ 4.6 Star Rating (130 Reviews)
Looking for a buildable, natural flush? Made with fruit extracts and nourishing ingredients, this Creme Cheek + Lip color melts into skin for a healthy-looking glow. Plus, it's great for on the go since it can be used as both a cheek and lip color.
Our top tip? Dab a little on the apples of your cheeks and blend out with your fingers for an easy, everyday look.
---
★★★★ 4.5 Star Rating (150 Reviews)
Morning, noon, or night, this mask provides a quick pick-me-up for skin with superfruit antioxidants and shea butter.
Apply and leave on for 5-10 minutes, or up to 30, to reveal skin that is "smoother, firmer, glowier and perfectly prepped."
"This mask works so well and it smells heavenly. This is such a joy to use because it is very gentle and does not sting, even if it is left on the face for the maximum time indicated on the tube. It leaves my skin feeling refreshed, clean, and soft." – Mary277
---
---
★★★★ 4.6 Star Rating (125 Reviews)
Cleanse and calm skin with this chamomile and calendula gel cleanser.
This gentle formula can be used morning and night without fear of dry, tight skin and effectively washes away makeup and impurities for a clean face.
---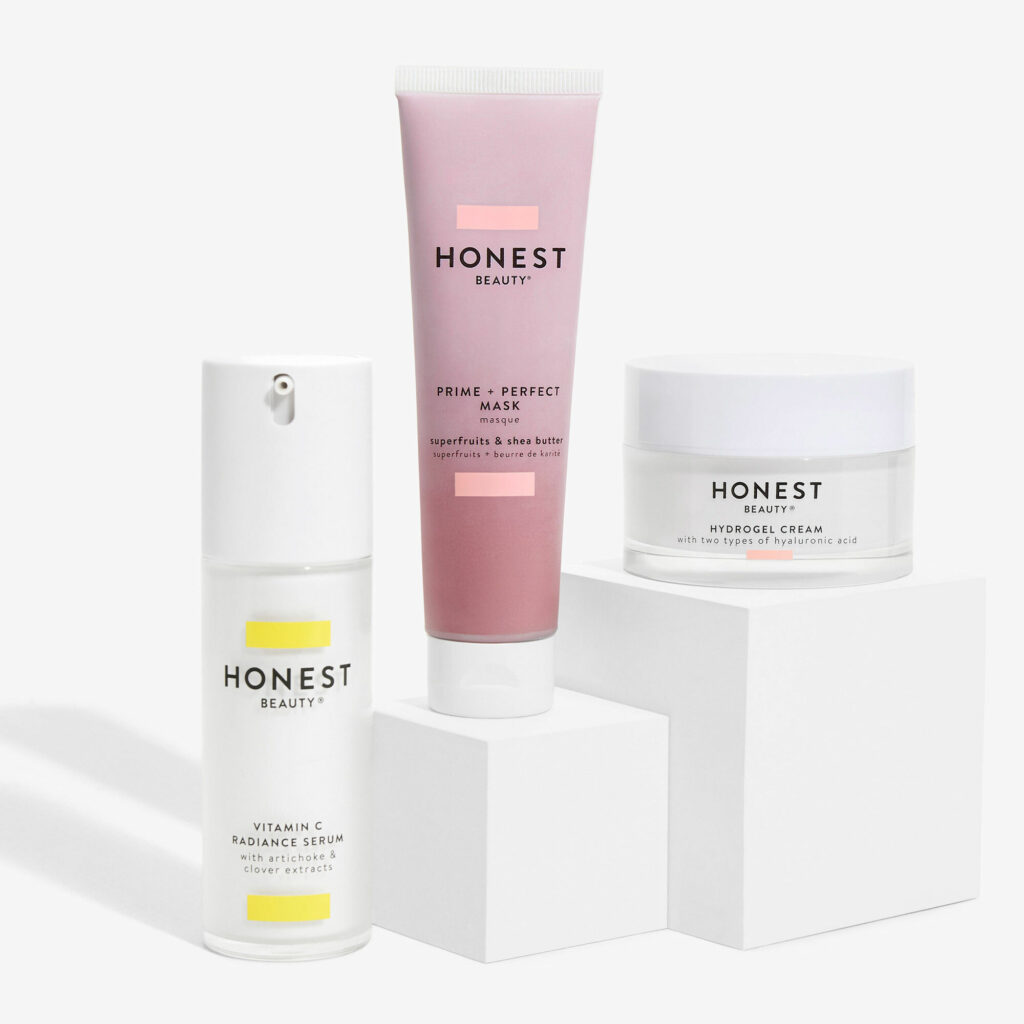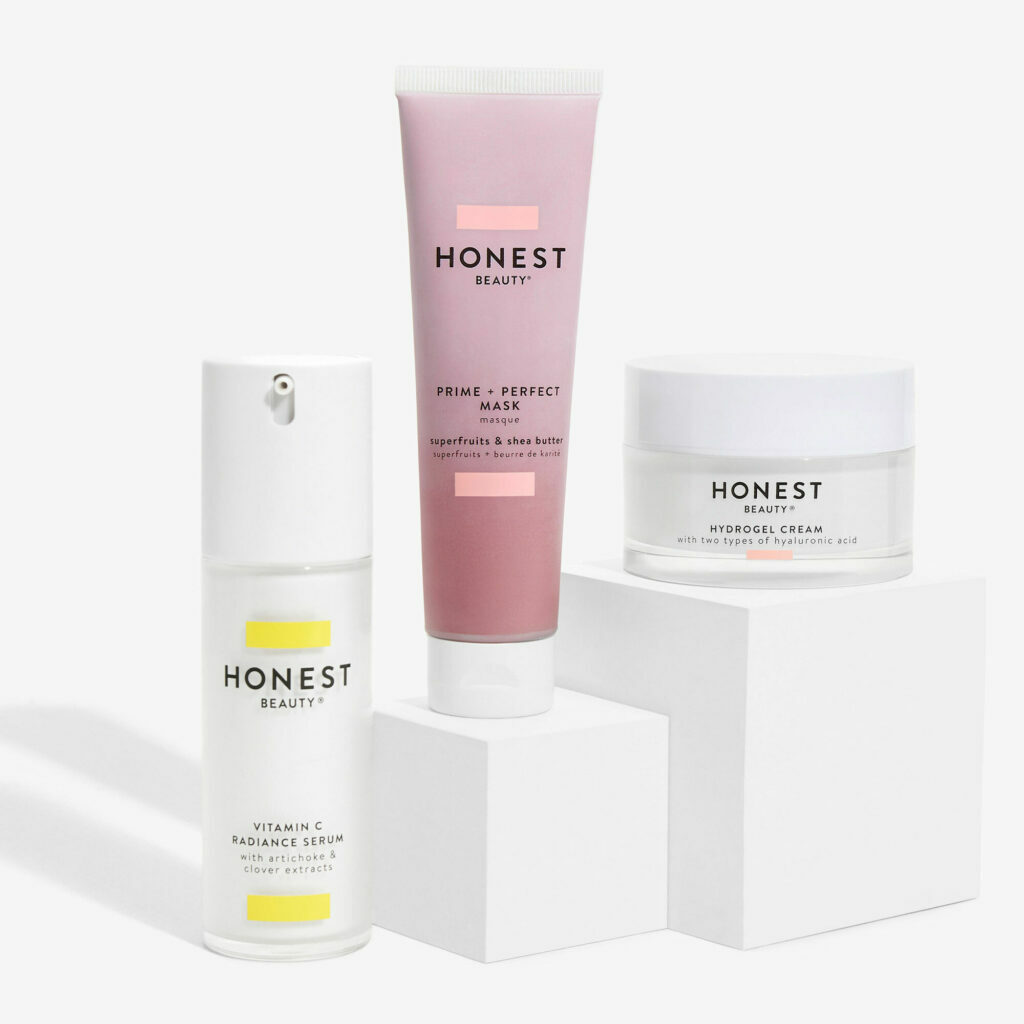 ★★★★ 4.6 Star Rating (280 Reviews)
Isn't it nice when brands group their best products together and sell them together at a discount? This three-step kit comes with three of Honest Beauty's best-selling skincare products:
Prime + Perfect Mask
Vitamin C Radiance Serum
Hydrogel Cream
"Well, first of all, i love the packaging, i think it's very cute and professional. I loved the product itself. My skin is oily and acne prone and this serum it's wonderful to my skin, it makes my skin look healthier and adds a natural glow to it. This is a MUST in my skin care routine! I'm such a fan of honest beauty now, i follow them everywhere! I love it, thank you so much!" -Mariam
---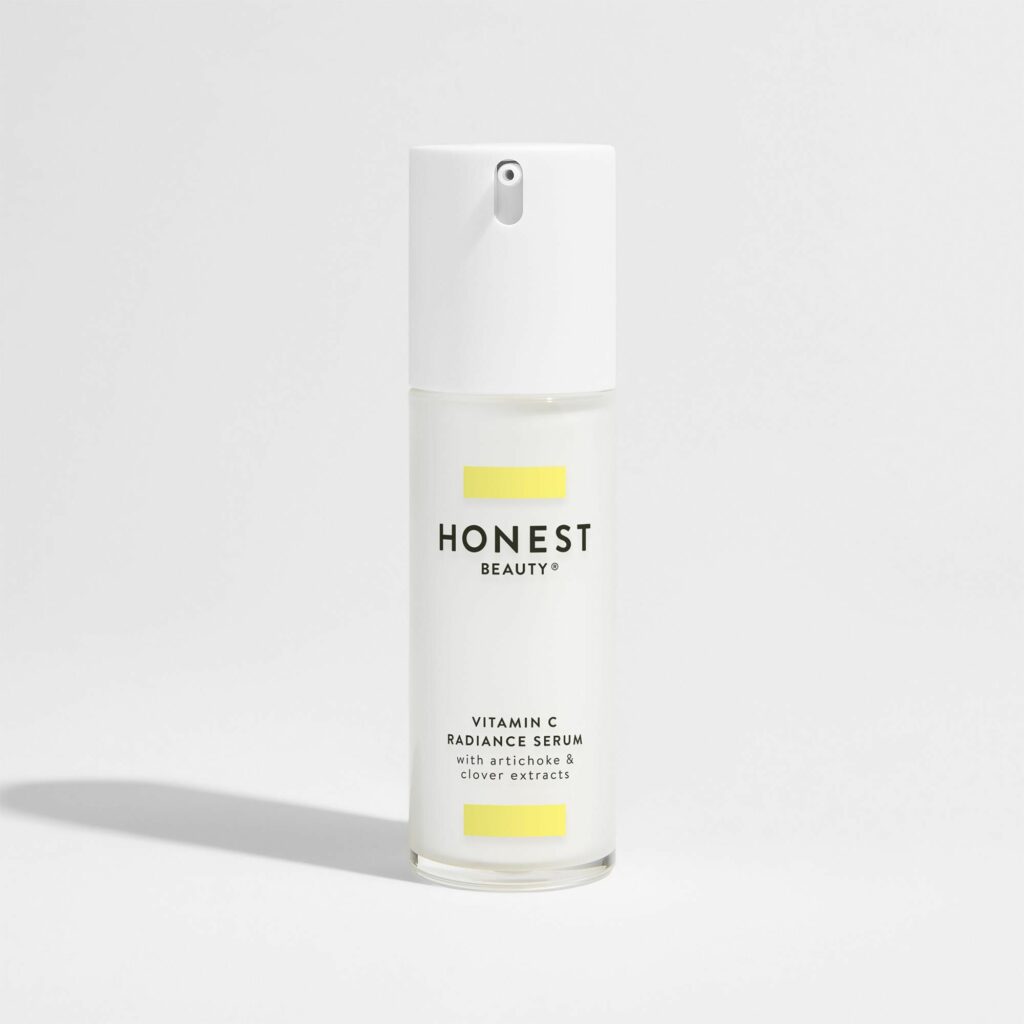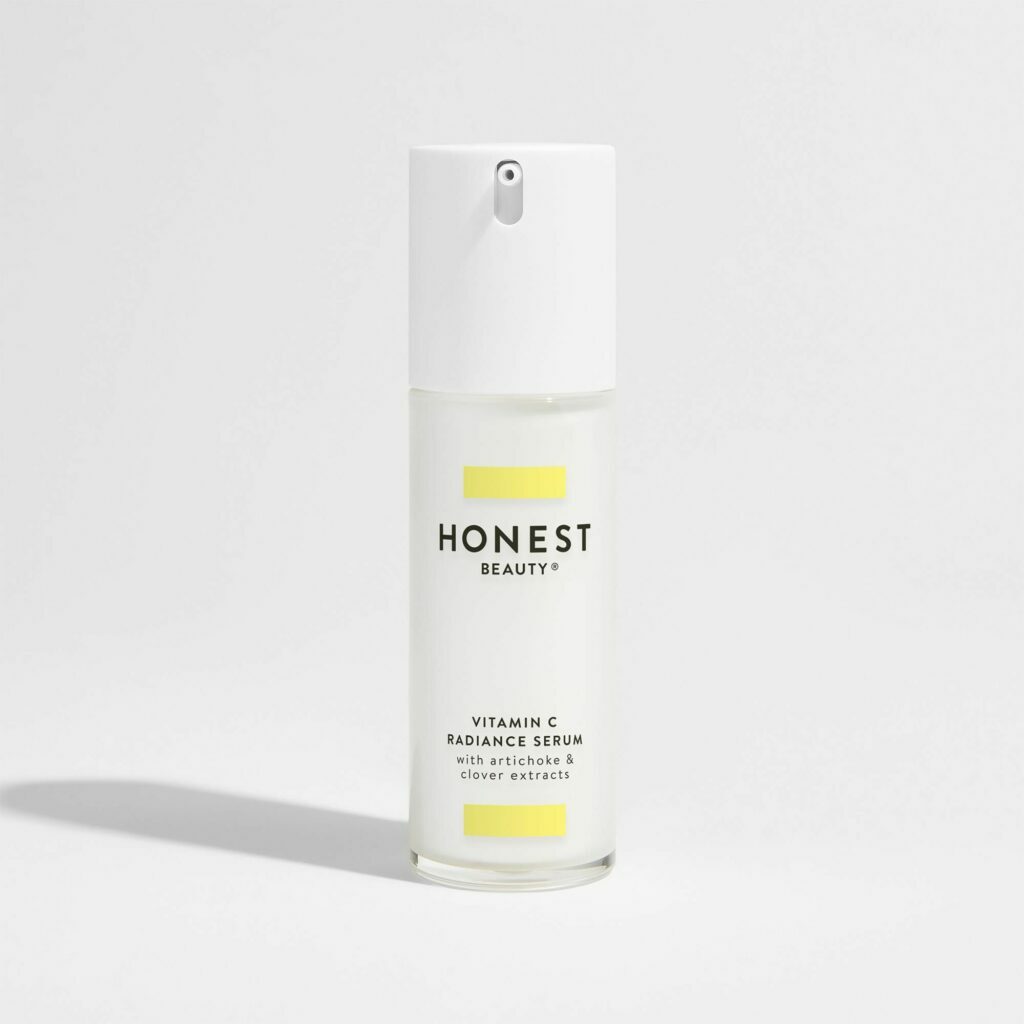 Vitamin C Radiance Serum Review
★★★★ 4.6 Star Rating (93 Reviews)
Vitamin C is known to brighten up dull skin, and this serum is no exception.
The ingredients include a stabilized form of Vitamin C to brighten, artichoke extract to fight wrinkles and firm skin, hyaluronic acid for hydration, and an infusion of pearl for an iridescent, radiant glow.
"I'm slowly adding Vitamin C into my skincare routine and found that this serum is great for beginners since it doesn't irritate the skin or cause breakouts.
At first, I used it every other day for a week to limit irritation to a new product but I now use it every day after cleansing (day & night). I have noticed a bit of evening out of discoloration and acne near my temple and jawline along with glowing skin after each use.
The serum does have a holographic shimmer when you pump some onto your finger but there's no sign of it on your face. The turning cap is a nice feature to make sure the product is locked and the pump gives the right amount to cover face and neck. Lastly, this serum follows the rule 'a little goes a long way' so don't drown your skin with it or else it will cause a sticky feeling!' -Lizeth
---
Honest Beauty Customer Reviews
After searching the web for real Honest Beauty reviews, we found these main points of feedback from other customers about Honest Beauty:
Their products are effective and nourishing
Aesthetic packaging
Customers love that it is all-natural
Non-irritating
Great for sensitive skin
Return Policy
According to their return policy, Honest Beauty accepts returns placed through Honest.com and shipped within the contiguous United States within 90 days of the order date.
They will send you a nice return label but do not refund you for the original shipping and handling fees.
For orders placed on Amazon, Target, or Walmart, returns and exchanges will fall under the stores' individual return policies.
FAQs
Bottom Line: Is Honest Beauty Worth It?
To sum up our Honest Beauty reviews, their line makes it easy to feel like you're not compromising by using safe beauty products. They have an enormous selection of skincare and makeup created to deliver long-lasting performance without any harmful ingredients.
Although we've only tried a few products from them, we've enjoyed all of them and the majority of other reviews seem to love them too! Even if their "clean" beauty is mainly used as a marketing term, their products are effective (they're especially great for those with sensitive skin)!