Getting your nails done is one of the best forms of self-care, but salon visits can get expensive. Doing your nails at home is a great way to save money, and luckily there are plenty of brands that specialize in nail art supplies that help you perfect doing your nails at home.
Modelones is one of the most popular brands that pop up when searching for at-home nail products, with an especially huge presence on Amazon. 
A brand dedicated to providing nail techs and nail enthusiasts with polishes, tools, powders, and all other nail essentials someone may need, we're going to find out if ModelOnes checks out. 
Keep reading our ModelOnes reviews to see if this brand is a hit or a miss!
A QUICK SUMMARY: Modelones is a fantastic one-stop shop for affordable nail art supplies, but we highly recommend shopping through Amazon rather than the brand's website. Amazon has much quicker shipping, plus free returns for Prime items. If you order from the Modelones website, they typically take 2–4 weeks to ship and charge a restocking fee for returns.
What is ModelOnes?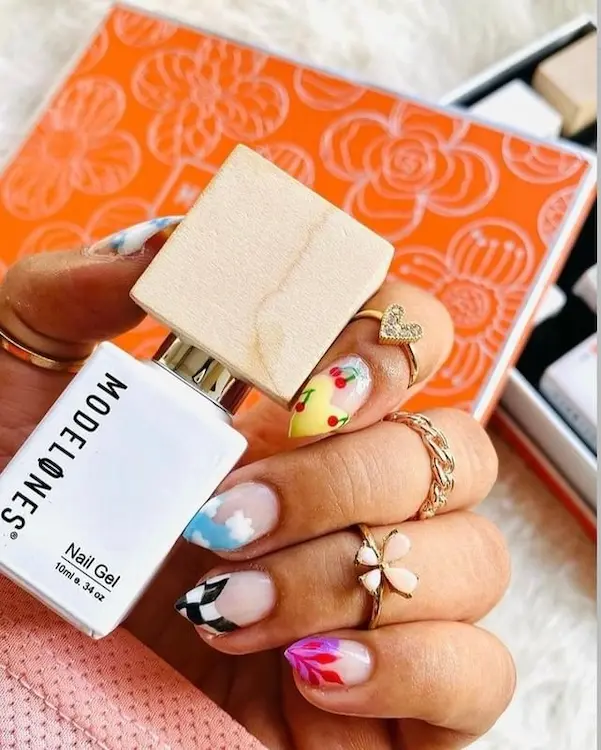 Modelones was founded in 2017 and is a company for nail artists and DIY nail lovers. From polygel kits to dip powder to acrylic powder, this brand has everything you need to create any popular type of nail art form. 
Plus, the brand offers nail products at affordable prices so that anyone can express themselves through color and design. 
Is ModelOnes Legit?
Yes, ModelOnes is a legit company. They are most popular on Amazon, but they also have a big social media presence on Instagram and love finding new brand ambassadors to show off their products.
Just a peek at their Amazon store page shows that they offer hundreds of products, with thousands and thousands of reviews on their best-sellers.
When it comes to affordable nail brands, Modelones is definitely in the top results.
ModelOnes Reviews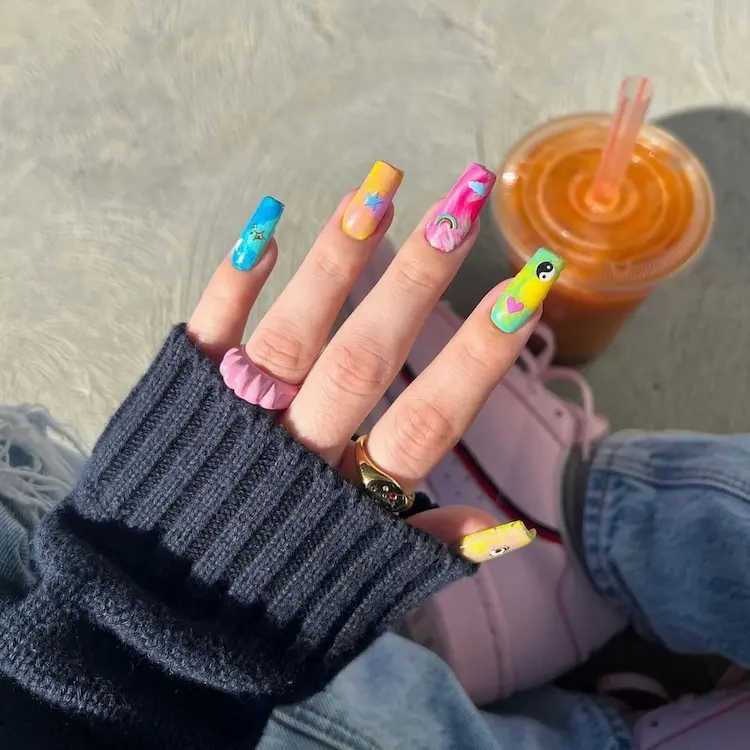 Overall: ★★★★ 4 stars
Generally speaking, customers are satisfied with their orders from ModelOnes and love the eclectic selection, beautiful color schemes, and super affordable prices. 
The only common complaint shoppers have comes from ordering directly off the ModelOnes website, as shipping takes forever in comparison to ordering directly from Amazon.
Most of their products are available through Amazon Prime, so they can arrive as soon as the next day (depending on your area). 
Price: ★★★★★ 5 stars
What really reels customers into Modelones is the budget-friendly prices. There are a lot of tools and products needed to make great nails happen, and you might imagine they are expensive, but Modelones has impressive prices.
You can typically get everything you need to start doing a new nail art type at home (such as acrylics or gel nails) for under $50.
Prices start from $0.99 for tools and reach up to $135 for their super-large nail kits. Overall, their starter kits seem to be a better bang for your buck (plus you don't have to worry about getting the right supplies, they include everything you need). 
Quality: ★★★★ 4 stars
For the price of the products, most Modelones reviews state that the quality is quite exceptional.
Especially for beginners, the nail tools work just fine and the polishes go on smooth and shiny.
Shoppers rave about the nail kits that have everything a DIY nail artist or even a business could need to create beautiful nail art and designs.
Shipping: ★★★ 3 stars
As mentioned before, the biggest complaint about Modelones seems to be shipping times when ordered directly from the Modelones website. The products ship from China which can take a few weeks, plus shoppers say it's a hassle trying to get in contact with customer service.
Shoppers highly suggest buying from the Amazon store for faster shipping times and overall better consistency. 
However, we do recommend taking a peek at their website if you don't mind waiting for shipping. Sometimes they offer extra discounts or other fun deals, plus the clearance section offers some great finds.
What Customers Are Saying
We did a deep dive and filed through real Modelones reviews from real customers to see what the real tea is.
Here's what shoppers are saying about Modelones:
Prices are unbeatable
An endless array of polish colors to choose from
The brand offers all types of nails (polygel, gel, dip powder, acrylics, etc.)
Perfect for nail beginners
The kits are a better bang for your buck and come with everything you need
Shipping can be very slow when ordering from their website, so many shoppers recommend shopping the brand through Amazon instead
The upfront cost might seem spendy, but you can use most of the products over and over again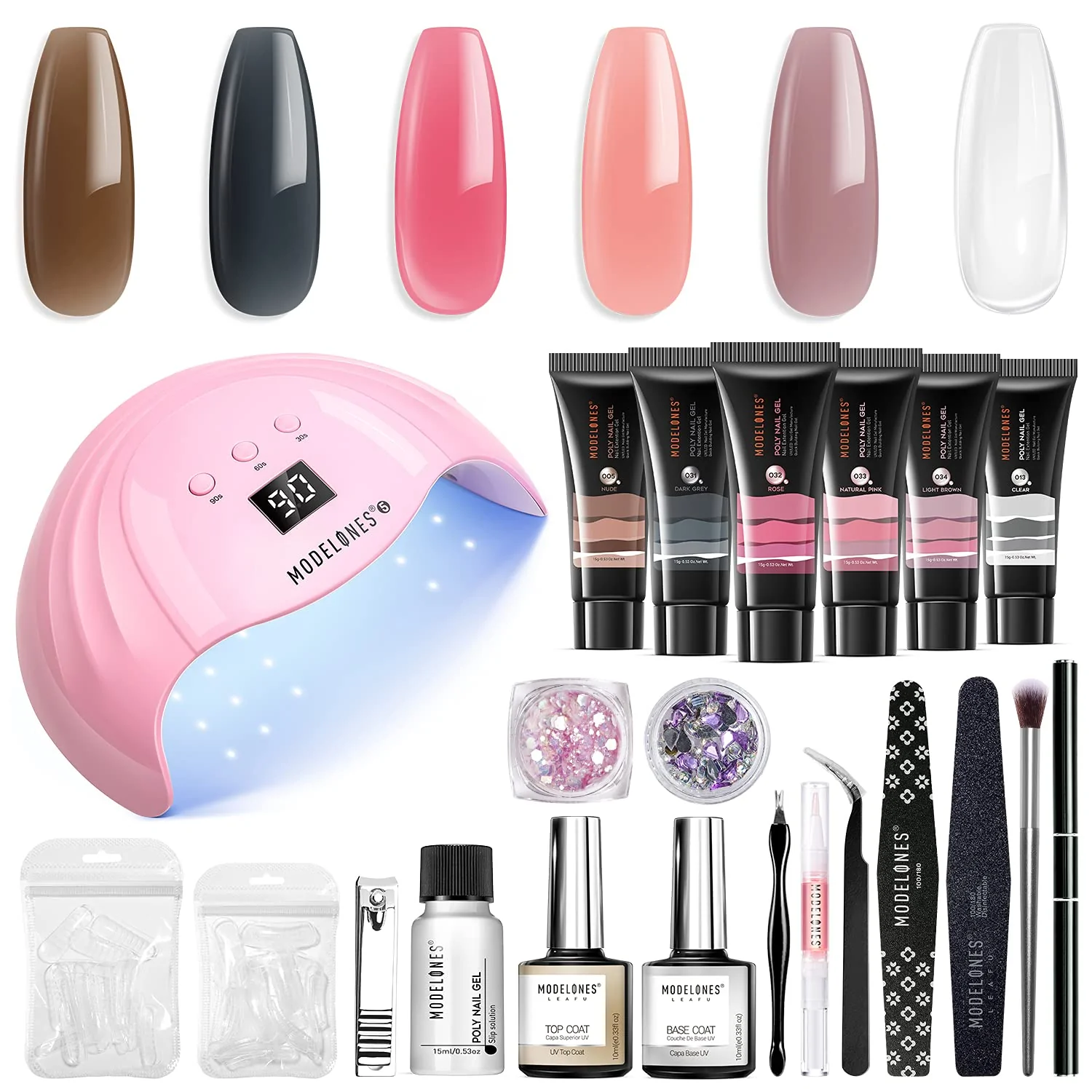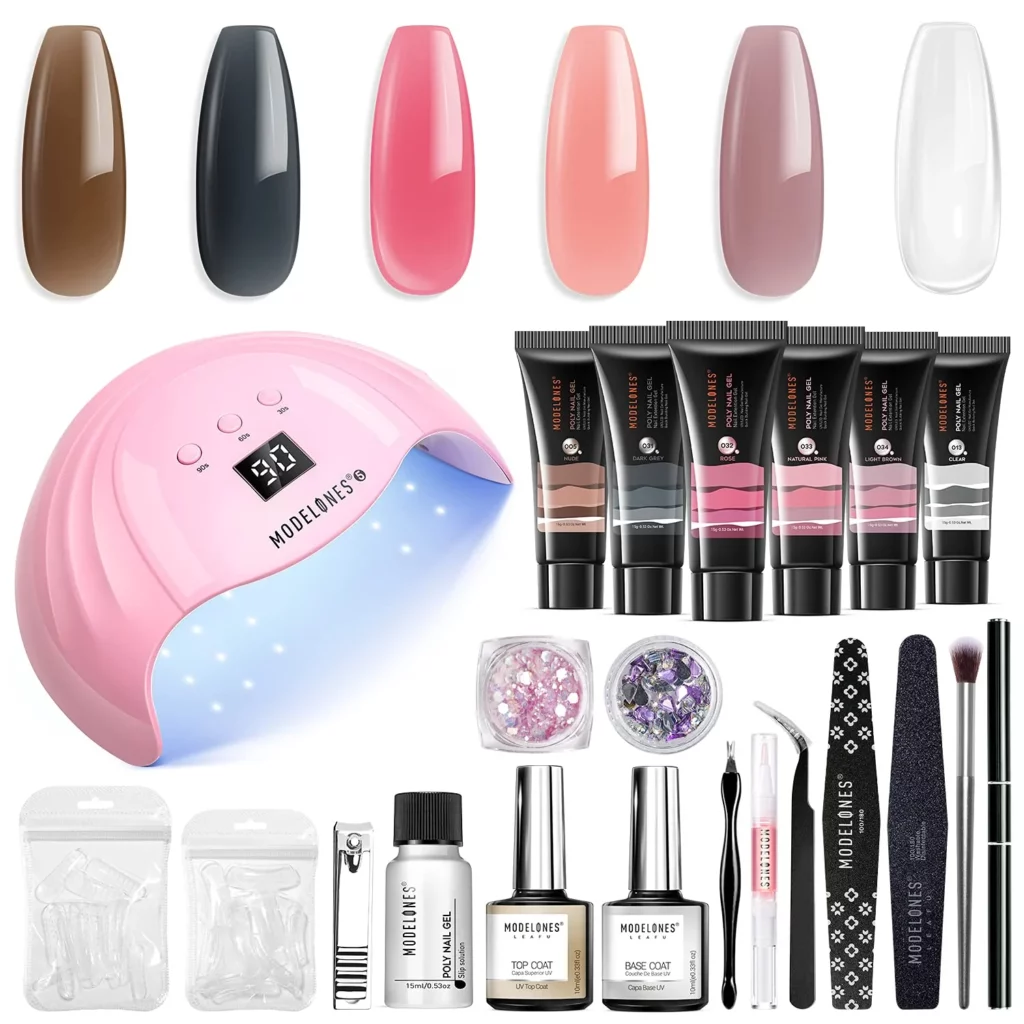 Polygel nails are a growing trend in the nail world. It's similar to acrylics, but one key difference is that they don't dry until you cure them, giving you plenty of time to form the perfect shape. Acrylic dries pretty fast, so there is a bit of a learning curve. 
Polygel offers the strength of acrylics and the longevity of gel, it's the perfect option for those who want the look of acrylics while still maintaining a feather-light feel.
If polygel nails sound like the route for you or if you're a polygel stan, Modelones has a ton of polygel kits for you to choose from!
These start as low as $29.99 and can reach as high as $100. You can choose a kit based on what nail colors you want and if you need a curing light or not.  
The introductory 2 Colors Poly Nail Gel Starter Kit comes with two nail gels, a slip solution, a base coat, a top coat, a mini nail file, a mini nail brush, and 36 dual nail forms.
Note: You will need a LED or UV lamp to cure the polygel. Some of their kits don't include this since many people already have one, so make sure you buy a kit with a curing lamp if you don't already have one.  
---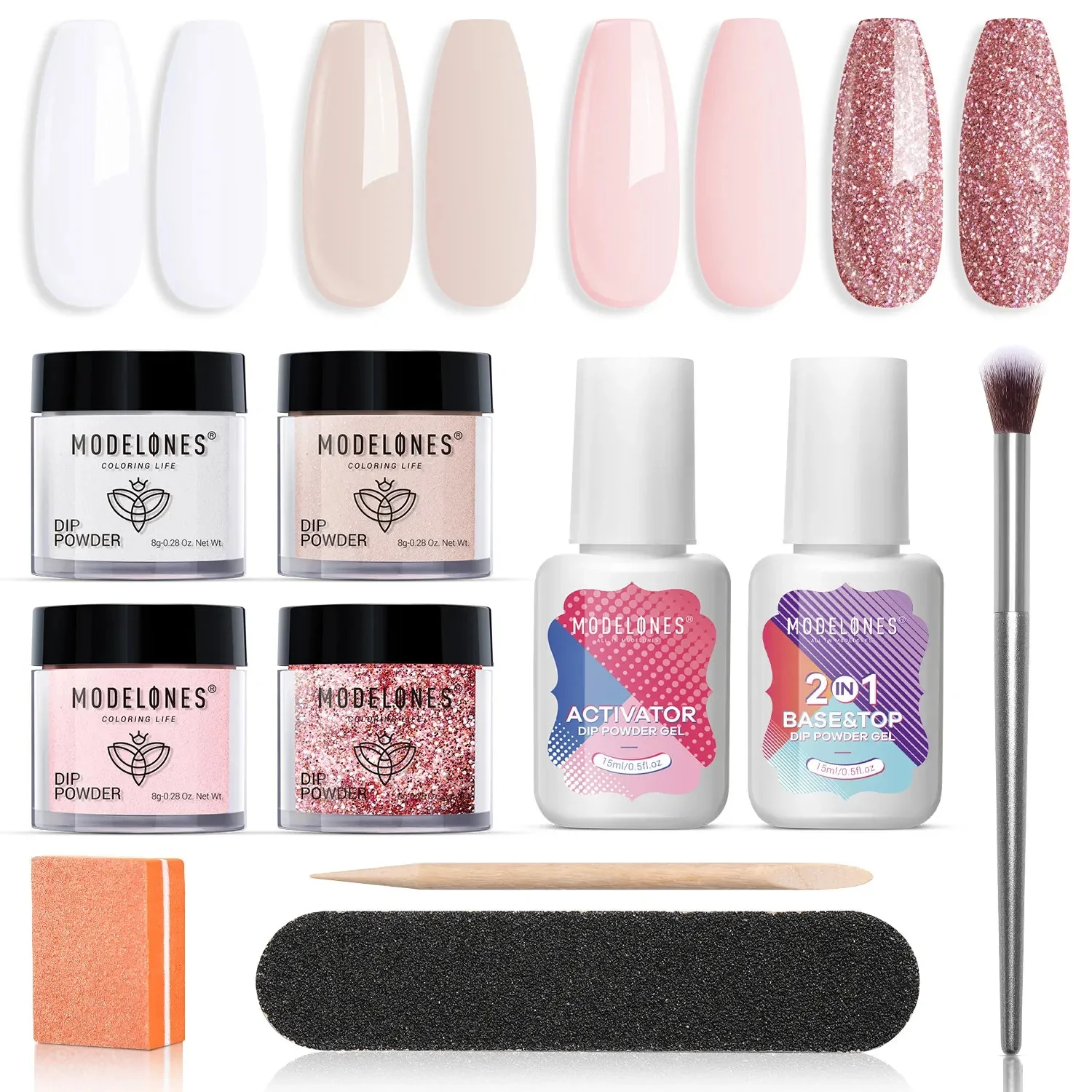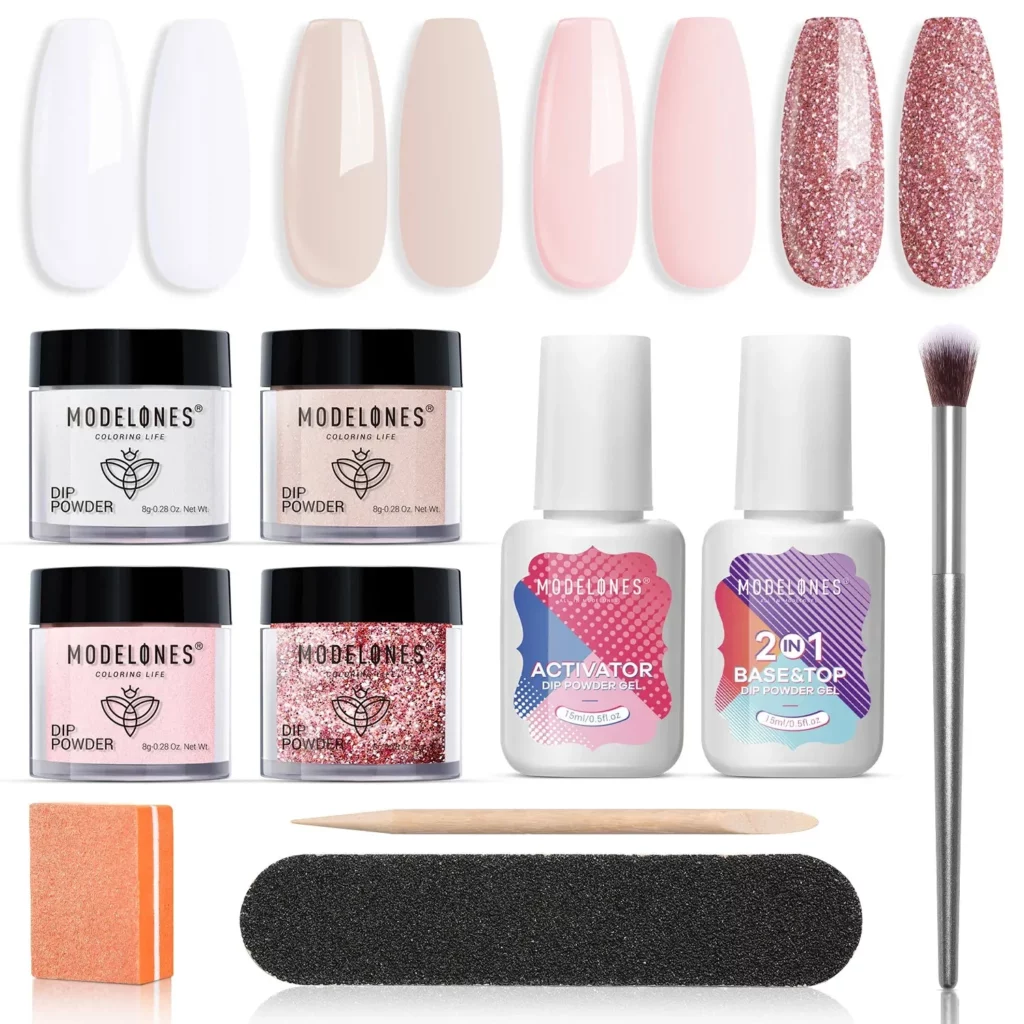 Dip nails are another nail type that's similar to acrylic, but involves dipping your nails into a powder over and over again to create a strong fake nail. 
Although gel nails are meant to last for at least two weeks, dip powder nails may last up to five! That being said, dip powder does take a bit of time and has a bit of a learning curve.
If you're interested in trying out dip nails, Modelones has everything for your dip powder fantasies including single-pot dip powders and dip powder kits for super affordable prices.
Why spend $40+ dollars at the salon when you can do everything in the comfort of your own home? Modelones dip powder single-pots start at $5.99 while the kits typically cap at $30.
This Latte Art 10pc Dip Powder Kit comes with 4 gorgeous dip powder colors, a 2-in-1 base and top coat, an activator, a nail brush, two nail files, and a pusher stick! 
---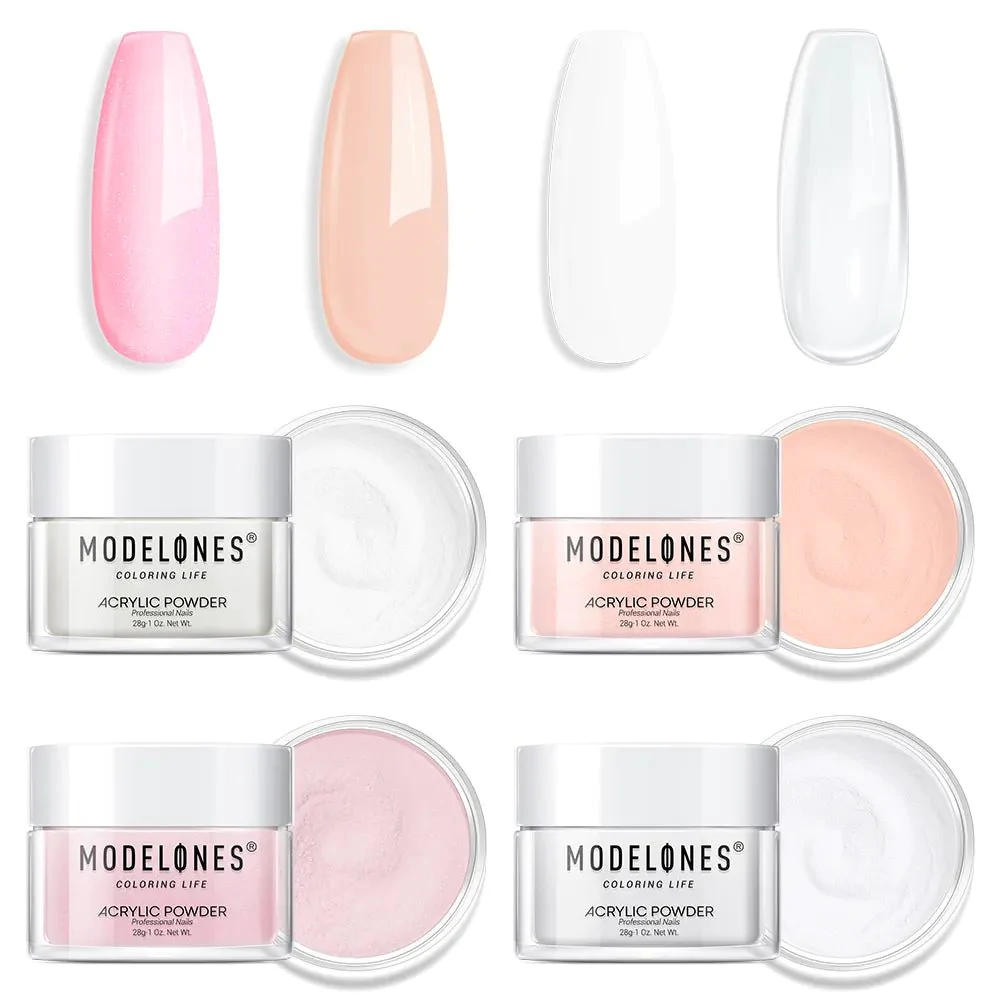 One of the most popular ways of doing nails, acrylics are an extension of the natural nail using acrylic powder.
Acrylics are very strong and sturdy due to the thicker nail extension, which means they can also feel heavier than other nail art options.
One of the best things about acrylics is you can choose the length you want, and there are lots of fun designs nail techs and artists can do on them thanks to the extra space added by the nail extension.
Acrylics definitely have a learning curve, so don't get frustrated if you don't have picture-perfect nails on your first try.
Doing your own acrylics is a great way to save money since getting acrylics at the salon can cost upwards of $100, but you can buy all the supplies you need for $60 or less.  
Modelones has single-pot acrylic powders and acrylic powder sets to choose from, starting from $6.99 and reaching $60. 
---
In Conclusion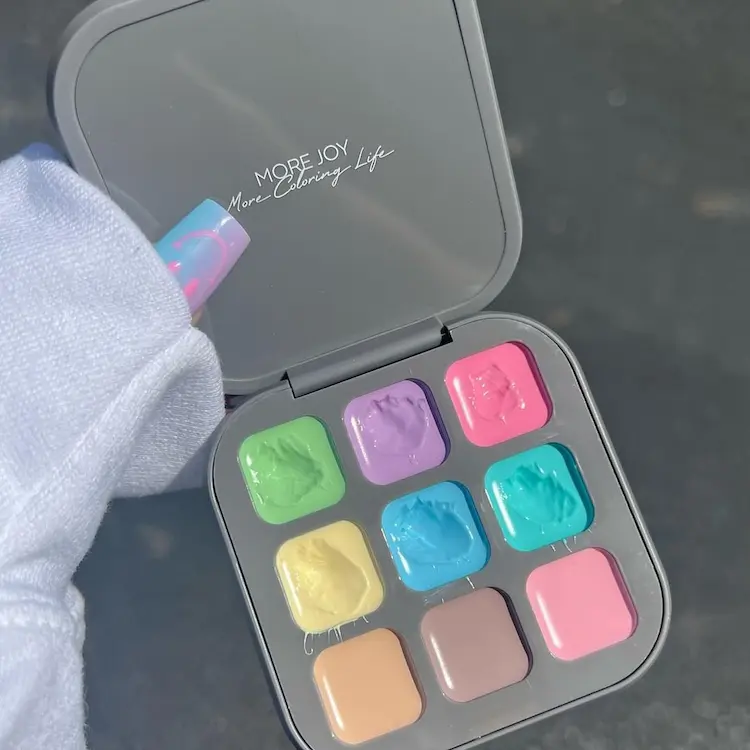 Whether you're a small business or DIY baddie, we think Modelones is a great place to start your collection of nail art supplies. 
They offer so many affordable tools and nail essentials, making them the perfect one-stop shop to fulfill all your beautiful nail dreams.
That being said, we recommend shopping the brand on Amazon as the shipping will be much faster than ordering through the brand's website. 
Modelones Alternatives
Looking for similar brands to ModelOnes? We found some so you don't have to:
Return Policy
ModelOnes has a 30-day return policy for new and unused items.
If the reason for return is due to a defective product, Modelones will gladly handle the return and exchange with no strings attached. 
If the reason for return is due to other reasons such as not being satisfied with the product, customers must pay 20% of the selling price as a handling fee and will be refunded in 3-5 business days.
Since they have such a large Amazon presence, we recommend shopping here instead. The return policy is free within 30 days for Prime items, so you don't need to worry about any restocking fees.
FAQs
How long does Modelones gel polish last?
Gel polish typically lasts 2–3 weeks.
How long does Modelones take to cure?
Under a UV lamp, cure for 120 seconds. Under a LED light, cure for 30 seconds.
Where is Modelones based?
Modelones is based in California, but their products ship from China, which is why shipping can be a bit slow. Shipping is much quicker if you order from Amazon since most products are at Amazon fulfillment centers.