For those who love acrylic nails, polygel is a new fad that has been blowing up. With polygel, users are able to create salon-level nails easily at home. If you're interested in this new nail trend, keep reading to learn more about polygel as well as the best polygel nail kits!
What is Polygel?
Polygel is a new nail enhancement that has swept nail salons and the design pool by storm. The all-in-one formula of polygel leaves less damage on the nailbed than its acrylic or hard-on nail competitors. The mixture in the product is of acrylic powder and clear gel, which works to give the nails a lighter and more natural feel.
Another benefit is the fact that polygel does not set until it is cured with a lamp, giving the designer plenty of time to apply to the nails and shape.
The formula provides plenty of durability without damaging your nails. Polygel nails are unlikely to break (although, like with acrylics, it does happen) and there are no harsh chemicals or monomers that are released within its application.
The only downsides of polygel are that it usually takes a couple of hours to shape them, but this goes for acrylics as well.
RELATED: Polygel Nails Guide: Everything You Need to Know
Polygel Pros + Cons
Only sets when cured with a lamp, allowing for plenty of time to shape
Less damage on nail bed
For some people, it's hard to get the hang of
Time-consuming process
When shopping for polygel nail kits, a lot of the options you find will look fairly similar. If you're not sure which to choose, we've summed up the best polygel kits out there!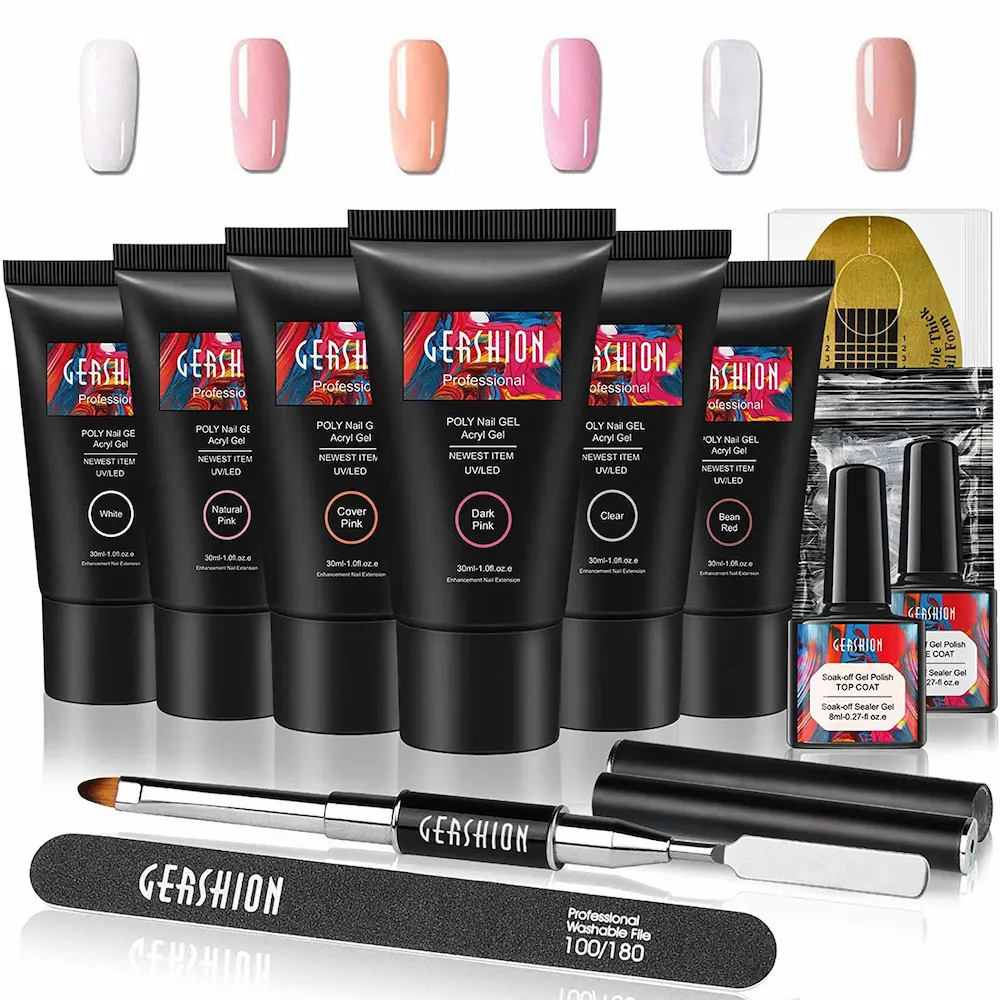 ★★★★★ 4.5 Stars (6,092 Reviews)
This nail kit is perfect for beginners. The kit contains full-sized tubes of six beautiful colors that will elevate your nails to the next level. Along with the colors, the kit contains a top coat, dual-headed pen, nail file, dual forms, and a base coat.
The kit makes it easy to shape your nails, dries quickly, and lasts up to 4 weeks! There are instructions included for super beginners.
---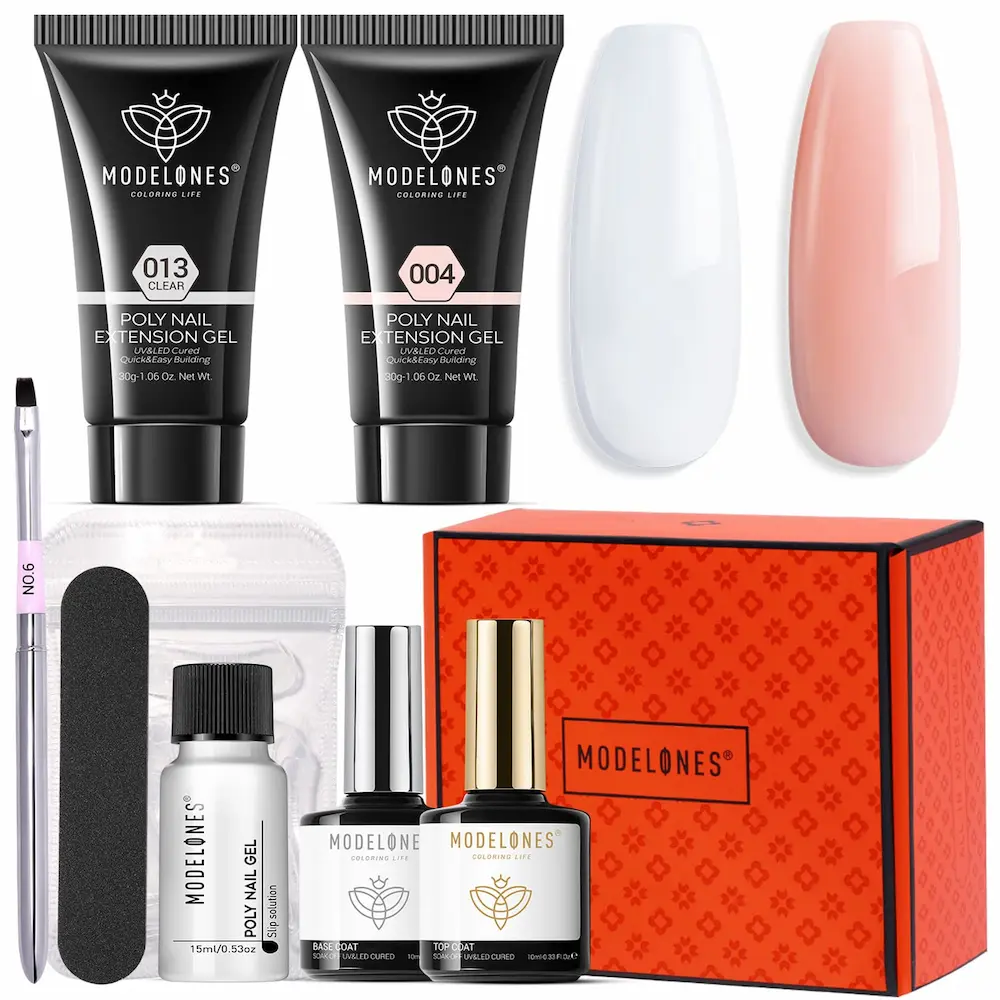 ★★★★ 4 Stars (9,392 Reviews)
This all-in-one kit includes six color gels, a base, and top coat, 120 dual forms, slip solution, a dual-ended nail brush and spatula, and an instruction manual. The kit is easy to use and the instructions are very detailed.
The nails will last up to 2 weeks (or even longer) and you are able to refill your nails about every 2 weeks! The kit also includes an LED/UV lamp for drying.
---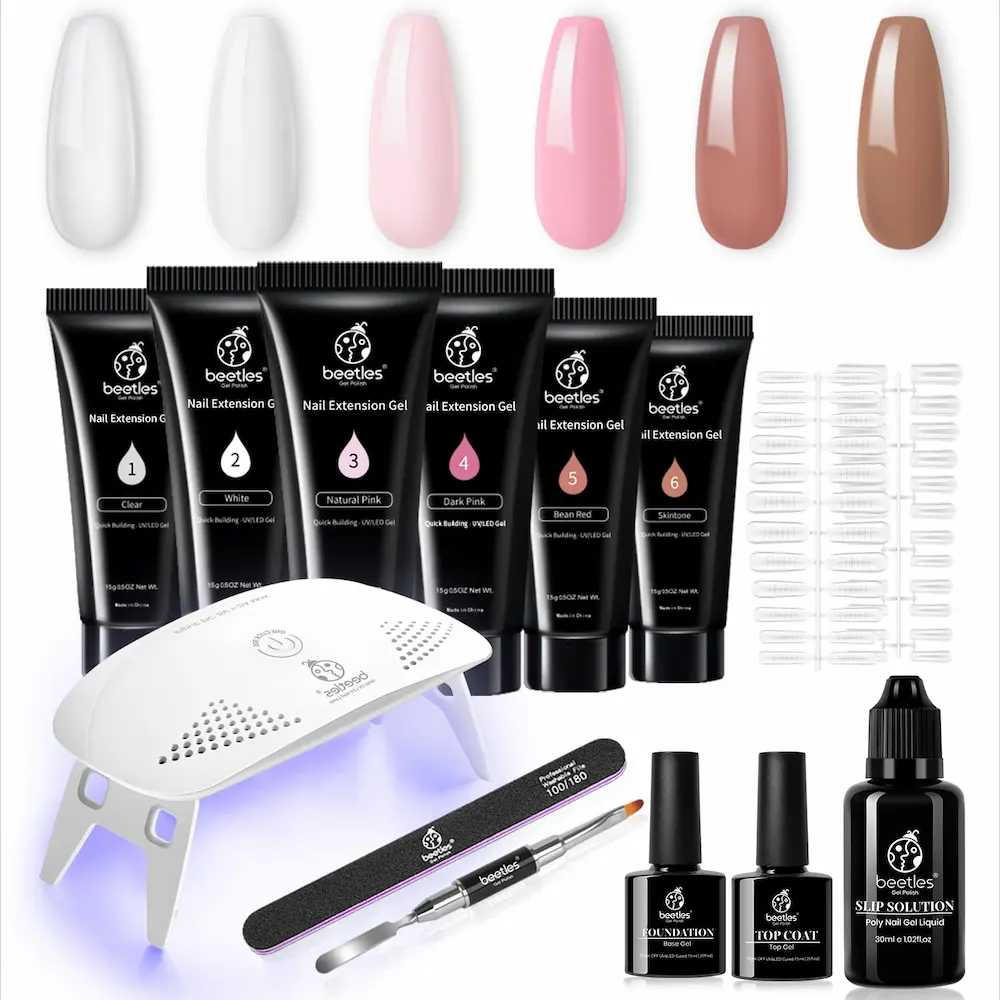 ★★★★ 4 Stars (9,412 Reviews)
There are yet another six shades included in this kit that can give you the perfect nude or French tip look. The shades include whites, pinks, and browns. The builder gel can give you the perfect extension tips within three minutes if properly applied.
The kit includes an LED lamp to help dry the set once you are finished. The toxic-free ingredients of this kit are perfect for those who worry about damaging their nails. There are no harsh ingredients included in the kit and it will keep your nail beds looking healthy and hydrated.
---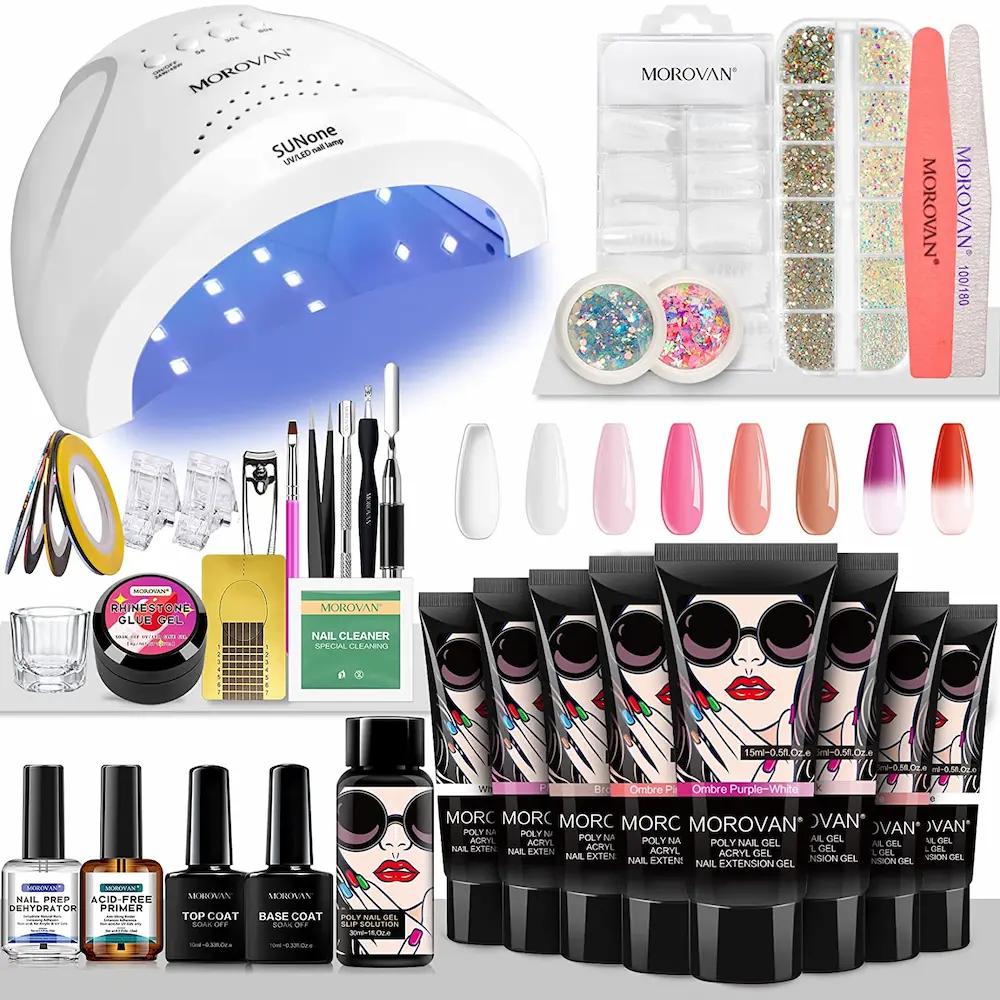 ★★★★★ 4.8 Stars (4,696 Reviews)
With this nail kit, you are able to create the most in-trend looks right at home. It contains six colors that range from ombre to basic whites, pinks, and nudes. The kit contains a slip solution, base and top coat, prep dehydrator, an LED lamp, and poly gel art tools.
The kit will leave you with an easy extension that is light and will last up to a month or longer. You simply can't go wrong with this kit as it provides all of the necessities from top to bottom!
---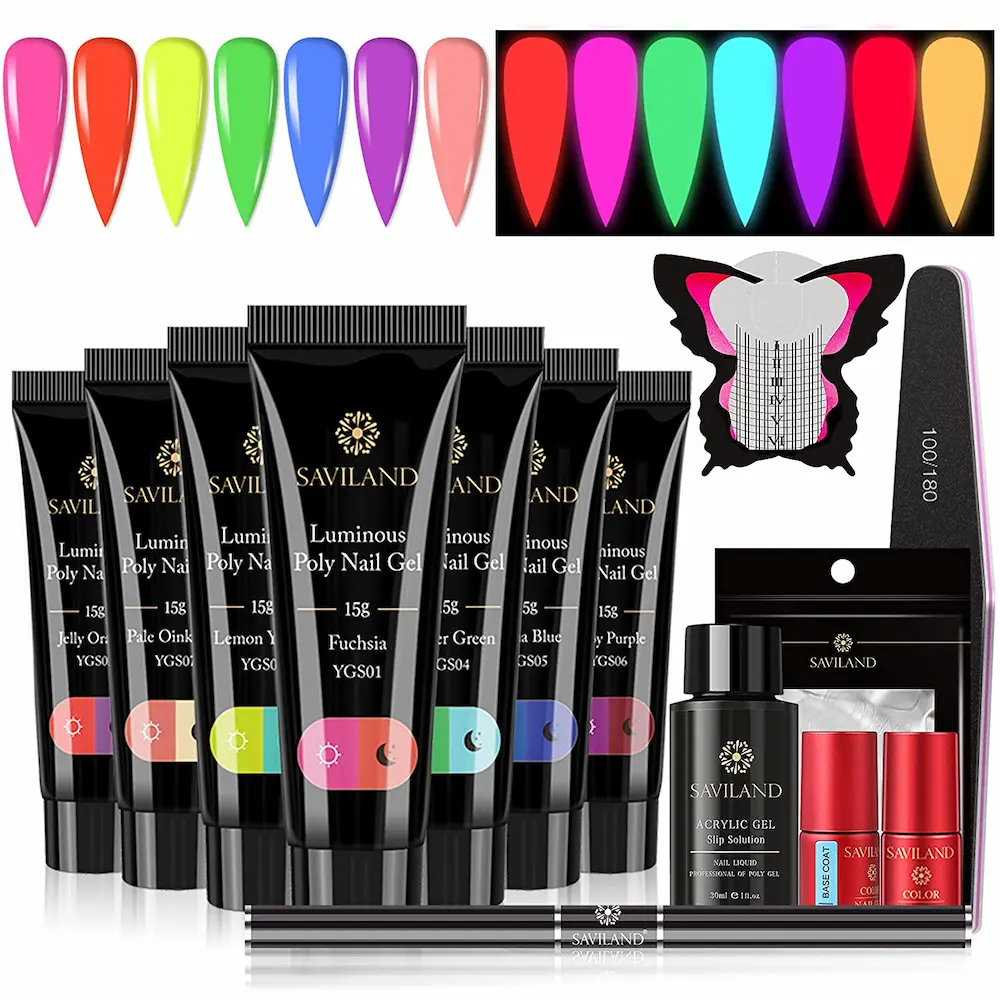 ★★★★ 4.5 Stars (2,969 Reviews)
Saviland's manicure kit provides seven colors of the rainbow and even neon and glow-in-the-dark features. The polygel will allow your nails to be firm, strong, and not easy to peel off. The details of the nails will last up to 3 weeks or longer.
There are natural ingredients in this kit and no harsh chemicals that will cause damage. The kit includes a top and base coat, dual brush and spatula, file, slip solution, dual forms, and an instruction manual.
This kit makes it easy for you to pull off a new nail look that is perfect for a night out, brunch or really any occasion you see fit!
---
★★★★ 4 Stars (316 Reviews)
If you want to go big and love pink shades, this polygel nail kit is perfect.
Featuring 18 different colors of gel (including a few temperature-changing shades), a few shades of glitter, brushes, nail file, nail clippers, nail forms, a base coat, and a top coat, you'll be able to create an abundance of different nails with this kit.
If you'd rather have more shades, they also have a more affordable, slightly smaller set here that features all colors of the rainbow.
---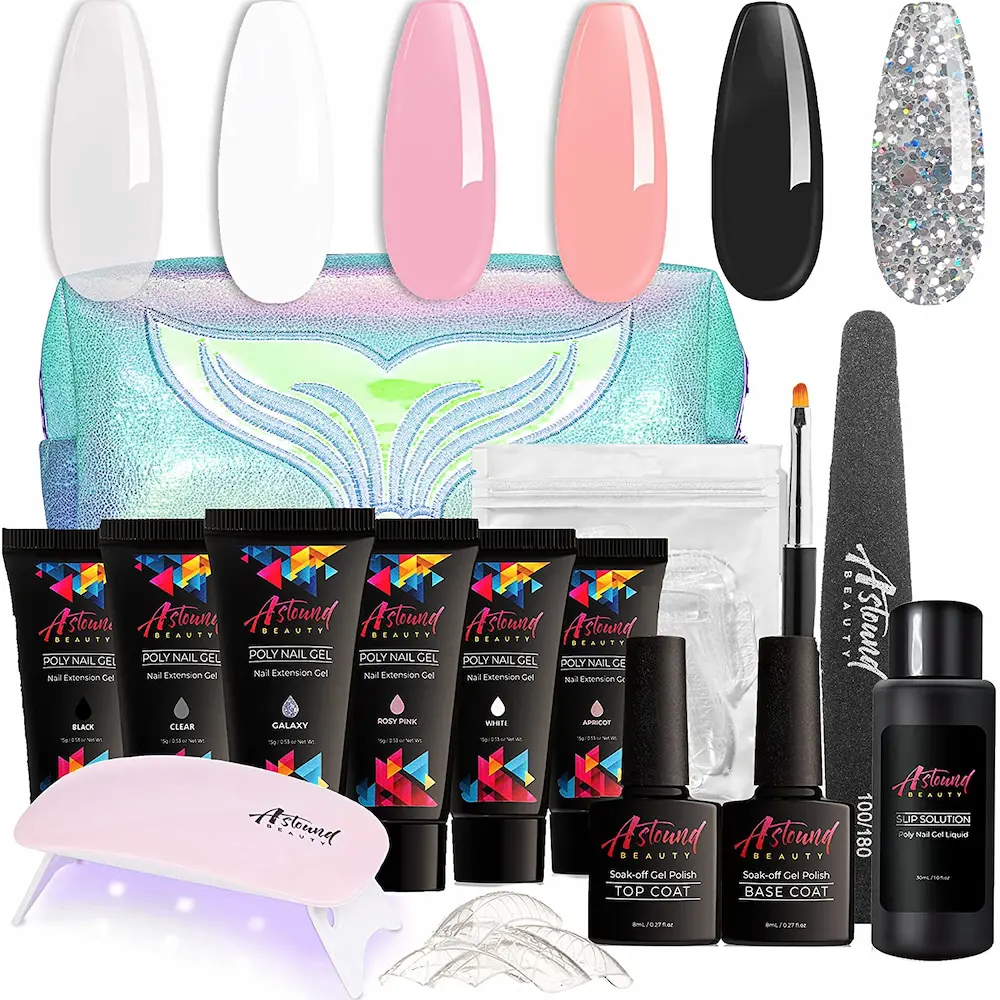 ★★★★ 4 Stars (4,147 Reviews)
This kit comes with 6 essential shades of polygel, a curing lamp, nail forms, a brush, a nail file, a base coat, a top coat, slip solution, and even a cute bag!
For the price, it's an excellent kit (plus, they often offer additional coupons to save even more). The only other thing you may want to buy are nail clips to make the process easier, but these are typically affordable.
---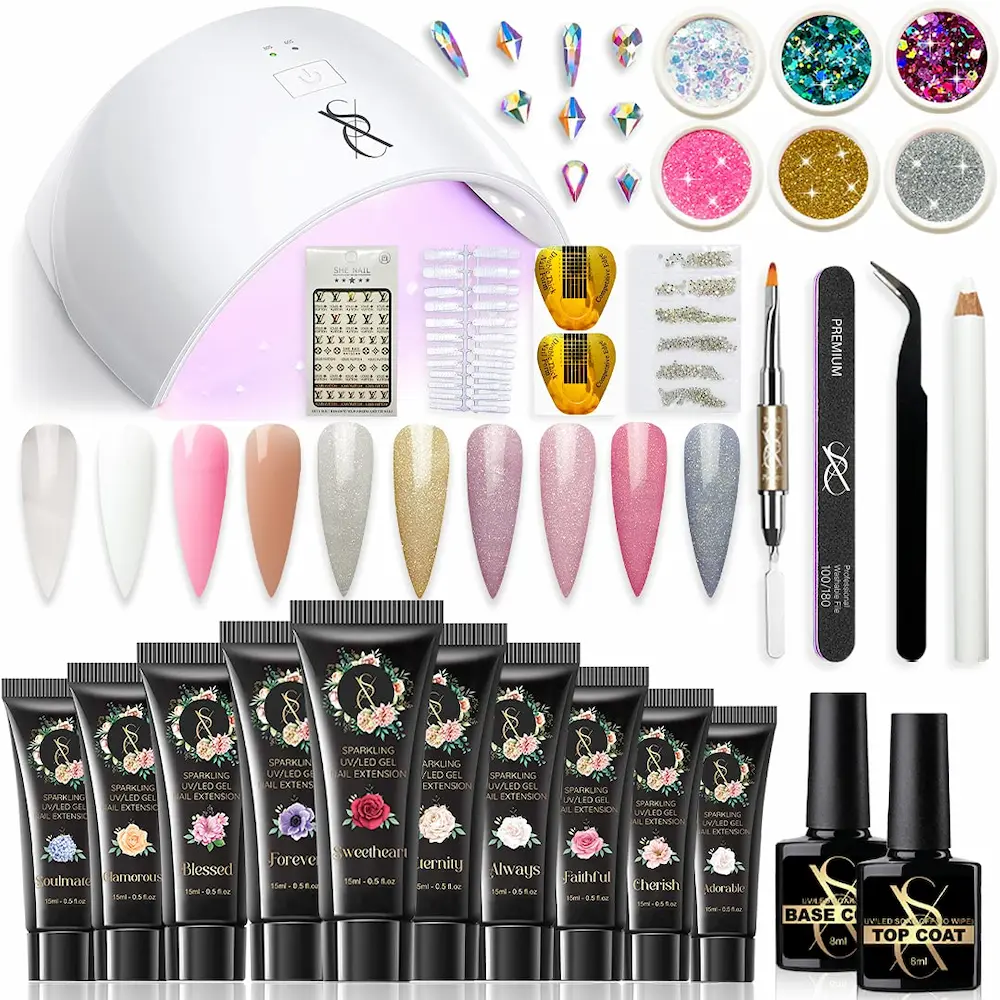 ★★★★★ 4.5 Stars (633 Reviews)
Glitter lovers, get ready for your favorite polygel kit. Although it's a bridal-focused kit, this can be used by anyone who loves the colors.
This kit comes with everything you need to create beautiful polygel nails, including a couple of shades of glitter that can be added to the polygel formula. It even comes with extra jewels and nail stickers!
---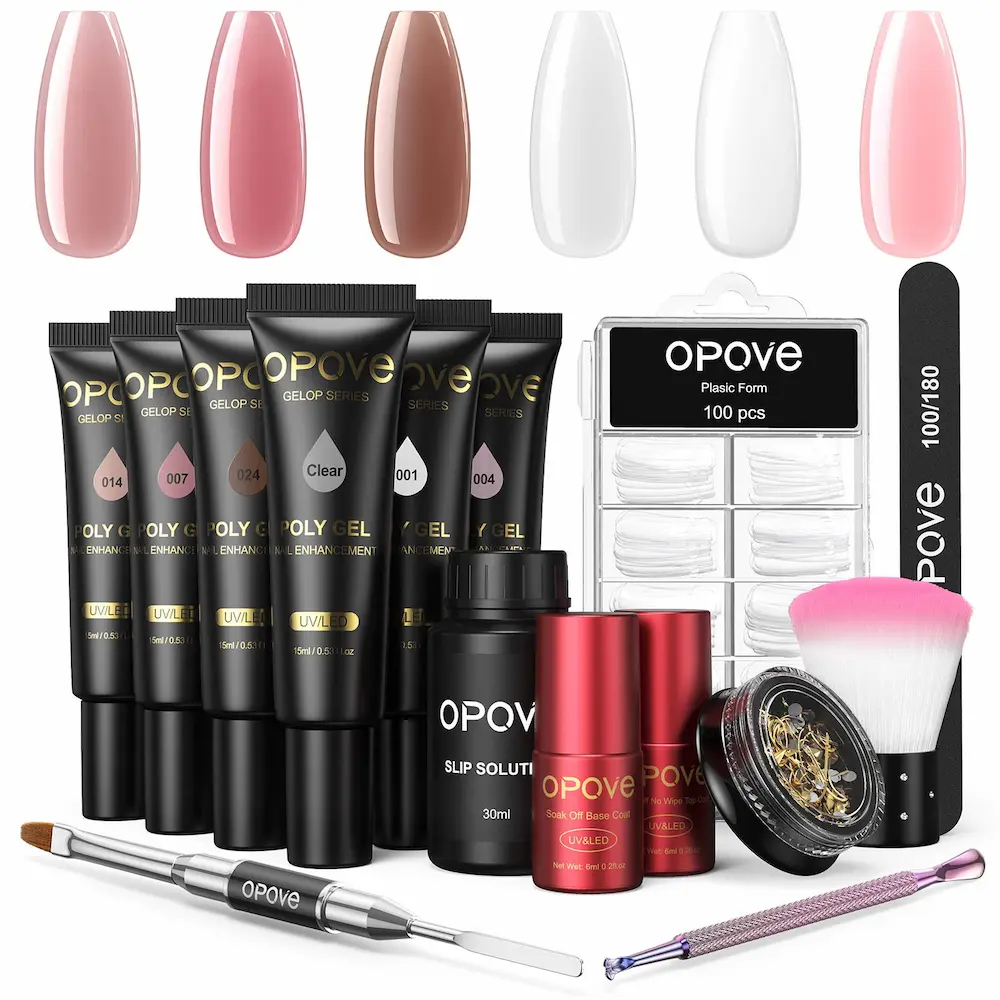 ★★★★★ 4.9 Stars (3,008 Reviews)
If you already have an LED lamp at home, you can opt for an, even more, budget-friendly polygel kit like this!
It includes nail forms, 6 tubes of polygel formula in different colors, slip solution, a base coat, a top coat, a nail file, a duster brush, and a couple of tools!
---
★★★★ 3.8 stars from (4 Reviews)
The Gelish Polygel Nail Kit is the perfect way to get salon-looking nails at home. The kit comes with everything you need to get started, including an easy-to-use gel system and an LED light to cure your nails.
Plus, customers say they love how their nails look after using this simple system on their nails. So if you're looking for a way to get beautiful, long-lasting nails, this is the kit for you.
---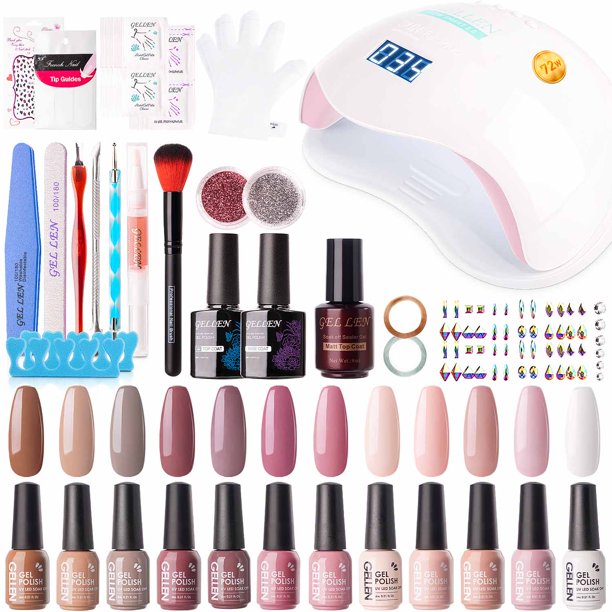 ★★★★★ 4.8 stars (16 Reviews)
This 12-piece set comes with a wide variety of colors, ranging from classic reds and pinks to more daring blues and greens. And best of all, the gel nail polishes are made with toxic-free ingredients, so you can feel good about what you're putting on your nails.
Plus, the polishes are long-lasting so you don't have to worry about touch-ups or re-dos. One manicure can last up to 21 days!
---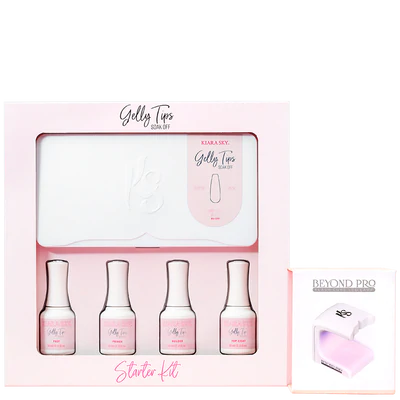 ★★★★★ 4.9 stars (256 Reviews)
Looking for an easy and convenient way to achieve salon-looking nails at home? This starter kit comes with everything you need to get started, including pre-shaped nails that are ready to use.
Soak them off when you're ready for a new look, or simply file and shape them to your liking. Plus, the unique formula is easy to apply and provides long-lasting wear.
---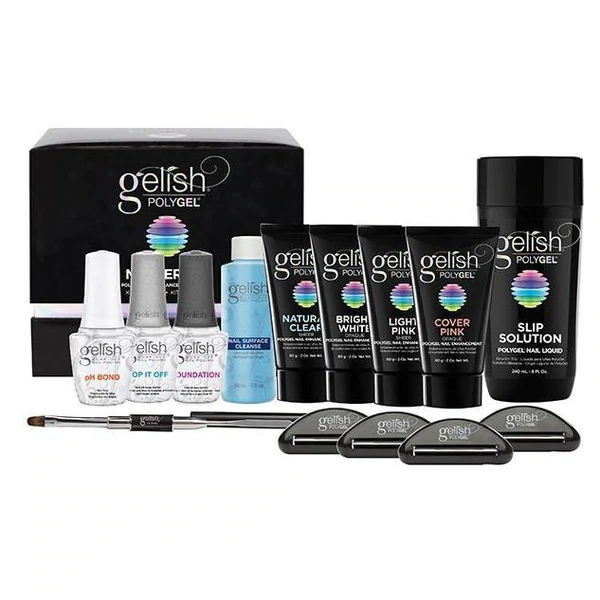 Looking for an all-in-one formula that is easy to use and promises flawless color? This unique formula is odorless and user-friendly, making it the perfect choice for both professionals and beginners.
The kit comes complete with everything you need to get started, including a base coat, top coat, and brush. With its innovative design, the Harmony Gelish Polygel Master Kit is perfect for creating beautiful gel nails that will last for weeks.
---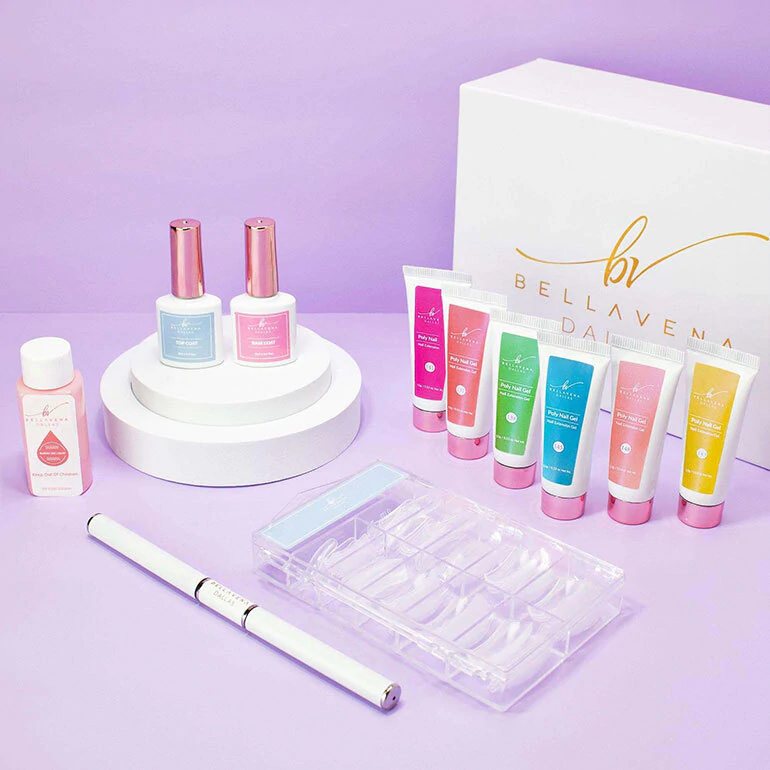 ★★★★★ 4.5 stars (47 Reviews)
Say hello to the Blossom Edition Polygel Starter Kit. This set comes with everything you need to achieve salon-quality nails at home, including fun colors and nail diamonds.
The poly gel is easy to use and provides a long-lasting, sturdy finish that won't chip or fade. Plus, the included top coat ensures a high-gloss shine that will make your nails pop.
---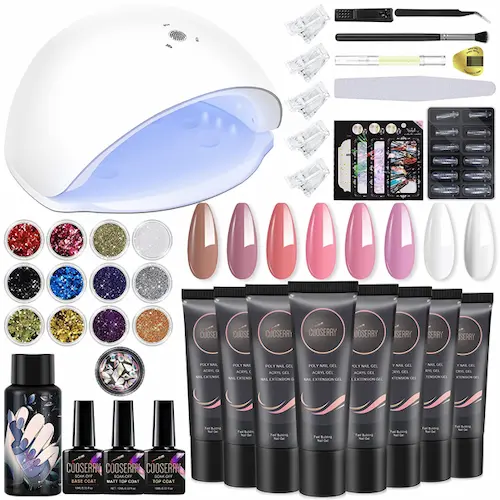 ★★★★★ 5 stars (1 Review)
This easy-to-use set comes with everything you need to achieve professional-looking results, including high-pigment gel polish in a range of trendy shades.
The best part? The formula is lightweight and won't damage your natural nails, making it ideal for those who are new to gel extensions. This kit is especially great for beginners!
How To Apply PolyGel Nails
Now, that you know the best kits to purchase, let's break down the steps on how to apply the polygel nails. We highly recommend that you read the instructions of the specific product you buy before you get started.
1. First, you'll need to prep your nails by applying either the preparation solution in your kit or rubbing alcohol to clean your nails.
2. Next, apply your base coat and let it cure under the LED light for around 60 seconds.
3. Then, squeeze out some polygel and apply it all over the nail, then press it gently onto your own nail.
4. Cure them again under the LED lamp for about 60 seconds. Then, file them to the look you want and remove any dust with a cloth.
5. Finally, apply the top coat and let it cure under the LED light for 60 seconds.
FAQs
How do you remove polygel nails?
First, you'll want to trim down your nails, then file the top coat off your nails. Then, soak your nails in acetone, either directly or wrap your fingers in cotton balls and aluminum foil. Finally, use a cuticle pusher to remove the rest of the gel.
Does polygel ruin your nails?
Polygel is said to be less damaging than acrylic nails and is not bad for your nails when properly removed and taken care of.
Do polygel nails break easily?
Polygel nails do not break easily unless you apply the polygel too thick, which makes it difficult for the LED light to completely cure the polish.
How long do polygel nails stay on?
With proper care, most polygel nails will last 2-3 weeks.
Bottom Line
We hope you found the best polygel nail kit for your needs!
Note: One thing to be wary of in picking a kit is that not all kits come with certain tools, such as LED lamps (which are essential to cure the polygel). Read the details and know what you are buying so you are not surprised when the package comes in the mail.