High-end fashion is in no short supply. Anytime you look through your Instagram, you seem to see a bunch of people sporting new pieces you wish you had. Where did those fire kicks come from? Probably from one of these 31 luxury sneaker brands.
But for the enormous amount of luxury options, an equal amount of luxury trash seems to overcharge you. But we aren't about that.
Because for everyday people, money is hard-earned and not easily parted with. We only want the best of the best. Forget forking over $1,000 for a pair of hideous kicks you would never wear.
High-end luxury needs to look good and be worth the hype to justify those price tags. So we justified them for you by looking for the best luxury sneaker brands below.
Luxury Sneaker Brands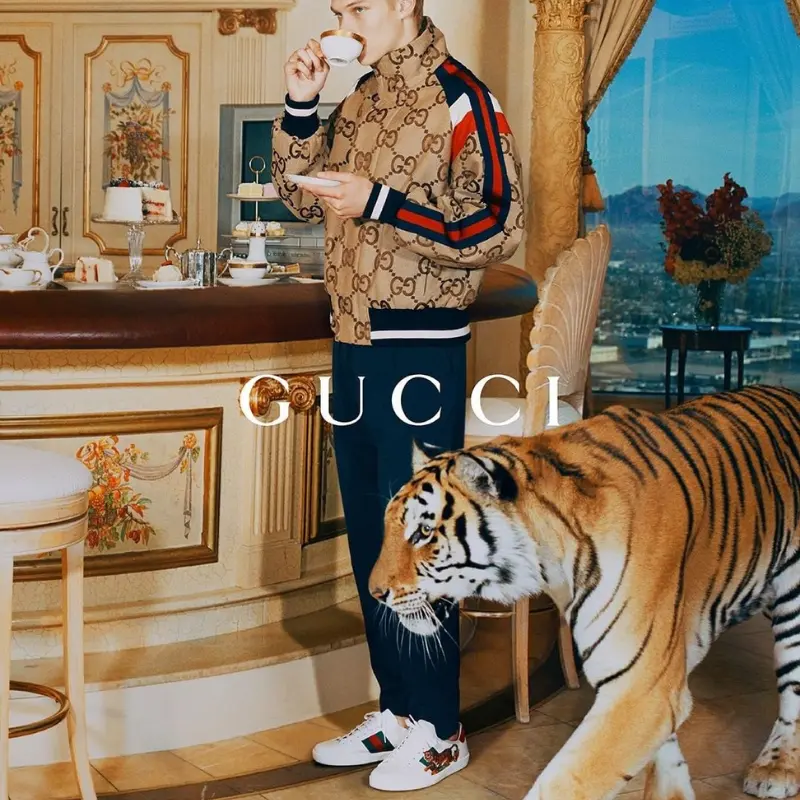 The overlords of the bee make quite a splash in their footwear game, taking a lot of inspiration from their regular clothing lineup.
Each sneaker line has its own personality, and as such many of Gucci's sneakers look massively different. And from other brands, for that matter.
One pair might be extremely loud and flashy, sporting bright colors and leather straps crisscrossing the upper. Others are more reserved, taking on the aesthetics of more classic sneaker looks and featuring clean whites with light color accents.
And they have several in-between, making use of metallics instead of leathery colors.
Noteworthy Picks:
---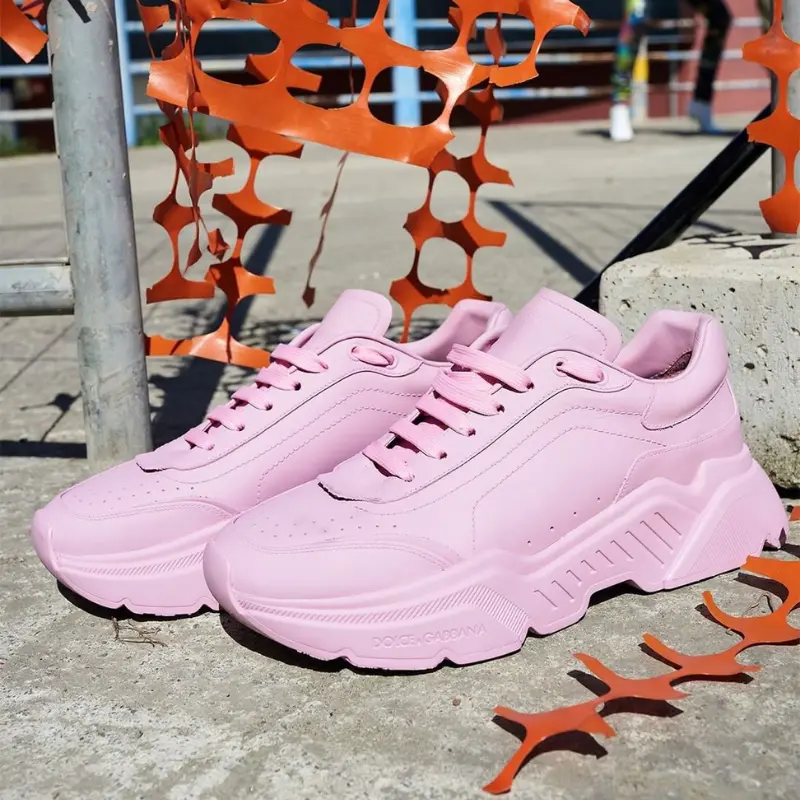 A household name despite being foreign and expensive as hell, Dolce and Gabbana is loud, proud, and flamboyant and never afraid to show it. If you're afraid of being colorful, why are you even here?
Their shoes take the same attitude, adding tons of complex graffiti, melting designs, and tons of color on their lineup. These shoes aren't for the weak of heart.
Perhaps that's why Riff Raff sung their praises, claiming only women who wear Dolce and Gabbana are worth his time.
In that moment, I think it's safe to say he meant that only the most powerful and fearless women (and men in this case) can be worth it, and yet for those who dare, Dolce and Gabbana can be no more rewarding.
Noteworthy Picks:
---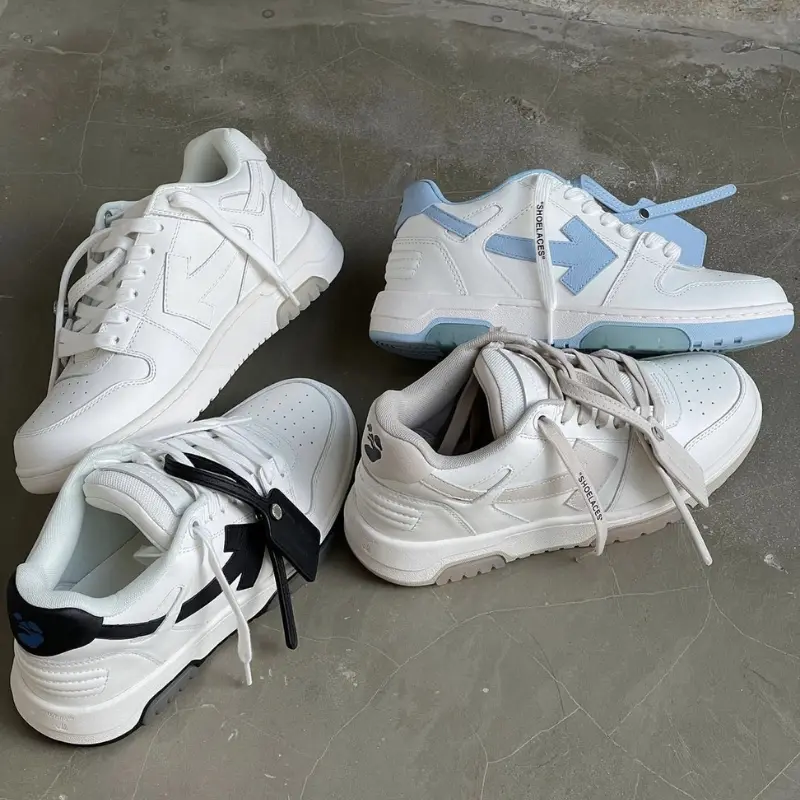 Off-White is a love 'em or hate 'em kind of brand thanks to the efforts of notorious designer Virgil Abloh, who often causes controversy with his designs. Looking at those lazy quotation marks, Virgil.
Yet when you can get past the bias and the hype, Off-White does indeed carry some incredible kicks worth your time. You aren't going to find shoes that look like anything close to what Virgil can pull off when he's serious.
Most of the shoes are going to be loud and weird, probably best not to wear them in professional or serious settings. However, if you want to be noticed, people are going to have a hard time taking their eyes off you with some Off-White on.
And remember, these are serious sneakers with serious style. Nothing is going to be mellow.
Noteworthy Picks:
---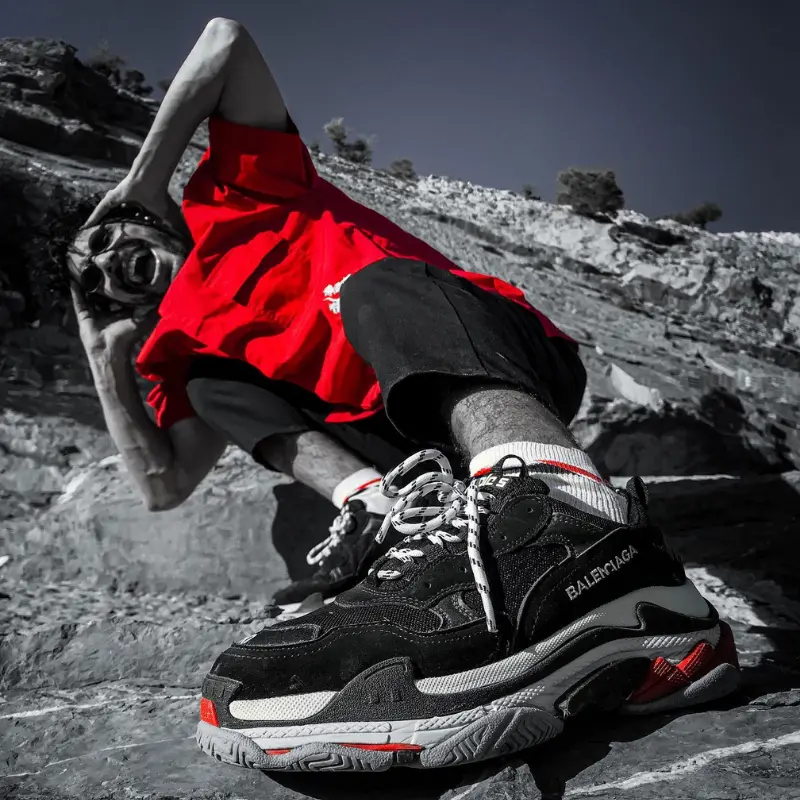 The Triple-S Sneaker gave Balenciaga a sense of rejuvenation, bringing some clout back to a brand that went under the radar for a little too long. But chunky sneakers save lives.
You aren't going to find a crazy amount of different sneakers by Balenciaga, but you will find prototypes and experimental shoes that go beyond what normal brands offer. Some shoes look seriously weird.
But Balenciaga was never made for cowards.
Noteworthy Picks:
---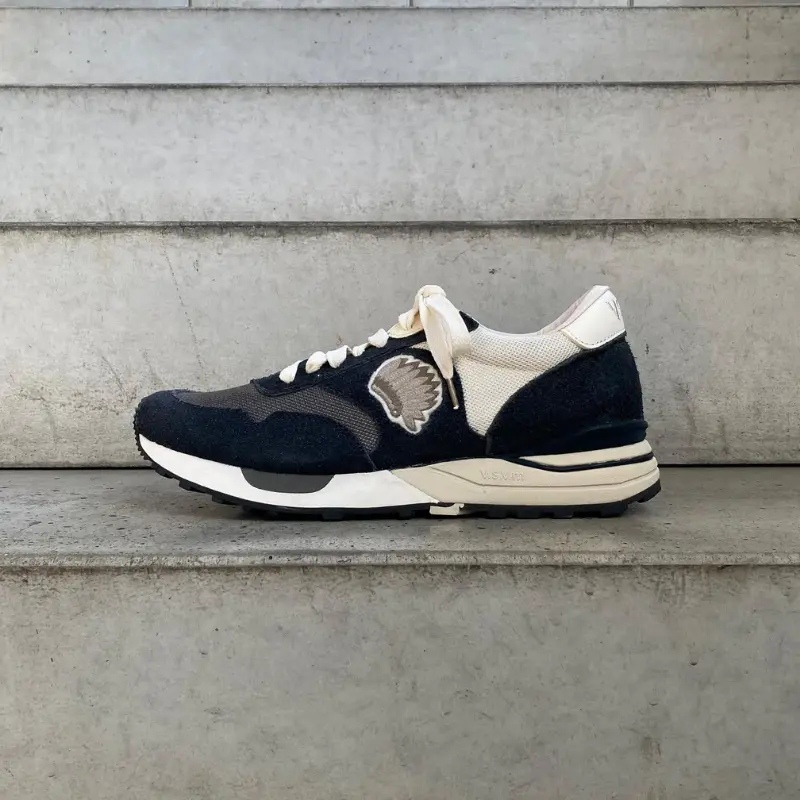 The Japanese Design house has a love affair with half of the world's styles, and more than half the world is in love with them. Because more than anything, they are truly unique.
Their sneakers are for true sneakerheads even though they seem so out of reach. But there's a reason for that. For their designs they usually use understated shoe models and then flex with interesting patterns.
These aren't shoes for followers. They're for visionaries.
Noteworthy Picks:
---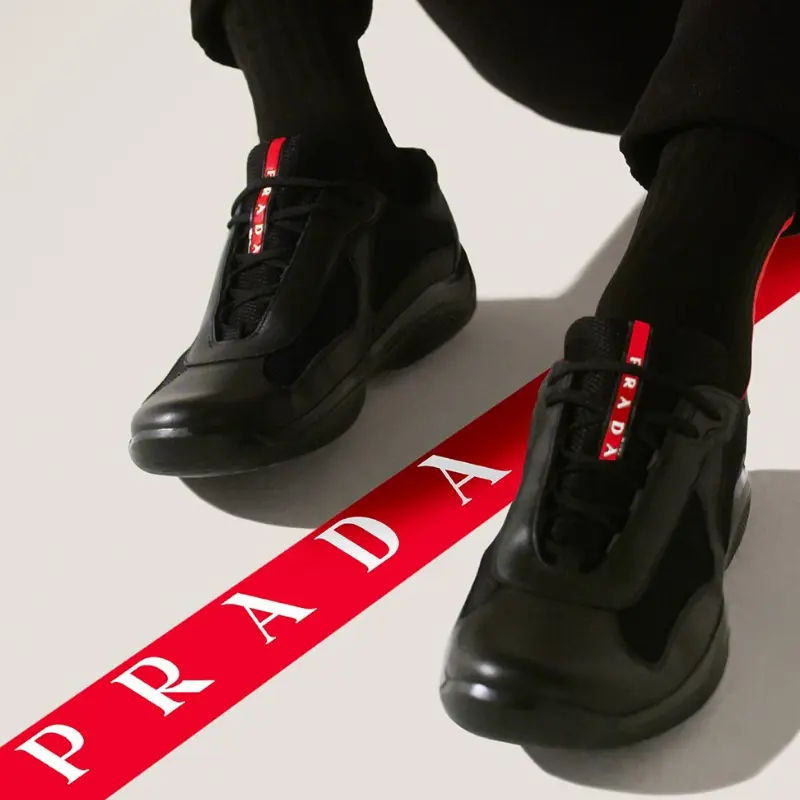 Prada has the baddest bitch energy.
They're not looking to go out of their way to impress you or please you, and you're going to get what you get and love it regardless. Prada knows what the hell they are doing and you're just in it for the ride.
Their shoes are no exception. They're mature designs often done up in only three colors: gray, white, or black. There's no endless colorway selection or crazy designs.
This makes them a great option for finding kicks that pair well with more professional wear. You'll find many chunky sneakers, fancy boots, and runners that belong in the future.
Noteworthy Picks:
---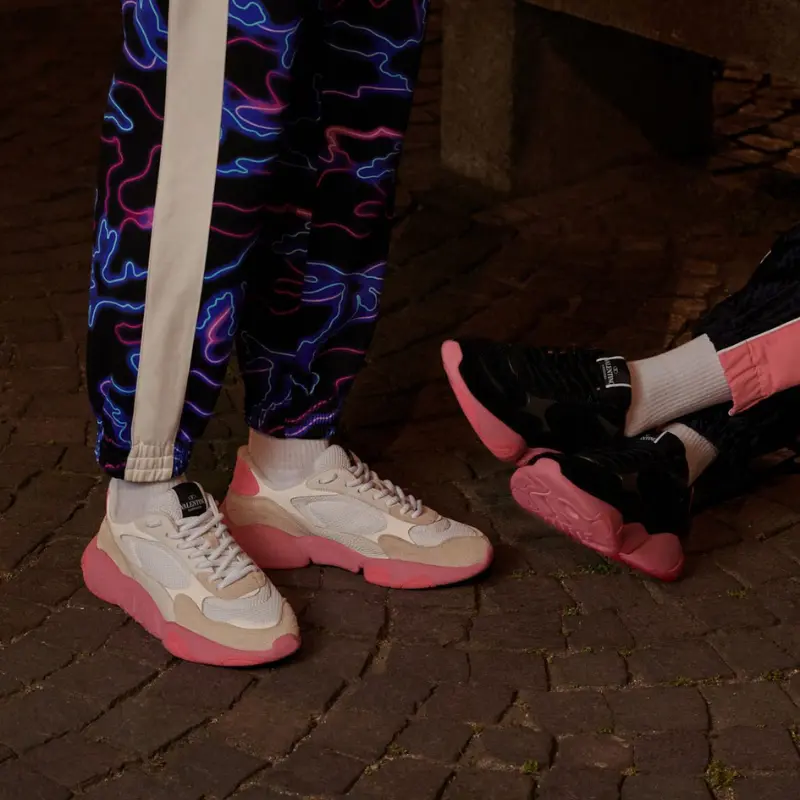 Half the difference of going luxury is going for experimental designs that you know most won't even dare to try. Sometimes playing it risky is worth the reward.
Valentino carries some crazy designs. But the unforgettable is built on the work done by the normal, so where you might expect pieces that hurt to look at from others, with Valentino it's a whole lot different.
Because taking inspiration and not burying it under ridiculous ideas is what makes Valentino some of the best, and their sneakers are a huge part of that pie.
To put it plainly: crochet sneakers are kick-ass.
Noteworthy Picks:
---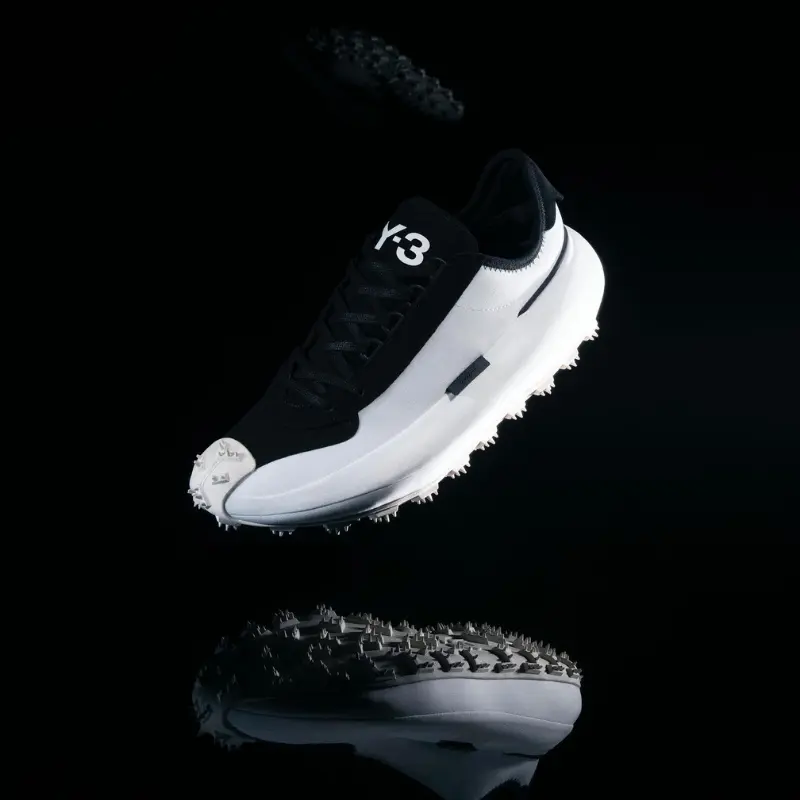 Adidas loves to make history. So when Yohji Yamamoto decided he wanted to start collabing with the legendary three stripes, a beautiful partnership was born. Welcome to a whole new world of fashion.
Y-3 aims to marry the love-hate relationship between high-end fashion and streetwear and birthed a whole new identity. Their designs border classic sneaker designs and experimental handiwork, but never crosses either into the extreme.
What makes their worth, however, is just the sheer amount of designs and how genuinely interesting they all are. There is not a singular boring shoe in the collection, with each piece telling a different part of this lengthy story.
Here's to hoping Y-3 doesn't stop telling stories.
Noteworthy Picks:
---
Originally a designer of luxurious women's stilettos with red accents, Louboutin has expanded and grown a lot. Now men can get in on his crazy designs, of which he has no short supply of.
His shoes take inspiration largely from two groups: punks and bubble gum teeny boppers. Where a dark shoe with spikes is all too common, Christian does the opposite and spruces them up with a bit of bright color.
They're polarizing designs, but what have you got to lose when you look like a punk band from the future?
Noteworthy Picks:
---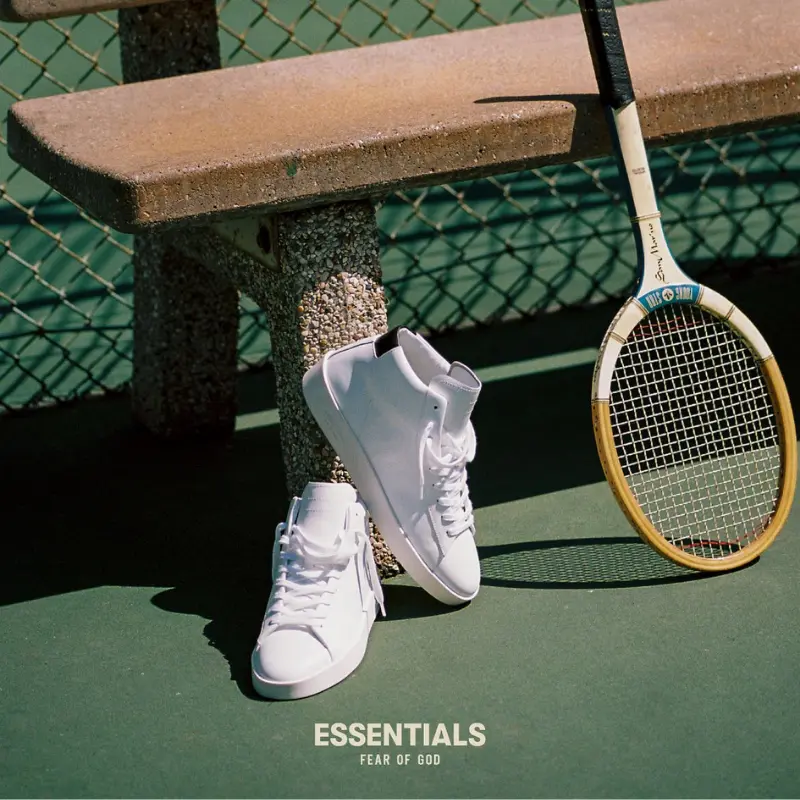 Fear of God is built off the hard work, passion, and ambition of one man, trying his hardest to become a legend in his own right: Jerry Lorenzo.
And for all of his efforts, Fear of God is sitting pretty. They might not be the most well-known to the public, but celebs, the powerful, and the fashionable know about Fear of God.
The collection of shoes is a very mature take on more professional fashion and streetwear staples and beefs them up with a touch of fancy. Where a slip-on might normally be canvas, Lorenzo makes them suede.
It's this kind of thinking that's given Fear of God the attention it deserves. Creativity comes from what you know and what you desire to be. Jerry raises them both up for us in his pieces, letting us know where he's been and where he wants to go.
Noteworthy Picks:
---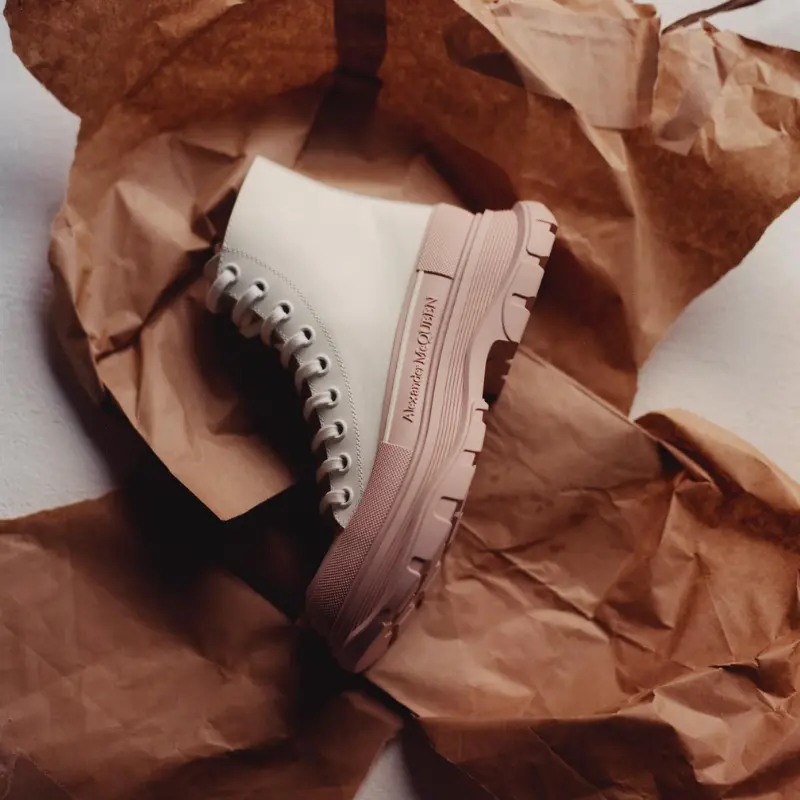 The chunky sneaker has received a fair bit of attention after a revolution of a generation who started to wear their dads' comfy sneaks. Alexander McQueen took that trend and absolutely rode with it.
His chunky sneakers are gorgeous beefcakes of the normal chunky shoes your dad would normally wear. Except they don't look sweaty and like they belong in the gym. They're elegant and belong in a museum.
Noteworthy Picks:
---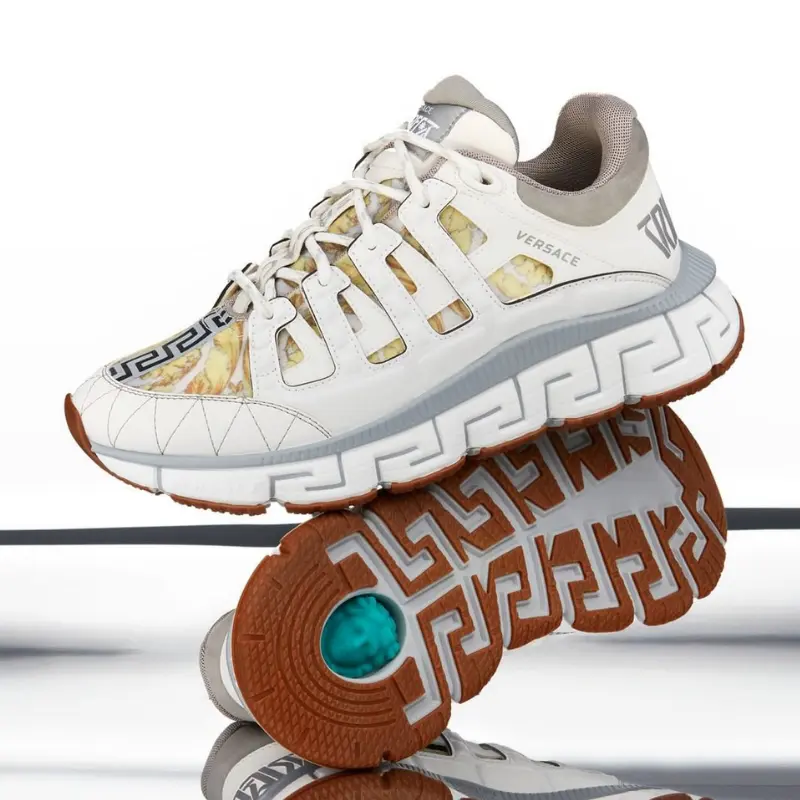 Forward thinking has been a part of Versace's DNA since its inception, taking inspiration from the forward thinking Gianni Versace. Men's fashion never stops evolving and Versace loves every minute of it.
Their shoes back up their motivation, offering something from every aesthetic imaginable. You can be bold, you can be brash, you can be cold, and you can even look like you've made it through what you've sold.
Versace carries it all: boots, sandals, loafers, smart shoes, dress shoes, sweet sneaks, slides, and everything in between. When trying to go forward, they put their money in it all to expand their reach as much as possible.
Pick up something for the club and something for the meeting all in one-go. Versace is an aesthetic Walmart: if you want it or need it, they got it.
Noteworthy Picks:
---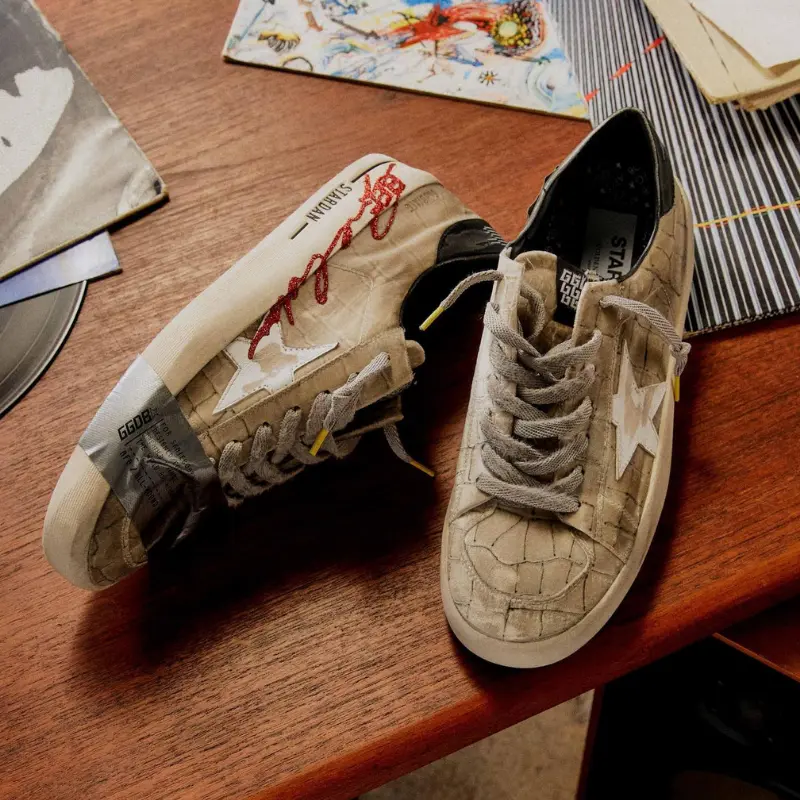 A personal favorite that will probably always be forever out of reach, Golden Goose carries those luxury handmade shoes that look a little beat up and lived in.
Sometimes the worry of expensive clothes is how expensive and "clean" they look. Golden Goose, however, rejects that philosophy for one all their own. Unique shoes all made by hand, all individual. No repeats.
Because for those who dream, half the joy is just getting there, and the scars and marks we receive along the way.
Noteworthy Picks:
---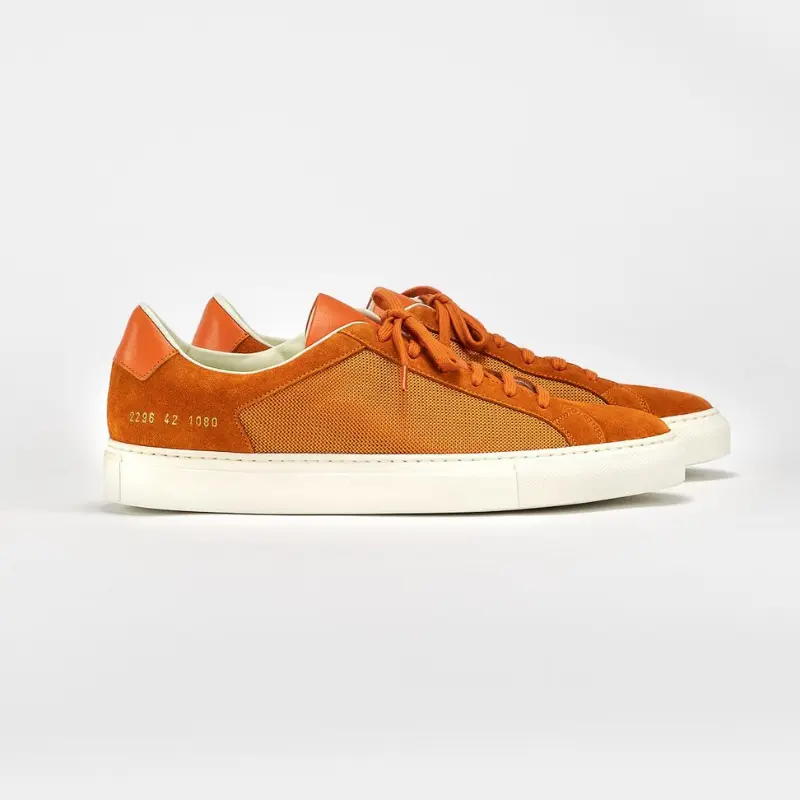 Common Projects is deceiving in all the best ways. Their brand sits in a unique niche and their products sit just as nicely in there. Combining street looks with handcrafted Italian leather work.
These shoes are just wow. They're amazing. They pair with anything.
Their shoes don't have a ton of branding or marking, making them extremely minimal. They also boast airs of casualness and formalness, so you can wear these sneakers with a suit just as easily as your jeans and still look powerful.
Noteworthy Picks:
---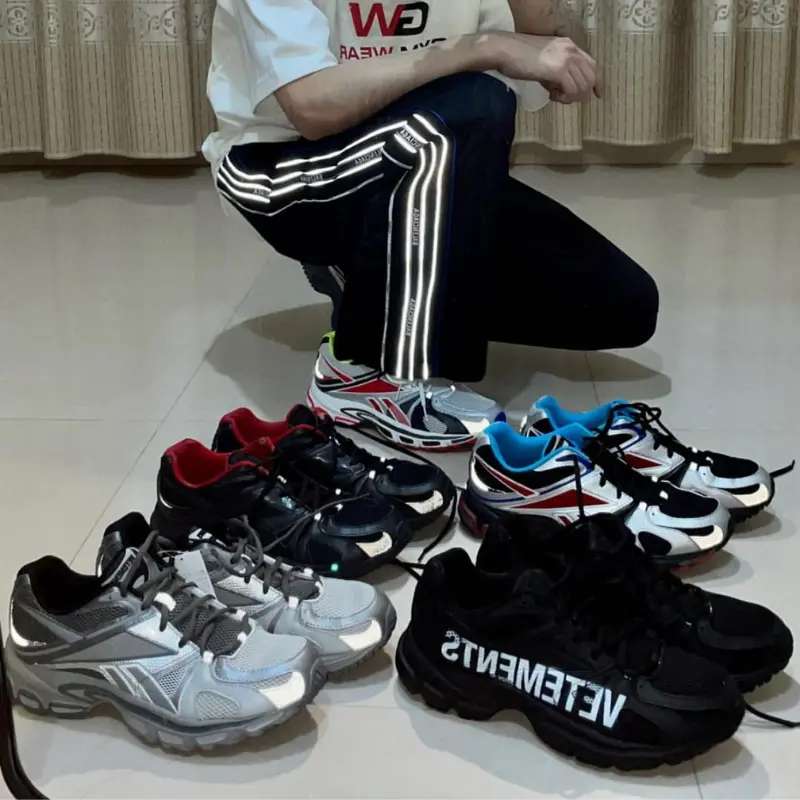 Vetements doesn't carry what you want or what you like; they're going to do what they want, when they want. It might seem harsh to brush off all criticism, but Vetements is still always making headlines so you know that passion has paid off.
Their designs are very wild, taking technical runners and splashing them with crazy colors and printing their branding all over. They might not be for everyone, but for the ones they are for, there's nothing else like them.
And if you can't find anything for sure, you can trust in their signature sock runners for some true style and comfort cross over.
Noteworthy Picks:
---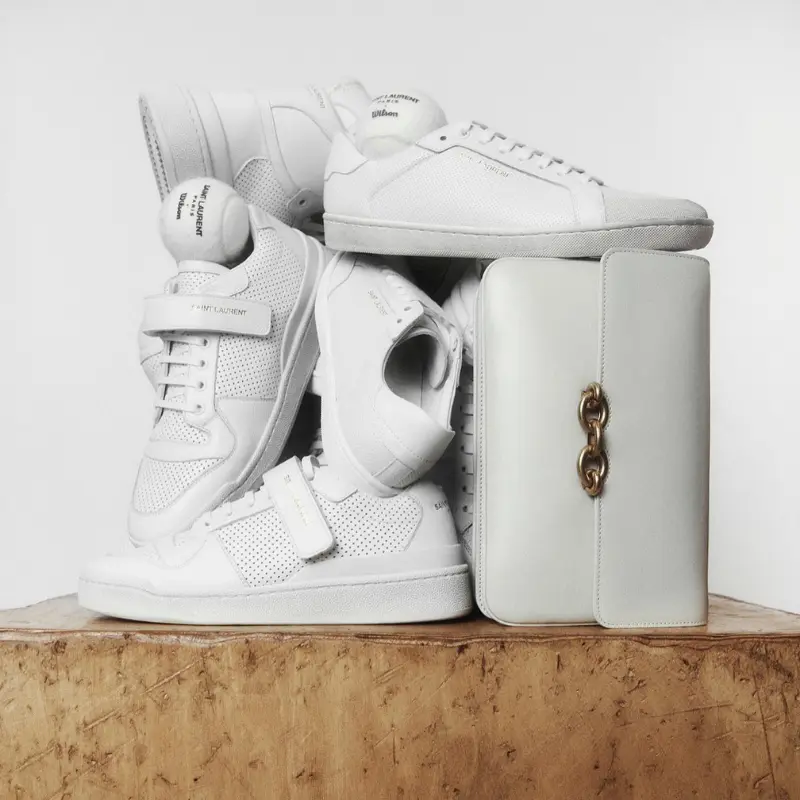 French luxury fashion never goes out of style, and none know it better than Saint Laurent, who revived from the dead just to show us they still had more in the tank.
You won't find casual sneaks on Saint Laurent, but they aren't made for the streets. A Laurent piece is filled with excitement and passion, but it's sophisticated, and usually done in toned down colors.
You won't be flashy, but damn you'll look so good, it'll be like you're glowing instead.
Noteworthy Picks:
---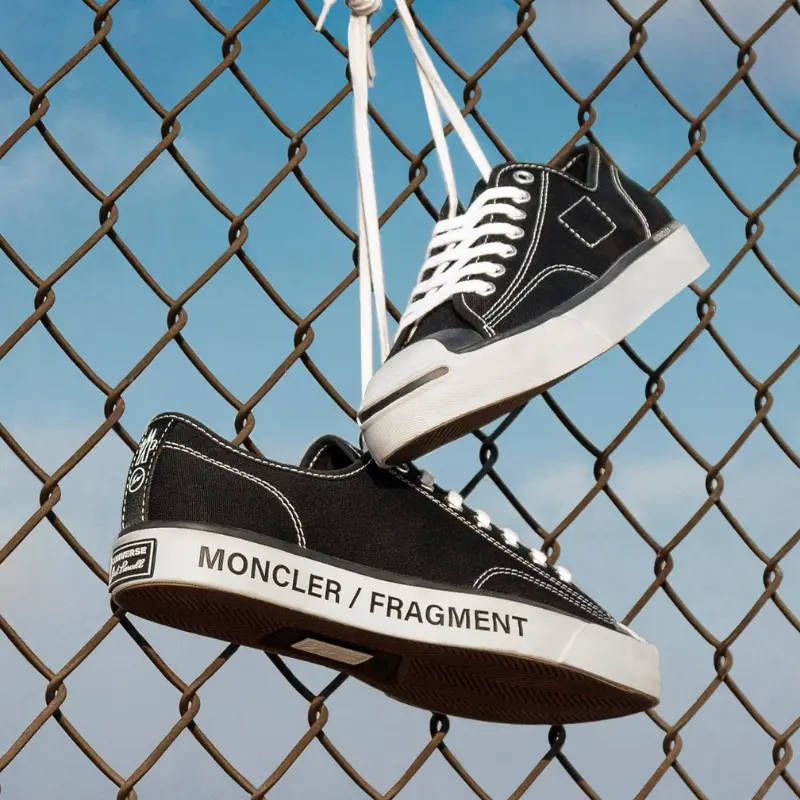 While the world was focused on their puffy jackets, Moncler was severely building up their sneaker game to provide a different approach to footwear.
Many of their designs focus on themes of cold weather and making treks, so many of their shoes feature teeth motifs on the sole and grey and white accents.
Their traditional sneakers are fine, but where they shine are their futuristic runners, high-tops, and hiking boots that push outward what we think of rugged footwear.
Noteworthy Picks:
---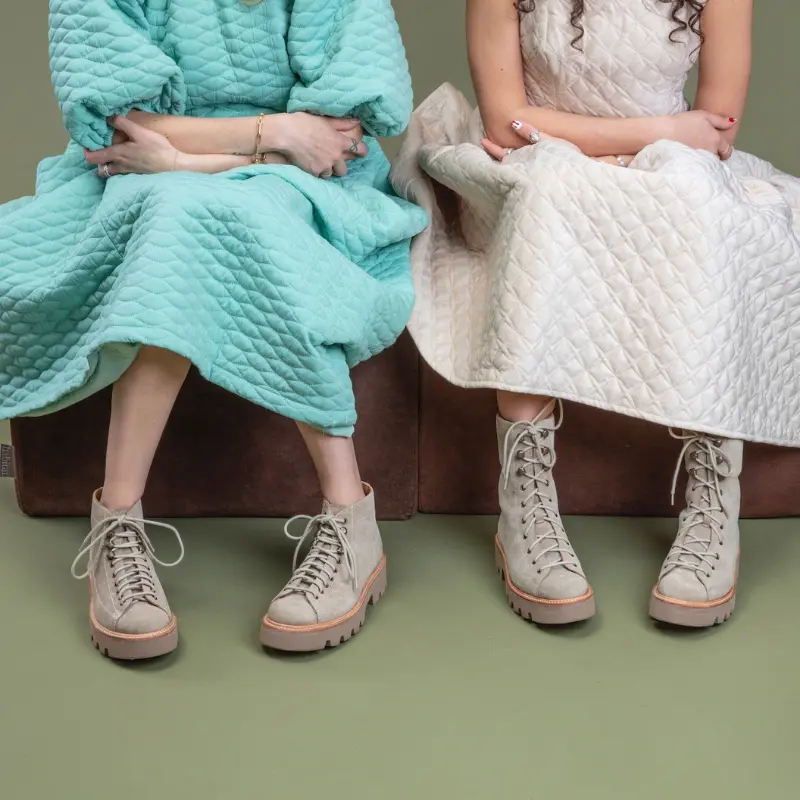 Owning a Grenson piece is like owning a little piece of history right in the very palm of your hands. They're dedicated shoemakers hailing from the UK, and in fact are one of their first registered businesses.
And all that time means that they've honed in on their style and process, creating sneakers and high-quality dress shoes with unbeatable refined looks and durable leather.
And don't worry, just because they branched out into sneakers doesn't make them any less mature or refined.
Noteworthy Picks:
---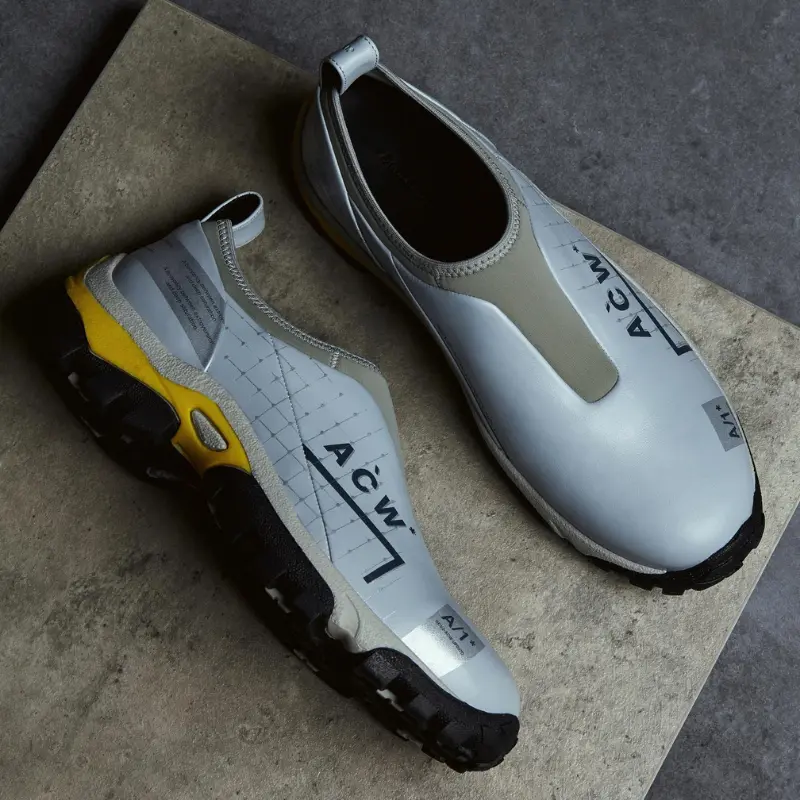 The future is going to be a wild and very cozy place. No one knows that more than A Cold Wall*, often styled as ACW, who bring revolutionary thinking in their designs.
They're drops are often small, but they do tend to collaborate with other brands often. However, the most important part of ACW is understanding that they mostly experiment. No one knows what's truly going to work.
But when it does, it does.
And their designs are by no means ulgy even at their most experimental, so don't be afraid to look around for what works best for you. You just might enjoy those backless moccasins with the air soles.
Noteworthy Picks:
---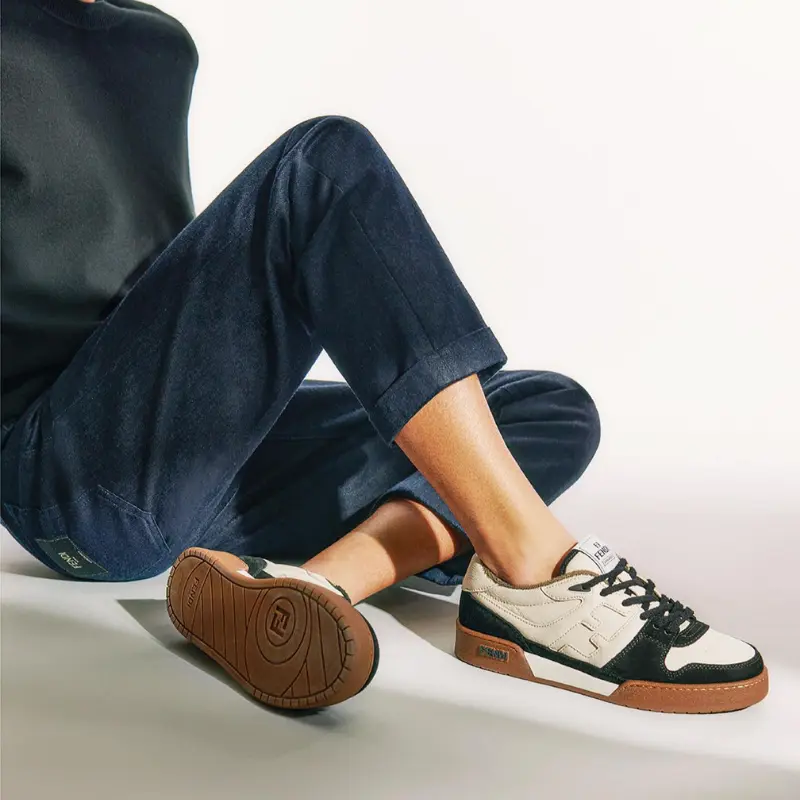 Fendi, not to be confused with Fenty, is a leather-making powerhouse that dabbles up their shoes in a variety of cooling blacks and whites to give their shoes a refined look.
Their designs aren't anything out of the ordinary, however, taking a lot of inspiration from normal trainers. But their build quality? Excellent.
So while you may not have a ton of options from Fendi, what they do have is sure to make you smile.
Noteworthy Picks:
---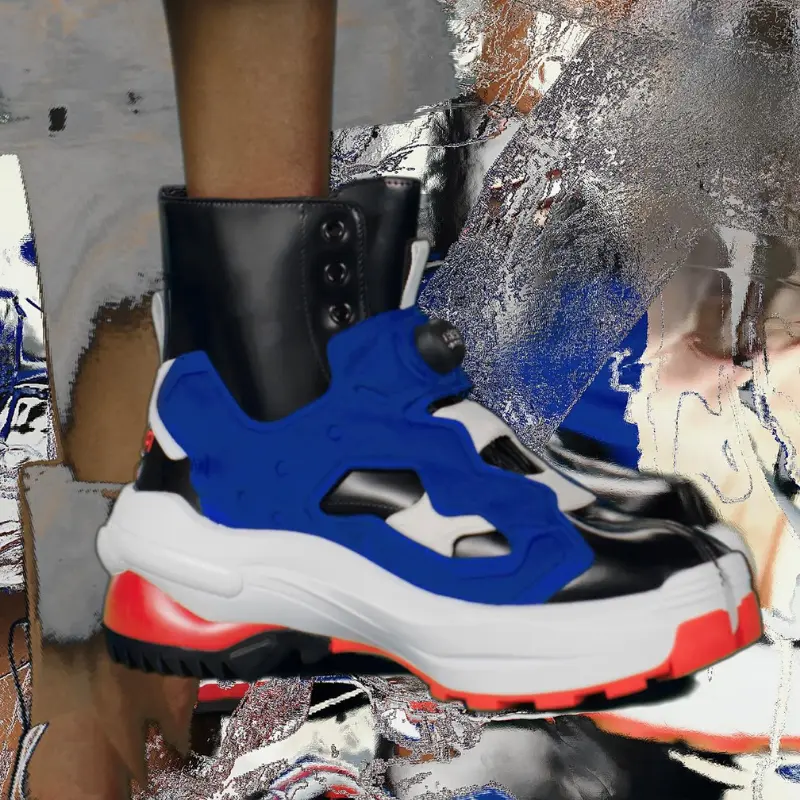 Founded in Paris, this luxury French brand takes an eccentric twist on the classic sneaker.
Many of their sneakers feature one-of-a-kind colorways and designs, especially the ones with the iconic cleft-toe shape that splits the shoe in two toward the top.
---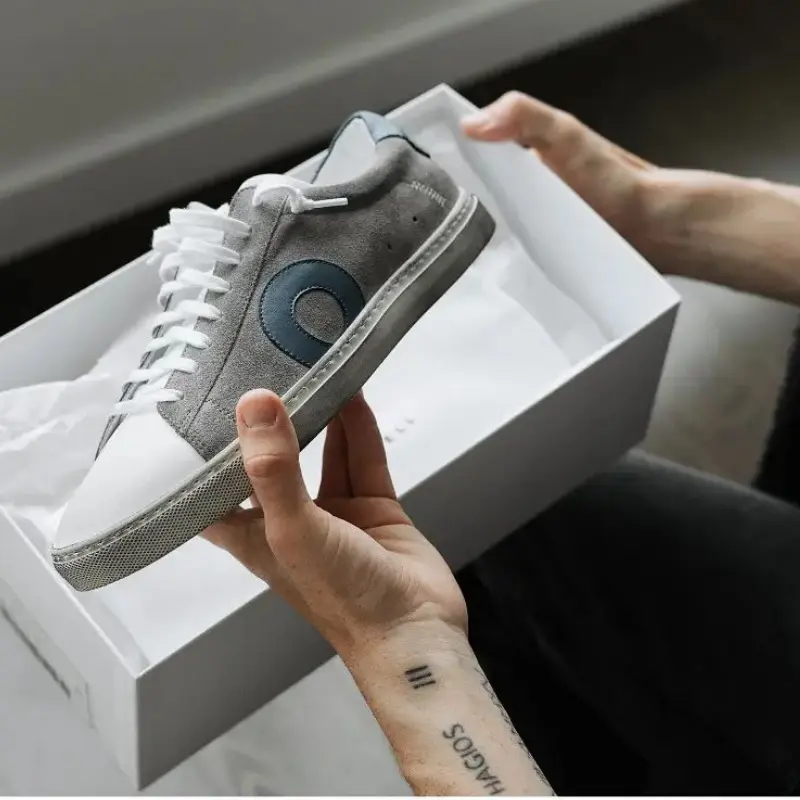 What sets Oliver Cabell apart from the rest is their commitment to sustainable practices and accessibility.
To make their luxury sneakers more accessible, they sell directly to consumers in order to cut costs. However, their shoes are still high-quality with clean designs and made with Italian leather.
---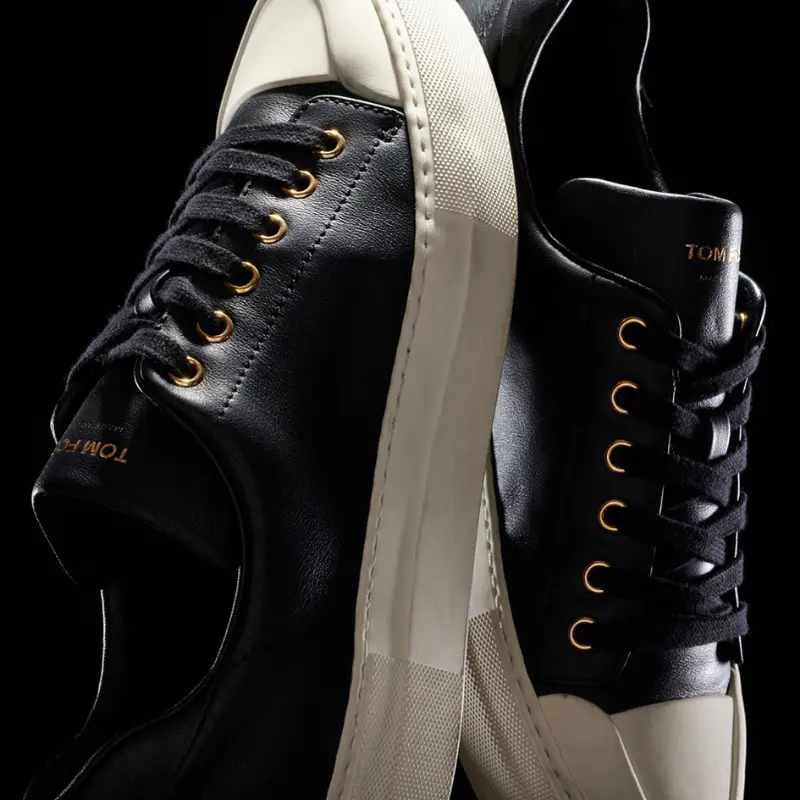 These sneakers by Tom Ford feature sophisticated, classic styles as well as out-of-the-box, high-fashion designs.
They even have some eco-friendly styles, which you don't see a lot in this business.
---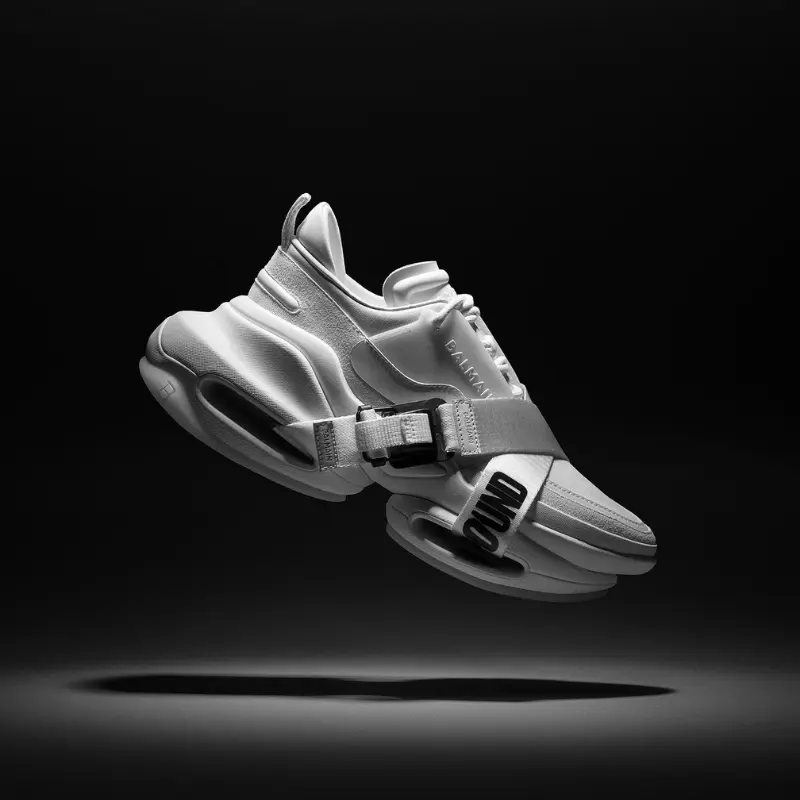 Balmain's luxury sneakers are for those who intend to make a statement.
Unique patterns and designs come together with materials such as calfskin, nylon, and suede.
---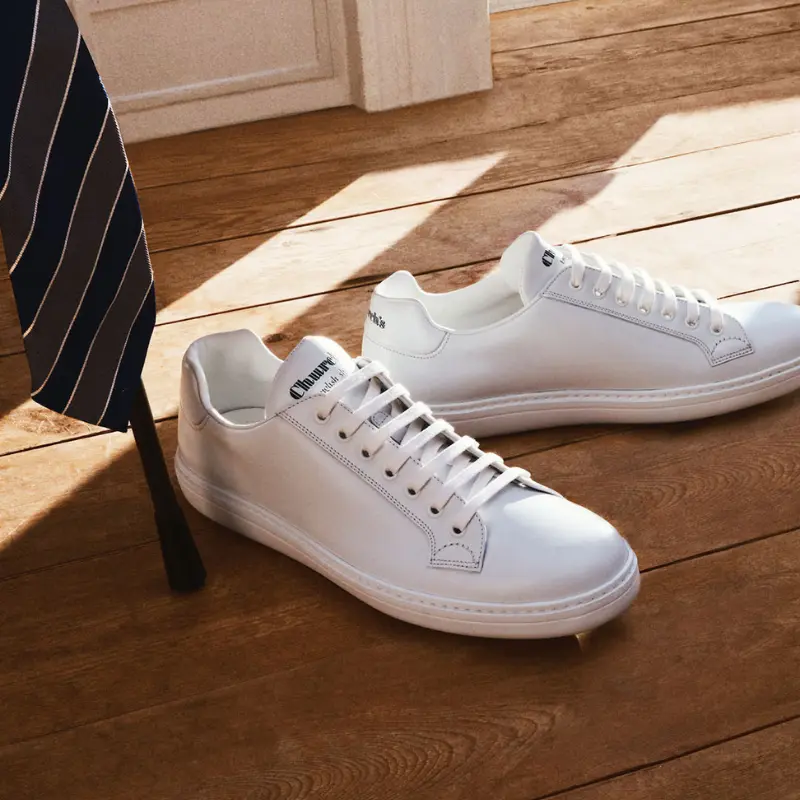 Church's footwear, owned by Prada since 1999, believes in wearable luxury sneakers of high-end design and quality.
From suede to classic leather, Church's has a pair for every occasion.
---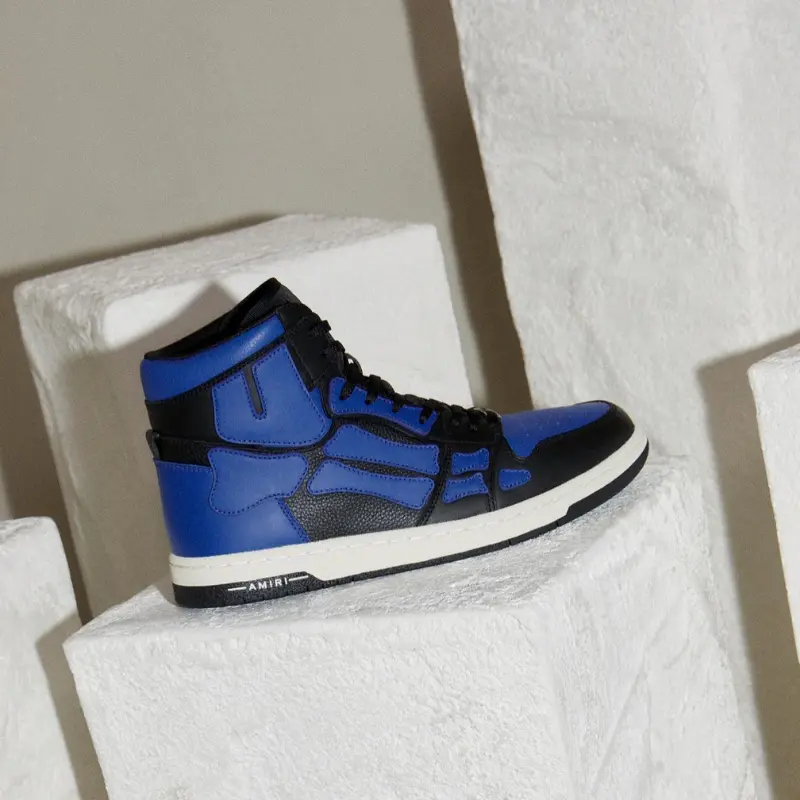 If you're looking for luxury skate shoes, look no further than Amiri.
With low-top and high-top designs and skeleton details, this sneaker line screams grunge.
---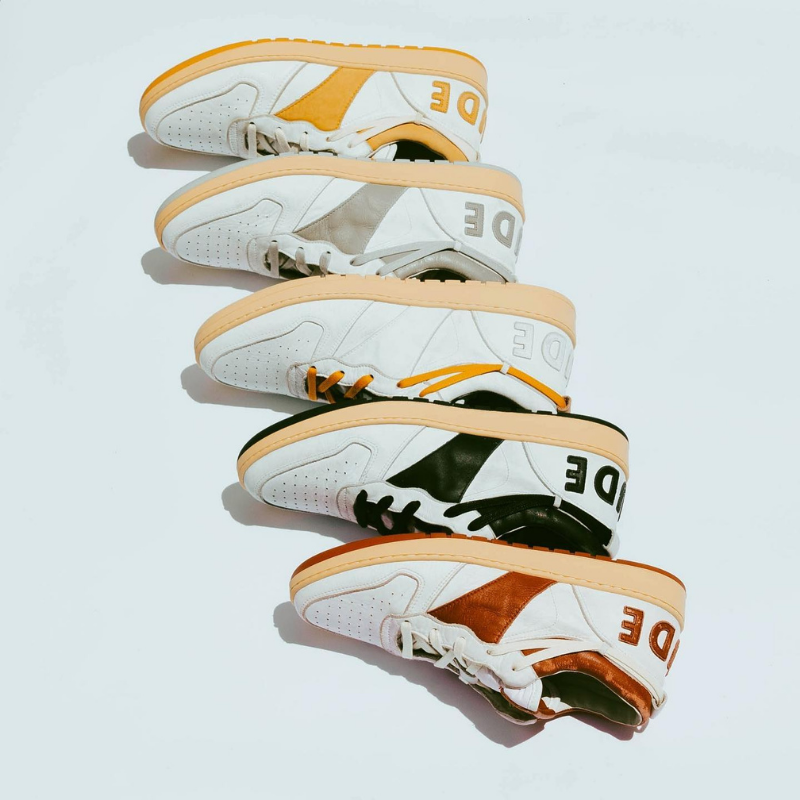 A combination of streetwear and classic designs, Rhude offers luxury sneakers with their signature heel logo.
The Rhecess-Hi is a high-top leather basketball shoe with a vintage distressed look.
---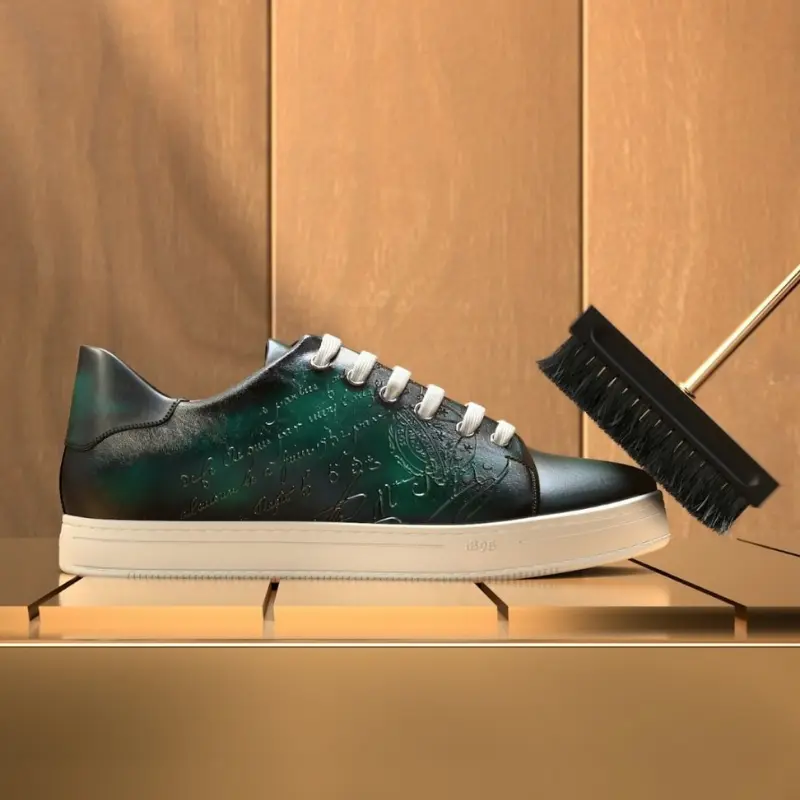 With more of an athletic feel, these luxury sneakers will become your closet staple.
Their knit and leather options are especially sleek, as well as their Playtime Scritto Leather Sneaker.
---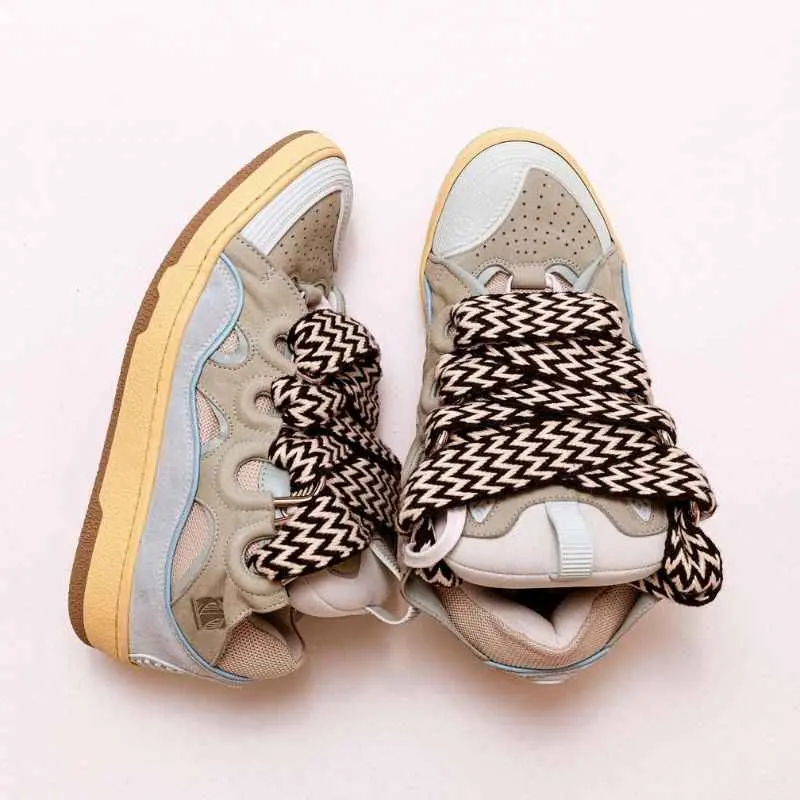 With men's and women's luxury sneakers, Lanvin offers unique designs you won't find anywhere else.
You definitely need confidence to pull off these bold styles.
---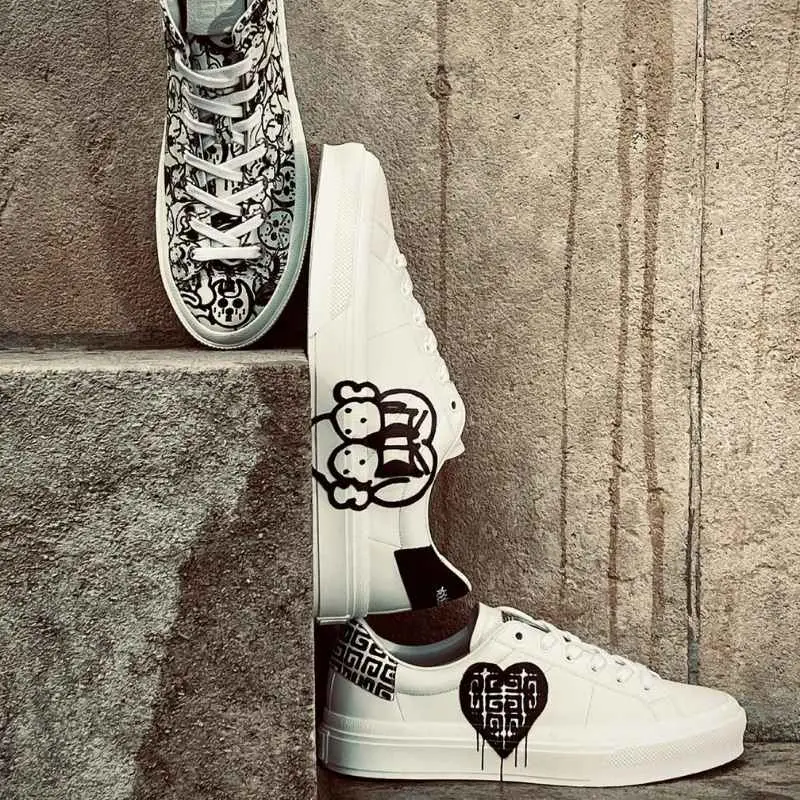 With more of a streetwear style, Givenchy sneakers mix high-fashion and sporty designs.
They use a combination of high-end materials such as suede, mesh, and leather to create their unique shoes.
---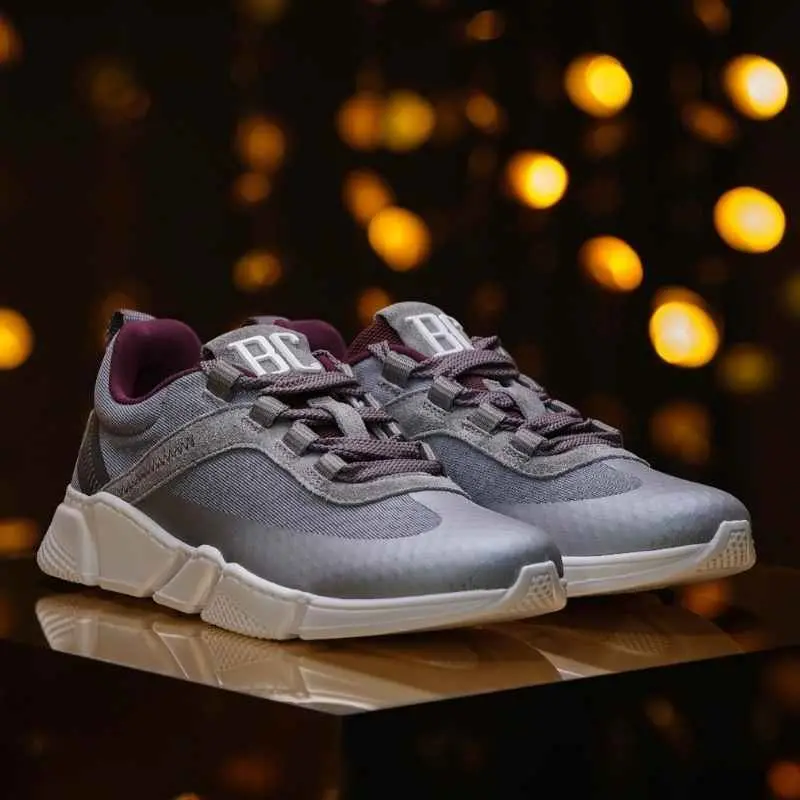 And last but not least, Brunello Cucinelli has a modern sneaker line with knit running shoes, calfskin sneakers, slip-ons, and more.
Classic designs meet high-quality craftsmanship with this line of luxury sneakers.
Final Thoughts
High-end fashion isn't for everyone and that's very understandable. Often Luxury brands can make products that are out of touch with the public or just plain ugly, and their price tags are worthy of tears.
Sometimes they just get lazy and at the end of the day, it just seems like you're paying for a name or a small logo than anything else, lessening the value of the products and the category of fashion.
But not every luxury brand is staffed by bastards.
A good-quality luxury sneaker is comfortable and durable, often made of the best materials and has incredible design that surpasses the normal by far.
It's not enough to have the best materials and no personality, and it isn't good luck to not invest in good materials.
So when looking for luxury brands worth your time, look for quality materials and designs that truly inspire you. You shouldn't have to sacrifice function, comfort, or style when you're paying this much.
Up Next: 11 Classic Sneakers That Will Never Go Out of Style