Whether you've seen Los Angeles Apparel billboards sprinkled around LA or just stumbled across their website, one thing is for sure – this brand is blowing up.
Featuring simple loungewear and other basic items, clothes from this brand scream comfort and LA style. I was able to try a couple pieces from this brand, so I will be sharing my review!
What is Los Angeles Apparel?
Founded in 2016, LA Apparel actually started as a wholesale business and expanded (although they still offer wholesale). Now, they're a fairly large brand with 1,800+ employees!
They do give off hardcore American Apparel vibes, but I'm guessing that was the goal since the brand was founded by the same person who founded American Apparel.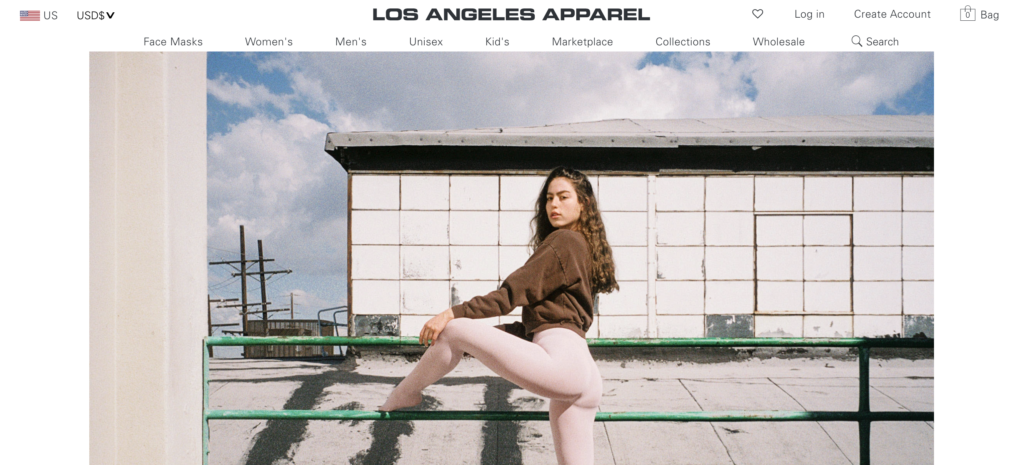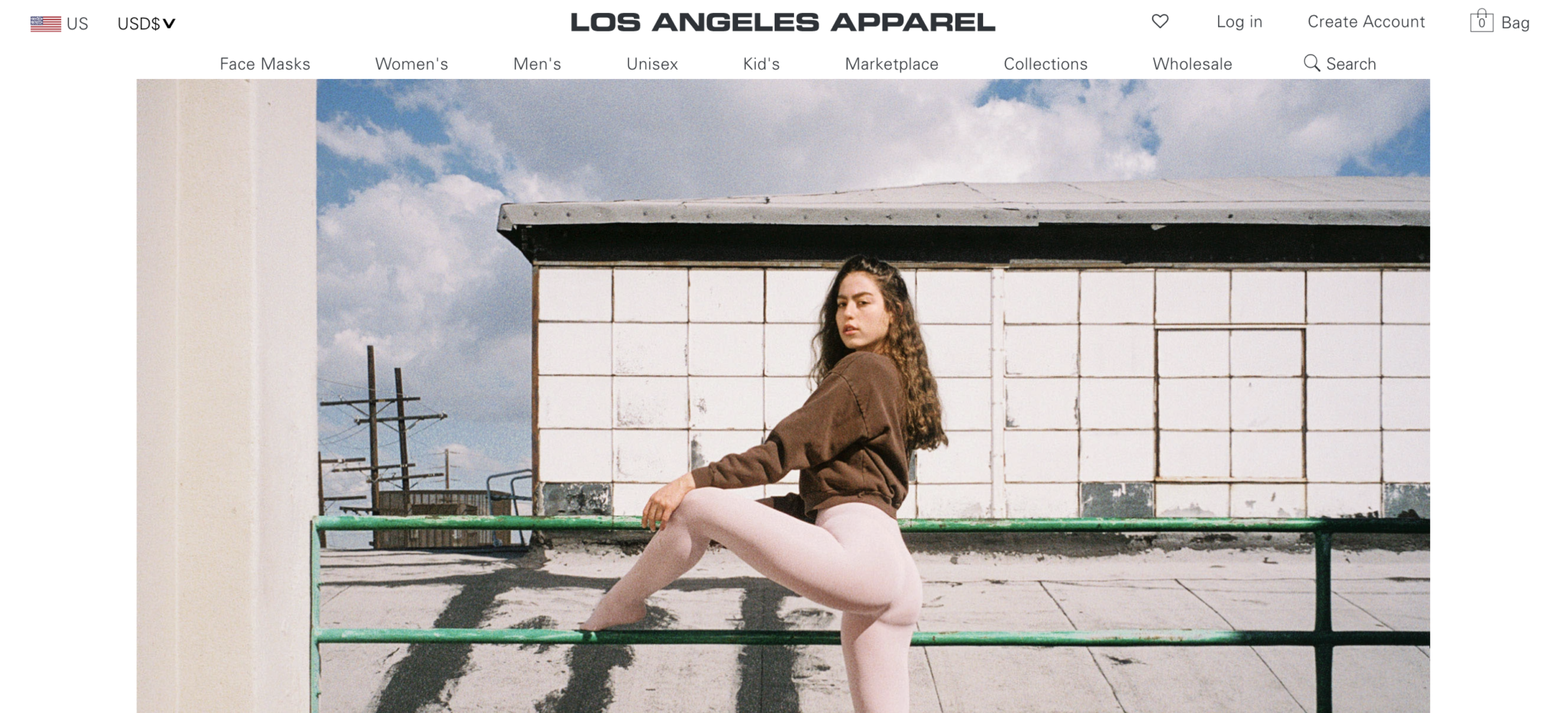 Aside from their super comfy loungewear, one of the best things about this brand is that they're dedicated to ethical clothing production. Some of their values include:
Fair wages and ethical factories – starting employees make an average of $20 per hour, employees at their garment factory can make up to $35 per hour)
Creating jobs in the USA – They intent to employee thousands of people in the Los Angeles area. They also only buy textiles and yarn products made in the United States, and their knitting and dyeing is done in Los Angeles.
Environmentally friendly sourcing – They use recycled/reclaimed cotton, cotton grown ethically, and organic cotton.
Sustainability – Nearly 100% of their shipping + production byproducts are recycled (paper, boxes, plastic, scrap fabric, and more). They also often use their scrap fabric to create limited-edition pieces.
RELATED: 14 Sustainable Activewear Brands to Work Up A Sweat In
My Los Angeles Apparel Review
I was sent a pullover top and sweatpants to try out, but my review and opinions are still 100% honest.
If there's one thing I love more than comfy loungewear, it's matching loungewear.
Leaving the house in a normal pair of sweatpants would normally be a little embarrassing. But a matching top and sweatpants? Paired with some cute sunglasses and an iced latte in your hand, you'll fit right into Los Angeles.
I was able to try two matching items from them: the Cotton Fleece Half-Zip Pullover and Cotton Fleece High-Waist Sweatpants. Having worn them a little too frequently for the past month or so, you can definitely say I've been loving this set.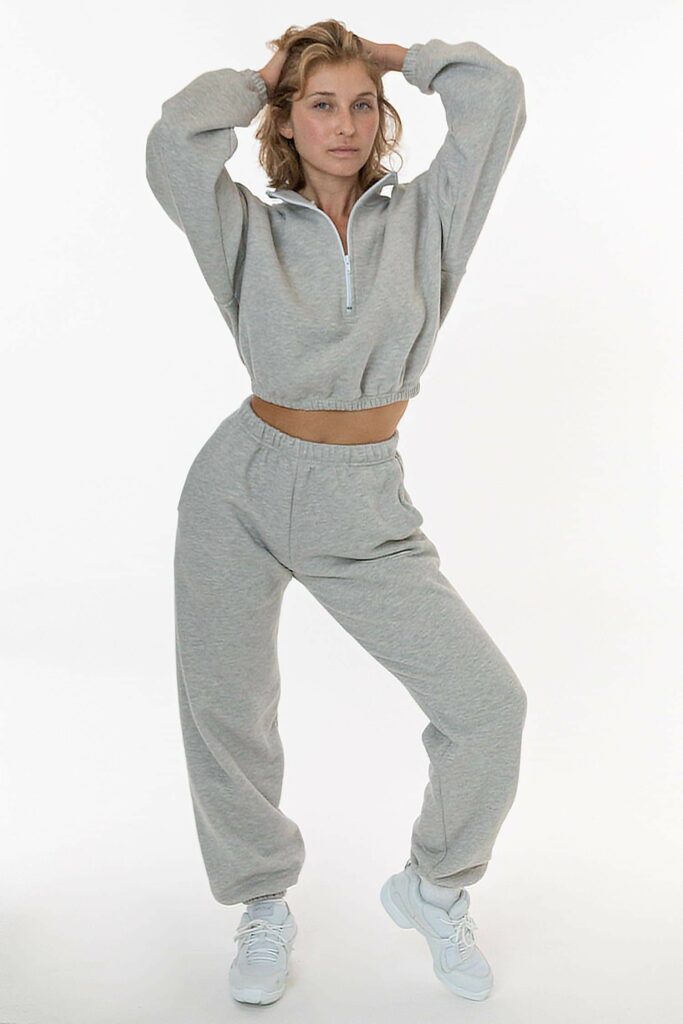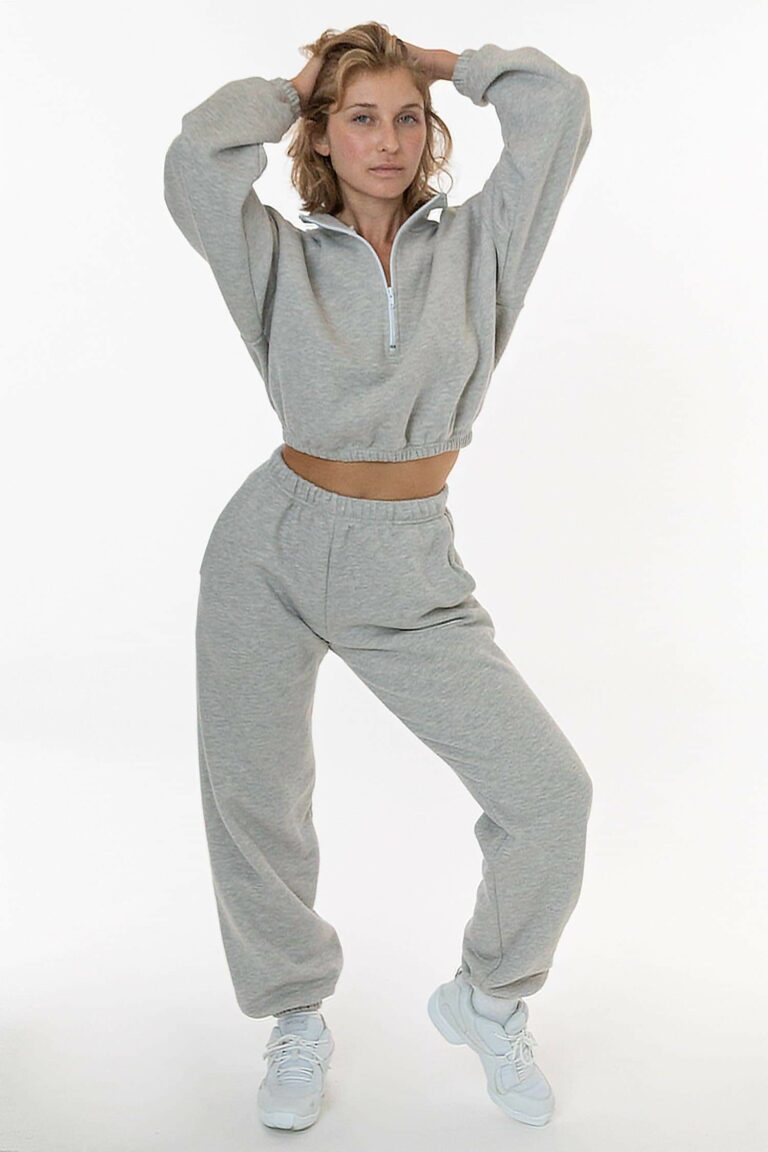 Sizing
Rating: 7/10
⭐️⭐️⭐️⭐️⭐️⭐️⭐️⭐️
The top fits great! While the sweatpants were designed to be oversized, they were still a bit large. I definitely could have sized down.
They still fit, they just look more oversized than the model photo looked (I'm also not as skinny, so there's that).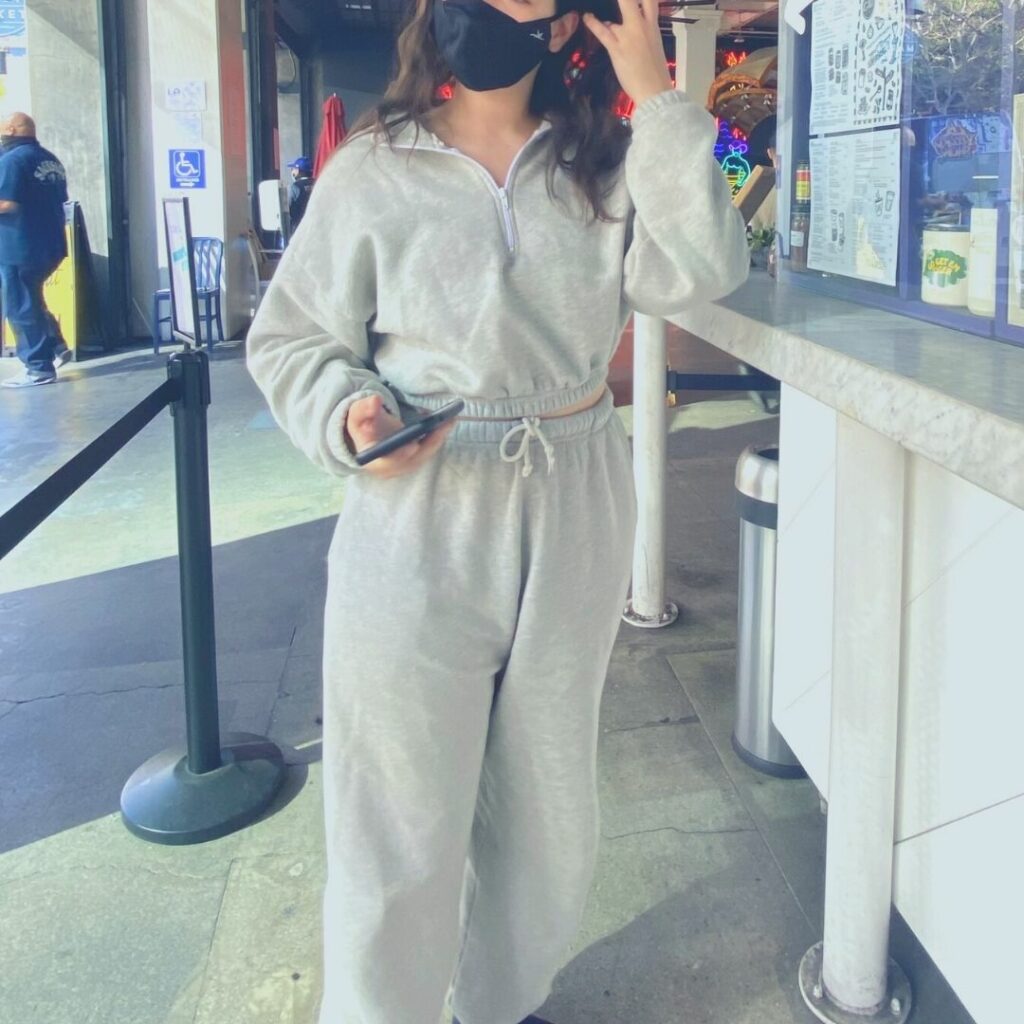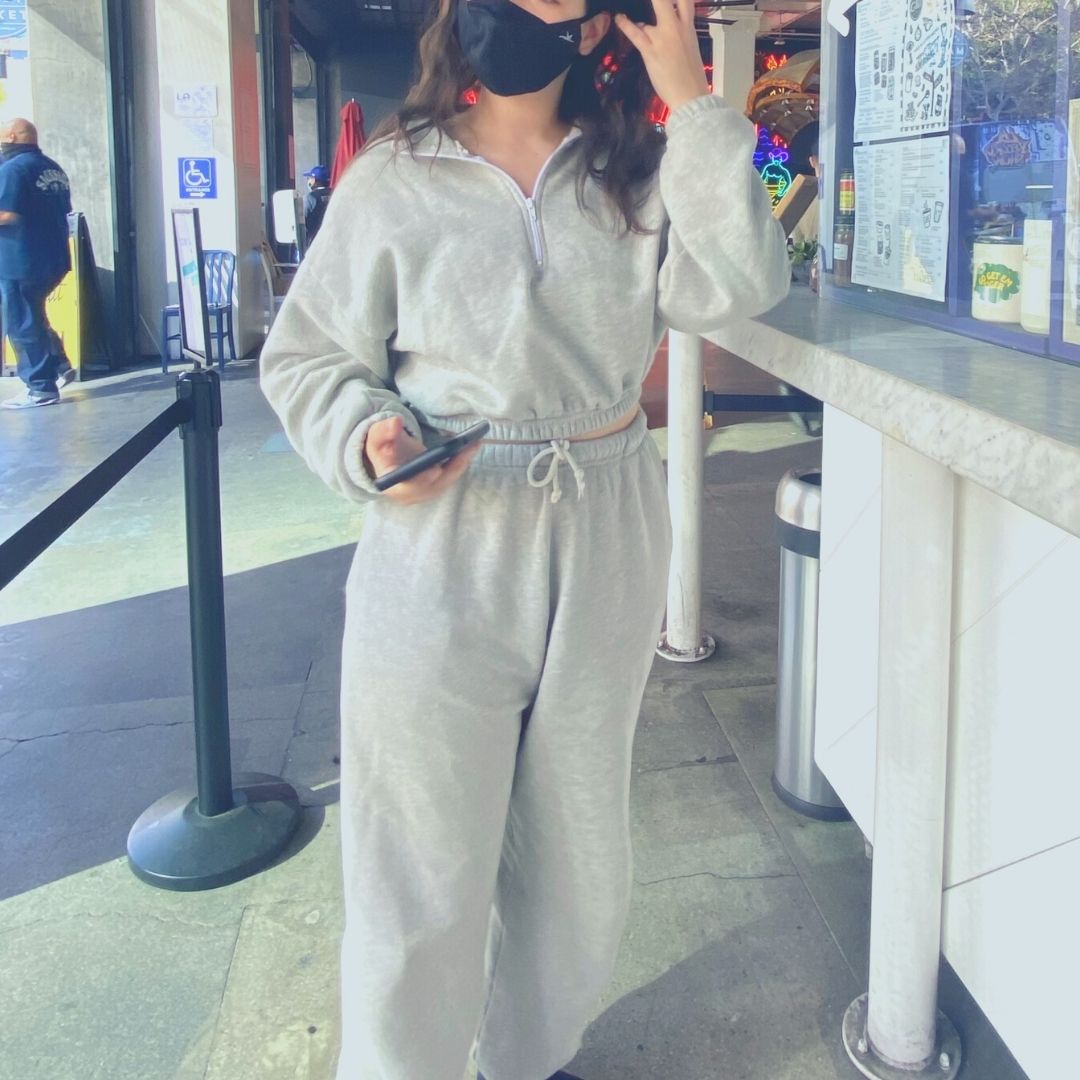 Quality
Rating: 7/10
⭐️⭐️⭐️⭐️⭐️⭐️⭐️
The pullover crop top has been fantastic quality and still looks brand new. I love the zip up and cropped design.
The sweatpants are super cozy and comfortable – they have held up great as well, but the only downside is they have started pilling between the legs. I do have thicker thighs, so this tends to happen to most sweatpants I own.
A fabric shaver or razor gets rid of this easily – they did take longer to start pilling than most other pants I own. Luckily, the fabric is thick and high-quality, so I doubt shaving the pilling off will do much damage until years down the line. It's not even in a noticeable area either.
I have washed both a few times and there hasn't been any shrinkage.
Since they're cotton, it's important to wash them carefully to avoid pilling on all of the fabric. I use cold water, low tumble dry, and mild detergent. I also added some white vinegar as a DIY fabric softener.
I also liked that you can easily tuck in the tie for the sweatpants (although I obviously didn't do that in the photo).
Overall
Rating: 7/10
⭐️⭐️⭐️⭐️⭐️⭐️⭐️
To sum up my Los Angeles Apparel review, I loved this set! The quality is great, both pieces are beyond comfortable, and they have held up well after wearing/washing them quite a few times. The sweatpants have pilled a bit, but this happens for most cotton items – it's nothing extreme and it's easy to get rid of.
Having owned quite a few American Apparel products in the past, these definitely feel and look very similar. So, if you like American Apparel, you'll love Los Angeles apparel!