Not everyone can be iced out in real diamonds, and luckily there are alternatives out there to naturally-mined diamonds that won't break the bank. 
One alternative is moissanite, which is a mineral made up of silicon carbide. In its natural state, moissanite is a rare find which is why it's mostly lab-grown. 
A popular alternative to diamonds, moissanite is durable and has the appearance of a diamond, making it a popular choice for engagement rings and fine jewelry.
One jeweler that puts moissanite jewelry in the spotlight is Lane Woods, an online retailer that offers a variety of pieces.
If you want to learn more about their moissanite jewelry and if their seductive prices are too good to be true, keep reading our Lane Woods Jewelry reviews.
What Is Lane Woods Jewelry?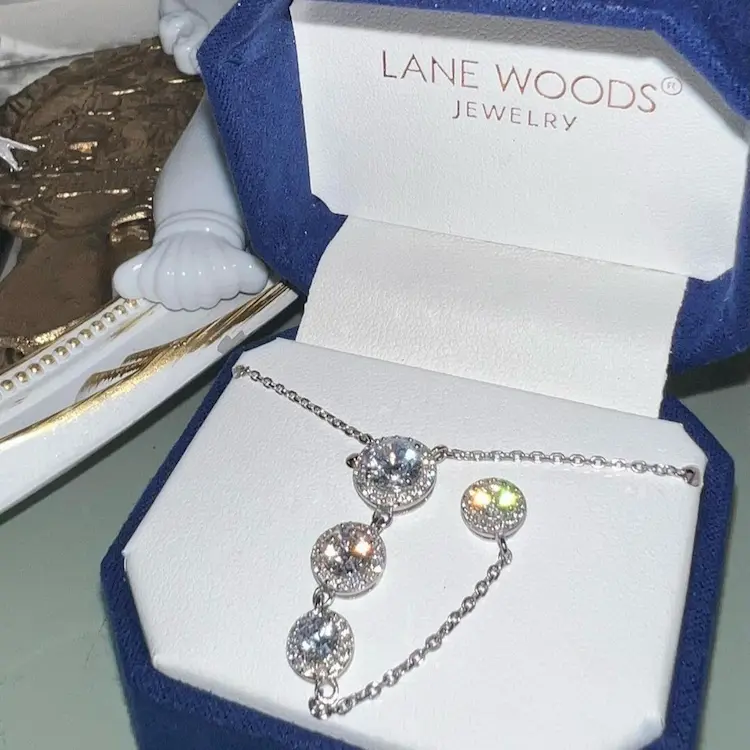 Lane Woods is an online jeweler that mainly offers fine jewelry and bridal jewelry made of moissanite and other gemstones. 
Lane Woods Jewelry was established in 2006 and continues to provide affordable jewelry from craftsmen based in Hong Kong. 
Is Lane Woods Jewelry Legit?
Yes, Lane Woods is a legitimate company. However, there are many negative Lane Woods jewelry reviews from real customers who have had bad experiences with the company.
Although they aren't a complete scam and customers typically receive their orders, it might be risky to spend your money with them (check out some alternative companies we prefer below).
Lane Woods Jewelry Reviews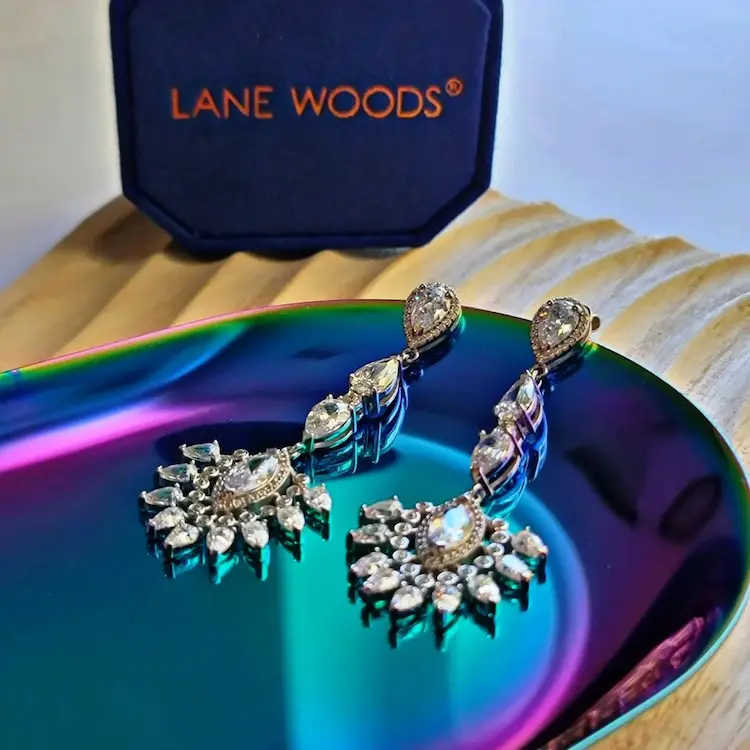 Overall: ★★ 2 stars
Overall, we don't recommend shopping at Lane Woods due to all the negative reviews. Most people critique the lack of quality and the suspiciously unresponsive customer service. Many shoppers never even received their orders at all, and if they did, it typically took 1+ months as they ship from overseas.
Plus, Lane Woods steals photos from other brands, which is never a good look.
Despite a ton of negative experiences, there are some customers who received decent jewelry that they were happy with (such as this person and this person). However, we found more negative Lane Woods jewelry reviews than positive overall.
If you really want to give them a shot, proceed at your own risk.
Some great alternatives to Lane Woods for affordable moissanite jewelry include Moissanite Outlet, MoissaniteCo, Gema & Co, and Charles & Colvard's sale section, and Flawless Moissanite.
RELATED: 10 Best Places to Buy Lab-Grown Diamonds
Quality: ★★ 2.5 stars
One big feature of the negative Lane Woods jewelry reviews is regarding the quality of the jewelry.
Some shoppers noted how the stones fell out only just a couple of days and some said the metal of their jewelry was crooked and/or scratched.
However, a small number of shoppers who were satisfied with their orders said they loved the sparkle of their rings and the designs. Overall, they don't seem to be very consistent with the quality of their pieces.
Price: ★★★★ 4 stars
One of the highlights of Lane Woods Jewelry is definitely the price of everything. In the world of fine jewelry, It's alluringly cheap.
You can expect every piece to be under $300, plus you can even check out the brand's sale page for more hot deals.
Of course, we do recommend treading lightly since there are so many bad Lane Woods jewelry reviews. In our experiences reviewing hundreds of brands, the statement "you get what you pay for" is often true, so this is something to keep in mind.
Shipping & Customer Service: ★ 1 star
One of the most heavily critiqued aspects of Lane Woods Jewelry is its shipping time and lackluster customer service. 
Customers said it took weeks — even up to a month — to get their items. Customers mentioned how uncommunicative customer service was, in addition to difficulties getting into contact with customer service at all. Some people even state the brand is a complete scam. 
What Customers Are Saying
So that you don't have to, we surfed the web and took notes of the most common praises and critiques real customers had about Lane Woods Jewelry.
Here's what customers are saying:
so affordable
shipping takes forever
customer service is terrible, but most of the time doesn't even respond
the jewelry came with imperfections, such as scratches or being bent
received the wrong items
the jewelry is decent but it's not of great quality
the company is shady overall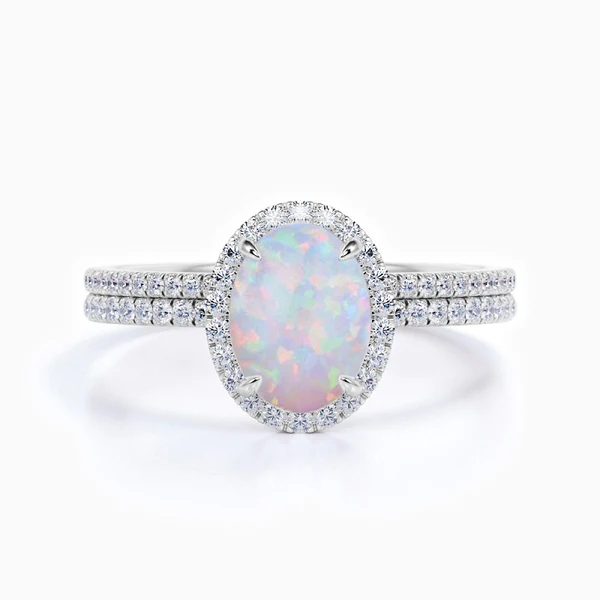 If you're looking for something unique and eye-catching, you might want to consider an opal ring. Lane Woods Jewelry offers a nice selection of opal rings that fall under $250. 
The stones come in different carat weights and in different settings, allowing shoppers the opportunity to shop for styles that fit their tastes.
In fact, shoppers can even choose among white opal, black opal, blue opal, fire opal, and pink opal.
These gorgeous rings are available in plated yellow gold, plated white gold, and plated rose gold.
---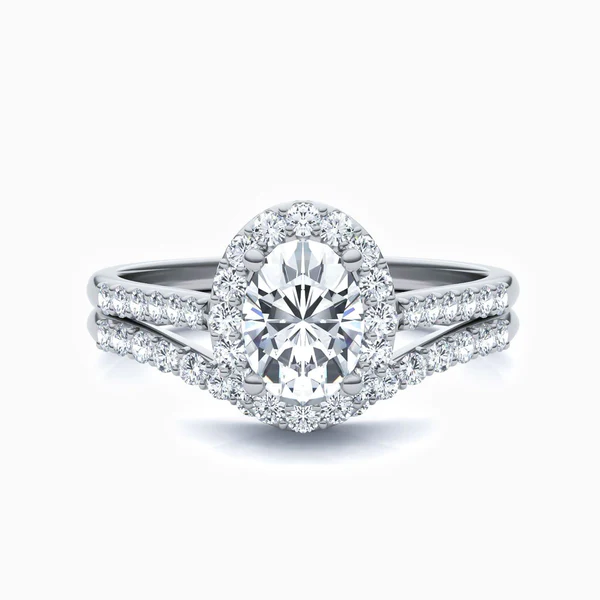 Lane Woods offers a big selection of moissanite engagement rings, which is why we wish there was an easier way of shopping for them. 
Unfortunately, you can only sort the items by price, date, and best-selling, so if you're looking for a specific cut or shape, you're going to have to browse.
All rings come with a grading of the moissanite stone being used, however, the website doesn't claim that the stones are certified by any specific institution. But, the stones have all the 4Cs: color, cut, clarity, and carat weight.
All engagement rings are made up of real moissanite and feature plated gold over sterling silver. These rings are all under $200, with the cheapest being $80!
---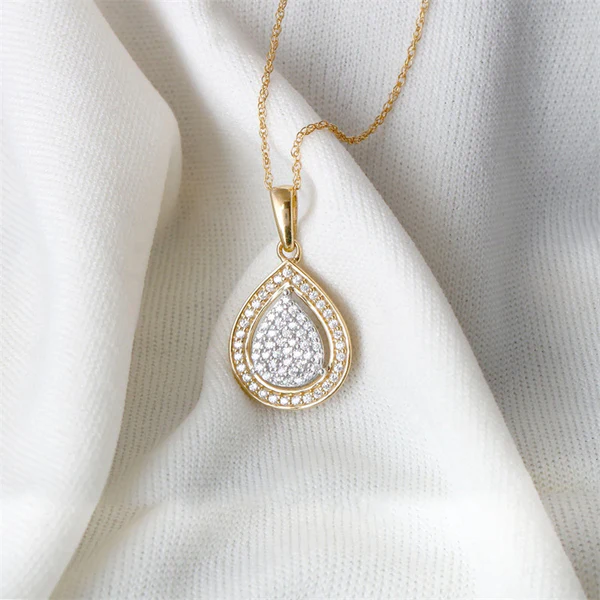 Lane Woods Jewelry also offers a moissanite necklace collection featuring beautiful shapes and designs.
From solitaires to halos, Lane Woods has it covered all for under $500. The jeweler rarely offers non-plated gold items, but you can get this 6-Prong Round Moissanite Necklace in 14k white gold for $455!
Offered in moissanite and other gemstones, Lane Woods's necklaces in particular have been generally well-received by customers.
---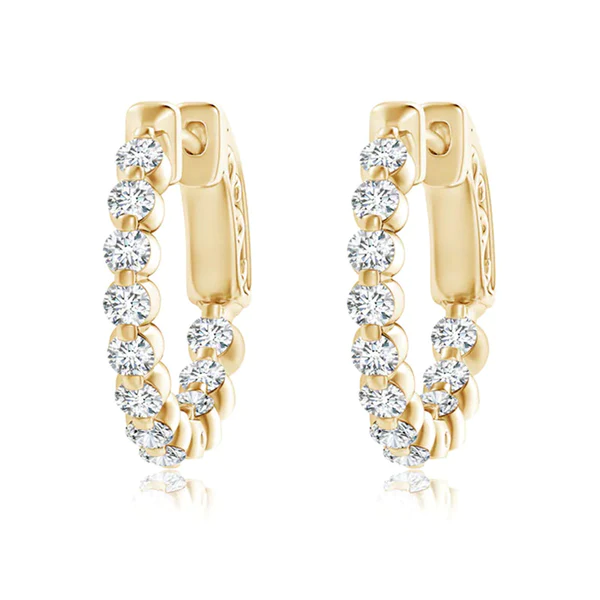 If you want to dazzle and stun without breaking the bank, try moissanite earrings.
Lane Woods Jewelry offers a number of earrings ranging from solitaire stones to trio studs in different shapes and designs.
All earrings fall under $500 and are available in plated gold under sterling silver. Whether it's moissanite, gemstones, or even zirconia, Lane Woods offers affordable earrings catered to anyone's style.
In Conclusion
Lane Woods Jewelry is definitely a place to consider if you're searching for moissanite and really can't spend much money.
Sadly, Lane Jewelry reviews are honestly pretty bad and we'd recommend shopping elsewhere if you can. If you're still considering buying, keep in mind that the shipping takes 1+ months, the customer service is often unresponsive, and many people have had instances of receiving jewelry with imperfections (and sometimes severe quality issues).
Lane Woods Jewelry Alternatives
FAQs
Where is Lane Woods Jewelry located and made?
Lane Woods is located and made in Hong Kong.
Is Lane Woods Jewelry real?
Yes, Lane Woods sells real jewelry. While most of the jewelry is gold-plated, it's real nonetheless.
Does Lane Woods sell real moissanite?
Yes, Lane Woods claims to sell real moissanite and it can be verified by jewelers.
How long does Lane Woods take to ship?
Lane Woods shipping can take up to 12 working days for standard shipping, but customers have stated shipping has taken longer (it typically takes around a month, sometimes longer).