We all know weddings are expensive, so if you want to save some money on wedding or bridesmaid dresses, JJ's House might be an option for you!
Offering dresses for the whole bridal party and other special occasions, JJ's House is an online retailer that praises itself on having affordable clothing, quality materials, and unmatched service, but how does JJ's House really measure up?
Keep reading our JJ's House reviews to see what this brand is all about and if they're worth giving a shot!
What is JJ's House?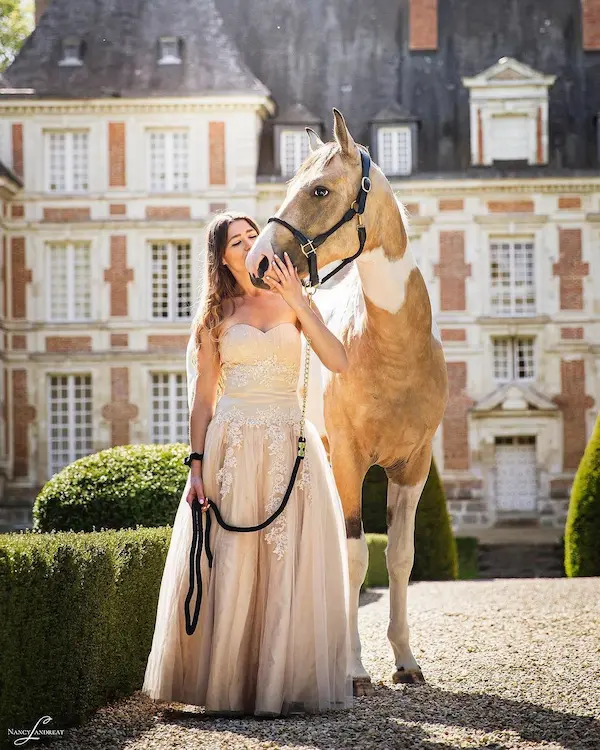 JJ's House is an online retailer that primarily offers dresses for weddings and other special occasions.
JJ's House was founded in 2010 and carries over 2,000 types of dresses of different styles to accommodate everyone's tastes and styles!
Is JJ's House Legit?
Yes, JJ's House is a legitimate store. The brand has been featured in many big publications, plus here are a ton of JJ's house reviews from their customers.
JJ's House Reviews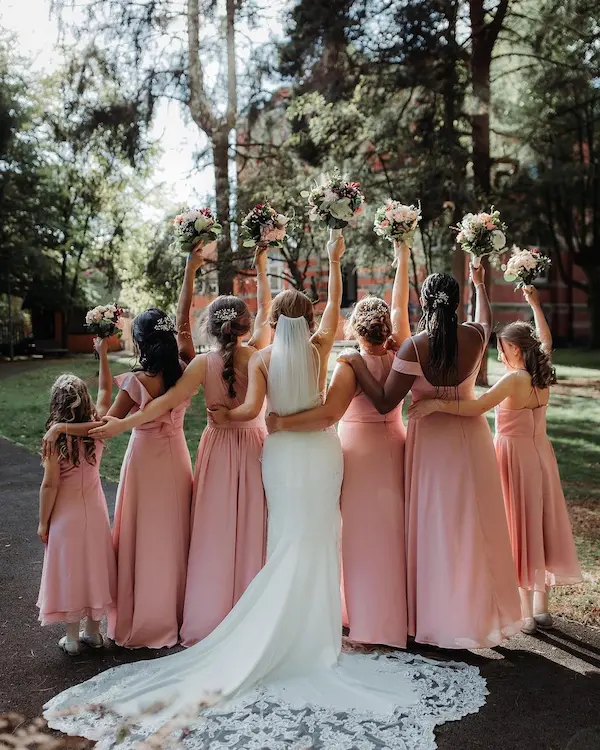 Overall: ★★★★ 4 stars
Generally speaking, JJ's House is well-received among shoppers. Their store is a great option for affordable formal dresses, especially if you're shopping for a wedding.
One common thing JJ's House is often criticized for, though, is its customer service.
Quality: ★★★★ 4 stars
For the prices, JJ's House has pretty good quality clothing.
The retailer offers dresses with stunning fabrics like lace, tulle, chiffon, satin, and more! For the most part, customers say the quality is wonderful, but we definitely recommend looking at the reviews provided on and off the JJ's House website.
Price: ★★★★★ 5 stars
JJ's House is a great option for those shopping for formal dresses on a budget. In fact, everything at JJ's House is under $600! 
For even better deals, you can even check out JJ's House's sale page.
Customer Service: ★★★ 3 stars
Most negative JJ's House reviews have to do with the brand's customer service. Many shoppers report that JJ's House's customer service is unresponsive and doesn't communicate well when problems arise.
This is definitely an issue, but luckily it doesn't seem like shoppers have order issues very frequently. Shoppers also aren't happy with the return policy, especially restocking fees.
RELATED: 23 Best Prom Dress Websites to Shop From
JJ's House offers beautiful dresses and gowns for the mother of the bride, and the best part? They're super affordable!
Prices for these dresses range from $70 to $300 and come in sizes that are inclusive of all bodies.
Depending on the dress, sizes can range from size 0 to to size 26W. In fact, JJ's House offers a plus-sized department for mother-of-the-bride dresses!
Almost all dresses come in as many as 42 colors and JJ's House's website makes it super easy to shop for what you want. The advanced filters allows you to browse by length, color, fabric, season and more.
---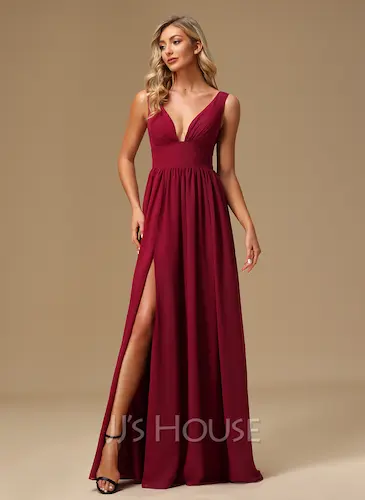 Picking the dress for bridesmaids can get pricey depending on how many bridesmaids you have, but luckily, JJ's House offers super affordable and cute bridesmaid dresses.
No matter what the color scheme for your wedding is, JJ's House covers all the colors and all the styles. Whether you're looking for floor-length dresses, A-line dresses, or something else, JJ's House got you covered.
And, if you want your bridesmaids to have the freedom of picking the style of their dress but still want the colors to match or coordinate, most of JJ's House's dresses are available in the same shades!
Additionally, all of the bridesmaid dresses are under $200, making it super budget-friendly.
---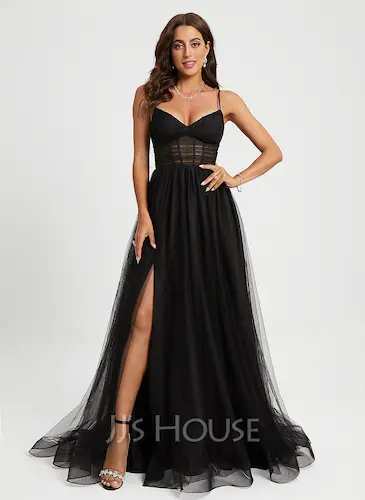 Prom is a once-in-a-lifetime experience — and that's the issue.
If you're looking for a stunning dress but don't want to break the bank on something you know you're only going to wear once, check out JJ's House's Prom Collection.
All dresses are under $300 and are offered in multiple colors, silhouettes, lengths, necklines, and fabrics!
Those who've bought prom dresses from JJ's House say the dress looked exactly how it was pictured and the quality was more than expected.
As a matter of fact, JJ's House offers an At-Home Try-On program so that you can try the dresses you want at home before purchasing!
---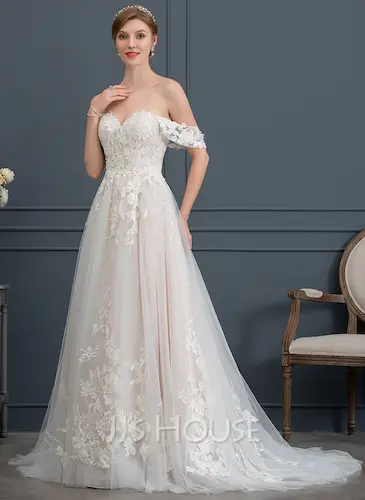 Whether you're having a grand wedding or an intimate one, you deserve a dress that'll make you feel beautiful, confident, and sexy (preferably without costing an arm and a leg).
If you're trying to look great for less, JJ's House has a wonderful selection of wedding dresses that'll make any bride ooh and ahh.
Whether you're looking for a gorgeous mermaid dress or a classic ball gown, JJ's House has it all, and thanks to the website's advanced filters, you can shop by neckline, length, silhouette, and more.
All wedding dresses are below $600 and are offered in sizes up to 26W (Check out the plus-size wedding dresses collection)!
JJ's House's wedding dresses have generally been a hit among customers, with many brides loving how their dresses turned out!
---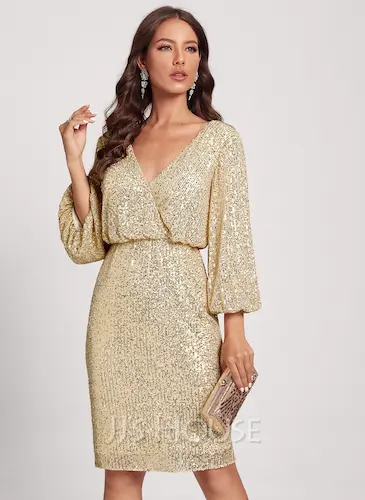 If you're looking for a semi-formal dress that'll still make you feel like the main character, JJ's House's cocktail dresses are perfect.
With chic and glamorous styles, these dresses are good quality, affordable, and will have you looking like the star of the room.
All cocktail dresses are priced below $300 and come in a range of different styles to suit any special occasion. From bodycon dresses to tea-length dresses, JJ's House's cocktail dresses collection is an absolute banger — and customers agree.
Shoppers love the quality of the dresses along with how easy it is to find the style they're looking for!
What Customers Are Saying
When it comes to online shopping, deciding whether or not to buy something relies heavily on the reviews of others who took the leap of faith first.
Lucky for you, we combed through real JJ's House reviews and picked out what you need to know. Here are the most common things JJ's House reviews are saying:
The quality is great
The dresses are really affordable and look like the pictures
Sometimes the color is slightly off
Very size-inclusive
Customer service isn't the best
Return policy isn't great either
In Conclusion
So, is JJ's House worth checking out? We think is, but we would proceed with caution due to some negative JJ's House reviews surrounding customer service and the return policy.
Despite the claims about subpar customer service, we think JJ's House is a great option to keep in mind if you're shopping for a special occasion and want to save some cash.
Not only are the dresses stunning, but they come in so many different colors and styles — you're bound to find something you'll love.
RELATED: 12 Stores Like David's Bridal to Find The Perfect Dresses
JJ's House Alternatives
FAQs
Where is JJ's House based?
It doesn't seem to be certain, but JJ's House appears to be based in the United Kingdom. However, there are traces of information pointing to the company being also located in the United States and Hong Kong.
Is JJ's House good quality?
Yes! There's a general consensus among shoppers that JJ's House's quality of clothing is good, especially for such a low price.
How long does it take to get dresses from JJ's House?
Standard shipping time to the US can take up to 10 business days. In terms of processing your order, if an item is made-to-order, customers should allow up to 9-11 days for processing and tailoring time.