Jewelry that caters primarily to men can be hard to come by. But luckily, upcoming male-focused jewelry brands such as Jaxxon and GLD exist to provide men with luxurious, stylish jewelry.
Jaxxon and GLD are two of the most popular options out there. When it boils down to it though, is one brand better than the other? Read our Jaxxon vs GLD jewelry review to find out which brand—if either—comes out on top. 
Jaxxon vs GLD: Overview
Before we get into the specifics, let's do a general side-by-side of Jaxxon and GLD to get the basics down.
Jaxxon
GLD
– Uses .925 sterling silver and 14k yellow gold
– Jewelry is gold-bonded (solid gold is also available)
– Made in Italy
– Prices range from $30 – $6,000
– Has a simpler aesthetic
– Accepts returns within 14 days of delivery
– Offers free return shipping
– $10 handling fee for returns
– Offers a 60-day warranty
– Uses 14k and 18k yellow gold, .925 sterling silver, and white/black rhodium
– Jewelry is gold-plated (solid gold also available)
– Designed in Miami
– Prices range from $149 – $4,000
– More bold and statement-making aesthetic
– Offers customized jewelry
– Accepts returns within 14 days of the date ordered
– Offers free return shipping
– Offers a lifetime guarantee on gold-plated and gold vermeil jewelry
What Is Jaxxon?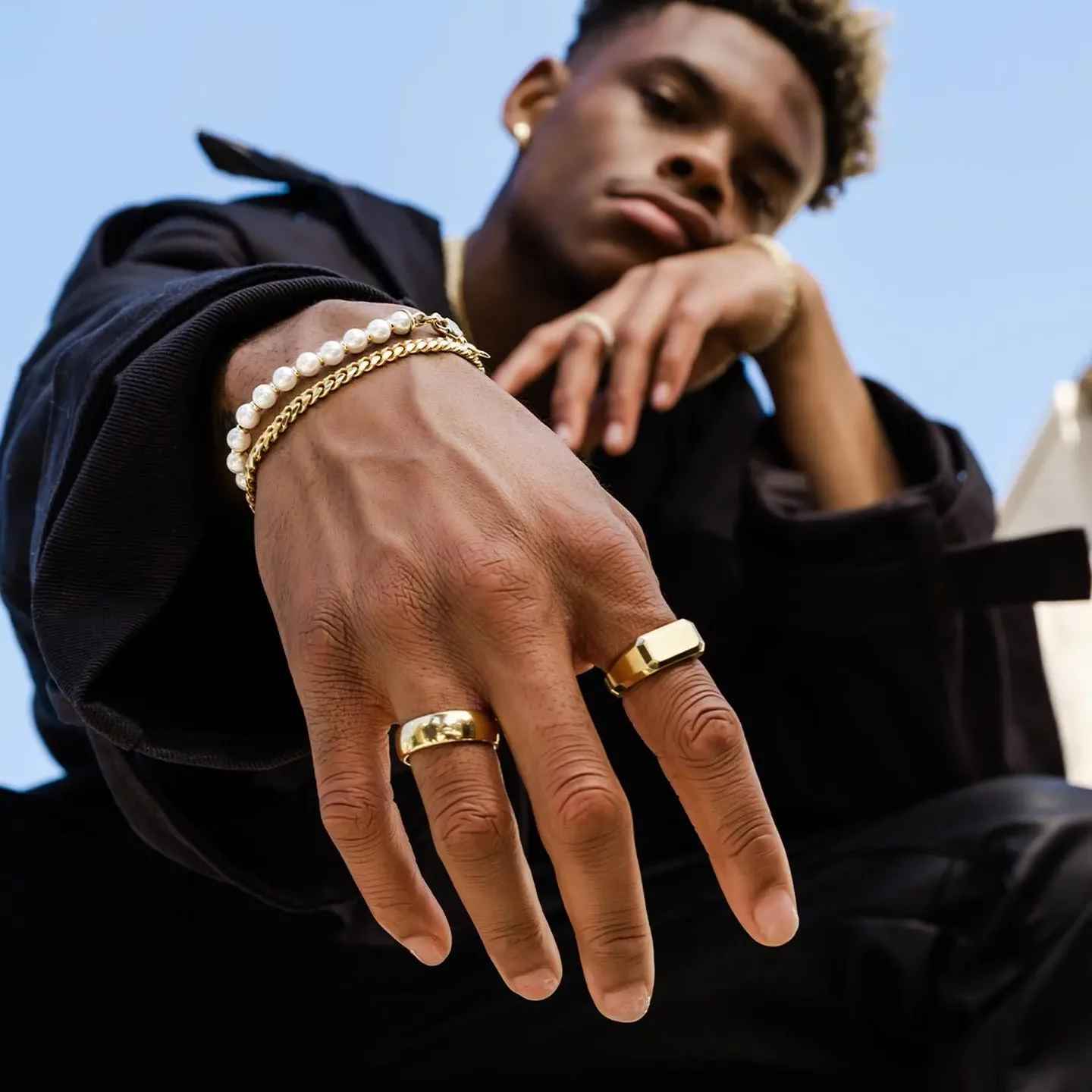 Jaxxon is a jewelry brand primarily created for men headquartered in Los Angeles, California.
Founded in 2018, Jaxxon carries all types of men's jewelry along with a women's collection where all pieces are made in Italy using premium materials.
Jaxxon was founded by two friends, Josh Deemer and Josh Pierce, after noticing a gap in the market for upscale yet affordable jewelry for men.
What Is GLD?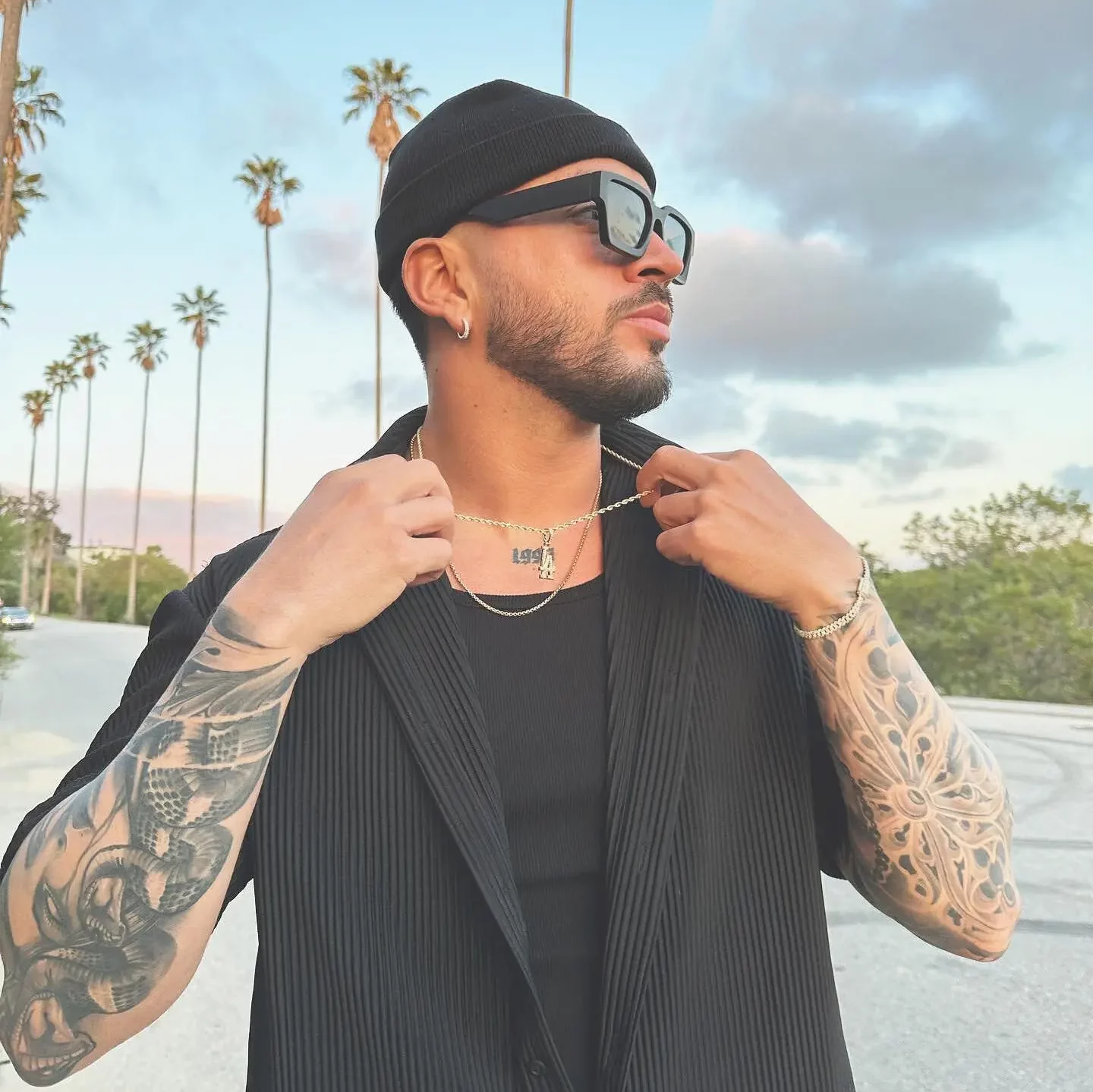 On the other hand, GLD began its journey in 2015 in Pittsburgh, PA, and was similarly founded by two best friends, Christian Johnston and Dan Folger.
Now based in Miami, Florida, GLD has created a strong reputation and collaborated with A-list celebrities like Wiz Khalifa, A$AP Rocky, and Kevin Durant. The brand has also worked with major companies like the NBA and Marvel.
Compared to Jaxxon, GLD's jewelry tends to be bolder and more statement-making, with diamonds and other precious stones often incorporated into their pieces.
In short, when it comes to branding, GLD has a very strong image aligned with streetwear and trendiness, and is a lot less subtle than Jaxxon's brand image.
RELATED: Our GLD Shop Reviews: Are They Worth It?
Quality & Materials
Jaxxon
As mentioned previously, Jaxxon uses high-quality sterling silver and 14k gold, with all of its pieces made in Italy by skilled craftsmen and jewelers.
Jaxxon opts to use 14k gold rather than 18k and 24k for more durability and resilience, which is why all of Jaxxon's solid gold and gold-bonded jewelry is made out of 14k gold.
Speaking of gold-bonded jewelry, Jaxxon continues its mission to provide durable pieces by coating premium .925 sterling silver three times in 14k gold.
What's the difference between gold-plated and gold-bonded? Gold-bonded means they used a thicker layer of gold; the minimum is 5% and typically is closer to 10% gold or even more. This thicker layer makes gold-bonded jewelry more durable, less likely to tarnish, and waterproof.
On the other hand, gold-plated jewelry doesn't require a minimum percentage of gold. Read more about Jaxxon's gold bonding process.
RELATED: 25 Best Men's Jewelry Brands To Shop Now
GLD
The biggest difference between GLD and Jaxxon is that GLD offers solid gold and gold-plated pieces rather than gold-bonded pieces like Jaxxon offers.
What makes shoppers a bit wary of GLD's quality is the fact that the brand does offer gold-plated jewelry, which is generally considered to be lower quality than solid gold jewelry and gold-bonded jewelry. 
Some customers believe that GLD's jewelry is overpriced for just being gold-plated, so if you're looking to buy from GLD, we recommend browsing through the brand's solid gold jewelry to get your money's worth. 
Price
Jaxxon
As mentioned previously, Jaxxon's price range is anywhere from $30 to $6,000!
As expected, the more expensive pieces comprise Jaxxon's solid gold jewelry, with the most expensive piece being the 7mm Solid 14k Cuban Link Gold Chain.
Jaxxon's prices are pretty fair, and the range is so wide that it can easily accommodate anyone's budget, especially for those looking to buy their first real piece of jewelry. 
RELATED: Jaxxon Jewelry Reviews: Here's What We Think
GLD
Similar to Jaxxon, GLD's price range is also pretty vast, with prices starting at around $150 and reaching up to $4,000.
Again, GLD's price range is perfect for those looking not to break the bank as well as those who are looking to splurge on some gold. 
GLD's most expensive piece is its 24" Solid Rose Gold Rope Chain, which is currently priced at $4,239.
Returns
Jaxxon
Jaxxon offers a 14-day return policy from the delivery date on all pieces except its solid gold jewelry. 
The 14-day return policy is only eligible for items that are in new condition, unworn, unaltered, and in the original packaging. 
Jaxxon does not offer returns on solid gold jewelry or engraved jewelry because they are custom and made-to-order.
GLD
GLD has an identical return policy to Jaxxon, with select items being eligible to return within 14 days from the date delivered.
Similarly, GLD does not offer returns on engravings, solid gold jewelry, final sale products, or other custom pieces. 
Jaxxon vs GLD: Who's The Winner?
When it boils down to it, we think that Jaxxon is the winner over GLD.
Not only do we love the vast price range, but we're completely sold on the durability and resilience of Jaxxon's jewelry, specifically the gold-bonded pieces.
Customers love Jaxxon and are impressed with its Italian-made quality, and with that said, Jaxxon wins this showdown over GLD.