Sustainable clothing is all the rave these days. Not only is secondhand shopping super trendy, but it's also great for the planet. You can shop your favorite brands at a discounted price and reduce your carbon footprint at the same time.
Thanks to online shopping, you don't have to scour your local thrift store in order to find great secondhand fashion. Sustainable clothing companies have become a huge hit online, but it's important to note that not all thrift stores are one size fits all. Every company has its own policies, clothing types, and ways to shop.
Goodfair, among other companies, is one of the online thrift shops to pop up recently. Their company offers secondhand shopping with a twist: all of their orders are mystery bundles, so you never know exactly what you're going to get.
Since Goodfair is a fairly new company, it might be hard to get a feel for their reputation. That's why we've taken out the hard work for you and shared our Goodfair reviews below. If you're thinking about trying out the company, ahead are some things to keep in mind.
What is Goodfair?
Goodfair is an online secondhand clothing company that sells "preloved" items in mystery bundles. While you can't choose exact clothing items to purchase, you can leave notes on your order stating your preferences in color, size, and taste.
With its "No New Things" pledge, Goodfair is on a mission to eliminate fast fashion, reduce consumerism, and help save the planet by collecting clothing items that were originally meant for the landfill and giving them a new home.
Although their clothing can be considered retro in style, they are not necessarily vintage. Most of their clothes are up to 10 years old.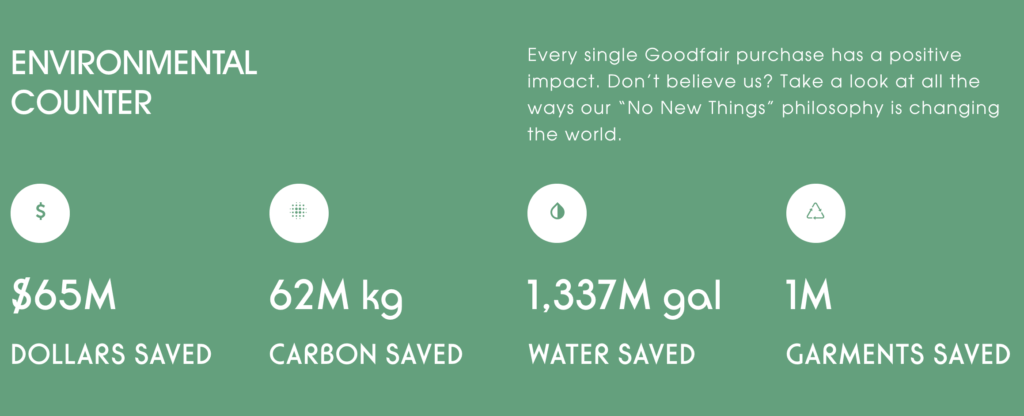 Pricing
Because Goodfair's clothing items are secondhand, they are able to sell them at a discounted price. What you pay, though, depends on what you buy. Most bundles on Goodfair range from $10 to $50, but can be as much as $85.
Goodfair offers free shipping on orders over $49, otherwise you pay a small fee for standard shipping. If you want your clothes asap, however, you can pay a more hefty fee for FedEx 2-day shipping.
Something cool Goodfair offers is the chance to round up your change at checkout to make an even bigger ecological impact. The proceeds go directly to the Tri-State Forest Project in Massachusetts, which protects a forest there that captures a ton of carbon dioxide each year.
Finally, they also offer a great rewards program to help shoppers save money!
You earn 1 point per dollar spent, but you can also do a variety of tasks (like following social media accounts and signing up for email) to get additional points. 100 points can be redeemed for a $5 discount. You can get a trip to their headquarters for 5,000 points or Facetime with their CEO for 1,500 points!
Returns
RIght now, shoes are the only returnable items at Goodfair, but they do offer something called a "Second Chance" policy where you can order a replacement for any clothing item you weren't totally satisfied with.
It's free, and you don't have to send back the piece of clothing you didn't like. You will have to cover the shipping fee though, which is $4 (plus another dollar if you live in Canada).
Our Goodfair Reviews
Based on reviews, Goodfair is a legitimate secondhand clothing company that sends customers mystery bundles of your choice.
However, because of the surprise-nature of Goodfair, it might not be for everyone. Read more about how other people felt about their Goodfair experience.
What Other People Are Saying
Goodfair has quite a few reviews, both on their website as well as other locations. Here are some top points of feedback we discovered:
"Goodfair is one of my favorite places to shop for everyday basics. I love their mission and what they stand for!!! #NoNewThings!" – Few-Recommendation on Reddit
"I loved all of the clothes I received, they were all super soft and in nice condition." – Spence
"I can't see how a person could ever hit a home run as a buyer, as the reality is that most of the clothes out there are NOT what you're looking for or wanting." – grandmasterpiano on Reddit
"I think every order is just going to be hit or miss since you get a random bundle, but I'm happy and would try it again." – gam_gee on Reddit
"I would not recommend this to anyone trying to buy any kind of vintage bundle. You're better off actually thrifting or just saving your money." – Dustin G
"Loved my sweatshirts. Bottom line is – if you want fashion or vintage – go to Saks or eBay. Great place to get thrifted basics. Don't forget to leave notes." – zarina223 on Reddit
Bottom Line
To sum up our Goodfair reviews, this brand is a great secondhand option for anyone who loves a little bit of mystery and enjoys the excitement of not knowing exactly what they'll be getting in their bundle.
However, if you're the type that likes to shop for specific clothing or is looking for valuable finds, ordering from Goodfair might be a challenge for you. It's also not the place to find authentic vintage pieces. If you're feeling adventurous, however, you could buy a bundle and might be pleasantly surprised. Maybe you'll receive a unique piece or a quirky find. Plus, you'll be helping the planet in the process!