There's no denying it: we all love thrift stores. Whether it's because you save money on discounted items or because of the thrill of rummaging for treasure amidst all the junk— thrift stores are a pretty big deal (even online thrift stores!)
However, thrifting can be miserable if you don't know what you're doing. And honestly, not knowing the proper way to thrift can lead to missing out on amazing deals and items, making your overall trip seem pointless. If this sounds like you, don't worry, we're here to help.
Ahead, we're going to share our top 15 tips for how to thrift shop to help you make the best of your thrifting extravaganzas and get the most bang for your buck.
How to Thrift Shop
Thrift shopping might sound like an easy task, but there are some essential tips if you want to make your trip as successful as possible and become a pro. Here are some of our favorite ways to make the most out of thrift shopping.
1. Visit Often
If you want to get into thrifting seriously, the first tip is to do it often. Thrift stores are unique in comparison to other businesses because they don't carry a regular inventory. Therefore, something that's there one day could be gone the next permanently (and new arrivals typically come daily as well).
If you want to start building up your own thrifty collection, make sure you put in any effort to go there often. If you ask us, once or twice a week would be a good starting point.
2. Find the Best Stores
Another important tip for how to thrift shop: don't stick to the same store every time. Research your area to see what other thrifters think the best stores are, and constantly try new stores around you.
Once you're a more seasoned shopper and have been to every store multiple times, you will know the best stores in your area for the best finds!
3. What Are You Looking For?
When visiting a thrift store, the best part is that you never know what you're going to find. Is it your favorite childhood board game that brings back all the nostalgia, or is it the perfect dress for your best friend's wedding?
To save you the trouble of rummaging in the store for hours and buying a bunch of useless things, it's always a good idea to have a sense of what you're looking for.
If you're just there to look, you do you girl! But if not, keeping your focus on the specific items you're looking for will help to make your thrift store trips a lot quicker and easier overall.
4. Familiarize Yourself With Quality Brands + Fabrics
The best thrift shoppers know what brands to look for, what fabrics are highest quality, and even how to analyze a piece of clothing to see if it's poorly made.
To save time and help yourself find the best thrift store items, do some research before starting your journey. Learn how to spot high-quality pieces and what brands you want to stay on the lookout for.
When shopping, it's hard to remember every high-quality brand unless you're a serious pro, so another easy trick is to look at the fabric specifications.
On almost every garment, there will be a hidden tag that shares what the fabric is. 100% fabrics are usually your best bet for quality (such as 100% wool, 100% linen, 100% cotton, and so on).
Also, if you think you've found a quality item or brand, don't be afraid to search it on your phone!
This tip is also very helpful to ensure you're not overspending. Some thrift and consignment stores actually mark prices up, so familiarize yourself with average prices of popular brands and again, don't be afraid to research before you purchase!
Note: This tip is also super important if you're looking to resell thrift store finds.
5. Search for Vintage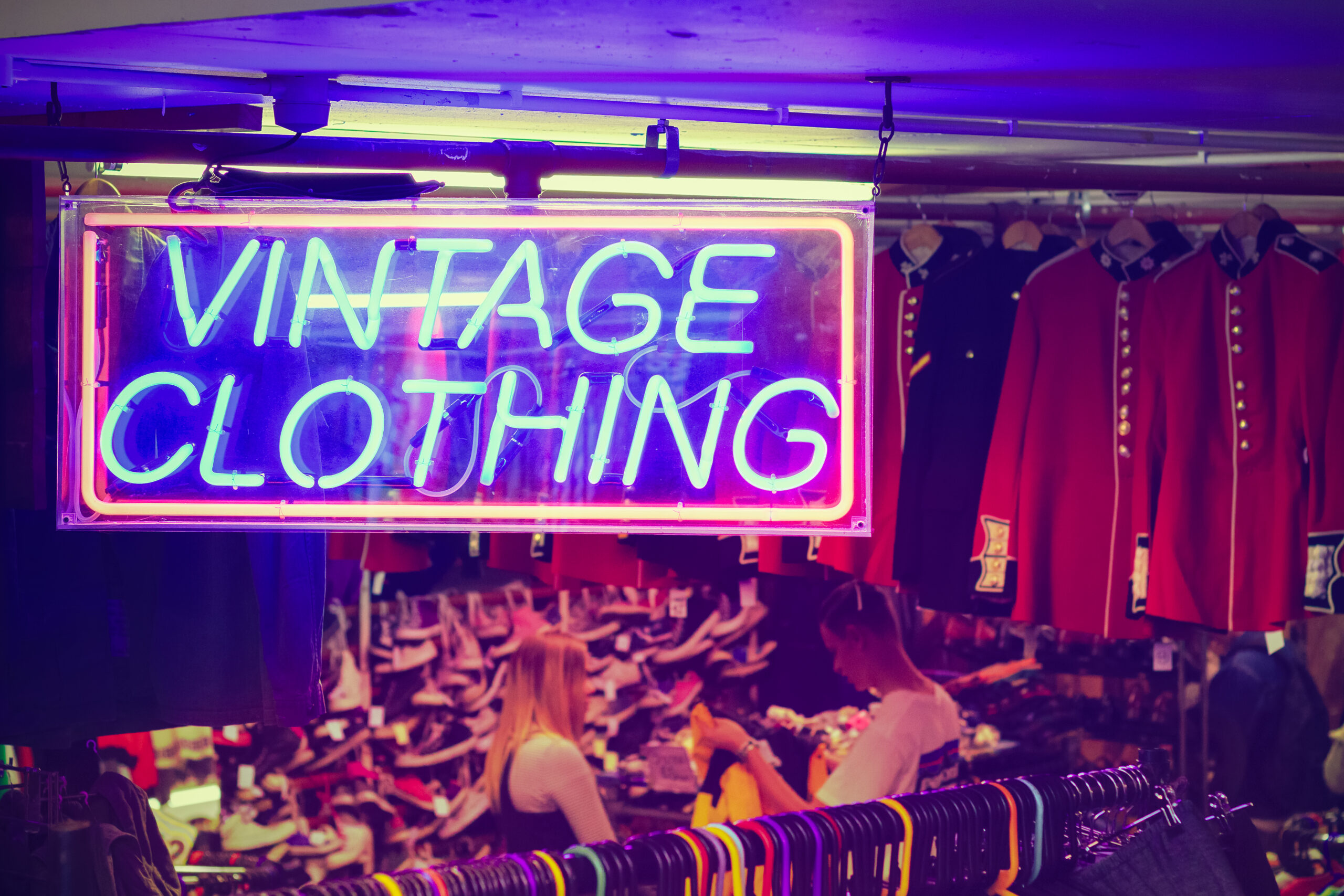 Next time you're thrift shopping, don't turn away a mainstream brand like GAP.
Their current pieces are definitely not the greatest quality, but a few decades ago, they were much better quality. Because of this, you may find some great deals by staying on the lookout for classic vintage pieces like this!
6. Set Your Budget
This may go without saying, but you definitely want to set your budget before you go thrifting. There are so many unique treasures to be found, and you don't want to be dumping your life savings on all of them.
It can be easy to say you aren't going to spend much, but then end up leaving with five dresses, a collection of VHS tapes, 15 new books, and a new mattress (which, btw, you didn't go in there for).
So overall, just make sure you set your budget accordingly ahead of time to prevent any splurging.
7. Search Every Corner
Another important tip for thrift shopping is to search far and wide in the store. Many thrift stores are like a gold mine, and a treasure could be hidden in the smallest of places anywhere in the store.
Therefore, if you're shopping for, say, a cool vintage lamp, make sure you take a few loops around the store and browse to make sure no one put one down somewhere else.
8. Examine Everything
Another key tip to thrift shopping is to examine everything you're going to buy. From the threading to buttons, you need to look at every detail on every single item. You really don't want to waste your time or money on something that's ruined and unfixable.
Take your time checking every detail ahead of time to avoid a problem – some of the most common things that go overlooked is making sure the zippers work and checking for stains and holes (especially in places like the armpits, crotch, and inner thigh areas). It sounds gross, but make sure to smell these areas also.
If you find there is damage, decide if it's fixable and go from there.
9. Try It On
Next, make it a priority to try on any clothes ahead of time. Nothing puts a damper on your day like buying a piece from the thrift store, going home, and finding out it doesn't fit.
If the thrift store doesn't have a fitting room, try it on over your clothes to get a general idea of how it looks on you. This will help you save money and also help you buy things that you would actually wear instead of things that you think you would wear.
On a similar note, if you don't want to try it on over your clothes, you can always check the store's return policy. Many stores offer generous return policies in case the item doesn't fit how you envisioned.
10. Shop Midweek Instead of Weekends
Another great tip for getting the most out of your thrift shopping is to shop midweek instead of the weekend. Everyone and their mother is at the thrift store Friday-Sunday, so it's best to just avoid it altogether and miss the crowd.
Not to mention, thrift stores will be plucked of all the good stuff by then anyway, so it's best to choose a day like Tuesday or Wednesday to up your chances of finding something special.
11. Ask for Bigger Discounts
Finally, our last thrift store tip is to not be afraid to ask for a better discount. I know what you're thinking— it's already discounted; why ask for more? Well, if you find something that has pretty significant damage to it, you are definitely entitled to get it marked down even more than it already is.
Most thrift stores keep specific item groups at a core price and don't check for any nitty-gritty damage. Therefore, if you present the damaged item to a clerk, you may just be able to knock off a few extra dollars on top of it.
12. Learn to Upcycle + Fix Up Garments
The best deals you'll find at thrift stores are going to be the products that need a little TLC, so learning how to upcycle or fix small issues are beneficial skills to learn (many of these tactics are also super easy).
For example, you'll find a lot of great leather bags or shoes that look dingy, but they can be brought back to life easily.
13. Furniture: Proceed With Caution
When it comes to thrift shopping for furniture, make sure to be very careful. Bed bugs are a common (and terrible) issue to encounter. Once they're in your home, they're extremely difficult to get out.
If you want to be extra careful, try to avoid upholstered items that have nooks and crannies you can't thoroughly clean. Something like a set of plates or glass dining table is easy to wipe down and is very unlikely to carry bed bugs, while a reclining chair has a much higher potential to have bed bugs.
14. Wash Everything
On a similar note, clothing has the potential to carry bed bugs as well.
Although not as common, you still want to play it safe and make sure to wash everything before wearing (or at least put it through a heat cycle in the dryer).
15. Donate While You're At It
Another great practice to get in the habit of is rummaging through your clothes to find some to donate before you hit the thrift store. This is a great practice for many reasons, but mainly because it helps you to let go of things you don't necessarily wear or need.
That way, you will have plenty of room for new pieces, and you will also be giving back to the community with your own unique thrifty items (and that's pretty rad, don't you think?).
The Bottom Line
In conclusion, there are many important things to learn about how to thrift shop and become a thrifting expert. Whether it's checking the items for damage or knowing what brands to look for, over time it will become second nature and you'll start to learn all the little quirks for your own thrifting routine.
Overall, we hope these tips on how to thrift shop were helpful to you and will help you get on your way to the thrifting adventures of your dreams.
If you're ever planning a trip to New York, check out these best thrift stores in NYC!