Finding your perfect skincare routine takes a lot of trial and error. There are so many skincare brands and products that shopping for them can be a little overwhelming.
However, finding no-nonsense skincare brands with affordable prices and straight-to-the-point ingredients is hard. If this is something you're looking for, Good Molecules might be for you.
If you want to learn more, keep reading our Good Molecules review! 
What Is Good Molecules?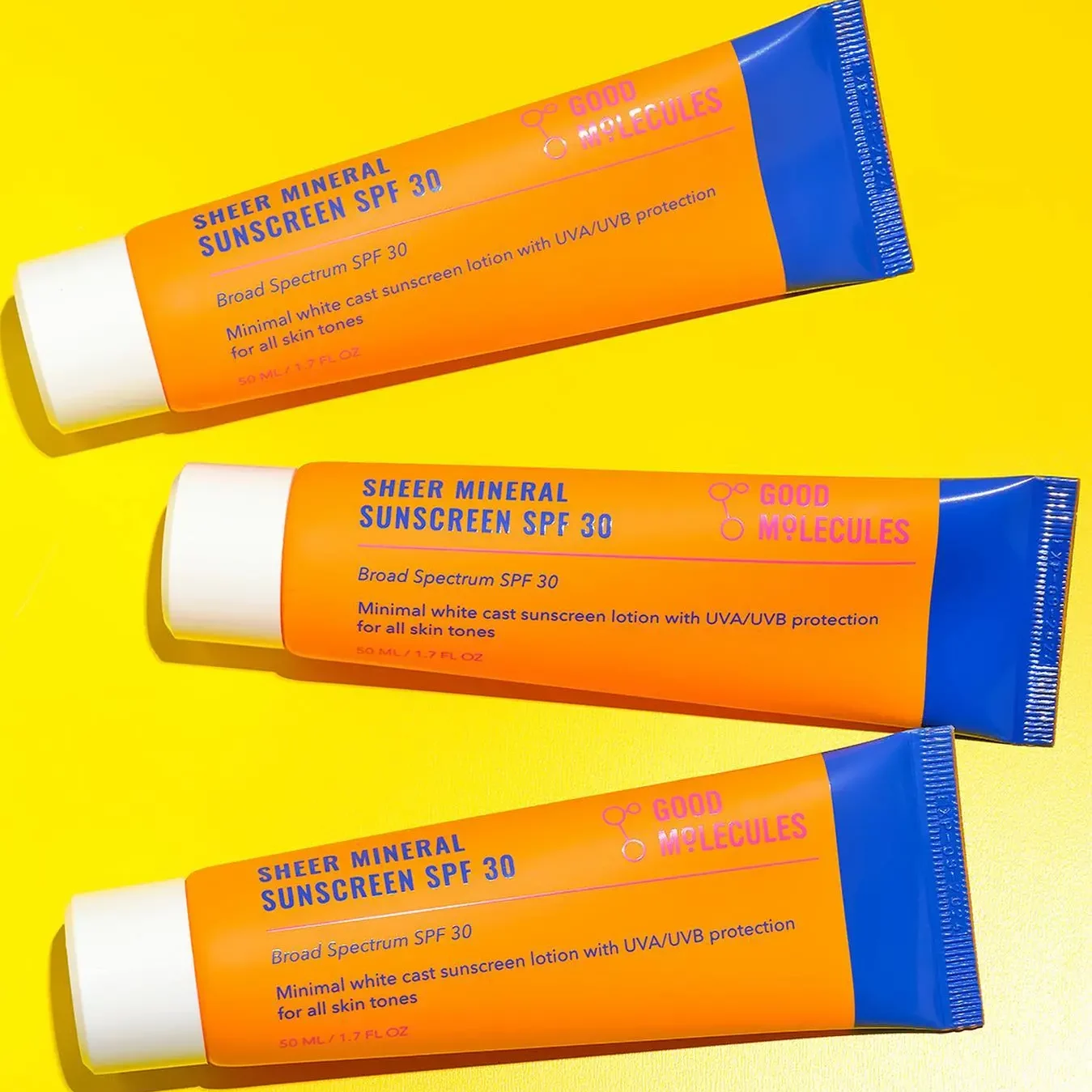 Good Molecules is a skincare brand founded by Nils Johnson (who is also a founder of Beautylish – an e-commerce platform that carries curated global beauty products). 
Good Molecules is all about offering affordable and high-quality skincare products that are backed by science, plus safe for you and the planet. 
Good Molecules offers a total of 31 products, with each product packing a punch.
Each product serves a purpose and caters to different skin problems. Since everyone's skin type and chemistry aren't the same, Good Molecules makes it easy to find products for shoppers' specific needs. 
Good Molecules Review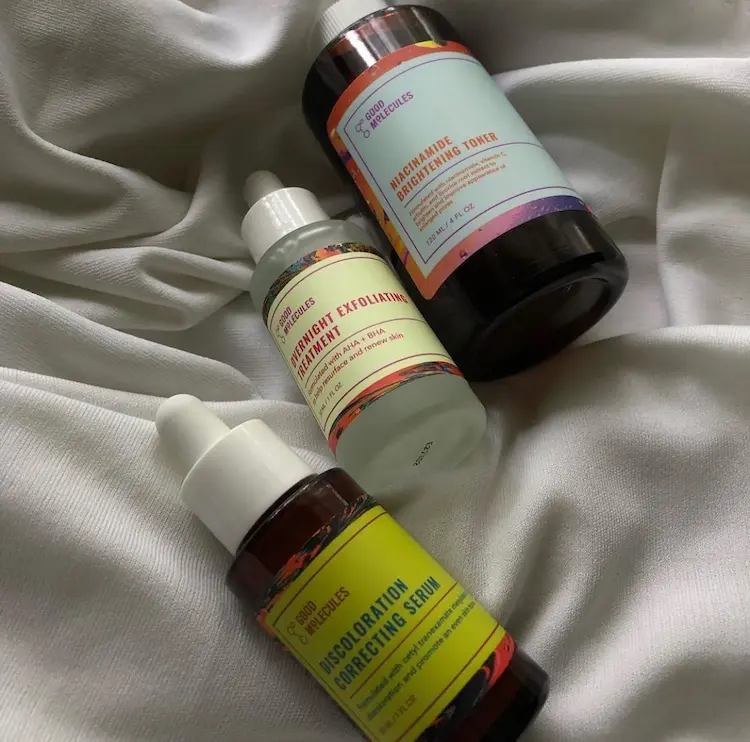 Overall: ★★★★★ 4.75 stars
Generally speaking, Good Molecules has very positive and satisfied reviews from customers.
Not only is it a great skincare brand for those on a budget, but it's just a good skincare brand, period. With transparent ingredients backed by science, Good Molecules products are perfect for any skincare routine! 
Price: ★★★★★ 5 stars
Let's talk about these prices — everything is under $20 and many products are under $10! 
Ranging from $6 to $18, Good Molecules products are perfect for those not trying to blow their paychecks on high-end skincare. The best part? Customers say they last a long time too, not to mention they are effective.
Ingredients: ★★★★★ 5 stars
Good Molecules is all about being transparent with the ingredients used in its products. In fact, you can read about athe ingredients used in the Ingredient Directory and what each does for the skin.
Good Molecules cuts to the chase and doesn't sugarcoat its products with fluff and fragrances. In the brand's formulas, you can find powerhouse skincare ingredients like hyaluronic acid, niacinamide, and more.
Not just that, but all Good Molecules products are cruelty-free and most products are made in South Korea (which is known for its amazing skincare).
What Customers Are Saying
Rest assured, there are quite a large number of positive Good Molecules reviews! To make life easier, we combed through reviews from real customers and pulled out some of the most essential things you should know about the brand before you buy.
Here's what customers are saying:
A large number of people said their products are great for sensitive skin
The products work, but certain products take a few months to see results (such as the famous Discoloration Serum).
Many people say their products are more effective than high-end skincare they have purchased
Speaking of holy grails, let's dive into some of Good Molecules' most popular and best-selling products to see what the hype is all about!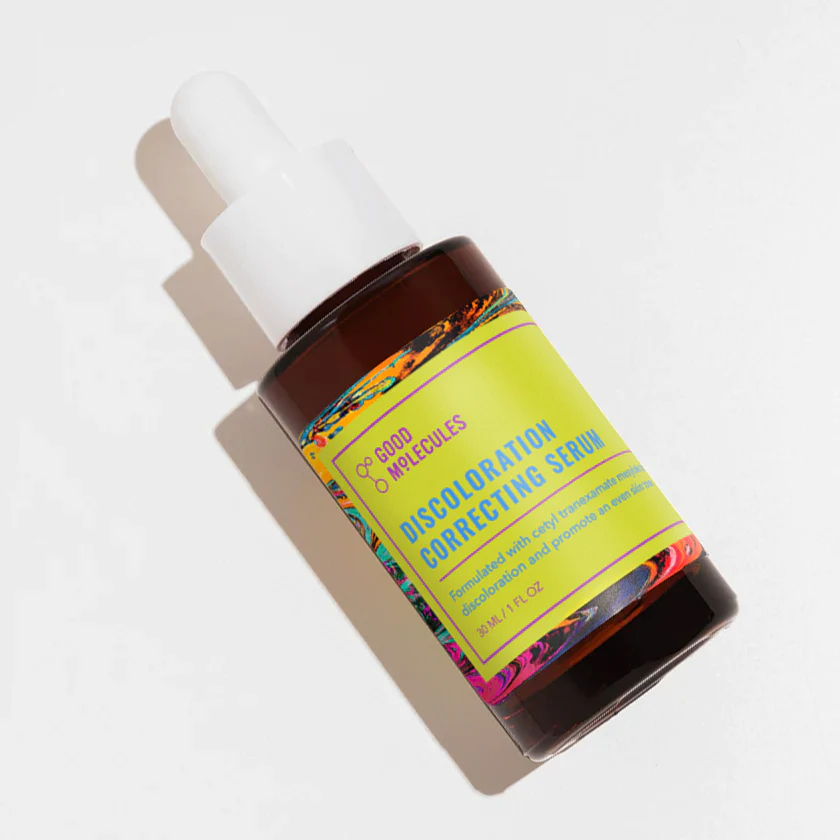 The most talked about product from Good Molecules is the Discoloration Correcting Serum, which targets hyperpigmentation, blemish scars, and sunspots.
Suited for all skin types, this serum is fragrance-free and vegan. It includes key ingredients like niacinamide and tranexamic acid (used to target discoloration and promote a clear skin tone). 
Good Molecules' Discoloration Correcting Serum is $12 for a 30mL bottle and $25 for a 75mL bottle. You can even purchase a 3-pack! 
Customers love the glow this serum gives their skin and how smooth the texture is.
---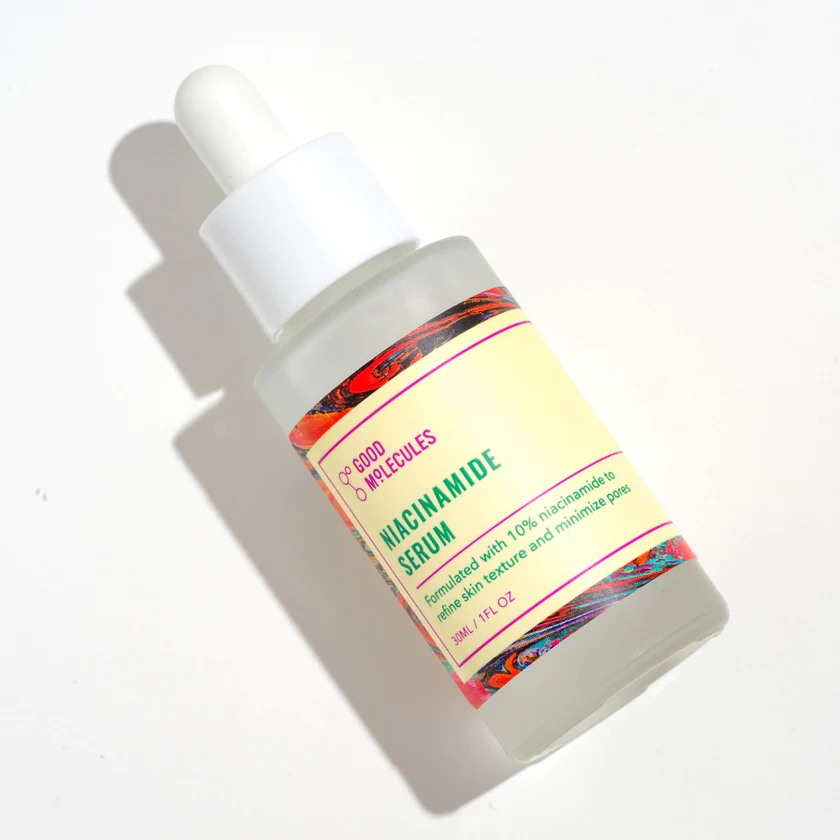 Niacinamide is the IT girl of skincare ingredients, and we don't blame her!
Good Molecules's Niacinamide Serum is made with 10% niacinamide (vitamin B3) to promote a more refined skin texture and even skin tone. This serum is meant to care for almost everything — breakouts, enlarged pores, uneven skin tone, and texture! 
Though this serum is meant for all skin types, it's especially great for those with combination and oily skin. The formula is lightweight and hydrating, and would be a great addition to your nighttime routine.
This serum starts at $6 for a 30mL and is $12 for a 75mL, which is such a steal. Just like the Discoloration Serum, you can even buy up to a 3-pack!
---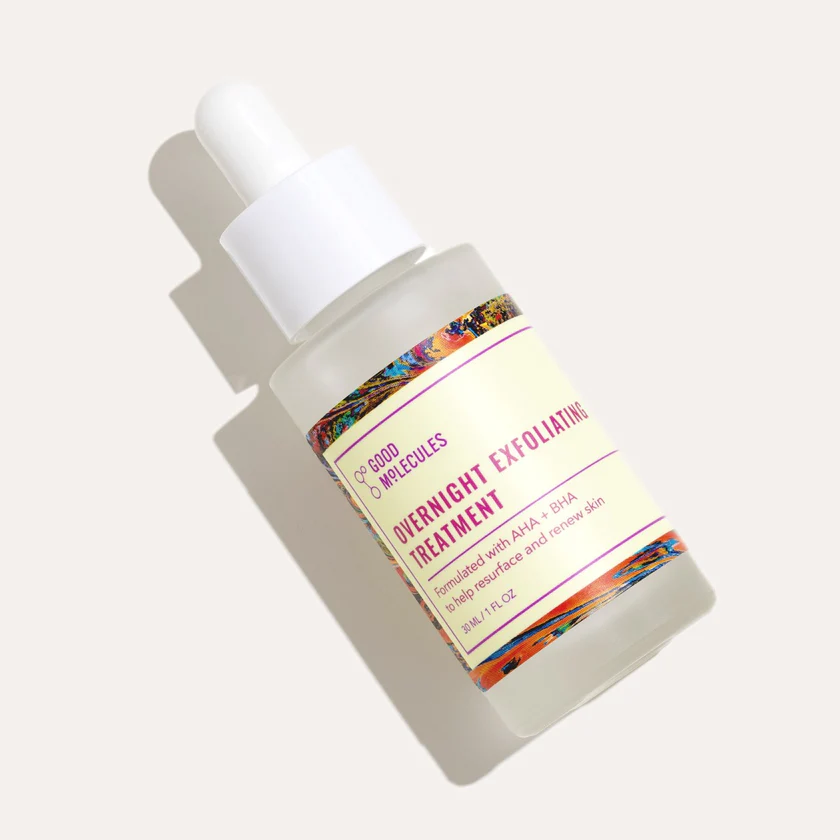 If your skin is looking dull and you need a little pick-me-up, try this Overnight Exfoliating Treatment. 
Made with glycolic and lactic acids (AHAs) and salicylic acid (BHA), this treatment is meant to remove dead skin cells from the surface of your skin to improve the look of enlarged pores, congestion, clogged pores, and texture.
Many customers who've used this treatment can't stop raving about the glow it gives their skin the next morning and how smooth and bright their skin looks! 
Good Molecules does advise using this treatment up to three times a week, but for those with sensitive skin, try using the treatment once a week to start. 
This Overnight Exfoliating Treatment can be yours for just $6!
---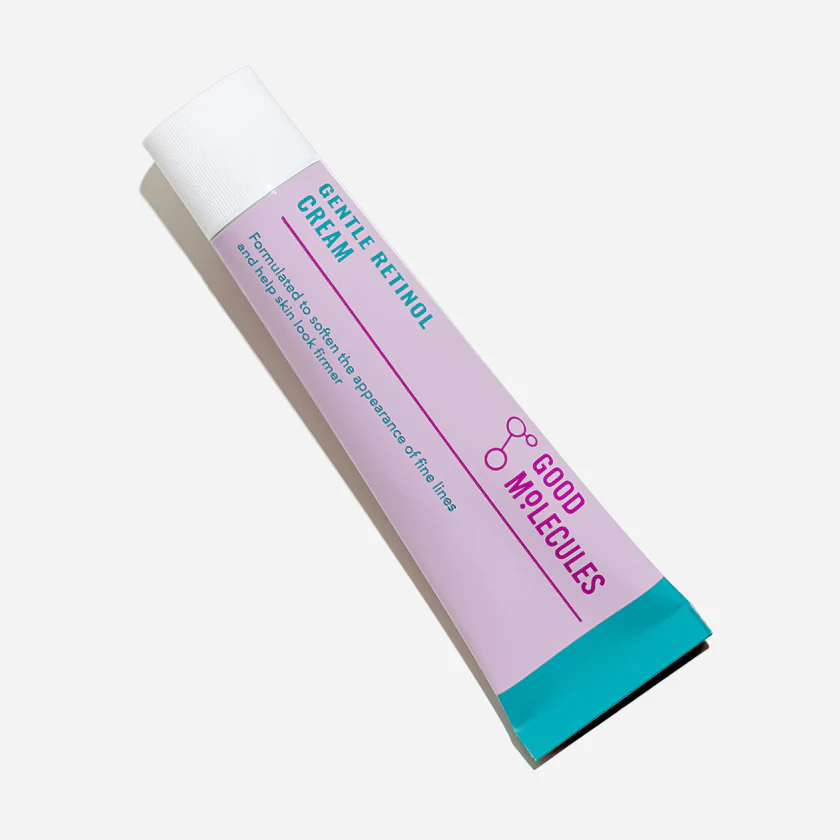 Suitable for all skin types, Good Molecules Gentle Retinol Cream features 0.1% retinol, grape seed oil, bakuchiol (a plant-derived ingredient), and more! 
This retinol cream targets fine lines, wrinkles, dullness, premature aging, enlarged pores, and hyperpigmentation — the whole shebang.
Priced at $8, customers can't stop talking about how incredible this retinol cream is, which is probably why it sells out so quickly! 
Users who've tried Good Molecules' Gentle Retinol Cream swear by it and have noticed a positive difference in their skin.
Note: Be sure to wear SPF when you add retinol to your skincare routine, especially if you put it on in the morning (we recommend retinol at night).
---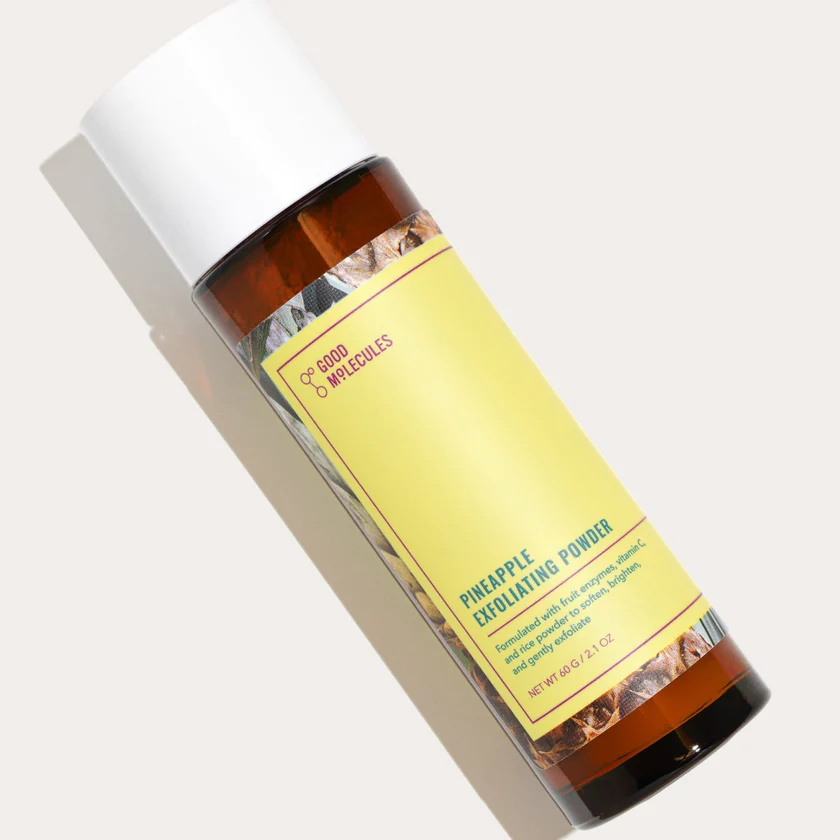 This fun, unique exfoliating powder features natural rice starches, calamine powder, pineapple extract, kiwi extract, and papaya extracts! 
Perfect for all skin types, this gentle exfoliating powder breaks down dead skin cells on the skin's surface layer to help treat texture, dullness, and uneven skin tone. 
This product is free of fragrances, silicones, alcohol, and mineral oil. Plus, it's also vegan!
Customers love how gentle this exfoliating powder is and how inexpensive it is. You can snag this for $16!
---
Return Policy
Good Molecules has a 60-day return policy that is hassle-free and super easy. 
If you're unsatisfied with any of your products, contact Good Molecules's customer support, and you'll be issued a full refund to your original form of payment.
You can also buy the brand at Ulta, which has an excellent return policy too.
FAQs
Is Good Molecules a Korean brand?
We don't know if it's necessarily a Korean brand as their headquarters is in Los Angeles, California. However, 90% of the brand's skincare is made in South Korea.
Is Good Molecules a clean brand?
Good Molecules is very transparent about its ingredients and why they use them. Products vary in terms of what they're free of, and some products are vegan while others aren't. You can check out the full ingredient list here.
Who owns Good Molecules Skincare?
Nils Johnson owns good Molecules. 
How often should you use Good Molecules?
This depends on the product you're using and how sensitive your skin is. For example, the Overnight Exfoliating Treatment should be used up to three times a week max. Since each product is different, make sure to read the how-to! 
The Final Verdict
We love Good Molecules! We think it's an awesome brand that is super affordable and really targets skin concerns.
The brand has all the products you need to make an effective skincare routine for any skin type, whether morning or night.
Of course, everyone's skin is different, so there's a chance that not all products from Good Molecules will work for you. Luckily, you can buy the brand at Ulta (which has a great return policy) or Good Molecules offers 60-day returns.
Good Molecules Alternatives
We have you covered if you're looking for similar brands to Good Molecules.