Themed nails are the perfect way to celebrate any special occasion, gender reveal parties included.
You can always go for the traditional pink and blue colors, or get creative with extra sparkles or embellishments. Whatever route you choose, gender reveal nails are a fun way to show your support for the new arrival.
Keep scrolling for our current favorites when it comes to gender reveal nail ideas, perfect for anyone attending a gender reveal party or having one themselves (congrats if so)!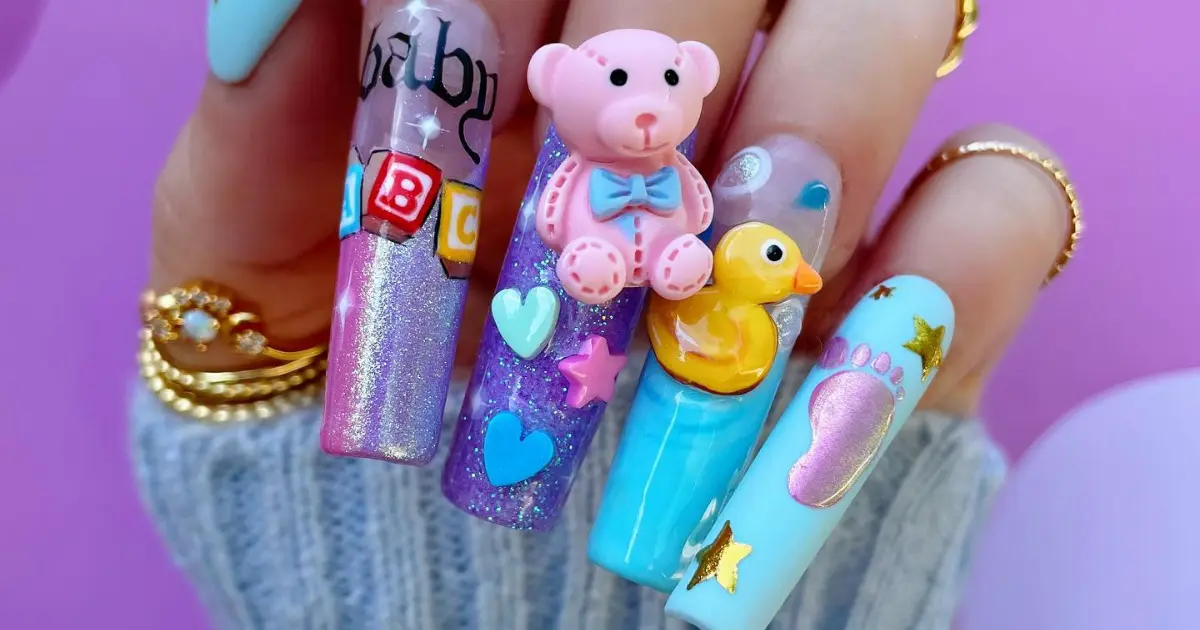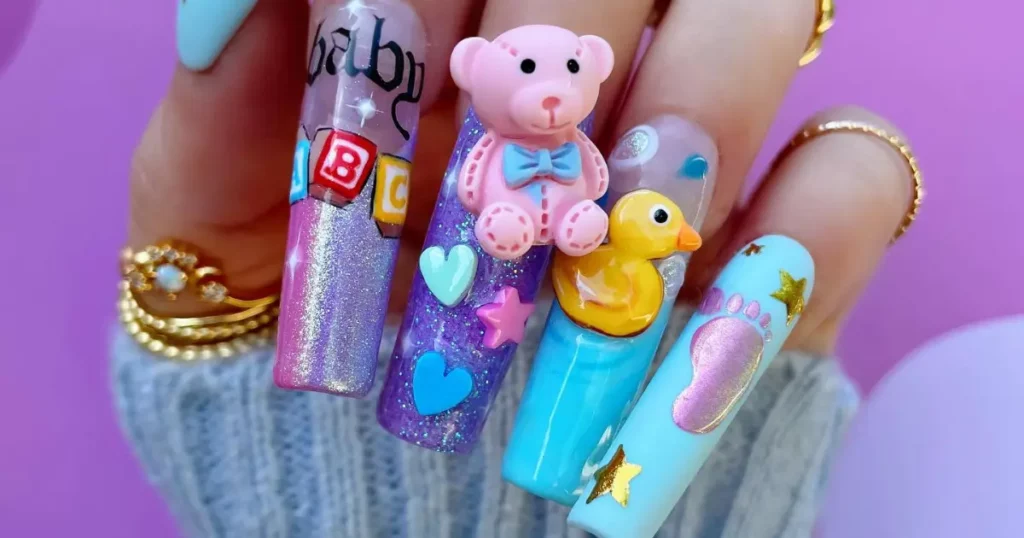 Pink & Blue Heart Tips
These gorgeous French tips feature textured hearts to add a unique element to the design. Paint one hand pink and the other blue for the perfect gender reveal nails!
Alternating Pink & Blue
To keep things simple, you can't go wrong with extra glossy nails that alternate between pink and blue colors.
Blue and Pink Baby Feet
These adorable gender reveal nails are simple but so sweet! Keep it classy with a clear nail base, or alternate pink and blue nails and choose a finger to add the footprint.
Pink and Blue Polka Dots
If you don't want to decorate your nails with weird baby stuff like feet or ducks (we feel you), these polka dot nails are more simple, yet still adorable. Plus, you'll be able to wear them outside of the gender reveal without receiving any weird looks.
V-Tips & Flower Embellishments
A classy and simple nail that's absolutely beautiful, we're obsessed with this gender reveal nail design. Featuring pastel pink v-tips and blue and pink statement flowers on two nails, they didn't miss a single detail.
Matte Nails & Flower Embellishments
Similar to the previous design, these nails are minimalistic yet stunning. All the nails have a matte white base and the two middle nails feature pastel pink and blue flower embellishments to make a statement.
Potential Names
If you're the expecting parent, these glamorous and classy nails are perfect to wear to the party. One side features the potential name for a boy and the other is the potential name for the girl. Not only will everyone be finding out the gender, you'll also be able to reveal the name!
Blue & Pink Marble
You don't always see darker shades of blue and pink when it comes to gender reveal nails, but we're obsessed with this marbled design.
Jeweled Pacifier
These fun nails feature blue and white nails with a pacifier design on the ring finger. Or, if you're not a fan of the statement nail, stick with the pattern with a simple colored nail and a gem at the base!
Pastel French Tips
You can't go wrong with a classic French tip! These French tips feature pastel blue on one hand and pastel pink on the other.
Pink and Blue Thin Line Tips
If you want a more minimalistic design for a gender reveal, these thin tips are perfect.
Gender Reveal Flames
Flames are an excellent way to make a statement. The first design is our favorite (we love how seamlessly the blue flames mesh with the pink ombre nail underneath). That said, the second is another great choice if you like the half and half style.
Rubber Ducks & Bears
What screams baby more than ducks and bears? If you really want to go all out with your gender reveal nails, these are for you.
Statement Embellishments
These fun, unique nails feature statement embellishments like a bear and a lollipop, plus a baby foot design on one nail.
Colored Marble
These gorgeous nails feature a blue marble design with a bit of blank space on each nail. They did all blue, but you can go for one hand blue and the other pink (or pick your favorite color based on the baby gender you want).
Yin Yang
We always see black and white yin yang nails, but this fun design uses pastel pink and blue to put a fun gender reveal twist on things.
Wavy Gender Reveal Nails
These nails combine the wavy lines nail trend with gender reveal colors. Each nail features a blue ombre base with pink abstract wavy lines over the top. So fun!
Squiggle Nails
Another fun wavy abstract design.
Every Gender Reveal Shade
A fun design that makes a statement, these nails use a different shade of blue or pink on each nail.
Pink, White & Blue Tie Dye
This fun design uses pink and blue, with some white thrown in as well to brighten the look up.
Half & Half V-Tips
Simple and fun, these nails feature half and half V-tips on every single nail.
Abstract Lines
With plenty of blank space, these gender reveal nail designs incorporate just a few blue and pink abstract lines on each nail.
Pink & Blue Glitter Tips
Don't forget the glitter! These French tips will be the star of the show at any gender reveal party (second to the expecting parents, of course).
Sparkle Gradient
These cute nails feature a nail with the classic baby feet and a nail with some pretty sparkles, then ombre tips on the rest of the nails. You can do half pink and blue, or just pick one color if you have a preference on which gender you want the baby to be.
Subtle Polka Dots
A very minimalistic nail design, these nails feature small polka dots on a natural nail base (one hand has blue polka dots and the other has pink). You can even try this one yourself if you have a steady hand!
Cloudy Nail Art
This cute design features pink and blue v-tips with dreamy cloud nail art on the two middle nails. Don't forget the adorable baby foot!