Shopping for a diamond is quite the process, and it all starts with where you're getting your diamond from. 
There are a ton of reputable jewelers out there who want to make your ring and diamond shopping a memorable experience, one of them being Gage Diamonds. 
Known for affordable prices and exceptional customer service, Gage Diamonds is an impressive jeweler that could be your next go-to.
Keep reading our Gage Diamonds reviews to see what people really think about this jeweler.
What Is Gage Diamonds?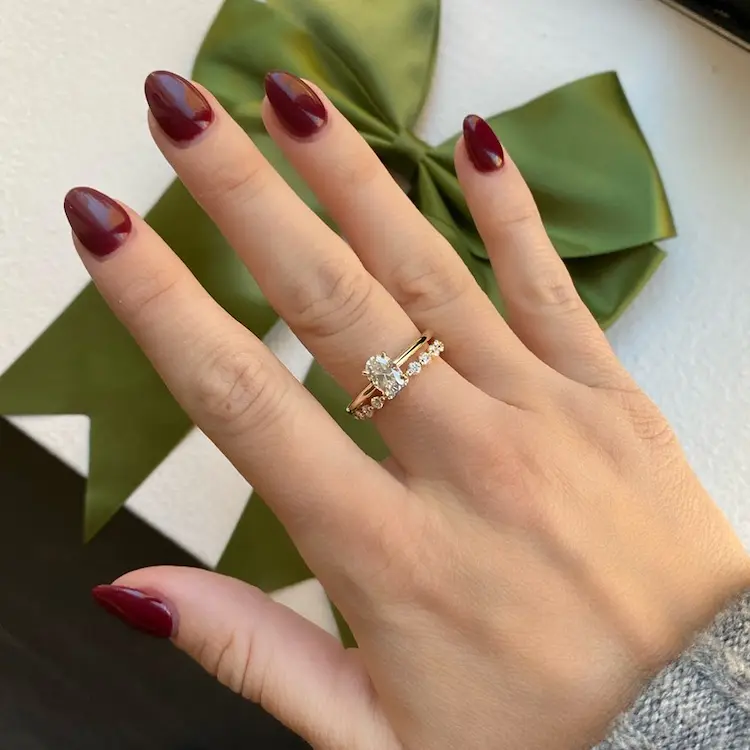 Gage Diamonds is a fine jewelry company and online retailer. The company was established in 2015 and has a premier showroom located in Chicago, Illinois.
With a team mostly made up of passionate and talented women, Gage Diamonds is one of the first online jewelry stores to offer no-credit-needed financing on purchases with up to 14k financed.
Gage Diamonds: Overview
Gage Diamonds offers fine jewelry, designer engagement rings, and certified diamonds that have been handpicked by the company and is meticulously inspected by Gage Diamond's designer, Dustin Mauldin.
Additionally, all rings are made-to-order and all diamonds are one-of-a-kind — talk about unique!
Gage Diamonds Reviews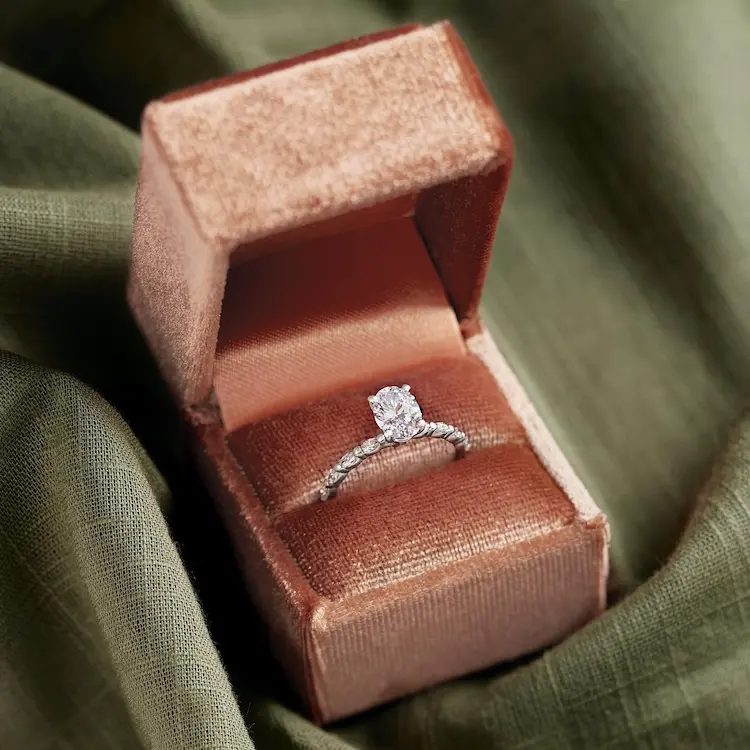 Overall: ★★★★★ 5 stars
Gage Diamonds has high praises all across the board! From excellent service, affordable prices, and stunning quality, Gage Diamonds is a very reputable and favored jeweler.
Price: ★★★★★ 5 stars
What we love about Gage Diamonds is that it was one of the first online jewelers to offer 100% financing.
Gage Diamonds finances with LendFirm, and it's as easy as creating an account, verifying your identity, and verifying your proof of income!
Based on your qualifying loan terms, LendFirm is able to finance up to $14K, meaning you can finance your entire purchase.
Excluding financing, Gage Diamonds offers affordable prices on engagement rings for as low as $1,000! In fact, you can even check out Gage Diamonds's sale page.
As for other fine jewelry, you can find pieces for as low as $50!
Quality: ★★★★★ 5 stars
Gage Diamonds pieces are available in 14k yellow gold, 14k white gold, 14k rose gold, 18k white gold, and platinum.
All diamonds are GIA-certified (Gemological Institute of America), meaning they've undergone a rigorous system that grades diamonds based on the 4Cs: carat size, clarity, cut, and color. 
Additionally, Gage Diamonds's in-house designer inspects every diamond, gemstone, and finished piece to ensure it withholds the utmost quality.
Customer Service: ★★★★★ 5 stars
Sometimes what takes a company from being great to amazing is the quality of service, and that's definitely the case for Gage Diamonds. 
Customers who've shopped online or at their showroom have reported nothing but amazing things about how attentive, informative, and passionate Gage Diamonds's service was. 
What Customers Are Saying
This brand has truly made a lovely name for itself, and there are plenty of raving Gage Diamonds reviews to show for it.
Here are some of the most common things customers are saying about Gage Diamonds:
Customer service was super helpful and friendly
Affordable prices and amazing quality
Stunning jewelry
The showroom is a treat to shop at
Financing is very easy (no credit check needed is amazing)
Shipping is quick
Customers appreciate 30-day free returns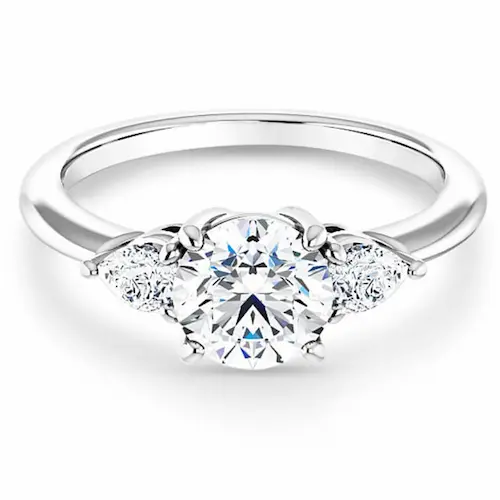 Gage Diamonds allows customers the freedom to design your own ring, or you can shop by metal, shape, and style.
As mentioned before, Gage Diamonds offers 14k gold, 18k white gold, and platinum metals, with platinum being the most expensive. 
When designing your own ring, you get to choose from hundreds of lab-grown and natural diamonds that have been graded on the GIA scale so that you can pick the best stone for your budget and style.
Or, if you want to browse for pre-designed rings, Gage Diamonds offers a simple shopping experience through its collections.
Shoppers can shop from Gage Diamonds's Top Engagement Rings Collection, Antique Engagement Rings Collection, and among other collections, Ready-to-Ship Preset Rings.
---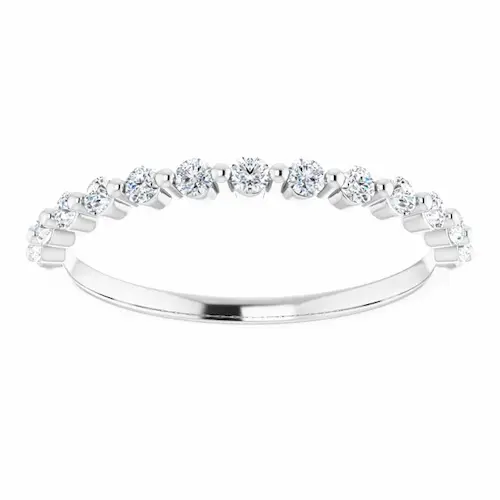 Whether you're looking for a matching set or a stunning wedding band to complement your engagement ring, Gage Diamonds has it all.
Also available in 14k gold, 18k gold, and platinum, Gage Diamonds has wedding rings for men and women, and also offers bridal sets.
Gage Diamonds is considerate of everyone's budgets and needs, offering pieces ranging from $620 to $8,500 in various stunning styles.
Again, they offer up to $14,000 worth of no-credit-needed 100% financing, so you don't have to worry about dropping thousands on your ring up front.  
---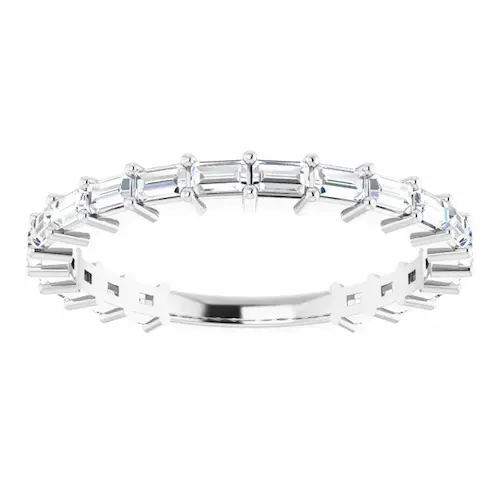 Aside from engagement rings and wedding bands, Gage Diamonds also offers fine jewelry for women and men.
Made with beautiful 14k gold, 18k gold, platinum, or sterling silver, Gage Diamonds offers earrings, bracelets, necklaces, and more!
Gage Diamonds offers fine jewelry pieces for as low as $50 and as high as $12,000, offering wonderful jewelry for everyone.
Gage Diamonds is typically made-to-order, but you can always check out the jeweler's Ready-to-Ship Collection of fine jewelery!
---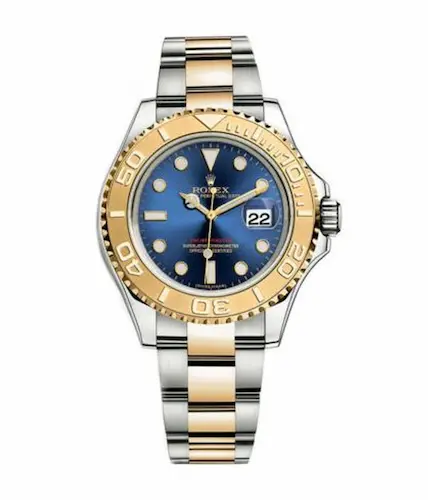 Gage Diamonds goes above and beyond with its collection, even offering watches for men and women!
The watches Gage Diamonds sell are from various luxury brands like Rolex, Gucci, Cartier, and tons more.
All watches fall under $20,000, with the price dependent on the brand and other details that Gage Diamonds provides such as the case material, dial color, and among other things, whether or not the watch was pre-owned.
Gage Diamonds's watch collection isn't super big, but if you want a designer watch for yourself or as a gift, buying from Gage Diamond will allow you to finance it!
Return Policy
Gage Diamonds has a 30-day return policy, no questions asked, with your money back guaranteed.
This policy is valid so long as the items being returned are unused, unworn, and undamaged. Jewelry pieces that came with a diamond certification must also be included in the return, or else customers will face a $200 charge.
Jewelry that has been engraved, customized, or modified in any way is subject to a 35% restocking fee.  
They also offer a complimentary after care program and a lifetime manufacturing warranty.
FAQs
How long does Gage Diamonds take to ship?
It takes Gage Diamonds 10-15 business days to ship orders due to each piece being made-to-order and meticulously inspected. 
How do I find my Gage Diamonds ring size?
Does Gage Diamonds offer a warranty?
Gage Diamonds offers a lifetime manufacturing warranty that covers manufacturing defects. If there is an issue not pertaining to discoloration or normal wear and tear, Gage Diamonds will cover it with no additional cost. 
In Conclusion
To sum up our Gage Diamonds reviews, this brand is a very reputable jeweler and a great company to shop with! Customers cannot stop praising Gage Diamonds for its quality, affordability, excellent service, and easy financing.  
If you're looking to buy fine jewelry or an engagement ring hassle-free, Gage Diamonds should be one of your top spots to consider.
Gage Diamonds Alternatives