Jewelry hunting can be a daunting and sometimes overwhelming task, especially if you're looking for the most affordable prices while still ensuring authenticity. But, with Super Jeweler, all of that is made easy and affordable.
Super Jeweler claims to have unbeatable prices and high-quality jewelry, but how does it really measure up?
Read our SuperJeweler reviews to see if this jeweler makes the cut.
What is Super Jeweler?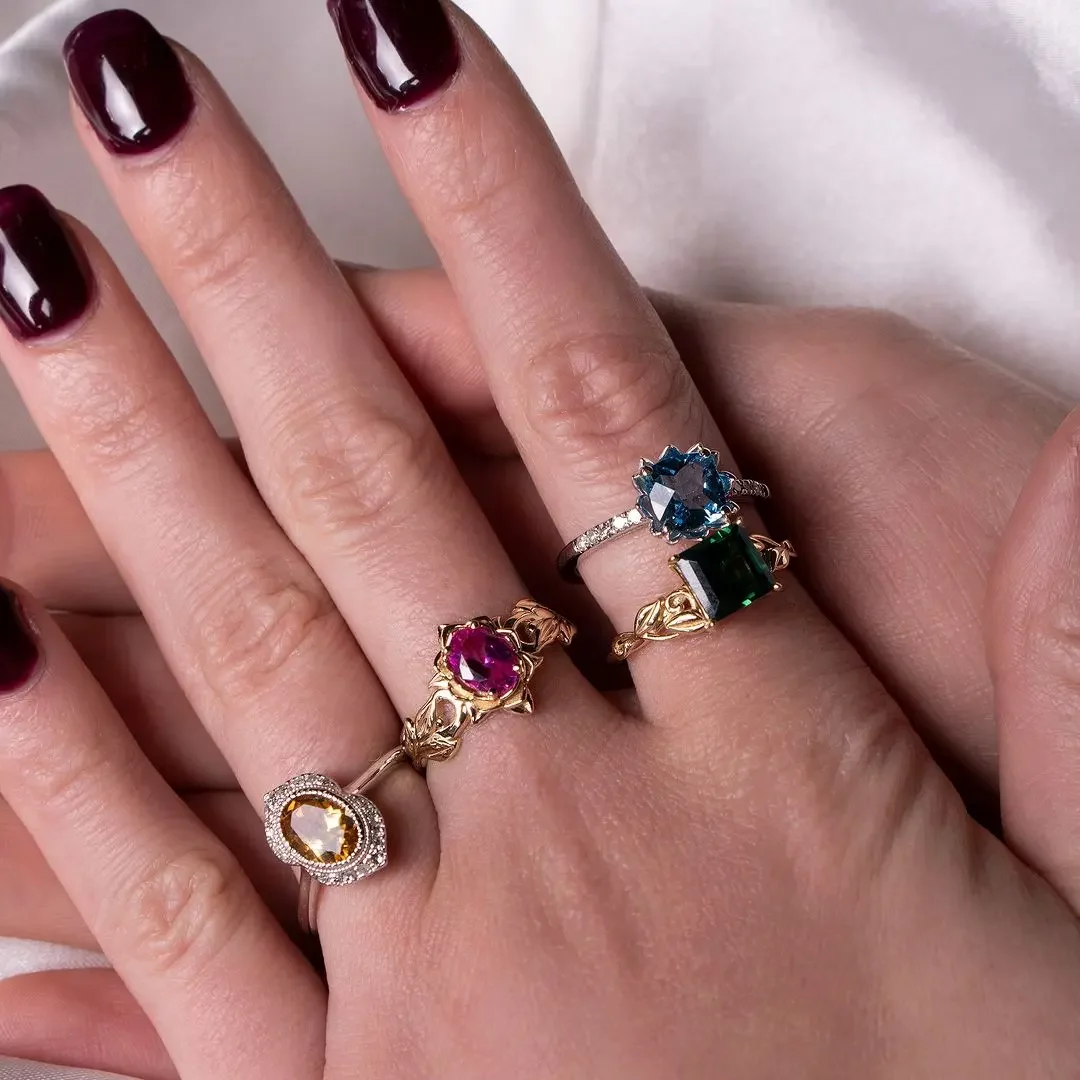 Super Jeweler was founded in 1999 and since then has been offering stunning jewelry to customers at the lowest prices they can. 
Super Jeweler has a team of experienced diamond buyers and a master jeweler as well as talented designers and craftspeople to ensure quality and authenticity. 
Super Jeweler: Overview
Super Jeweler offers low-priced jewelry like engagement rings, bracelets, necklaces, and more.
Super Jeweler buys directly from the source, which is how the company is able to maintain competitive prices that would normally be marked up much higher. 
Super Jeweler Reviews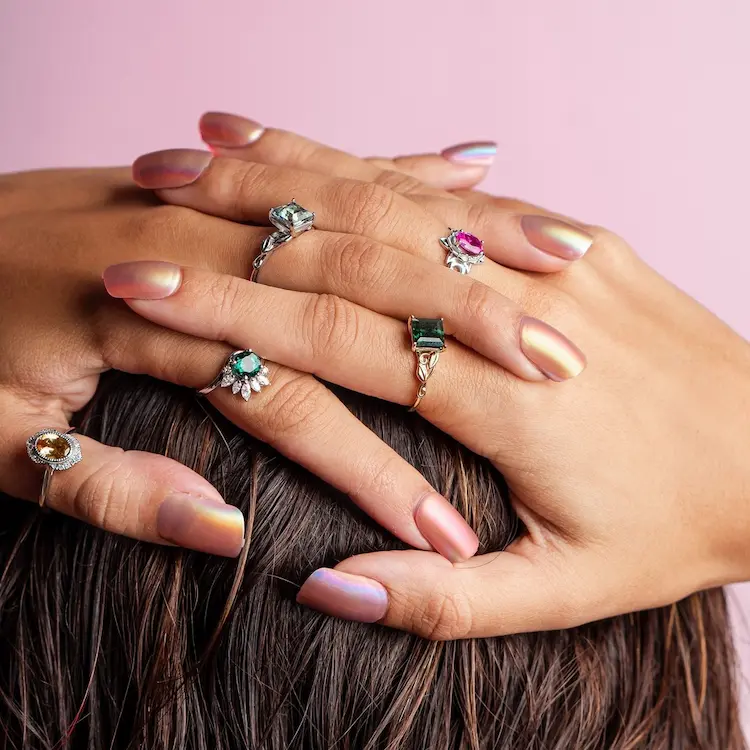 Overall: ★★★★ 4 stars
Overall, shoppers are super satisfied with their experiences with Super Jeweler. Not only does the company offer beautiful jewelry, but the prices are a treat, the customer service is exceptional, and the shipping is quick. 
The only critique Super Jeweler has received is that it's sometimes difficult to shop because there's no in-depth way to inspect the diamond you're buying. 
Their website is a little dated, whereas many other competing jewelry brands have modernized their online buying experience and made it as seamless as possible.
Price: ★★★★ 4 stars
Super Jeweler prides itself on having great prices matched with quality jewelry — and they're not wrong. 
Not only does Super Jeweler show how much you're saving from the regular retail price, but it also has a sweet clearance section. 
No matter what your budget is, Super Jeweler will have an option for you! Pieces go as low as $100 and can reach up to $60,000.
Collections: ★★★★★ 5 stars
Super Jeweler has everything you need to accessorize. From earrings, gemstones, and even a men's department, Super Jeweler has it all.
Well, almost everything. The only thing Super Jeweler lacks that other competitors do is the option to purchase loose diamonds. The company does have the option to create custom jewelry, but it's not an easy on-site process as you have to submit a hand-drawn sketch of your design.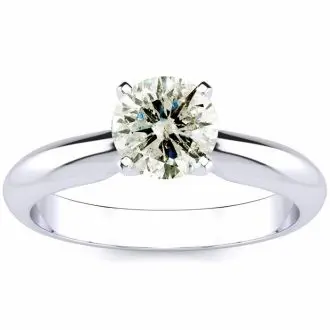 Available in 14K white gold, 14K yellow gold, and 14K rose gold, this beautiful 1-carat diamond ring has a round-brilliant shape with clarity between I2 and I3.
The clarity is at the lower end of the spectrum as the diamond is fairly included, but the diamond has also been treated by Super Jeweler to increase the clarity.
The diamond is naturally-mined and has a diamond color between J-K, meaning the stone is nearly colorless.
Currently, this solitaire ring is selling for $2,000, but there are savings codes scattered throughout the Super Jeweler website to use during purchase.
Though this diamond isn't perfect, the price it's selling for makes it quite a steal!
---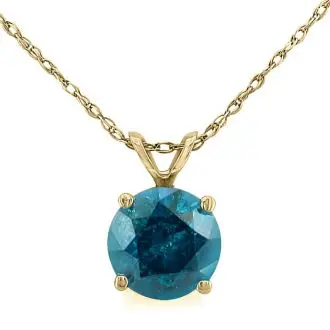 Paired with a complimentary 18-inch chain, this blue diamond solitaire pendant comes in sterling silver, white gold, or yellow gold.
This natural diamond has been irradiated for its beautiful blue color and has a clarity of I2 and a round-brilliant shape. 
The lowest weight this pendant is available in is ⅛ carat, while the heaviest is 1 ½ carat. Currently, this solitaire pendant is sitting at $2,000.
---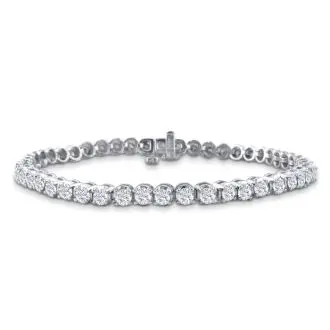 This beautiful tennis bracelet is studded with 3/12 carat diamonds around a bracelet length that can range from 6 inches to 9 inches.
It features 63 natural diamonds that are round-brilliant and have a graded clarity of I1 to I2 and a graded color between I and J (and if you have no idea what any of that means, their jewelry education page will help you out).
This bracelet is a classic beauty and is meant to last a lifetime. It can be yours for $5,300!
---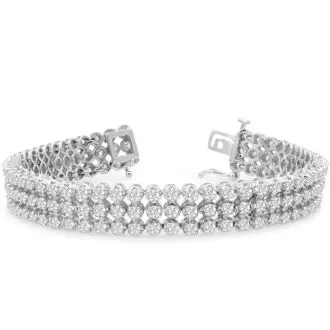 Men deserve to feel decked out and luxurious, too! Get the man in your life (or treat yourself) to this stunning 9-carat tennis bracelet.
Available in 14K white gold, 14K yellow gold, and 14K rose gold, this tennis bracelet $13,900 and features 180 jaw-dropping diamonds lined up in three eye-catching rows.
The diamonds have round-brilliant shapes, are untreated, natural, and have a graded clarity of I1 and a graded color between I and J.
The bracelet is 8 inches long and comes with a secure box with a tongue and safety clasp.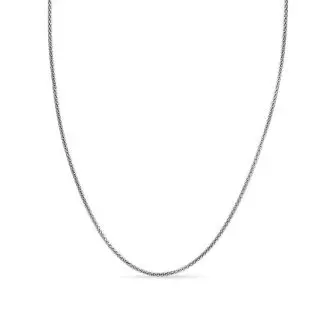 If you want something a little more simple-looking but still packs a punch, this popcorn chain necklace might be the piece for you.
Available in sterling silver or yellow gold, this necklace is 18-inches in length and 3.5mm thick.
This popcorn chain necklace has a lobster claw-type chain lock and is priced at $50!
---
Return Policy
Super Jeweler has a 60-day return policy, no questions asked. The return process is simple — all you have to do is return the item in its original packaging with the original packing slip and include a note stating your reason for return, repair, or exchange. 
Shipping charges are not included, and custom and engraved items are not eligible for returns or exchanges.
If a product is defected or damaged, customer service will gladly help!
FAQs
Who owns Super Jeweler?
Andrew Fox is the president of Super Jeweler.
Where is Super Jeweler located?
Super Jeweler is located in New York City.
Does Super Jeweler sell real jewelry?
Yes! All of Super Jeweler's jewelry is real and the diamonds are naturally-mined and conflict-free, plus they have plenty of lab-grown diamonds as well.
Conclusion
Super Jeweler is an awesome jeweler that can give you quality and a bargain at the same time, which is very hard to find.
Customers love Super Jeweler's prices and gorgeous pieces, and even if you aren't a fan, the company's money-back guarantee is quick and easy. 
The only complaint we have is that the website is a little dated and can be hard to navigate, but we're happy to sacrifice this for luxury jewelry at more affordable prices!
If you're looking for range, transparency, affordability, and stunning designs, definitely check out Super Jeweler.
Super Jeweler Alternatives