'Tis always the season for cleaning! As you begin to sift through your wardrobe and decide what you want to keep, you may find it difficult to make space for any new additions. 
It can be especially challenging to store a large wardrobe with minimal amounts of space. Don't fret, we're here to help! Here are 15 creative clothing storage ideas that will transform your space into a perfectly organized sanctuary. 
Clothing Storage Ideas
Vacuum Storage Bags
I'm sure you can remember the commercials from back in the day chanting, "Too much stuff, not enough space?" Thanks to the revolutionary idea of vacuum storage bags, storing clothes has never been easier!
All you have to do is fit your items into the bag, then vacuum out the excess air. That giant pile of clothes will turn into a flat square that you can easily slide under your bed or fit into a suitcase.
A jumbo, 6-pack set of these bags is available on Amazon for around $40.
Clothing Rack
Placing a clothing rack in your bedroom has become trendy recently, especially for those who need storage for a minimalist wardrobe or just extra storage outside of their closet.
With a clothing rack, you can display some of your favorite pieces without completely cluttering your space. They can even add a decor element to your room!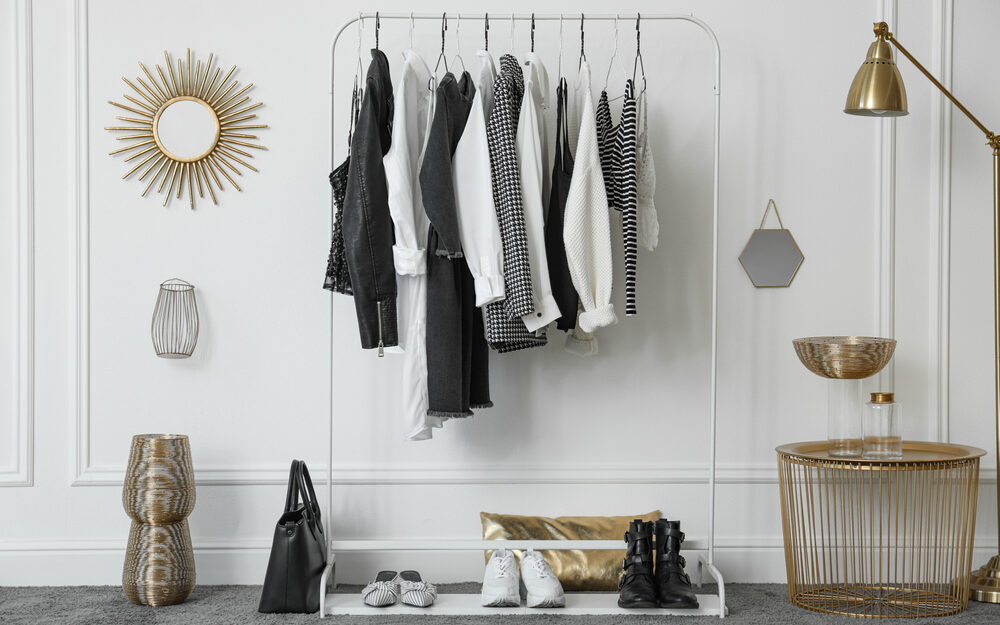 Many of these racks also have storage shelves on the bottom in which you can place your shoes, bags, and other accessories.
Luckily, they're also super inexpensive – this sleek clothing rack from Amazon costs less than $30! 
Over-The-Door Shoe Rack
Sometimes the problem isn't how many shirts you have, it's how many pairs of shoes you have! If you're a shoe junkie and you've run out of storage options, here's a simple solution.
A quality over-the-door shoe organizer gives you plenty of room to store your kicks without taking up space in your closet. Bed Bath & Beyond has a good option that stores 30 pairs of shoes for $30.
Collapsible Hanging Closet Organizer
This one is great if you need extra storage space in your closet. It's also great for those small wardrobes provided in college dorm rooms (trust me, this saved my life freshman year).
All you have to do is hang up the organizer in your closet and voila! You'll have plenty of extra shelves to place your clothes and shoes.
These organizers are easily accessible, and they're sold at most major retail stores such as Walmart and Target. Check out this one at Target for only $10!
Hang Pants on 'S' Hooks
Folding pants can take up a lot of shelf space, and putting them on a hanger tends to be bulky. However, by hanging them on 's' hooks, you can create a nice, bulk-free display of your bottoms!
Be warned: this method only works for pants with belt loops! Simply hang them by their back-middle belt loop, and you have the perfect display of pants! 
Note: This trick also works for hanging up purses!
The hooks are super cheap, you can find large packs for less than $10 (this pack of 40 is around $6).
Double Rod Closet Insert
This is one of the most useful and creative clothing storage ideas. If your closet lacks shelves and you have a lot of unused vertical space, this item will seriously be your holy grail. It's a simple insert that adds another clothing rod into your closet! 
Simply hang it onto your existing clothing rod and adjust the length to your liking. Now, you have twice the hanging space. Head to Target for this $12 closet rod extender. 
S-Shaped Hangers
Not to be confused with the previous "S" hooks, these hangers are another great option if you're looking to hang several clothing items on one hanger. These work specifically well for pants because the tiered layering allows them to lay flat. 
These hangers also prevent your pants from getting super wrinkled, bonus! Check out these S-shaped hangers on Amazon for less than $20. 
RELATED: Closet Lighting 101 – Lighting Tips and the Best Closet Lights
Storage Bins Under the Bed
Investing in storage bins is another great way to store clothes without taking up a lot of space. Opt for larger storage bins with a plastic cover to keep your seasonal clothes organized and clean.
Once you're done, simply slide them under your bed or put them on the top shelf of your closet. No matter your budget, Amazon has a massive selection of under-bed storage bins.
Drawer Organizers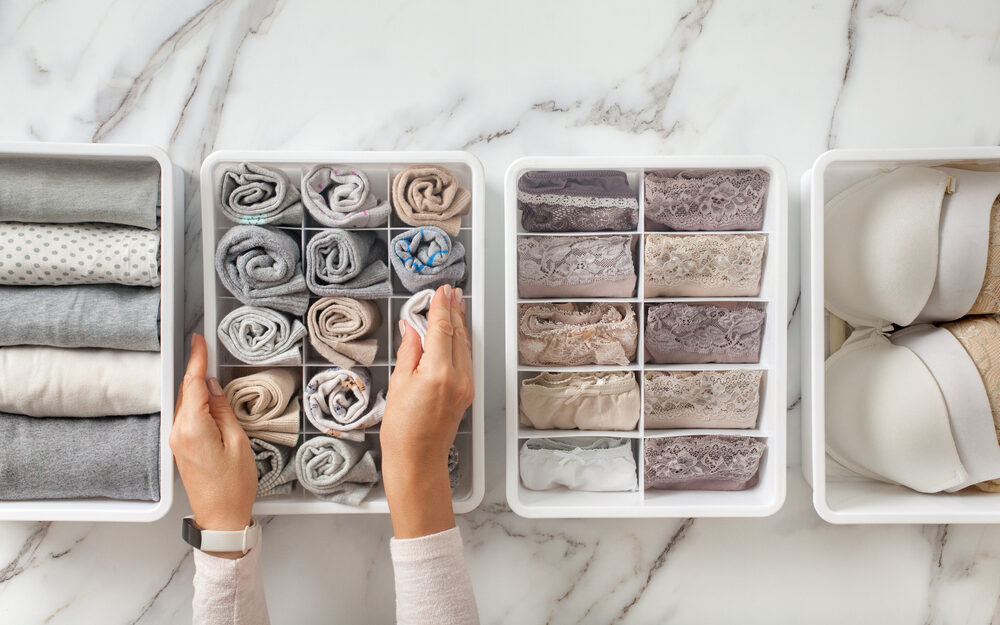 Are your drawers always cluttered and messy? Using drawer organizers is a neat way to section off your space, whether you need to store undergarments or accessories. These drawers are adjustable and flexible, so they can fit into nearly any drawer. 
The Container Store has several of them starting at $15 each.
Mirrored Dressers
Getting a dresser is one of the simplest ways to increase space for clothing storage, and mirrored dressers provide the same benefit without making your room feel any smaller. Much like decorative mirrors, the reflectivity of mirrored dressers gives the illusion of open space. 
Depending on the size, these dressers can actually be very affordable. Amazon has several lovely options.
Bed Frame with Storage
Looking to splurge a little bit? Investing in a bed frame with built-in storage units is a great way to hide your extra clothes in plain sight. Some bed frames have sliding drawers and/or cubbies in which you can store plenty of your belongings.
Check out this one from West Elm and this one from Wayfair.
Wonder Hangers
If your tops are taking up too much space in your closet, consider purchasing wonder hangers! They allow you to hang up to 5 tops on one unit.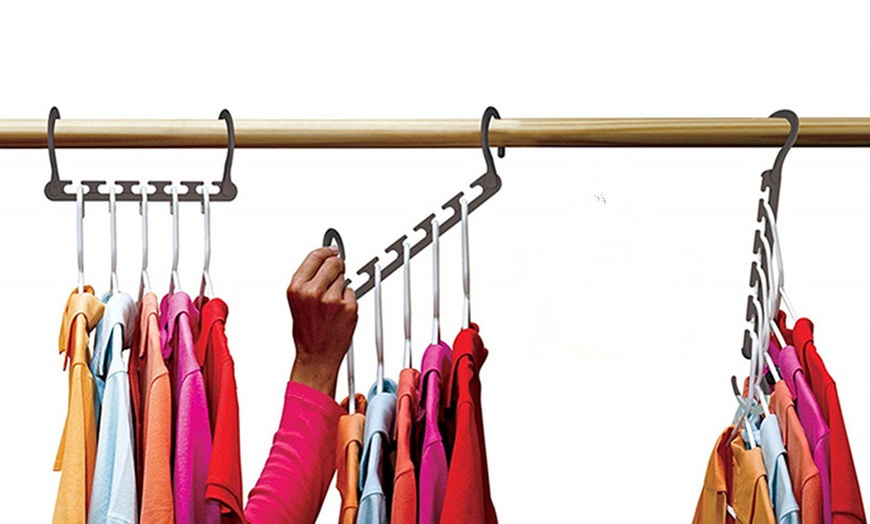 The unit is collapsible to help the tops lay flat in your closet, therefore saving room. You can find them at Bed Bath & Beyond for $15. 
Shoe Cabinet
Do you have an unappealing line (or maybe a pile) of shoes near your front door? Or worse, in your room?
A shoe cabinet is a simple product that keeps your favorite pairs of shoes easily accessible, but out of sight. There are super thin cabinets like this one that can fit near your front door or in other space spaces without being clunky. 
Invest in a Wardrobe
While most of the previous ideas were fairly affordable, this option does require a splurge. However, it will make your closet much more organized (especially if you're trying to get by with just a single rod).
IKEA has a great selection of wardrobes, ranging anywhere from a couple hundred to a couple thousand. You can also get a wardrobe that is placed in your room rather than inside your closet, which is great if you have a microscopic closet.
Stow Away Seasonal Items
This may go without saying, but storing seasonal items away during off seasons can free up a ton of space in your closet.
This will make it feel less cluttered and give you access only to the clothes you're going to wear (because we all know how frustrating it is to have a closet full of clothes and nothing to wear). You can store items away in baskets, bins, or vacuum-sealed bags.
Bottom Line
There are so many ways to maximize the storage space in any given room. We hope our list of clothing storage ideas was helpful and you have found a few ways to maximize your closet space! 
UP NEXT: 17 Best Clothing Rental Subscription Services to Always Be Wearing New Clothes