When it comes to hiking sandals, there are 2 brands that immediately come to mind: Chaco and Teva. Both of these brands have made a name for themselves through their now-iconic activewear sandals and shoes.
Since the brands are intensely similar, we're here to help you decipher which brand is better. Today we'll be comparing Chaco vs Teva; the good and the bad, the similarities and differences, we're here to delve into it all.
While similar, there are major differences that might sway you from one option to another. To find out which brand you should pick, keep reading our comparison below.
And if you're looking for an in-depth Teva Sandals review, we've got that, too.
Chaco vs Teva Overview
Chaco and Teva are both cult classic brands when it comes to athletic footwear. While Teva has been around longer, Chaco quickly rose to the same notoriety. They're now both at the forefront of the hiking industry.
Both brands focus on outdoor/activity footwear, especially sandals. Since these brands are so similar, we've broken down their main points below:
Chaco
Teva
-High-quality adventure footwear

-Shoe prices range from $50-$130

-Offers a variety of hiking footwear and accessories

-Durable and strong, but can be heavy and bulky

-Tend to run large

-Free shipping on orders over $49

-Return shipping fee of $5 within 30 days
-High-quality adventure footwear

-Shoe prices range from $30-$180

-Offers a variety of hiking footwear and some accessories

-Comfortable and stylish, but not as durable

-Tend to run large

-Free shipping on all orders over $35

-Free returns within 30 days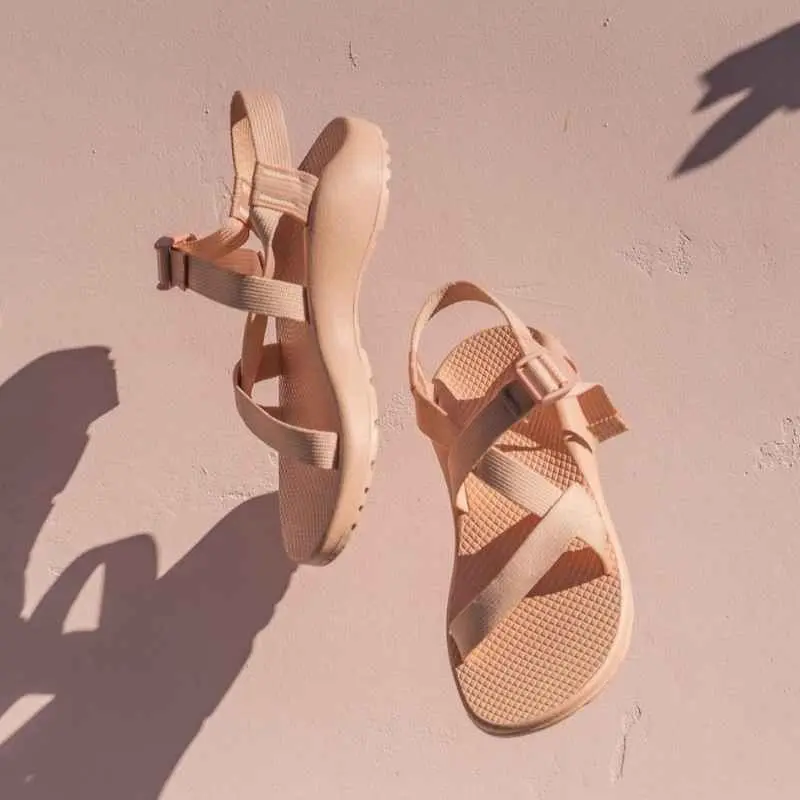 Chaco was founded by Mark Paigen back in 1989, while he was working as a white water raft guide in Colorado. Their main goal was to create footwear perfect for adventures, on land as well as water. With his background experience in outdoor adventuring, he created Chaco.
Their infamous Z/Sandal remains one of the most loved adventure sandals on the market, even after almost 30 years.
Let's break down this brand into some pros and cons to give you a better idea of their company, as well as their best-selling Z/Sandal:
Pros
Great for performance activities
Adjustable straps for a perfect fit
Very durable and strong
Features a large toe base and grippy soles for nonslip
Customizable
Lasts for years
Good for high arches
Offers a lifetime warranty
Free shipping on orders over $49
Cons
May take time to break in
Can be heavy and bulky
Can be more expensive
Returns have a $5 shipping fee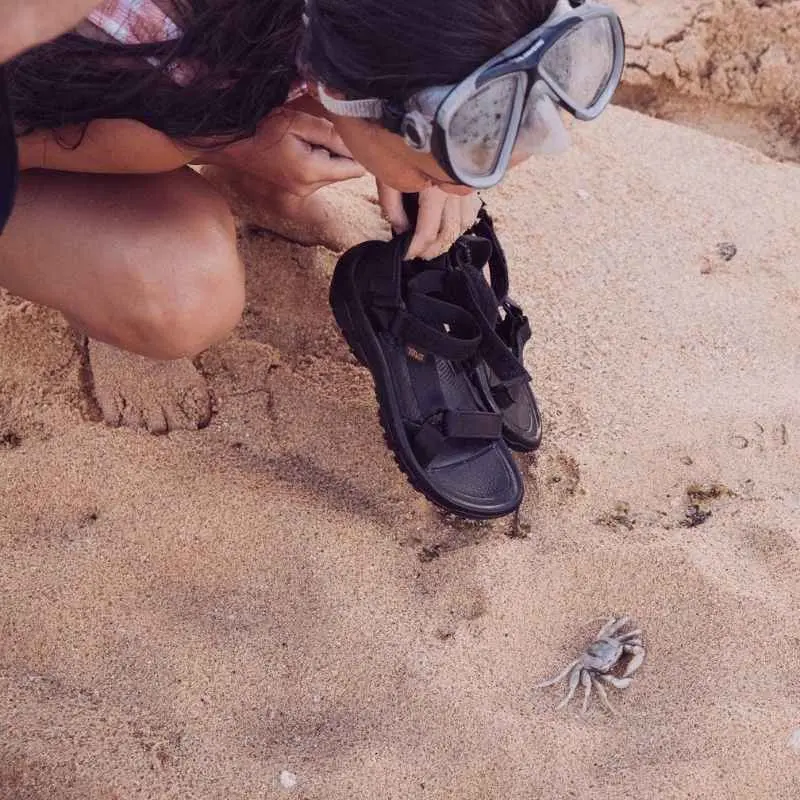 Teva was created a mere five years prior to Chaco, in 1984. The two brands even have similar origin stories; Mark Thatcher, the founder, worked as a river guide in the Grand Canyon.
The issue was that sports sandals hadn't really been created, and sandals wouldn't stop falling off downstream.
Thatcher used the resources he had and attached two velcro watchbands to a pair of sandals; the rest is history. After a couple of tweaks and design changes, Teva took the market by storm.
The company's original mission, which stays with them today, was to give people the tools and freedom to explore the world. Their Original Universal Sandal remains their best-seller and the base for the rest of their sandals.
Now, let's break down this brand into pros and cons to help us compare the two:
Pros
Much lighter
Super comfortable for day-to-day
More fashionable, as they're not clunky or thick
Very versatile
Adjustable velcro straps that are easy to put on and remove
Can be the cheaper option
Offers platform versions of the sandals
Good for low arches
Antimicrobial footbed helps decrease odor
Free shipping on orders over $35
All returns are free
Cons
Not as durable
Velcro straps may wear down quicker
Only offer a 1 year warranty
Not as good for performance activities
What Customers Are Saying
We've scoured the internet to find valuable customer experiences with these two brands, and found that these are the most frequent topics of feedback. Customers say:
Both brands seem to fit large
Tevas are ultra-comfortable
Chacos are extremely durable and last a long while
Chacos are preferred over Tevas when it comes to strenuous/performance activities
Tevas are more sleek and versatile
Chaco has great customer service that provides shoe repairs
In Summary: Who Is The Winner?
When it comes to choosing between Chaco vs Teva, you should first think about the type of activities you'll be using them for.
If you're looking for the ultimate footwear for adventuring, Chaco is the brand for you. Chacos are much sturdier and will work far better in performance-based activities. They're also perfect for rough terrain with their lifetime warranty, assuring that you'll always be able to fix them after a messy adventure.
However, if you're looking for a more comfortable sandal for daily wear, Teva is the better choice. That's not to say that the Tevas aren't still a great option for adventures, but they are better for those who don't want to limit their uses. Tevas are much more fashionable and can be used both for performance and style.
Either way, you truly can't go wrong with either of these brands. They're both extremely successful, highly rated, and functional.
UP NEXT: 21 Best Sandal Brands – Athletic, Casual, and Designer