Wondering if Blume is worth the hype? Read our Blume Acne Oil Review to see if this stuff really works.
Having clear skin can change the entirety of your day—it can make your makeup application easier and even boost your confidence as a whole. And, by using Blume's oil, all of your acne nightmares can transform into your clear skin fantasies.
Blume Skincare claims to offer the best clean products, giving life-changing results without breaking the bank. But, have they succeeded? Read our Blume Acne Oil review below for the inside scoop!
Bonus: 18 Best Acne Scar Treatments for Smooth Skin
What is Blume Skincare?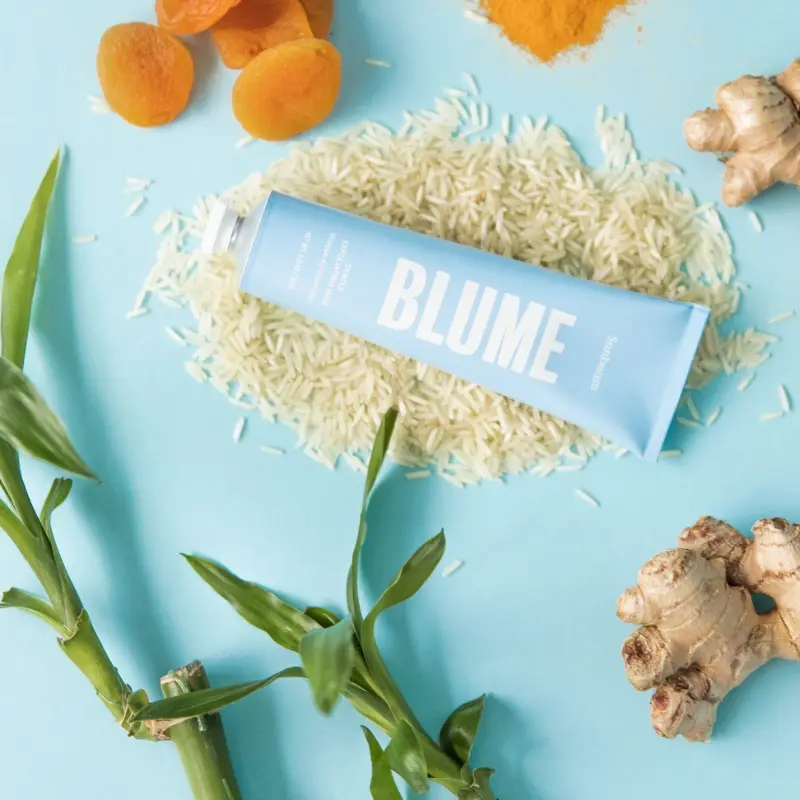 Blume skincare is a clean skincare brand that prides itself on bringing customers the best organic, non-chemical skincare on the market.
Even though their bestseller is the Blume Acne Oil, they offer an array of skin care products such as face washes, exfoliating masks, face serums, and many bundles for specific skin care needs.
Blume Company Overview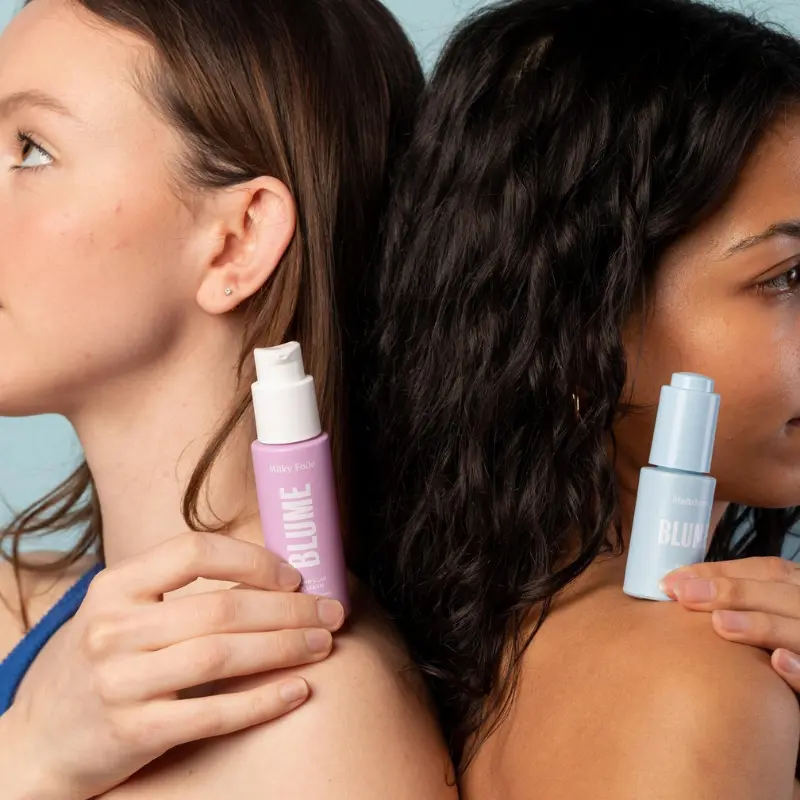 Beginning as the sprout of an idea between 2 sisters in regard to hormonal acne and skin care, Blume Skincare quickly bloomed into the natural, clean skincare sold today.
Focusing on hormonal acne and ways to combat the natural imbalances during puberty, Blume Skincare boosted women's confidence by clearing up their skin after hormonal acne had ruled their life.
Blume Acne Oil Reviews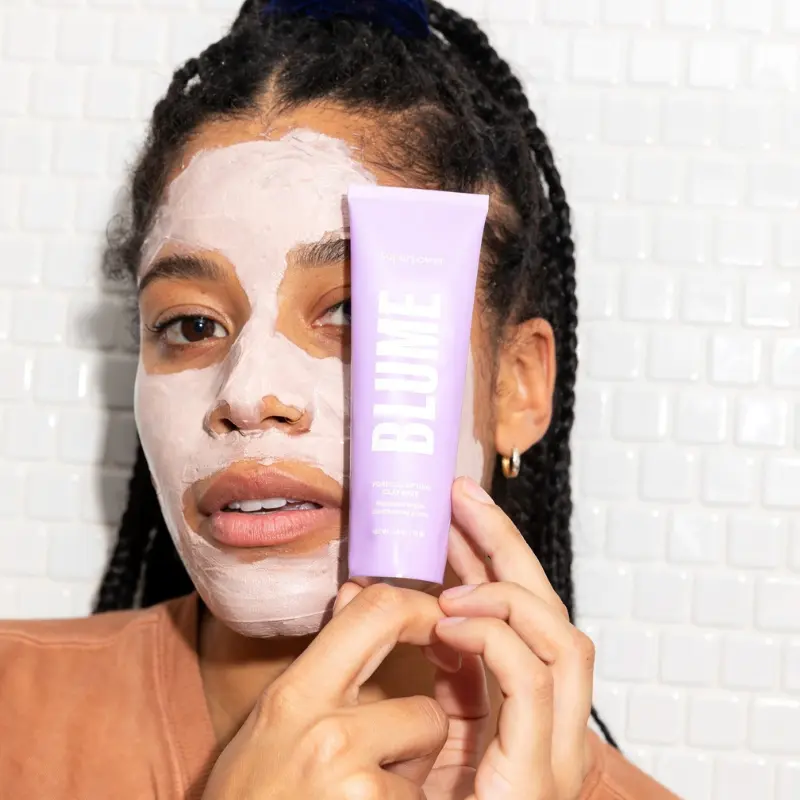 Overall: ★★★★★ 5 stars
Blume's customers raved about the incredible results this oil gave them. The blend of essential oils was soothing to their skin and made their hormonal acne diminish within the first couple weeks of use.
Price: ★★★★★ 5 stars
Compared to other skincare products, this treatment is a fair price of $28 and will last an extended amount of time because you only use 1 to 2 drops daily or as needed.
Shipping: ★★★★ 4 stars
Blume Skincare ships everywhere in the U.S. and Canada and is free on all orders over $25, but sadly international shipping is not offered.
Quality: ★★★★★ 5 stars
Their clean ingredients are all listed on their website, with a small description of what each one does for your skin so that customers can see exactly what is in their product and why.
Customer Service: ★★★★★ 5 stars
We couldn't find any customer complaints in regard to customer service since the majority of customers loved their product.
Scent: ★★★ 3 stars
One issue customers had was the strong scent, saying it caused some itchy or watery eyes or breakouts.
Blume Alternative: Versed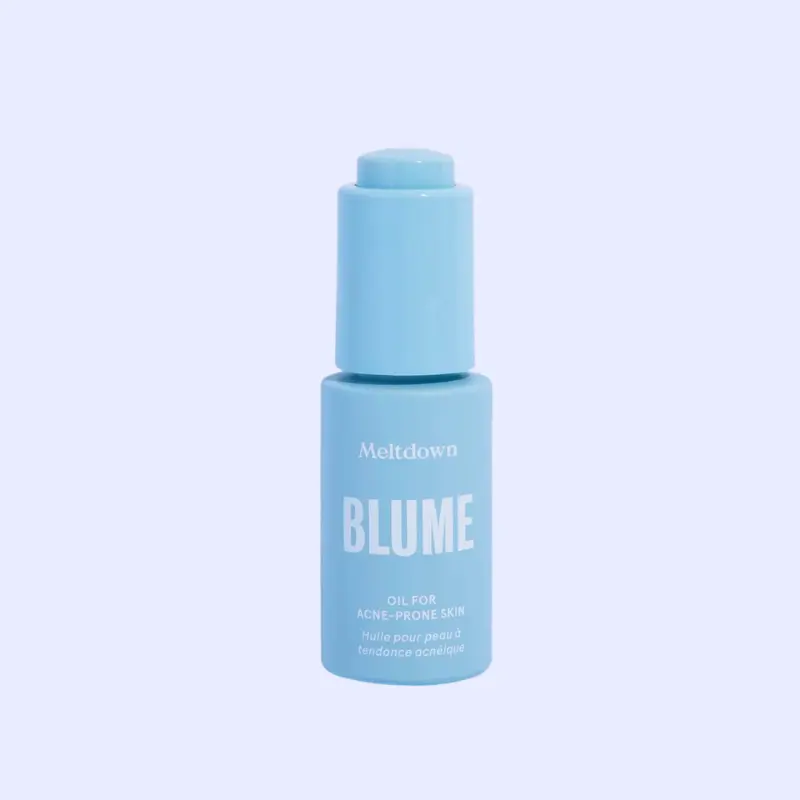 4.41 stars based on 4,488 reviews
This oil is for those struggling with acne; most customers saw positive results fighting their acne after two weeks of using this oil.
Use: To fight inflammation and acne scarring on all skin types and protects the skin from external damages.
Quality: This oil is made with clean, natural ingredients and is great for sensitive skin.
Application: One drop for spot treatment or put two to three drops into daily moisturizer for full coverage.
Scent: This oil has no added fragrances and uses a natural essential oil blend for a cleansing scent.
Price: $22.40 (with subscription) – $28.00
---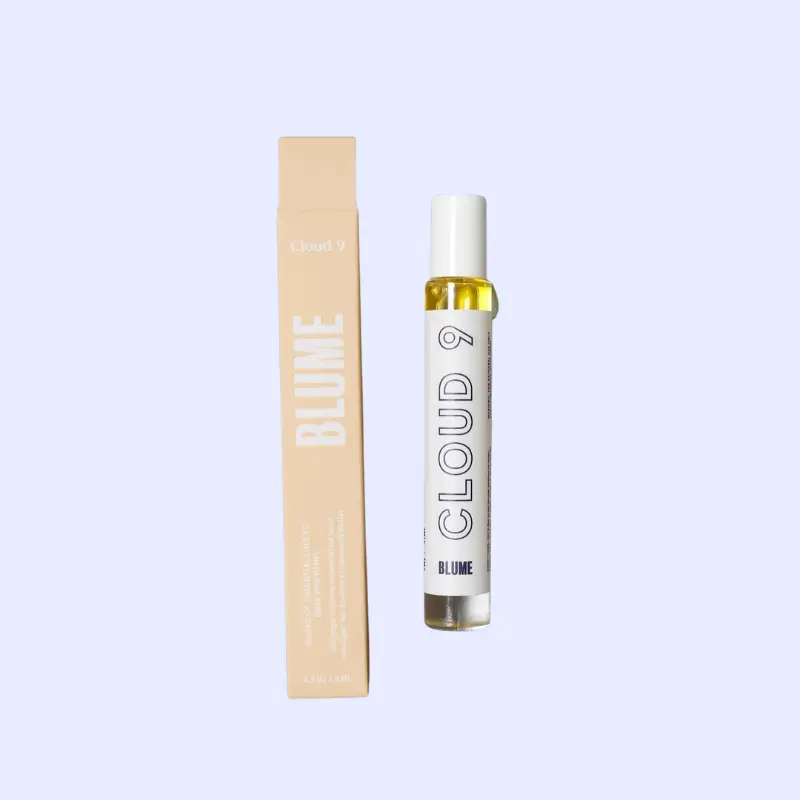 4.48 stars based on 174 reviews
Taking all your PMS pains away, this oil provides you with the relief needed to make your period pass without a glitch.
Use: This oil is used to curb PMS cramps, hormonal imbalance, cravings, and bloating and works on all skin types.
Quality: A blend of cruelty-free, vegan, organic essential oils makes this oil a calming remedy.
Application: You can use this oil as desired by applying 5 – 10 circles on your wrists, temples, neck, or abdomen.
Scent: The natural scents include clary sage, peppermint, lemon, and more for a refreshing, calming scent.
Price: $14.40 (with subscription) – $18.00
---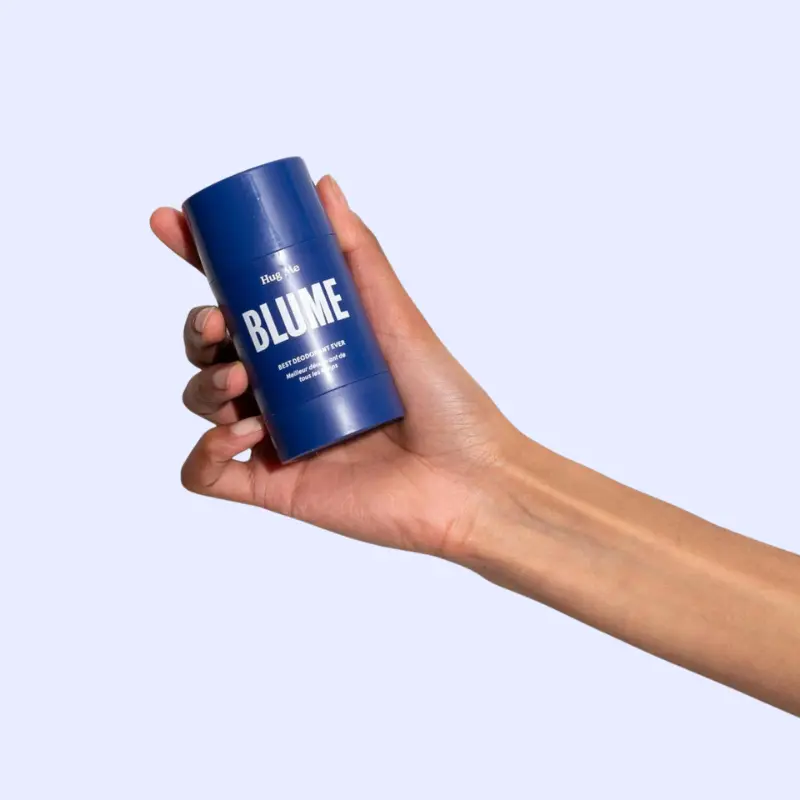 4.39 stars based on 730 reviews
Preventing body odor and sweat, this deodorant nourishes your underarms for all-day freshness.
Use: This is the best deodorant for those who stay active and on the move.
Quality: Made cruelty, paraben, and aluminum-free, these all-natural ingredients create a clean product for underarm protection.
Application: With only 2 to 3 swipes a day you get all-day protection without having to reapply.
Scent: It is an unscented deodorant for those with sensitive skin.
Price: $10.00 (with subscription) – $15.00
Hug Me Deodorant Alternative: Megababe Deodorant
What Other Customers Think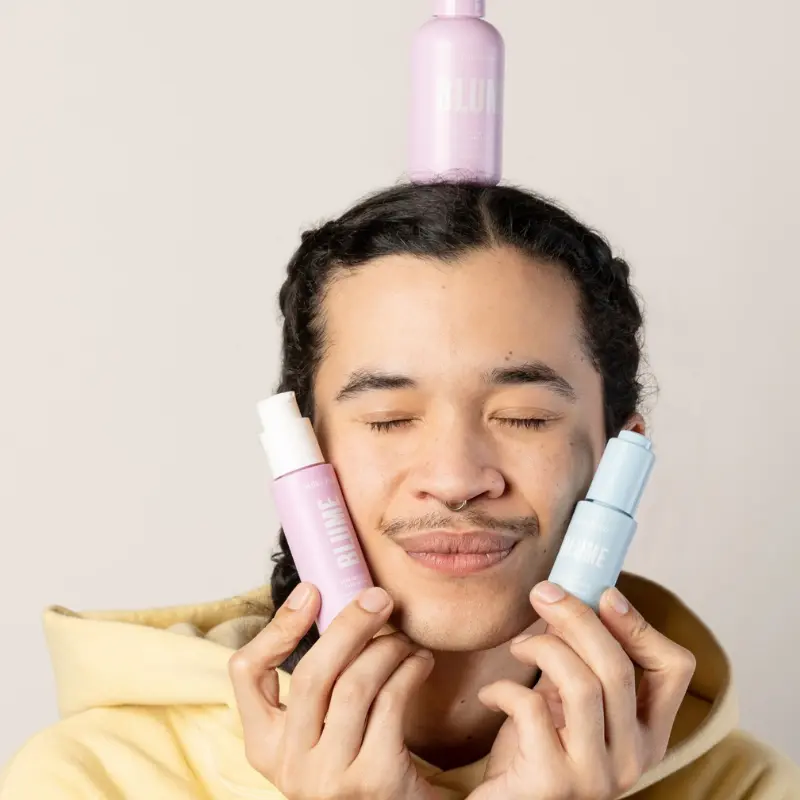 While conducting our Blume Skincare research, we found many customer reviews from sites such as Influenster and Reddit. Here are their main points of feedback:
Products are high quality and effective
Multiple products to choose from
Scent is extremely concentrated
Customers love that Blume is WOC founded
Ingredients are clean certified
Blume Skincare has many wonderful, clean products below we have listed some of their best-sellers:
Meltdown Acne Oil: 4.41 out of 5 stars with over 4,000 reviews
Cloud 9 Cramp Oil: 4.48 out of 5 stars with over 150 reviews
Hug Me Deodorant: 4.39 out of 5 stars from over 700 reviews
Return Policy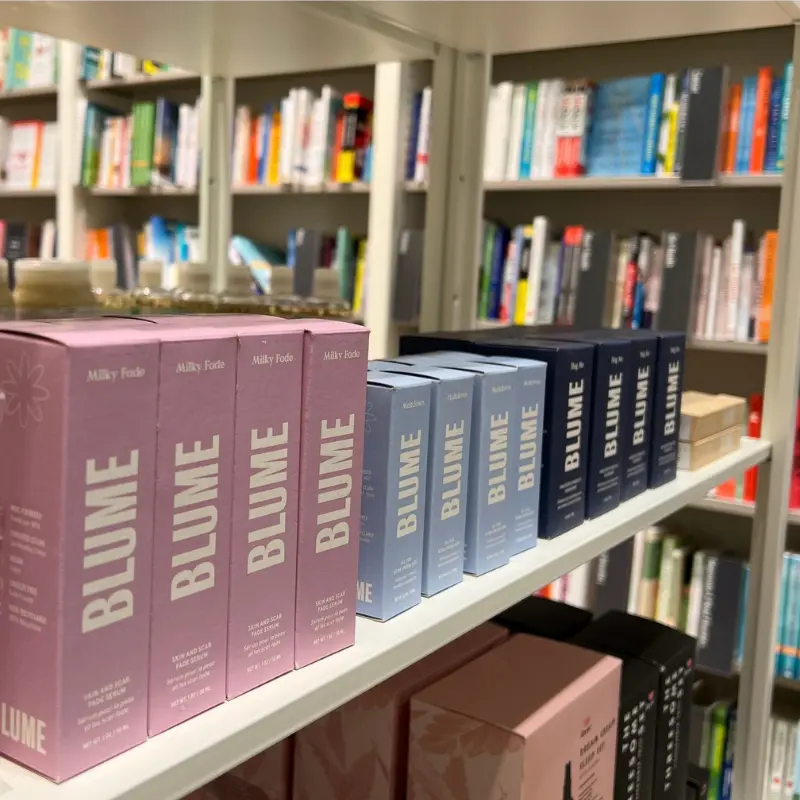 Each product can be returned or exchanged within 30 days of receipt, except for pads and tampons. Read more about refunds and exchanges explained in their Return Policy.
FAQs
Does Blume Meltdown expire?
ithin 18 months of opening for the best results. 
What benefits are included in Blume's Subscription?
Blume's subscription takes 20% off each product and allows you to choose the products desired, even add-ons that can be easily removed. They also send 10 pads or 16 tampons with your base box. You can also easily pause, skip, or cancel your subscription on your account.  
Where is Blume located?
All Blume products are crafted within the U.S. and Canada.  
Where can you buy Blume products?
Amazon, Ulta, Sephora, and a few more select retailers sell Blume products, however, buying directly off of their website is easiest. 
Final Thoughts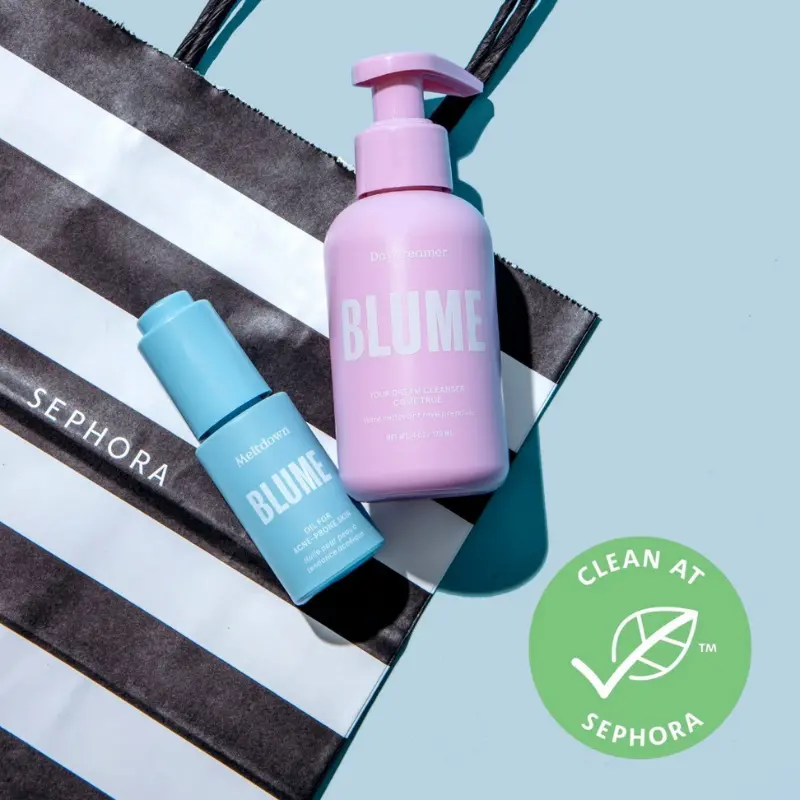 Blume's skincare products are highly acclaimed for clearing up hormonal acne and acne scarring, giving women the confidence to conquer the world.
Some customers struggled with the medicinal smell, but most loved the results and didn't have a problem.
All in all, we would definitely recommend this brand to anyone struggling with acne or who just wants to improve their skincare routine!
Brands Like Blume
If Blume is exactly what you're looking for but you still want some other options, here are 3 brands similar to Blume: