In the showdown between Billie vs Flamingo, which razor comes out on top?
Razors are a necessity in most women's lives, but the expectation for shaven female bodies didn't come with any huge changes with how razors were made; that is, when the idea of shaving first hit mainstream around the 1940s.
Thankfully, those times have come and gone; there are hundreds of types of women's razors produced today.
Billie and Flamingo are two fairly new startup shaving companies that are hoping to change the whole industry. Both of them sport almost identical missions, products, and quality.
If you're struggling with shaving or deciding between the two razor brands, stay tuned. We'll be comparing Billie vs Flamingo to help you decide which brand is better. 
Billie vs Flamingo: Overview
Billie and Flamingo are both shaving companies targeted towards women, specializing in budget-friendly razors with subscription options. While they have their differences, both brands have made impressive moves in the startup industry.
Both brands focus on women's razors, but they also offer other shaving tools and other accessories.
To try to diminish the similarity and help shoppers decide between the two brands, we've broken down both their main comparison points below.
Billie (winner)
Flamingo
– High quality women's razors

– Blades are made without nickel

– Focuses on a subscription service

– $10 starter kit

– Sells other shaving accessories and shower products

– Free shipping for subscribers

– Full returns within 30 days

– Donates 1% of revenue to charities that help women and other important causes
– High quality women's razors

– Blades contain a "tiny amount" of nickel

– Sold in retail stores

– $14 starter kit

– Sells other shaving accessories, as well as wax strips

– Free shipping on orders over $15

– Full returns within 30 days

– Donates 1% of revenue to charities that help women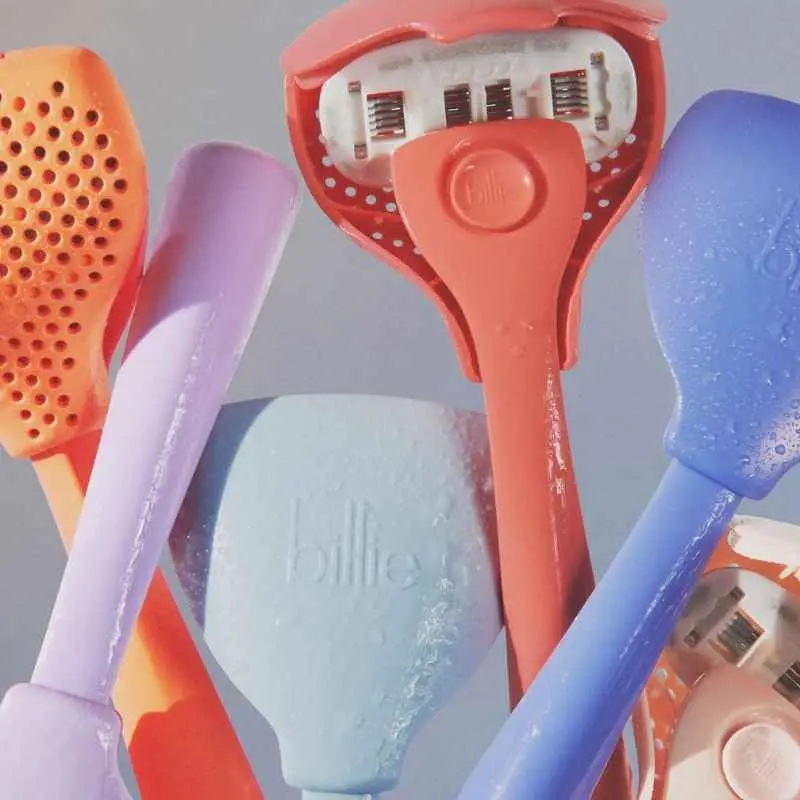 If you haven't heard of something called the pink tax, let us inform you. The pink tax is the tendency for female personal care products to be priced more expensively than their male counterpart.
In 2017, Billie was born to defy the pink tax and gender inequality.
Founder Georgina Gooley and co-founder Jason Bravman sought to create a brand that prioritizes women's needs first, a rarity in the market. Since then, Billie has grown into one of the most beloved women's razor brands on the market.
Billie refuses to advertise any sort of shame when it comes to body hair. A quick look on their website shows that they aren't shy in displaying raw, natural body hair from real women. We absolutely adore the authenticity stemming from this brand.
We love everything about Billie, but do the products really work?
Let's break down this brand into some pros and cons to give you a better idea of their company, as well as their razor:
Pros
Subscription style makes the ordering process effortless (although you can shop without a subscription)
Affordable prices, with a great $10 deal on their razor starter kit and just $10 for four refill blades
Comes with a magnetic holder
Free shipping for the majority of orders
Six pastel color options that are brighter and more exciting than Flamingo
5-blade design (2 more than typical razors)
Lightweight handle with a rubber back
Smooth shave with built-in lubrication for a smooth glide
Long-lasting blades
Nickel-free blades, great for sensitive skin
Sells additional products like dry shampoo, body soaps, and more
Supports women's charities and other important causes in the world
Offers a razor travel case
Cons
Design of the handle has some kinks

Quality has been questioned by some
Some users experience nicks and not a close shave, while others have an amazing experience

Lightweight razor handle

(could be a con for those who prefer heavier handles)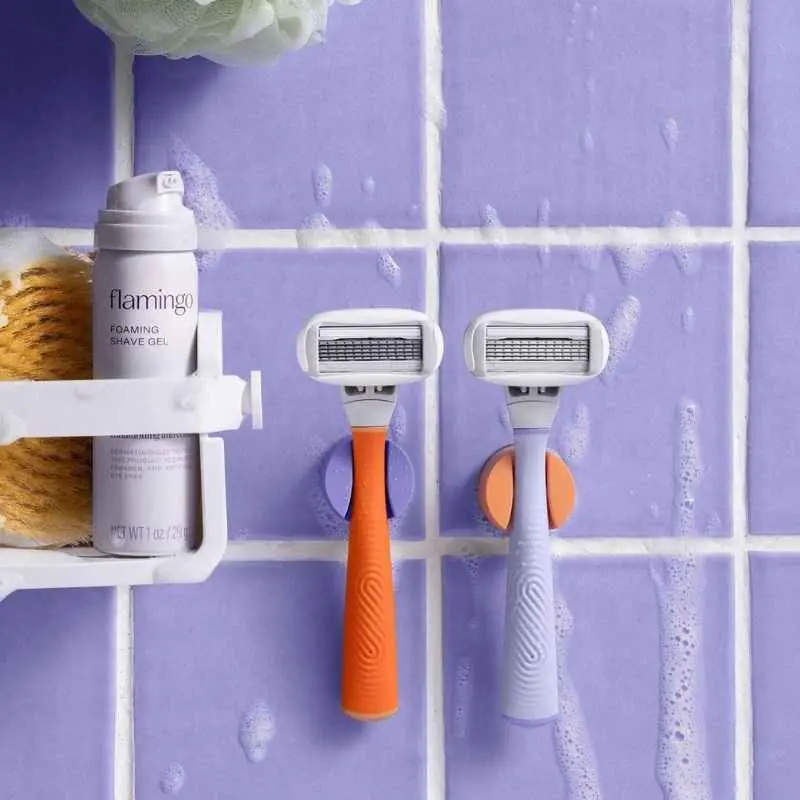 Flamingo was actually born out of Harry's, the popular men's grooming brand. They found that millions of female customers were already using the men's razors for themselves. So, two of the original Harry's employees took the great initiative of creating a line for women.
Flamingo was founded only a year after Billie, in 2018. It has quickly become a main competitor in the shaving industry, largely due to its successful advertisements. Like Billie, Flamingo isn't afraid to challenge social norms by advertising real women's body hair.
Flamingo is also more accessible, as it is sold in retail stores like Target and Walgreens. Even though the brand is fairly new, it has already become a holy grail company in the women's shaving industry.
Let's break down this brand into pros and cons to help us compare the two:
Pros
Affordable prices ($16 shave set is slightly more than Billie's starter set, but offers more products)
Shave set comes with a convenient shower holder, razor handle, 2 blades, moisturizing lotion, and shave gel
Free shipping on orders over $15
Blade replacements are slightly more affordable than Billie ($9 for four blade refills)

Easily accessible in retail stores

Also sells wax strips for face and body

5-blade design
Hydrating aloe vera strip

Smooth shave

Heavier razor handle (may be a con if you like lightweight handles)
Razor handle made with 35% recycled plastic
Supports women's charities
Cons
Need to spend $15 to get free shipping (can be invoncenient if you just need a couple razor replacements)

Some customers have had skin irritation issues/bad shave

Suction cup shower holder isn't as convenient as Billie's magnetic holder
What Customers Are Saying
We've scoured the internet to find valuable customer experiences with these two brands, and found that these are the most frequent topics of feedback. For the main part, customers seem to think:
You can't go wrong with either brand
Both brands deliver smooth shaves
Both shaves are comparable
The Flamingo razor handle is preferred because of the heavier design that feels more luxurious and high-quality
The Billie razor head is preferred, especially for those with sensitive skin because it's made without nickel
Flamingo razor is said to be more flexible

Both options are affordable, but Flamingo is slightly cheaper (especially if you buy in bulk)

However, both companies have also been a hit or miss for some shoppers
Billie vs Flamingo: The Final Verdict
Here's what you've all been waiting for: our final verdict.
Unfortunately, it's not quite that simple, as both brands offer different benefits and everyone has different experiences with each brand. Ultimately, we recommend you try each brand for yourself to see if it really gives that close, painless shave that both brands advertise.
If you like lightweight razors and a brighter color palette, we'd recommend Billie. The magnetic shower holder is also much more convenient (and cuter) than the suction cup holder that Flamingo offers. We especially recommend Billie if you have sensitive skin or a nickel allergy because their blades are made with nickel. And although it doesn't affect the shave, Billie's marketing and aesthetic are absolutely top tier.
If you like a heavier feel to your razor and want to save as much money as possible, we'd recommend Flamingo. Many people prefer this heavier razor design as it feels higher-quality. Also, it's not a huge difference, but Flamingo is just slightly cheaper than Billie. Four refill blades are $1 cheaper, plus you can get even cheaper deals if you buy in larger packs. For example, the 16-pack of refill blades is $30. Flamingo products are also located in retail stores, which may be more convenient for some people.