It can't be argued that traditional watches are still an excellent choice overall, but sometimes you want something a little different. This is where wood watches come in, offering an equally timeless quality with an unorthodox design.
If you like wood watches but aren't sure where to start, keep reading to discover the 13 best wood watch brands that money can buy.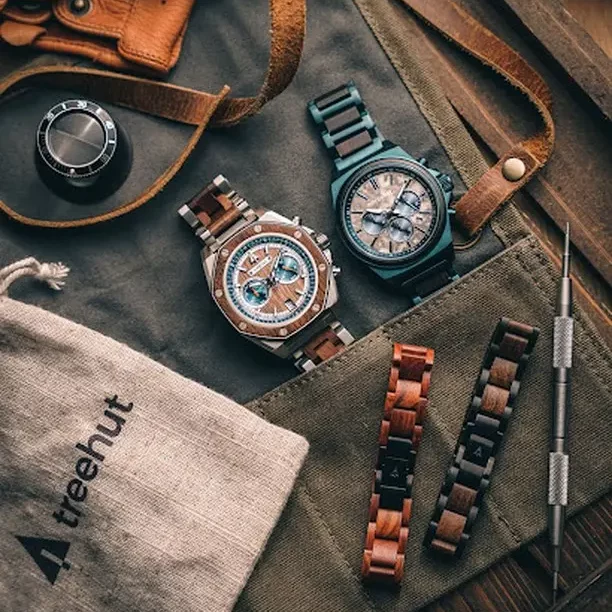 Average Pricing: $129 – $520
With a seemingly endless number of designs, this company offers everything from neutral to more standout styles.
You can sort through their entire catalog or check out specific collections featuring unique details you won't find anywhere else.
Their style choices are fitting for men and women, plus they offer accessories to help complement your new watch.
If you're looking for something reasonably affordable while also being great quality, Treehut is the place to go.
---
Average Pricing: $135 – $399
Holzkern is widely known for its broad selection of different watch styles, and one that tends to stand out is its niche collection of wood watches.
Each wood watch from Holzkern comes with a unique personality of its own. Best of all, you won't have to break the bank as most styles cost under $400.
You'll also find a variety of colorways available and a variation in wood materials throughout this collection.
Aside from their unique styles that will look amazing on your wrist, you get the reliable quality that Holzkern is known for.
---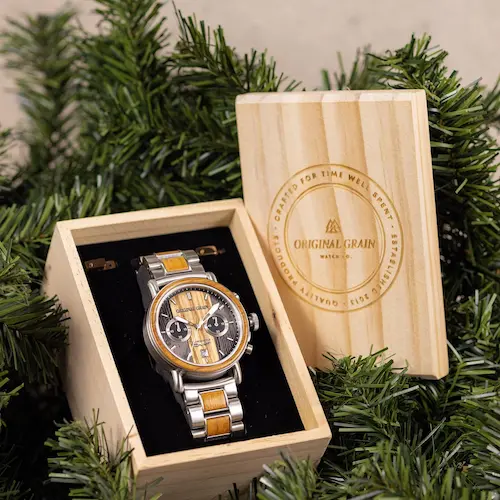 Average Pricing: $149 – $639
This brand stands out because they aren't afraid to blend wood with traditional materials such as stainless steel.
That being said, they do offer all-wood watches if that's what you're looking for.
The range of accents you'll find in their designs is eye-catching, and you can even shop for specific materials if you're looking for something in particular. These include Taylor guitars, whiskey barrels, military surplus, and many more.
They're also considered pretty affordable, and it isn't uncommon to see generous discounts throughout their catalog.
On top of their standout styles, Original Grain plants one tree for each watch sold as well as offers free shipping & free returns.
RELATED: Original Grain Watches Review: Are They Worth It?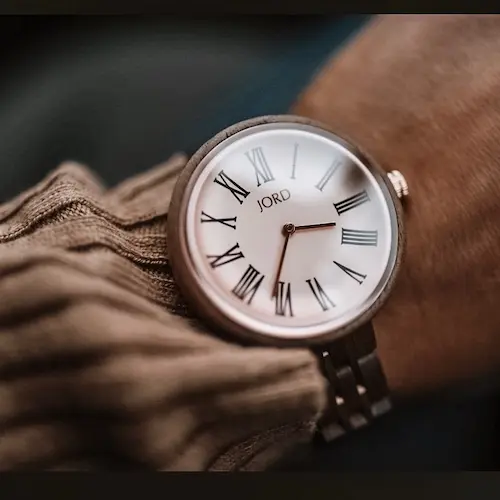 Average Pricing: $200 – $1,230
Widely respected for their craftsmanship and unique catalog, Jord doesn't shy away from wood watches.
They deliver a niche collection for you to choose from, but each watch comes with a quality and unique look that's hard to ignore.
Some are a little more expensive than others, but one thing is sure: this watchmaker doesn't cut corners on craftsmanship.
You can also find the perfect wood watch by sorting through materials and specific design details depending on your preferences.
---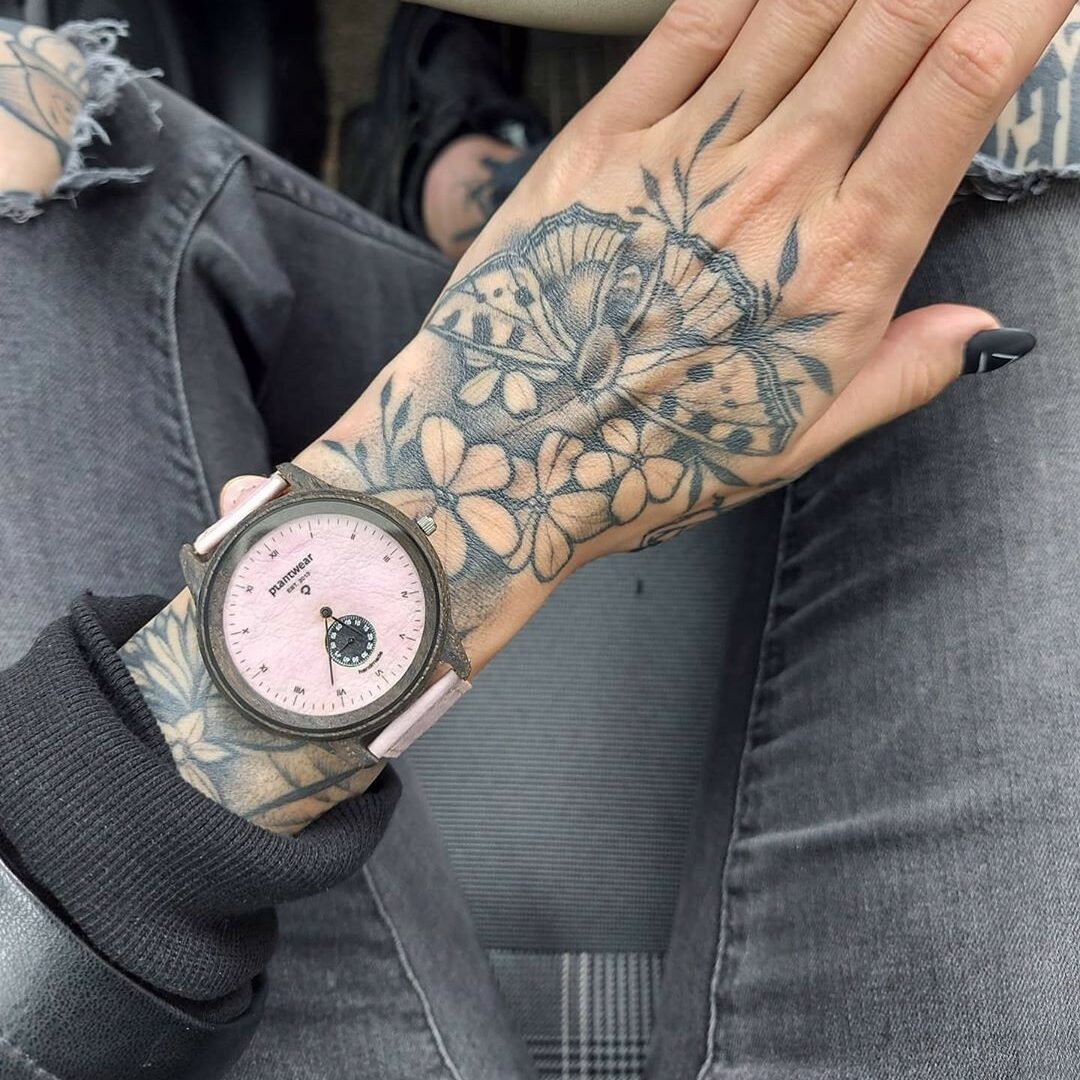 Average Pricing: $106 – $318
From neutral to more exotic designs, Plant Wear is focused on a niche variety of wood watches that offer something unique to your everyday style.
They feature a great blend of traditional craftsmanship with stellar wood materials for a design and texture that stands out.
Offering maple, oak, walnut materials, and more, their catalog features dark and light colorways that all look stunning.
They're also more affordable compared to other wood watch brands, making them a fan favorite for many.
---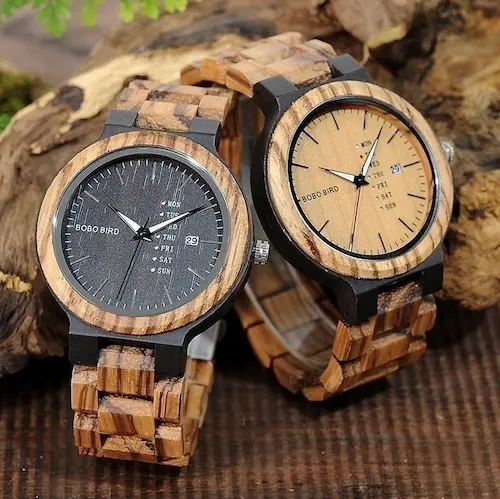 Average Pricing: $40 – $379
Easily one of the most cost-effective options on this list, Bobo Bird doesn't hold back when it comes to dazzling design.
They have an excellent variety of intricate styles that are bound to be a statement piece to any wardrobe.
Bobo Bird offers collections catered towards men and women, plus you'll also find a range of two-tone designs that provide the best of both worlds.
Despite being a more cost-effective wood watch brand, you can also find plenty of markdowns throughout their site.
---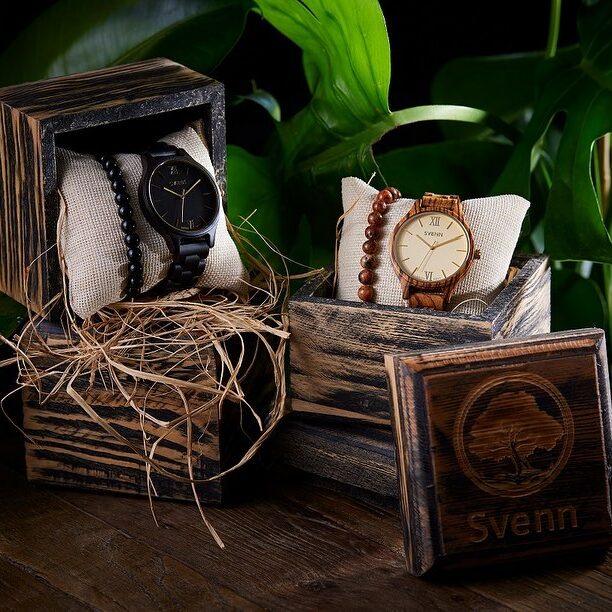 Average Pricing: $80 – $100
Not only does this watchmaker offer selections for men and women, but they also feature a section for couple pairings.
Nevertheless, their wood watches stand out with large faces and contrasting colors between the components and the overall material build.
The company keeps things simple and affordable, with designs that are fitting for a variety of outfits and social environments.
Whether you're looking for something bold or lighthearted, Svenn covers something for every style.
---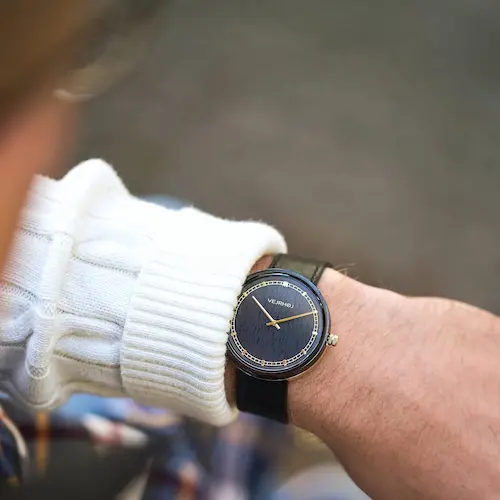 Average Pricing: $209 – $259
With a focus on wooden watch faces, this brand sticks to traditional materials when it comes to the surrounding components. This allows the wooden watch face to pop on its one, making it the center of attention.
Their collection of wooden watches is relatively small, but each has a universal design suitable for everyday wear.
Both men and women can enjoy what the company offers, with a relatively affordable price range that won't leave your bank account crying.
---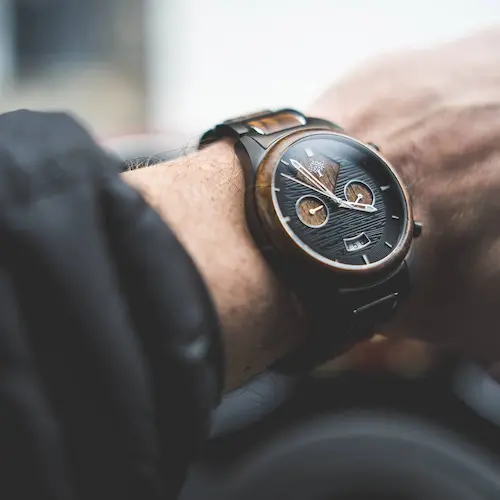 Average Pricing: $76 – $169
They may not have the largest wood watch collection to choose from, but sometimes less is more.
Offering an affordable approach to two-tone watches, Lux Woods stand outs among the crowd with a blend of colors and unique accents.
Each watch looks different from the next, and they even offer a few unique square watch faces.
Considering the glowing reviews and affordable prices, they look like a good buy for any avid wood watch lover.
---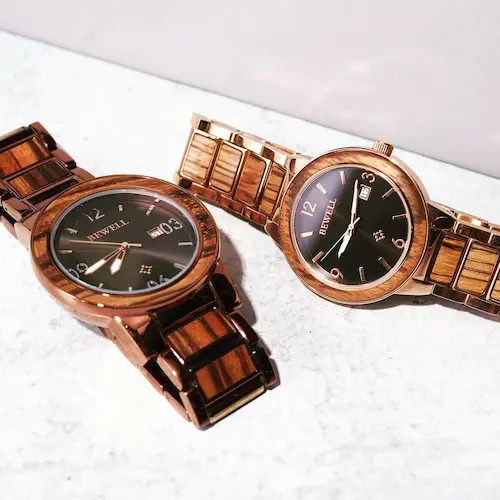 Average Pricing: $69 – $79
A budget-friendly solution that doesn't skip out on style, BeWell offers a neutral catalog of wood watches.
You may find a few two-tone designs here and there, but most of what they have to offer looks pretty uniform.
Some of their best designs include stainless steel accents in the watch face, and most include a bold color that'll stand out on your wrist. They also offer some designs in a range of different colors.
---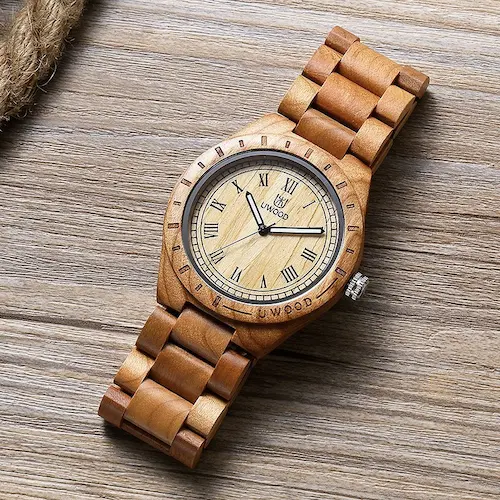 Average Pricing: $20 – $50
If you're not a fan of the prices for the other wood watch brands on our list, Uwood is probably your best bet.
An excellent idea for a stylish gift or a go-to choice for your daily outfits, Uwood has no issue with thinking outside the box.
What stands out is the variety of colors they have available, not to mention the blend of metal and wood materials that we love.
Their collection is relatively small, but you're guaranteed to find something that fits your personality.
This brand is solely dedicated to affordable wood watches (plus, many of their watches are currently on sale).
---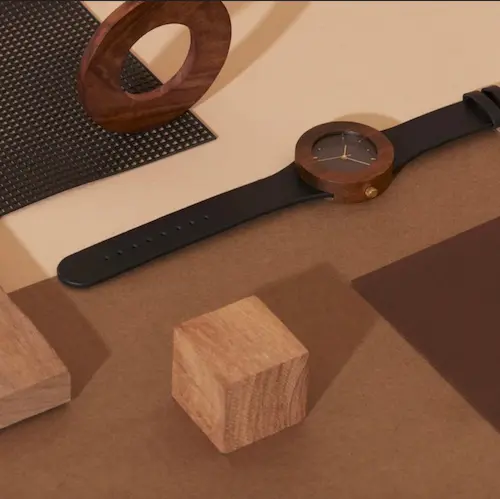 Average Pricing: $150
Likely to be one of the best options if you're looking for something minimalistic, this company offers a niche selection of wood watches with one style currently available.
Shoppers have four different colorways to choose from that'll blend in with any casual or professional outfit. These colors include maple, teak and bamboo, blackwood, and red sanders.
Their collection may not be vast compared to some other wood watch brands, but we love the style of the one watch they offer, so we have to include it.
---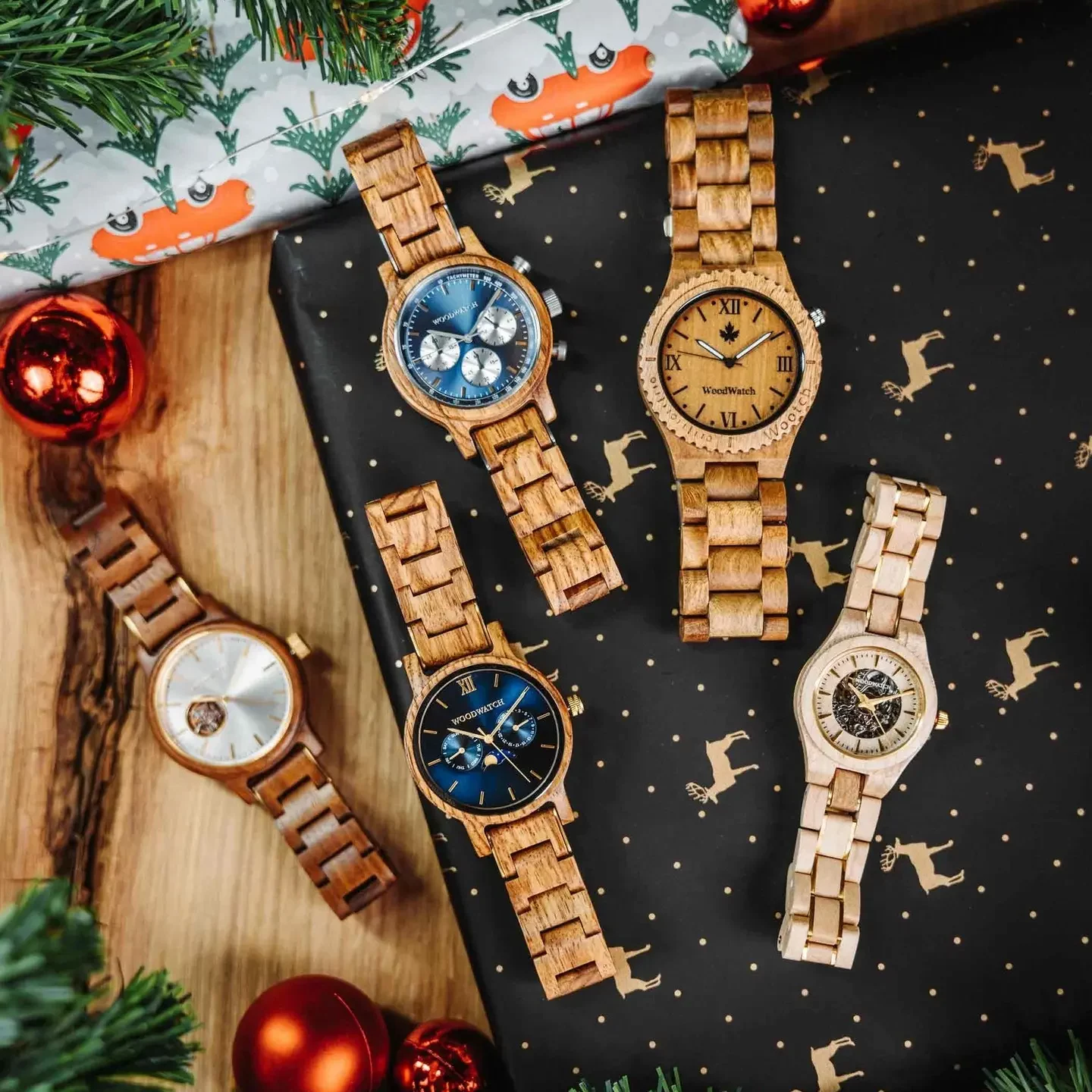 Average Pricing: $147 – $423
If you're on the hunt for a watch with a little more flair, you might want to look at what this company has to offer.
Sure, you can find neutral options as well, but what separates them from the rest are their more intricate designs.
Featuring wood faces and bands, in addition to stainless steel, you can find bold wood colors mixed in with bright surrounding hues.
They are truly an excellent choice for those who like a bit of contrast.