Looking for the perfect shoes to wear with mom jeans? Here are 9 picks that won't do you wrong.
Mom jeans have been around since the 70s, and they're not going anywhere anytime soon. The comfortable style of jeans actually coined their name from the first group of people who wore them: moms.
This style of jeans was the go-to style for busy housewives in the 70s. Then, the style hit a younger crowd through the 80s and remains popular to this day.
So, why are mom jeans so loved? The main appeal of mom jeans is their comfortable fit. They feature a wide-cut hip and crotch, with a loose fit around the thighs. The high-rise waist only furthers the appeal. They removed the frustration of having to yank your jeans up to fit (something we know all too well).
What Are Mom Jeans?
So what exactly makes a pair of jeans "mom jeans" anyway?
They are characterized by a high waist, relaxed fit, and tapered leg.
In recent years, the style has experienced a resurgence in popularity, thanks in part to celebrities like Kim Kardashian and Rhianna who have been spotted wearing them. Whether you're looking for a comfortable pair of everyday jeans or a retro-inspired fashion statement, mom jeans are sure to be a hit.
Some might say that mom jeans are unflattering and out of date, but the sales numbers just continue to increase. The cut of mom jeans is admittedly a little unusual, so it's important to style them correctly.
That's why we're here to give you the best shoes to wear with mom jeans.
RELATED: 14 Best Mom Jeans (Plus, How to Wear Them)
1. Sneakers
Sneakers are a tried and true footwear option when it comes to mom jeans. The best thing about sneakers is that you really can't go wrong with which ones you choose.
From sleek sneakers, all the way to athletic sneakers, they are guaranteed to fit well with your look.
Even though any type of sneaker will work, there are styles that work better than others. Since sneakers are such a large category, let's dive into some of the best styles to incorporate into your mom-jeans attire.
White Sneakers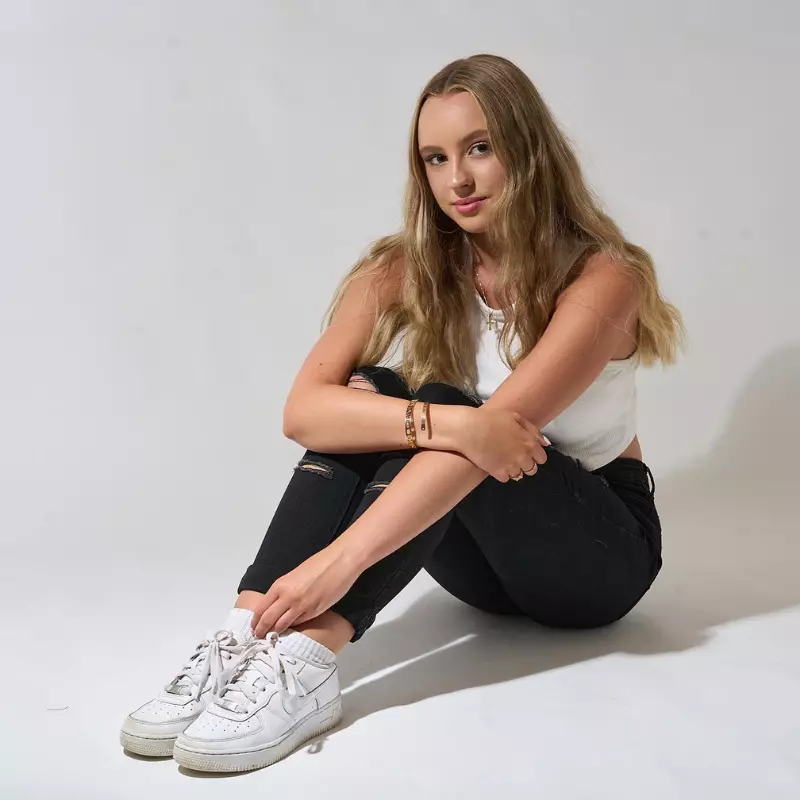 White sneakers are the ultimate go-to footwear when it comes to nearly every outfit ever. You just truly can not go wrong with this versatile shoe.
White sneakers also brighten up the look, so that it looks effortless. Try these white sneakers from Reebok!
Platform Sneakers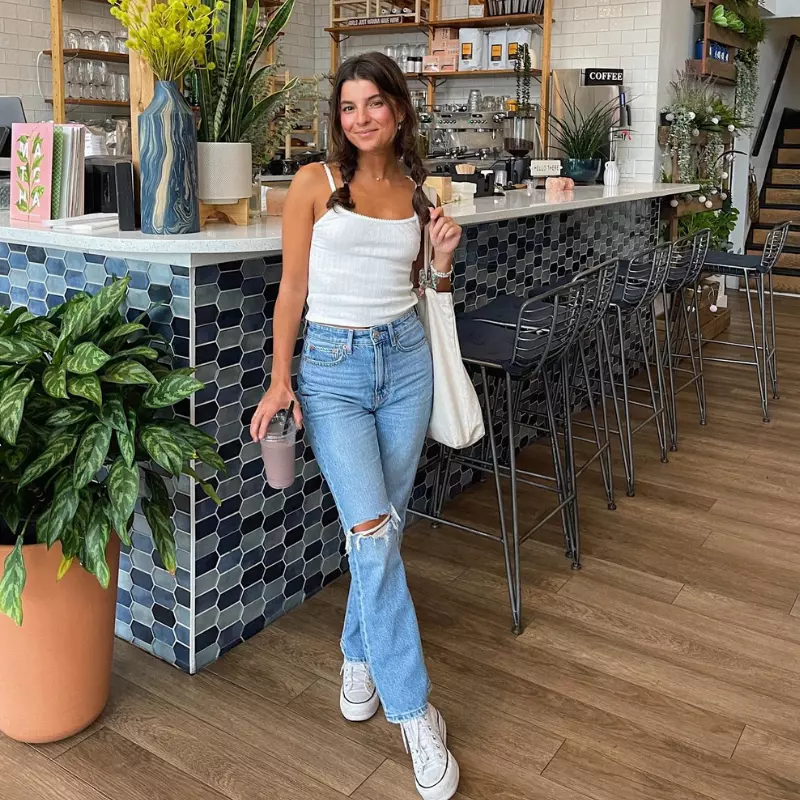 A short girl's best friend: platform sneakers. Platform sneakers are the perfect way to elongate your legs and create the illusion of a slimmer silhouette. They also add a layer of formalness that can dress up any casual outfit.
Mom jeans sport longer-length legs than other jean styles, so platform shoes help minimize the excess fabric. Try these trendy platform sneakers from Superga.
Chunky Sneakers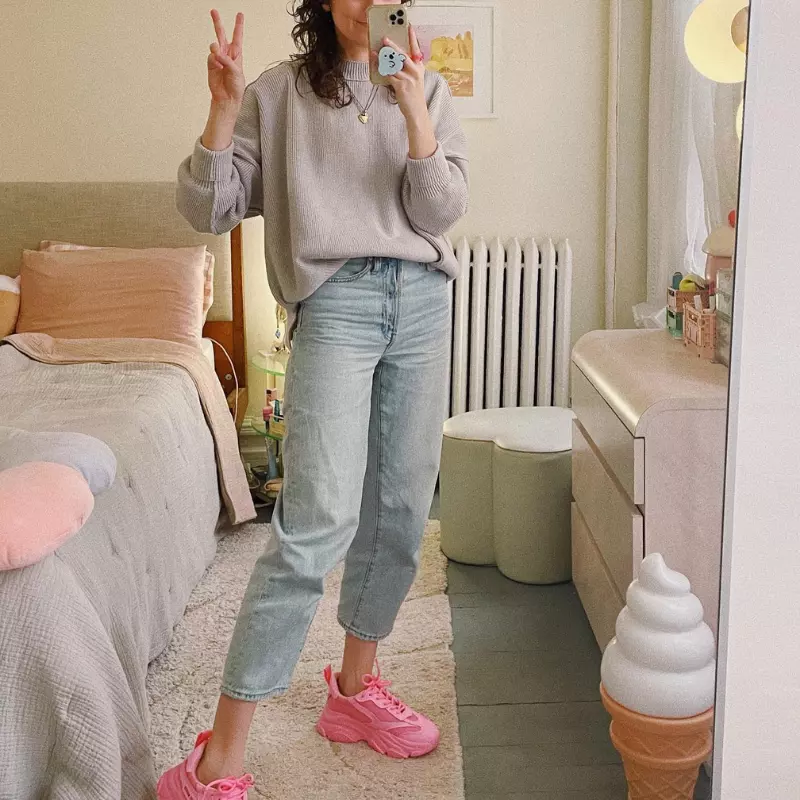 As 90s-wear enthusiasts, we greatly appreciate the resurgence of chunky sneakers. Chunky sneakers are a great option for a more casual, streetwear look.
They look amazing paired with mom jeans, as well as add a bit of edge to your look. Try these retro sneakers from ASOS.
Athleisure/Running Sneakers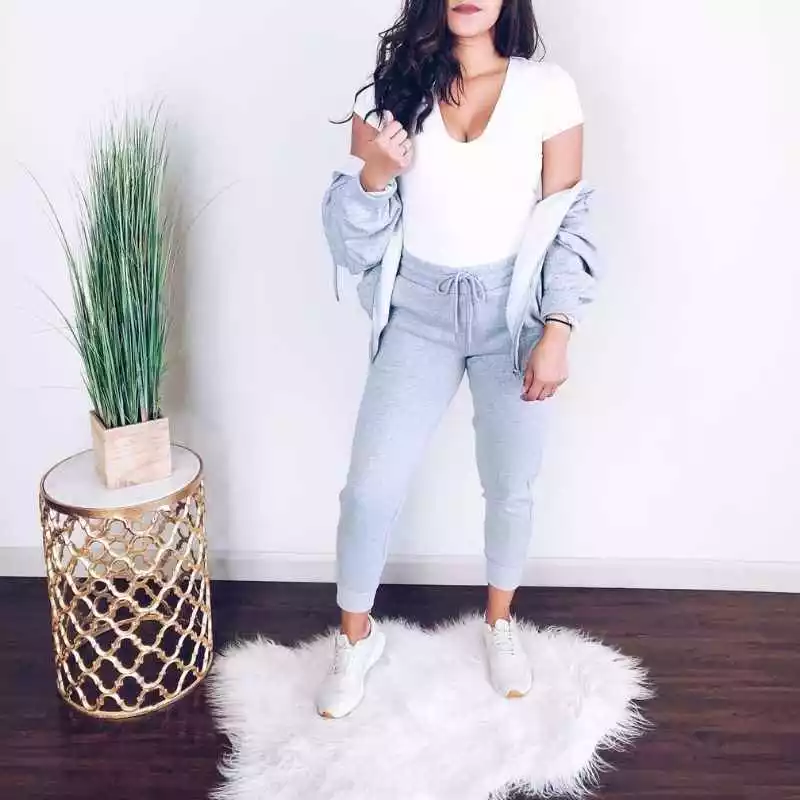 Athleisure shoes are probably the most comfortable option out of this bunch. While your look will be more casual and sporty, this is the perfect shoe to wear on an active day.
Plus, the options are endless; you can pair your mom jeans with your gym shoes or these trendy athleisure sneakers from Madewell!
2. Boots
As the seasons change, so will your choice of footwear. Fear not, though, we have the perfect advice for wearing your mom jeans through the chillier months. We suggest two types of boots that will create the cutest fall/winter looks.
Ankle Booties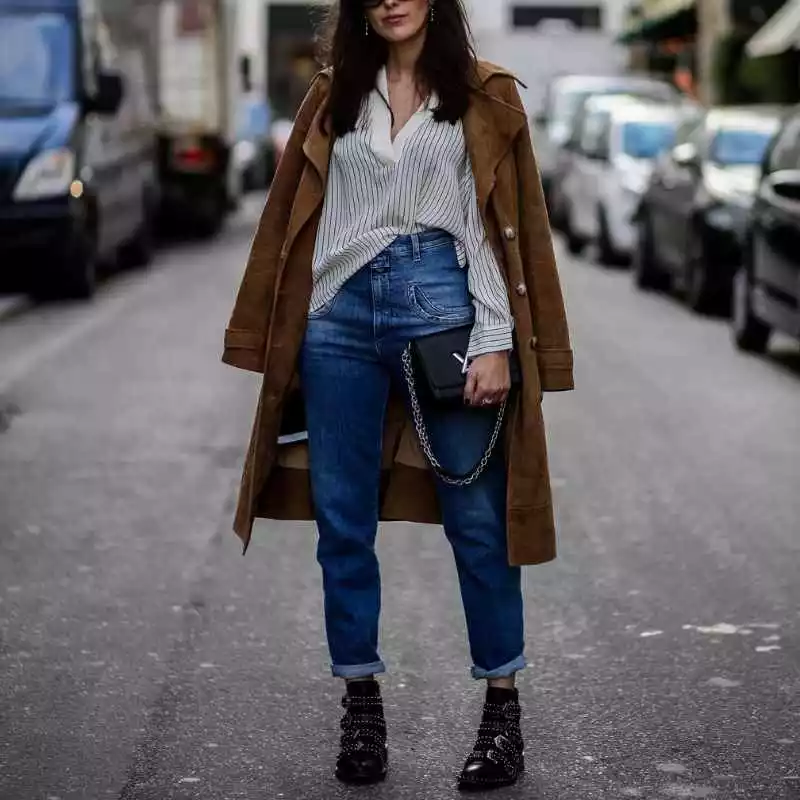 Booties are probably the most popular choice of shoe when it comes to mom jeans. These boots will dress up your fit in the best way.
The cut of ankle boots works seamlessly with the cut of mom jeans, especially booties with a bit of a heel. Ankle booties are a fashionable, warm, and comfortable option. We highly recommend trying them out with your mom jeans!
We suggest these booties from Dolce Vita. If those are a little too pricey, try this Amazon alternative.
Combat Boots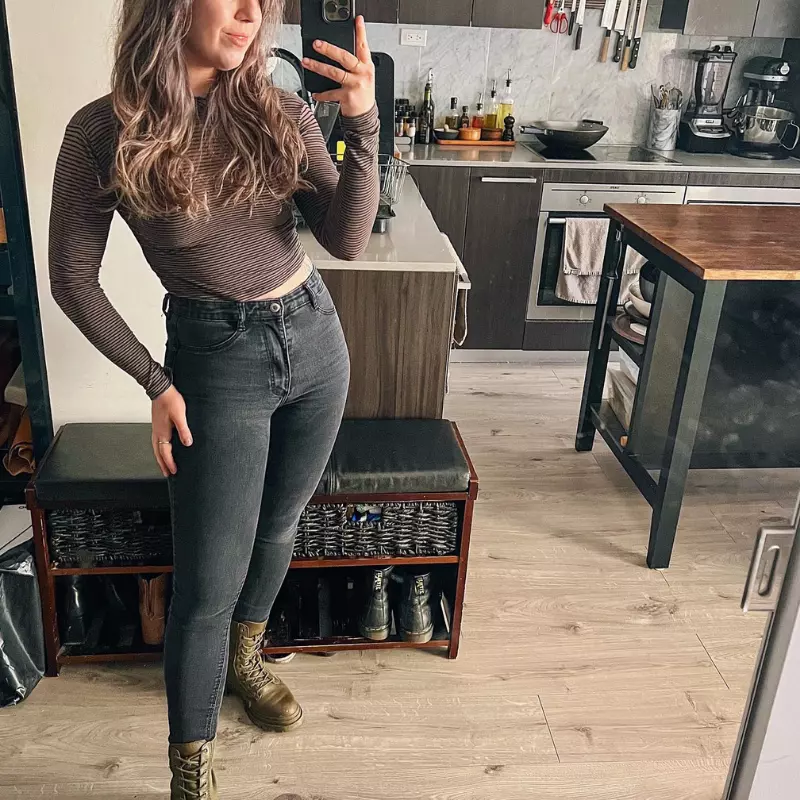 The holy grail for edgy girls, combat boots look fantastic when paired with just about anything. Like ankle booties, combat boots are cut in the perfect place for mom jeans.
We love the look of combat boots with mom jeans because they are so versatile. They're easily dressed up or dressed down, and add a perfect amount of sass to your outfit.
Any combat boot will work, but a pair of Doc Martens is an amazing investment. Try these platform combat boots from the brand to further enhance the look.
3. Sandals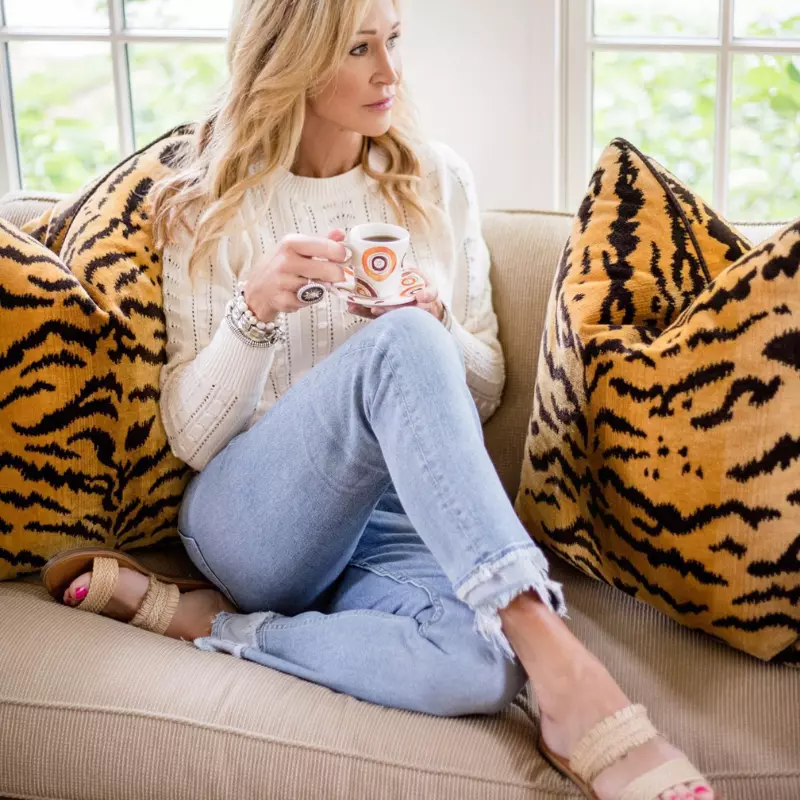 When the weather gets warm, sandals are the perfect shoe to finish your look. Any type of sandals will work for the most part. Sandals will give your outfit a summery, light, easy-going vibe.
To dress the look up, we suggest trying heeled or platform sandals. Try this gorgeous pair from Madewell.
If you want to keep it a little more casual, you can't go wrong with a classic pair of sandals. We love the look of classy sandal slip-ons with mom jeans. Try this pair from Target.
4. Flats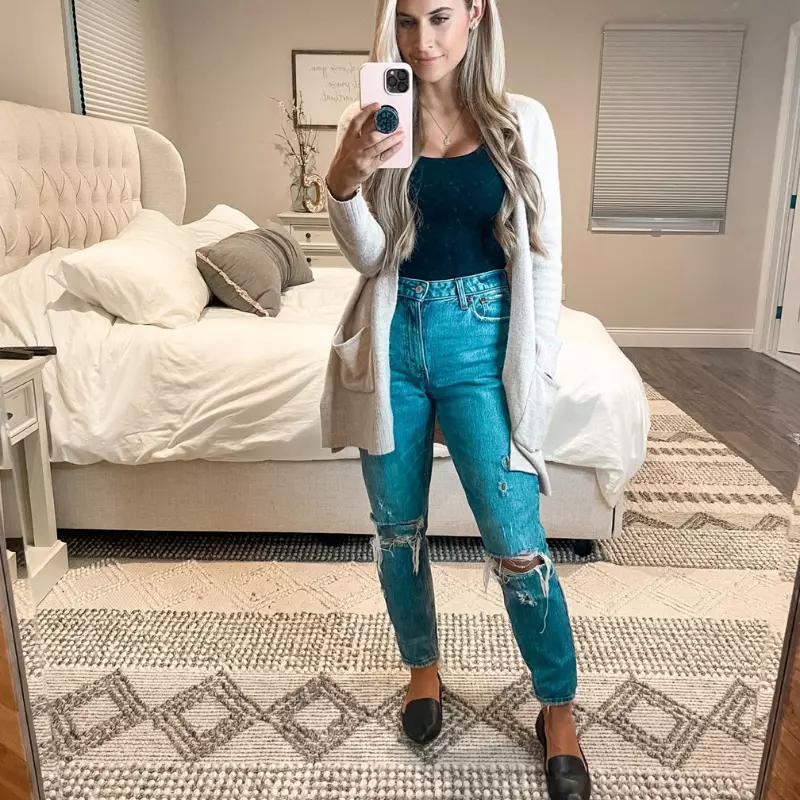 A great option for the working woman, flats also go great with mom jeans. Flats are a perfect mix of casual and formal. Plus, they are comfortable and hold tons of variety in designs.
When worn with mom jeans, flats produce that classic, preppy style that is loved by so many. Since flats leave your ankles uncovered, the cut of the jeans will look less harsh.
It will be up to you to decide which pair of flats you love the most, but if you're looking to stand out, try a pair of non-traditional oxfords with some patterned sock.
5. Heels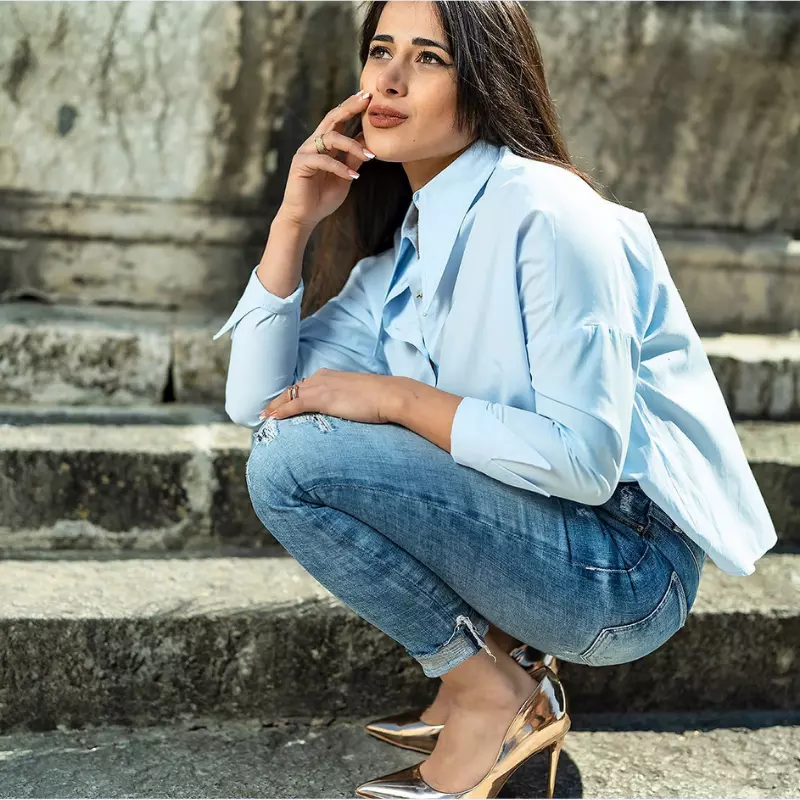 While jeans might not be the first clothing item that comes to mind for formal wear, a pair of heels can instantly dress up a pair of mom jeans. Heels compliment mom jeans wonderfully, as they accentuate the cut.
As you can imagine, a pair of stilettos would be a power move. Though, for a more practical shoe, try some minimalistic pumps or boho wedges.
What NOT To Wear With Mom Jeans
As you can see, there are plenty of options when it comes to picking out shoes to go with mom jeans. So you might be wondering, are there any shoes I should avoid? While we definitely encourage you to wear whatever you're comfortable in, you might want some helpful tips on how to avoid any unflattering shoes.
Basically, the type of shoe you'll want to avoid is anything that you'll have to tuck your jeans into. Mom jeans are all about the relaxed, loose fit, so it would be difficult to stuff them into some knee-high boots.
But, as always, rock whatever shoes make you feel the most confident!
In Summary
Mom jeans took the world by storm over the last few years; it seems like every decade has found a new way to style these unique pants.
Even though we listed some of the best shoes to wear with mom jeans, at the end of the day, wear whatever you feel good in! Anything can become a fashion statement if you make it one with confidence. Plus, mom jeans steal the show all on their own.
And no, you do not have to be a mom to wear mom jeans. We knew everyone was wondering.