One thing no one tells you when you start sewing is the amount of different scissors you will need as you learn more and more. Before you start learning how to sew, most people think of scissors as simply a tool used to cut anything. After you start, however, you will quickly learn that isn't the case.
It may seem strange or even frivolous to have different types of sewing scissors, but certain tools are meant to do certain jobs. You can't just switch out the tool and expect the same result. Each pair is unique and very helpful when doing a sewing project.
If you are just starting out or are still a little confused as to what tools you need in your sewing bag, here are some different types of sewing scissors to look for and which ones to buy.
Fabric Shears
These should be at the top of your priority list. Shears are different from scissors in that they typically have longer blades, and have a one small and one bigger hole for your fingers to fit in more comfortably. Plus, the handles are angled to make cutting fabric on a flat surface much less painful.
Think about it, you're going to be cutting fabric for every project, so you want these to be both good quality as well as comfortable for you to use. You also want them to last a long time, so you should take good care of them. Here are some of the best ones on the market.
Pro Tip: Only cut fabric with your fabric shears!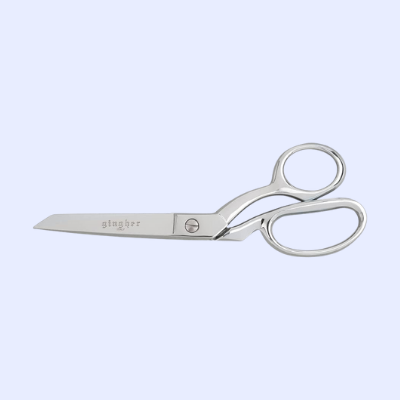 There is something to be said about dressmaker's shears. They are the classic tool and will honestly make you feel like a pro even if you are just starting out. They're great for functionality and for the aesthetic.
---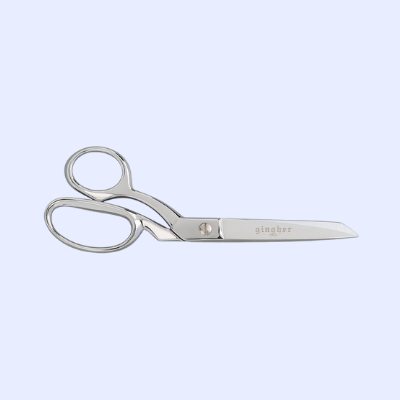 One thing we tend to not think about when it comes to scissors is that they are made to be used in your right hand. While some can easily become left-handed scissors, others aren't as versatile.
It's important for your fabric scissors to be comfortable to use and for some, regular scissors don't always cut it (pun not intended).
If you are left-handed and want a good pair of fabric scissors, you are in luck. Gingher makes their dressmaker shears to fit comfortably in your left hand.
---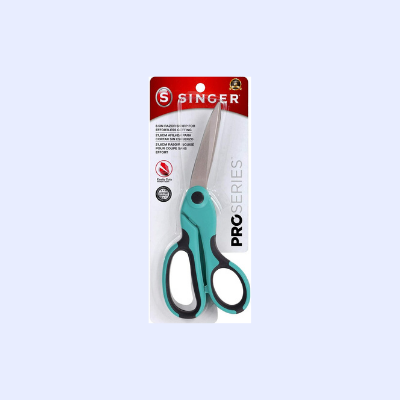 Sometimes you have to cut through a lot of layers of fabric for a sewing project. Either you're cutting on the fold or your fabric is just particularly thick; you never know until the situation arises.
If you want to be prepared for anything, pick up a pair of heavy duty scissors like these. It's said that they can cut through 20 layers of fabric and still last a long time.
If you're going to be doing some heavy work, try these out to lighten the workload.
---
Best Pattern Scissors
Pattern scissors may sound fancy, but in reality they are just some basic scissors. Just because they sound fancy doesn't mean you need an expensive pair—you might already have a pair that will work fine. If they can cut paper, then you have a good pair of pattern scissors!
I don't know if it's just me, but there's something about sewing supplies that disappear right when I need them. I have a bad habit of losing my pattern scissors literally seconds after I had them in my hands.
If you have the same problem, consider buying multiple so you can always have a pair handy, like these pairs below.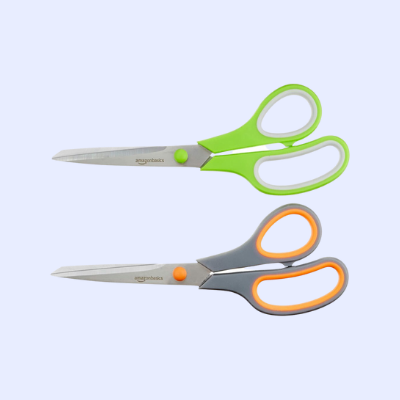 Again, pattern scissors only need to be able to cut paper, so you can grab a pack like this and be ready for any project.
These scissors are Amazon's choice, likely because of the soft-grip handles and titanium-fused blades.
---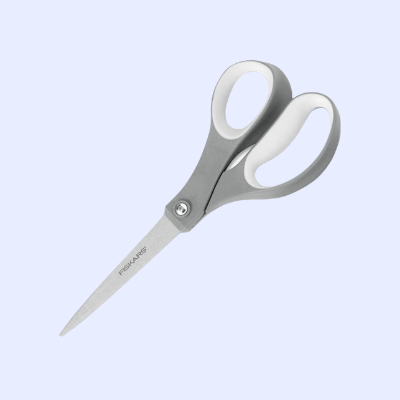 While sewing, you're likely going to be cutting a lot of patterns, so you want to make sure your hands are comfortable while you cut. The last thing you want is for your hands to cramp up as you work.
If you want good quality and comfort, grab this pair of Fiskars with a soft grip. Your hands will thank me later.
---
Best Pinking Shears
Pinking shears are a Godsend when working with delicate fabrics. Any seasoned sewer knows exactly what I'm talking about, that one fabric that seems to fray just by looking at it wrong.
Pinking shears are a lot like those zigzag scissors you used for your elementary art projects. They cut your fabric in a zigzag pattern to prevent it from fraying. They are pretty heavy duty, but they do help a lot with projects.
Check out these options below if you're in need of some good pinking shears.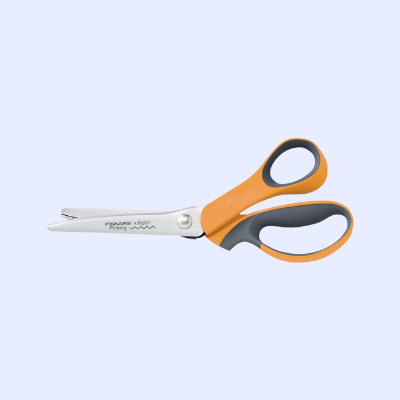 While pinking shears are great and incredibly useful when sewing, they can be quite heavy. They are especially hard to work with when they are brand new because they get pretty stiff.
Because of this, you want to grab a pair with a soft handle like these ones. They also have high-grade, stainless steel blades.
I have similar ones I use and the grips do help in the beginning, especially since they need time to loosen once you start using them.
---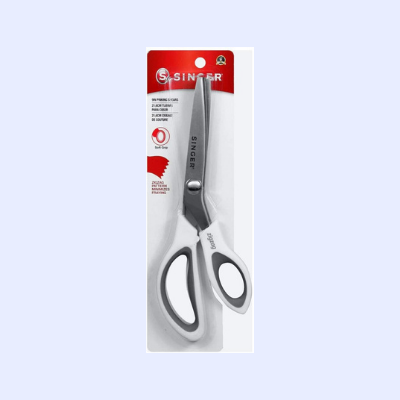 If you want pinking shears to match your machine, here are some from Singer.
They are very similar to the Fiskars ones, including the soft grips on the handles. The main difference is the length.
If you are a stickler and need that extra inch, I would go for these. I trust Singer for my machine so I would trust them with scissors as well.
---
Best Detail Sewing Scissors
Also known as embroidery scissors, these are those tiny scissors that your grandmother probably had in her cookie tin turned sewing kit. These are just a small pair of scissors that help you cut threads close to your fabric.
You can also use them to cut small holes in your fabric to prep it for grommets or to cut button holes. They are small, but they are useful. Below are some of our recommendations for detail scissors.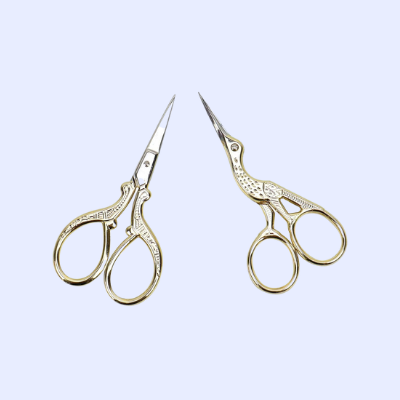 The best part about these types of scissors is that they look adorable. These are the ones that everyone knows as the stork scissors. They are cute and class on top of being functional.
If you want to grab a pair of detail scissors, why not have it be the cute, stork kind. Plus, this comes in a set, so it's two in one.
---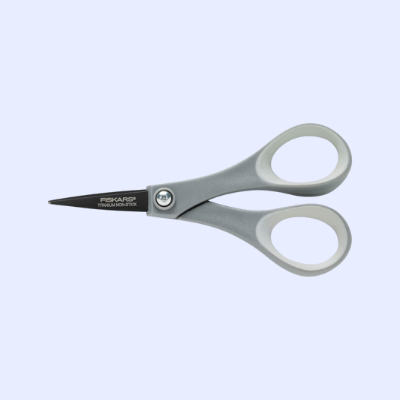 If you want something with a more functional look, you can never go wrong with Fiskars. These aren't too heavy duty, but they aren't meant to be. They are meant to cut lighter materials and for that, these will work perfectly.
---
Best Thread Snips
Speaking of tiny things that can be a big help, meet thread snips. These are great to have right next to your sewing machine because these are the quickest way to cut threads. Snips are really just two blades that you press together to cut loose threads, or you can notch your fabric.
Here are some great options for thread snips, if you're in the market for a pair.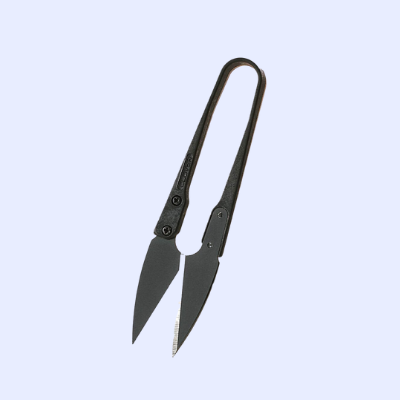 These are the types that you're going to see the most. Like I said, they are two blades that you press together to cut a thread.
They may look intimidating, but they get the job done and do a particularly good job at it. If you just need a tool to quickly cut threads, I'd grab a pair of these.
---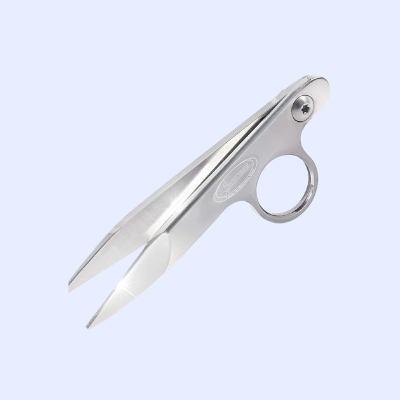 If you want something that will fit a bit better in your hands, try this one out. They give you much more of a handle for you to use them comfortably.
If you are going to use them for more than quickly cutting threads like notching fabric, these might be more of your speed.
---
Bottom Line
There is a lot that goes into sewing, even for something as simple as cutting fabric. If you want to delve deeper into the world of sewing, you'll find that having these different sewing scissors and shears can really help you in the long run.
Whether you have them lying around already, they were passed down to you, or you go out and buy some, these are your tools to make and create your best sewing projects.
UP NEXT: 17 Places to Buy Cute Office Supplies
A (Silicon) Valley girl with a degree in film and a love for fashion. She's just trying to write about the beautiful world around her.