The world of natural makeup brands can be overwhelming. For a long time, natural makeup left a lot to be desired when it came to long-lasting wear and deep color.
As the clean beauty movement continues to pick up speed, we now have greater access to natural makeup brands that not only deliver on beautiful pigments but also last through lunch. Check out 21 of our favorite natural makeup brands below!
21 Best Natural Makeup Brands
Finding natural makeup brands that deliver on performance and safe ingredients can often be a trial-and-error experience. That's why we've created a list of the best natural makeup brands to take out the guesswork of shopping natural, organic, and clean.
100% Pure prides themselves on nourishing skincare and makeup products made from all-natural ingredients. They never source from or test on animals.
Because the term "natural" is wishy-washy in the beauty industry, 100% Pure defines they're natural ingredients as ones made up of plant, mineral, or marine vegetation.


While most natural beauty products leave a lot to be desired when it comes to colors and wear, 100% Pure more than delivers. Thanks to pigments from fruit, vegetables, tea, and cocoa, this brand creates products packed full of pigment.
Plus, you don't need a degree in chemistry to decipher their labels. 100% Pure's easily recognizable ingredients eliminate the need for a "made without" list. You can understand exactly what they are made with.
100% Pure prices their products a little higher than other beauty brands, but they stand by a 100% satisfaction guarantee. Their eye shadow pallets average around $55, but if you aren't happy with a purchase, you have 60 days to return or exchange it. After 60 days, it turns into store credit.
Still not sold? Take a look at all 20 of their cocoa matte lipstick shade swatches and watch those pigments go to work.
RELATED: 16 Best Vegan Makeup Brands for Cruelty-Free Products
Founded by Rose-Marie Swift in 2008, RMS Beauty is an established and award-winning makeup brand. They focus on "living" ingredients, which means their makeup is created using "raw, food grade, organic" ingredients for a wholesome, natural beauty look.
In need of new makeup tricks? RMS Beauty's how-to videos show you how to maximize the use of their products.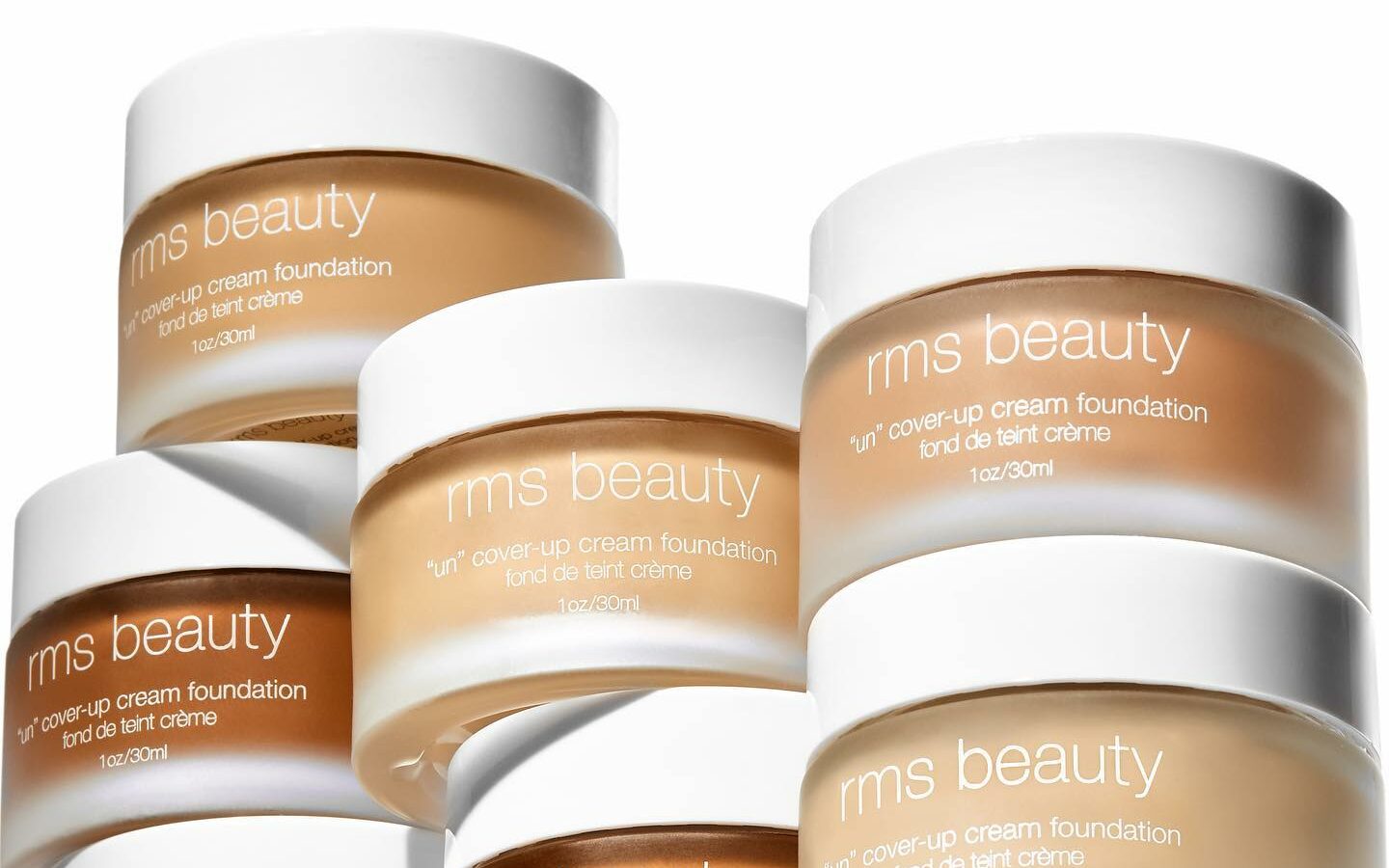 All RMS Beauty products are free of phthalates, parabens, GMOs, synthetic fragrance, talc, and nano formulas. This means it's a great choice for even the most sensitive skin. They utilize mostly creamy formulas for their foundations and shadows, however, so the brand may not be the best choice for those with oily skin.
With middle-of-the-road pricing, an eye shadow quad costs about $34. Their return policy states that items must be unused, untouched, and sent back within 30 days.
For more, check out their starter kits and collections here and sign up for RMS Rewards to start earning points (sign up is free!).
---
Honest Beauty is a part of The Honest Company, founded by Jessica Alba in 2011. Her philosophy? "You shouldn't have to choose between what works and what's good for you."
With their own in-house lab, Honest Beauty works closely with chemists and toxicologists to create products that are safe and perform effectively, which can be a challenge when it comes to natural ingredients.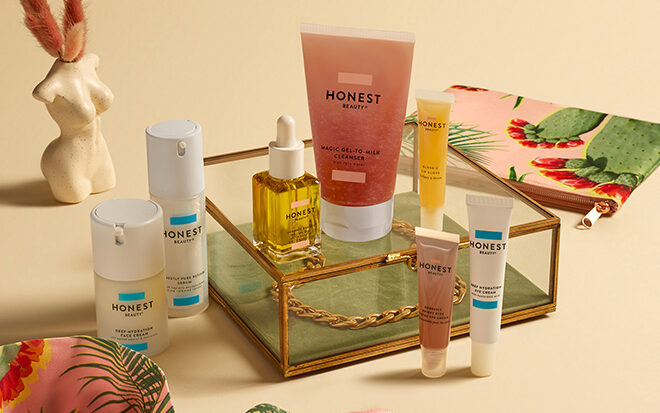 Honest Beauty is also one of the most affordable natural beauty brands out there with a 10-shade eyeshadow palette clocking in at around $20.
Honest Beauty's mascara and primer duo packs a serious punch. Their site states that one of these babies is sold every two minutes and for good reason. It's one of the best-selling mascaras across the board with a clump-free formula and bristles that coat each lash.
If you're going through the brand directly, they have a 90 day return policy.
In addition to selling products, Honest Beauty has a strong social media engagement and a ton of video resources direct from Ms. Alba herself. This means lots of inspiration and how-to's for all of your skincare and makeup questions.
---
Another affordable, natural beauty band, Pacifica is known for bright packaging and an extensive array of beauty products, from skincare to nail polish.
Their products are vegan, cruelty-free, and paraben-free, though they are not as transparent about what it means for their products to be "clean" as some competitors.


Pacifica's 28-shade mineral eyeshadow palette clocks in at around $24 on their site. Pacifica products are also available for purchase at Target, Ulta, and Amazon.
The return policy for products purchased from the Pacifica site (they do not accept returns from other retailers) is 30 days but doesn't include bundles, samples, free gifts, or Last Call items).
---
A natural, luxury makeup brand, Ilia focuses on skin-centric products. Their every foundation, eye shadow, and lipstick work to revive and protect skin for radiant, natural beauty.
One of their best-selling products, Super Serum Skin Tint, comes in 30 shades and multitasks as a serum, light coverage foundation, and SPF 40. To help you decide between 30 different shades, Ilia created a tool to find your shade match online. Plus, you can send in a selfie for personalized matching.


For a pricing benchmark, their 6-shade eye shadow palette hovers around $38. Their generous return policy of 60 days applies to gently used products, but excludes sale items and sets.
Also, Ilia sells a mascara that rivals Honest Beauty, offered in mini and full size. Experts recommend replacing mascara every 3 months to avoid bacteria growth. But, if you don't wear mascara everyday, you probably don't want to trash half the bottle after 90 days. Their mini mascara would be a more ideal size for the once-in-a-while mascara wearer.
---
Alima Pure is a mineral-based natural makeup brand. They never test their products on animals and are free of a lot of toxic ingredients such as parabens, sulfates, and phthalates.


Most of Alima Pure's makeup products are powder-based, making it a great choice for anyone with oily skin. While their single, pressed eye shadow compacts cost around $26 each, a lot of their other products are pretty affordable.
Their best-known product, loose mineral powder foundation with a satin matte finish, runs for about $28 and comes in 45 shades.
As far as a return policy, Alima Pure accepts returns within 30 days but does not allow you to exchange products through their site. The great news is that Amazon and The Detox Market also sell Alima Pure products!
Shop Alima Pure
---
Founded in 2010 by Kirsten Kjaer Weis, a Danish-born makeup artist, this makeup brand was created out of a need for non-irritating makeup that didn't sacrifice performance. Kirsten felt her clients were having to choose synthetic formulas over natural makeup because natural formulas just didn't hold up.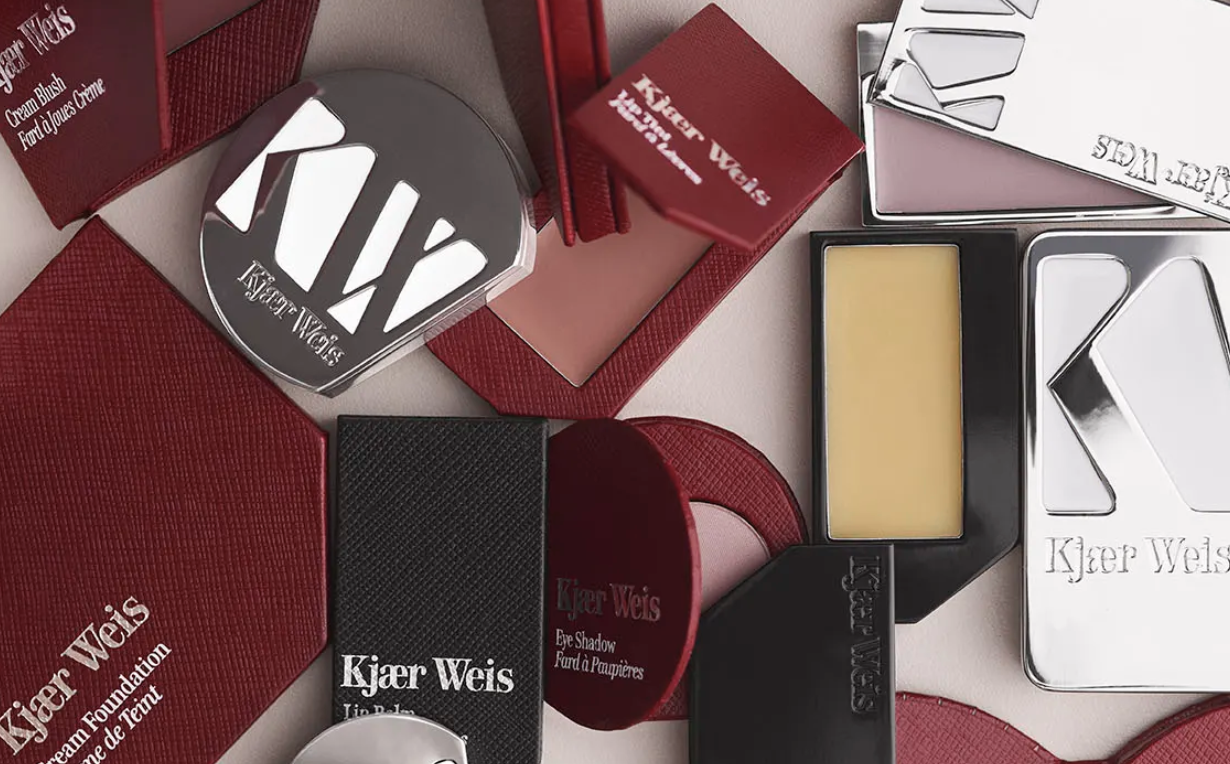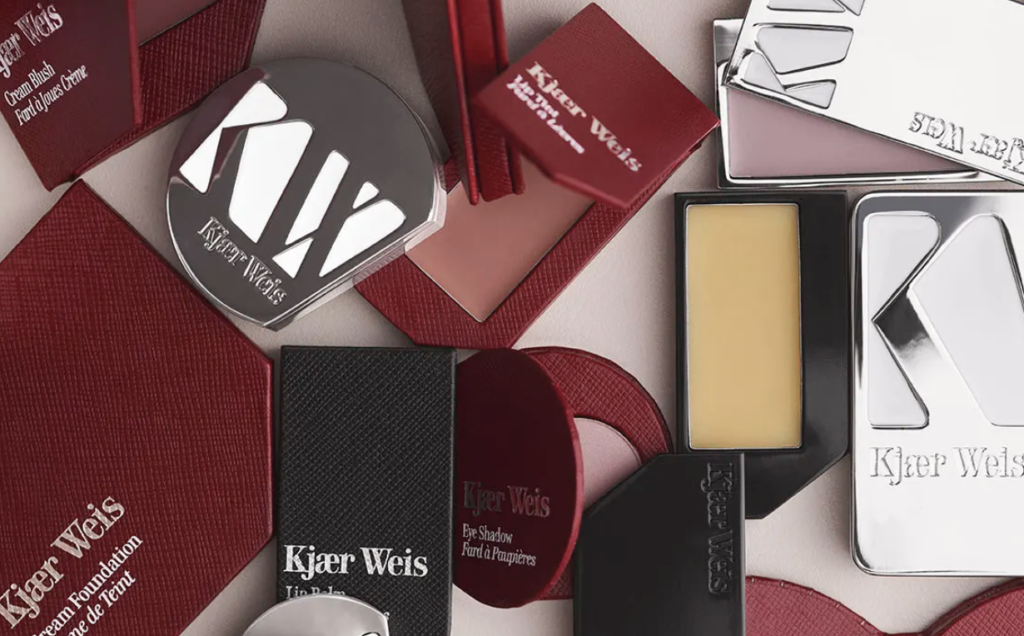 When it comes to ingredients, Kjaer Weis uses only those that benefit skin. They promis no parabens, silicones, petrochemical emulsifiers, or synthetic fragrances. For a list of every ingredient Kjaer Weis uses and why, their website organizes them for you from A-Z here.
Their website states that almost all products are either Certified Natural or Certified Organic. Even though "natural" can be a vague term in the US cosmetics industry, Kjaer Weis products are made in Italy. This means they are held to the strict standards of the Controllo e Certificazione Prodotti Biologici for product transparency.
The first luxury beauty brand to launch reusable packaging, Kjaer Weis's Iconic Edition compacts are metal, so they can be used over and over again. Plus, you can refill their lipsticks!
Check out their best sellers and feel free to awe over their sleek and minimalist packaging.
RELATED: 15 Best Zero Waste Products to Start Saving the Planet
Another transparent, natural makeup brand, Hynt Beauty dedicated a page that describes what ingredients they do and don't use. Plus, they are an eco-friendly and PETA-certified vegan brand that cuts out questionable ingredients, including artificial fragrance and preservatives.


This natural makeup brand was co-founded by a breast cancer survivor. Hynt Beauty's focus remains on healthy ingredients for the skin and giving back to their community and the planet.
If you're looking for a genuine brand packed with antioxidants, phytonutrients, and plant extracts, Hynt Beauty is a great choice.
---
Ecco Bella boasts vegan, non-GMO, and plant-powered formulas. They use flower cutins instead of silicones to keep makeup from moving and to protect skin from outside pollution. Since cosmetics and skincare that use water as an ingredient are prone to bacteria and mold growth, Ecco Bella uses aloe vera instead to avoid harsh preservatives.

Ecco Bella also has refillable compacts, which reduces waste big time. Plus, they provide a free consultation with a natural beauty guru if you have any questions about skin, health, or makeup. They're also one of the most affordable brands on this list.
This natural makeup brand focuses on anti-blemish and anti-aging, which they achieve by using deeply pigmented fruit and vegetable extracts from marigolds, carrots, sea algae, and tomatoes.
This brand prides itself on multitasking products that benefit any skin type at any age. That means dry, oily, young, or wise-skin folks can use any Ecco Bella makeup products without worry.
---
Vasanti Cosmetics has over 20 years of experience in the beauty industry, focusing on clean, high-performing ingredients. Some of their top priorities as a beauty brand include inclusivity and accessibility.
The price for Vasanti's single makeup products typically hovers between $19-$29, which is extremely affordable for high-quality makeup. All of their products contain 95-99% natural, non-toxic ingredients, so you can feel good about putting them on your skin.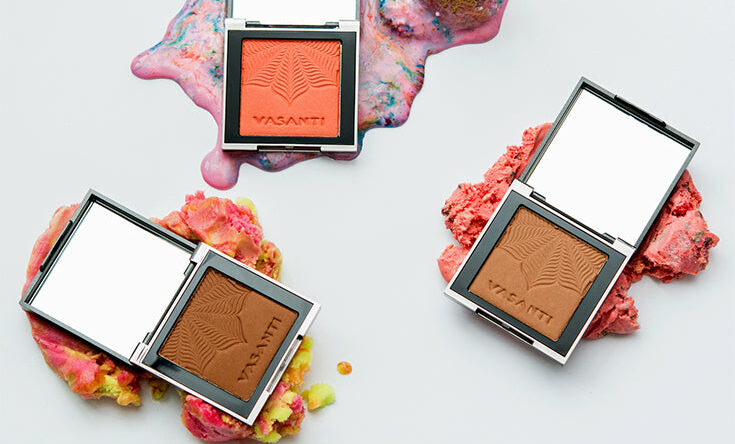 They have a variety of makeup to choose from such as foundation, concealer, mascara, and blush. Plus, all of their products are clean, vegan, cruelty-free, Peta-approved, and non-toxic.
Dr. Hauschka natural makeup and skincare provides an overwhelming amount of information on their site, but they do provide a page of expert advice for resources on skincare plans, cleansing, makeup tips, and balancing your skin.


When researching products and ingredients, Dr. Hauschka uses a team of pharmacists, biologists, landscape ecologists, and chemists to ensure top quality sourcing, creation, and application.
When it comes to sustainability, the majority of their packaging consists of aluminum tubes or glass bottles, with just a few products packaged in medical-grade high density polyurethane. They explain that this "does not deteriorate or leach any undesirable compounds into the product."
One of the only downsides with Dr. Hauschka natural makeup products is the lack of shade choices. Their liquid foundation consists of 7 shade options (with an asterisk next to two shades that are not available in all countries) and just 3 shades in their pressed-powder compact.
---
W3ll People is a natural makeup brand that can be found at Target, Ulta, and Amazon, in addition to their own site. They're known for their minimalist packaging and a sleek, no frills design.
Quite a few of their products are EWG-verified, although this non-profit has come under fire from the scientific community for overstating the risk of certain ingredients. If you're not okay with taking a chance on a chemical that "may or may not be harmful," you don't have to with this brand.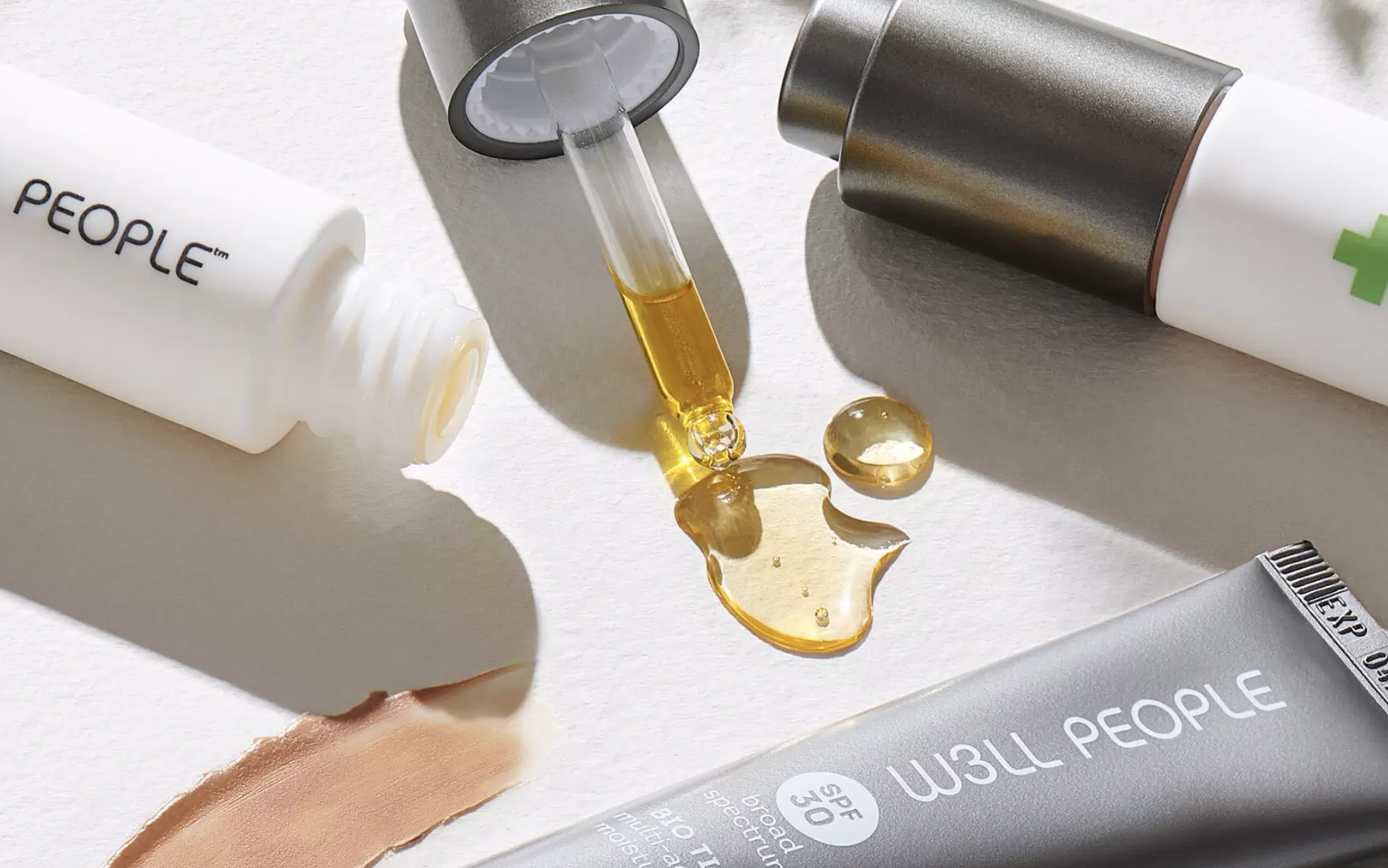 Consumers really love their Bio Tint Multi-Action Moisturizer which contains SPF 30. It multitasks as a moisturizer, tint, and sun protection all-in-one, but only comes in 4 shades. Their Bio Base Baked Foundation comes in 6 shades.
Another fan favorite is their Expressionist Pro Mascara and Expressionist Volumizing Mascara, which competes with the Honest Beauty mascara and primer.
---
Honeybee Gardens was created by Melissa J. Buckley in 1995 where products were made in her own kitchen. Since then, Honeybee Gardens has grown into a natural makeup and skincare brand with nail polish, deodorant, and eco-friendly brush sets.


Honeybee Gardens also offers a seasonal subscription box. Their Spring Buzz Box has completely sold out with 201 ratings and an average of 5 stars.
Honeybee Gardens sells refillable foundation and eyeshadow compacts, so you can put together your own colors for a palette and reduce cost and waste when you need to refill.
By far, my favorite thing about Honeybee Gardens is the Personal Color Analysis. Fill out their 12 question beauty profile, attach a selfie, and for just $10 a beauty consultant will create a custom sample kit. It includes 4 eye shadow shades, 3 lipstick shades, 2 foundations, and 1 blush. Plus, you receive a 10% off coupon for your next purchase!
---
An Australian natural beauty brand, Inika Organic and won the Organic Beauty Awards' Best Skincare Brand 2020. Their makeup is used on runways around the globe, which indicates how well their products show up and hold up.
Their products boast certified organic and cruelty-free formulas. Furthermore, they follow Halal and vegan values and use botanicals and pure minerals that soothe skin. Even better, they've been clinically proven to contain anti-aging benefits.


Their liquid and powder foundations sit light on the skin and come in 8-12 inclusive shades. Inika Organic offers eight (yes, eight!) mascaras. Colors range from blue, brown, or black, and have a curved, fluffy, or highly-bristled brush depending on your lash goals.
Another great feature of Inika Organic is the many different variations offered of each product. Their eyeliner comes in liquid or pencil. Their blush comes as cream, loose powder, or compact. And finally, their lip choices range between balm, glaze, cream, crayon, or lipstick.
---
Found on their own site and through retailers like Target, Amazon, and Whole Foods, Mineral Fusion prides themselves on hypoallergenic, cruelty-free, and artificial-fragrance free formulas.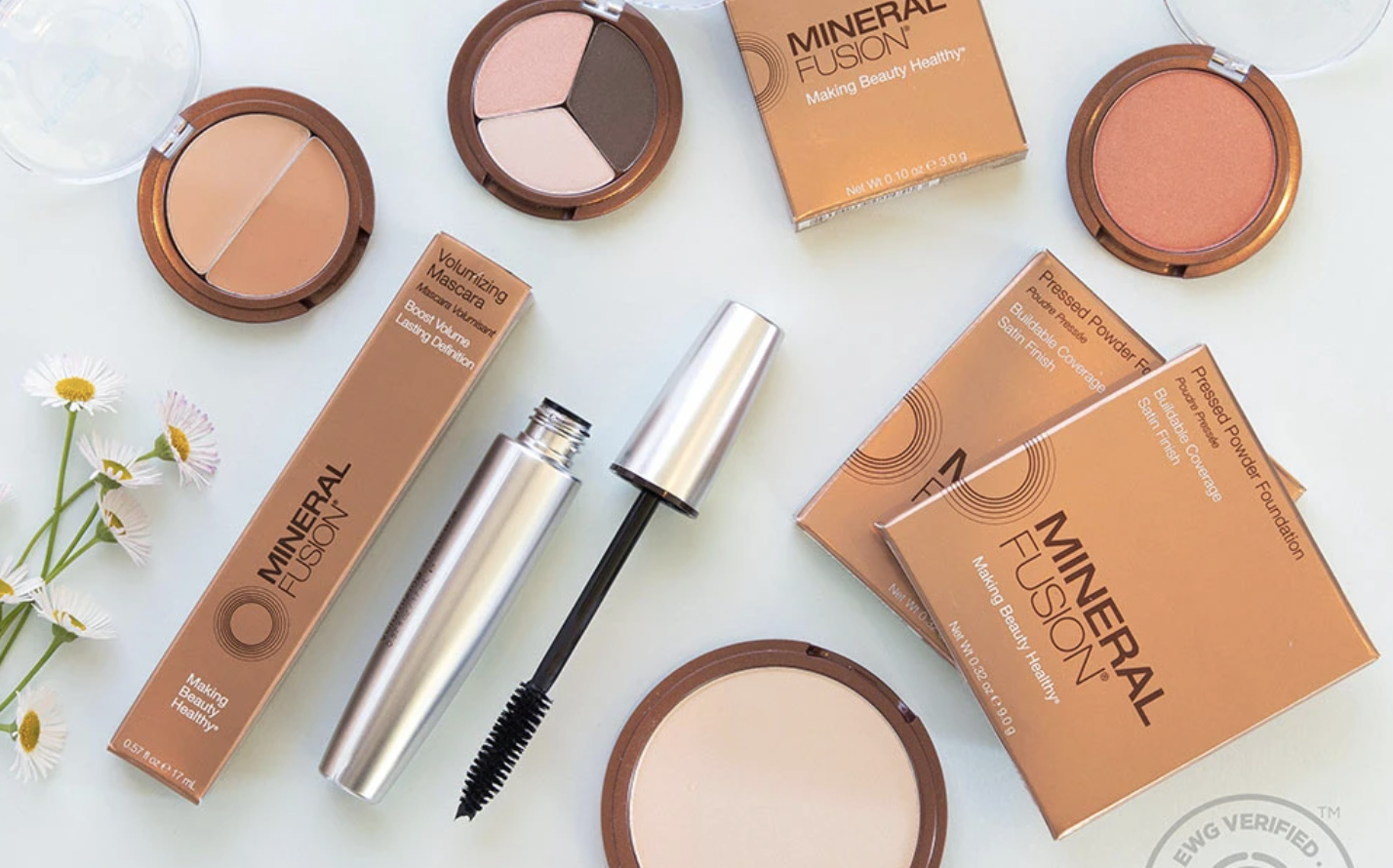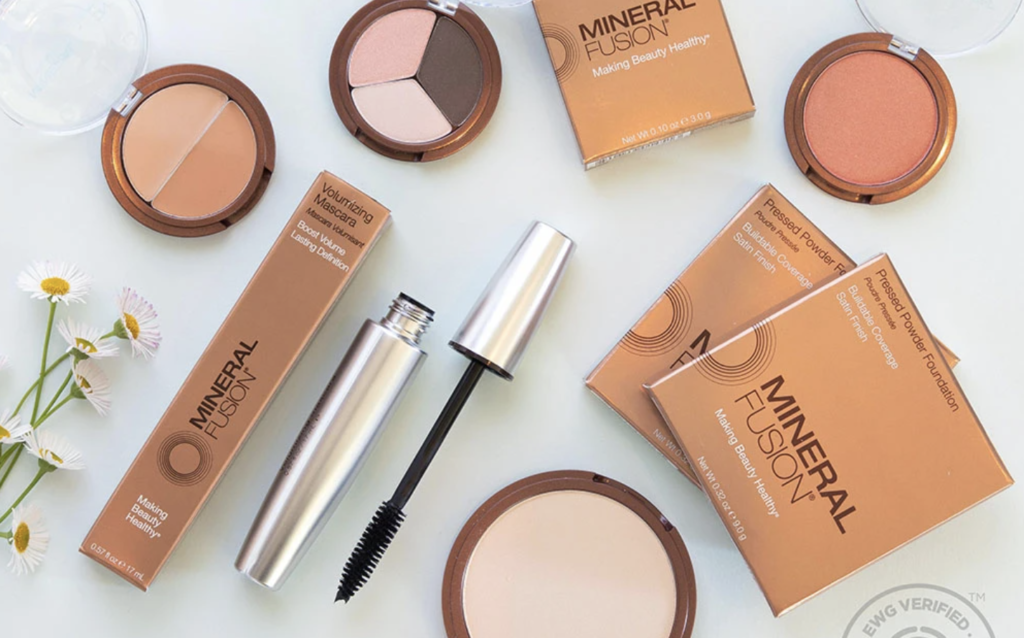 I personally use their pressed powder foundation (which comes in 24 shades) and I love the coverage that still leaves my skin looking like skin. If you don't know your right shade, hop over to their shade match for a guide. Or, test a couple different shades by using their virtual try-on tool.
I also use their lighter shade blush/bronzer duo and single blush in Creation. Keep in mind, the single blush is a 0.10 oz compact, so it will look comically small compared to a usual blush compact. That being said, the pigment is deep and will last you just as long as a standard blush compact.
Mineral Fusion is mostly known for their natural makeup, but they also branch out to nail polish, skincare, hair care, and body care products.
RELATED: 9 Summer Skincare Tips for Healthy, Glowing Skin
Don't let the name mislead you: Red Apple Lipstick creates some of the best natural makeup for eyes, lips, and cheeks. They pledge all formulas free of GMOs, parabens, major allergens, petroleum, mineral oil, fragrance, talc, and lead. They also commit to vegan and cruelty-free products.


If Red Apple Lipstick's 43 shades options overwhelm you, use their handy shopping guide to help choose a shade based on your skin tone and hair color. Also, you can order from one of their 33 sample colors.
In addition, they offer 46 eye shadow singles and palettes of 4 or 9. These shadows fall on the pricey side, with singles over $16 a piece and palettes ranging from $70- $150. Their lipsticks, however, provide more affordable choices and keep up with other natural makeup brands.
Tata Harper is well-known not just in the natural products realm, but also in cosmetics and skincare as a whole. Their iconic green glass bottle has become a staple in skincare and beauty routines all around the world. The brand strives to deliver results and performance without taking any shortcuts.
Every Tata Harper product is made at their 1,200 acre farm in Vermont. They pride themselves on small batch productions and zero outsourcing. Their lab is full of female scientists who pack as many high-performing ingredients into products as possible so customers can see the most effective results.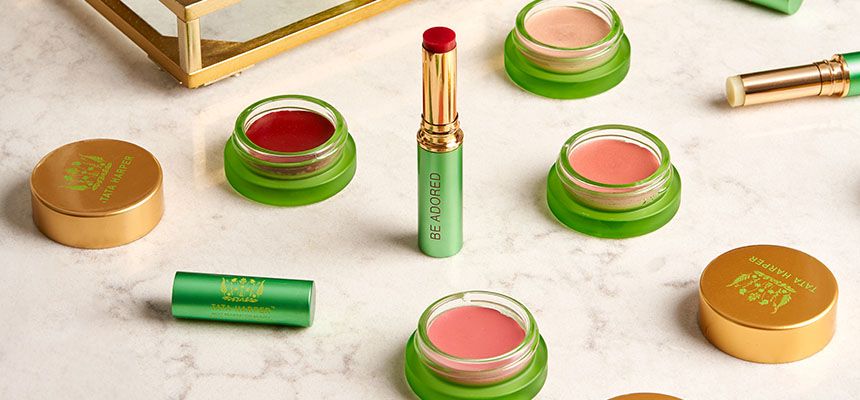 While their natural makeup line is relatively small (offering just eight products), their formulas still pack in some really amazing skin ingredients. Tata Harper doesn't currently offer foundation products, but they do offer an Illuminating Moisturizer with 42 high-performance botanicals.
Other Tata Harper makeup products include a tinted anti-aging neuropeptide lip treatment and a neuropeptide lip and cheek tint.
Like most luxury brands, Tata Harper comes with a steep price tag. However, if any brand exhibits pricing with great quality, it's this one. Rest assured your investment will be well worth it.
---
Axiology is a natural lipstick brand that employs quite a few impressive features. Each of these "evil-free" lipsticks, balms, and crayons contain only 10 ingredients or less. Plus, each butter, oil, and extract is easy to recognize and pronounce.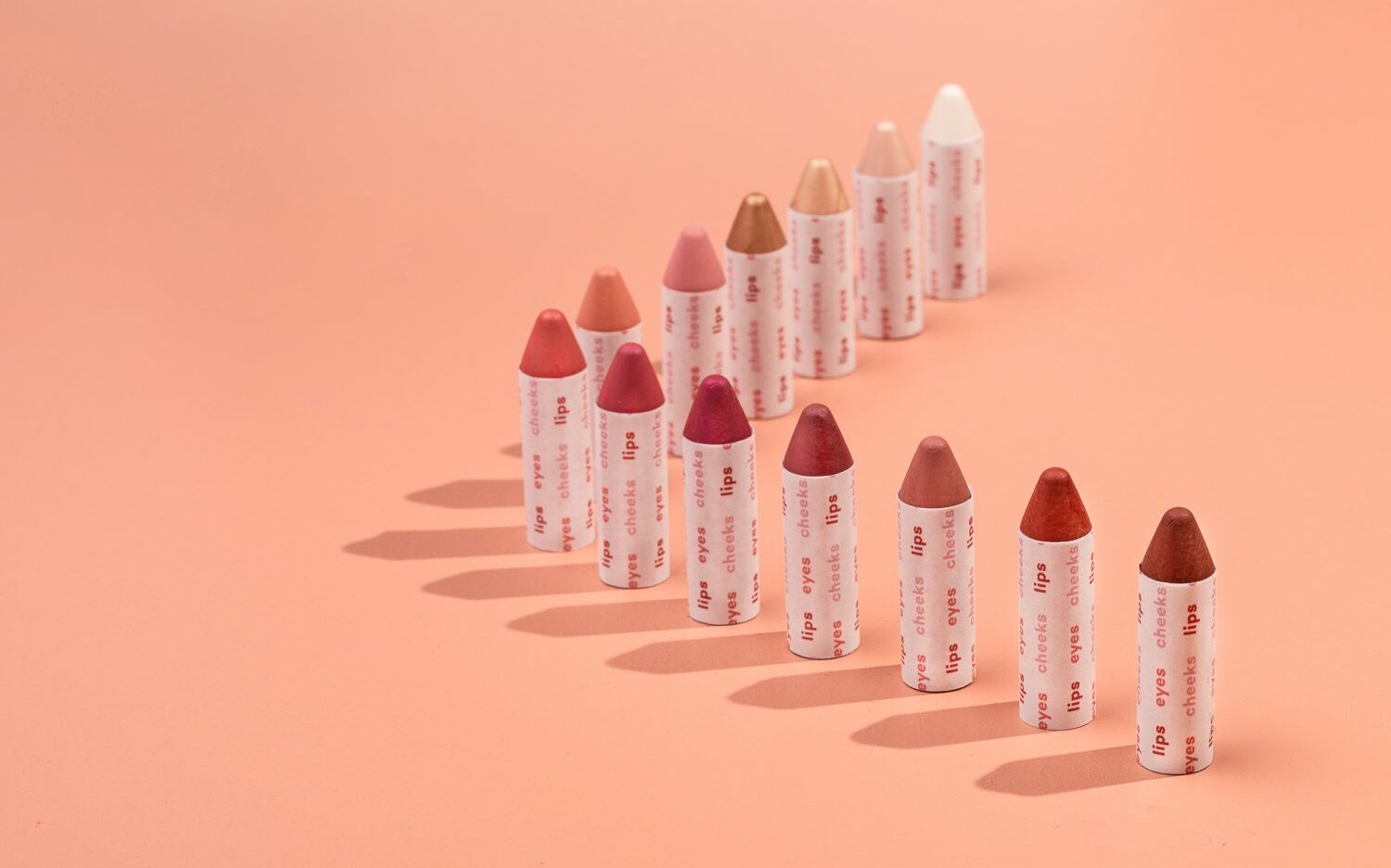 In addition, Axiology boasts plastic-free recycled paper in their balmies packaging and 50% post-consumer recycled plastic for their lipstick tubes. Axiology is commited to continuing their sustainability journey as manufacturing with recycled materials and plastic alternatives continues to improve.
Axiology's 3-in-1 vegan balmies won a Byrdie 2021 Eco Beauty Award, and their vegan lipstick in shade The Goodness continues to be a best-seller.
If you're looking for rich colors and creamy formulas, Axiology is your shop for sheer, matte, and shimmer vegan lip colors. And don't forget about their multitasking lip, lid, and cheek products.
Burt's Bees has been around for a while with products ranging from natural skincare to baby clothes. When it comes to cosmetics, Burt's Bees is a simple and affordable option for someone just starting out in makeup or someone who likes to keep it super simple.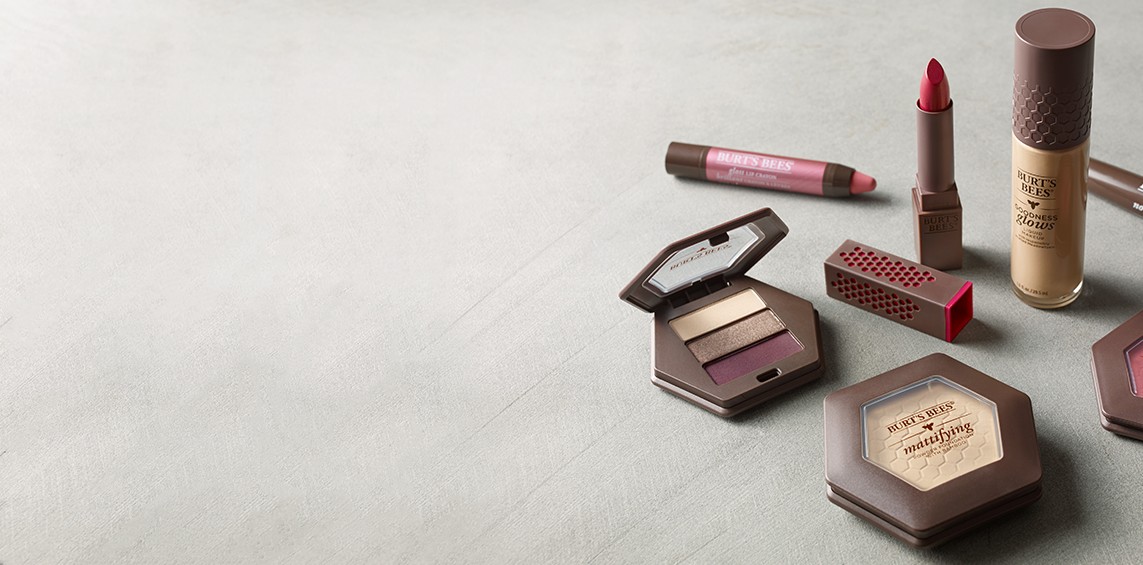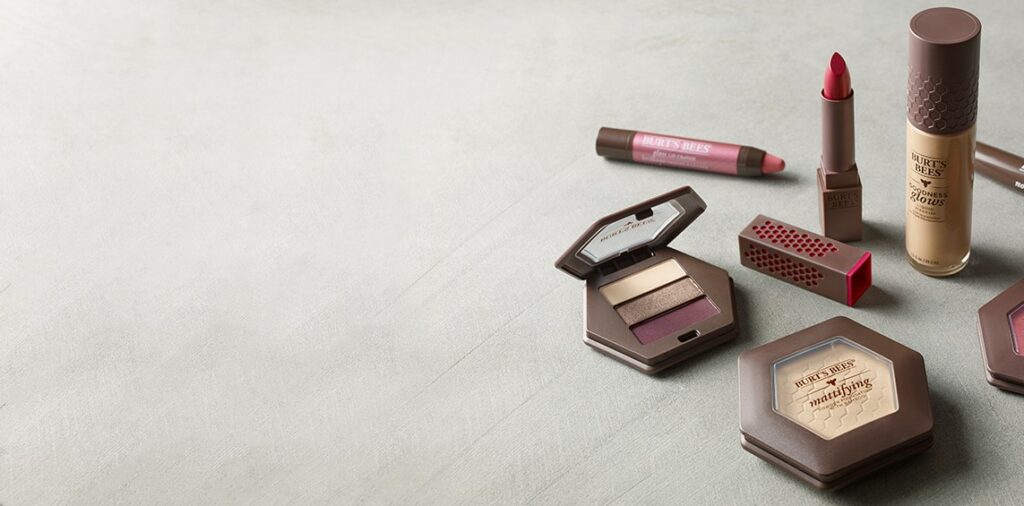 While their formulas aren't showstopping, they're perfect for someone with a no frills routine or light makeup wearers. As one of the most affordable brands on this list, Burt's Bees is great for light makeup days when you want to enhance natural beauty without layering on a bunch of products.
For a subtle look, pair the Burt's Bees Tinted Moisturizer with their All Aflutter mascara and lip shimmer. Tinted balms are perfect for adding a hint of color without having to worry about lining your lips or choppy application.
You can also head for their Easy Natural Makeup Bundle which comes with a full coverage foundation, eyebrow pencil, mascara, pressed blush, and satin lipstick.
---
One of the OGs in natural makeup, bareMinerals was the original mineral makeup brand and has been recognized throughout the entire beauty industry for years. Each product is free of parabens, phthalates, triclosan and triclocarban, coal tar, and microbeads.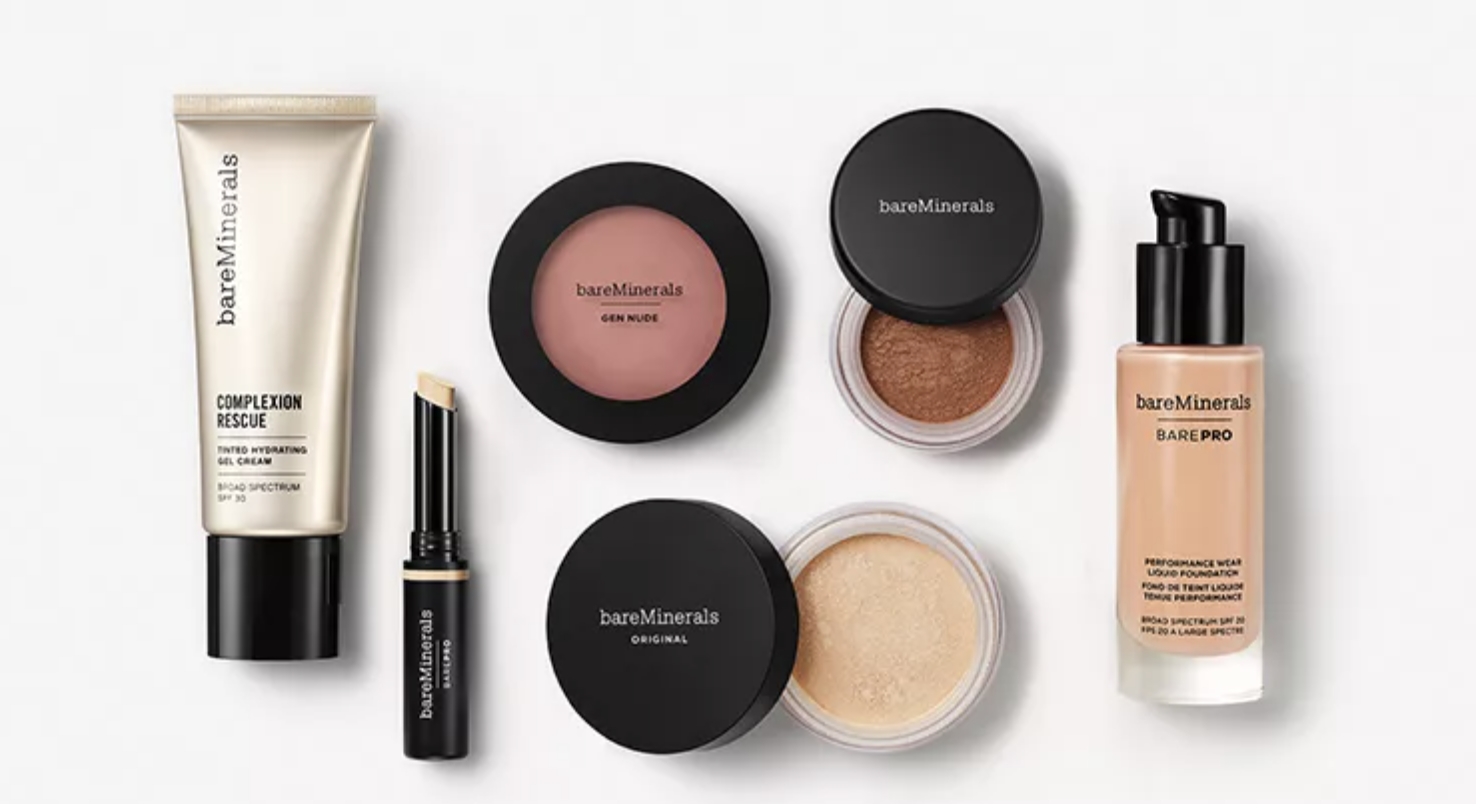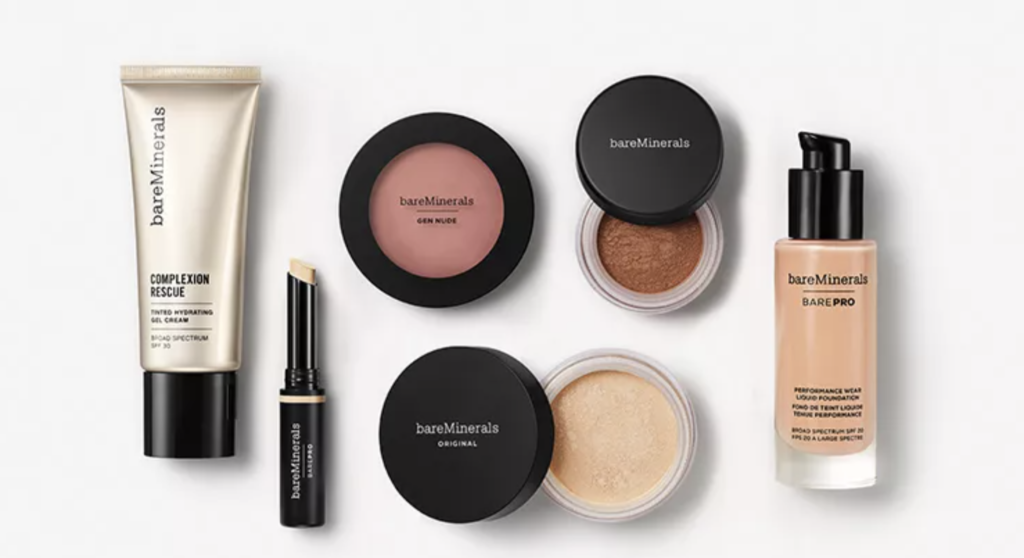 Their first loose powder launched in 1995 and the ORIGINAL Loose Powder Foundation still sticks to just 5 ingredients. It's offered in 30 shades and boasts a 15 SPF. While you should be applying at least 30 SPF daily, the powder is a great way to freshen up your look midday while adding some extra protection.
You can feel free to shop products by the location of application, but bareMinerals also organizes products into collections. Their most recent launch was for their GEN NUDE collection, which is packed with natural browns, some metallic shadows, and a cream-to-matte liquid lipstick.
If you're looking for a more professional, longer-lasting collection, check out BAREPRO for their performance line.
---
Looking through Antonym's natural makeup products is somewhat like looking through fresh-baked goodies at a bakery. From the light wooden packaging to the perfectly swirled blushes, highlighters, and foundations, the design of these products screams luxury before natural makeup.


Launched in 2013 by Val Giraud, Antonym is an organic and eco-friendly makeup brand that is natural, but doesn't mean you can only achieve a natural look with their products.
Their smoky eye palette and cruelty-free brushes have graced runways and the faces of Robin Wright, Kate Mara, Ruth Wilson, Keira Knightely, and Ashley Green, just to name a few. New to makeup or need some inspiration? Head to their tutorials for a step by step guide.
---
The Bottom Line
All in all, the answer to this question depends on who you are as a consumer and what you value when it comes to makeup.
Natural makeup brands aren't always more expensive than conventional makeup, but the cost tends to compare closer to a luxury makeup-brand price tag. This is because natural makeup ingredients are often from better sources, better for the earth, and of a higher quality than what you would find from a typical synthetic makeup brand.

If you're someone who doesn't want to take a chance on unknown ingredients or has sensitive skin and allergies, natural makeup is absolutely worth it. Plus, with makeup brands like the ones we mentioned above, you no longer have to choose between performance and health since these brands all deliver on application and wear.
UP NEXT: Makeup Challenge: Shrinking My Routine to 5 Products