Pregnancy is one of the hardest things a woman will do, so we believe pregnant women deserve the highest quality and most comfortable clothes to spend their nine months in.
With so many brands out there, we've curated a list of the best maternity clothing brands. From budget-friendly to slightly higher-priced brands that focus on the highest possible quality, we've found a little something for everyone.
Keep reading to find your next favorite brand for maternity clothes.
PS: Congratulations!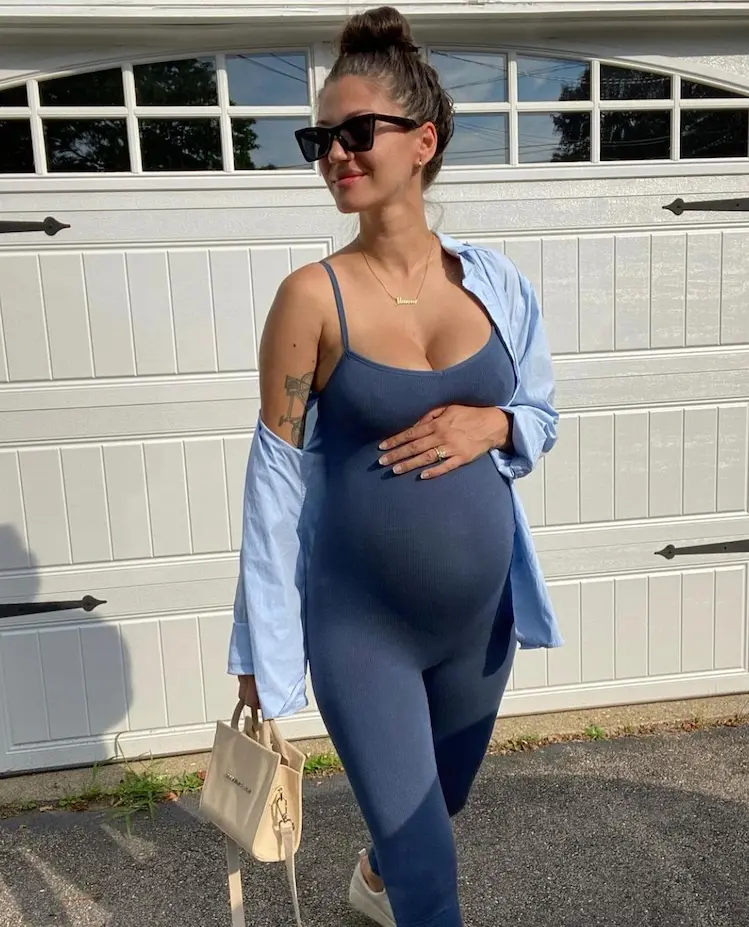 Average Pricing: $60 – $250
Sizing: XS – XL
HATCH Collection is a top maternity brand with a wide selection of every type of garment you can imagine, from dresses to loungewear to nursing clothes. They also have a beauty section to find pregnant-related essentials like belly oil.
They focus on shopping based on your trimester, so you can find something that fits perfectly no matter what pregnancy stage you're at. They offer free exchanges and $10 returns for a refund if something you order isn't perfect.
Browse HATCH best-sellers to see some of their most popular picks.
Also, they use different sizing than normal stores (listed 0–4 on their website), so make sure to view their sizing chart before making a decision.
---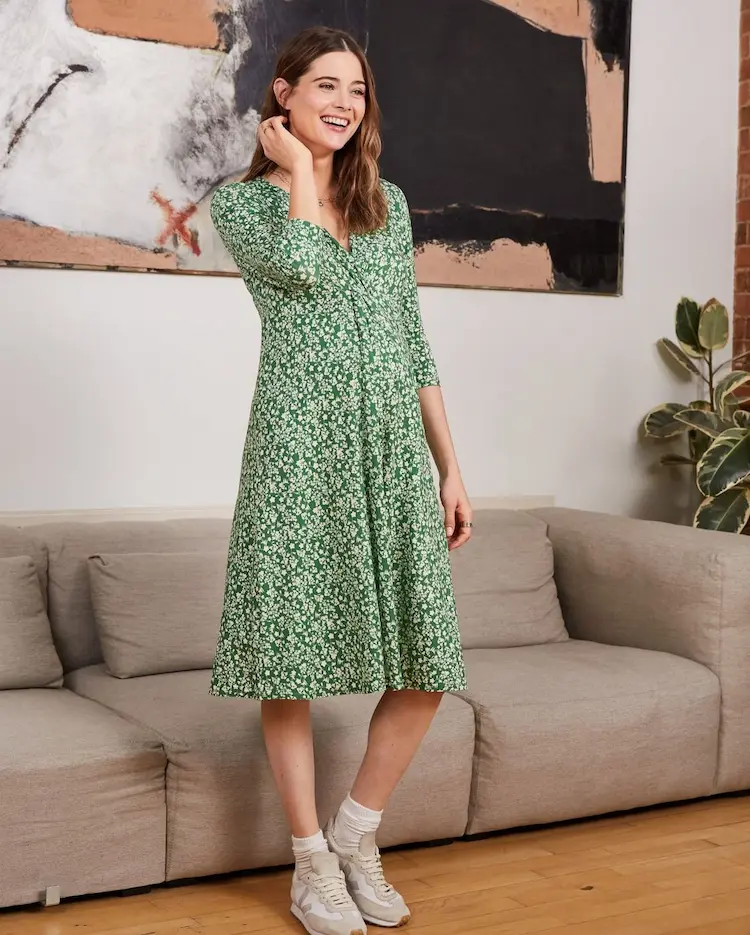 Average Pricing: $30 – $150
Sizing: 0–16
Dedicated to ethical and sustainable maternity clothes, Isabella Oliver is another wonderful brand to check out.
From workwear to loungewear to flouncy summer dresses, you can find everything you need to complete your pregnancy wardrobe. Their garments are of great quality and are designed to last your entire pregnancy, and then even longer.
They even have a pre-loved section that is more sustainable and easier on the wallet. Plus, 50% of sales from pre-loved garments are donated to maternal charities.
---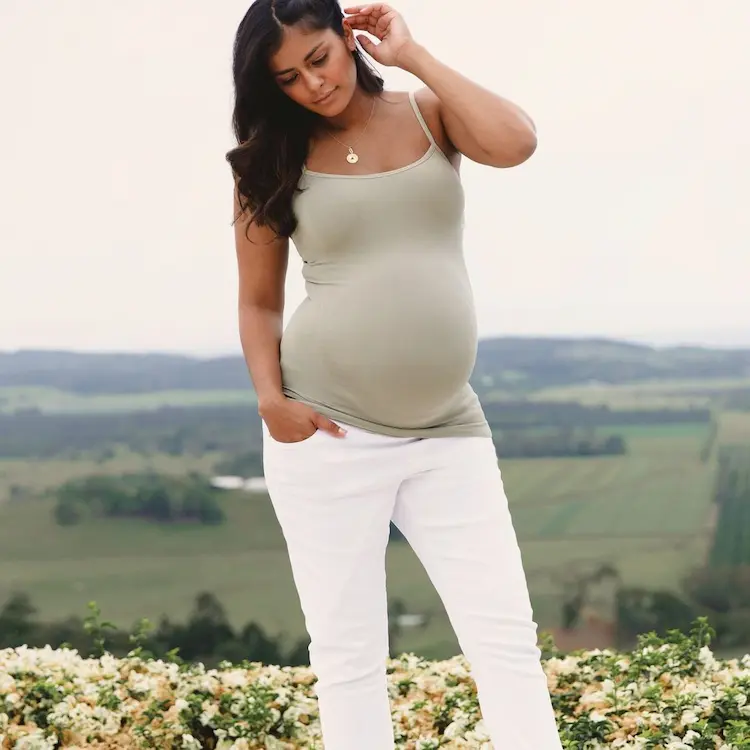 Average Pricing: $35 – $100
Sizing: XS – XXL
You can't go wrong with Blanqi when it comes to maternity clothing essentials. They specialize in comfortable essentials like leggings, bras, and tank tops. That said, you can find nearly any type of garment here.
They tend to stick with neutral solid colors, so this might not be your go-to store if you're a fan of fun prints.
We love shopping their Instagram to get inspiration and see how others are styling their garments. Plus, their outlet has even better deals to check out.
---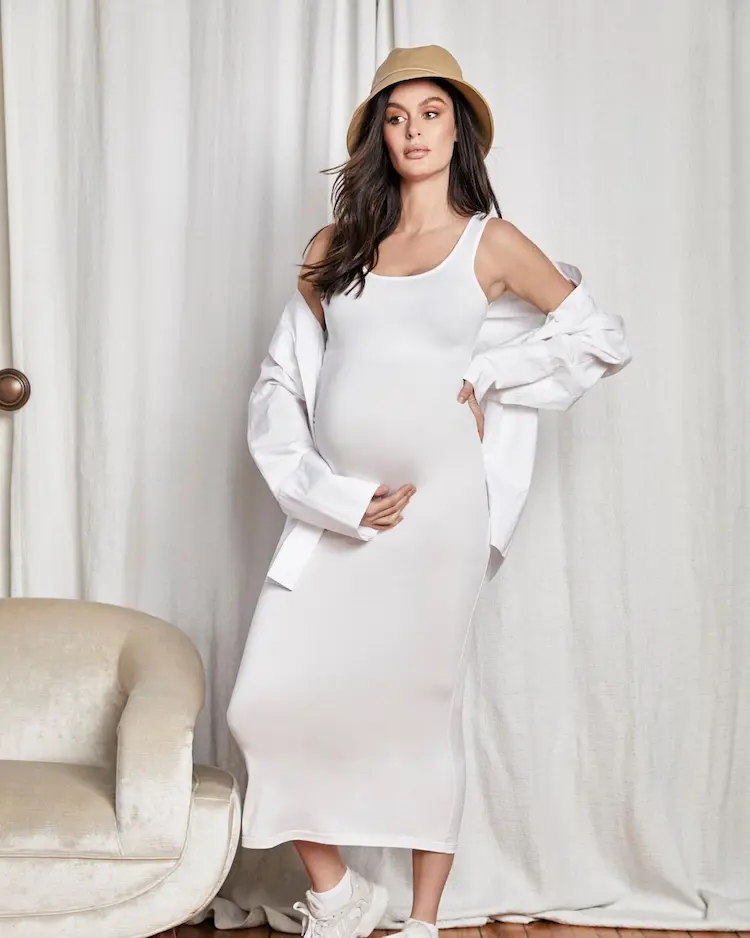 Average Pricing: $50 – $200 per garment
Sizing: XS – XL
BUMPSUIT is a brand worn by celebrities, including Kylie Jenner. They offer a variety of beautiful styles with a focus on fantastic quality, made with stretchy fabric that feels like butter on your skin (a feeling that everyone should experience).
They make a variety of garments in mainly neutral colors like black, white, and various shades of brown. Although known for their comfortable 2-in-1 bumpsuits, they have other styles as well (like gorgeous dresses and accentuating shapewear).
Their ultrasoft fabric is the highlight of every piece, designed to stretch throughout every stage of pregnancy so you can wear it from month one to month nine.
Not only do BUMPSUIT garments stretch amazingly through every month of pregnancy, but the best part is that they snap right back. This means that you can wear your BUMPSUIT garments after you have your baby, too.
---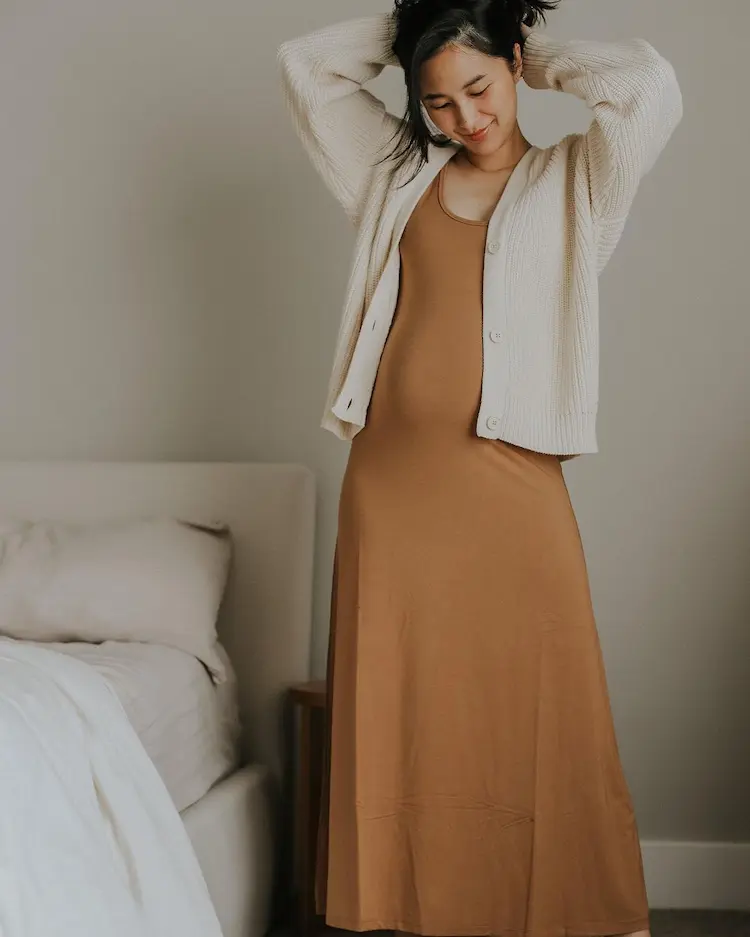 Average Pricing: $50 – $130
Sizing: XS – XXXL
If you're looking for excellent quality and fun styles that help boost confidence, Storq has everything you need for decent prices.
They offer maternity clothes as well as post-baby essentials, such as nursing garments. Their hospital bag checklist section makes it extra easy to plan for your trip to the hospital.
On top of that, they have a fun selection of gift sets in case you're shopping for someone and have no idea what to get them (or if you're wondering what to gift your pregnant partner to make their life a bit easier).
---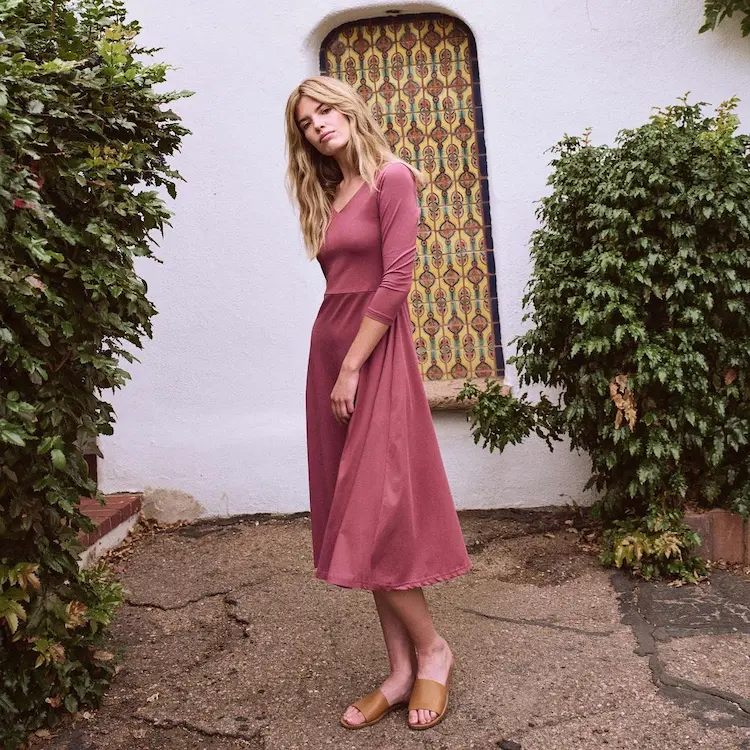 Average Pricing: $50 – $130
Sizing: S – XL
Pact is popular for its sustainable and high-quality essentials, but this brand also has an excellent selection of maternity clothes.
Their maternity garments are made using organic cotton in a fair-trade factory, so you can ensure your maternity clothes feel great and are ethically sourced. They do sometimes use a small amount of elastane in garments that require stretch, but organic cotton is their main material.
They don't have as large of a selection as some previous maternity clothing brands we've mentioned, but they still have a few great options regarding the basics. Plus, the prices are pretty affordable, especially considering their garments are so thoughtfully made.
Hint: They also have a great selection of organic baby clothes if you're ready to get a head start on shopping.
---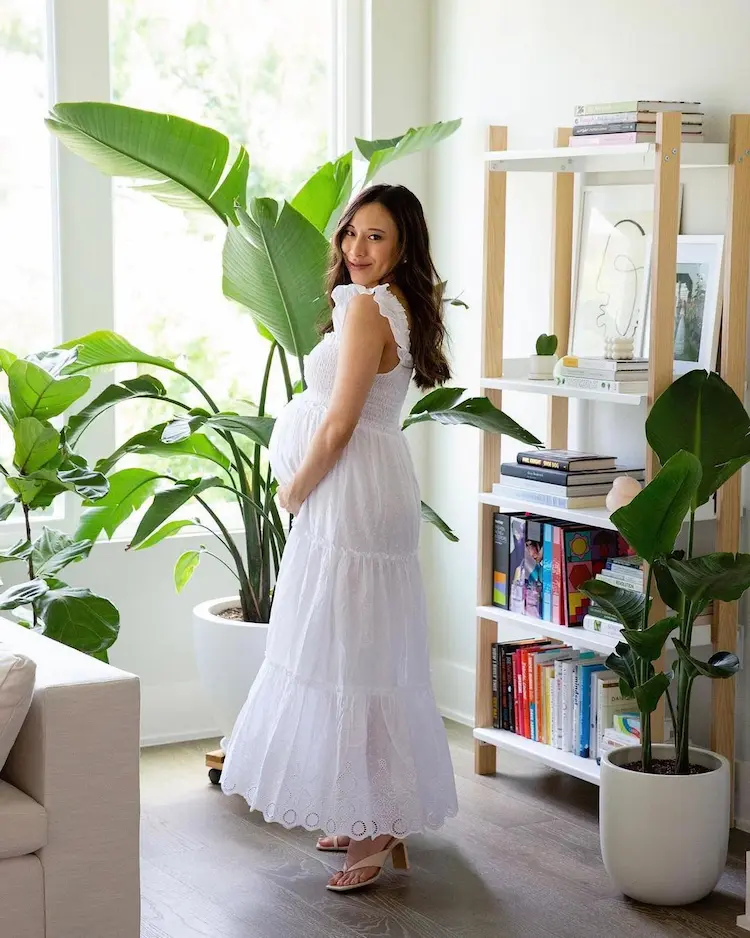 Average Pricing: $10 – $200
Sizing: XS – 3X
Motherhood is a popular store that is essentially a marketplace – they feature a wide array of different maternity clothes brands.
Since they have so many brands, you can find everything and anything here. Whether you want budget-friendly items or high-quality essentials, they've got you covered.
Their best-sellers are a great place to start, or check out maternity essentials under $50. You can also score even better deals in their outlet with discounted prices.
---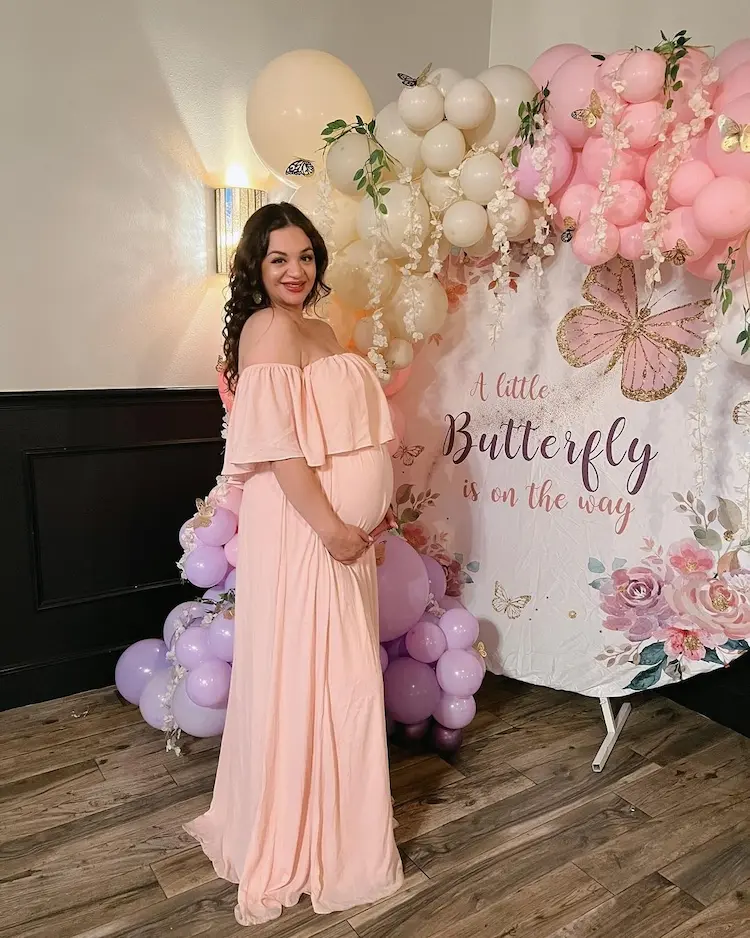 Average Pricing: $50 – $100
Sizing: XS – 2X/3X
PinkBlush will be your new go-to maternity clothing brand if you're a fan of flowy styles and girly colors or cute prints. Whether you need a cute summer swimsuit or a pair of jeans, they have plenty of options for every style.
We love their different sections where you can shop by outfits to wear to certain occasions (like your baby shower, gender reveal, vacation, or just everyday comfy essentials).
They are also one of the few maternity brands that offer plus-size options as well. And if you fall in love with their styles, you can shop at their non-maternity store when your pregnancy is over.
---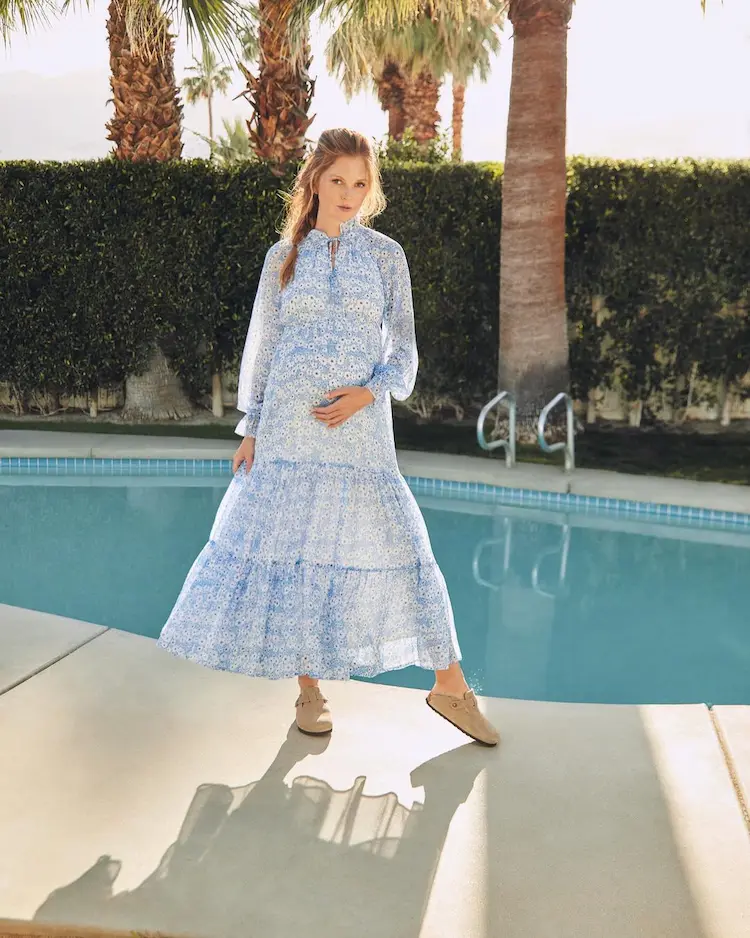 Average Pricing: $50 – $250
Sizing: XS – XXL
If you're looking for an endless supply of maternity clothes, A Pea in the Pod has you covered. This retailer is another marketplace that hosts a wide range of maternity brands and designers – you could spend hours and hours browsing through this store.
Since they have such a huge selection, we recommend starting with their best-sellers or browsing their selection of beautiful dresses.
They also run plenty of deals, plus they make all of their current deals very easy to find on their website.
---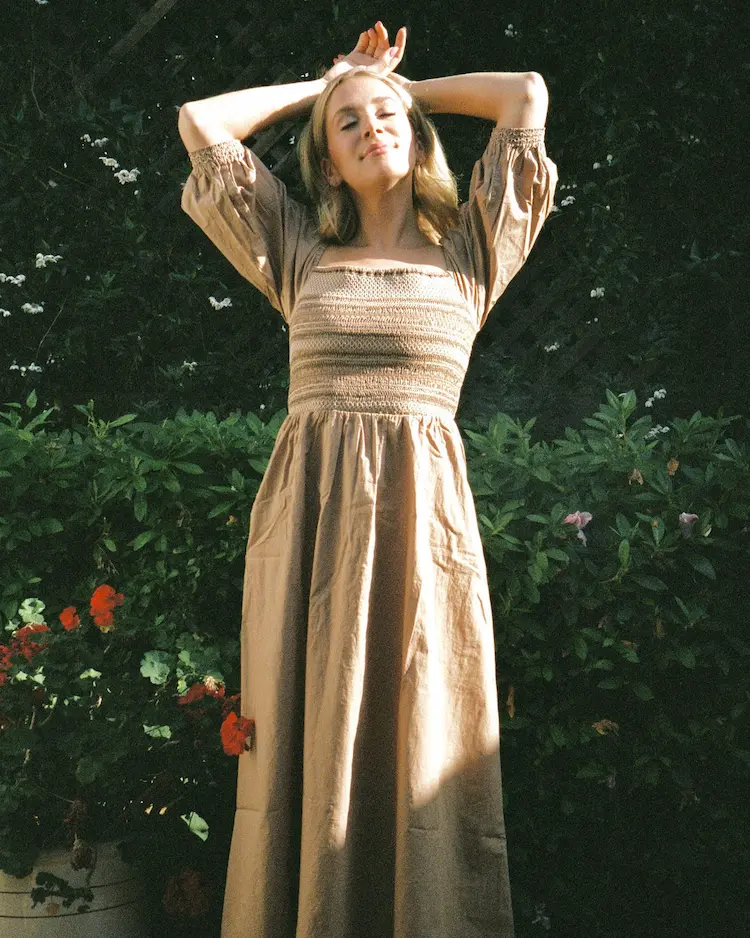 Average Pricing: $15 – $75 per garment
Sizing: XS – XXXL
For those on a budget, GAP and Old Navy are great places to buy maternity clothes that will last throughout your pregnancy.
We batched these brands into one since they are sister brands and are very similar, but make sure to check out both brands since they do typically have some different products.
Both have all the essentials you'd need, from jeans to dresses to loungewear and even convenient nursing clothes.
---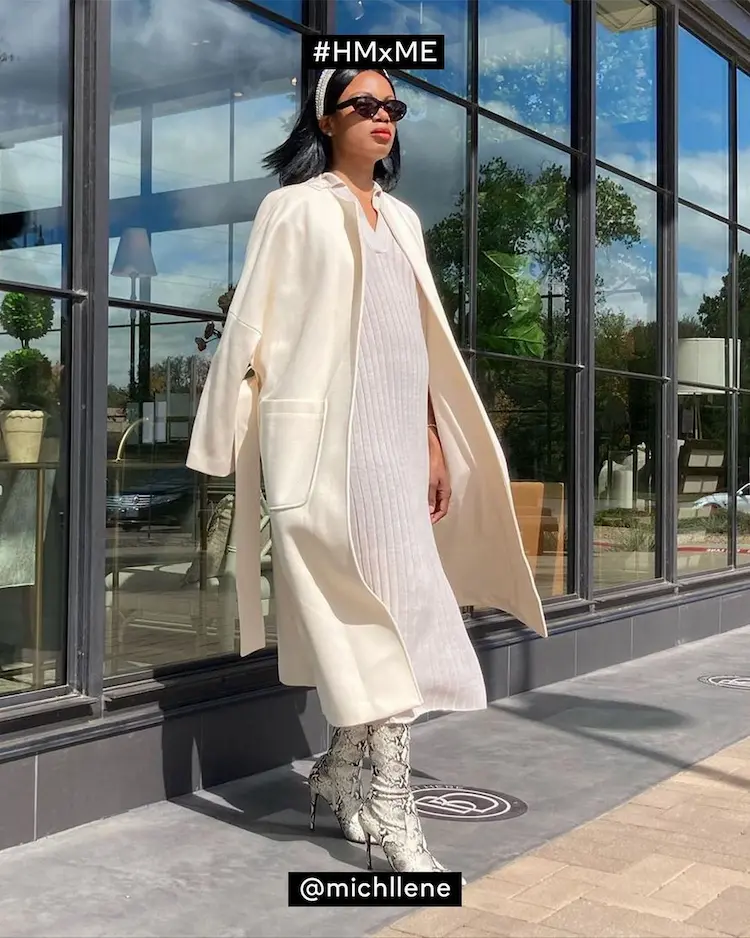 Average Pricing: $20 – $60 per garment
Sizing: XXS – 4X
If you can't afford to spend $50+ on a shirt, H&M maternity is another great option for trendy and sophisticated styles.
Some items can be a hit or miss as far as quality or sizing goes, but they do a pretty good job overall.
Their maternity selection isn't the largest out there, but they do offer 300+ items at the time of writing this article.
---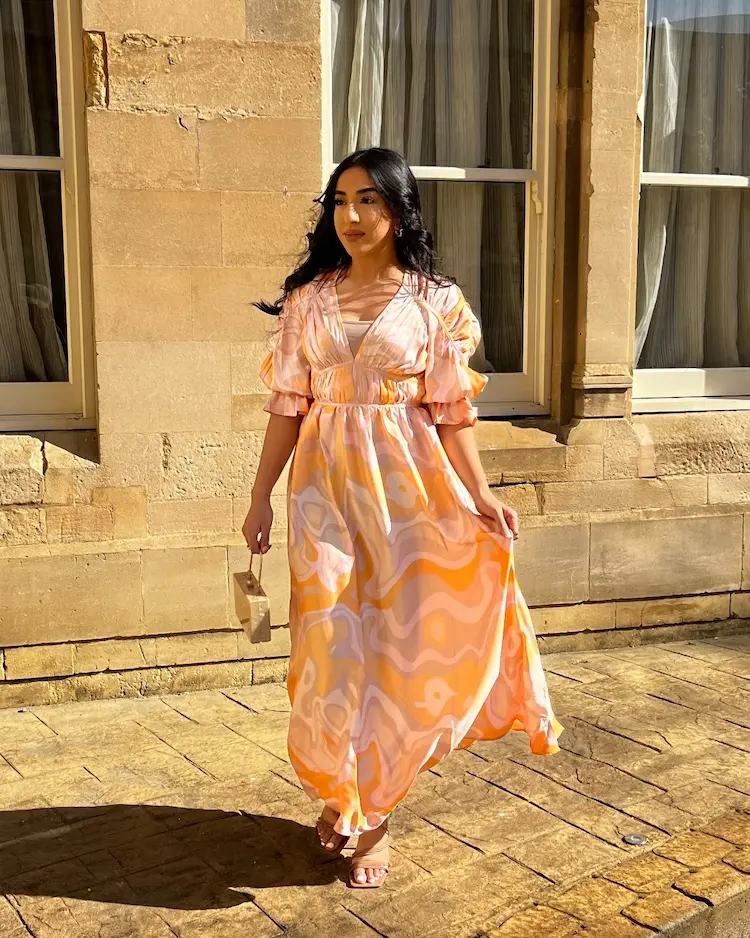 Average Pricing: $5 – $100 per garment
Sizing: 00 – 24
ASOS is another excellent (and extremely budget-friendly) store to buy maternity clothes.
With over 2,000 options for maternity clothes and a huge variety of different styles, you can get stuck browsing through their options for hours.
They have amazing prices, plus free returns within 28 days of receiving your order (however, final sale items are not eligible for returns).
Note: ASOS also sells brands and clothing labels other than their own as well as creates some higher-quality options in their own collection, so some of their garments may be more expensive.
---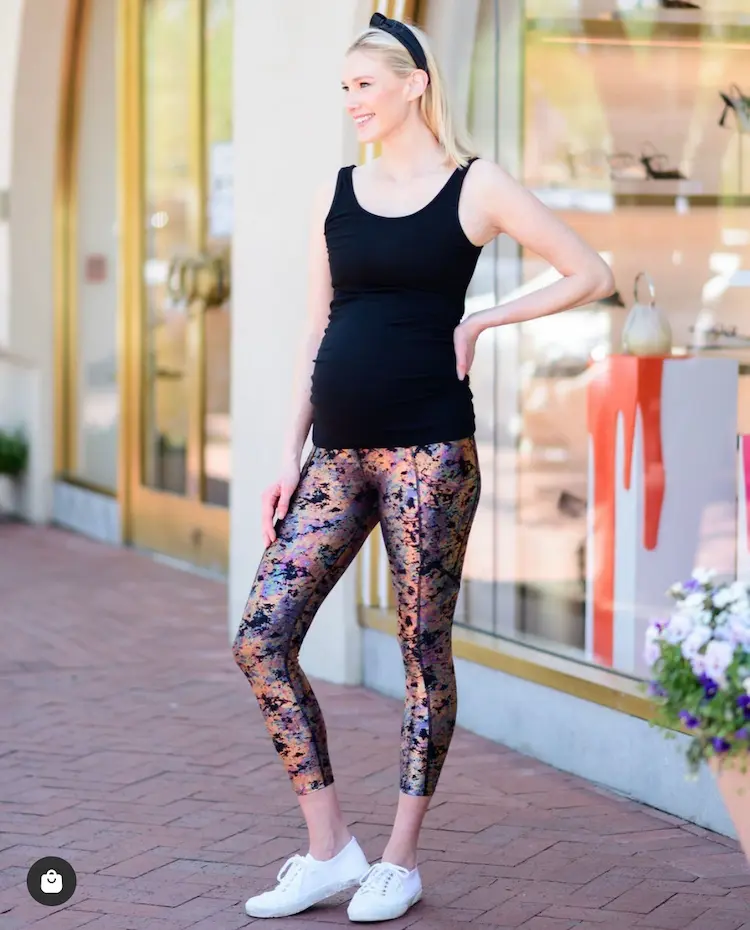 Average Pricing: $50 – $100
Sizing: XS – XL
Berkley is a luxury activewear brand that believes style and comfort should never be compromised, especially during pregnancy.
Founded by Loren Heller & Hillary Cullum in 2019, they set out to design the perfect pair of maternity leggings for anyone and clearly accomplished their mission.
Their ultra-comfortable leggings feature a four-way stretch and an ultra-soft belly panel that stretches to meet every stage of pregnancy.
Although they started out with leggings, they are expanding into other activewear essentials as well.
---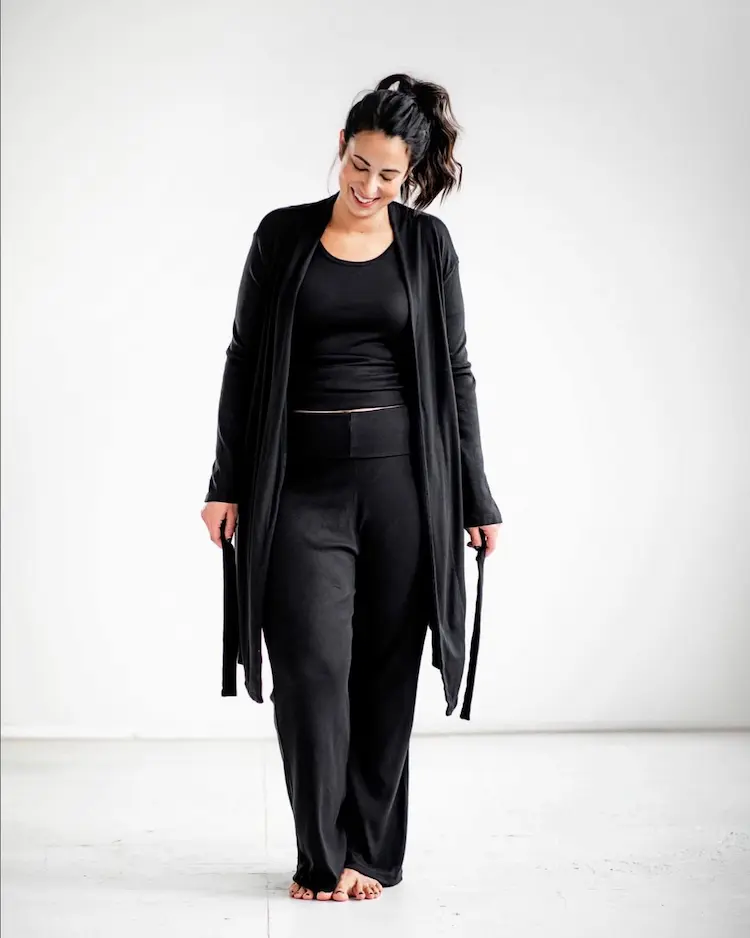 Average Pricing: $30 – $90
Sizing: XS – XL
Tupelo Honey is a maternity brand dedicated to creating super soft styles, mainly focusing on activewear and loungewear.
Their garments are made in the USA and designed to be worn for every month of your pregnancy, so you don't have to worry about buying different styles for each stage.
Although their selection isn't huge, they have a few quality essentials that you'll be wondering how you lived without. We're eyeballing their satin pajamas, like this gorgeous maternity nightgown.
Plus, their sister brand Zutano offers some adorable baby clothes and essentials for when your baby is born.
---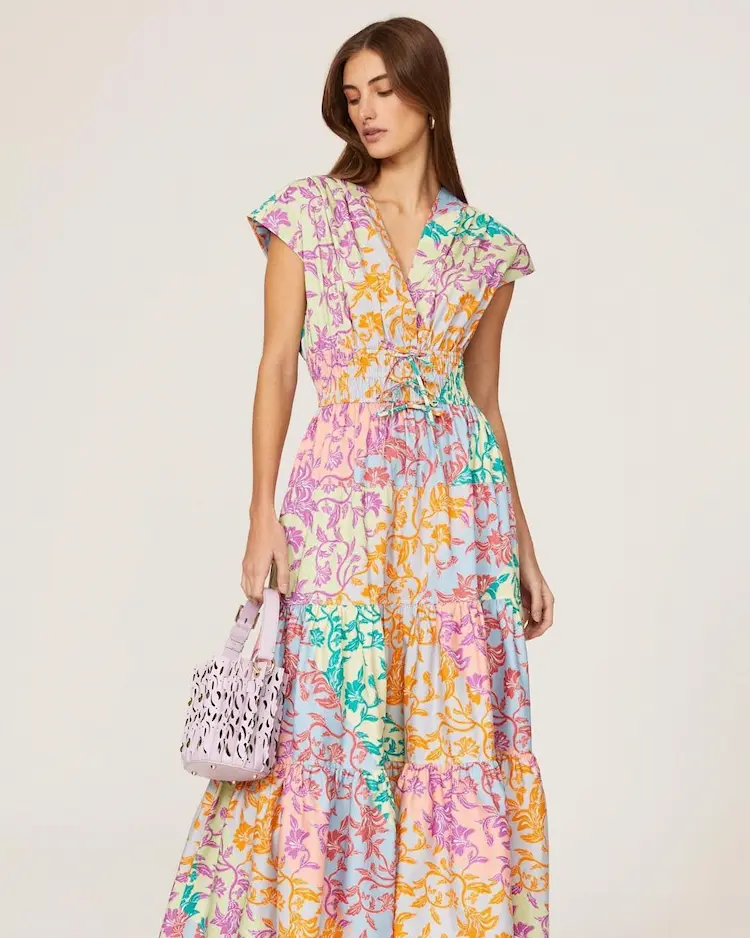 Average Pricing: $94 – $235 per month, or various prices to rent individual garments
Sizing: 0–22
You're not going to be pregnant forever, so why not rent some cute maternity clothes?
Rent the Runway membership options range from $94 – $235 per month, depending on how many different shipments you'd like to receive.
For every membership, you can rent 4 items at a time. Although this might not be enough to make up your entire maternity wardrobe, it's a great supplement to wear some nicer clothes than you might be able to afford if you were purchasing them at full price.
Rent the Runway is especially great for special occasions since you may never wear that lovely maternity dress you bought for a nice dinner again, so you might as well rent it. You can also rent single garments if you don't want to commit to the subscription.