Before, hand sewing and machine sewing were our only two options. But, now there is a third option becoming quite popular with sewing enthusiasts and novices alike: the handheld sewing machine.
A handheld sewing machine is, what I like to think, the in between of both hand and machine sewing. It has the speed and convenience of machine sewing as well as the portability and versatility of hand sewing. It's definitely a game changer, but with innovation there are still always a few bugs to work out.
Whether you're looking to find a cheaper alternative to a sewing machine or if you're just curious to see how it works, ahead we break down the pros and cons of handheld sewing machines, plus some recommendations.
Handheld Sewing Machines: Pros and Cons
Like most things in life, handheld sewing machines have their ups and downs. Keep reading to find the advantages and disadvantages of these little machines.
Pros
Small & Accessible – The biggest plus about handheld sewing machines is that they are compact and affordable compared to your average sewing machine. Since they're handheld, they don't take up too much space and therefore typically run in the under $30 range. This makes them a fraction of what a standard sewing machine goes for.
Easy to Travel With – Another bonus of handheld sewing machines is that they can be used anywhere. While many include power adaptors, they can also run on just a few batteries. If you are truly in a pinch and need to take your project on the go, this is exactly what you need.
Cons
Larger Learning Curve – This is definitely not an easy tool to work with; it takes a lot of practice to get right. I've seen people who are pretty proficient in sewing struggle with using a handheld sewing machine. If you are truly a beginner, you might be better off starting out with a standard machine.
Stitches May Come Unraveled Easily – Some cheaper and older handheld sewing machines come unraveled easily, so we'd recommend investing in a newer machine (and not the cheapest option out there).
Inconsistent Stitching – On a similar note, many reviewers say that the stitching is not consistent for handheld sewing machines (even on some higher quality machines).
Jams Easily – Many people have spoken about their struggles with handheld sewing machines jamming up and breaking down very easily. A lot of the time you get what you pay for and, with sewing machines, the same is mostly true. Handheld machines can run as low as $10 and unfortunately, you can't really expect the highest quality for that price.
RELATED: 10 Best Fabric Glues for a Strong, Reliable Hold
Best Handheld Sewing Machines
Now that you know the pros and cons of handheld sewing machines, let's dive into some of the best ones you should keep an eye out for if you want to give them a try.
If this is as reliable as any other Singer sewing machine, I would start here when looking for a handheld one. Singer as a whole is a great brand for sewing machines in general, especially for beginners.
As the name would indicate, this machine isn't really for large projects, but if you're just starting out, this would be just fine. It comes with enough essentials to get you started, including multiple needles which, believe me, will come in handy. This can also be used with a power adaptor or 4 AA batteries, making it quite the adaptable device.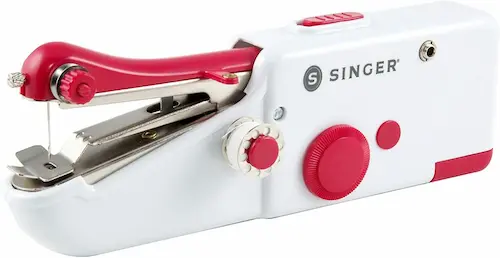 The main issue, though, is that it's not always compatible with every fabric. If you're starting out, however, you won't be working on too many difficult fabrics (at least I don't recommend it.) But, if you are using this to mend your clothes, you might have a bit more issues.
Here is another option that seems to give people a bit of an easier time when working on it. It's a bit more durable than most other handheld machines, which is a plus. Reviewers have said that they were able to sew thicker materials on this machine, like curtains. Comparing this to the Singer machine, this is definitely a bonus.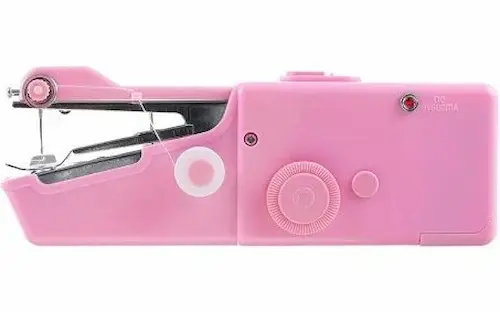 It also comes with quite a bit of sewing materials like already spooled bobbins, measuring tape, and thread snips, making it worth it for the add on alone. Again, you run the same risks, like it breaking down or jamming as you try to sew a seam, but that's a risk that comes with most handheld sewing machines.
This is the machine that I have seen a few other seamstresses use to see if handheld sewing machines were right for them.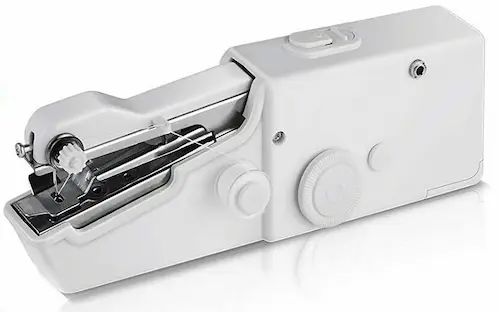 Like the previous machine, it does come with some added materials to help you out with your project like thread snips, a measuring tape, and already spooled bobbins. To be honest, I've seen these tools run a bit more expensive than they should, so this could be worth your money on that alone.
How to Use a Handheld Sewing Machine
For tips and tricks on using a handheld machine, check out the beginner's video below:
Bottom Line
While I am not throwing out my sewing machine any time soon, I do see the potential with handheld sewing machines. The biggest pain about sewing machines is that they are really hard to travel with, and handheld sewing machines can easily remedy that.
If you are looking to give sewing a shot before investing in a more expensive machine, this might be worth it to you. Or, if you're looking for something that you can use for quick fixes like mending or hemming, this could also be a great option.
If you're curious about how these work, you can always buy one and give it a shot. They're not too expensive, fortunately, so you can buy one without risking very much. After all, there is no harm in trying!