Hot take: cowboy boots will never go out of style.
Every wardrobe needs a good pair of cowboy boots for those days when you want to look like you're heading to a rodeo (or you're actually heading to one).
Whether you're wearing them for work or simply wearing them for the sake of fashion, here are 14 of the best cowboy boot brands you'll want to check out!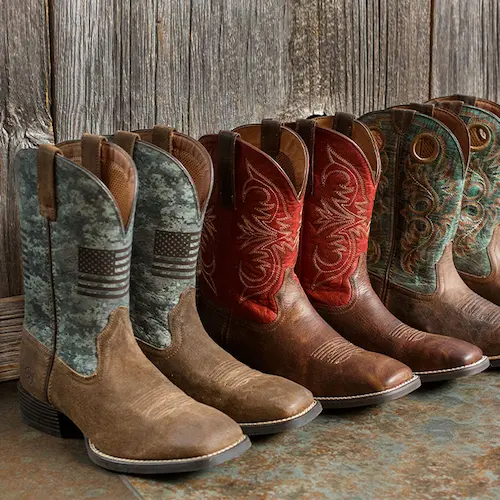 Average price range: $440 – $800
With a brand name inspired by one of the greatest racehorses of all time, Ariat has been providing quality and comfort since 1993.
Ariat always focuses on evolving as a brand and bettering its products by seeking out and working with biomechanical research groups, testing labs, and world-class craftsmen for comfortable, durable, high-performing boots.
Ariat's footwear team performs about 150 steps per pair of boots during construction, ensuring that every pair of boots have been taken care of thoroughly with great attention to detail.
Ariat provides cowboy boots for men, women, and kids, all of which range in price from $145 to $600.
RELATED: Our Ariat Work Boots Reviews: Should You Invest?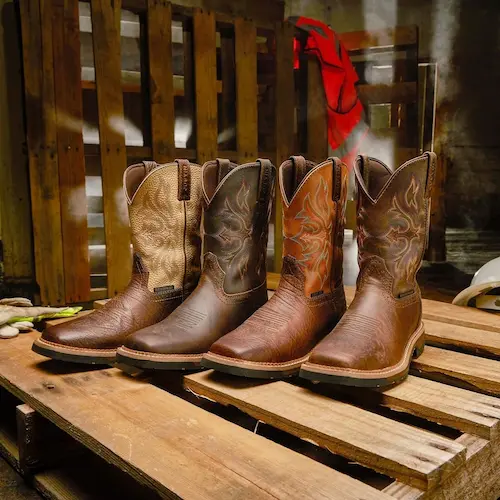 Average price range: $85 – $460
Justin Boot Company has had its roots in the boot industry way back since 1879 when founder HJ Justin mastered the art of the cowboy boot.
Now, decades later, Justin Boots is made in El Paso, Texas where some of the world's most skilled boot makers go through more than 200 steps to meticulously construct every component of each pair of boots.
Prices range from $114 and can reach up to $600 for men, women, and kids!
Additionally, Justin Boots has a large variety of shoes to choose from like casual footwear and work footwear that is reliable and fashionable.
---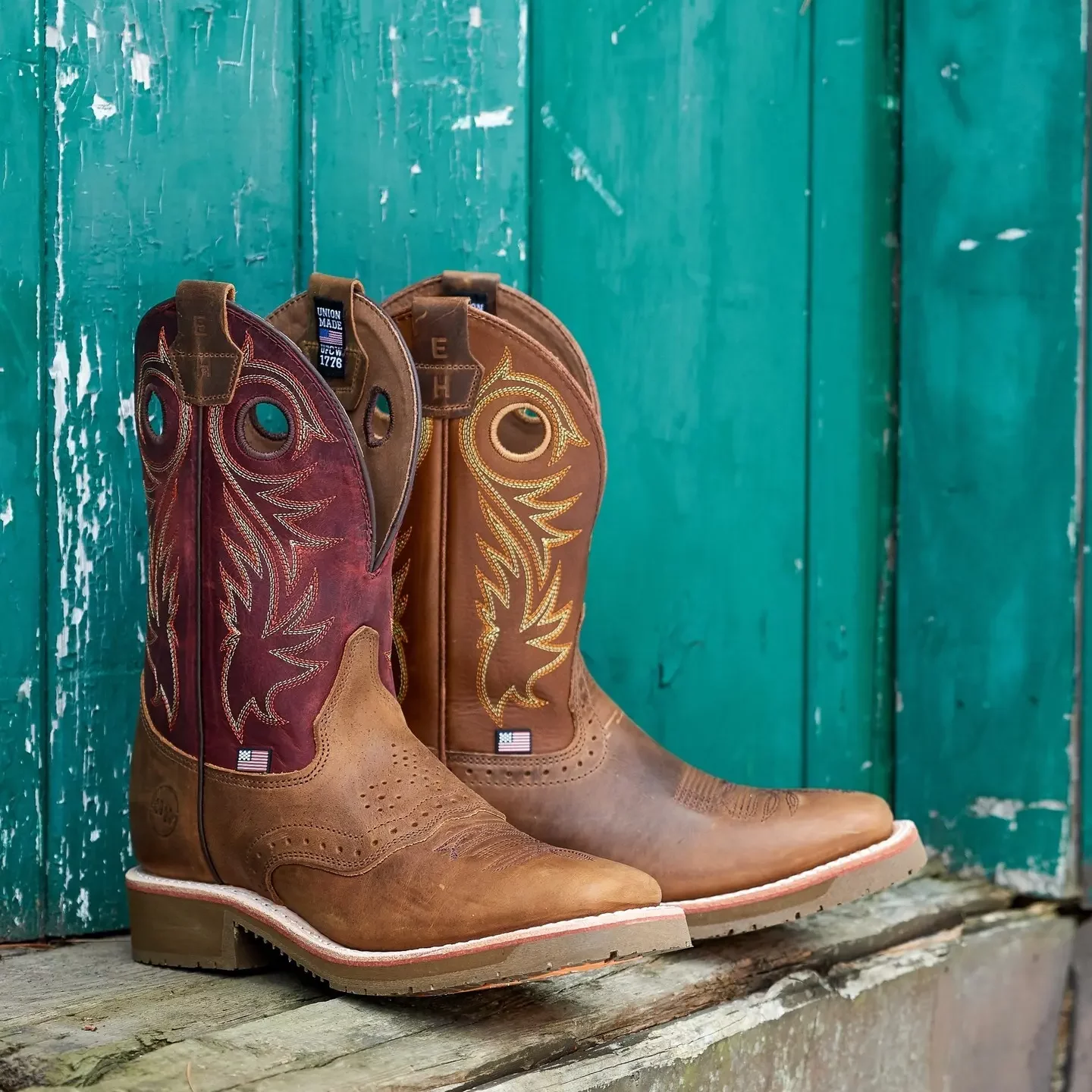 Average price range: $135 – $320
Another of the best cowboy boot brands out there, Double-H Boots was founded in 1955 and is quartered (and constructed) in Pennsylvania.
Double-H is ever-evolving to match the styles of modern fashion all while keeping the durable, comforting, and resistant characteristics cowboy boots are known and loved for.
The brand carries a large range of footwear for men and women, ranging from classic western boots, work boots, and safety toe shoes!
---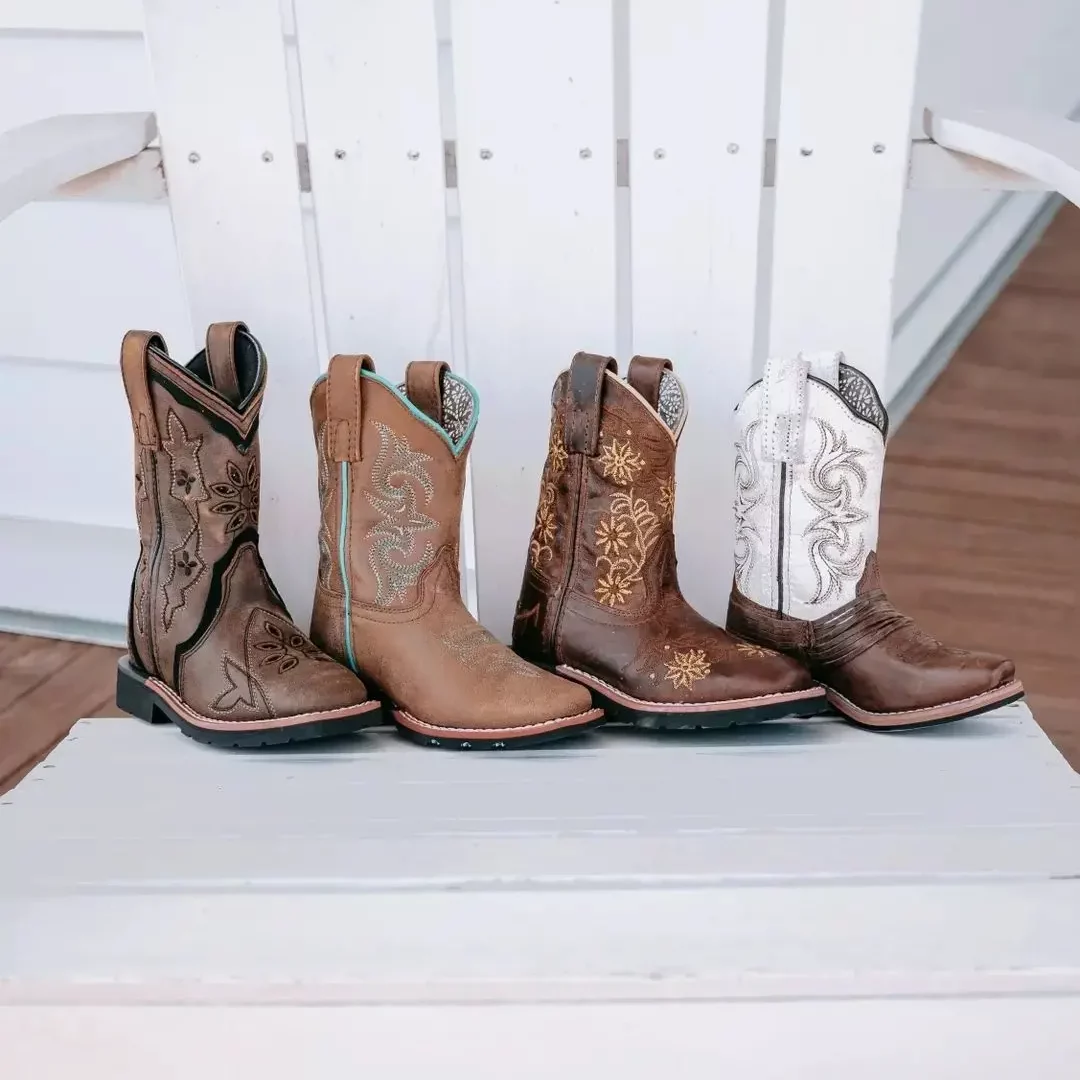 Average price range: $159 – $300
Dan Post Boots is a Western brand that takes pride in having superior designs, cushion comfort, and jaw-dropping fits.
With a 160-step process, Dan Post Boots promises nothing but attention to detail and in-depth care from leading craftsmen who spend hours on boots for men, women, and kids.
Prices range from $200 to $600, and sizes for men go up to size 18 while sizes for women go up to size 12.
---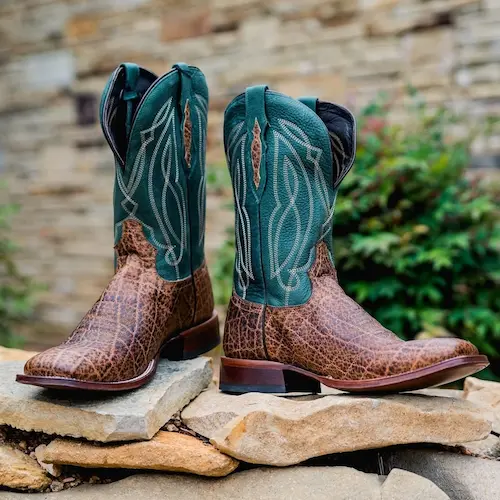 Average price range: $195 – $600
Proudly made in the USA, Tony Lama Boots promise to deliver high-quality, hand-crafted shoewear made with incredible care and the finest leathers.
In fact, Tony Lama makes it a priority to meet and partner with exclusive vendors that specialize in dealing with traditional cowhide and other exotic materials, like ostrich, lizard, and crocodile.
You can find further information about Tony Lama's leathers here!
---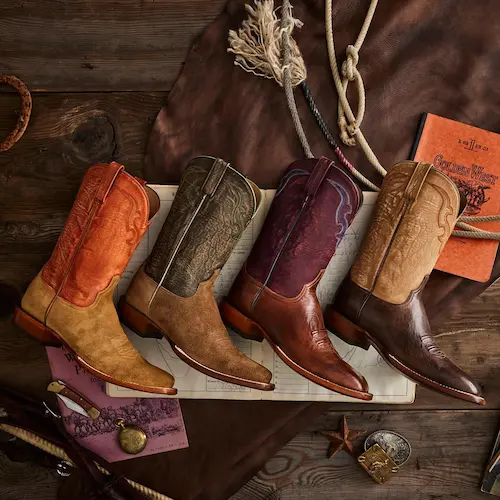 Average price range: $225 – $6500
Lucchese is a boot brand that was born in Texas in 1883. The brand takes enormous pride on its detailed craftsmanship and is super transparent about the boot-making process.
Human hands make up essentially every step of making a pair of Lucchese boots — pegging, stitching, burnishing, you name it.
With quality handiwork and long-lasting leather like classic cowhide and crocodile, Lucchese will give you a boot that will last a lifetime.
---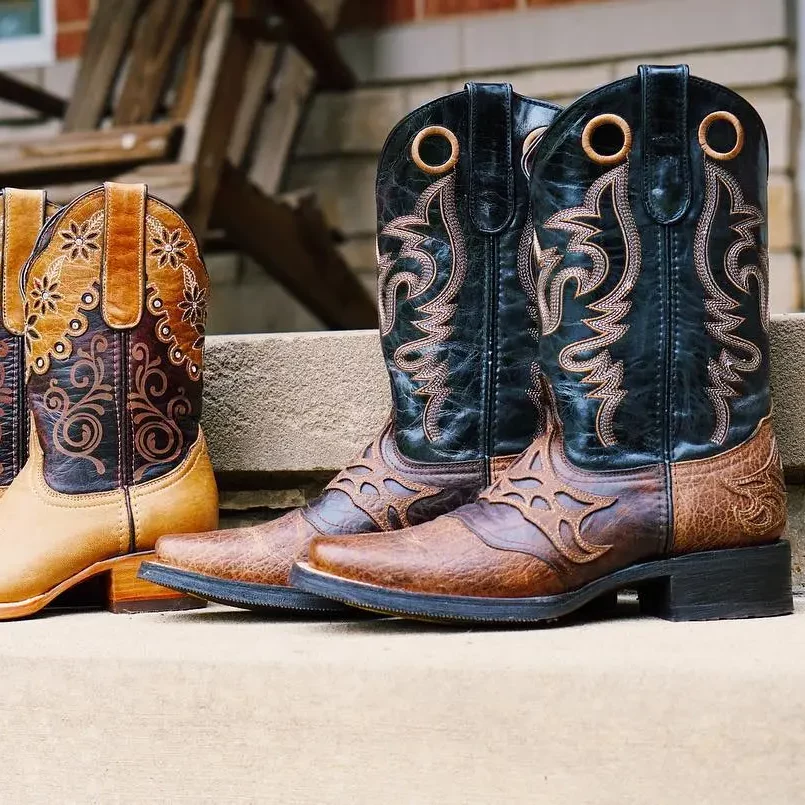 Average price range: $150 – $230
If you're looking for a great pair of cowboy boots at a more affordable price, check out Soto Boots!
A vertically-integrated company, Soto Boots sells directly to consumers without retail markups, allowing its boots to be sold at more attainable and accessible prices.
In fact, most pairs of Soto Boots are under $150! This is a great steal considering most cowboy boots are between $200 to $600, but with Soto Boots you don't need to worry about breaking the bank.
Soto Boots only uses premium leathers and materials to craft its footwear and even offers exotic print boots!
---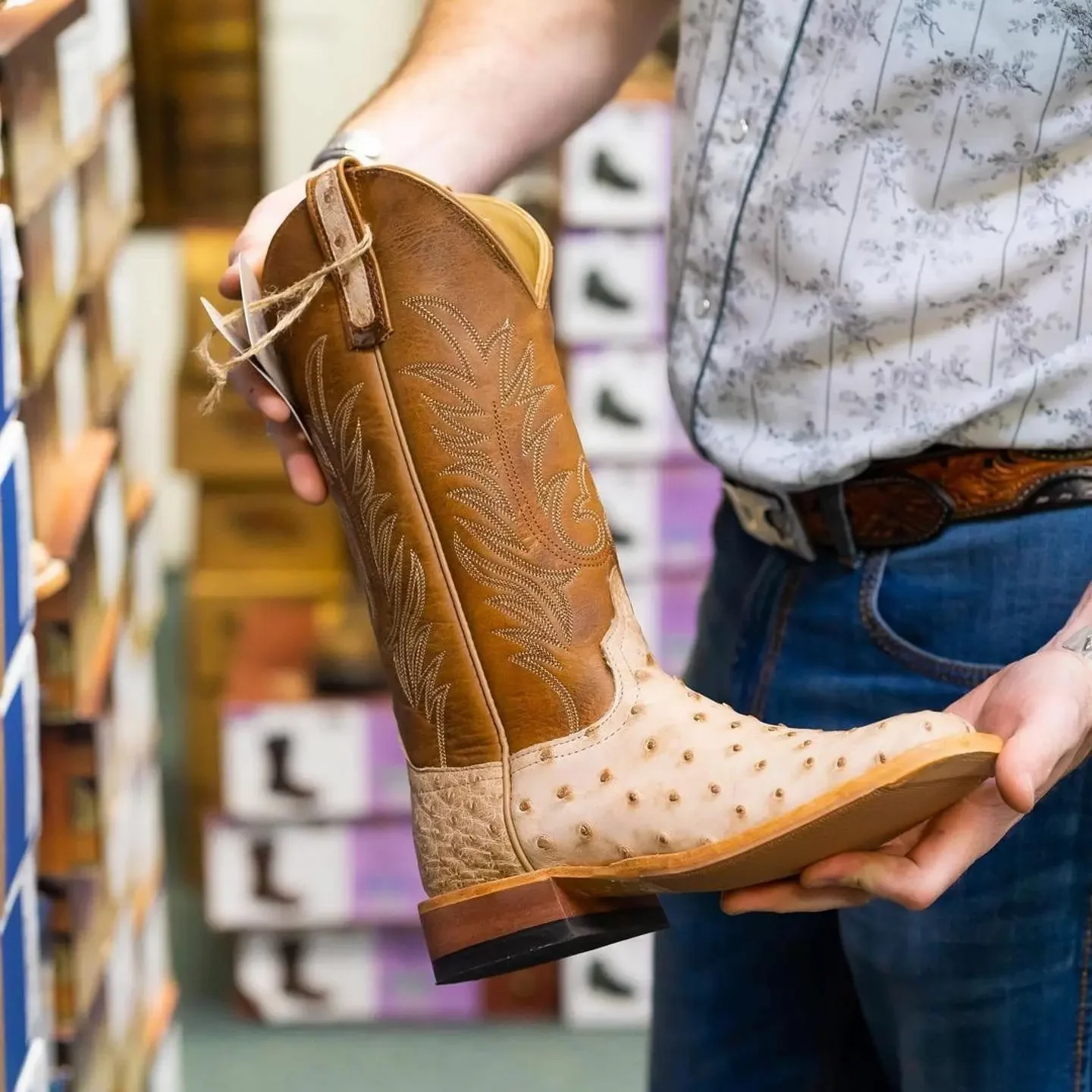 Average price range: $115 – $620
Proudly handcrafted in Mercedes, Texas in the heart of the Rio Grande Valley, Anderson Bean takes great pride in keeping up with the tradition of making a good cowboy boot — no machines, just hands.
Meant to be boots that last a lifetime, Anderson Bean was founded in 1989 and crafts boots to withstand horseriding, working, and everything in between.
---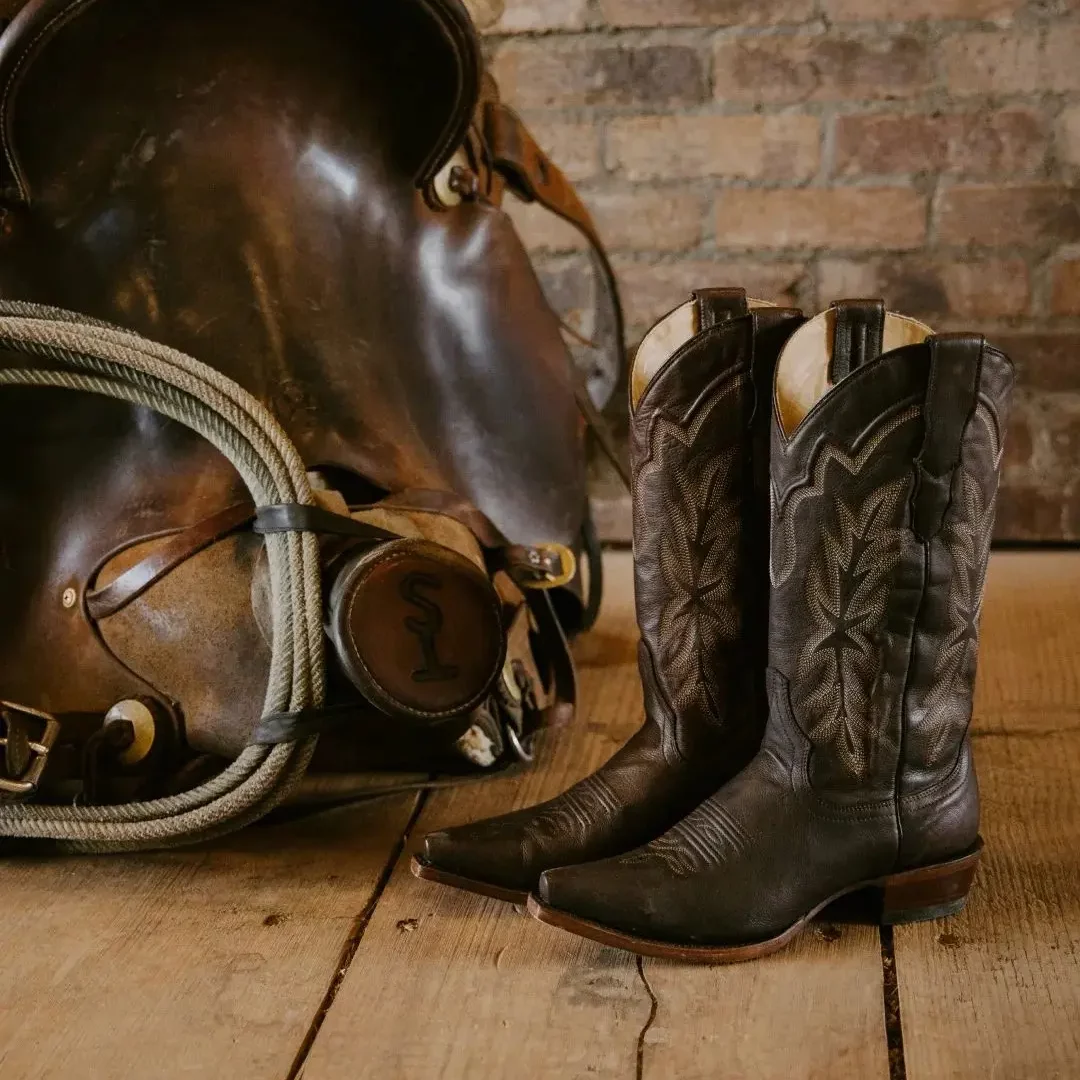 Average price range: $180 – $1300
Known for cowboy hats and boots, Stetson's legacy began in 1865 with John B. Stetson and his creation of the cowboy hat.
Since then, Stetson has become a world-renowned brand that uses similar techniques John B. Stetson used all these years ago using premium leather, high-quality materials, and leading craftsmanship.
---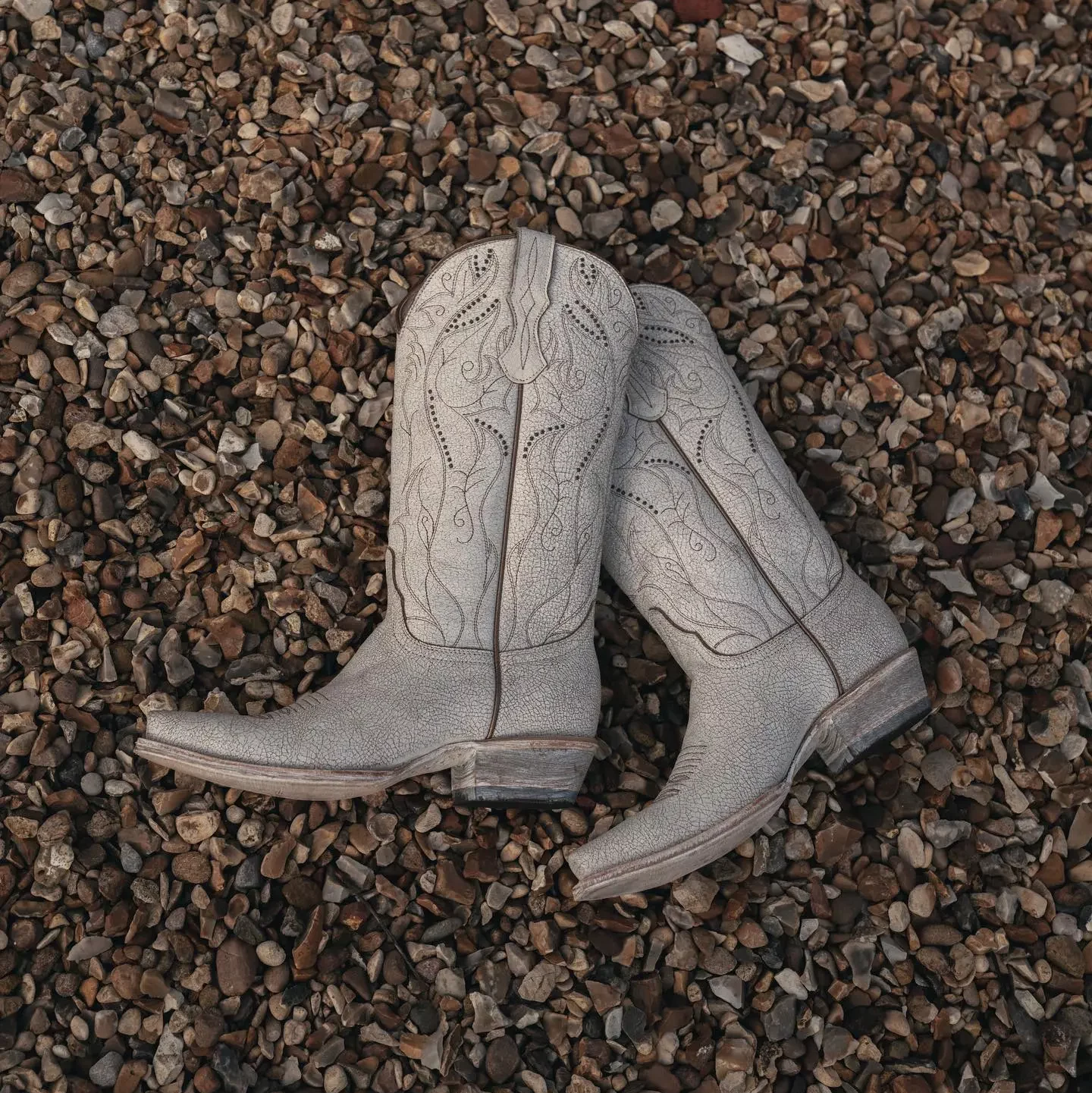 Average price range: $35 – $2500
Although this isn't one specific cowboy boot brand, we still had to recommend it if you're looking for a place to find everything cowboy and western.
Offering styles for work, hiking, and fashion, Boot Barn is the hub to get your cowboy boots.
Carrying popular brands like Ariat, Wrangler, Levi's, and more, Boot Born has an array of options perfect for those new to the cowboy apparel world as well as seasoned shoppers.
The best part? There are tons of local Boot Barn locations scattered across the United States, making it super easy to quench your western attire needs.
---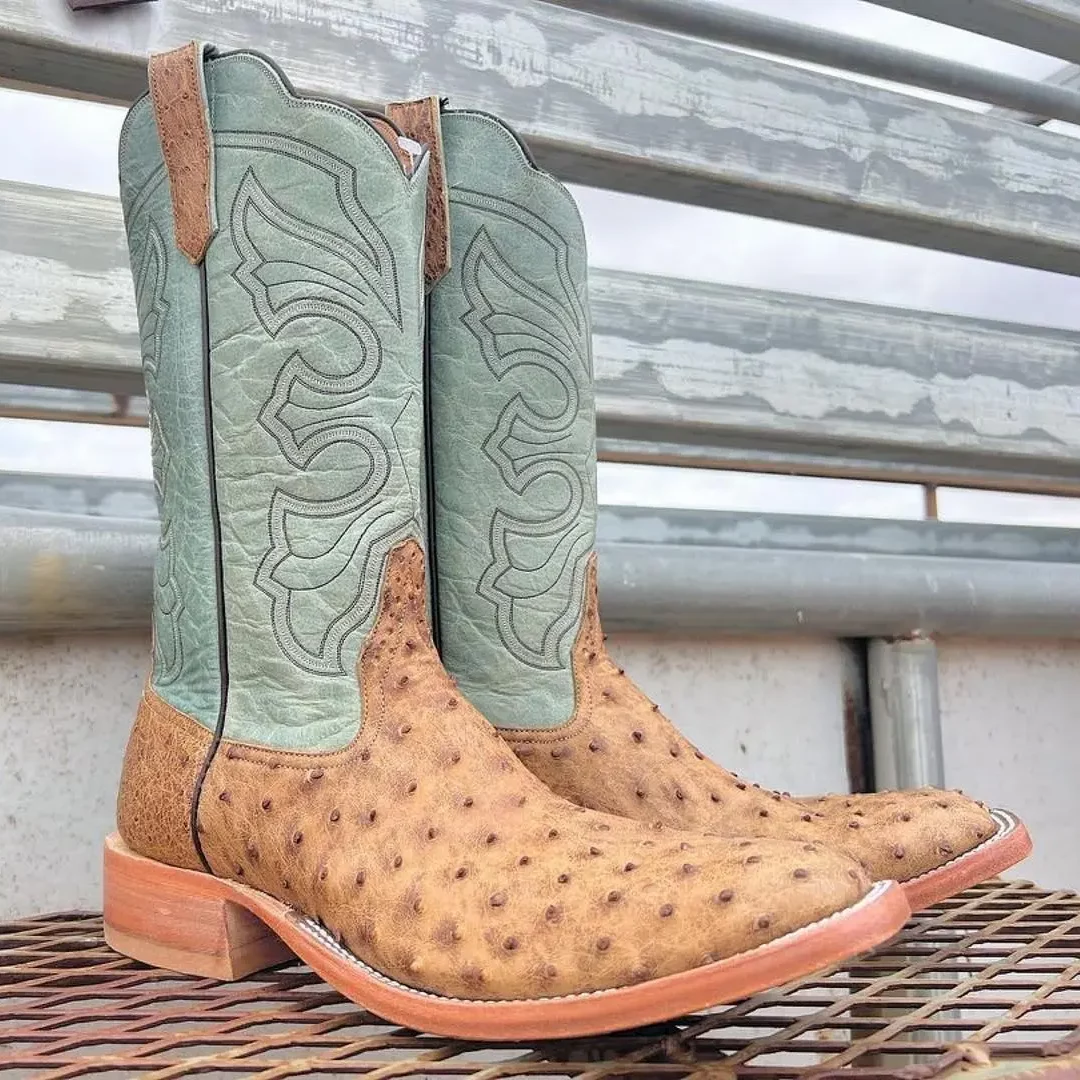 Average price range: $399 – $860
Handcrafted in Texas, Rios of Mercedes's history began in 1853 when the Rios family started making cavalry boots for soldiers in Mexico.
The Rios family didn't stop there, and long after began cementing their legacy at the forefront of the boot-making industry.
Rios of Mercedes boots are made with genuine calfskin and premium cowhides, all handmade with love and care by the greatest and most talented artisans.
---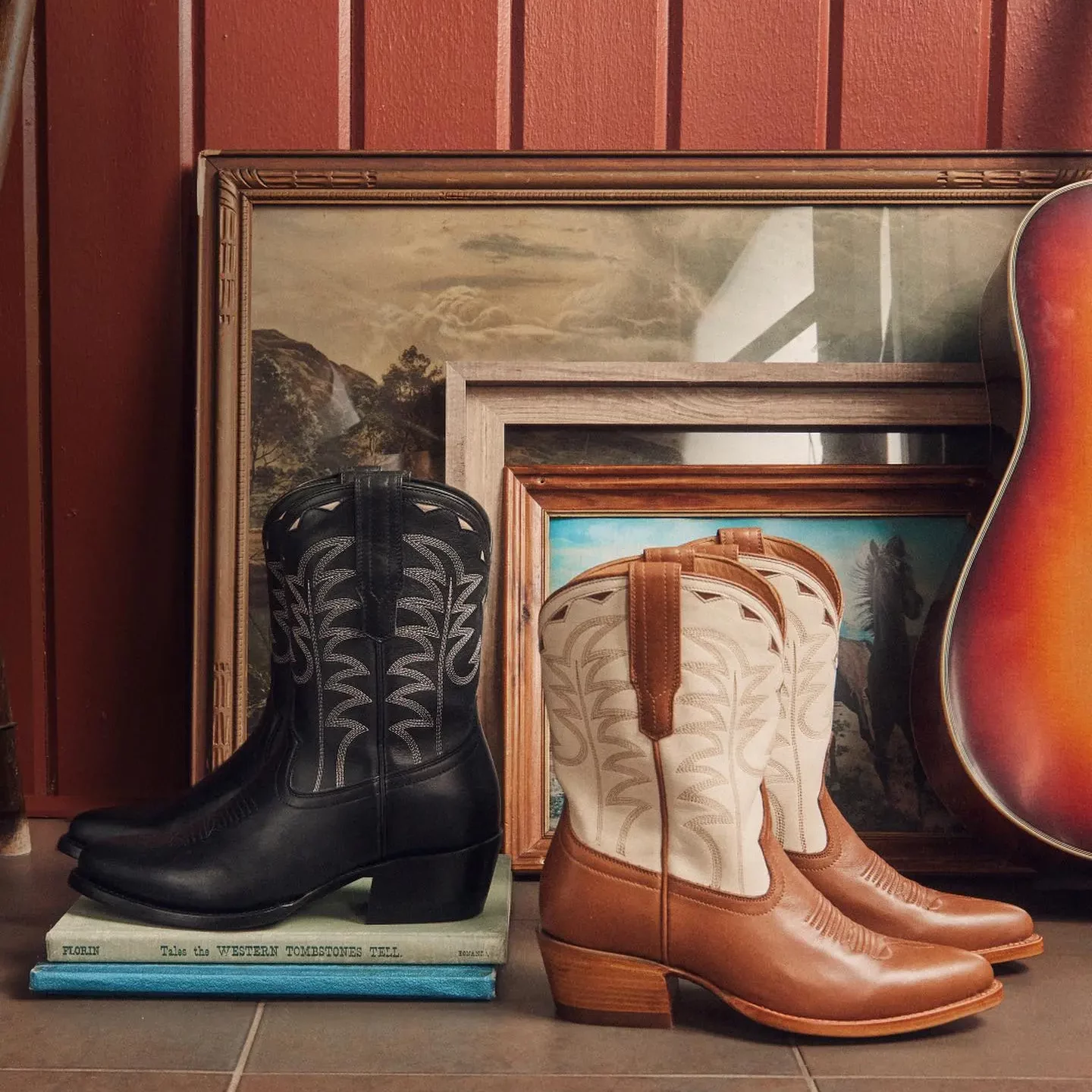 Average price range: $149 – $445
Made by hand in Leon, Mexico, Tecovas's team of artisans does overe 200 steps to ensure the best crafted and highest quality boot.
Tecovas aims to create timeless boots that will never go out of style, whether it's five or fifteen years later.
And it's not just boots Tecovas specializes in, but the company also carries wallets, belts, and hats!
---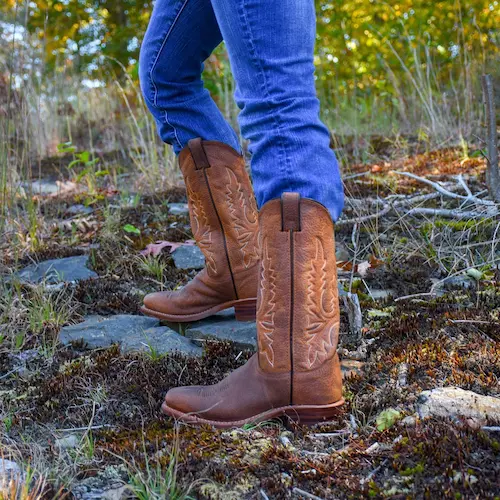 Average price range: $150 – $550
Since 1980, Abilene Boot Company has been crafted in the United States with the slogan of having "Affordable Quality."
Abilene boots are made with genuine leather and come in fashionable and traditional styles made to cater to everyone's tastes, and everyone's budgets!
---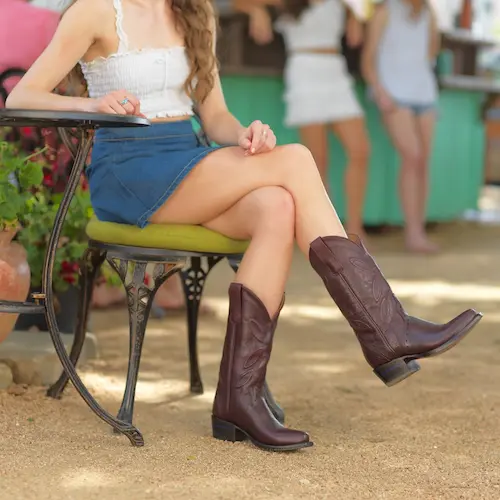 Average price range: $265 – $315
The motto for Alvies is "Designed for Life," meaning Alvies shoes are meant to grow old with you and experience all your adventures no matter when and where.
Not just marketed towards rancher dudes and cowgirls, Alvies is meant to be a boot for everyone — the hipsters, the city girls, the superhero fans, and more.
Prices for Alvies range from $325 to $600 and are available for men and women!
---
In Conclusion
Cowboy boots are a fashion staple and everyone deserves to have a good pair to carry them through life.
Whether it's for work or fashion, cowboy boots are works of art due to the craftsmanship, patience, and attention to detail these artisans put into crafting them.
We hope our list of the best cowboy boot brands helped you discover your new favorite brand!