Having a pair of work boots you can rely on is essential for many professions. There may be a long list of top work boot brands, but it can still be a challenge to find one you can rely on for the long term.
In this Ariat work boots review, we're going to look at what this brand has to offer and if they are worth the money.
What is Ariat?
Ariat was founded in 1993 and was the first brand to integrate athletic shoe technology into boots for equestrian athletes. Since then, they have expanded into a wide collection of award-winning performance shoes and boots for all types of work environments.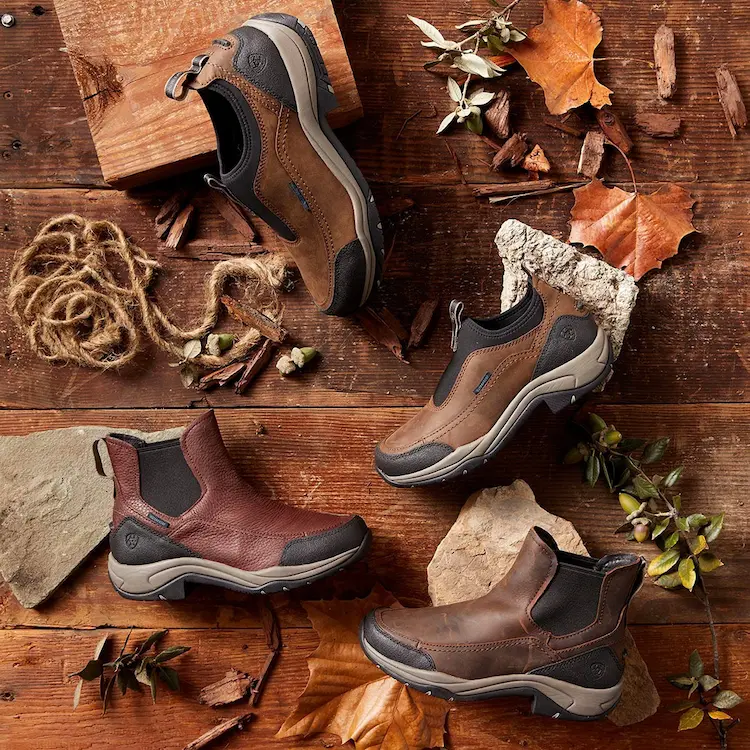 No matter what industry you work in or what outdoor activity you love, you should be able to find a work boot style that's suitable for your needs.
They focus on craftsmanship and comfort that are needed for all-day wear, while also delivering a nice blend of fashion and function.
Ariat Work Boots Overview
If you're looking for a pair of work boots, Ariat has plenty to offer regardless of your particular industry. With over 150 different boots that are catered to the working environment, you're bound to find a style you like that fits your profession.
You can also filter through their options by specific features such as carbon toe, safety toe, steel toe, and plenty more.
Ariat Work Boots Reviews
To get a better insight into the brand, take a look at our ratings and reviews below.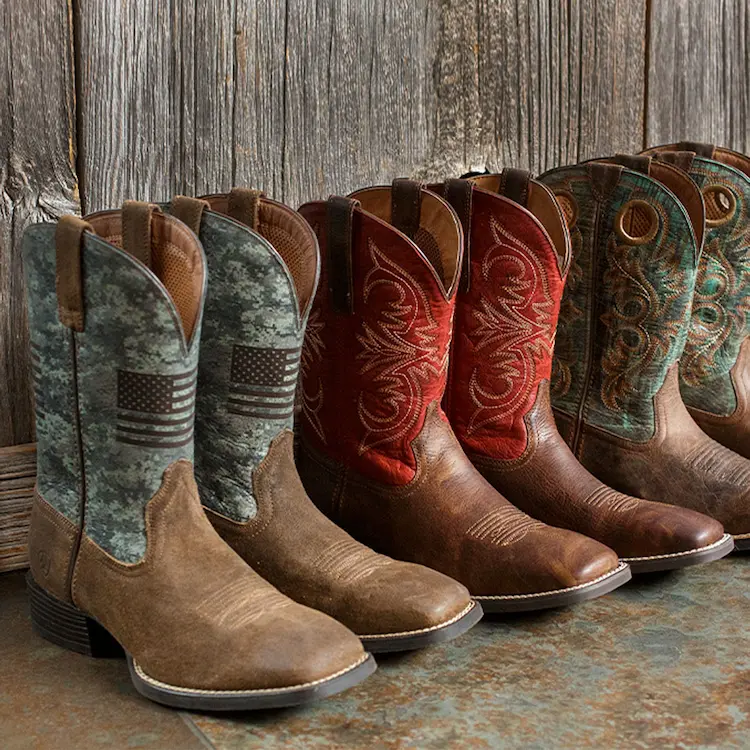 Overall Rating: ★★★★ 4 Stars
For the most part, Ariat work boots seem to hold up for many different tradesmen. Whether it's farm work or spending hours moving around a warehouse, their boots do a pretty good job of handling tougher environments.
Many agree they have a decent return policy as well. You may find some negative Ariat work boots reviews online, but we feel you should take these with a grain of salt. That being said, it's clear their customer service may need some improvements.
Pricing: ★★★ 3.75 Stars
Their boots may not be the cheapest on the market (although they do have a nice sale section), but many customers agree they definitely aren't the most expensive options out there. You can expect to spend roughly $100 to $200, and their boots can last for years with proper care.
Ariat also runs discounts where they can, and they boast so many different work boot options that you can rest assured you'll find something in your budget range.
Quality: ★★★★ 4 Stars
The quality of their boots tends to vary based on the materials and craftsmanship that goes into them. Some seem to be sturdier than others, and how long their quality lasts depends on factors like your working conditions and how they're cared for.
Most people seem to appreciate their overall quality and feel they are worth the money, even if they only last a few years of daily wear.
Shipping & Returns: ★★★★ 4 Stars
With multiple shipping options to choose from, shoppers can get their order in a reasonable amount of time. They ship domestically and to many other parts of the world, and the company provides plenty of information on their shipping practices.
We found a few complaints regarding shipping issues, but most negative Ariat reviews focus on their customer service more than anything else.
As far as returns go, Ariat gives shoppers up to 90 days to make a return (14 days for EU customers).
Customer Service: ★★★ 3 Stars
Ariat may provide a satisfactory experience in many other areas of their operation, but it's evident that their customer service can be somewhat of a headache. From slow responses to a disregard for the customer's needs, it can be pretty frustrating to get an inquiry handled.
Many Ariat work boots reviews mention the poor customer service and we saw too many people complaining.
What Customers Are Saying
We searched through hundreds of reviews to see what the top feedback was, and here's what we found:
Decent prices
Very comfortable
Quality is good, but won't last more than a few years
Could wear down quicker depending on your profession
Some shoppers dislike that some Ariat boot models are made in China, but prefer their models that are made in Mexico
Some shoppers feel that you could get better options for similar or slightly higher prices, or even opt for a slightly used pair of a higher-end work boot brand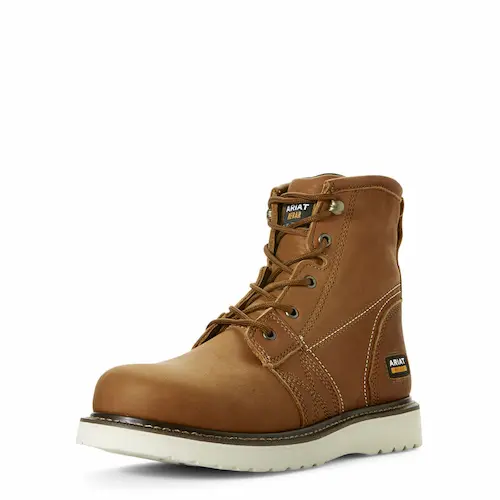 Whether you're searching for a reliable pair of cowboy boots or a standard lace-up design, their catalog has a little something for everyone.
At a glance, each pair looks quite durable, and most come with the rigidity that's needed to make it through the workday.
You won't have much difficulty finding a pair of boots in your size, plus you can even filter them by width, toe shape, safety features, and more.
---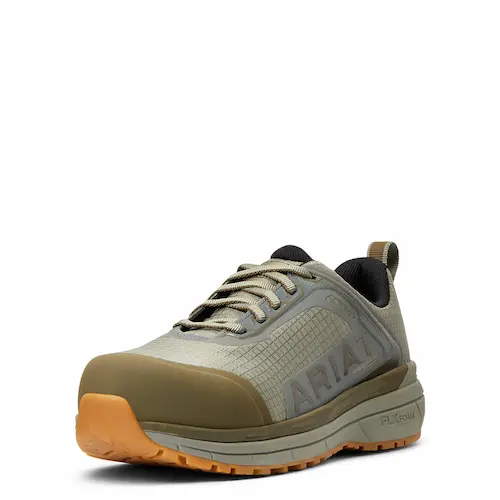 Ladies also have plenty to choose from in this category, even if this catalog isn't as vast.
With over 38 designs to look through, you can find low-cut styles in addition to boots that protect the ankle and others that are fitting for farm work.
You'll also find insoles that can be included for additional comfort, and the pricing for women's styles is more or less than the same compared to the men's boots.
---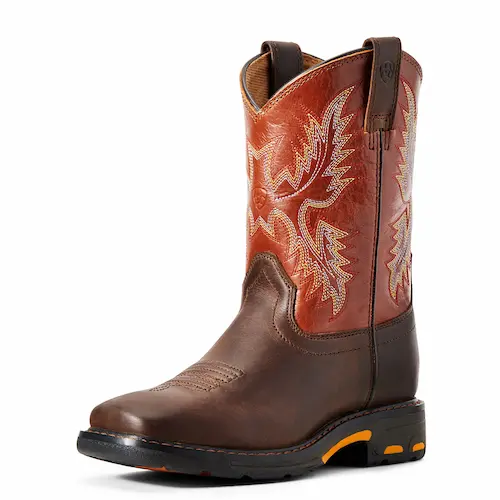 If you're looking for the square toe design, you'll find this style among the various cowboy boots they have to offer. They're comfortable and durable and come in many unique designs for a personal flair.
There are over 100 different pairs to look through, and each one will be able to take on a daily beating, regardless of how hard your job is.
---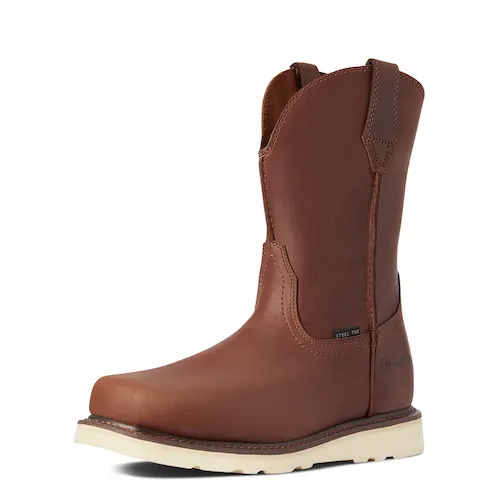 Sometimes, the job at hand requires you to protect your toes at all costs. In that case, a trusty pair of steel-toe boots would be the answer.
Considering they're made of highly durable materials, these shoes are bound to withstand even the harshest working conditions.
Better yet, they offer the steel toe feature with many different boot styles and designs, so you won't have trouble getting exactly what you need for work.
Some customers weren't the happiest with Ariat steel-toe work boots, claiming that they collapsed when heavy items were dropped on them (although the boots did protect their toes).
---
Return Policy
If you run into any issues with your boots and would rather return them, Ariat gives buyers up to 90 days to initiate a return. However, EU customers only have 14 days to request a return, which is a relatively brief window.
FAQs
Who Is Ariat Owned By?
Ariat is owned by Beth Cross, who is the co-founder and CEO of the company. The business is based in Union City, California.
Are Ariat Boots Good For Working?
They're definitely a great option for numerous working environments and outdoor environments. They have a large selection of boots that offer a variety of features, suitable for all kinds of working conditions.
How Long Do Ariat Work Boots Last?
Considering what they're used for on a daily basis, the consensus seems to be that they last at least a few years. Their lifespan can be extended if you take proper care of the leather, as that's usually where their breaking point starts.
The Bottom Line
Ariat work boots may not be the best choice for everybody, but they definitely have plenty of satisfied customers. You should spend a thorough amount of time reviewing what's best for you, but you should be able to land on a new favorite pair of work boots.
Ariat Work Boots Alternatives
If you don't think Ariat is a good fit for you, here are a few alternative brands for top-rated work boots within a similar price range:
1. Timberland
2. Carhartt
3. Blundstone